Are you sitting down? You might want to before you read this one, because you are not going to beeeelive how amazing today's competition is! How would you like to win your dream wedding cake? But not any dream – the weirdest, most fantastical, extreme dream you could ever possibly have?! Your wildest wedding day fantasies are about to come true and (in case you can't tell) I am SO BLOODY EXCITED about it.
I first heard of Choccywoccydoodah when I was in university. A friend I'd made there was from Brighton, and one day we started talking about what we might do for our weddings. She told me that she had no real clue, except for the fact that she knew she had to have a Choccywoccydoodah cake. They were a small chocolate shop in the seaside town who were fast becoming known as the place that would do things that no other chocolatiers could even dream of. Quickly gaining a cult following for their unbelievable confectionery creations, there were nothing like the wedding cake powerhouse that they are today, but I was hooked instantly.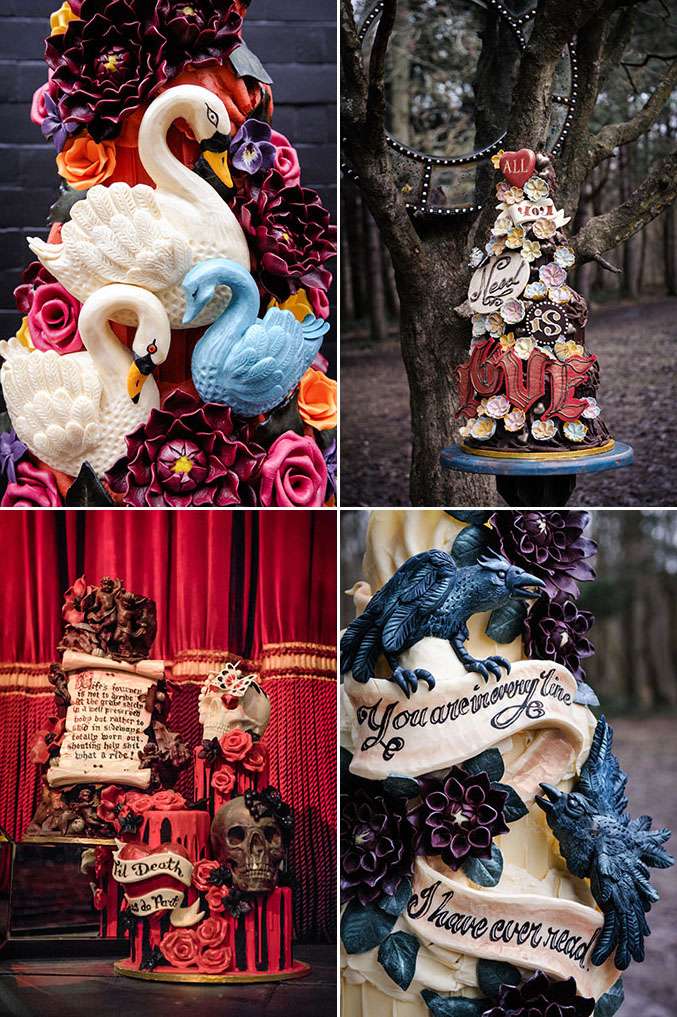 From that moment on, I knew that if Gareth and I ever got married, I too wanted a Choccywoccydoodah cake. Unfortunately when we actually came around to getting hitched, we just couldn't afford one. They are incredible, in fact THE most incredible wedding cakes in the world, but that kind of skill and creativity doesn't come cheap. I thought my Choccywoccydoodah dreams were forever dashed. That's until I became a wedding blogger and made it my mission to become friends with them! 
OK, enough fan-girling and gushing, let's get on with what you could be winning. One very lucky couple will have a wedding cake from their own imagination created for them by Choccywoccydoodah. So to enter, we want you to come up with an idea for a mind-blowing wedding cake.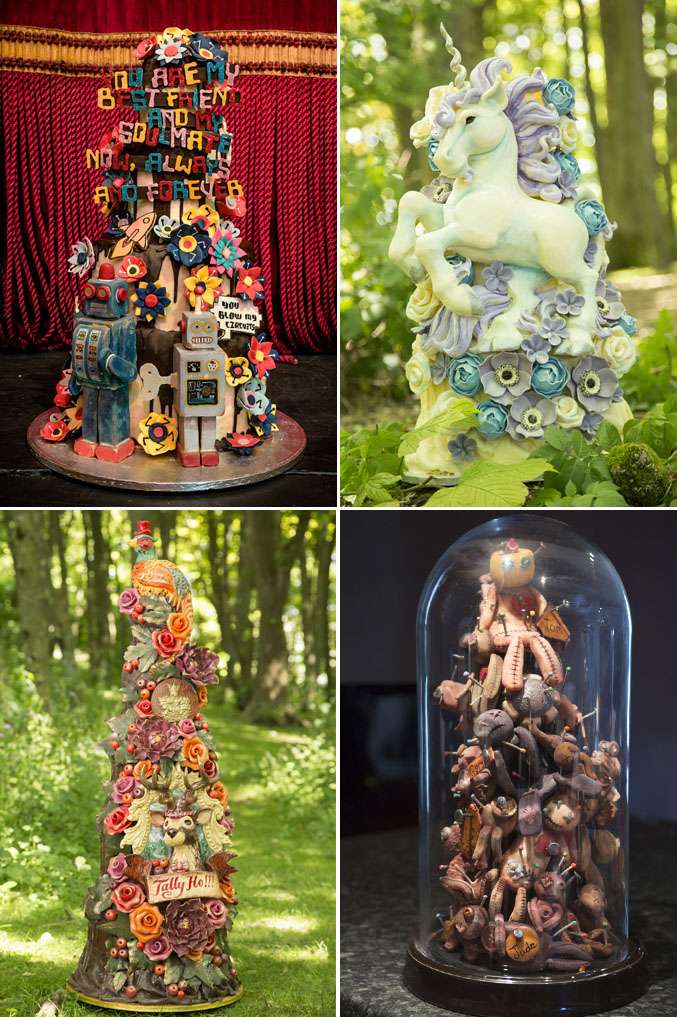 This is not the time for subtly. In short, the most fantastical and ridiculous cake idea will probably win. The Choccywoccydoodah team are not the shy and retiring types (as you can probably imagine) and they are up for ANYTHING. In fact when discussing this competition they said,
"I think we should pick the most charming people who have the most interesting ideas and who aren't afraid of showing it. We would design and make the cake to be a unique showstopper on a day full of show stopping ideas. It's not about the price. Someone having a small wedding might have the best ideas, but if its a totally mahoosive affair with a GIANT cake we will go along with that too. We will utterly tailor make the cake to their day. It could be any size cake with any amount of work…we are up for ANYTHING. It could be simple or stupidly extravagant. We are I just looking for the best idea. Thats why it's going to be freaking awesome!"
So as you can see, they are up for a challenge. Go WILD with your ideas and don't you dare hold back! These are the people who've created cakes inspired by movies, food, unicorns, rainbows, robots and penises (yep). They handcraft solid chocolate in all colours of the rainbow and form it into skulls, animals, creepy dolls and religious icons. They've even made life sized human beings out of solid chocolate. Believe me when I say nothing is off limits!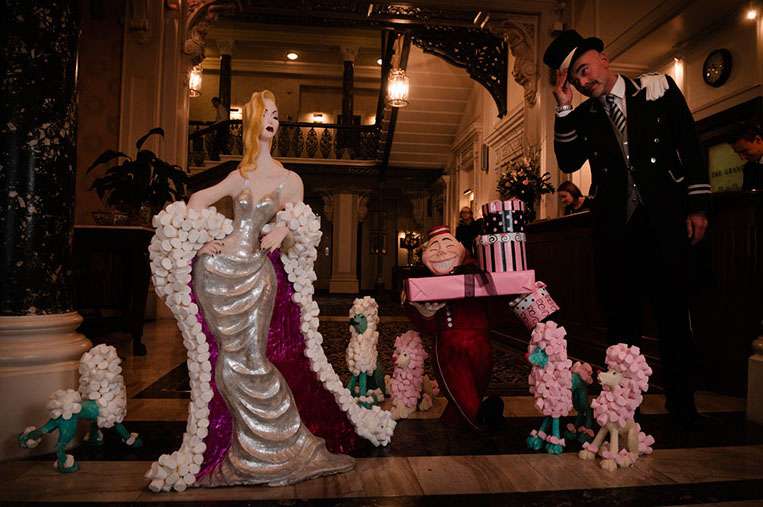 To enter, you need to follow both Choccywoccydoodah and Rock n Roll Bride on facebook. Then, simply come back here and in the comments below tell us what your idea is. You also need to include your wedding date and location in your comment. The idea that Choccywoccydoodah love the most will win the grand prize.
To qualify for this incredible contest you must be getting married in the UK during 2015 and must not have a cake already organised. You will be invited to their shop in Brighton for a consultation (and all-you-can-eat chocolate eating sesh!) so you must be able to get yourselves there. Travel costs are not included.
So what are you waiting for? Get your thinking caps on. I can't wait to read about what you've come up with!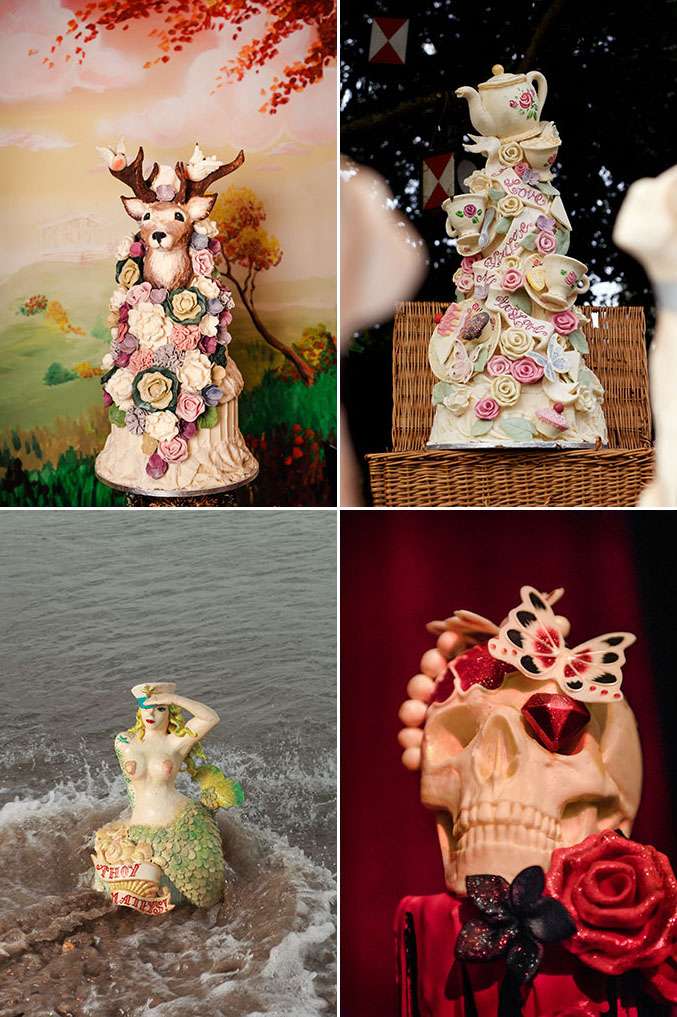 THIS CONTEST IS NOW CLOSED
Ts & Cs
♥ One winner will win the wedding cake from their imagination, created by Choccywoccydoodah.
♥ Closing date for entries is 14th December 2014. Winner will be chosen and emailed after that date.
♥ Contest open to all Rock n Roll Bride readers over the age of 18, based in the UK, who are getting married in 2015.
♥ Winners will be required to visit the Choccywoccydoodah shop in Brighton to have an in-person cake consultation. Travel costs are not included in the prize.
♥ Only 1 entry per IP address.
♥ If for any reason the advertised prizes are unavailable, Choccywoccydoodah reserves the right to substitute a similar prize of equivalent or greater value. None of the prizes may be exchanged or transferred and no cash alternative will be offered.
♥ By entering the draw, you hereby warrant that all information submitted by you is true, current and complete.
♥ Liability cannot be accepted for entries which are lost in transit or not received due to technical difficulties.
♥  Choccywoccydoodah's decision and any decision taken by the promoter is final and no correspondence will be entered into.
♥ The winners will be contacted via their email address. Rock n Roll Bride/ Choccywoccydoodah will not amend contact information provided.
♥ No purchase necessary.