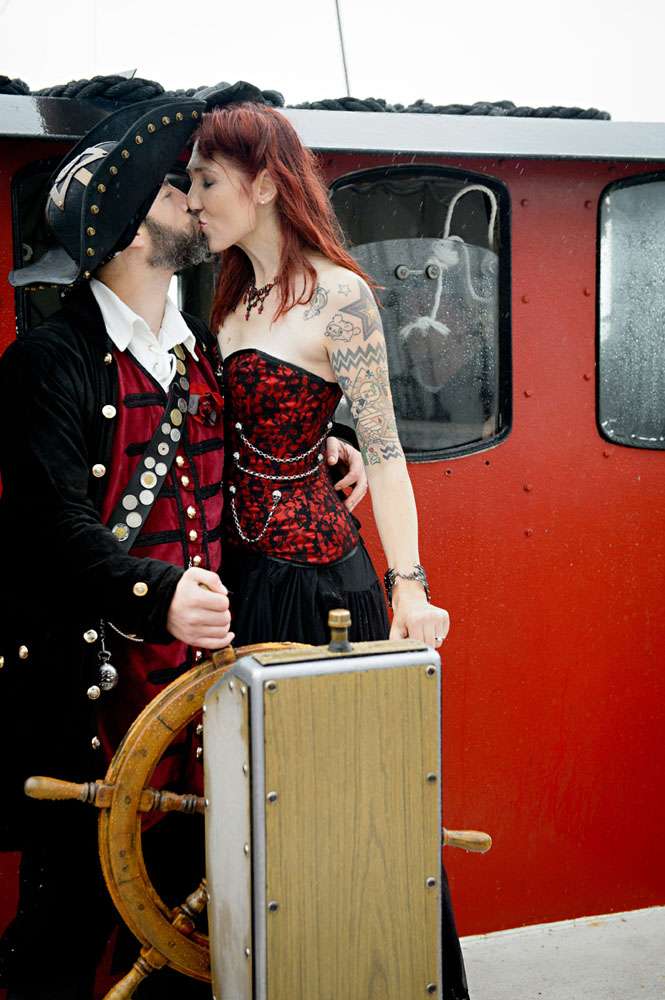 Jackie always knew she wanted a pirate themed wedding, even before she met Y'ves. So when it came to this couple saying "I do" there really was only one way they were going to do it! The wedding was held on The Kajama Tall Ship, docked at The Harbourfront Centre on Queens Quay West in Toronto. They had their ceremony on the deck at 12.30, they set sail at 1 'o clock and everyone de-boarded at 5.30.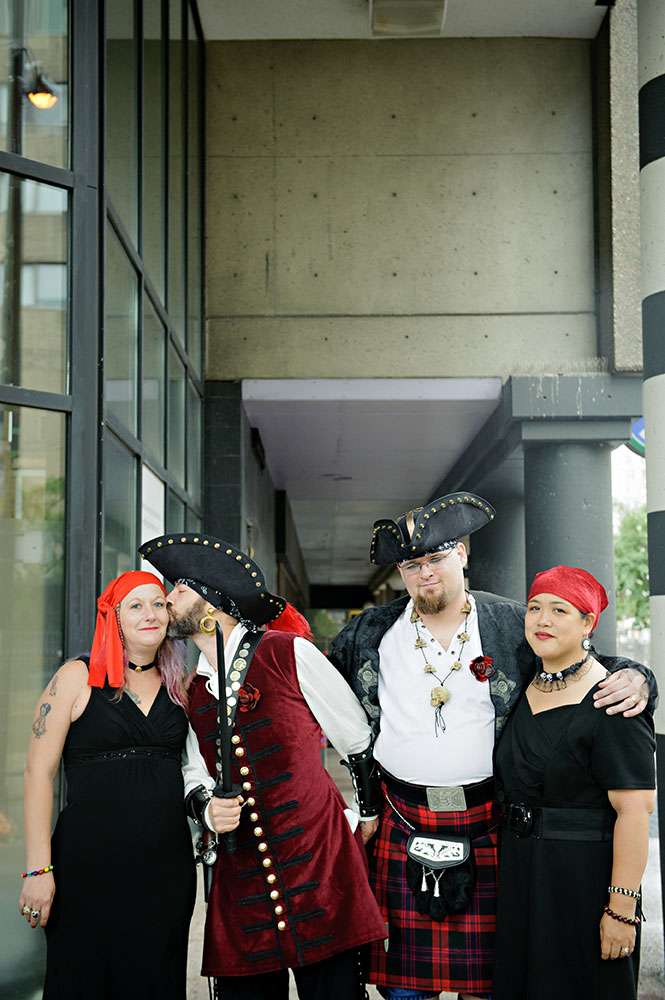 Guests were then invited to join them for post-wedding cocktails in the Watermark Lounge at the Radisson Admiral Hotel. The evening ended with a bit of a pirate pub crawl, hitting up the Amsterdam Brew Pub and then the Foggy Dew Irish Pub (where the couple met while they were both working there).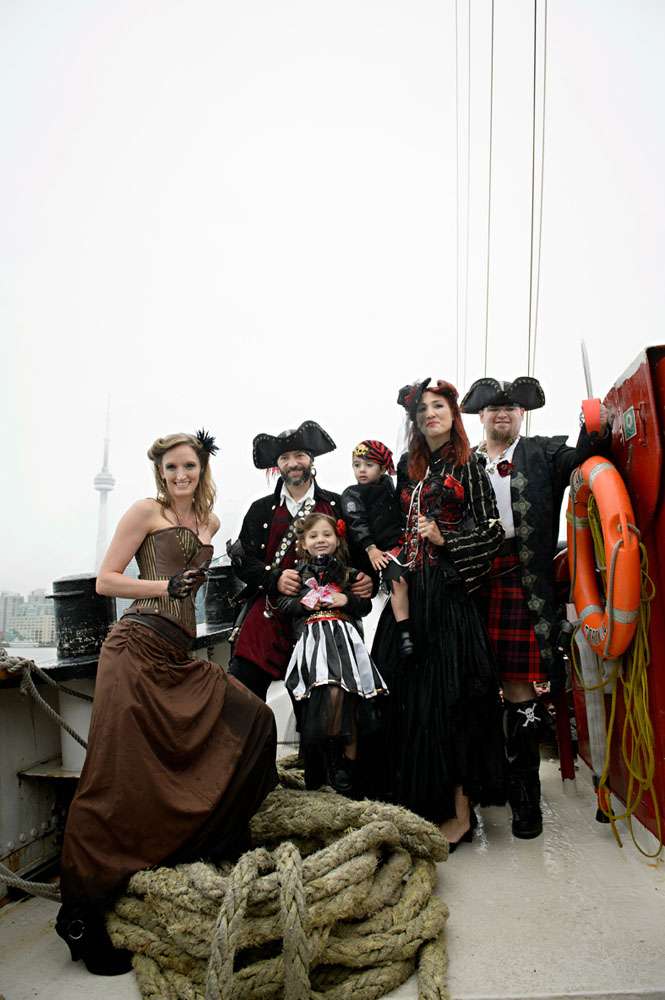 Jackie wore a custom red and black corset from AE Clothing (on etsy) which she made her own by adding swing latch clasps, chains and jewelled skull beads.  Y'Ves wore Blackbeard's wardrobe from Medieval Collectibles. Most of their guests also got into the spirit by dressing up!
"Ever since I was a child, I wanted to get married in a red dress", explained Jackie. "As I became an adult, I knew I wanted something other than a traditional or destination wedding. Neither of us are traditional in so many ways. We chose children before marriage, we find 13 a lucky number, and we both love pirates! Why not have a pirate booze cruise? Instead of spending a ton on a traditional wedding, let's have fun and get our guests to dress up! We knew we could use our outfits again for Halloween with the kids, and for future events."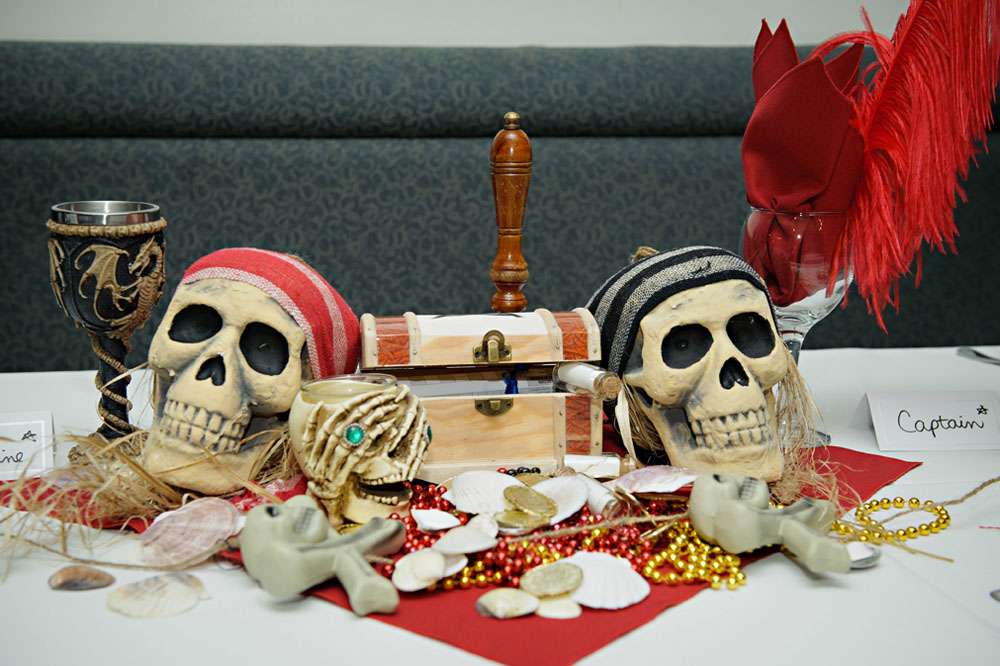 "We played all rock, metal, and punk songs. We walked down the aisle to AWOL Nation's 'Sail', signed the registry to Monster Truck's 'Seven Seas Blues', danced our first dance to Guns n' Roses 'Patience', and kicked off the reception to Led Zeppelin's 'The Ocean'."
"It was foggy and lightly raining", she continued, "which made the sailing misty and authentic! My hair and make up became a mess, but I didn't even mind. Go with the flow! The photos were bright and our eyes were open because we weren't blinded by the sun. I love the contrast of the concrete jungle and the CN Tower 'photo-bombing' through the fog against the pirates on board. We didn't have any planned photos or poses, just felt it in the moment. I loved dancing up high by the sails. The guest's faces in all the photos are of pure joy and amazement. Their costumes were so fun, from DIY in the closet or dollar store, to high end rentals and custom creations."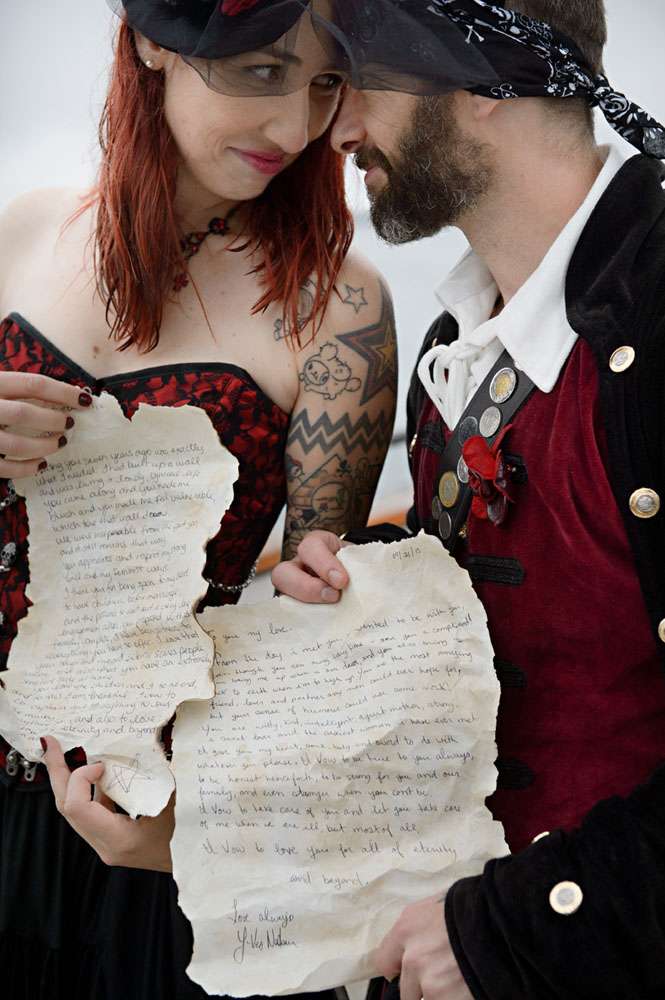 "I loved our outfits and seeing what our guests wore. I loved it when we fired the cannons at passing vessels (which didn't always work because the wick was too wet!) I loved dancing above everyone by the sails. I loved the look of love in my groom's eyes as I came to him in the ceremony. I loved writing the ceremony!! I loved the table décor, as it was fun to collect piece-by-piece. I loved it all!"