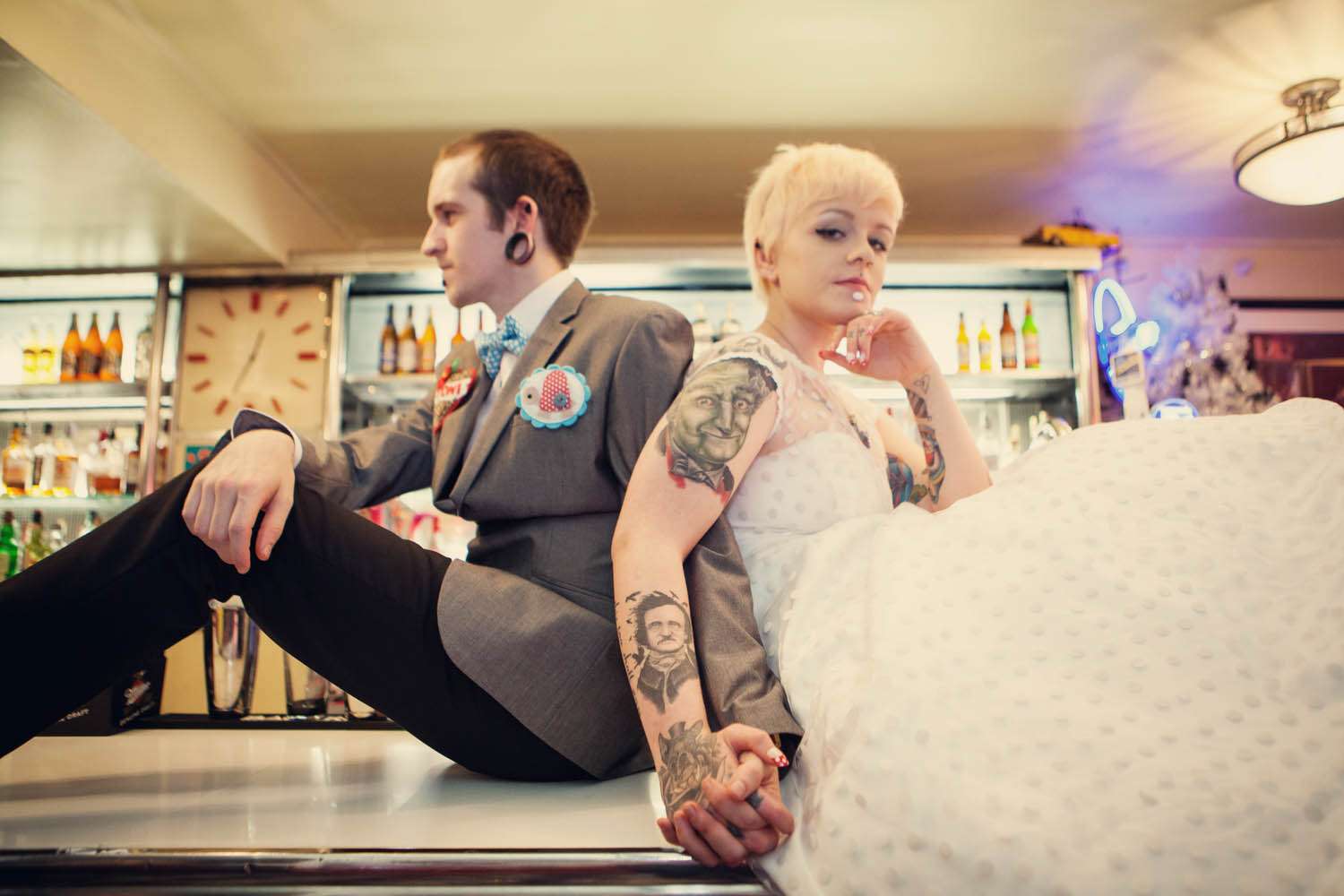 Toni & Colin spent just £3000 and their wedding was flipping amazing!
Regardless of how much you have to spend, planning an amazing wedding is completely possible. If you're cleaver with your choices and make smart decisions, you'll be surprised how far you can make even the most meagre of budgets go.
While crunching numbers may be way less fun than, say, dress shopping, having a hold on your wedding finances will make things much less stressful overall and will help you to keep things in perspective. Yes, that Vera Wang one of a kind gown is incredible but do you really want to spend 90% of your entire wedding fund on it?
Most importantly though, having a budget protects your future. After all, you're planning for a marriage here, not just a wedding, and you really don't want to start married life under the shadow of a massive post-wedding debt.
First things first, sit down with your fiancé and discuss what you can afford and how you're going to pay for the wedding. If your parents are helping you out then you should include them in this too.
Although you might see this as 'your big day', your parents have probably been dreaming about this since you were born. Especially if they're paying for or contributing in any way, you should include them in any major decisions. It's unlikely that they're going to write you a blank cheque and not see you until the day.
Ask your parents which parts of the wedding they'd like to be involved in. My mum really wanted to be included in the picking of my dress for example but wasn't really bothered about the stationery. To make it easier and to avoid the 'too many cooks' syndrome, do the research yourself and then present them some options when it comes to selecting things ("We're thinking about these three photographers at these prices. What do you think?")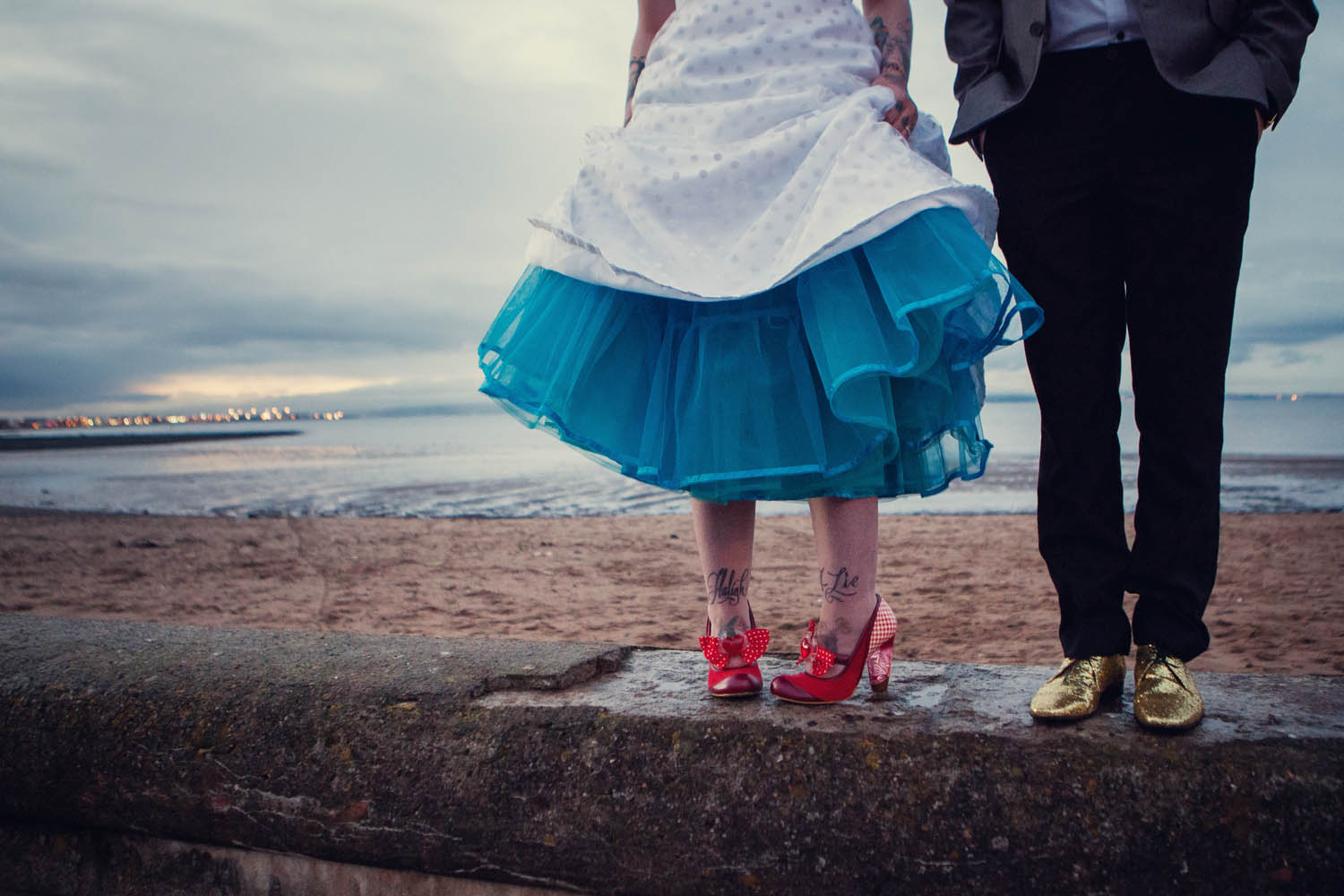 Start a savings account. You'll be surprised how quickly it can build up. If you have a year long engagement and you save just £10 a week (that's three cups of coffee shop coffee) in 12 month's time you'll have an extra £500 to spend! That could be the difference between your dream photographer, that incredible wedding cake or the most extravagant and beautiful shoes you've ever owned!
You should also think about how much you actually want to spend. Maybe you can afford a bigger wedding, but that doesn't mean you have to spend everything you have. It might be better to pull back a little and save a nest egg for starting married life with.
The next thing you should do is to sit down and write down everything that, in an ideal world, you'd like to have at your wedding.  Figure out how much these things are going to cost and then decide which of those are non-negotiable. Also consider what can be cut, DIYed or you might only have if a cheaper alternative can be found.
Below is a very rough guide of the average costs of certain things. I got to these numbers by speaking to various people in the UK wedding industry. Yes, you can spend much more or much, much less on some of these, but by having an idea in your head of average costs when hiring a professional you'll be much better equipped when planning your budget.
My research showed that in the UK, the average cost of the main areas of wedding expense were as follows:
♥ Photography £1200 – £2000
♥ Videographer £1000 – £2000
♥ Flowers £1000
♥ Stationery £1000
♥ Wedding Dress £1000 – £2000
♥ Engagement Ring £2500 (!!!)
♥ Wedding Ring £400 – £1000
♥ Band/Entertainment £600-£1500 (depending of numbers of band members)
♥ Catering £25-£50 per person
♥ Make Up £200 (bride only + pre-wedding trial) +£50 extra per bridesmaid/ Mother of the bride
♥ Hair £150 (bride only + pre-wedding trial) +£50 extra per bridesmaid/ Mother of the bride
♥ Cake £350
♥ Wedding Planner – Approx 10% of your budget (full coordination) £650 – £1000 (on the day styling/ coordination)
You'll notice that I haven't included venues because this can vary so wildly depending on what you have. Exclusive hire of a stately home or hotel could set you back upwards of £30,000 whereas hiring a village hall, restaurant or bar for the evening could be as little as a few hundred pounds.
As you can see, this can all really add up quickly! When we did this for our own wedding we decided that we wanted to scrimp on things like stationery (we made our own) cake (my mum made it) and flowers (they're gonna die anyway, right?) We also didn't have a videographer but I really wish we did now. By cutting these things that we felt were less important we had more money to spend on the things we really wanted – a great venue, delicious food, lots of booze, and amazing photographers.
So don't be afraid of the dreaded 'B' word. If you let it, your budget will be your best friend when planning your wedding. It will keep your head in check, but more than that, help you to plan a dream wedding that you can actually afford!
This is part two of a ten part series on how to plan a wedding. If you missed last week's edition, The Timeline, be sure to check it out too. 
Next week we'll be covering how to pick and secure your wedding venue. See you then!