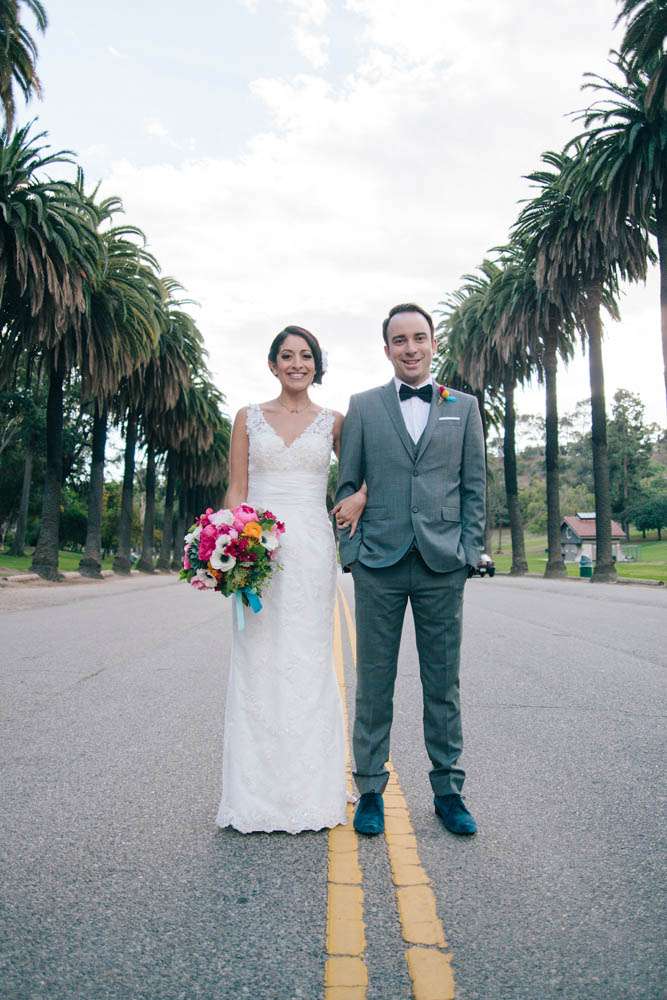 CMYK – aka Cyan-Magenta-Yellow-blacK (I'm trying not to be pedantic but shouldn't that be CMYB?!) was the theme for Dave & Angela's November wedding. If you're having a winter wedding you might have thought that forest greens, burgundy and plum were your best options but these guys prove that, seriously, that isn't the case! Bring a little sunshine into your life whydontya?!
The wedding was held at Grace E. Simons Lodge, just 10 minutes from where the couple live in LA. "Our wedding theme was CMYK with dash of birds & cameras", began the bride. "Or, as my husband just said, 'Awesomeville, population: 2.' My husband is a cameraman & photographer and suggested that we use the vibrant palette of basic printing colors. I love me some color so I was into it from the start."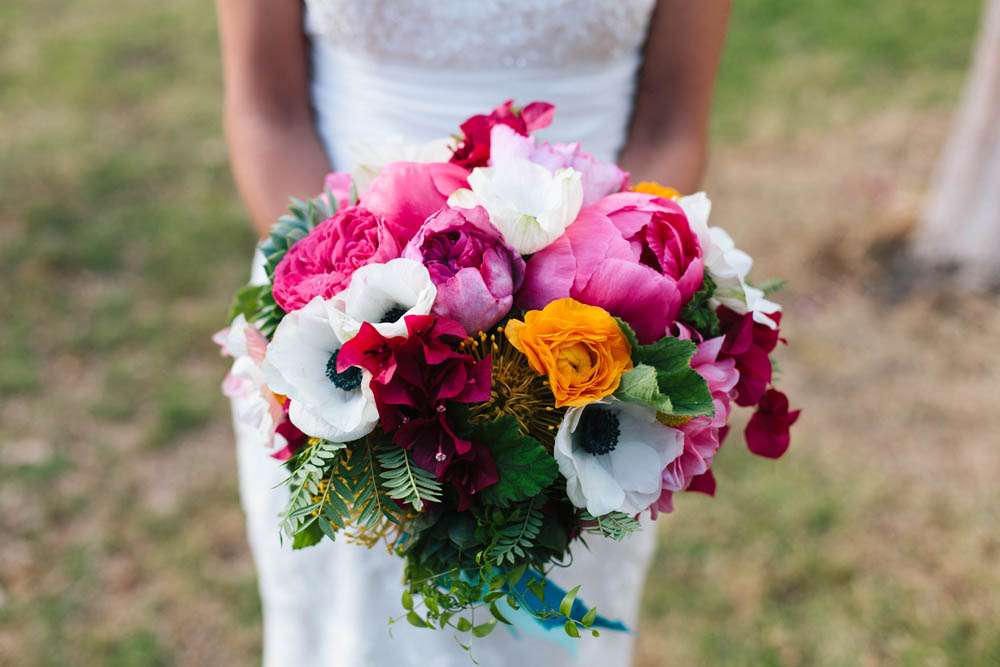 "I've always wanted my girls to wear black dresses. While some scoffed, I knew that the other colors would just pop next to that background. Some were also leery of the fact that I gave my bridesmaids very little guidelines when buying their own dresses. I basically said that they should be around knee-length and black. I was glad I stuck to my guns because I think the variety of textures and materials worked fabulously. They also were assigned shoe colors from the CMYK color palette and again given free-choice from there. I just wanted them to feel as comfortable and beautiful as possible in their eyes, not in what I thought they should look like. Their bridesmaids gifts were mismatched personalized nameplate necklaces. The dudes were easy & found their own black suits and then we gave them colored pocket squares."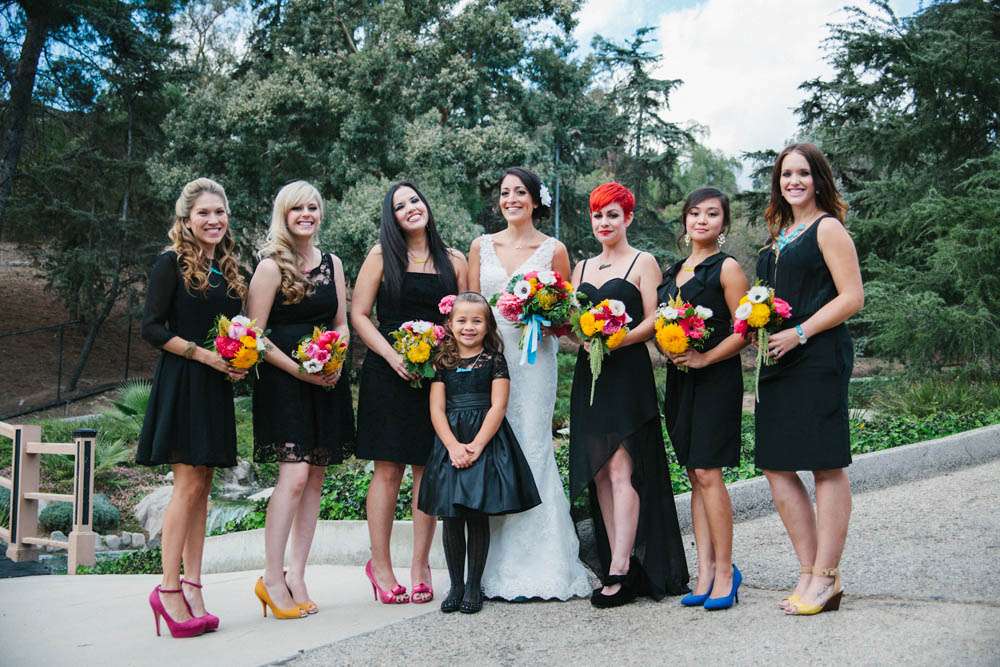 "There was a bird theme just because we both like them", she continued. "We brought in some vintage birdcages we found whilst antiquing. I also wore an everyday bird necklace I received as a gift from a friend and it ended up working perfectly alongside my peacock feather hair clip. Also, my husband has a few birds tattooed on his body. The cameras were just a no-brainer. My husband collects vintage cameras, most of which are still in working condition, so we just used those as decor."
"My bestie is a pretty crafty chick. She made a lot of the decor for my Mexican fiesta themed bridal shower so I just stole a bunch of it for the wedding! We started with the base CMYK colors and just went from there. She hand made the paper flowers and also spray painted all of the thrifted photo frames that had photos of us and also old wedding photos of dear family members."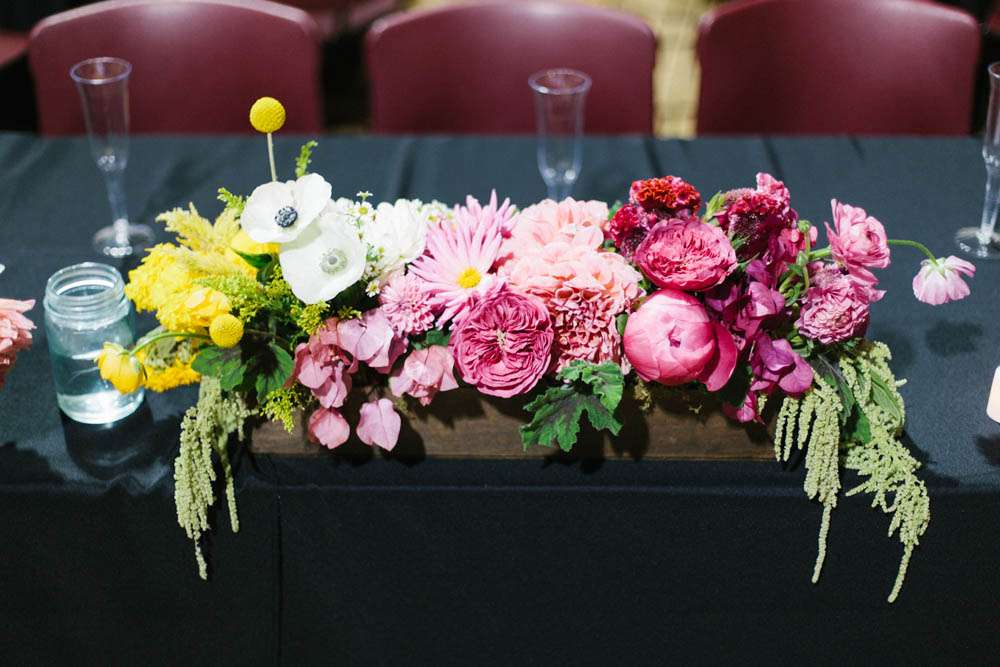 "My favourite thing about our wedding was I how easy it felt", Angela concluded. "We didn't do a sit-down meal or assigned seating. As soon as the ceremony ended, the mariachis started playing and the cocktails started flowing.  All of our guests mingled instead of being stuck at a table next to people they were forced to chat with. Everyone was drinking and dancing with everyone else, including my new in-laws with my parents, who had never met. They even piled in the photo booth together to take pictures complete with wigs and funny props! Basically, it ended a up a big sweaty love-fest on the dance floor.  Just like we wanted."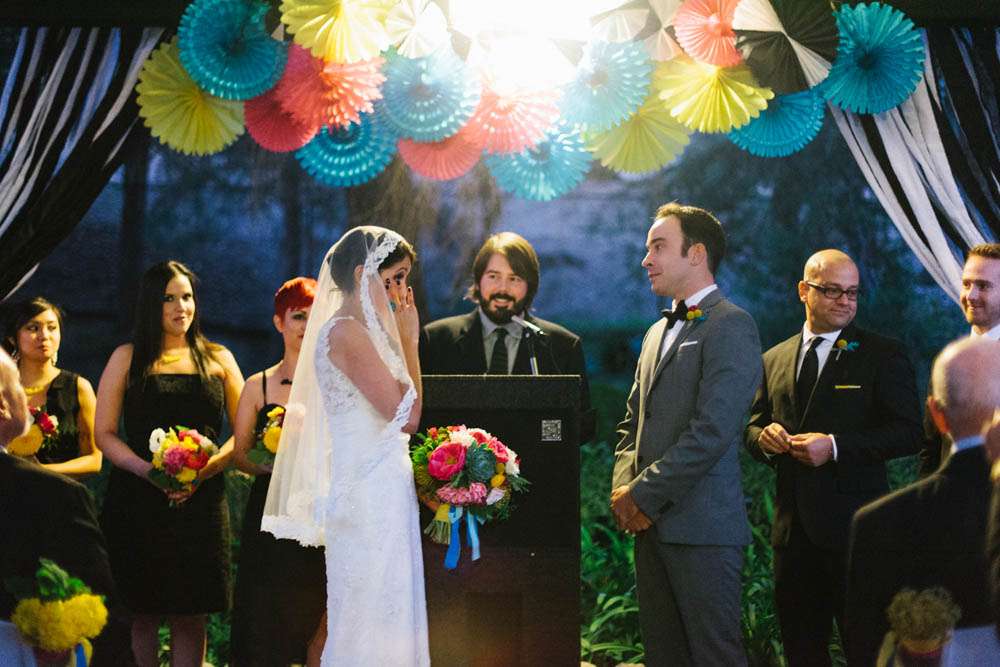 "I also loved that we had a lot of friends as vendors. As we initially started with a $10,000 budget, we quickly realized how hard it would be to stay within that, especially in LA  Being a park lodge, it instantly felt comfortable. Although I can appreciate the finer things in life, it's just not what I grew up knowing. We settled on the venue because it was within our budget but with each subsequent visit I fell more and more in love with it's understated beauty. I mean, LA has some beautiful parks if you just take the time to get out of your car and slow down. Plus the venue is located in Elysian Park, right next to Dodger Stadium, where I grew up going to games with my family."
Awesomeville indeed! I love this, don't you? Thank you to Dave & Angela and their wedding photographer Agustin Lovio Sanchez for sharing with us today.
Supporting Cast
Photography Credit: Agustin Lovio Sanchez 
Venue: Grace E. Simons Lodge, LA
Bride's Dress: David Tutera
Bride's Shoes: Seychelles Fifth Wheel
Bride's Headpiece: Misun Bridal
Groom's Outfit: H&M
Bridesmaid's Dresses: Various
Bridesmaid's Accessories: Sugar and Vice Designs
Flowers: Honey and Poppies
Make Up: Andrea Boxleitner
DJ: (dj)misterbill
Caterers: Candice Food Couture
Reception Decor: Cara Ann Dolim
Wedding Coordinator: Brittany Montgomery