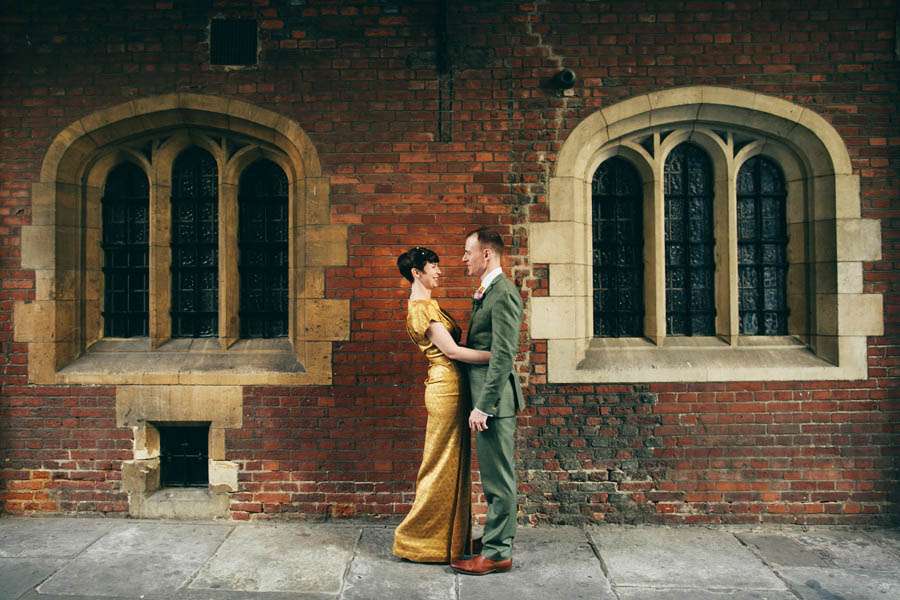 Anna Lee & Paul were married in London in September. Their ceremony was held at Saint Etheldreda's Church, and their reception – in two parts – took place at The Modern Pantry in Clerkenwell and All Star Lanes in Brick Lane. "We dined on a mouthwatering fusion menu for dinner, and mini burgers, hot dogs and classic American cocktails at the after-party", wrote the bride.
Anna Lee looked stunning in her gold gown by by Roland Mouret. Called 'Wallis' and inspired by Wallis Simpson, the opulent diamond-embossed design looked amazing on her. Clearly Anna Lee wasn't going for a traditional bridal look. She wore Beatrix Ong shoes and instead of a veil or any jewellery, she had pearls glued down the nape of her neck. I just LOVE this idea. "I didn't wear jewellery or a veil", she explained, "but wanted pearls in my cropped hairstyle. So Angela, my hairdresser, had the idea to fix pearls down the back of my neck using super-strength wig glue! They held fast all, and were a real talking point."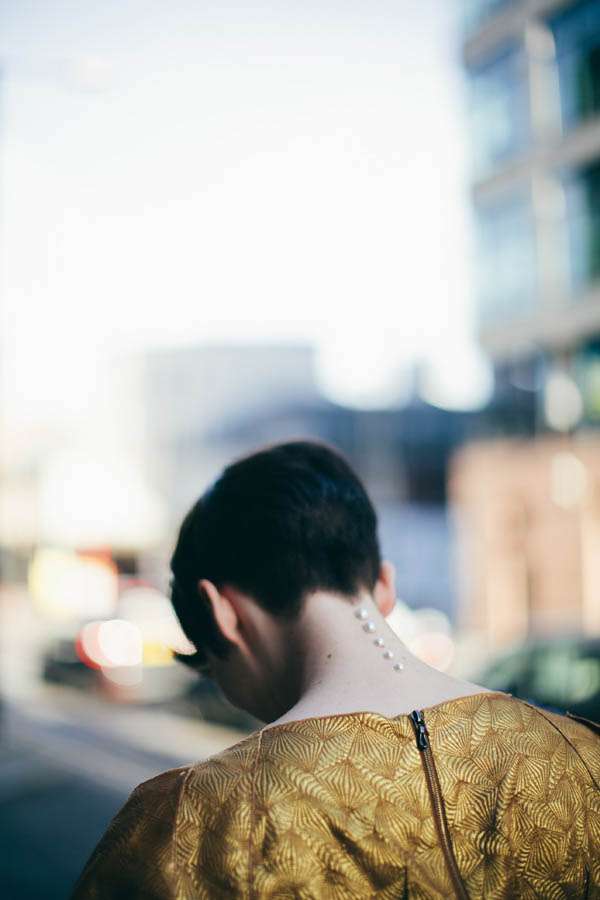 "Right from the start, doing things differently was really important to us," she continued. "We wanted to do what felt natural for us, rather than what's often expected or 'the norm'. So, Paul met the guests in the pub for a pint beforehand, I chose to wear gold rather than white, we got up and did a speech together, had ten-pin bowling at our after-party and honeymooned in Texas. If we were to have a theme it would have been 'A dash of cool London, a splash of kitsch Americana… and a whole lot of fun.' We met playing five-a-side football in Shoreditch, so – although neither of us is from London – it felt right to have an East End wedding. The city is a part of our history and set the scene and vibe for the day's celebrations."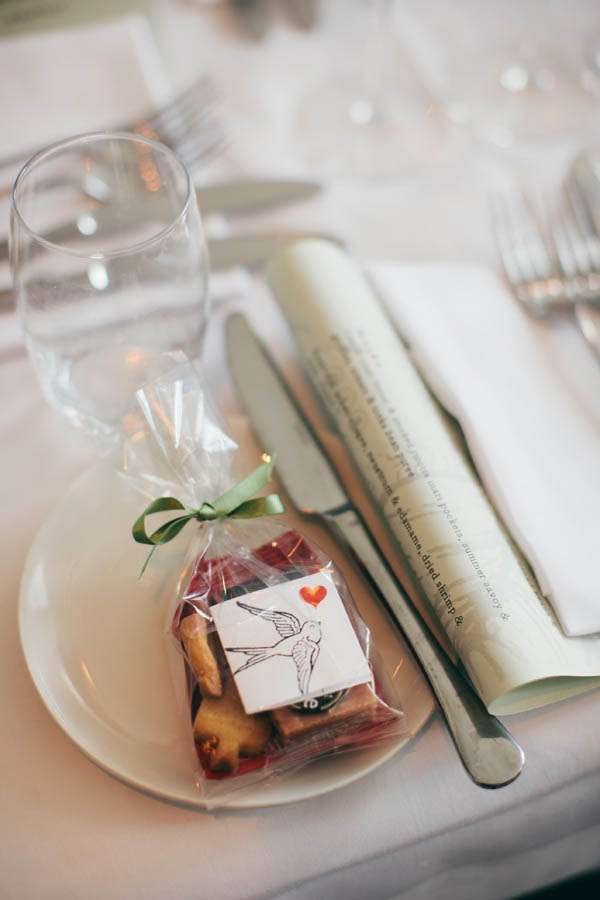 "We both laughed until our faces ached, and so did our guests. A particular highlight was two of Paul's kilted-up friends (one of whom introduced us) performing a song they had penned themselves – a comical history of our relationship to the tune of Amy Winehouse's 'Valerie' (only the chorus was 'Anna Lee'). Everyone was singing it by the end, a bit surreal and absolutely hilarious."
"Paying for everything ourselves was tough, but afforded us a lot of freedom". she concluded. "Try to never lose sight of the kind of celebration that you want – it's your day,
after all."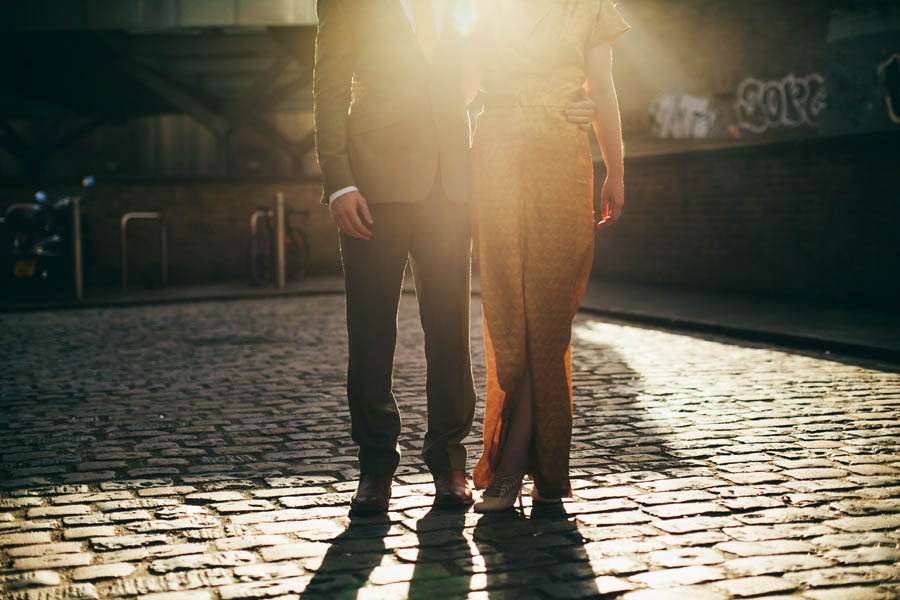 Utterly stunning. I am in LOVE with these guys and their awesome wedding. Thank you so much to Anna Lee & Paul and their incredible wedding photographer Naomi Goggin for sharing with us today.
Supporting Cast
Photography Credit: Naomi Goggin Photography
Ceremony Venue: Saint Etheldreda's Church
Reception Venues: The Modern Pantry & All Star Lanes
Bride's Dress: Roland Mouret, 'Wallis'
Bride's Shoes: Beatrix Ong
Groom's Outfit: Ben Sherman
Cake: Hummingbird Bakery, London
Flowers: McQueens
Hair: Angela Hertel
Stationery: Jayne Travis