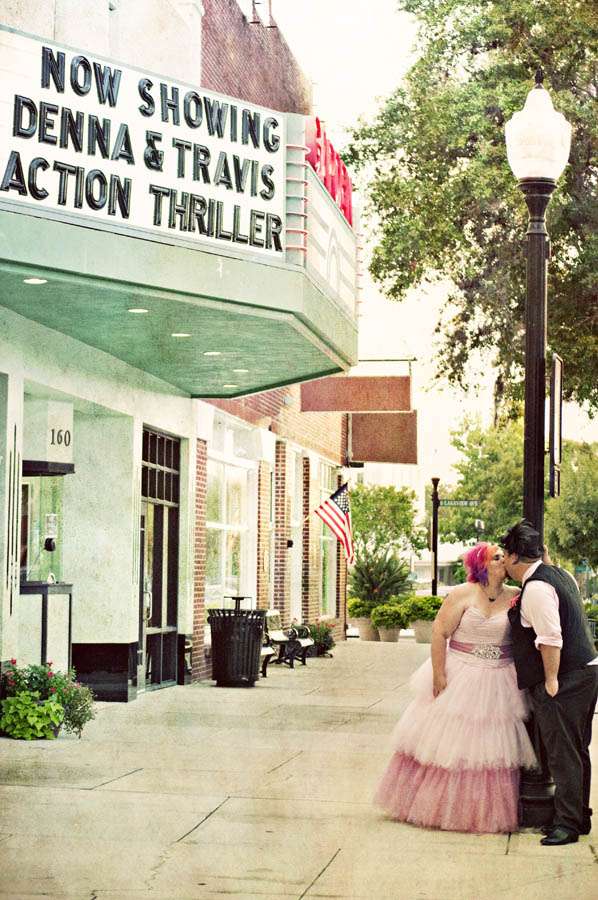 Pink. We all know I'm a bit partial to it. So it's hardly surprising that I couldn't resist sharing Denna & Travis' wedding. Pink hair AND a pink wedding dress? OH YES PLEASE.
Oh and they had a zombie wedding cake. I die.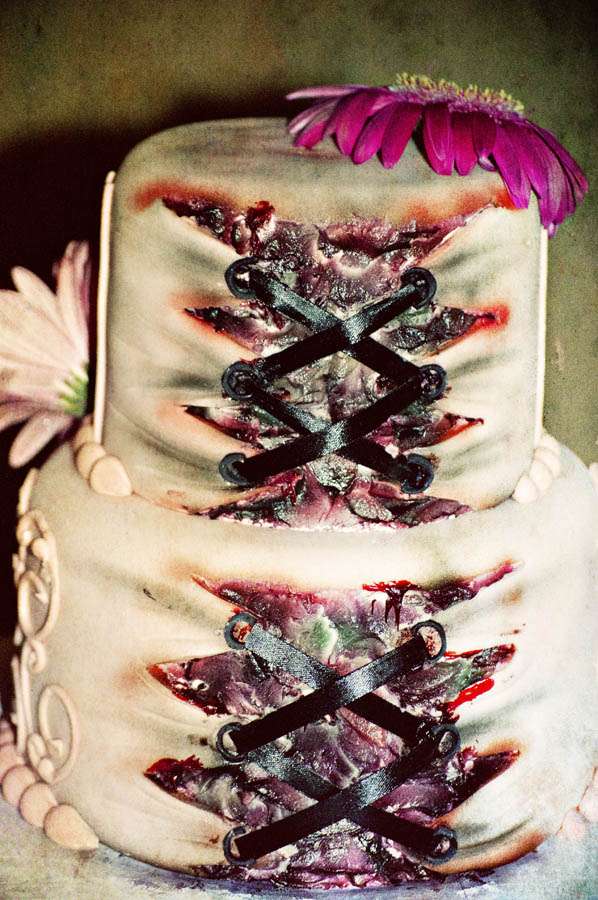 "We made everything about us and the people who are important to us", wrote the bride. "We looked at a lot of the wedding traditions – some we kept, some we booted and some we made our own. We wanted our day to be filled with laughter and smiles and we think we totally achieved that."
"Travis and I are both really into photography so it was important that we got this right. We love all photography whether it be professional or just the snaps that we take everywhere and everything we do. Our wedding theme really came to be 'photography'. We even had our own prints hanging at the reception and people could put their namecards in to win them!"
"Some of my advice for all of the brides (and grooms!) who read your site would be don't be pushed around into wearing what others want you to, or into doing what you're 'supposed' to do. If it doesn't feel like you and yours, then skip it! Also surround yourself with people who love you and are on your side is really important. My bridesmaids were AMAZING! So supportive and fun!"
"The vendors that we chose to work with were also so amazing. Again if it doesn't feel right, if someone won't answer your questions or return your calls, then don't hire them. Kristen (our photographer), Lyn (our caterer) and Jaimz (our wedding coordinator) instructed and guided us through our day. They took care of us. That is what you want on your day. And finally, I kinda wish we had hired a videographer. The whole day just seemed like a second in time. Everything was a whirlwind and I think I'd like to watch it again, and again."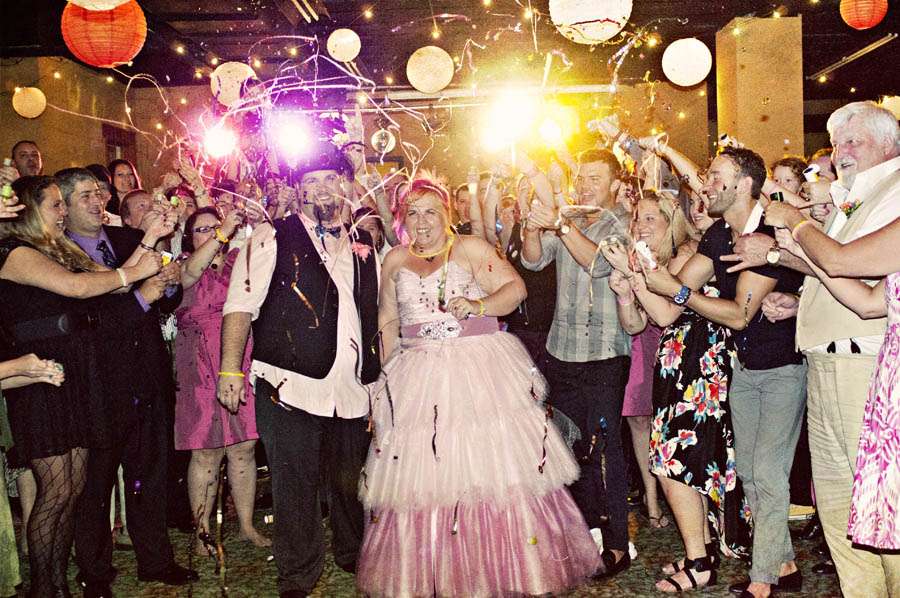 Glorious! Thank you to Denna & Travis and their photographer Kristen of KH Photographics for sharing with us today.
Supporting Cast:
Photography Credit: KH Photographics
Wedding Planner: Pink Hair Productions (bride)
Day of Coordinator: Jaimz Dillman
Ceremony Venue: Garden Theatre
Reception Venue: The Garden Ballroom
Bride's Dress: Tuwanda Chandler 
Bride's Shoes: Iron Fist
Bridesmaid's Dresses: Alfred Sung
Bridesmaid's Jewellery: Moon and Lola & Bojangled Jewels
Cake: Cut the Cake
Flowers: Orlando Florist
Hair: Krystal Osborn
Make Up: Alicia Boucher
DJ: Alex Sanchez
Stationery: DIY
Caterers: al Fresco of Winter Garden
Transport: A Hitch N' Time