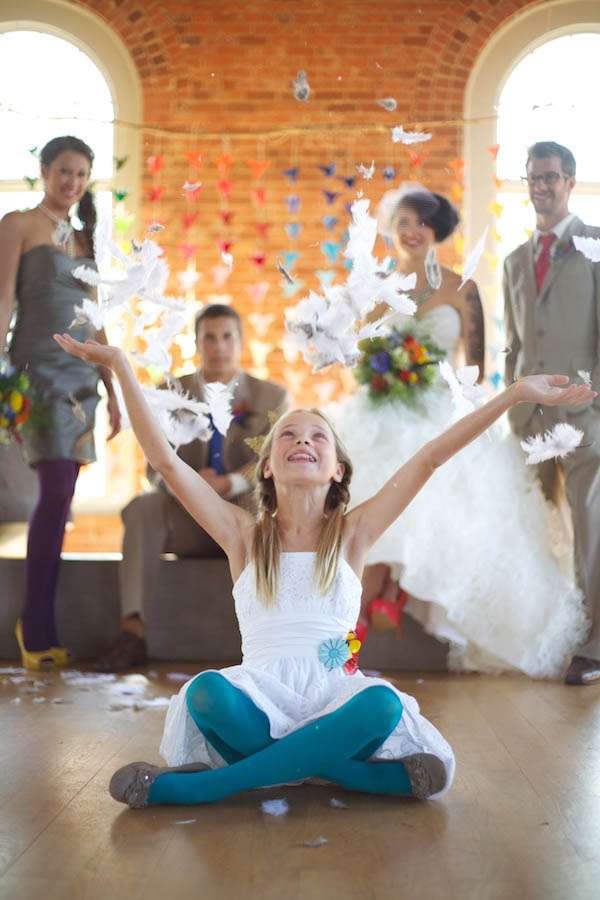 Angry Birds. It might not strike you as an obvious wedding theme but this shoot goes to prove that inspiration can be found everywhere!
"We've been working on this idea since last Fall", wrote photographer Brent of Live View Studios. " Our idea was for a wedding shoot inspired by the popular Angry Birds game, but to be done in a very classy, non-cartoony way. We wanted to bring our brand of very rustic, organic and indie vibes into it."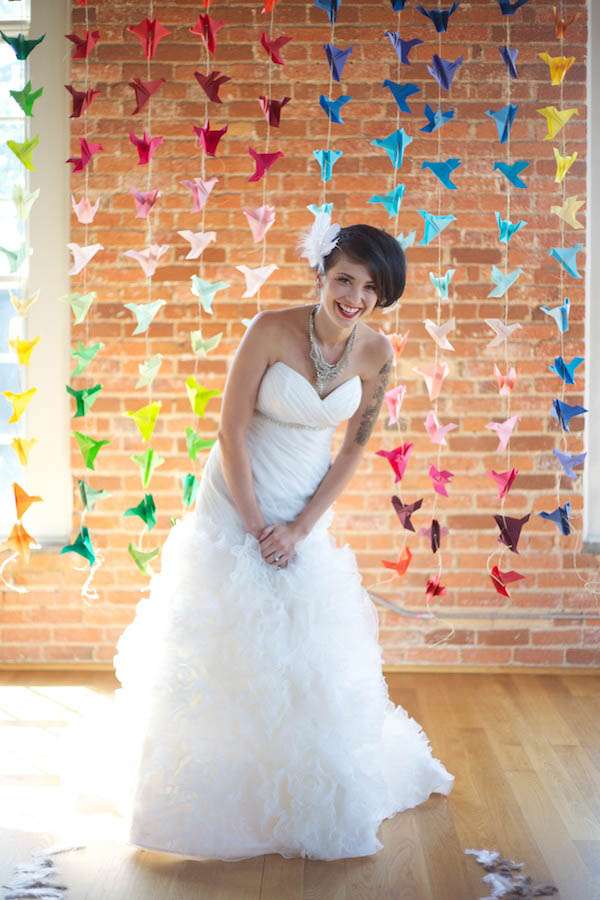 "To our surprise, and considering how popular the game is, we hadn't seen anyone else doing this idea" he continued. "So basically we wanted to be first! When the idea came to us initially, we looked around and found a few groom's cakes & details based on the game but nothing that incorporated it in as an overall wedding theme or shoot. We decided to use elements creatively instead of basing it only on the characters. Keeping the elements of stone & brick, glass, wood & feathers, and the primary color palette in mind, we set out to design a rustic couture wedding with slingshot pens, tumbled concrete structures, a gold crown & golden eggs and a treasure chest for notes written by guests."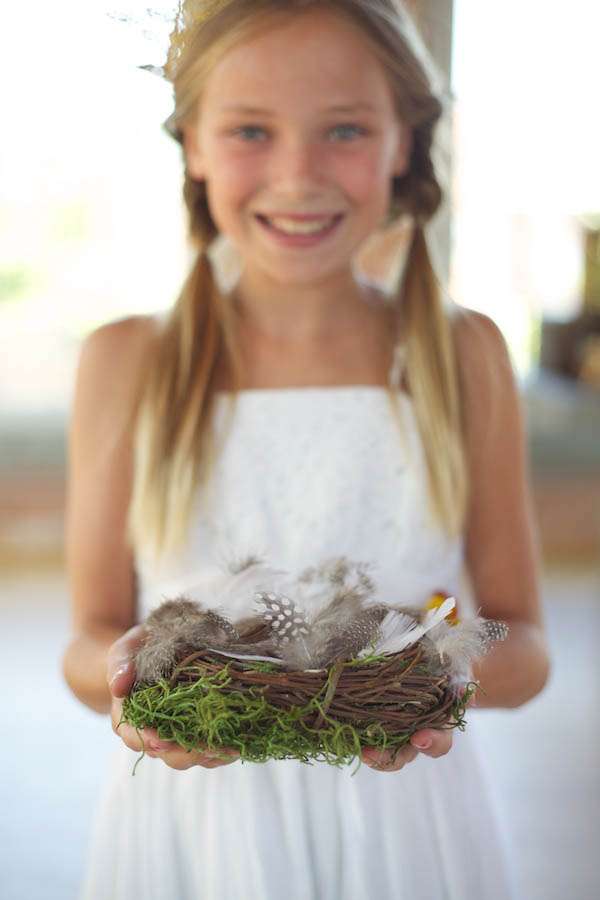 "The ceremony area was set with a backdrop of ombre arranged origami birds with feathers and florals arranged in blue mason jars lining the aisle. Vintage trolley carts (similar to the ones in the game) served as a cake stand and coffee table. Glass plates & napkins accented with a crown napkin ring sat atop a bold red linen, and nests with golden eggs served as table place settings. The cake was a work of art on it's own, with the bottom tier featuring a hand painted grass design and the top tier embossed with a brick texture. A nest of golden eggs topped the cake. Two additional cakes, with fondant 'feathers' lining the sides and accenting the tops, were perched on cinder block towers, and the table top was completed with moss and river rocks. Our menu HAD to include pork barbecue as the ultimate irony for the pigs from the game."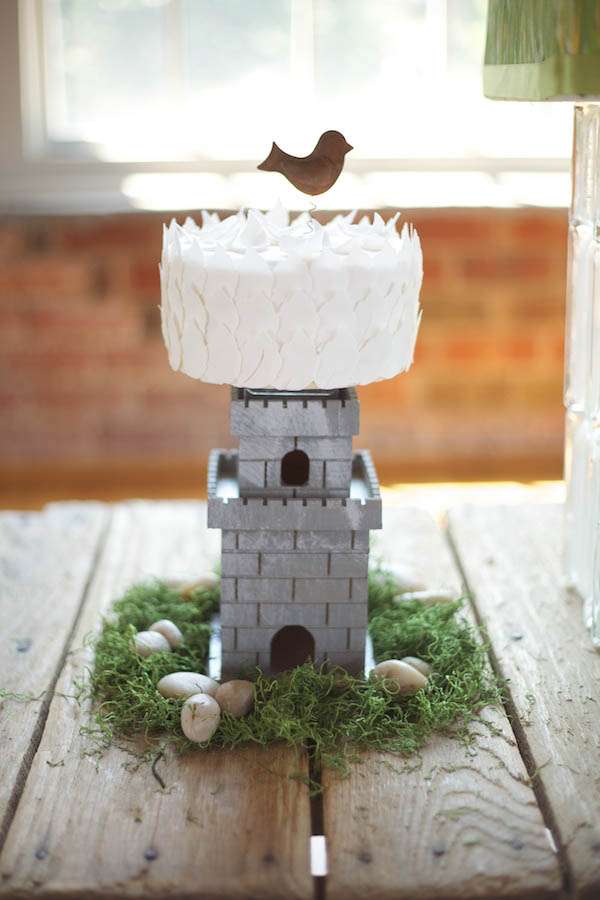 "The bouquets and boutonnières had a very organic feel, with feathers, vivid pops of color, and twine wrapping. Our flower girl dropped feathers down the aisle from a birds nest, and also looked beyond adorable in her gold crown. The bride's gorgeous gown with it's ruffled bottom combined with her hair fascinator gave her that feathery look we were going for, and tiny feather eyelashes accented her beautiful eyes."
"The guest book table was actually a concrete table, with wooden crates serving as shelving for various decorations, including candles wrapped up as the infamous TNT, handmade sling shot wedding favors, golden stars and piggy banks. Blue martini cocktails topped with rock candy were the signature drink. An additional favor was the DIY bird seed 'hearts' housed in a wooden crate."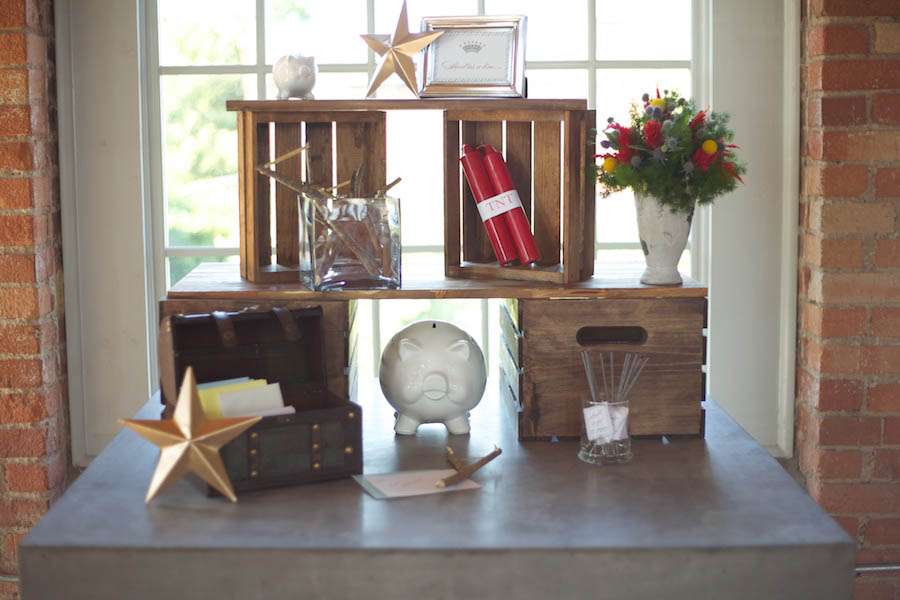 I love how the team took the idea of Angry Birds but made it into something cool and classy. Even if you don't fancy going all out with an obvious theme, this shoot shows how you can take small ideas from a larger overall theme and create something wonderful.
Supporting Cast:
Photography Credit: Live View Studios
Venue & Table Flowers: The Cotton Room
Bride's Dress: Tre Bella Bridal
Flowers: Embellished Blooms
Stationery: Sealed with Appeal
Cakes: Linacucina
Garter: La Gartier
Hair & Make Up: Karen Michelle Clark
Jewellery: Oh So Curio
Menswear: Savvi Formalwear
Veils & Hairpieces: Petals by KC
Crown: If the Crown Fits
Cake Pop: Raleigh Cake Pops