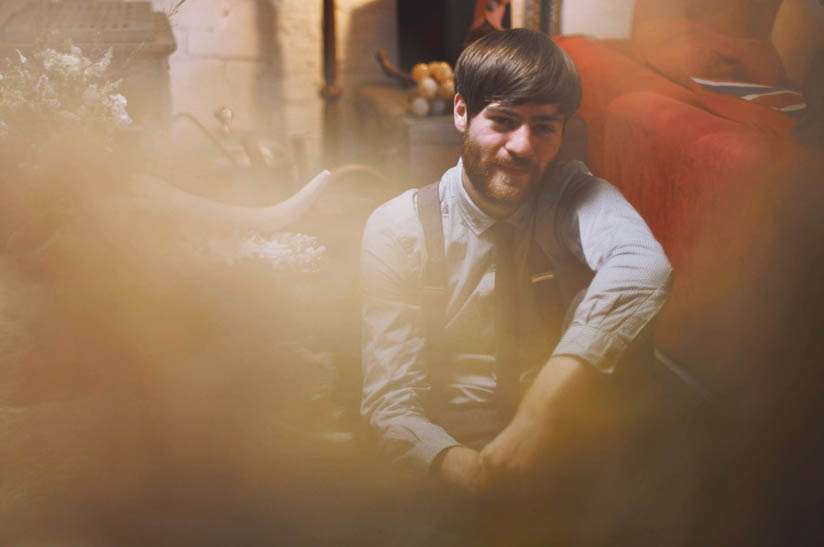 Lamb, by Feather Love Photography
When I started thinking about my special suit for our special day, I knew more about what I didn't want, rather than what I did want. From the off we knew our wedding wasn't going to be Royal Ascot; I definitely wouldn't look right in a top hat and tails, plus Roo may have baulked at the idea. I also new that I didn't want to rent a suit; as is evident with most things we've chosen for the wedding, we aren't fans of the (con)temporary. We're given more to the robust, the long-lasting, and sentimental. This suit was going to be mine, forever. The material chose itself – robust, long-lasting, sentimental? It had to be tweed.
But what colour? This was the easiest bit. The general colour scheme for our wedding was never a conscious decision; it just seemed to evolve out of natural choices we made in regards to the flower arrangements (mostly moss), table décor (cacti and terrariums) and even our invitations. Luckily, the decision for the colour of my suit was just as natural. It was always going to be the colours that have become apparent as reflecting us both – dark grey/greens and ashy browns – really earthy.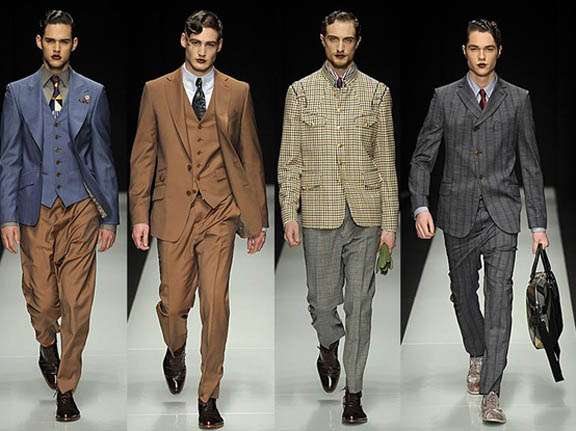 Probably the biggest factor that affected the search is that I'm not particularly flush with cash, so I was after something of very good quality, but with a budget of £200. I've never been able to do things the easy way. To get a general idea, Roo and I set around Brighton and we found that, for my price range and for the type of suit I wanted, vintage was the way to go. When asking in shops for their tweed range I was surprised to find that there were hardly any in stock, with it being summer. Being the least likely fashionista, I had no idea that suits have seasons (naïve, I know). My wardrobe tends to be identical all year round, the changing of the seasons marked by the addition of a solitary jumper. We found a lot out of my price range, so one idea we had was to buy a jacket first (as there were some great individual jackets at reasonable prices) and then to find the trousers separately. However, towards the end of a whole day of trawling Brighton, the prospect of finding my suit in two halves felt like it could have been too time consuming. I kept the idea as a back up but carried on with finding a whole suit as the plan.
I arranged for my best man, my younger brother Kevin, to come down from Liverpool so that we could have a look together. You may be aware of Roo's obsession with listing; well I'm a seasoned addict of lists myself. We set out to London, armed with a comprehensive list of second hand/vintage shops that stocked suits, which we compiled the night before by fishing through general review websites (I've listed them at the bottom of this post). We hit upon a problem before we even left; Roo was working that day, so was unable to come. Kevin and I are both horrendous shoppers; fearing the crowds, harsh lights and our inability to choose one thing from the other; this was going to be more difficult than we anticipated. One thing I did personally like by taking the vintage route, rather than visiting tailors, is that you're left to your own devices, to trawl through the mass of vintage clobber, rather than being hounded.
It dawned upon us quite early on through the search that to take the vintage approach we needed to allow more time for multiple visits, due to the constantly changing nature of the stock. Although many suits fit me fine they weren't the exact colour I was looking for and, if it wasn't for sending a picture to Roo, I'd have ended up buying the first suit I tried on and heading straight home. With my best man being a larger gentleman than myself, it was neigh on impossible to find anything for him. It was just the wrong day and the wrong time. It also rained. We left London suitless, damp and a bit dejected. With more visits we would have found the perfect suits but that particular day was not meant to be. The next day our 300-mile separation seemed further than ever before.
A couple of weeks later, with the suit hunt crammed to the back of my mind where I didn't have to think about it, Roo brought it back up again and mentioned having a look on the internet. We came across Savvy Row, which listed the exact kind of suit I wanted but unfortunately not in my size. It has a very handy form to fill in, where you input your sizes and keywords and they email you with any results that match the criteria as new stock comes in. We also looked on Etsy (a tried and tested Roo favourite) but to no avail. She suggested eBay and I was hesitant at first, thinking it would just be full of tat, but we found a plethora of quality vintage stores that sold exclusively though eBay. It didn't take us long, as soon as I saw it I knew it was the one; a beautiful 1960s 3-piece Herringbone tweed suit that ticked all the right boxes. What made the search on the internet so much easier was that although some suits may not fit perfectly, such as the one I had chosen, the money saved for a good quality suit means that tailoring is still a viable option, even for someone as skint as me.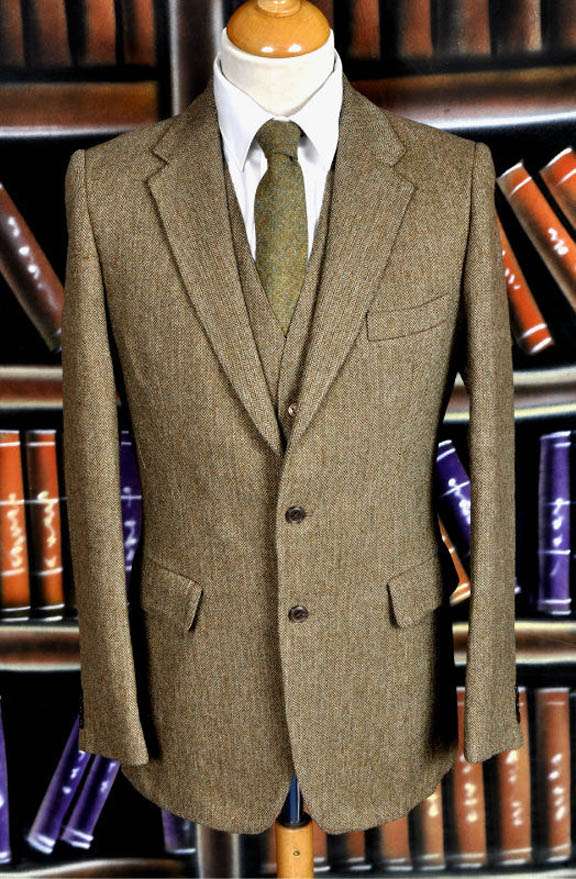 My suit, from Bookster
I'm over the moon with my suit (Roo often comes in from work to find me watching the TV, lounging in the jacket) but in hindsight I realise how lucky I was to find it in such a short amount of time. I'd have preferred finding my suit in a shop, trying it on, smoothing it down in front of a mirror and getting a thumbs up from my best man, but if you're playing the vintage game then the intimidating rummage can seem never ending. In my naivety, I thought a whirlwind trip to London would be all that was needed but if you don't have the cash you need to spend A LOT longer looking. I suppose as soon as you know your budget you should start browsing straight away, with plenty of time to take it easy and find that affordable gem at your own leisure. It will be there, somewhere.
The stores we visited in London were:
British Red Cross – 85 Ebury Street, SW1
Crusaid – 19 Churton Street, SW1
Barnado's – 7 George Street, W1
Salvation Army – 9 Princes Street, W1
Reign – Berwick Street, W1
Retro Clothing – 75 Berwick Street, W1
Rokit Vintage – Camden High Street & Brick Lane