Weddings are elegant. Weddings a pretty. Weddings are a time to be a princess and feel at your most beautiful. Well not always…
Granted this shoot organised by a team of UK wedding professionals won't be for everyone..in fact I guarantee that some people will be either shocked or even appalled by it, but oh boy is it creative and different!
Stylist and florist Mat of Red Floral Architecture told me all about their idea for this shoot, "We wanted to do a shoot that was both fun as well working with a team of people who weren't too precious about achieving a conventional, marketable image. We wanted to see where that would take us. This was the result – unstructured, crazy, unadulterated mayhem! The day began as it ended, with torrential rain. Some would have called the whole thing off. My vision of new born lambs and blossoms juxtaposed with a burning bouquet and beautiful girls was in danger of being washed away but we carried on regardless. A 30ft gazebo was assembled the day before in case of 'showers' and this provided the structure for a luxury table setting, festooned with freshly cut blossoms, chandeliers and enough crystal and flowers to almost bring the whole thing crashing down! Props and poles were brought in for extra support and we carried on."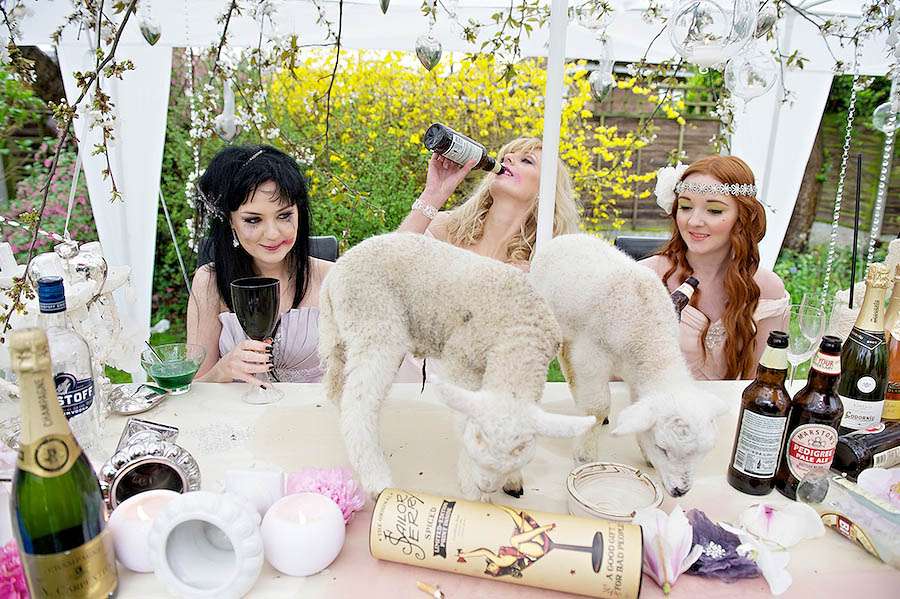 After shooting the elegant and almost 'pretty' scene it was time to mess it up! "My dream of messed up girls with make up smeared, hair distressed and totally pissed off with the whole sanitised bridal beauty thing began to emerge," continued Mat. "No vintagey, talc dusted, teabag stained imagery here please. We wanted angry, debauched girls with attitude and they didn't disappoint. All ideas of them looking like ethereal, virginal spouses were replaced by brides behaving badly and with a little encouragement (!) they stepped up to the mark. I have to say that by this time we were all a tad delirious and frustrated at the washout that could have been. What it became was the most memorable shoot of all thanks to everyone on board for daring to see it through. This shoot wasn't set up to inspire brides how to look or behave on their wedding day, but I suspect some of you would love to give it a go!"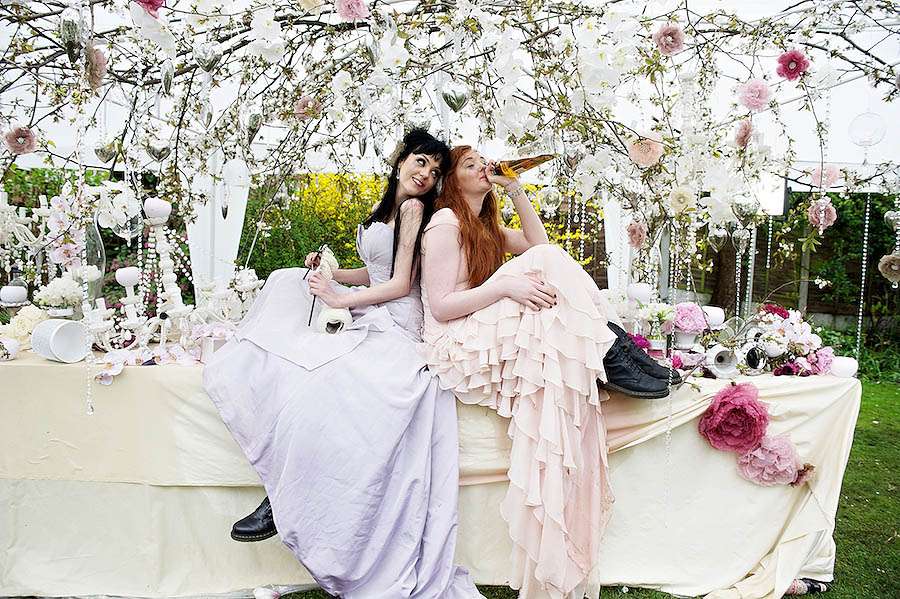 Thank you to everyone involved in this shoot (listed below) for sharing this today! So, thoughts please – do we love it or hate it?!
Supporting Cast:
Photography Credit: Chris Hanley Photography
Video Credit: Marry Me Films
Flowers & Styling: Red Floral Architecture
Dresses: Charlotte Balbier
Accessories: Eleventh Heaven by Ann McKavney
Hair & Make Up: Flossy and Leigh
The hand-reared lambs were provided for the shoot by Mat's partner who is a sheep farmer and were carefully cared for throughout.