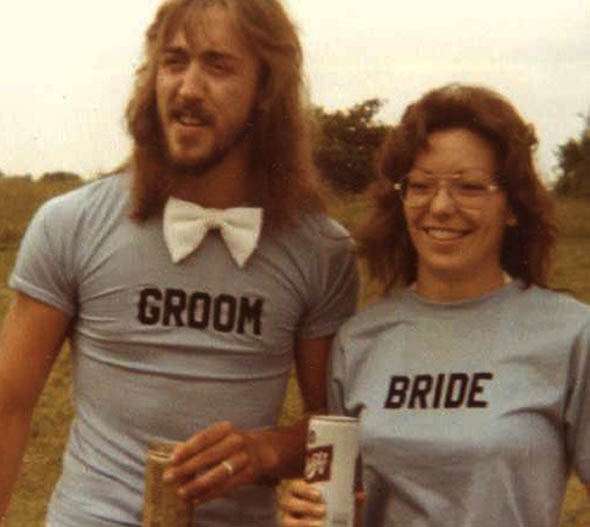 Photography Credit: Bluebird Vintage
After enduring the heartache of finding (and losing) our wedding venue, I'm sure you can appreciate that we felt as though we'd fallen off the horse a bit in terms of planning our wedding; trying to accept something so stressful wasn't easy, and I'm sure that I don't speak for myself when I say that it made me a little anxious to think about other wedding-related things for fear of tripping up again. However, as with all horses that one might fall off of, it is often said that's important to get back on again – and we could only do that if we put faith in our planning again.
I must say that I wasn't really sure where to start in the grand marital scheme, especially without 100% confirmation on a venue – we couldn't exactly book anything for a specific date in case the date had to change, and equally I couldn't get started on our invitations (which I intend on designing myself) in case some or all of the details had to change. Realistically, the only thing we could do (correct me if I'm wrong!) was to think about our guest list. This in itself was a little daunting because I'd always heard that compiling a guest list and/or seating chart (which we're going to leave until much later) is one of the hardest parts of wedding planning, particularly if/when it comes down to avoiding feuds, rifts, exes, and so on – for example, "if we invite Dave we can't invite Sandra but if we don't invite Dave then Martin won't come", and so on.
Still, this wasn't an aspect of our wedding that was going to just sort itself out, so we uncorked a bottle of wine, opened up a Word document and set our minds to task. Before we started to think about our guest list in any great detail, we had to consider what the constraints of our venue might be. The CUC had originally quoted us a 60-person capacity for the ceremony, with a 150-person capacity for the reception, so until we had confirmation back about the constraints of The Florrie we thought it was best to work with these initial figures.
Considering the ceremony first, we started by jotting down the crux of the wedding party: our parents, bridesmaids (my two sisters, Lamb's sister, and my best friend), and best man (Lamb's brother). We then added "obvious" immediate family, like my ninna (grandmother) and our close aunts and uncles, (we also contacted our parents to ask which members of their respective families they would like to have at the ceremony). The rest of the list consisted of our closest of close friends, whom we wanted to share our vows with.
Guest list genealogy chart – available from Mélangerie Inc.
It wasn't until we'd polished off our list that Lamb noticed something we'd previously overlooked; we hadn't thought about whether the 60-person capacity included us. That might sound a little silly, but it's worth paying attention to particularly if you're at a latter stage in your "guest-listing" and want to avoid any nasty surprises! After contacting The Florrie for further confirmation, we were surprised to hear that their capacity for the reception was actually 200 for the ceremony and 250 for the reception (providing we dropped a few of our dining tables after the meal). This was a really welcome piece of news purely for the fact that it meant we could create a more balanced ceremony list – in our original list it was decidedly "Lamb-heavy" due to the fact that a few of his friends have long-term partners, and inviting them as couples soon swallowed up the numbers. Lamb had suggested only inviting their partners to the reception, but I insisted that they come to the wedding together in order to celebrate their own relationship as well as ours.
Our newly-extended capacity meant that we didn't have to think about this too deeply for too long, and I was particularly happy that I could "bump" a few of my friends up from the reception list to the ceremony. We did consider, of course, the fact that extra people meant extra mouths to feed, but we had only stretched the original list by 3 or 4 people. Working with an estimate of £25-£29 per head for our sit down meal, I contacted my dad and explained that if our parents had any qualms about inviting a few more people then we would assume the responsibility of paying for them. Luckily, he couldn't have been more accommodating, and so far it looks as though our ceremony will total to around 63 people (including ourselves).
With the most important bit over with, we decided that we could be a little more frivolous with our reception list. We've been able to extend invitations to friends of our parents, and even friends of friends at an absolute push. Our ceremony is the more intimate of the two affairs, while our reception is due to be a good old-fashioned knees up!
So, now that we had our comprehensive list pretty much down, we set about trying to organise it. It seemed to me that the easiest way would be to create a Microsoft Excel spreadsheet, so I took to Google for inspiration. Sure enough, there are templates abound if you conduct a search for "wedding guest list spreadsheet template" or something similar – my only gripe was that it was easy for me to get overwhelmed by all the template options I found because some of them are massive (like the one I've linked to above). In the end I decided to just create my own, but the link I've provided is by far the best template I've found online and I'm definitely going to be referring back to it in the coming months when we actually have other things to organise!
While at first I was certain that I'd use a template, it soon became apparent that I'd need to create my own spreadsheet merely using a template as inspiration. This was purely because some spreadsheet templates contain columns for pieces of information that aren't relevant to our wedding. I therefore decided to create our own guest list spreadsheet using the following column titles:
Name of guest
Street address
Postal code
Relationship (to either myself or Lamb)
Number of guests in their party
+1? (either yes or no, and how many)
Invited to – ceremony (C) or reception (R)
Invitation sent? (yes or no)
RSVP (accepted or declined?)
Food choice (meat or vegetarian)
Accommodation needed? (yes or no – for potential out of town guests)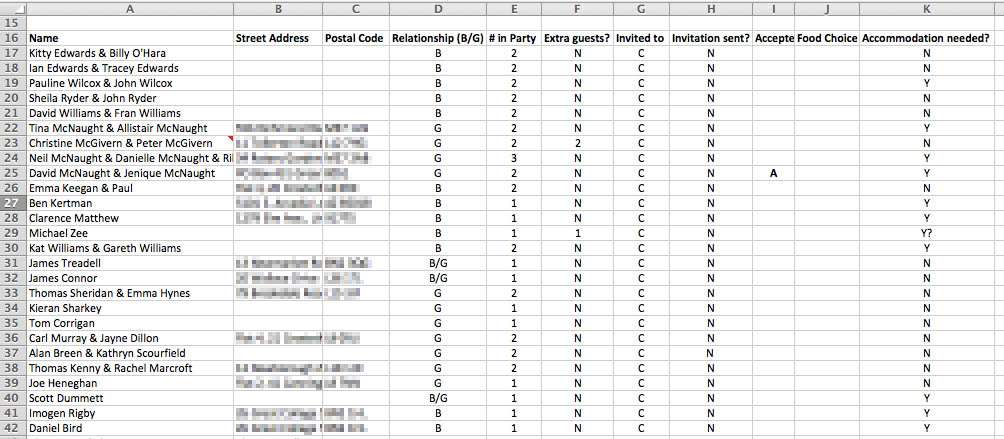 If you're curious you can enlarge this screenshot of the spreadsheet I made and see those columns "in action" (how exciting!)
Making a spreadsheet in this way means that we can keep 'formal' records of guests' full names and other important details – such as whether they'll require a hotel to stay in if they're not from the area. This means that when it comes to sending out their invitation, we'll remember to include information on local hotels, et cetera.  If you're spreadsheet savvy, you'll know that Microsoft Excel allows you to insert formulas that calculate the values of specified cells. You'll notice that I have used numeric values in the "# in Party" column – at the bottom of the spreadsheet I made a mini table that includes columns for "invited to ceremony", "invited to reception", and "total invited overall" – For each of these columns I entered separate formulas that add up the numerical information from the "# in Party" column, so that we have a more accurate idea of who might be coming, to what, and with whom. I don't want to bog you down too much with these kinds of details, but if you're not familiar with how Excel works you'll definitely find this tutorial helpful, as it leads you through basic formulas, how they work, et cetera.
I have to say that I found something oddly soothing about this flourish of geekery. Lamb and I are quite lucky in that there aren't really any rifts in our families or within our friendship groups, so we were able to be liberal in inviting whomever we wanted without worrying about upsetting anybody else. I do realise that this is an issue for some couples, though, and if it's an issue for you then I would be really interested in hearing your thoughts on the issue. How do you get around it? Have you made any sacrifices that have upset you? Do you have any of your own tips on drafting up a guest list, and/or keeping it organised? Have you been rather strict on who can come or who can have a +1, or is your wedding a public party? I have so many burning questions on the issue, since we seemed to make really light work of something that we were expecting to be difficult, so I'm really curious as to how everyone else is faring!