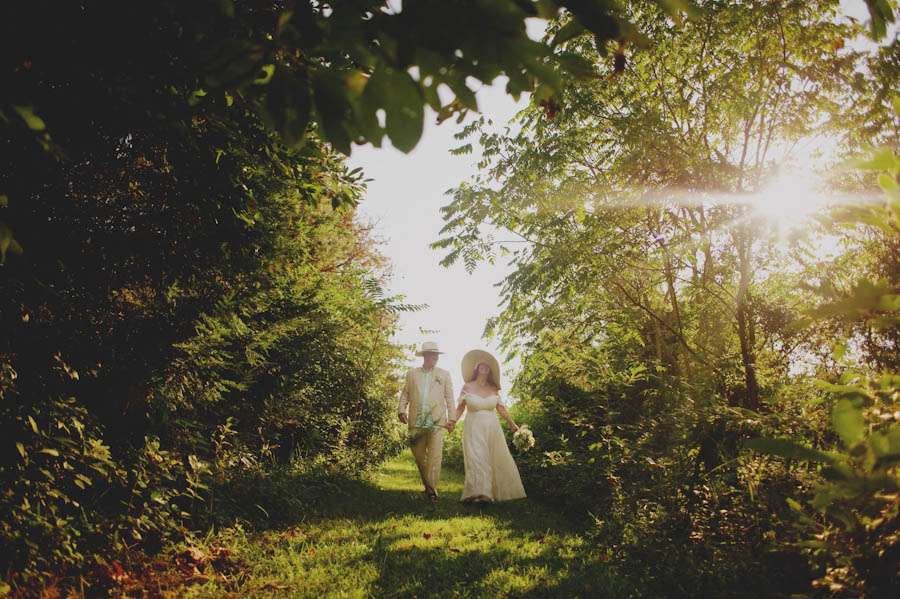 As soon as I saw bride Reenie in that incredible floppy hat I knew I had to feature her wedding. I love seeing brides that make really unique styling choices and I don't know about you but I can remember ever seeing a bride in a hat like this before. With her fabulous head wear she wore a 1970s style dress, which was the very first thing she bought, from Nataya for just $199!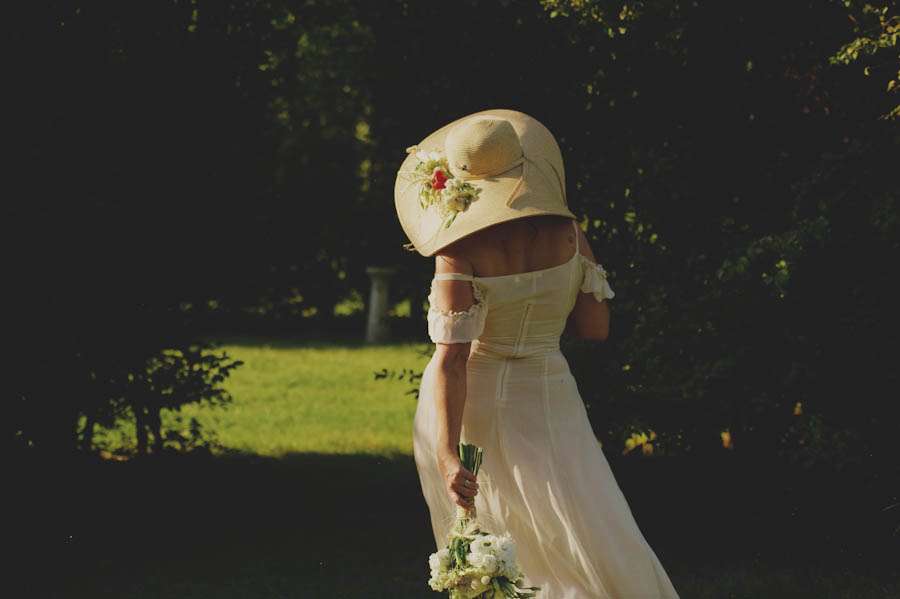 The October wedding was held at Hampton Hall Farm, Jefferson City, TN and their laid back hippy vibe makes me wish I was there. I love how homely and cosy it all looks and that the whole family got involved. The photos of them all having a pre-ceremony sing-along on the porch are just the best!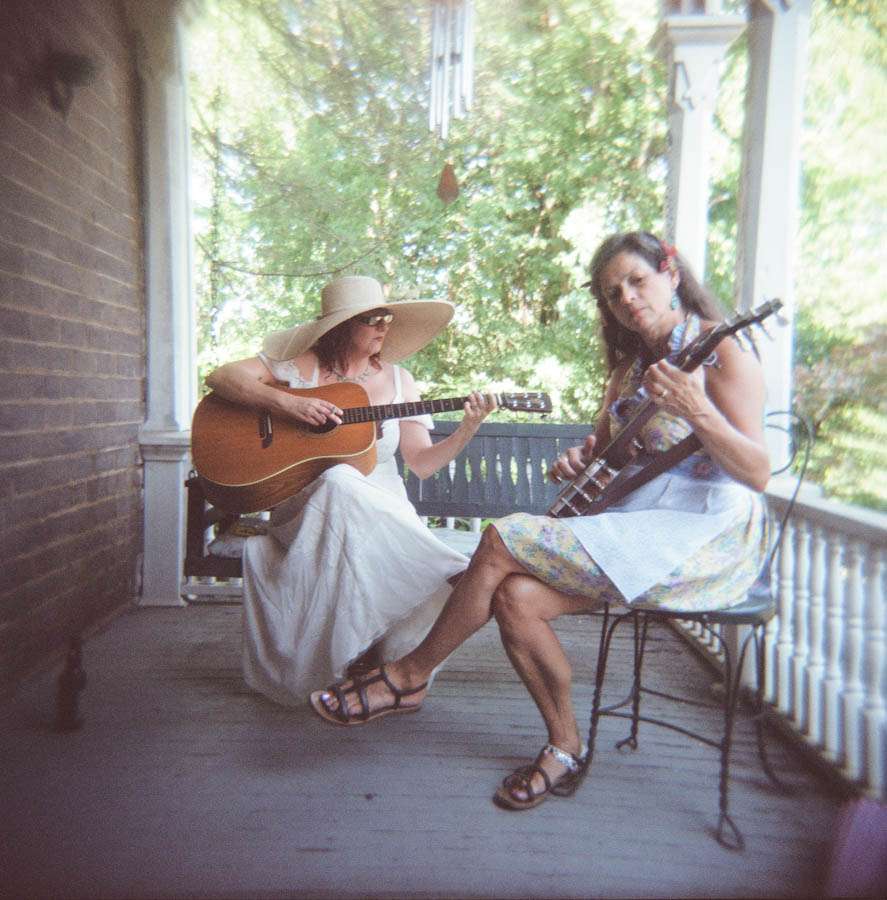 "I couldn't come up with 'wedding colors' or a particular 'theme'," Reenie told me. "I didn't want to be one of those brides that stuck my girls in my favorite colors knowing that not all of them can pull of chartreusse. One day I noticed these really cute retro aprons in the window of Bliss, and it all kind of fell into place. My wedding colors were 'quilt.' I picked out about 20 fabric patterns and had them pick the three they wanted incorporated into their dresses."
"I wanted everything to be comfortable, inviting, and informal. When folks arrived, there was wine on the tables and little plates of goodies to tide them over. The party started when you arrived. In fact we were all so laid back I forgot to carry by bouquet to our ceremony! I only noticed it was missing on the way back up the aisle!"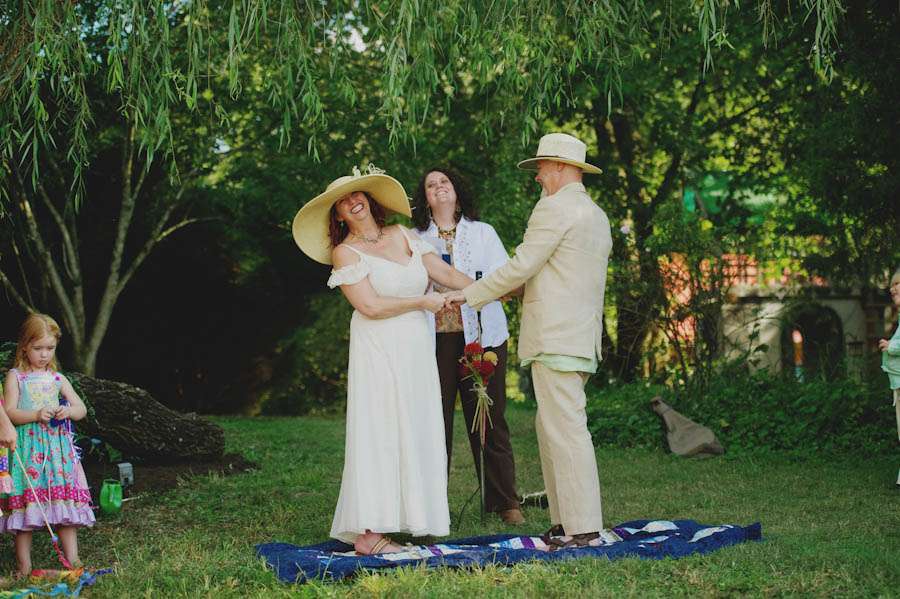 "The 'quilt' idea continued into our ceremony. Edwin and I stood one that my sister had made for my Father after our Mom passed away. It was made from all of Mom's pajamas. Since both my Mom and Dad have passed, it was a way of having them there, under our feet."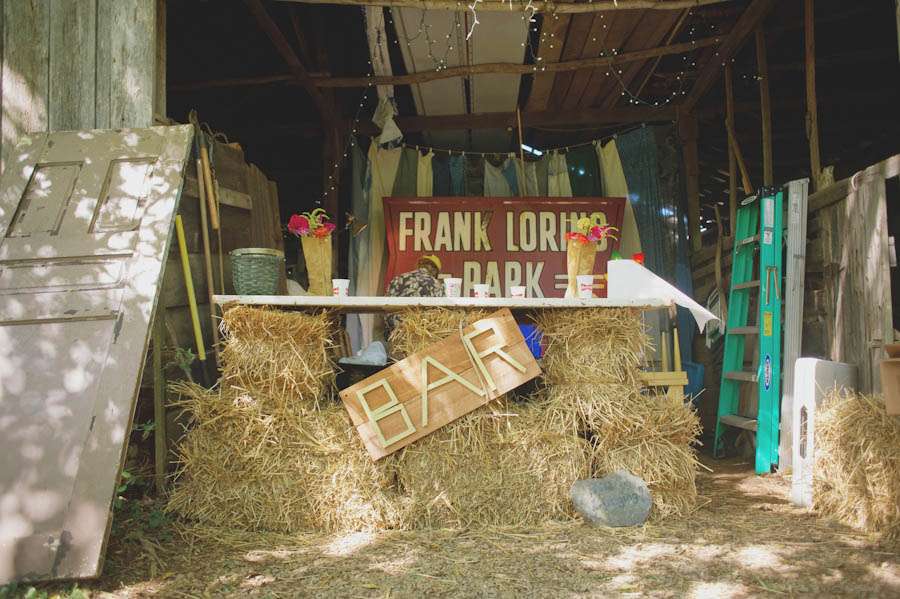 The couple wanted an 'outdoor/indoor' feel and so set up little outdoor rooms for people to congregate comfortably and naturally. They had hay bales covered in fabric and a makeshift bar and lounge area in the barn.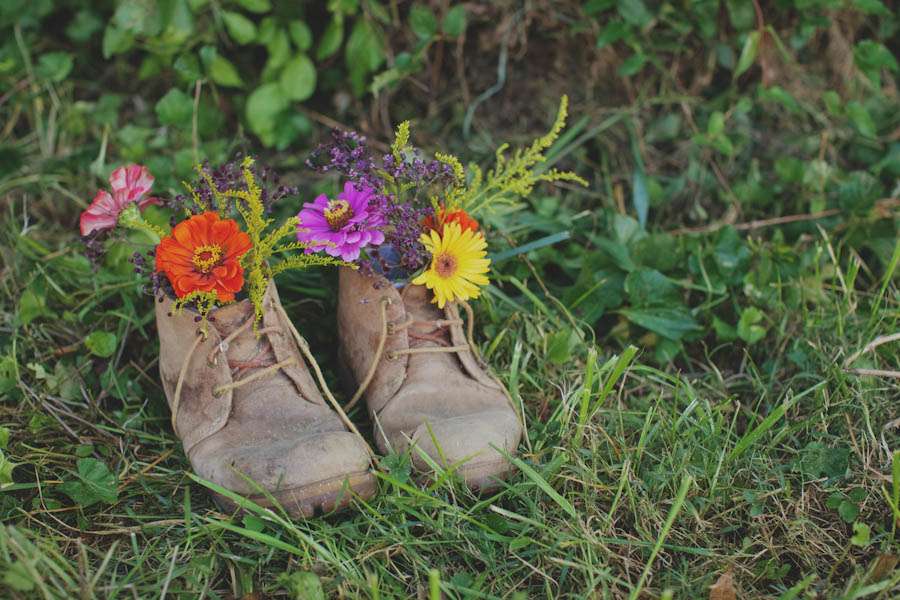 "I like kids at weddings", the bride concluded. "When I was a kid, we always went to our huge clan's Cathloic weddings. The receptions always tended to be informal garden parties. Us kids ran around and had a ball. My friends, Chris and Candice, who own Hampton Hall Farm, have a 5-year-old by named Will (he was my ring bearer). So there was lots of play-stuff around for the kids. Lots of trees to climb, places to hide. I have fun watching kids having fun."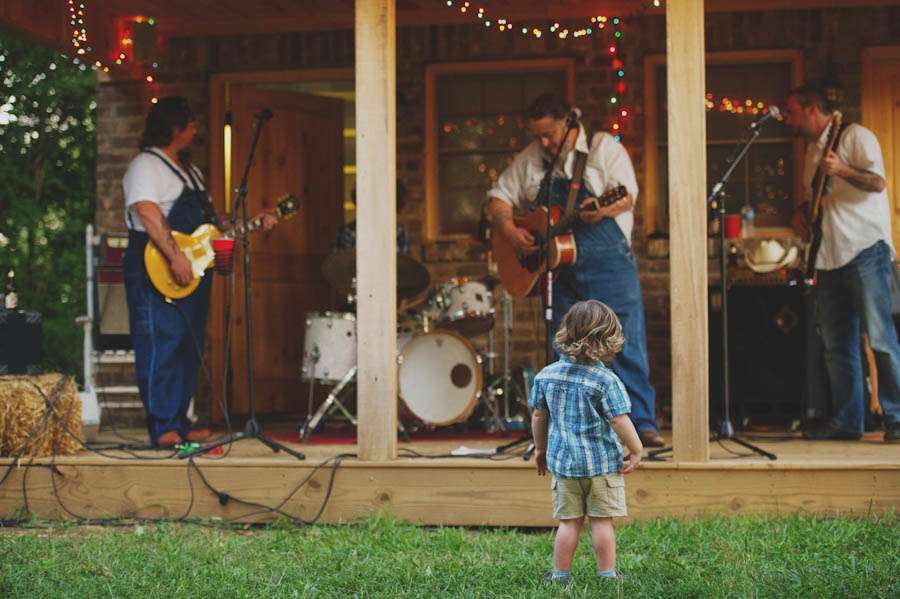 Thank you to Reenie & Edwin and their amazing photographer Tara of Dixie Pixel Photography for sharing these today.
Supporting Cast:
Photography Credit: Dixie Pixel Photography
Venue: Hampton Hall Farm, Jefferson City, TN
Bride's Dress: Nataya
Bride's Hat: Fizz on Market Square
Bride's Hatpin: Garden of Weedin Girl on etsy
Bride's Jewellery: Ann Egan
Bride's Engagement Ring: Lamon Jewelers
Bride's Wedding Ring: Unique Celtic Wedding Rings
Groom's Outfit: Make Your Own Suits & Village Hat Shop
Bridesmaid's Dresses: Made by a friend with fabric from Connecting Threads
Bridesmaid's Paper Parasols: Beau-coup
Cake: Magpies Bakery
Flowers: Blooming Earth Flowers
Band: The Barstool Romeos
Stationery: DIY
Caterers: Big Fattys Catering