This month, resident charity shopping guru/icon Roo is talking all about finding clothing gems in charity, thrift and vintage stores. Enjoy darlings!
♥   ♥   ♥
The last time we spoke, I was floating on the high of a relatively warm autumn down here in Brighton (I'm not kidding; I went swimming in the sea at the end of October). I'm sad to report that the temperature tables have now rightfully turned, and as a result I've been honing my beady eye in on stocking up my winter wardrobe to accommodate for these chillier months.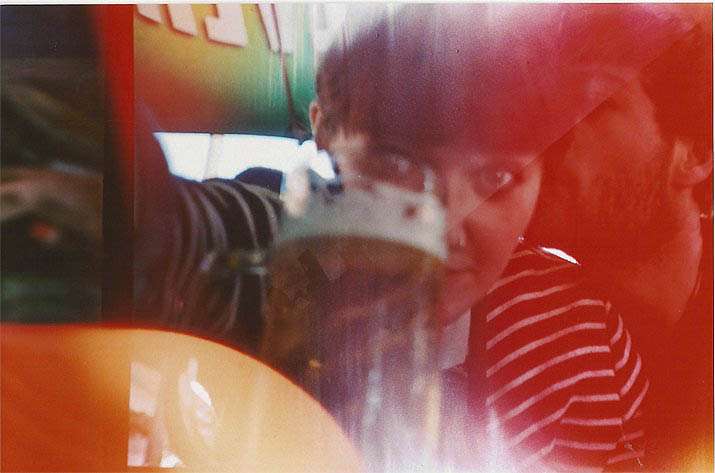 Now, apart from being a little bit skint a lot of the time, it's also worth considering that I have a Mother who is a dab hand with a needle and thread. This has meant that I've grown up understanding the value of clothes – I won't breach onto designer territory just now, because that's a whole different kettle of fish – but I will say that nine times out of ten I'll step into a popular high street store and be blown away by the lack of quality for the relatively extortionate price tag. On more than one occasion I have been the victim of inexplicably frayed edges, missing buttons, and ripped seams, and altogether I find it quite disheartening. That said, I do like to buy my key pieces – jeans, plain t-shirts, jumpers, etc – from high street stores, because we can all wear these things differently. If I am ever conscious of looking like a clone, I would much rather go for second-hand.
'Second-hand' can cover two areas; charity/thrift shops, or 'vintage' shops. I am also acutely aware of value for money when it comes to these two areas of retail, obviously through being a bit of a thrifting fiend, and having a sister who owned her own vintage clothing business. I've seen more warehouses than I can count; inspected wholesale bundles a-plenty and generally sifted through the crap, and I'm always on to a rip-off. This time around, I'm going to share with you my best new purchases of the recent month, and as ever compile a list of do's, don'ts, how to's and why's, so that you might find your own good quality bargains. We're going to focus primarily on charity shops, of course, but I'll also be indicating where tips can seep into the vintage business too, since I feel the line between the two business sectors are blurring.
Finding what you're looking for
As per your household/decorative items, it's advisable to work out what you want before you leave the house. Are you going somewhere? Is it a formal do? Fancy dress? Do you need to be weather-conscious (i.e. cardigans vs sun dresses?) It's worth being aware that charity shops (and vintage shops) set themselves out differently, so knowing what you have in mind is paramount. I've never worked out what my merchandising preference is, so I'll roll with my gut and say that it's dependant on what I'm looking for. If I know I want a new dress but I don't mind what colour it is, then I'll prefer shops that set themselves out by category; dresses, coats, jackets, jeans & trousers, shorts & skirts, and so on. That means that I can look through all the dresses they have at once, and compare my options easily.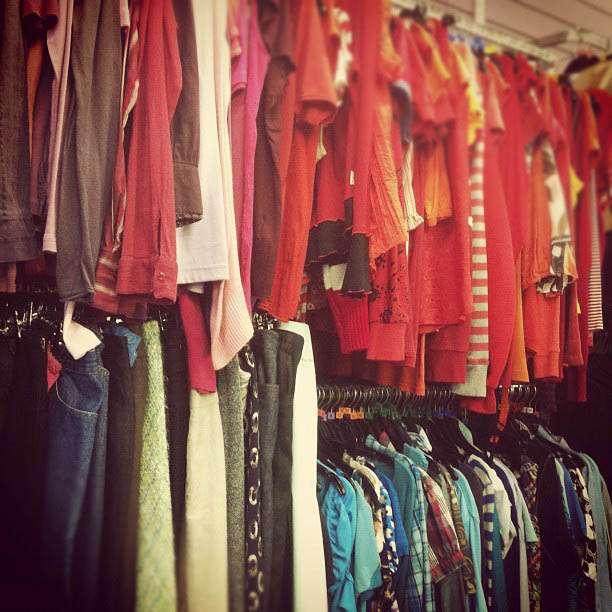 Alternatively, I do have a soft spot for those shops that take the time and effort to arrange stock by colour (above). It can be a little frustrating to see lots of different types of clothing mixed in together, as any outstanding pieces can get lost in the fracas, but overall it's really useful should you know that you want something relatively non-descript, like 'a blue top'. Bizarrely, it also works really well for fancy dress requirements – say you're planning to dress up as a Christmas tree this festive season, you'll know that you need green on top (pine needles) and brown on the bottom (bark). Easy peasy! I can also see a Where's Wally? jumper peeking out from the rail, but if I start talking about fancy dress costumes, I'll never stop…
Beware of the 'vintage' rail!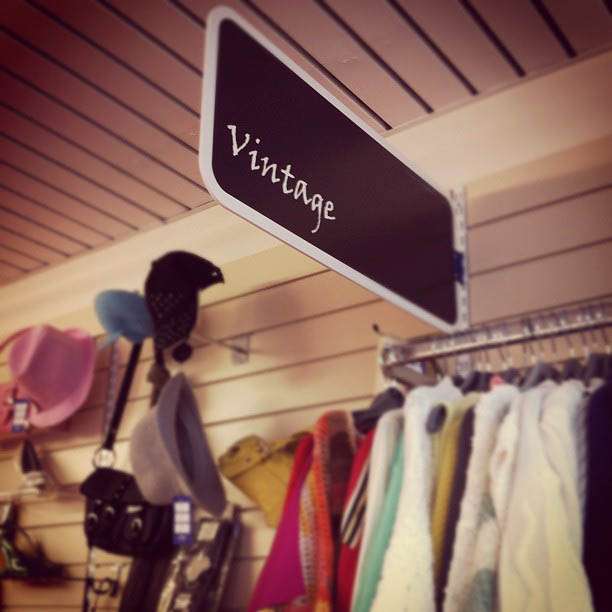 This is what I affectionately dub the great charity shopping scam. It started with my first glimpse of an 'Oxfam Originals' store in Manchester, and has since escalated to finding these 'vintage' sections in other nationwide charity shops. I'm not a penny-pincher, but I do think that it's unfair of some charity shops to hike up their prices simply due to riding the vintage wave. That's not to say don't buy it – but do be wary. As I've said before, only you can be the judge of whether something is worth its price tag.
Check the labels inside the garments – not just for price tags, but also for branding. I found a pinafore dress (above) priced for £12.99 (around $20), and initially I couldn't find a brand label, since it had been cut out with scissors. I persisted, and managed to find a wash label sewn into the inner seam, and saw the faded name of 'Atmosphere'. As many UK residents will know, Atmosphere is a brand of mega-super-uber cheap high street store Primark. I suspect that its original RRP in store was around the £10-£12 mark, so to see it selling at this price when second hand is a little disconcerting.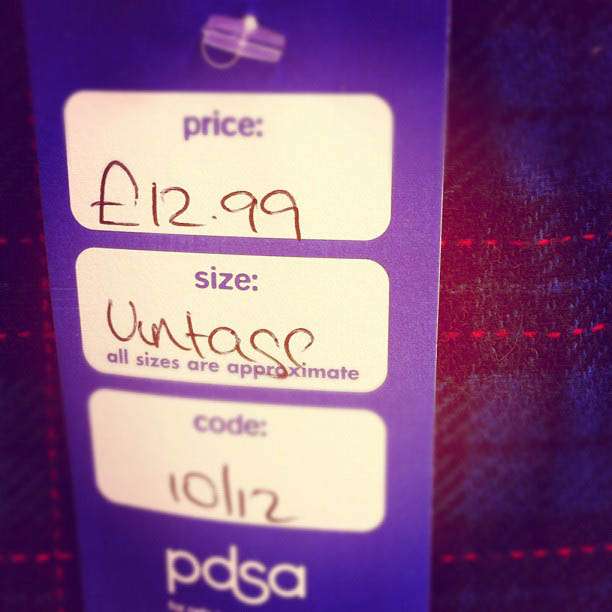 So, checking the label when something is described as 'vintage' is pretty important. If you're fortunate enough to own a smart phone and aren't sure of a brand name you find, pop the name into Google and see what information comes up. In this way, I've even managed to stumble on some designer pieces in the past that would have otherwise gone unnoticed! Overall, though, it's a sad fact that some shops will whack a vintage label on anything that merely looks 'old' or doesn't have a recent high street label.
That being said, there are some brands that I've found in charity shops, which have never let me down. I can't speak for trusted US high street chains since I don't know any (do feel free to enlighten me) but I'll always look twice at a charity shop item here that boasts a Marks & Spencer label. Another brand I've often liked is St Michael, which is a sub-brand of M&S and was always used in their clothing and food products as a mark of good quality. They made fantastic coats and cardigans, and they're often ten-a-penny in second-hand and charity shops these days.
Do a quality check, and spot the potential
This titbit of advice is important both for cheaper items, and more heftily priced items. As a slight side note, since Lamb has no idea what kind of suit he wants to wear for our wedding, I've advised him to look in some vintage places and even charity shops. There's nothing even near a guarantee that he's going to find something in his size, but I will always maintain that it's worth buying a suit that doesn't quite fit for cheap, and then spending the money on getting it tailored. It's cheaper than a bespoke service, and more unique than buying from the likes of Topman or Next.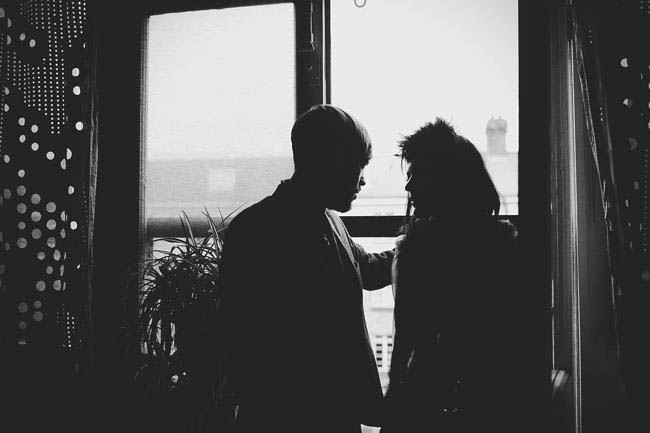 Lamb & I by Emma Case Photography
You can apply this way of thinking to pretty much anything you find in any kind of second-hand store, especially vintage. Most (not all) vintage shops will buy their goods blindly in bulk – there are warehouses all over the world that provide this wholesale service – all you do is specify the weight you want, and they'll ship over a bag of clothes. This is a lottery in itself, because a shop may spend £500 on a bundle and only find a handful of out of this world pieces amongst a lot of dusty rubbish. Or, so they think. The key is to learn how to spot the potential. Maybe you have a dainty frame, but that prom dress you're ogling looks more like a parachute – perhaps you're a 5'0" cutie but those darling woollen trousers leave you needing stilts for them to fit. At first it might seem that you're harbouring a useless dream, but don't lose faith if you pick up something that you really love. When my sister ran her vintage shop, she often found floor-length dresses that had been eaten away at the hem by pesky moths, or subject to mould and mildew. My mum was able to rescue these pieces by taking them up to knee or thigh length, also ensuring that they were en vogue for the current market. If you believe that a piece you find is an investment, then invest! If you're still wary, try contacting local dressmakers and see how much they charge for different types of repair. You can keep their prices in mind when you go shopping (or even jot them down in a notebook) so that if you find something you love, you can tot up a rough estimate of how much it'll cost once repaired. This can prove useful if you're choosing to source your wedding dress, bridesmaids outfits or groom/groomsmen's suits from vintage sellers.
Remember: it's a lottery
Unfortunately, it's not within my power to give you all the tips you need in order to find something wonderful; a lot of it is merely down to the luck of the draw, and is completely dependent on the stock in store from day to day, or week to week. If you have a special occasion on the horizon, start shopping with a couple of months to go – that gives you plenty of time to trawl the many different stock rotations and hopefully get your purchase altered, should it need it. Above all else, remain of an open mind. You're going to find some weird and wonderful items that you never would have dreamed of wearing in a million years… Yet it speaks to you. There's nothing better than finding something unexpected that gives you millions of butterflies… Like your betrothed, no?
Phew… I think that's about all from me, for now! As promised each month, I leave you with my favourite finds of the past couple of weeks.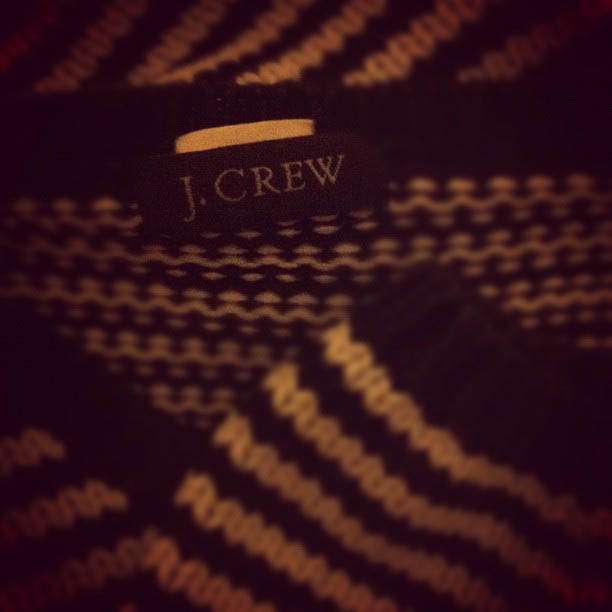 J. Crew knitted Breton sweater, £3.99, Oxfam
I was so excited to find this beautiful, cosy J. Crew sweater in our local Oxfam, going for a song. Not to mention it's as good as new, and it's totally reignited my love affair with knitwear. Which brings me to my next favourite find…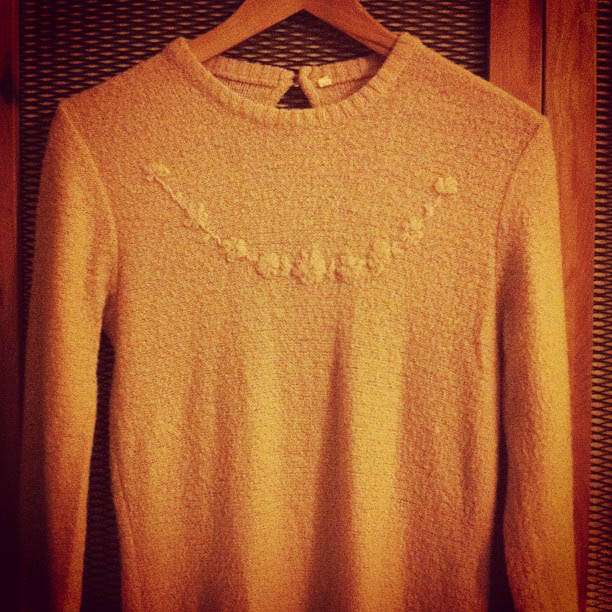 Knitted midi-dress, £4.99, PDSA
I feel that I may have bought into this without enough consideration, since the wool is a little on the itchy side. Still, I have big plans for it; I'm considering asking my mum to sew some soft lining into it. Plus I couldn't resist that knitted flower detailing… Could anyone?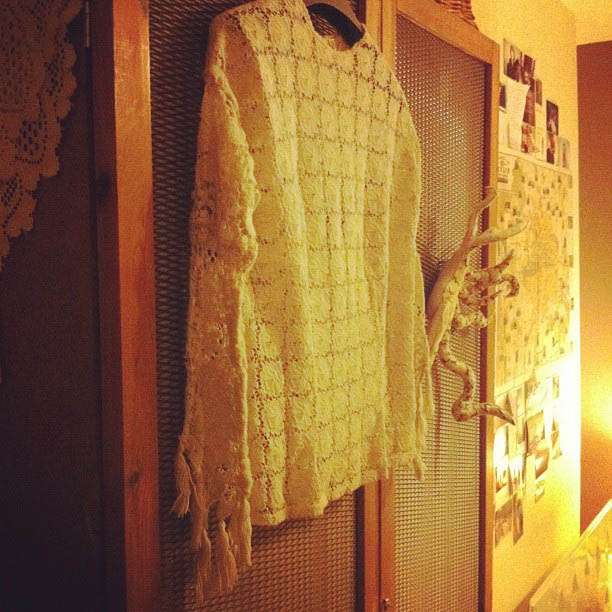 Lace top with tablecloth sleeves(!) £10 in total
I found this sleeveless lace top looking a bit worse for wear; rips in the fabric, a few tea stains here and there. Lace like this is relatively easy to repair, because the pattern isn't glaringly obvious when you look at it – a few stitches and it was good to go. The sleeves were made from an old lace tablecloth sitting in a basket of fabric; made by wrapping the tablecloth around my arm and pinning it in place, before taking it off and securely stitching it up with a sewing machine. It was then laboriously attached to the bodice – overall quite a delicate piece but I'm forever in love with it.
Well, now that I've covered the two main items (homewares and now clothes) that I've been shopping for lately, is there anything else that anyone would like me to cover? Is there anything that you're trying to source for you're wedding, and you're hitting a brick wall?
Until next time, critters!