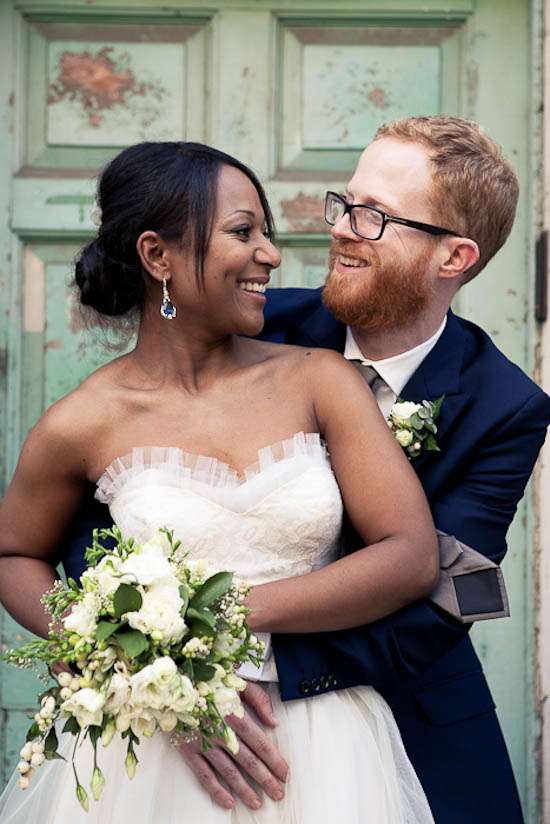 I was hanging out at Fur Coat No Knickers a few weeks ago catching up on my vintage fashion/wedding industry-based gossip, when in breezed an excited girl who had just got married in one of their beautiful wedding dresses. Naomi had popped back in to show Laura & Emma some of her wedding photos and as soon as I heard the words 'wedding photos' I immediately jumped out from behind the dresses to have a nosy myself (Poor Naomi, I must have given her a heart attack…turns out she was a regular reader of this little wedding blog throughout her planning!)
Anyway I loved the photos Naomi showed us on her phone, so when I received the submission from her photographer Sarah Lauren I was thrilled that I would be able to share them with you too!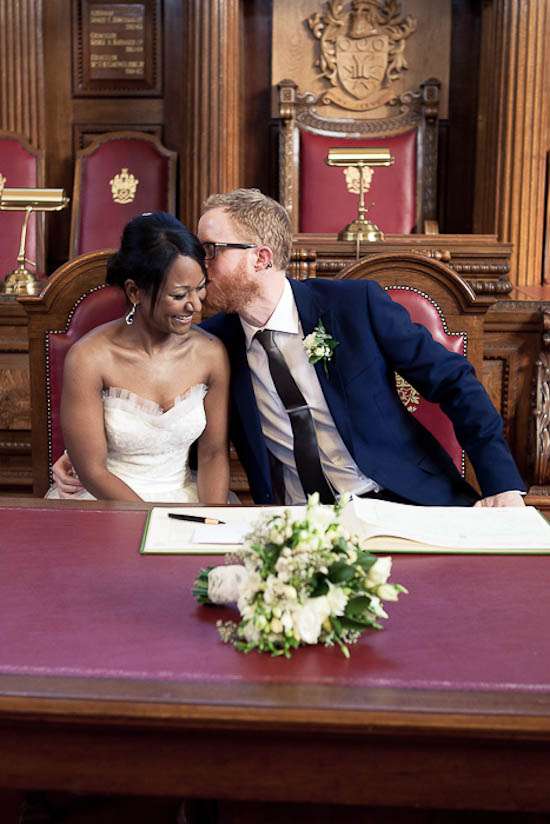 Naomi married Chris in London on 1st October. After getting ready at the gorgeous Charlotte Street Hotel, Naomi and her bridal party hopped in a London black cab to Islington town hall for the ceremony. Following the marriage service, the newlyweds and their guests all jumped into a red London bus, which they hired from Routemaster Hire, and headed to 6 Fitzroy Square for their beautiful reception.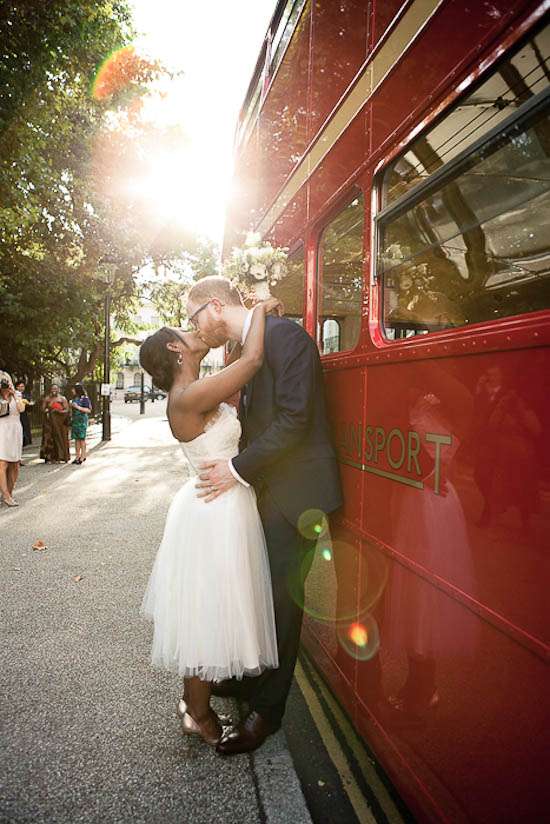 "October 1st was freakishly one of the hottest days of the year. The atmosphere in Fitzrovia was animated with London nightlife," Naomi told me, "We tried to keep our wedding theme fun-loving, relaxed and really styled to our personalities; we had moustaches on sticks for the wedding guests to play with. We also gave them fortune–teller fish as favours. I handmade the cake toppers and Chris stayed true to his comic book roots and wore crazy Spiderman cufflinks which I bought him!"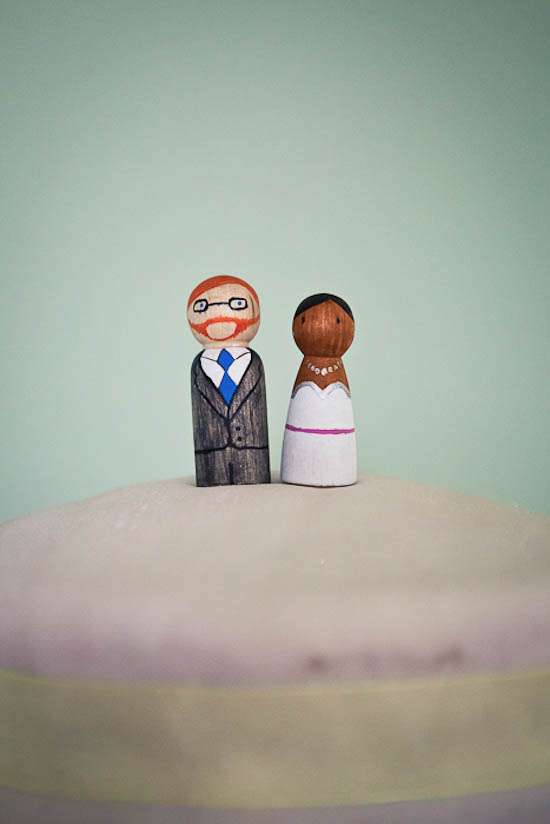 "We love our hometown London and there was a definite London theme throughout with the Routemaster bus, the central venues and the cosmopolitan wedding party. Even though it was a very London-esque wedding, we had family and friends visiting from the USA, Australia and even the Scottish Highlands! We felt so flattered that our guests travel from far and wide to witness our special day."
"6 Fitzroy Square is literally down the road from the Charlotte Street Hotel where we were staying, so after the evening do at Fitzroy Square we thought it would be lovely to take a walk with close friends (those hardcore few!) back to the hotel for a chilled out drinks after-party. We stayed up til past 3.30am!"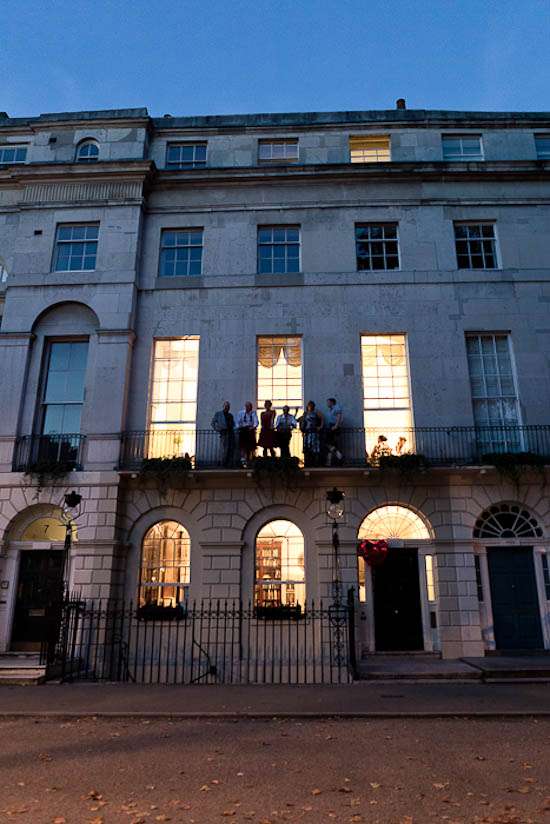 The couple also had Frank Miller of Sassy n Frank to video their day…
Thank you to Naomi & Chris and their photographer & videographer Sarah and Frank for sharing this with us today.
Supporting Cast:
Photography Credit: Sarah Lauren Photography
Video Credit: Sassy n Frank
Ceremony Venue: Islington town hall
Reception Venue:  6 Fitzroy Square, London
Bride's Dress: Fur Coat No Knickers
Bride's Shoes: Jimmy Choo
Bride's Headpiece: Karin Andreasson
Bride's Jewellery: Haute Bride San Francisco
Groom's Outfit: Reiss
Bridesmaid's Dresses: ASOS
Cake: Laura Jolley
Bouquets: DIY
Other Flowers: Chocolate Cosmos
Make Up: Kamila
Band: Flood the Floor
String Quartet: Alexandria Quartet
Stationery: DIY
Favours: fortunetellerfish.com
Caterers: Dinellis Catering
Transport: Routemaster Hire