Roo is pretty awesome you know. So she called me last week with an idea for a blog post which I loved so much I asked if she'd like to make it a monthly addition to the blog. Which I'm pleased to report she did.
As a bit of a charity shop/thrifting fiend, Roo's idea was to share some of her favourite charity shop finds as well as showing you how she is using said finds in her wedding. These posts are going to be the perfect antidote to a wedding industry that tries to convince you that you have to spend a bomb to have a beautiful wedding. All you really need is a little imagination and not a lot of cash. Hurrah!
I just know you guys are gonna love this…
♥   ♥   ♥
When I say I love charity shops, it is purely with conviction and entirely without shame. I don't know when it started, but I do know that having a very vintage-savvy mother helped in launching the love affair. My first charity shop-owned item was bought for me by her; a pair of calf-high, low-heeled tan boots costing just £3, from a very unknown shop in our suburb that supported the local Christian community. I wore those boots with everything, all the time; eventually, I wore those boots until they literally caved in on themselves. I don't think I could say that those boots got me addicted, but seeing my mum come home with vintage suitcases full of antique lace and fabric samples certainly stirred my interest. I'm twenty-four now, and the stirring continues – dizzying, you might think, maybe even nauseous, but I've never stopped loving or being excited by it. I'm so pleased to share my best finds of these upcoming, pre-wedding months with you – not to mention a few "how-to" guides on finding your own dream buys. But first, a little prequel…
When I was twenty years old, going on twenty-one, I lived in Exeter for a brief period and fell in love with an antique shop called Otto Retro. I spent hours haggling with the owner (or, more accurately, she spent hours haggling with me – she would never let me pay full price for anything) and I ended up furnishing half my bedroom with some truly amazing pieces – take, for example, this desk and chair set – complete with globe, Anglepoise lamp, bird cage (plus mechanical birds) – all for £120.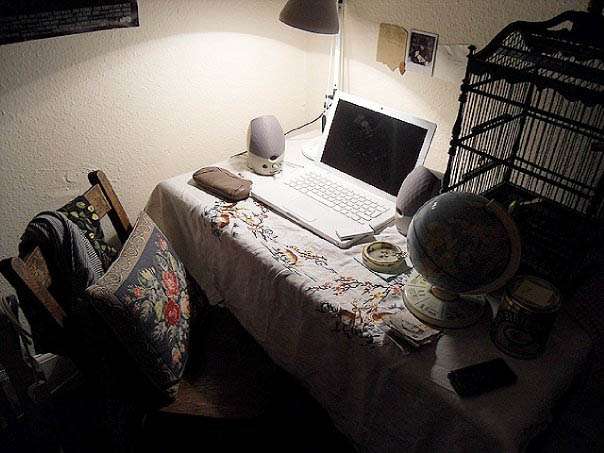 With each visit, my interest in antiquing was sent skyrocketing, but after I peaked, I started to feel like I wasn't getting enough out of it. Antique shops as a rule are independent stores, and I will never stop supporting independent stores and their respective owners, but I started to draw the conclusion that I would be far more satisfied supporting a larger/wider demographic – i.e. the target groups of charitable foundations. I am totally supportive of independent sellers and would choose them over the high street 80% of the time, but I can't shirk the pure and simple fact that for me, nothing beats the feel-good ethic of charity-shop-shopping (charity shopping? I've never worked out the right phrase).
I was once described by a friend as "bargain-bin chic", mostly because every time someone complimented me on my new jumper/shoes/handbag I'd say "oh, this old thing? It's only from Scope". Only? Only!? The charity shop veteran that I am today is disgusted by my conduct, because as you will learn (if you don't know already) it is highly rude to be so dismissive of a good piece of tat.
I've always been overly fond of homeware – china, blankets, lamps, houseplants, and so on, etc, etc, and recently my thrifting focus has shifted from threads to trinkets. I do still look for clothes, but since we started planning our wedding I've become horrendously obsessed with picking up bits and bobs that we can use as table decorations. One of my very most favourite weddings featured here ever is Alix & Shawn's Natural History Museum Wedding; for so many reasons, but the most relevant to our topic right now were their terrarium table decorations.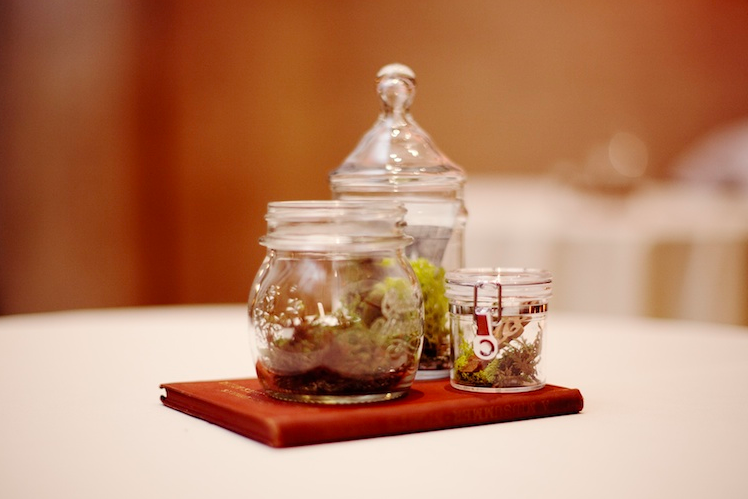 Photography credit: Liesl from Photo Pink NYC
I've strongly of the opinion that you'd have to be seriously tapped not to enjoy everything about terrariums – they're natural, ethereal, cheap to make, easy to maintain, each one is unique, and they can satisfy a harbouring god complex (because, you know, you've created your own little universe). Plus, as with anything I covet, there's an underlying creepiness factor. What's not to love?
I'm a bit (a lot) of a Tumblr addict, and I started finding more inspiration that cemented the terrarium idea in my head. I've long-admired Elizabeth (below) as a photographer, fashion guru and ultimate babe, so it didn't surprise me that she was so finely in tune with my new creepy obsession – so much so that she made her very own terrarium out of an empty Crystal Head vodka bottle.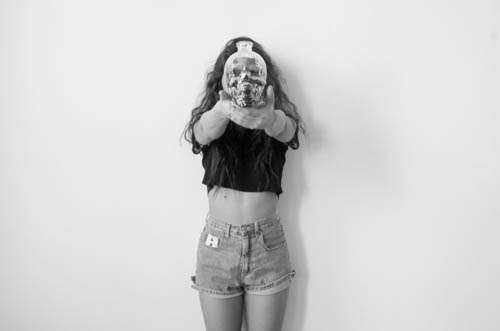 Photography credit: Elizabeth De La Piedra
Nauseatingly incredible, yes – possible for me, no, given that I am a massive penny-pincher and by no means a vodka drinker. Still, I was spurred on to keep my options open – I didn't have to stick to jam jars, I could go a little wilder! Then, recently, something magical happened.
We are lucky enough to live on a particular road in Brighton that is home to approximately eight thousand charity shops, at least, that's how it feels. There are plenty of treasure troves for me to get my greasy paws into, and on my bi-weekly meander down the road last week, I popped into our local PDSA having been drawn in by this outrageous wall hanging shaped like an owl, priced at £3.  Some genius had hung him (it's definitely a him, right?) next to a row of shelves holding endless china and some interesting glassware.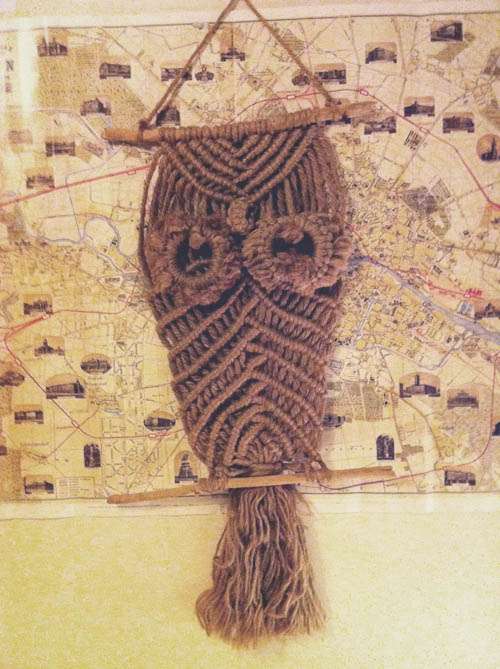 Owl wall hanging, £3
My eyes couldn't help but wander to a pair of incredible little glass tumblers that look to be blown into the shapes of tree trunks, costing £2.50 for both. I immediately thought of how great it'd look if Lamb and I used them at our wedding breakfast, kind of like we were king & queen with our very own faerie goblets. Plus, they'd make great pots for my mini cactus plants afterwards!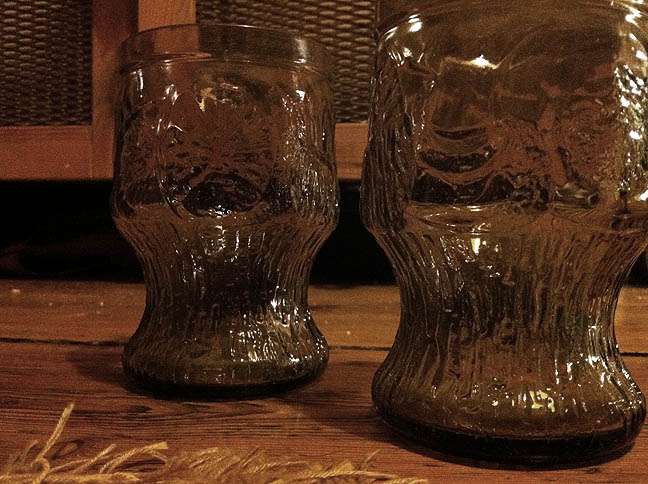 Pair of "tree trunk" goblets, £2.50
After I picked them up, I realised that I'd neglected to see what the shelf had on offer behind them; a glass container perfect for terrarium purposes. It's a pretty decent size (a little bigger than your standard side plate) plus it has a lid, which will definitely make planting and watering a doddle, particularly while I'm getting the hang of terrarium making. I'd already known what I was looking for, in a way, but I certainly hadn't known where or how to find it. I managed to pick this particular container up for £3.99 which can certainly be considered reasonable, given the quality and weight of the actual thing – and if you're in any doubt about my bargain, I actually found another piece that looked similar to this a few days later, in a different shop… priced at £9!  This glorious, fateful day set me sailing off into the sunset of my terrarium adventure. In the same week I was lucky enough to find not one, but two more utterly unique glass containers just from charity shops along our road!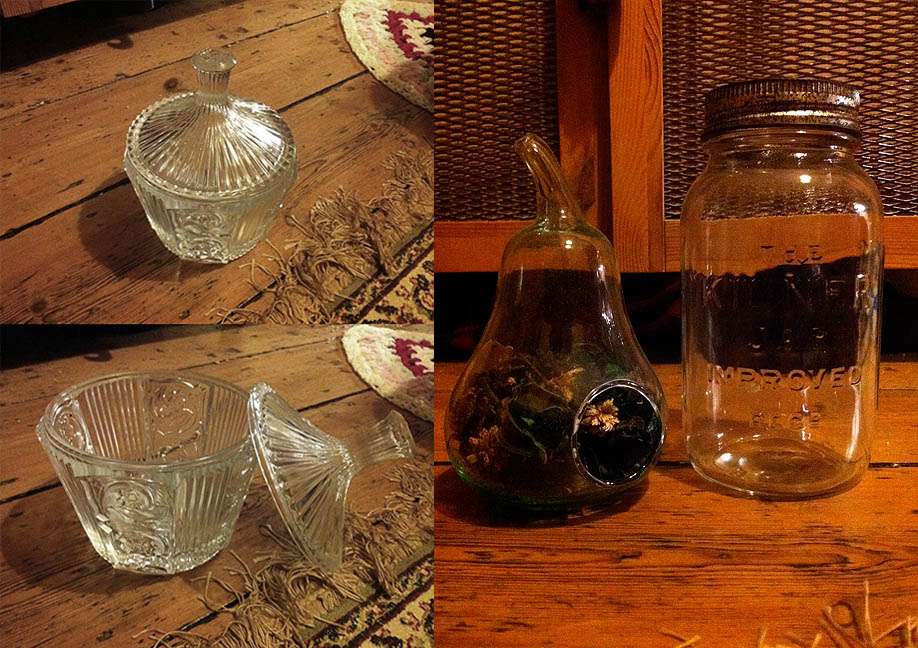 Glass container with lid, £3.99; pear (£1.50) and jar (£1.50)
The pear actually came with potpourri already inside, which really isn't to my taste but proves rather handy in giving a sense of how it'll look when I'm done planting it. I am now acutely aware of how wrong I was when I started window shopping for the perfect terrarium container(s) – but the gift of the internet has shown me the light, and I find myself constantly bowled over by how inventive some people have been with their own terrarium projects; my favourites being lightbulbs and hanging terrariums (buy your own here – or for anyone local to an evolution store, I found the exact same ones in there for £4 each).
Now, it's okay, I understand… you're probably sick of me blathering on about everything terrarium-related, but honestly, I'm a woman obsessed. Before we get to the crux of this post, I'd like to recommend CRAFT's brilliant tutorial on terrarium making at home – there are millions available if you do a search, but I've found this one to be the clearest, easiest and of course the cutest (cupcake toppers as decorations? Who knew?!)
With each post that I make about my favourite charity shop finds, I'm hoping to give you a few tips on how to find something similar, if you so wish. This time, we'll focus on things that you might want to use at your wedding reception, i.e. table décor – I'm thinking bowls, vases, ornaments, frames – the delicates/breakables, if you will. Not knowing a great deal about flowers and flower arrangements, I've often been wary of some bouquets washing out the personality of the individual they're representing – especially when it comes to very traditional selections. Hand-choosing your own vases is the perfect way to add your own taste to an arrangement, and adds loads of variety to individual tables. Even teacups make lovely holders for flowers, and as this tutorial suggests, you can offer them to your guests as favours to take home. Vintage frames work well to hold table numbers, images of the bride and groom, favourite verses, fun facts, or perhaps even a list of the afternoon's/evening's menu.
Photography Credit: Love Me Do Photography
I've compiled a pretty concise list (lists are good) of the best ways to find these fiddly bits:
♥ Have a general idea of what it is you're looking for, and work out a realistic budget for each thing.
♥ Try to focus on one thing at a time – for example, one week strictly tell yourself that you're looking specifically for ornaments of cats (which I do all the time anyway). The following week, you could look for bowls to hold sweets in for your pick 'n' mix bar. Try not to deviate from your topic unless you see something that blows your mind to such an extent that you couldn't bear to leave it on the shelf.
♥ With that in mind, only go for the things that blow your mind. If you're finding it hard to narrow down a wide selection, take your shortlist over to the counter and ask one of the assistants to hold it back for you for a few minutes (I say this because carrying 5 porcelain vases around a charity shop can be risky business). Then, when you're done looking around, go back over to the counter and scrutinize what you've picked. Which ones match – is there an odd one out that you could live without?
♥ Add up how much they all cost and decide whether it's befitting of your budget. It's fair enough if you've left yourself with some wiggle room to go over the amount you allocated yourself, but is what you're buying worth how much they're charging? Most charity shops are goldmines of good deals, but some of them have cottoned on to the "en vogue value" of what they sell, and hike the prices up accordingly. Only you can really decide whether something is worth the asking price, because everyone has his or her own standards of value and wealth (and I don't mean monetary wealth, I purely mean how enriched a buy will make you feel).
♥ Do not buy something that you consider mediocre – as with everything else on your wedding day, you should only make a beeline for the things that represent you best.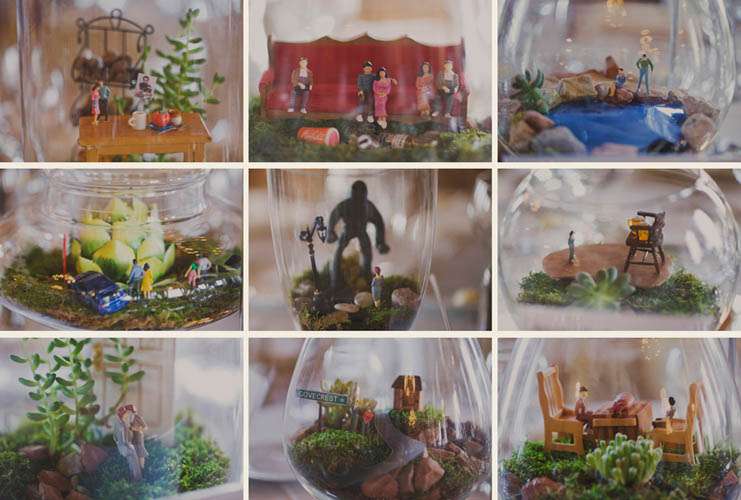 Photography Credit: Made U Look Photography
♥ Don't feel like you have to leave with something – there's no shame in going home empty-handed, it only leaves scope for you to find something really incredible next time.
♥ Get friendly with your local charity shop volunteers, and ask if they have a customer request file. If they do, leave your name and number along with the kinds of items you're looking for. The next time they sort through a new lot of donations, they can give you a call should they find anything that you might be interested in.
♥ Be open-minded – remember that everything can be painted, preened and polished and be made to look good as new.
♥ Be even more open-minded when you find something a bit "out there". It is the more outrageous and charming of charity shop items that make the best buys.
♥ And finally, when in doubt – WWRD?* *(What Would Roo Do?) Try and commit this list to memory and bear it in mind when you're trying to decide between a decorative plate and a crudely painted piggy bank.
♥  P.S. Good luck! And remember, I'd love to hear all about your charity shop finds and any of your own thrifting tips.