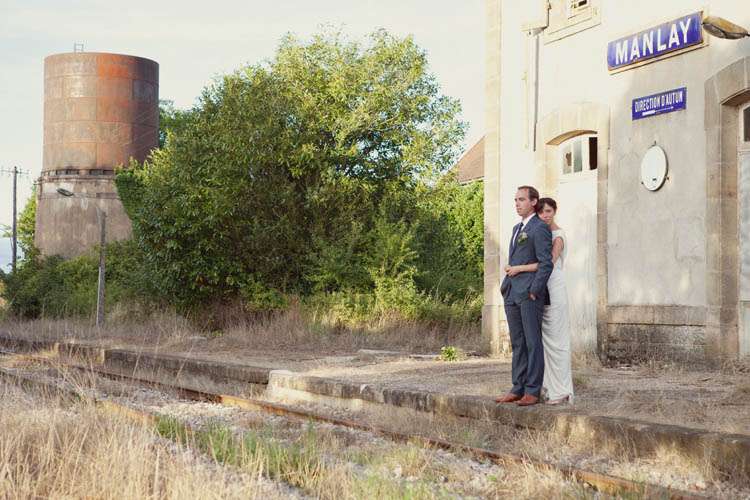 Sophie & Julien's family-central wedding was held in the Cote d'Or region of Burgandy, France, in a house build by Sophie's Grandfather. The ceremony took place at the local town hall and the reception at the family home.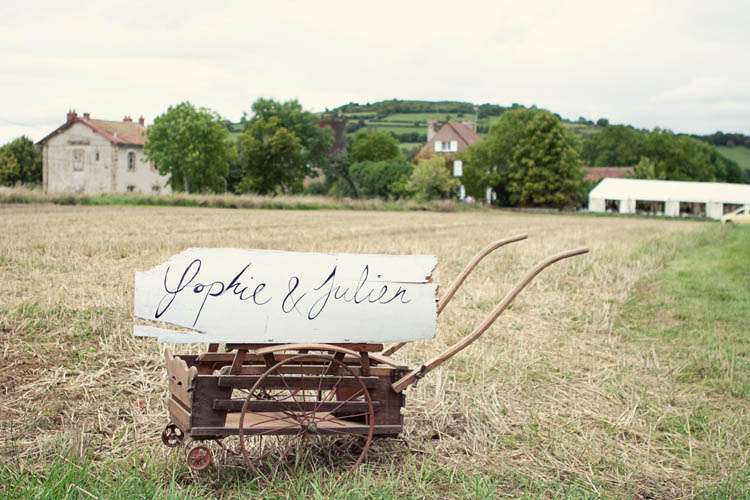 "The wedding was from start to finish a family affair," Sophie explained. "The house was spruced up for the occasion with my Mother being the driving force behind all the sanding, painting, repairing etc.  Julien's Mother came out to help as well as my Sisters, Cousins, Brother's in Law etc!  My Sisters and I spent months looking up ideas and images on various blogs with all details being put to parents, friends etc.  The lanterns came from a friend of mine in Montreal who does decoration for cinema.  She had to create a wedding scene so I bought them off her and added them to the suitcases of various family members who were in Canada visiting to take to France."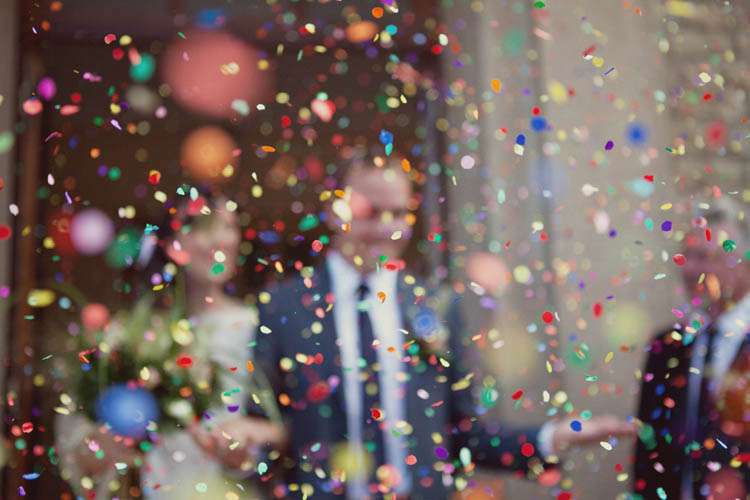 "Our biggest motivator was that the wedding would be fun, elegant relaxed as well," the bride continued. "We wanted the atmosphere to be happy, friendly and warm – like our families!  Having the reception at my family home in Burgundy was very special…the house was built by my great, great Grandfather and so it is steeped in family memories."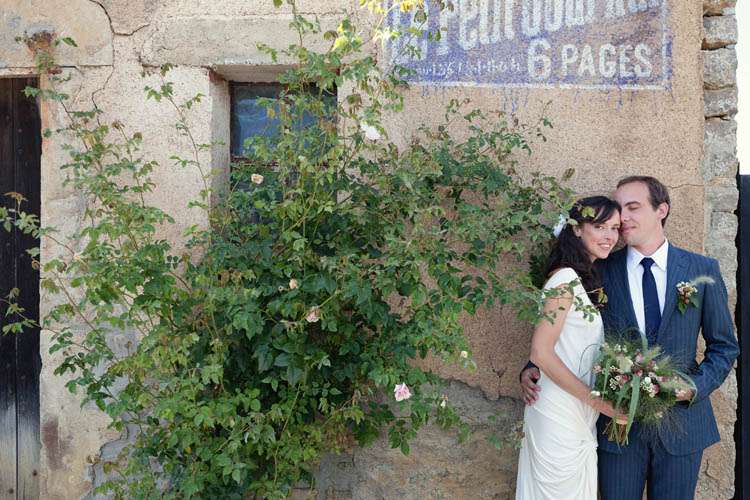 "The decoration was all hand-made and here are some of the things we did…My Sisters sewed metres and metres of bunting and collected bits of lace which they used to decorate the pear tree under which we got married. My Dad and Julien's good friend put up all the lighting and lanterns, my close friend and my Brother's in Law created wreaths and put up hundreds of fairy lights in the trees. We washed and wired loads of jam jars which were hung from trees as candle lanterns."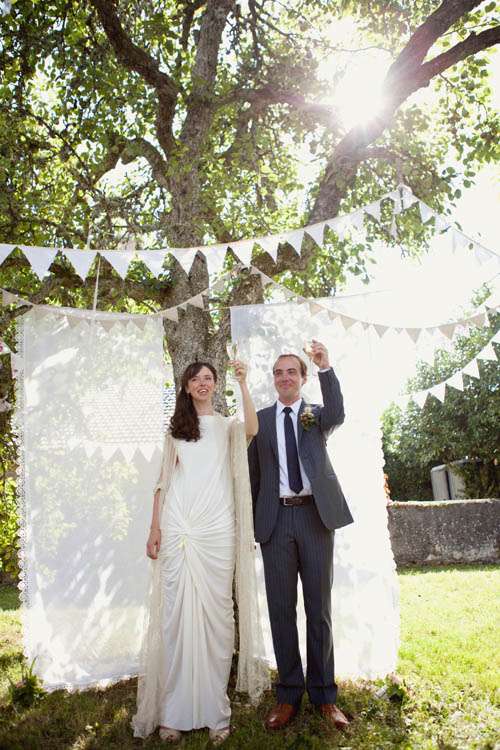 "Julien and I designed the invitations and place cards which we had screen-printed in Montreal. Julien's parents made endless trips to supermarkets, cheese shops, stations, DIY shops to get weird and wonderful provisions, we collected old doilies, lacy tablecloths which we set up on outside tables and chairs for general lounging and smoking. My Sister and her boyfriend helped us find some old frames in which we added some old maps as backing board to our hand-written table plans, they then hung them outside from the arbour we have in the garden – they looked amazing!"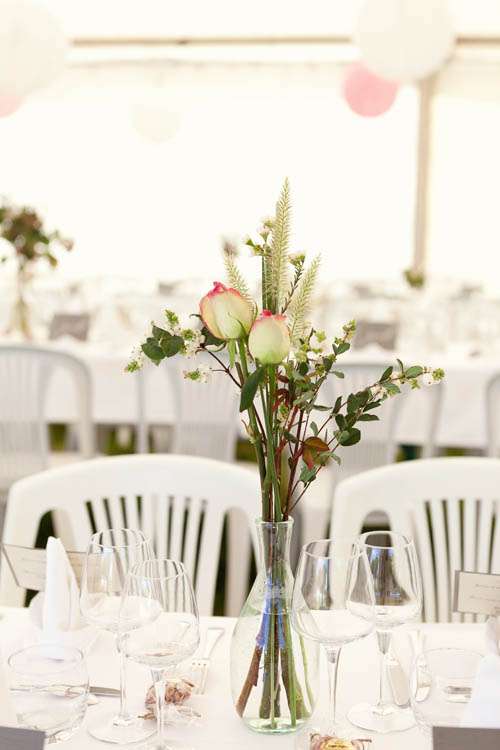 "We bought over mini packets of almonds cooked in maple syrup as favours. My friend and my Step-Mum weeded the driveway, made countless cups of coffee and tea as well as litres of Kir made with local cassis. My Mum made about 12 quiches and other goodies for our next-day brunch and she also made tweaks to my wedding dress, made the vintage lace into a shawl, hand-knitted a alpaca shawl for when it got cold and generally was a superstar! I think I have gone on long enough, needless to say it was a massive group project and it all went without a flaw!"
Sophie's dress was Custom Designed with Canadian Designer Véronique Miljkovitch. "I knew from the beginning that I wanted a dress that was different and initially I was sure I would find a vintage dress. I found my dress almost accidentally – my Mother was in Montreal visiting me for a couple of weeks and Julien managed to get her to take me to a local designer who is a friend of a friend.  The idea was that I would unknowingly pick out a dress for my birthday present…little did he know that on this surprise shopping trip, I ended up finding my wedding dress!"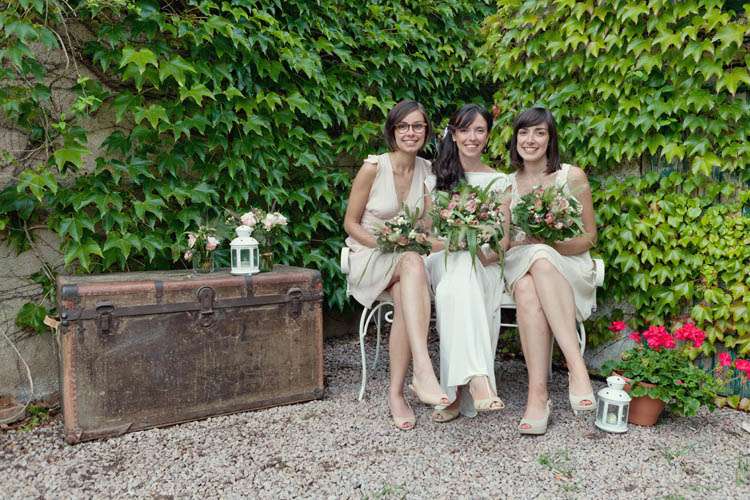 "I tried on a dress that was beautiful and my Mother and I instantly could imagine it as a wedding dress.  We asked Véronique the designer whether she would be interested in custom-making it in off-white with a few tweaks here and there and she agreed!  From then on it was a series of secret visits, fabric hunts, fittings. Véronique's dress was perfect and incidentally has a vintage feel to it!  I decided not to go with a veil but I completed the look with a piece of vintage lace around my shoulders (I found it in a second-hand shop with my Mother in Montreal during another visit a year later!) and shoes that I already had by Mine de Rien.  My beautiful jewellery was created by my sister Dominique with gold chain, non-dyed sapphires and quartz."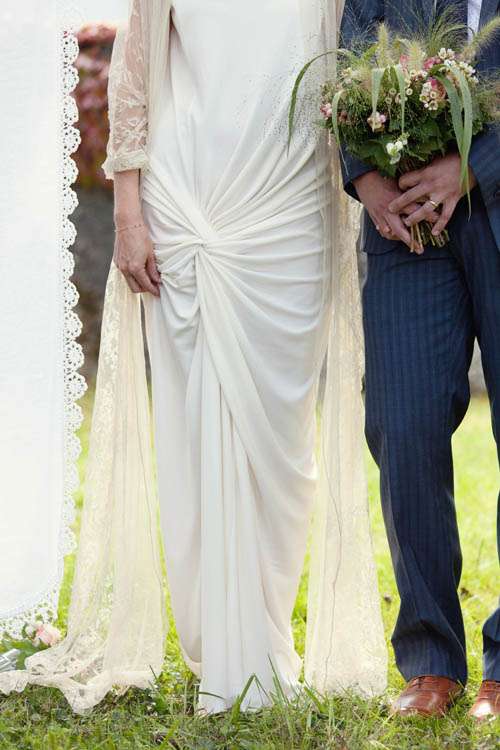 Thank you so much to Sophie & Julien and their photographer Debs for sharing this utterly stunning wedding with us today.
Photography Credit: Debs Ivelja Photography
Ceremony Venue: Town Hall, Manlay
Reception Venue: Bride's Parent's House
Bride's Dress: Véronique Miljkovitch
Bride's Shoes: Mine de Rien
Bride's Headpiece: Twigs and Honey
Bride's Lace Shawl: "The Little Shop" in Montreal
Bride's crochet Shawl@ DIY (Mother of the bride)
Jewellery: DIY (Bride's sister)
Groom's Outfit: Etro Milano (suit) Lanvin (tie)
Bridesmaid's Dresses:  French Connection (beige) & Aleksandra Wisniewska (pink)
Flowers: Michel LeBreton (Paris)
Band: Friend's of the Groom