With Rock n Roll Bride columnist Alice's wedding day drawing ever closer, this month she decided that it was high time to tackle something she was a little nervous about – the flowers! Pretty blooms may not sound too terrifying to some, but as a punky chick who readily admits to not being the 'flower type', she didn't even know where to start. Luckily she found a lovely florist in her home town of Brighton who was not only able to help her find her perfect flowers within budget, but who was able to show Alice that actually flowers aren't that scary at all.
♥  ♥  ♥
With less then 12 weeks to go everything is (hopefully!) coming together.  Still, there remains a few pieces of my wedding puzzle that need to be organised, and this month I've been an absolute bridal machine getting as much sorted out as possible.  Wedding flowers always caused me slight concern when allocating a budget to each element of the wedding, because, quite frankly, I had no idea where to begin! I'd never stepped foot in a florist, and found the ones that I walked past in Brighton quite unapproachable and intimidating.  So needless to say, organising my wedding flowers was not something I was looking forward to.
A few weeks ago I was invited on a girly night out with Kat, Joanne Fleming (my wedding dress designer), photographer Jacqui Mcsweeney and the infamous Lisa Devlin in Brighton.  It was over copious amounts of cocktails that the topic of wedding flowers came out, and Lisa suggested a little florist tucked away on the outskirts of Brighton. One twitter reminder the next day, and I set about googling "Miss Moles Flower Emporium".  From the website I thought that the flowers looked pretty, but what do I know about flowers?  I knew that it was best that I arranged a meeting with Barbara Mole and went to her shop to see what she had available in the flesh.  So, following a lovely exchange of emails Graham and I set out for the Emporium armed with images of flowers I'd seen in bridal magazines that I'd cut out and scrap-booked that we could use as inspiration, and three retro buckets that we were hoping to use as centrepieces.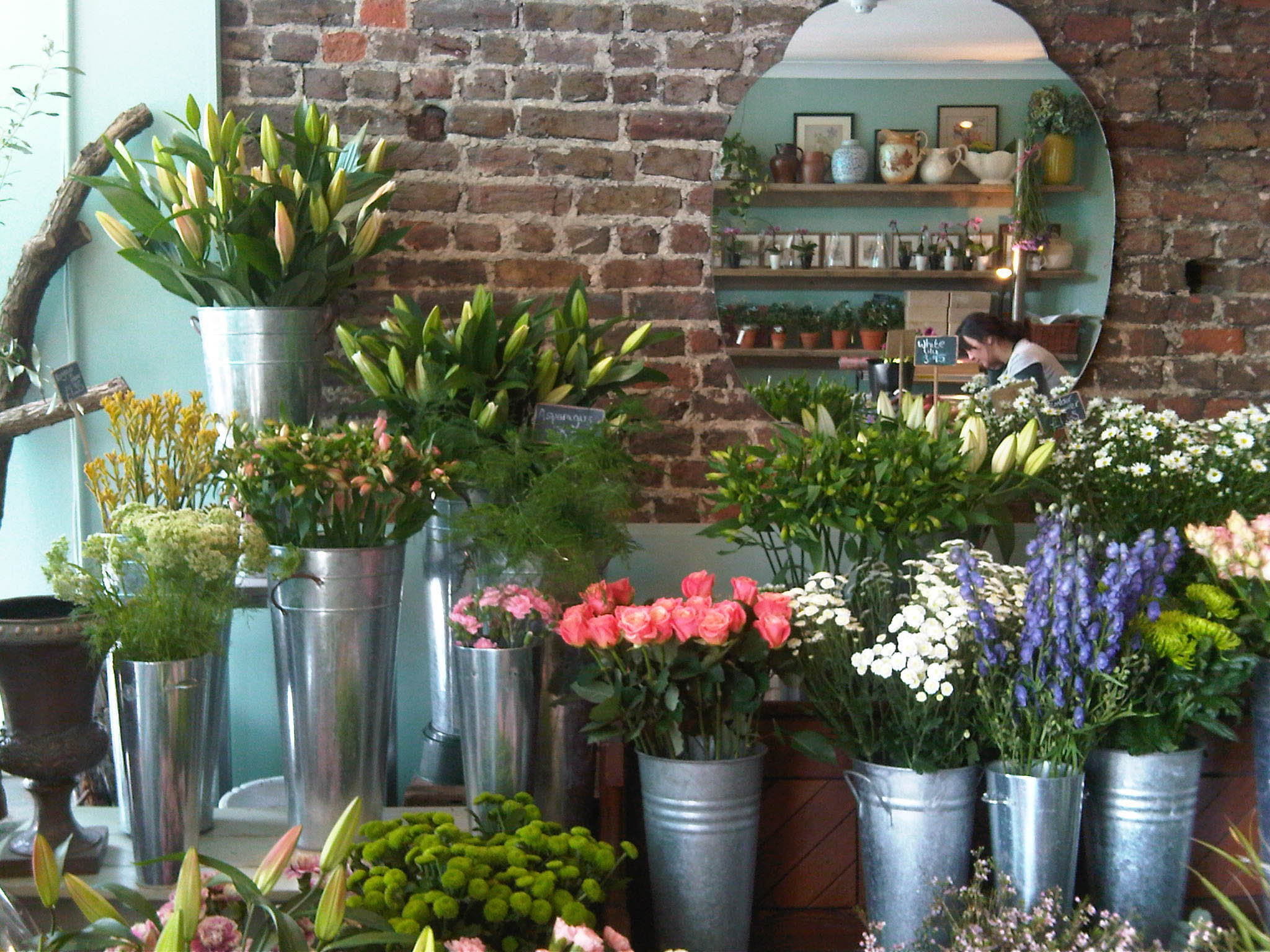 If you are ever in Brighton then I would definitely recommend popping in to this lovely florist, as it is just so unusual.  Exposed brick walls, and vintage washed flowers tumbling off every surface created a lovely setting, and I got a good feeling from the place as soon as we got there.  We sat down with Barbara and explained what we roughly had in mind, and now here's the amazing part: Barbara knew our budget of £150 all in before the meeting, and unlike some other wedding vendors, didn't seem adament on trying to push up the price. In fact, she offered us advice to lower our budget and for this we are so grateful!  She explained that our bucket centrepieces would need to be filled densely with roses and foliage to fill them, and that would mean quite a hefty sum per bucket.  She then brought over some vintage crystal glass vases that she has as part of her displays, and suggested we try something similar.  She said that she'd collected the vases over the years from charity shops, and that we could put one stem per vase as a centrepiece of three vases in the centre of each table. We thought this was a great idea, and took her advice on board.  She also made a rough 'mock-up' of the bouquet she envisaged for me, and I literally thought I might cry it was so beautiful.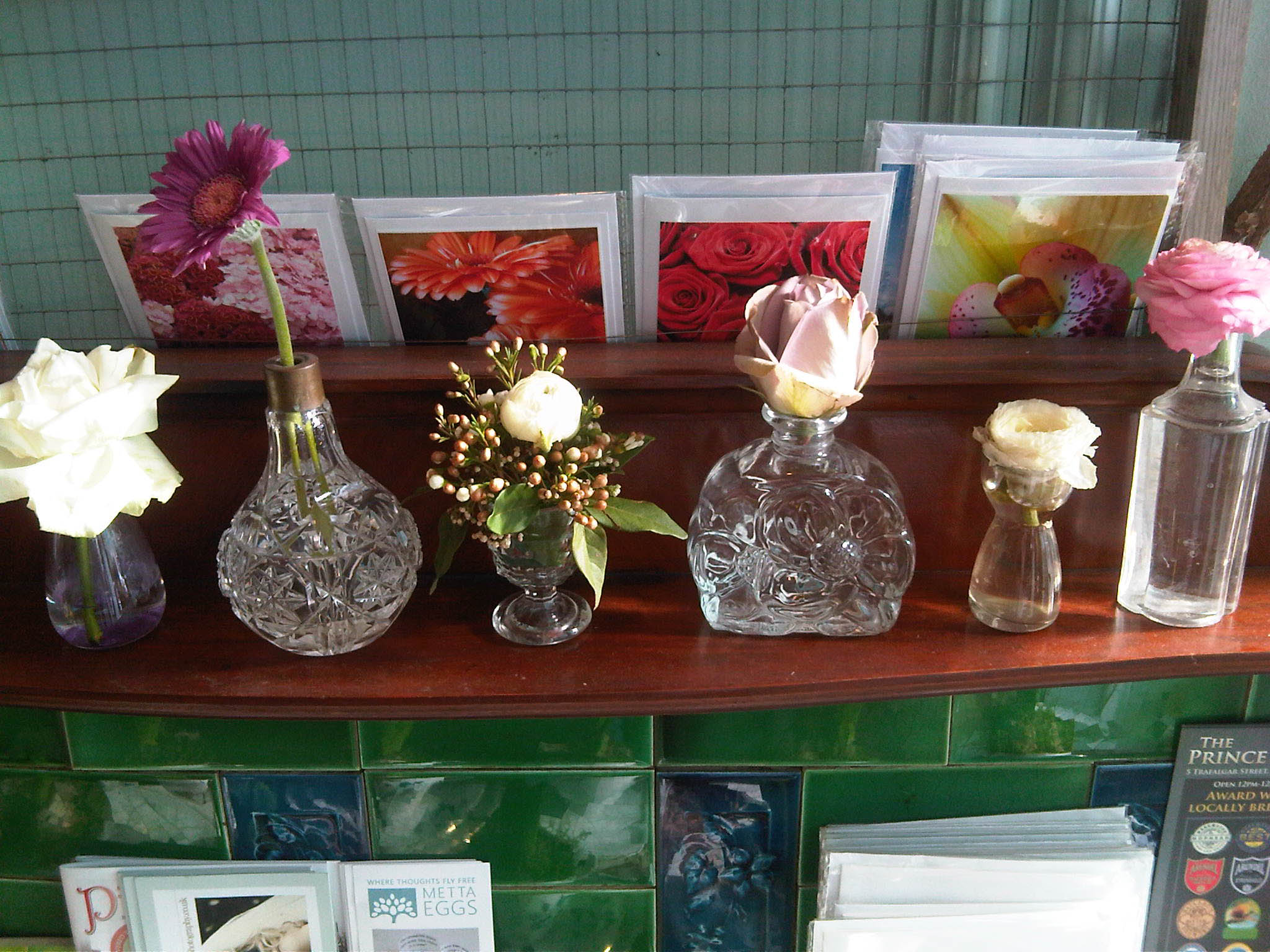 Once the tea had been drunk and the flowers played with Barbara said that she'd email us with a formal quote and breakdown of what it would cost to have her supply the flowers on the day.  She also recommended we have similar meetings with other florists to ensure we get the most competitive quote, which is something I would recommend for all aspects of your wedding planning, as price variance can be vast!
We went away feeling happy and excited, and went searching through the charity shops immediately for little vases.  We found 5 that morning, and the price came in at £7.50 for the lot. Bargain! We're still on the hunt now, we're hoping to have around fifteen before the big day arrives.
When the email came through from Barbara I replied straight away with a "yes please lets book you NOW!"  For our budget we are getting my bouquet, 3 buttonholes and our centrepieces in the form of differing height vase arrangements.  I am now an absolute flower convert, and so excited to see the beautiful displays Barbara comes up with.  Just goes to show, word of mouth from other brides/industry contacts are invaluable, and there really are some genuinely lovely wedding suppliers out there.  I know that's not essential, but if you're hiring someone to be a part of the biggest day of your life, a good relationship is essential, and also just really quite special.
You can see the rest of Alice's adventures in weddingland
here
.
Be sure to also keep up to date with her on her wedding blog,
DIY Darlings
.