This contest is now closed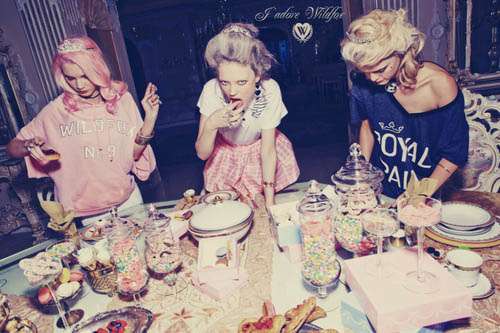 Photography Credit: Wildfox Couture
Monday's suck right? Well not this one! Oh what a sneaky little scamp I am… I only went and held back two tickets to the Rock n Roll Bride party didn't I?! The party of the year (fact!) will be taking place this Thursday (14th April) at a top secret London location.
As most of you know the venue I booked only holds 200 and over 500 of you applied for tickets (wow) but one of you lucky sausages (and a friend) is about to get some Monday happiness thrown right at ya! The party is open to all readers of the blog – brides, grooms, newlyweds, bloggers, photographers, stationers, cake-makers, dress designers…any other wedding suppliers, wedding obsessives…(more info here)
To enter, simply comment below by midnight tonight (GMT) saying why you'd like to come and party with me! Extra bonus points awarded if you tweet and/or facebook about the party and link to this contest post. Follow me on twitter and 'like' me on facebook then send a message out to let everyone know about the party!
Make sure you use the hastag #rocknrollbrideparty on twitter so I can see all your tweets and @rocknrollbride on facebook to link your extra entries to my facebook fanpage.
This contest is now closed
A winner will be selected by moi on Tuesday morning and the winner will be notified by email no later than 12pm Tuesday (GMT.)
Prize does not include travel to London or accommodation and all party information, including the top secret location will be emailed to you.
Eeeek just 4 days until mental photo booth/ lush cupcakes/ custom pink fizzy cocktails/ mega sweetie table/party-time!