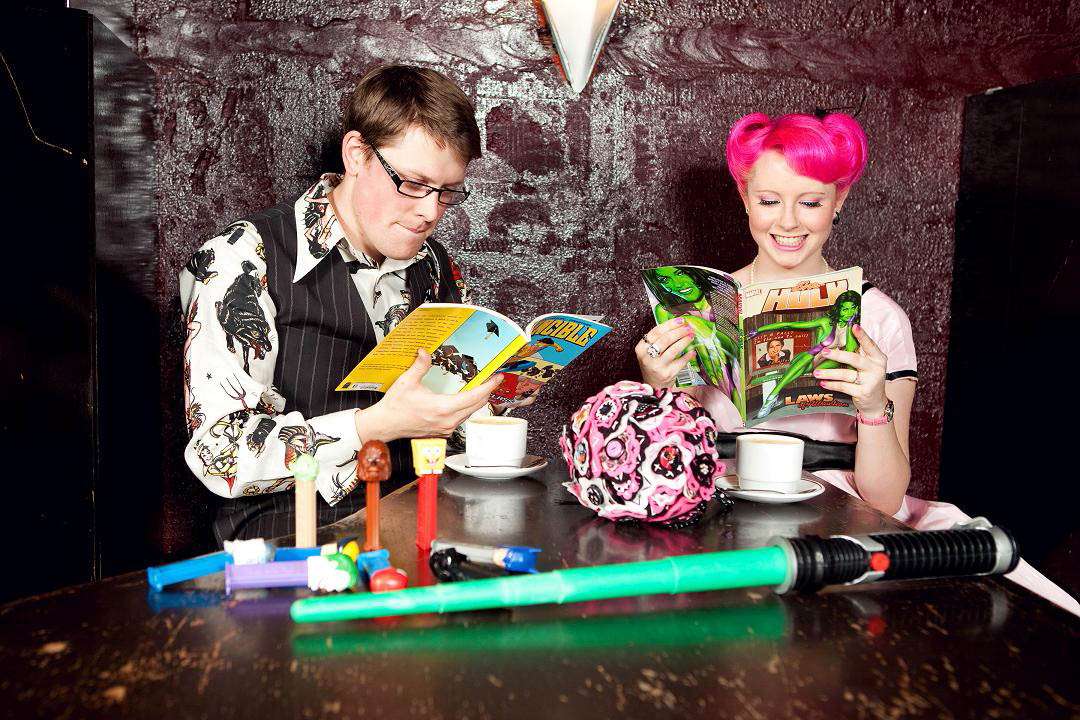 "Everyone said for me to wear white would be the shocking thing" the bride, Cazz, told me. "My dream was to look like a cupcake. A big pink cupcake. It had to be pink, black and with polka dots. My dress was purchased off eBay for $40. It was a used costume from Buddy Holly the musical! One of my lovely maids of honour altered it for me and added my dream large black bow."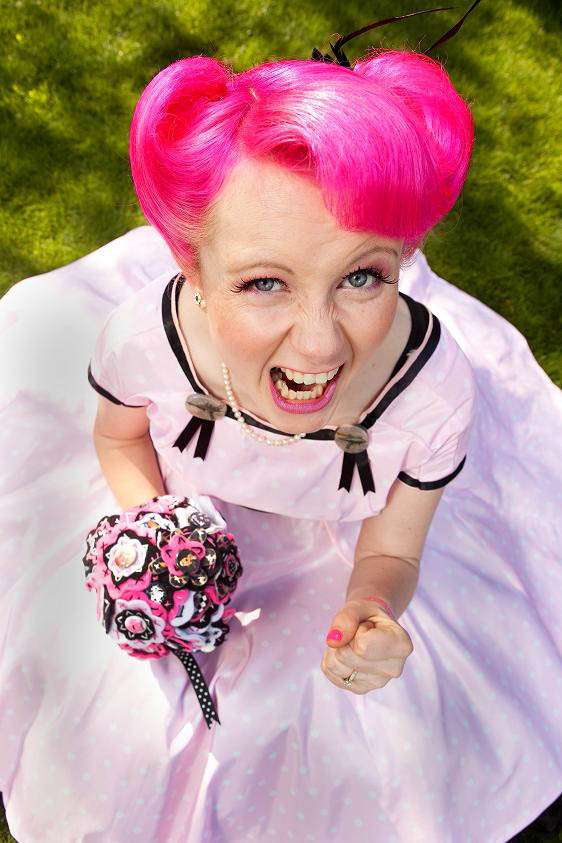 I think that Cazz's dress might have helped to set the whole theme for her awesome wedding to Liam – a big pink cupcake of a wedding! Cazz wore shoes with cupcakes (and skulls!) on them and as well as a slightly more traditional tiered cake, which was gift, they had…you guessed it…cupcakes!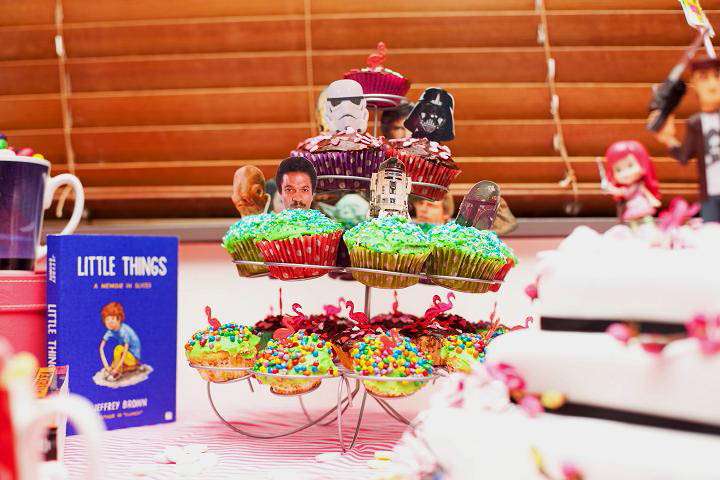 "The theme turned out to be Rockabilly/Tiki comic book geekery," Cazz continued. "But in a sense the theme was 'Liam & Cazz'. I wanted the world to see who we really were. At that time. I don't care that if i'm 50 and think… "what was I thinking" because it was us. I wanted EVERYTHING that we liked to be represented in some way. All the comics that meant something to us were scattered around, hung in trees and read at our ceremony. Action figures of everything from Marv from Sin City to she Hulk were used as table decorations. Darth Vader attended my wedding and was featured on the bottom of the cake fighting zombies and covered in blood. Tiki stuff was everywhere and pink flamingos were used to represent film director John Waters."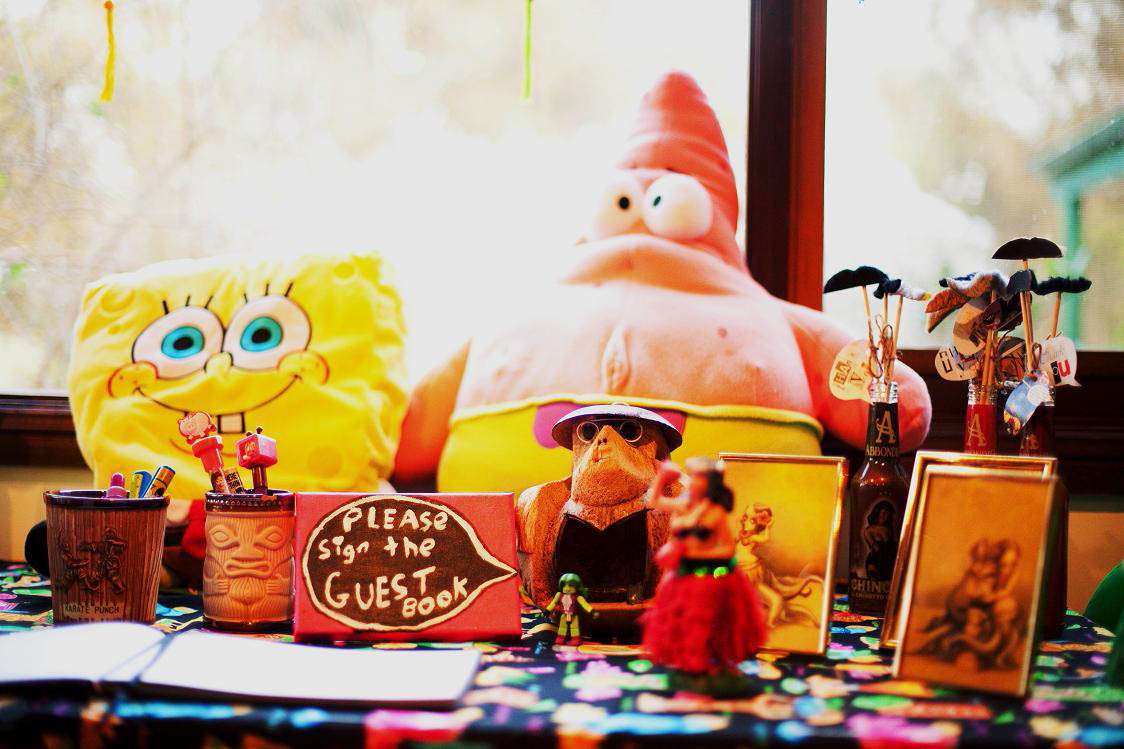 "I would like to end by saying, I know you hear it a lot; but it really is your wedding day. If your family and friends truly love you, they will get it.. all off it. And even if they are offended, it won't matter because it's not about them. I wore pink, had blood and zombies on my cake, had 5 bridesmaids, the dude of honour was a girl, walked down the isle to Kiss and showed all my tattoos. And the one family member I thought would hate it, could not stop saying how much love they felt. 'Best wedding ever' they said. And to us… it really was."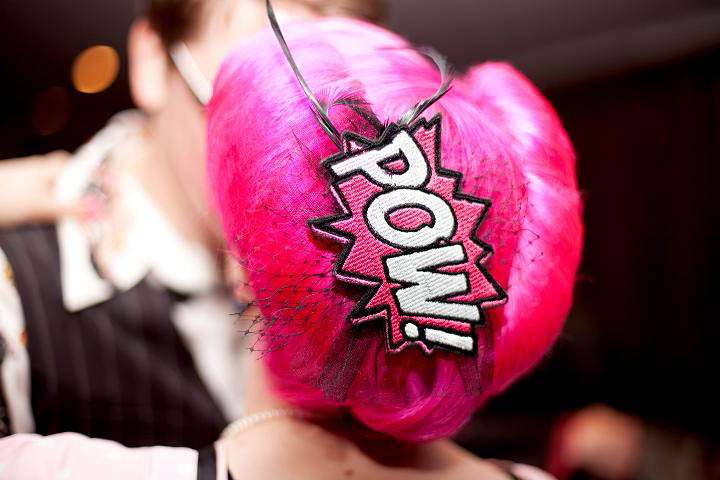 Lots of love to Cazz & Liam and huge thanks to them for sharing their awesome wedding with us today.
Photography Credit: Big Fry Photography
Venue: Poacher's Pantry, Canberra, Australia
Bride's Dress: eBay
Bride's Headpiece: DIY
Bride's Shoes: Gift
Bride's Brooches: Mediocre Madness
Disney Cupcake Charm Bracelet: Diva
Storm Trooper Ring: Etsy
Groom's Suit: Anton's
Cakes: Gift
Cake Toppers: DIY
Flowers: DIY (bride) including brooches from Nerd Burger on Etsy
DJ: D Wils