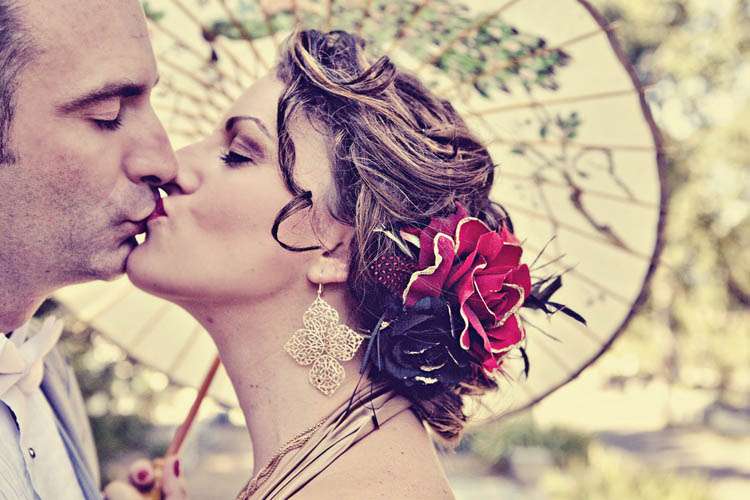 "I like to question everything, so if something at a wedding doesn't have a specific purpose it was out," began the bride Briana. "We didn't have a guestbook, or a garter toss, or a bouquet, or a cake, or a chicken dance…My husband and I both love vintage stuff.  We're both silly, dumpster-diving artist types.  We would have just eloped, because the idea of a wedding seemed both superfluous and expensive, but we both love a good party!  It was a compromise.  If I had more than 4 months to plan it and lived in town, I would have handmade everything myself and incorporated tons of quirky details…but it was perfect just the way it was."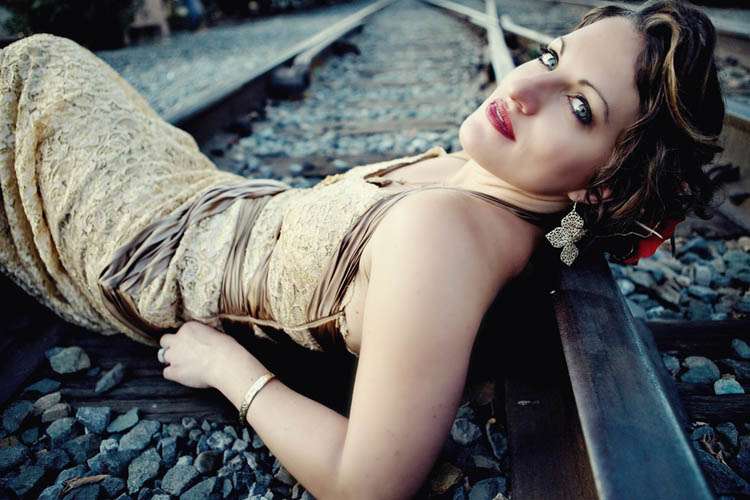 The ceremony took place in San Diego, at California State Capital Rose Garden, and the reception that followed was on a boat – The Delta King Ship on the Sacramento River. The bride wore an antique style dress from Unique Vintage and a veil that she made herself. She also made her own earrings from some junk store items which she found in Honolulu's in Chinatown. Her bracelet has previously belonged to her Great-Grandmother. Not wanting to be upstaged by his bride, George wore a custom that he hired from a fancy dress shop! The top hat and tails were a total surprise to everyone at the wedding.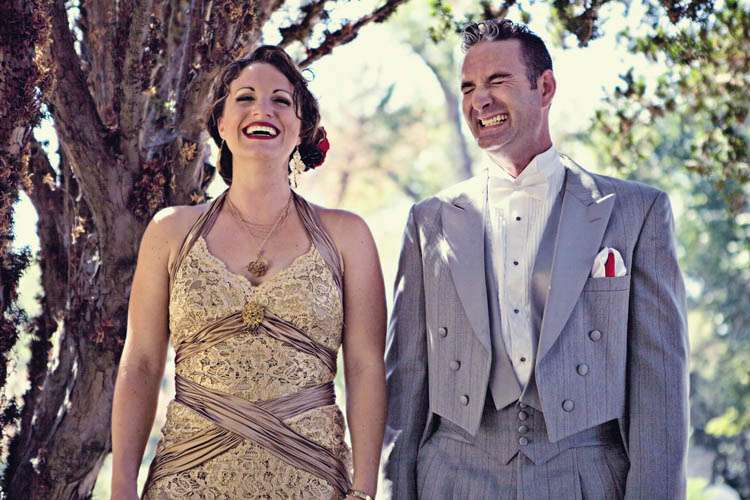 "I tried to do everything myself," concluded the bride. "I got a lot of inspiration from wedding blogs. I handmade the "YAY!" flags,  the flower girls' basket from a basket someone had trashed in my building, etc.  We did pretty much everything ourselves that we could.  The paper flowers almost made it, but I ran out of time! Personal touches (and my awesome bridesmaids and Mother) are what made my wedding special and separate from some generic store bought wedding."
Huge love and thanks to Briana & George and their photographer Leslie for sharing this wedding with us today.
Photography Credit: Green Vintage Photography
Ceremony Venue: California State Capital Rose Garden
Reception Venue: The Delta King Ship
Bride's Dress: Unique Vintage
Bride's Shoes: Forever 21 & Off Broadway
Groom's Outfit: Cheap Thrills  (closed down)