It's been a busy old month press-wise again for me and my little blog. It still blows my mind that people want to write about me…or have me write for…their magazines. I love my job I do! Huge thanks to all the publications that helped to spread the Rock n Roll Bride message this month.
Photo Pro
I have a regular column for this fabulous magazine and this month I tackled the tricky issue of whether or not to watermark your images when posting them online. This is  a massive subject for photographers and one that often causes controversy, but it was something I had wanted to discuss for a long time. Big thanks to all the photographers and other bloggers (big up The Wedding Chicks!) for helping me with my research, and mucho love to Photo Pro for not only letting me do so but for giving me FOUR pages…my longest article for them yet. Woohoo!
Vintage Life
I was asked by Vintage Life magazine if I'd like to contribute some of my favourite vintage weddings to their magazine…and of course I jumped at the chance to show of my reader's weddings! Polly & Stuart's wartime wedding is the first of many so keep your eyes peeled for this fabulous new magazine (which from this month is available in WH Smiths. Hurrah!)
The Sunday Mercury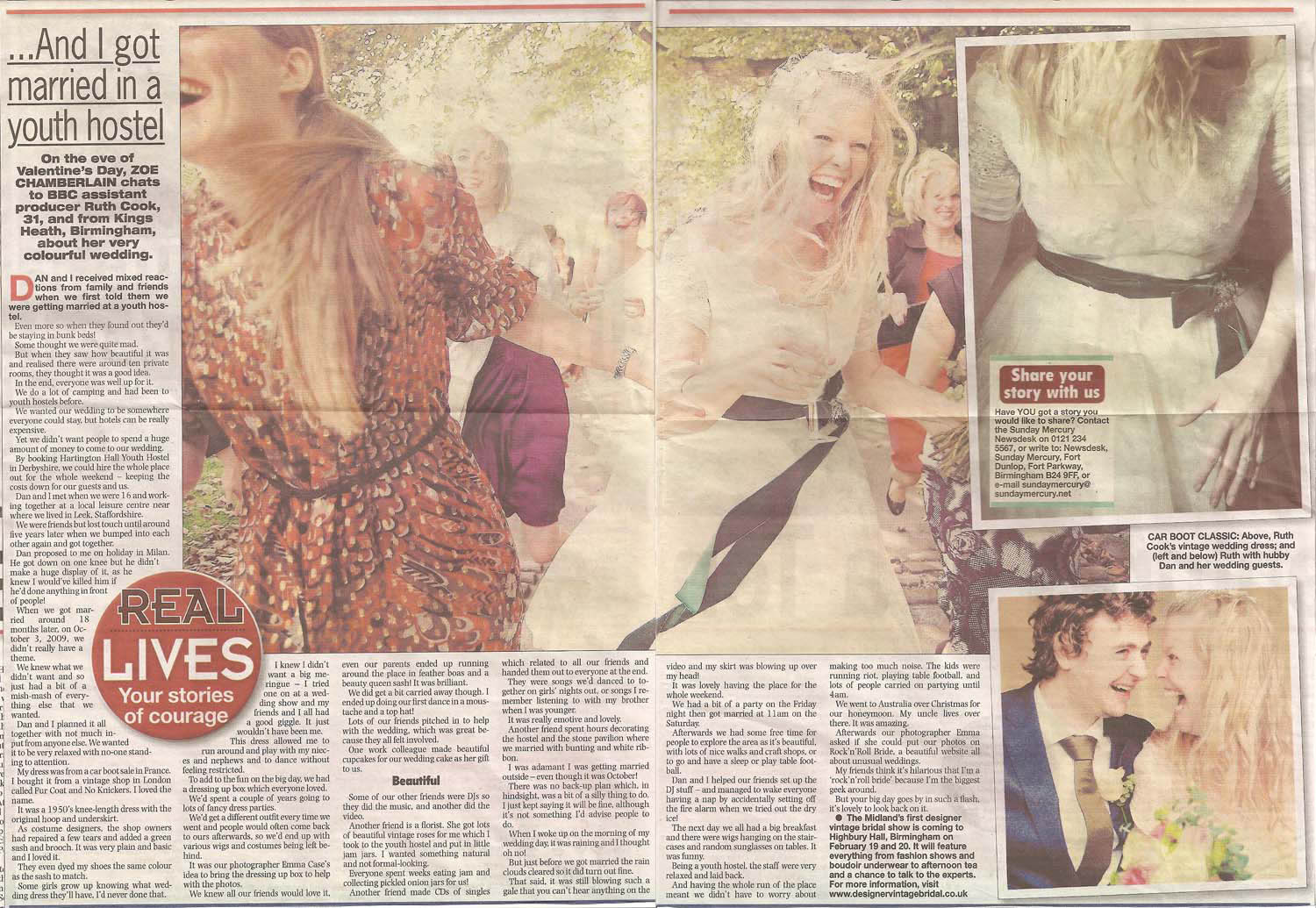 There is something extra special about being featured in an actual newspaper…it's nice being newsworthy (!) but also, it should bring the blog to the attention of a whole new audience – one that wouldn't read a wedding or photography magazine. The Birmingham Sunday Mercury contacted me as they wanted to run a story on a local couple who had had a Rock n Roll wedding in order to promote the Designer Vintage Bridal Show that was happening in the city (and if you haven't seen it already, my blog post on the event can be seen here.)
I was so pleased that they chose Ruth & Dan's wedding to feature – shot by Emma Case – as their wedding was the first of Emma's that I ever featured, and was the one that brought me and Miss Case together as real life besties!
Unfortunately the scanner cropped off the title of this article that read 'I was a Rock n Roll Bride' Shaa-weet huh!?
Bid tv
This was another bit of unusual press…but it was publicity nonetheless! As many of you will know, I left my 'day job' as a shopping telly producer at the end of January and on my last day my sneaky crew took some of my photos and used them on air (technically we should have sent them an invoice for their use but it was way too funny!)
Anyway, they used my cupcake image from the Paris photo shoot to help us sell the giant cupcake mould! I also went on air at the end of our show to say goodbye. If you haven't seen this yet then be sure to check out my tv debut here…get the tissues ready though, it's a tear-jerker!