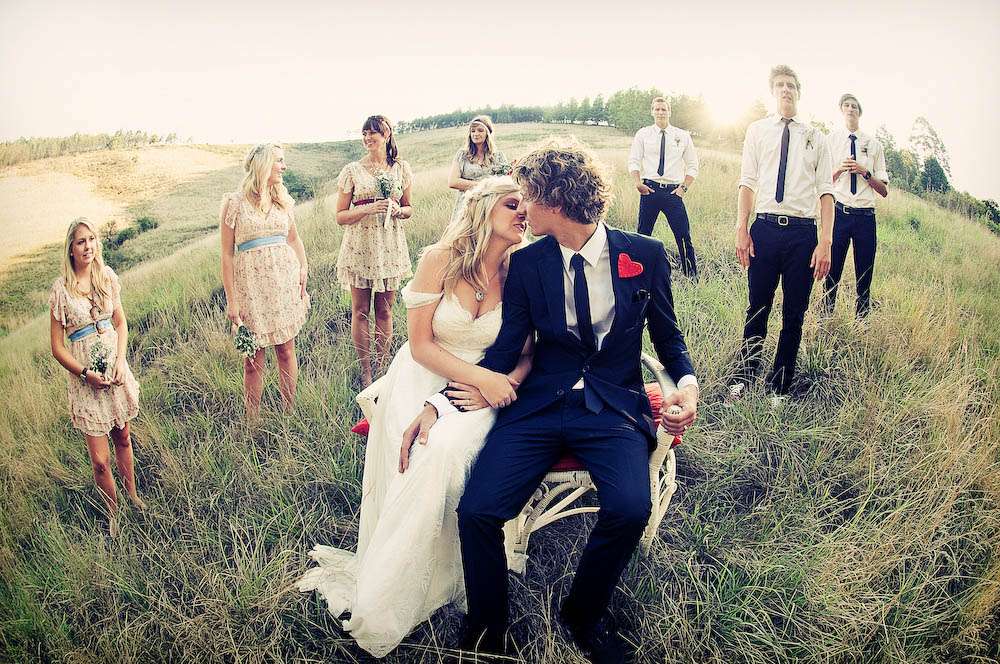 You'll know when I'm really excited about blogging a wedding because I'll sneak peek a photo on facebook and twitter as soon as it hits my inbox. It's almost unfair for me to keep it to myself! That's exactly what I did when Rob & Justine send me over their beeeautiful wedding…and actually, beeeautiful is literally the only way I can describe what I saw accurately. Love love love…
The couple were married at Hillhouse – a quirky converted Barn that is used as an art retreat, which has the look and feel of a dolls house – in South Africa. "Rob and I met a photography gallery and almost instantly clicked," Justine told me when I asked about the proposal. "I liked that he loved animals and the environment and he loved that I was edgy and confident (his words). We were engaged six months later. Rob proposed in a beautiful vintage Victorian Era locket, I opened it and he had written 'Will you marry me?' in it."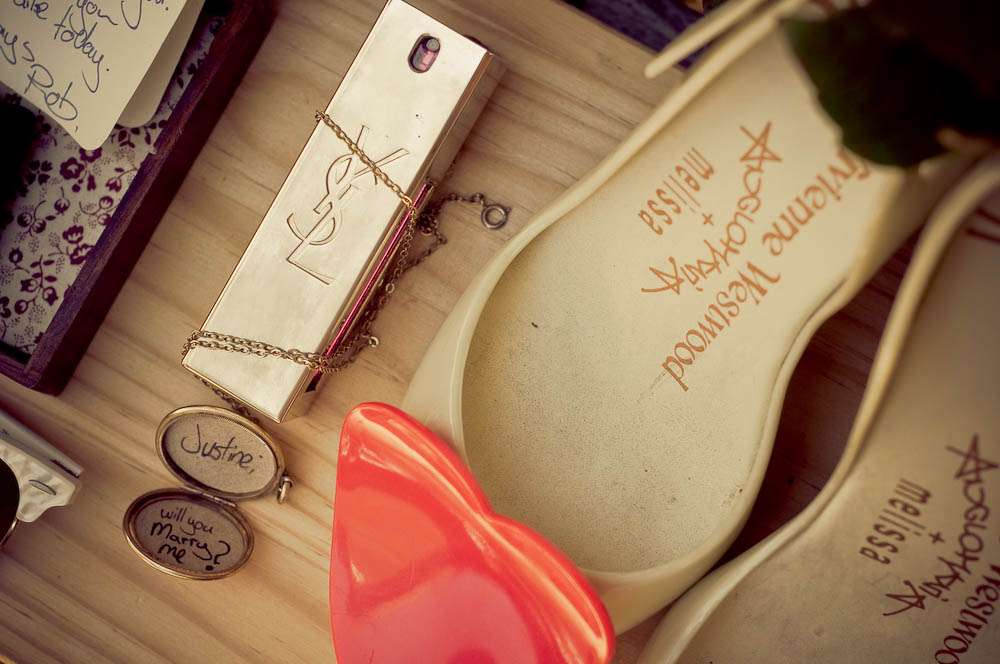 "In South Africa and especially Durban, there isn't a market for quirky, different weddings," the bride continued. "People seem to stick to the basics. We were adamant that we wouldn't do that. It was hard to convince certain family members of our vision especially the 'vegetarian' bit.  We knew that the only way we were going to get the wedding we wanted, was to physically source and make everything ourselves. Every Saturday morning we went to the local charity shop and cleared them out of teacups, plates and vases. Rob and I even co-designed our gorgeous wedding invites even though neither of us are graphic designers. Rob was as much a part of the design of the wedding as I was, so it wasn't a completely feminine wedding like some tend to be. Our venue wasn't a wedding venue but an art retreat, our caterers wernt wedding caterers but an Eco friendly restaurant and our photographer wasn't a wedding photographer. I think these elements brought such diversity and made our wedding, the absolute perfect day that it was. "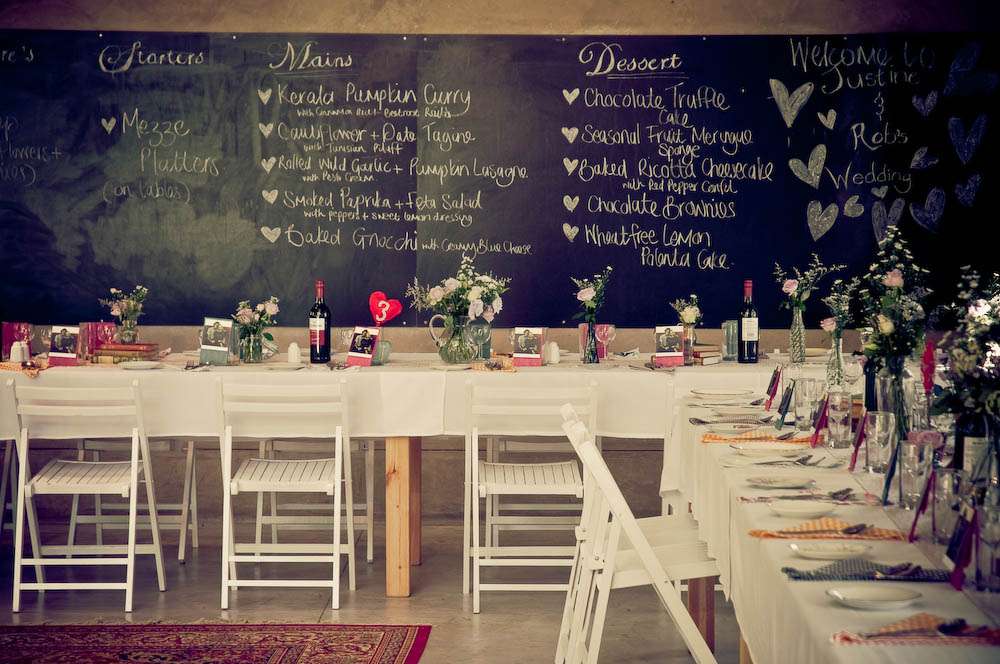 "Our wedding was our art piece. Rob, being a designer and myself, loving design, we managed to create such a wonderful wedding day, something we are so proud of. Rob and I collected everything used at our wedding from charity stores. We chose every teacup, every plate, every vase, every book, every piece of cutlery. We chose each piece of material for our napkins, Robs mom sewed each one. Rob designed all the signage and I sewed and designed all the decor and we completely poured over every detail. Both being vegetarian, we decided to go that way and after the wedding, so many people commented saying it was 'the best food, (not just wedding food) they have ever had.' Rob hand made the portico that we got married under and the badminton net that provided hours of fun for our guests."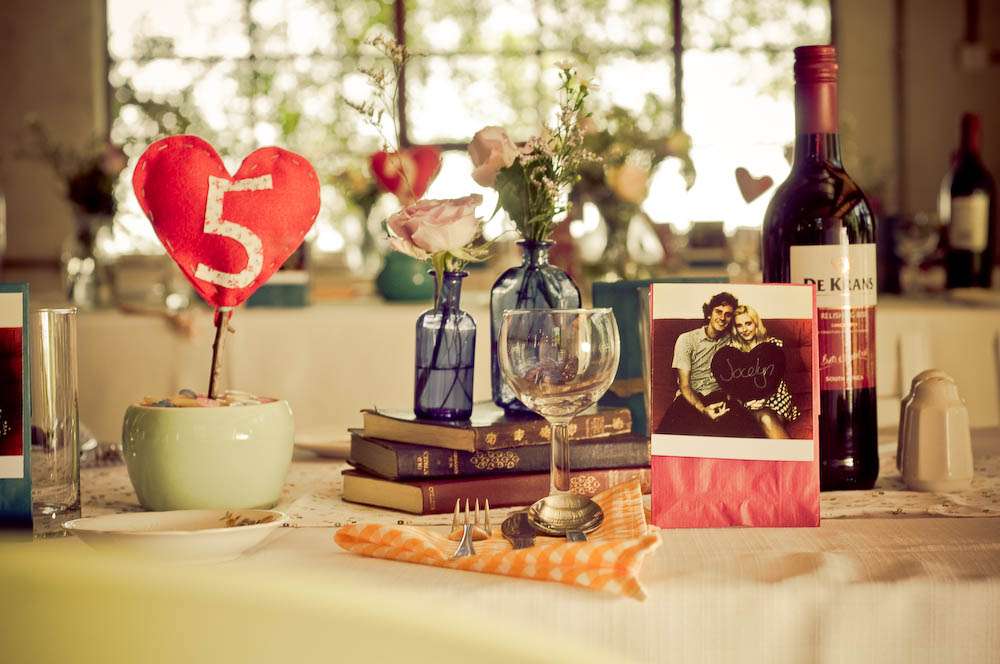 "We wanted our wedding to be eco-friendly, to go with the theme of recycling, helping others, being kind to animals and the environment. When designing the wedding, we were going for the look of almost 'a vintage attic with a modern edge.' Our entire wedding was DIY as its always the little touches that make a wedding great. Rob made 12 signs for the road on the way up to wedding. It gets peoples attention straight away. I sewed about 50 felt hearts, stuffed them and put them on sticks. This brought little dashes of colour on the grass and people loved using them for photos. The hearts also matched my Vivienne Westwood shoes.  Rob made the badminton net structure and then I hung ribbons with little hearts on for the net. We put old vintage racquets in a trunk which added another great element. We hung the left over ribbons with hearts in the surrounding trees."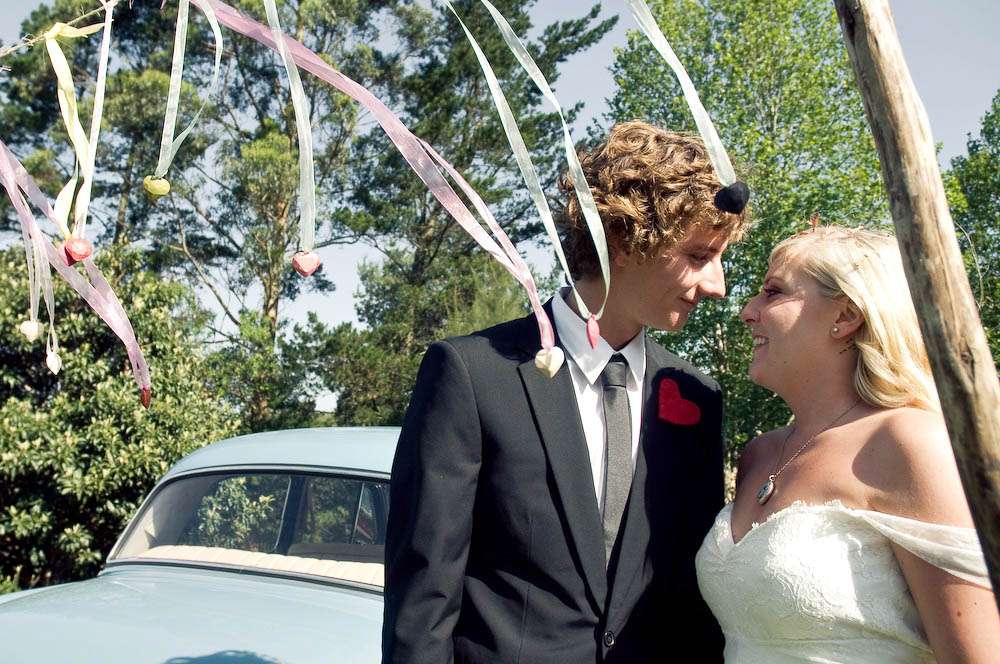 Don't you just adore it? Justine concluded with a great piece of advice for you guys too. Read and absorb it people! "A personal wedding is a good wedding, despite your budget, you can make your wedding beautiful as long as it true to yourselves." Couldn't have said it better myself!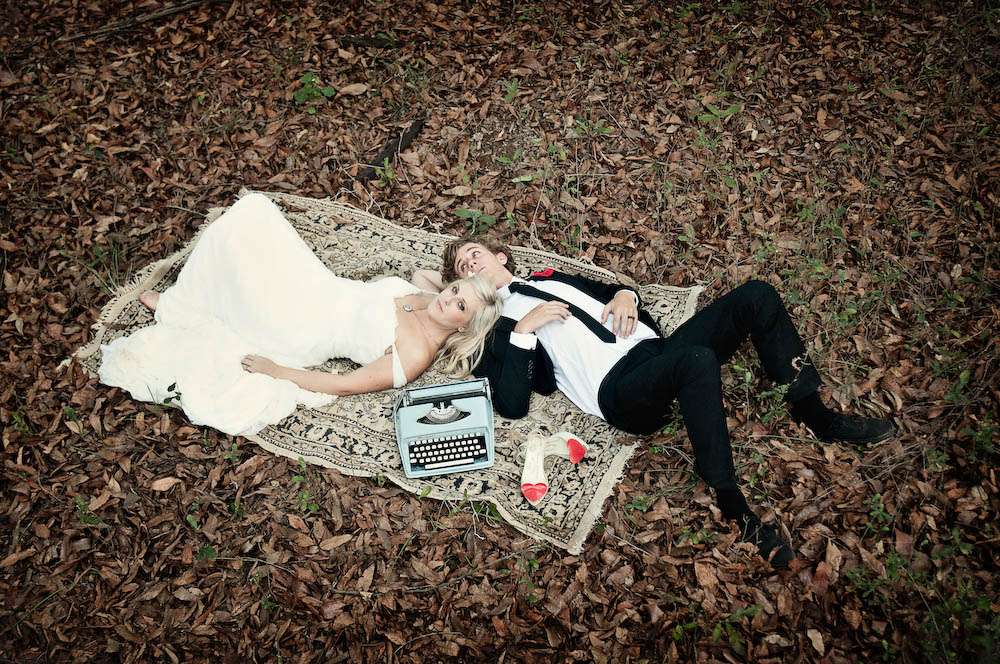 (Be sure to check out their gorgeous video…and prepare to cry – it's beautiful… after the 'jump') You can also see their engagement video here)
Gorgeous….
HUGE love and thanks to Rob & Justine for sharing their incredible wedding on the blog today. Extra special thanks to their photographer Tyrone for sending over the images.
Photography Credit: Tyrone Bradley
Videographer: True Romance Films
Venue: Hillhouse
Bride's Dress: Custom made by Kathrin Kidger
Bride's Shoes: Vivienne Westwood/Melissa
Bride's Headpiece: Kathrin Kidger
Bride's Jewellery: Vintage pieces
Groom's Suit: Custom made
Groom's Boutonniere: DIY (by the bride)
Cake: Corner Café – Eco friendly Restaurant and caterers
Music: DIY (friends)
Bridesmaid's Dresses: Picked their own
Bridesmaid's Jewellery: Genevieve Motley