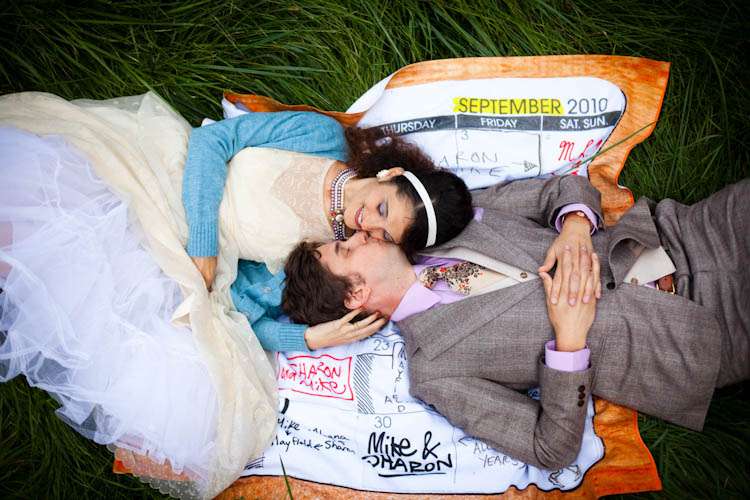 Sharon & Mike woodland wedding was held at Owl Moon Farm in The Berkshires, MA in September. Both the bride and groom wore vintage clothes and even Sharon's engagement ring was made from the cast of a vintage ring.
Sharon told me all about their day, starting with why they decided to get married in Massachusetts, "We live in California, and when our state revoked the right for homosexuals to marry, it really angered and upset me. I believe that any two people who are in love should be able to legally (and socially) commit themselves to each other. I'm bothered by the fact that my husband and I could get married while so many other people don't have that right. I know that many straight couples say they won't marry until everyone has that right — but I wanted to get married! So I decided that the next best thing would be to get married in one of the states that allows gay marriage. I figured, if I am going to give my money to a state for a marriage license and a wedding and everything that goes with that, I want it to be a state whose marriage laws I at least agree with. I think if more straight couples chose to hold their weddings (i.e. spend their money) in states that allow homosexuals to marry, it would send a pretty powerful message. And every time I look at my marriage license, I can feel like I at least tried to do something."
"I refused to walk down an aisle. I know there are some women who want their wedding to be all eyes on them all day. Not me. I am not comfortable with all that attention. But how do you get to the front of a room without walking there? We got married by a small bridge over a creek, so instead of us walking to the front, we waited on one side and had our guests walk across to us."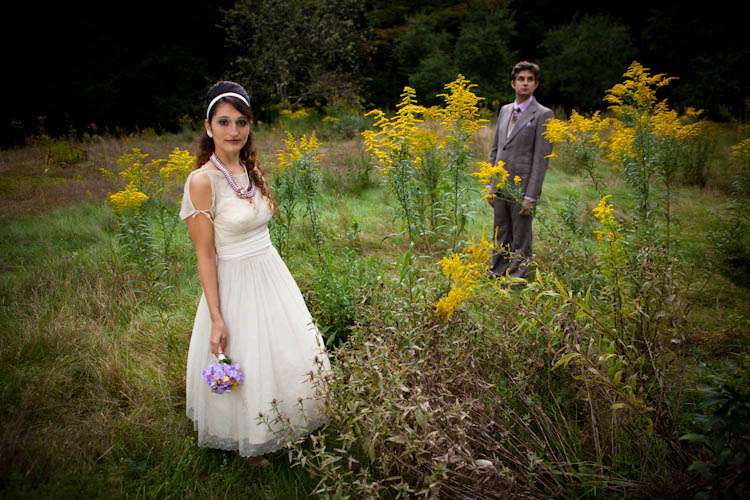 "We wrote our own vows, which we read to one another. Then my Father, who was our officiant, asked us a series of questions that were based on the vows that he and my Mother wrote together and exchanged at their wedding. Growing up, we learn so much about love from our parents — it was touching and beautiful to have that as part of our wedding, too."
"I asked every guest to bring a cupcake as homage to the tradition of wedding cakes, a story I have loved since first hearing it years ago. The evolution of wedding cakes can be traced back to a time when all guests would bring a small cake or biscuit to a wedding as an offering. The couple would pile the cakes on top of each other and if they could kiss over the cakes it was considered good luck. Couples started using icing to glue the cakes together in an effort to keep them from toppling over and the wedding cake was born!"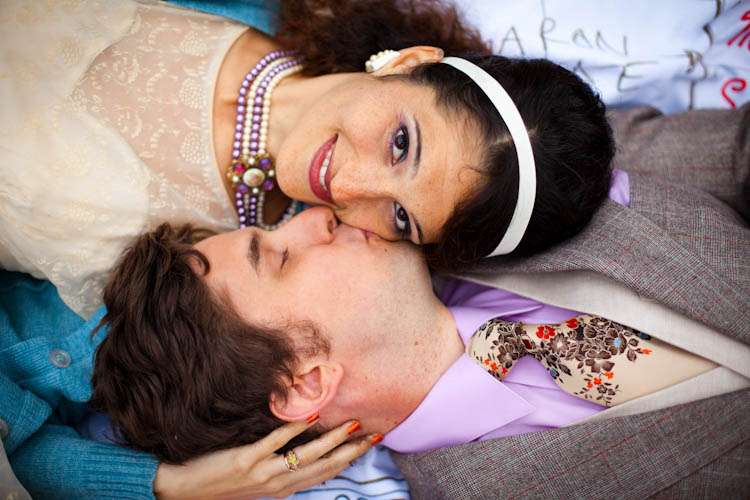 What a fabulous wedding with such a lot of meaning behind it. Huge thanks to Sharon & Mike for sharing it.
Photography Credit: On Point Images & Sharon Alagna
Venue: Owl Moon Farm, The Berkshires, MA
Bride's Dress: Swift Vintage
Bride's Earrings & Brooch: HubbaHubba
Bride's Shoes: La Bomba Vintage
Groom's Suit: HubbaHubba
Groom's Shoes: Meow Vintage
Groom's Tie: MoreisMoreisMore on etsy
Bride's Engagement Ring: Wanna buy a Watch