If there's one thing that makes a wedding blogger's heart go a-flutter, it's lots of lovely details – gorgeous ideas that you, dear reader, can sneakily steal for your own weddings. So, when I was sent this utterly gorgeous rustic/Rock n Roll (who says the two can't merge!?) it took me all of about 30 seconds to say yes to featuring it.
Moustache cookies (and shoes!), cute typography, mis-matched bunting, multi coloured florals a-plenty and a cake covered in different coloured bow ties (seriously dying over here.) Oh yes, this blogger certainly approves!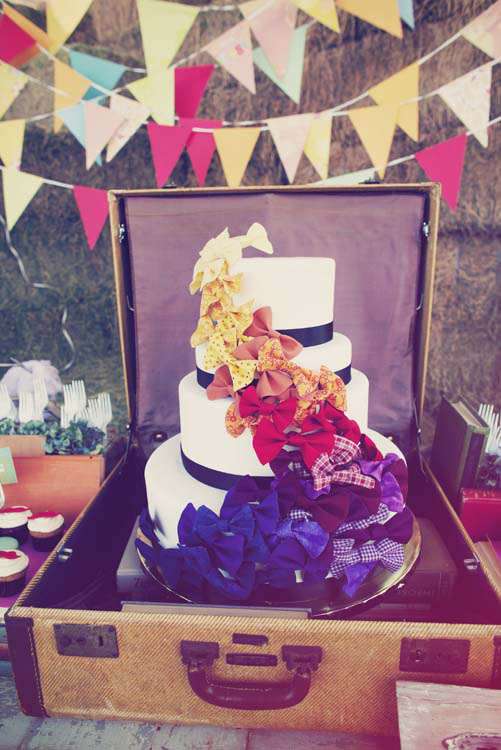 Eager to share some new trends for 2011, the team behind this shoot wanted to add a new dimension to some of the ever-popular wedding details that don't seem to be going anywhere just yet (moustaches anyone?!) "We made sure to incorporate all of this year's trends including bow ties, paper garlands, barn weddings, and moustaches," Sugar & Fluff, the stylists behind the shoot explained. "We even exhausted the balloon idea with a dress made of them! Each balloon was blown up and then popped to give an effect that the dress was popped by a fork!  Let me tell you it was not easy making."
"Our colors were very vibrant and based off of a beautiful bow necklace found at Anthropologie. We also used bow ties as a major theme in the shoot…as you can tell our cake had hand-made bow-ties tapering down! To complete the look, we found some amazing bow tie rings at a flea market. We were even able to scrounge up a moustache ring! Our bouquet was filled with all kinds of amazingness of color and pretty including some doorknobs and birds. Finally, we managed to find a chandelier with ice cream cones! They were perfect because they matched our color palette to the tee."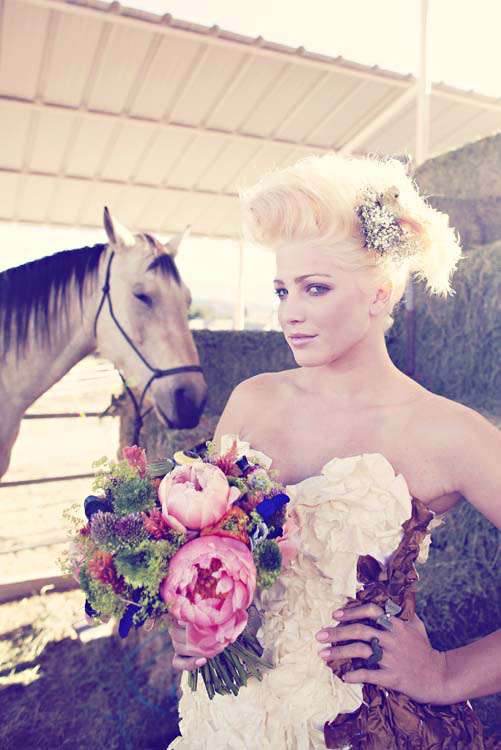 "To top it all off, our amazing florist had the most perfect ranch in mind to shoot at. It fit everything so well. The horses, the greenery, and haystacks were absolutely perfect."
I think you'll agree that this shoot is nothing short of awesome, and if this is what 2011 weddings are going to look like then I can't wait!
Huge thanks to everyone involved for sharing their shoot with us today (full vendor list below)
Event Design and Styling : Sugar and Fluff
Photography: Christine Farah
Flowers: Floral Occasions
Cake: Some Crust Bakery
Hair and Make up: Christina Hernandez CHairandmakeup@gmail.com
Invitations: : Sugar and Fluff
Balloon Dress: Ashley Taddei on etsy
Ice Cream Chandelier: Anna Marie Francesco
Vintage Props: Ribbons and Rust
Venue: Hold Out Ranch