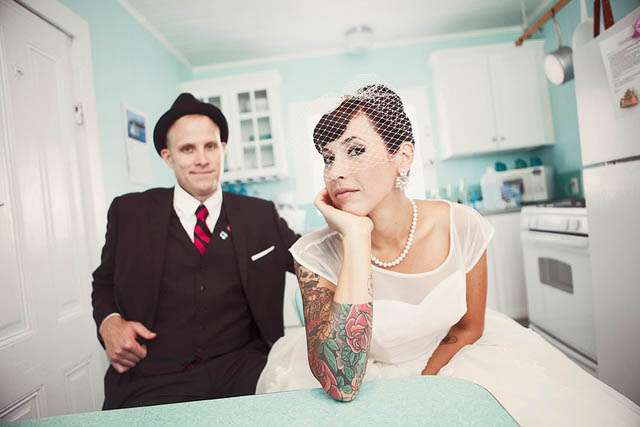 I have been waiting over a year to see Gaelyn & John's wedding – a year! Long term readers of Rock n Roll Bride may recognise this couple as the lucky pair who won free wedding photography by Love me Do Photography from a contest I ran back in October 2009. It was one of the closest contests I've ever ran but needless to say, I know these two totally deserved to win! And now I get to share their awesome wedding photographs with you today. EXCITED!
The theme for the wedding was "English country picnic with a Mexican flair". The couple described their vision perfectly in their winning entry and it's so awesome to see it come to life now! "I like to refer to our wedding as English country picnic with a Mexican flair," they explained. "A 'marriage' (if you will) of both our backgrounds. There will be gingham and tea as well as hand cut papel picados (Mexican paper banners) by yours truly, and tamales from a small family run bakery."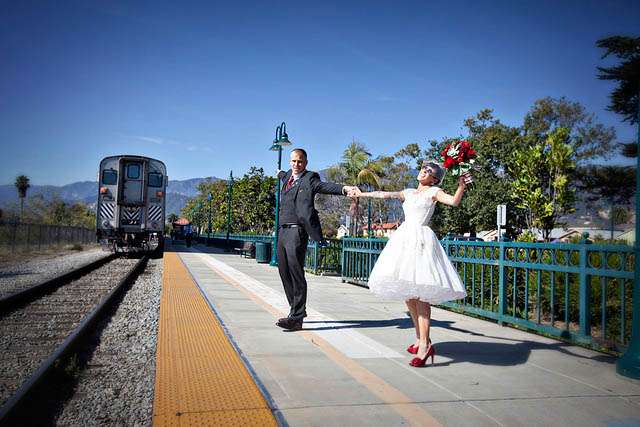 The wedding took place at John's parent's 1920's beach cottage in Carpinteria California. "We have shared many good times there and really love the place and thought it would make an amazing location for both the wedding and the reception," explained Gaelyn. "We love that it is beautiful, intimate, charming, vintage and rustic. The small beach town has another well known original beach cottage down the street that is a vacation house known as the Linden house, we rented it for myself and my bridesmaids, and took a few photos there as well."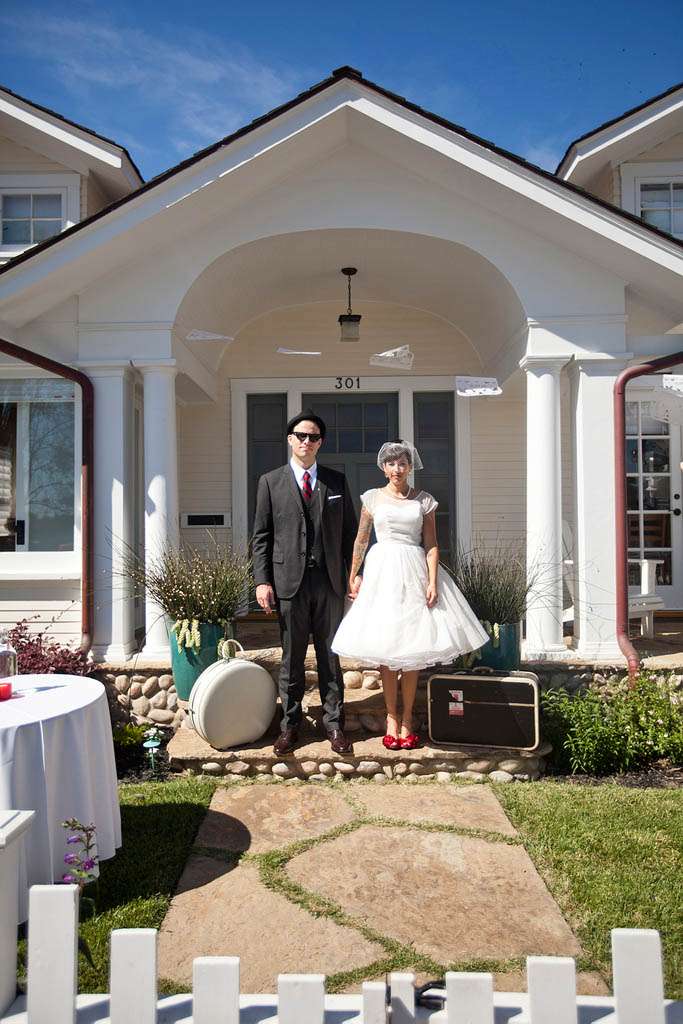 "Our personal aesthetic is that we tend to like things that seem to have a history to them or an evidence of hand, we are drawn towards vintage and craft but like for things to still feel modern. Our wedding was very collaborative and hands on. We have so many talented friends and family, and we really wanted to showcase their talents as well. They helped do everything from the flowers, silk screening invites, baking desserts, building our website, embroidering our groomsmen's pocket squares, sewing…the list goes on and on. It really was amazing to have them all involved. It really was great to look out on your big day and not only think "hell yes, this looks awesome" but also be reminded of all of the amazing people who have supported you along the way."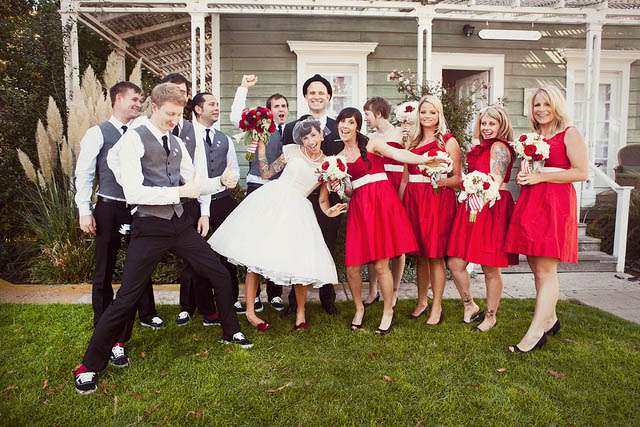 "I designed the invites, save the dates and thank yous myself. I had a friend silkscreen the art side, and then I had custom rubber stamps made for the info side, and sealed the envelopes with a red heart wax seal, and hand addressed them myself. I spent countless hours spray painting things white ( you really can make anything look good when you spray paint it white!) For example, countless empty pickle jars (I cant explain John's love for pickles and I wont even try, but lets just say I was able to save up A LOT of pickle jars), when spray painted with a candle inside they looked like porcelain, I also painted an ugly wood/brass 70's chandelier to hang in the tree, some photo frames, an old mirror I found discarded on the streets of SF, mismatched crystal candelabras (made them look entirely new and modern) etc. It was a great cheap way to not only tie things together, but really make use of things, that one might otherwise overlook."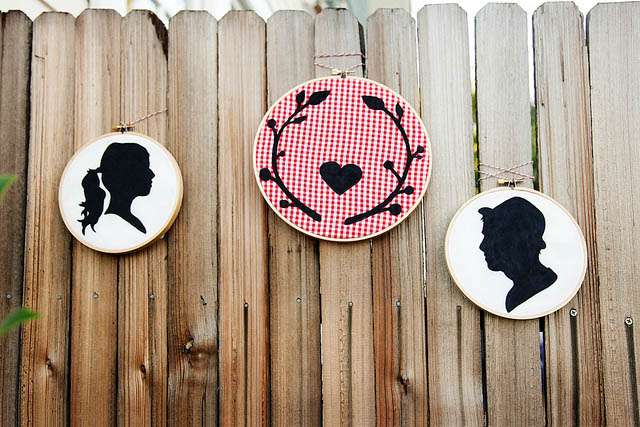 "I pulled fabric over embroidery hoops and hand painted our wedding crest logo as well as each of our silhouettes, it looked great as decoration hanging on the front fence at the wedding and made an awesome keepsake. I also hand cut the papel picados (Mexican tissue paper banners) that hung at the front of the house myself with two love birds and our wedding date. We did the entire wedding ourselves, it was a lot of hard work, but in the end we loved ever detail and wouldn't have changed a thing."
The bride wore a vintage dress from Timeless Vixen Vintage on etsy which she bought for just $380! "I started looking really early on, knowing that I wanted vintage, and that finding what I wanted, in my size, might take some time," she continued. "Surprisingly I found the dress right away, it was just what I wanted and the measurements happened to match mine exactly. I bought it, without the option of trying it on first, crossed my fingers and waited for it to arrive. Amazingly enough, the dress fit like a glove and didn't even need any alterations!"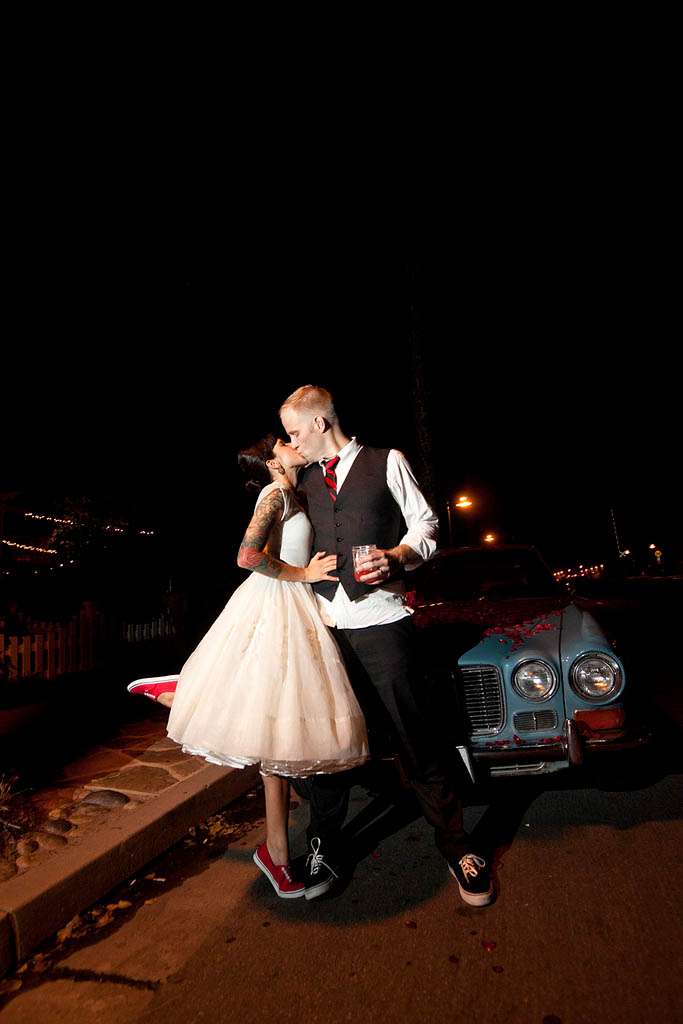 What a fabulous wedding! I am so pleased that Carina & Amanda from Love Me Do Photography and I were able to help these guys get the awesome photographs they deserve too. Enjoy the photos! Do I have the best readers or what!?
Gealyn & John run their own video company, What We Do Films, be sure to check out their adorable video (after the jump) which they played out at their reception. What an awesome idea! 
Huge thanks to Gaelyn & John for sharing all their wedding details and to Carina & Amanda for sharing their beautiful photographs
Photography Credit: Love Me Do Photography
Venue: John's parent's 1920's beach cottage in Carpinteria California
Bride's Dress: Timeless Vixen Vintage on etsy
Bride's Birdcage Veil: DIY
Bride's Shoes: Pura Lopez
Bride's Garter: DIY – tutorial here
Groom's Suit: The Ludlow from J Crew
Groom's Hat: Hat: Brixton
Bridesmaid Dresses: Bella Bridesmaid by Designer Lula Kate (customised with DIY belts)
Bridesmaid Necklaces: Moncadeau on etsy
Cake: Bella Dolce Bakery Santa Barbara
Cake Toppers: eBay
Flowers: Branch Out Flowers