I couldn't believe it when Jasmine Star first emailed me. I got a little bit fan-girly and squealed down the phone to my friend a little bit. So needless to say when it came to writing this month's Best of Blogs article there was only one lady I wanted to write about. I am literally honoured to have her on these pages with me. The woman is such and inspiration and I heart her. A lot.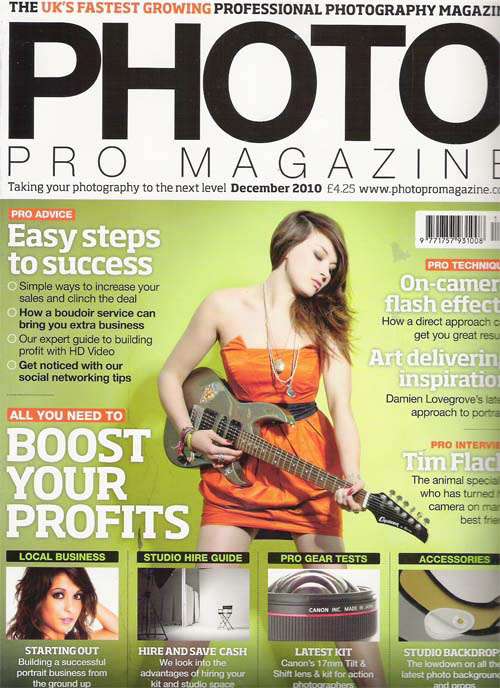 My virtual love affair with Jasmine Star began this summer when I watched a video recording of a seminar she'd held which was called 'The importance of branding and its vitality in the wedding industry.' After watching it, the way I viewed by own brand and business was literally changed forever. A dramatic admission maybe, but that's how motivating her one-hour teaser video was: I ended up blogging about it, and I thoroughly recommend that you take a look. http://www.rocknrollbride.com/2010/06/a-sunday-kind-of-love-jasmine-star-being-free-to-succeed
For my part I immediately started to make big decisions about how and where to move forward with my own business. I was so blown away in fact, that I just had to email her right away and tell her.
I'd heard about this 'Free to Succeed' tour (available to purchase in full, on DVD from http://getit.davidjay.com) on a photographic forum and was encouraged by everyone's positive comments to check it out for myself. Initially I was sceptical. I've never been one to sign up for training courses or be swayed by motivational speakers, however within the first 10 minutes I was hooked. Jasmine spoke with such passion and with such an infectious style, that even though the talk was directed towards photographers and their branding, I was finding myself relating everything she said to my own business.
So how does this bring us to talking about Jasmine Star the blogger? Well as many of you may already know, she not only markets herself as a photographer, but as a professional blogger too – her blog, her website, her personality and her photography are all critical to the Jasmine Star brand. All of these aspects work together to create brand "J*", and in such a natural and organic way that you actually don't see how it happened. This is something we can all learn from.
"I have been persuaded to believe that if a person wants to become a brand, the first place to start is with him/herself, " she explains. "The cornerstone of a boutique brand relies on a strong sense of self-identity – who a person is both professionally and personally.  When the foundation of a brand is based on an identity, it becomes easier to build the brand and attract the type of clients a photographer prefers."
Jasmine started blogging in early 2006 and shot her first solo wedding in October of the same year. As a self-confessed newbie, who had no idea what she was doing and who simply wanted to learn to take beautiful photographs, she admits to starting the blog to "document her failures." This humble and honest approach is something she hasn't lost over the years, and with all her 'fame' (although she'll kill me for saying that!) within the worldwide photography community, she continues to remain humble and oh-so grateful to everyone who reads and comments on her blog, attends her workshops  and of course books her to shoot their weddings.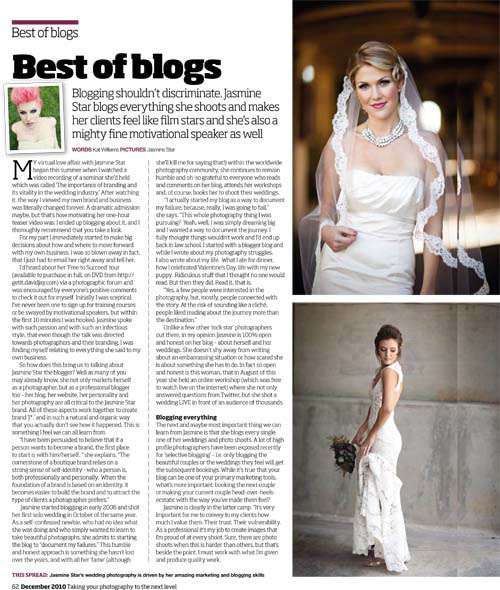 "I actually started my blog as a way to document my failure.  Because, really, I was going to fail.  This whole photography thing I was pursuing?  Yeah, well, I was simply dreaming big and I wanted a way to document the journey.  I fully thought things wouldn't work and I'd end up back in law school.  I started with a blogger blog and while I wrote about my photography struggles, I also wrote about my life.  What I ate for dinner, how I celebrated Valentine's Day, life with my new puppy.  Ridiculous stuff I thought no one would read.  But then they did.  Read it, that is.  Yes, a few people were interested in the photography, but, mostly, people connected with the story.  At the risk of sounding cliché, people liked reading about the journey, more than the destination."
Unlike a few other 'rock star' photographers out there, in my opinion Jasmine is 100% open and honest on her blog – about herself and her weddings. She doesn't shy away from writing about an embarrassing situation or how scared she is about something she has to do. In fact so open and honest is this woman, that in August of this year she held an online workshop (which was free to watch live on the internet) where she not only answered questions from Twitter, but she shot a wedding LIVE in front of an audience of thousands.
Blogging  Everything
The next and maybe most important thing we can learn from Jasmine is that she blogs every single one of her weddings and photo shoots. A lot of high profile photographers have been exposed recently for 'selective blogging' – i.e. only blogging the beautiful couples or the weddings they feel will get the subsequent bookings. While it is true, your blog can be one of your primary marketing tools, what's more important – booking the next couple or making your current couple head-over-heels-ecstatic with the way you've made them feel?
Jasmine is clearly in the latter camp. "It's very important for me to convey to my clients how much I value them.  Their trust.  Their vulnerability.  As a professional, it's my job to create images that I'm proud of…at every shoot.  Sure, there are photo shoots when this is harder than others, but that's beside the point.  I must work with what I'm given and produce quality work."  
"If I didn't blog all my sessions, I believe it would inadvertently translate to those clients that either they weren't pretty/photogenic/perfect/strong/likeable/etc.  That's the last thing I want to do.  My clients aren't models, but it's my job to make them feel like they are…and hopefully get pictures we're proud of along the way."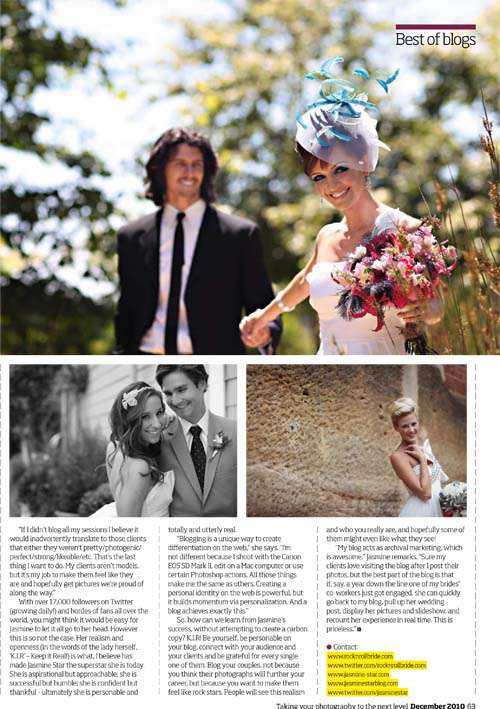 With over 17,000 followers on Twitter (growing daily!) and hordes of fans all over the world, you might think it'd be easy for Jasmine to let it all go to her head. However this is so not the case. Her realism and openness (in the words of the lady herself, "K.I.R" – Keep it Real!) is what, I believe has made Jasmine Star the superstar she is today. She is aspirational but she is approachable; she is successful but she is humble; she is confident but she is thankful – ultimately she is personable and totally and utterly real.
"Blogging is a unique way to create differentiation on the web.  I'm not different because I shoot with the Canon 5DMII…because I edit on a Mac computer…because I use certain photoshop actions.  All those things make me the same as others.  Creating a personal identity on the web is powerful, but it builds momentum via personalization.  And a blog achieves exactly this."
So, how can we learn from Jasmine's success, without attempting to create a carbon copy? K.I.R!  Be yourself, be personable on your blog, connect with your audience and your clients and be grateful for every single one of them. Blog your couples, not because you think their photographs will further your career, but because you want to make them feel like rock stars. People will see this realism and who you really are, and hopefully some of them might even like what they see!
"My blog acts as archival marketing.  Which is awesome!  Sure my clients love visiting the blog after I post their photos, but the best part of the blog is that if, say, a year down the line one of my brides' co-workers just got engaged, she can quickly go back to my blog, pull up her wedding post, display her pictures and slideshow, and recount her experience in real time.  This.is.priceless."
www.jasmine-star.com
www.jasminestarblog.com
www.twitter.com/jasminestar