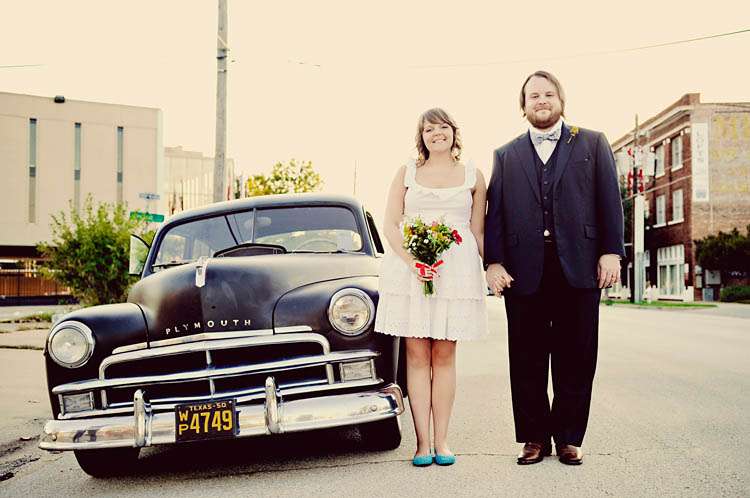 There are just some couples that you can only describe as utterly cute, and Lindsey & Noah are certainly that! They chose The Sons of Hermann Hall, a historical building in downtown Dallas, TX as their venue because it is one of their favourite places to go and see live music.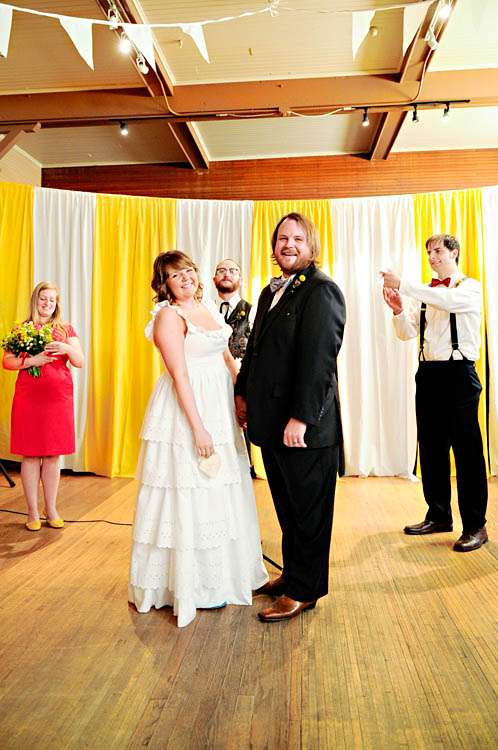 Lindsey wore an unusual and fabulous dress, designed and made by her Mother. For the ceremony, the dress was full-length but for the party, the some of the bottom tiers were removed to create this cute, short and sassy number (seriously, love this idea!) "I looked at the big bridal stores and couldn't find anything that fit my personality," Lindsey told me. "My Mom showed up at my house one day and revealed that she had been working on a dress for me that she was just making for fun. I tried desperately to think of ways to let her down easy, thinking that there was no way that I could get married in a dress my Mom made. However, I tried it on and I absolutely loved it. It had the ruffle, the charm and just the right fit.  She actually made the dress out of eyelet dust ruffles that she got in the home furnishing section of a department store! I can't even put into words how special it was to walk down the aisle wearing a dress handmade with love just for me by my Mother. She instinctively knew exactly what I wanted for my wedding day. I was forced to wear flats because three days before the wedding I tripped on the sidewalk while going to get our marriage license and banged up both of my feet. I couldn't cram my swollen feet into my cute yellow wedges I had planned to wear, but a pair of fabulous blue flats from Target saved the day."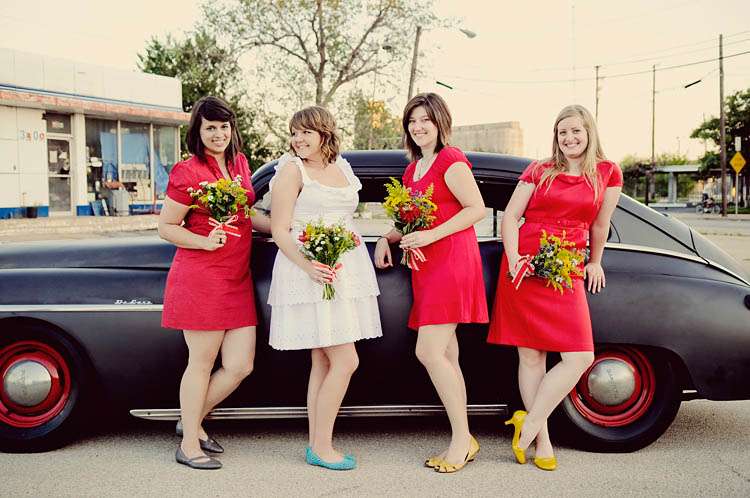 With Noah being a musician himself, and the fact that the couple got married in a music venue, obviously the entertainment was very important to them.  "One of our vows was to always remember the sound of our favorite records!" Lindsay continued. "Noah's band, The Naptime Shake, got on stage and played a special wedding day song. Our friend, Glen Farris played an acoustic version of "Can't Help Falling in Love"" as I walked down the aisle and also played "If I Needed You" during the ceremony. The Theater Fire played at the reception.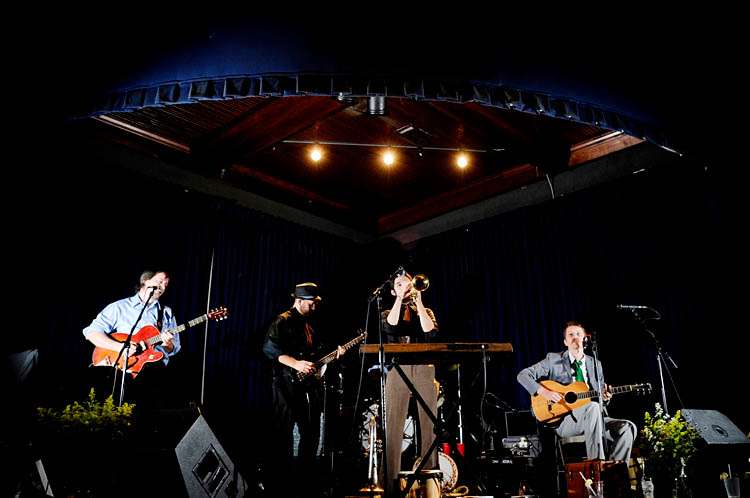 One of my favourite parts of this awesome wedding though? Why, the kissing booth of course! What an adorable idea! With help from some friends, the couple made the booth themselves. "It was a great way to get to talk to our guests and lay a smooch on them at the same time. We used the "smooch money" for spending cash on our honeymoon. Several guests and my dad took turns manning the booth."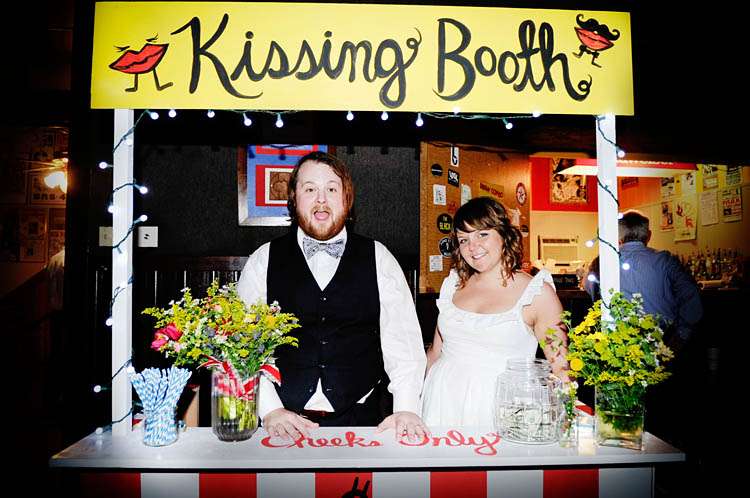 Huge thanks to Lindsey & Noah and their photographer Maria for sharing their awesome wedding today
Photography Credit: Squaresville Studios
Venue: The Sons of Hermann Hall
Bride's Dress: Custom made by her Mother
Bride's Shoes: Target
Groom's Outfit: Bachrach
Cake & Cupcakes: Dallas Affaires Cake Co.
Flowers: DIY
Boutinnaires: DIY
Bridesmaid's: Picked their own dresses
Groomsmen: Picked their own outfits
Bands: The Naptime Shake & The Theater Fire