Woohoo. New feature alert! I've decided that Saturday's are going to become guest post days. I've always shied away from featuring guest posters before because…well…let's be honest I'm a control freak and am very particular about what I like (just ask my husband!) BUT I've got a few reasons for changing my mind and introducing this new concept to the site. Therefore I thought it'd be cool to share my thought process with you all before we get going – and I'm going to be honest (because as we know, that's me!)
I am crazy busy. Like mo' fo' crazy. By posting things other people can contribute it will mean I've got one less day of posts to write myself!
Don't worry though, I'm not going to be accepting guest writers left right and centre. I have a very select and specific breed of invited writers coming on board to help me, all of which have got very specific areas of expertise and who can teach you/inspire you with some really cool stuff (we hope!)
And finally, more specifically to the Agony Aunt posts, even though being busy is awesome it does mean that if any of you email me your wedding queries or questions I simply just don't have the time I'd like to devote to answering you all in as much depth as I could…so that's where Aunt Anna comes in. So, I'd like to introduce you to the newest member of the Rock n Roll Bride family, some of you may know her already, and those of you who don't, we'll you're sure going to love her soon enough.
Aww ain't she a cutie!?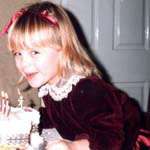 Well hello, my name is anna and I write the blog anna and the ring, a somewhat anonymous blog about my voyage to marriagedom.  My boy (Bean) and I are planning an imperfect but hopefully fabulous November wedding with aspirations of a relaxed, fun and decadent day.  I'm not one for following trends and have no desire to be normal.  I like to think my little corner of the interweb is a haven for those not after a typical wedding, as mine will certainly not be. So do drop by and join in. I love to hear from all my readers. anna x 
♥  ♥  ♥
So problemo number one…
Hi Kat & Anna
I am due to be married in April or next September. My dress is being designed by a new designer and this is her schedule and she is also custom making my bridesmaid dresses. I want a rock n roll themed reception and don't have a clue what to use besides black, white and gold for accent colours (and I don't want to use another shade of purple). I need some serious help, can you help me? Thanks.
Kat has taken me under her wing and asked me to become an agony aunt for the many of you who write in questions every day. From colours to catastrophes I really want to help.  I hope I can do her proud! First of all, how fabulous to be wearing a dress from a new designer and to have her design for your girls too. Entirely jealous but enough about me!
Purple is such a wonderful colour (when done right!).  I'm not sure what type of rock and roll vibe you are looking for (oh no themes with me, bleugh!) but a reader of Rock n Roll Bride is obviously freakin' awesome so I will start there! You aren't after the usual neutrals with purple to be honest I see where you are coming from.  Purple is such a versatile colour which can be accented by any number of colours. So here are a few ideas for you. I assume by royal purple you mean a colour like this? Maybe a little darker?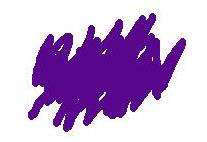 Thank you MSPaint!
I think to overwhelm you with hundreds of photographs is a sure fire way of confusing! So I have chosen one image for each colour to illustrate my point.  I am not one for over the top matchiness but do know that having a couple of colours to play with makes life far easier! In researching this post I can see why you are having trouble.  There are some seriously uninspiring uses of purple on the interwebs. I thought it would be easy to re-imagine purple, how I was wrong.  Yet I persevered and well, enjoy!
As a girl with a love of magenta and fuchsia I would first humbly offer this a fabulous colour to work with purple. Both are vibrant jewel tones but harmonise so well with each other.  This is a powerful palette but fun and easy to replicate.  You can go full out pink and purple with no other colours or reign in it with neutral if you find it a little overpowering. However I would say go for it!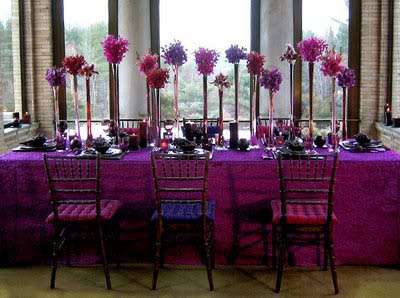 Credit: via whitneyandbrycewedding
Or how about grey, I guess a neutral but not expected, not silver but a sophisticated grey? For a winter wedding? I adore grey. It adds such a chic element to any colour palette, whether in costume or decor. Grey can be used as a nod to different time periods or just as a simple accent.  Any shade of grey will work well with the purple.  If you want to play safe a deep charcoal with look eternally chic but even the slightly more adventurous dove grey will ensure a fabulous timeless elegance.
purple and grey by annaandthering featuring Lipsy dresses
P.S. I also adorePolyvore as it uber helpful in pulling together different ideas quickly.
Purple and turquoise is always a winner.  Indeed turquoise is the colour of 2010 and I imagine the hue will continue to be popular in the coming year.  Whilst I am not one for following trends there is something so fresh about these two colours together.  I don't tend to think colours should be limited to a specific season but this is such a fresh combination, I can taste the blackberry cocktails already, that it would be perfect for harvest season.
Indeed a splash of pink would work equally well with these colours and enables you to use turquoise or aqua as the base colour with touches of pink and purple all around.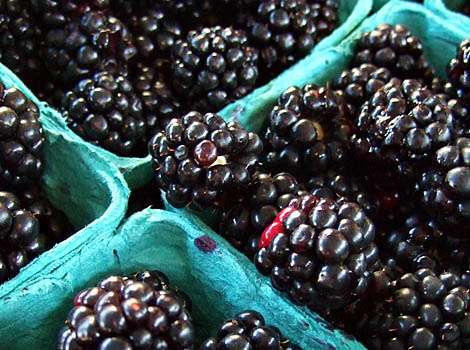 Credit: via Marco's Farmers Market
How about purple and yellow? Yellow is the natural complementary colour for purple. So often seen naturally occurring in nature, just think of pansies or irises.  The deeper the purple, the deeper and thus more striking the yellow can be. (You could even choose orange for a more tropical feel).  However lighter yellows work just as well.
Credit: via The Knot
Purple and chocolate. For want of a better turn of phrase the Cadbury's combination! I'm not a chocoholic myself (although I am soon to be married to one) so I have learnt the infinite possibilities of combining chocolate with our celebrations (or should that be Miniature Heroes!)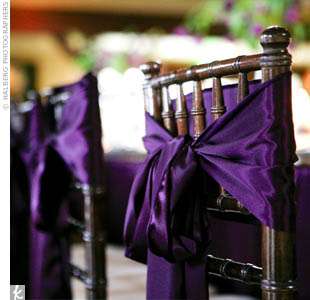 Credit: via The Knot
So I hope to have excited you about the prospect of using fabulous colours with purple. It was rather fun to be let loose amongst the interwebs. Do let me know if you want any more advice or if I have completely run away with wrong ideas!
♥  ♥  ♥
Anna wants to help you! Do you have a question, a query, a concern, a worry? Anything wedding/planning/styling-related that you think Aunt Anna could help you with? If so please drop us an email to kat@rocknrollbride.com and we'll try to help as many of you as we can!