Jessica & Ronnie's kitsch Elvis themed wedding was just too damn Rock n Roll to ignore. Stand by for all the juice…
First and foremost I would like to just say Kat your blog was definitely a huge source of inspiration through all of my wedding planning! Your excitement for all things wedding is so fantastic to read that even after our big day, I still take a looksey to check out all of the great wedding photography you find! Thanks for doing what you do! It was pretty wild when Tom asked us if he could send you some of our photos, I said "of course I know Rock n Roll Bride, that sounds great!"
I totally thought wanting to get married in red was going to have to make me spend a bazillion dollars that we didn't have on getting one made, but I randomly found it at David's Bridal. It was a bridesmaids dress for only $160!! I just had them take off the spaghetti straps that it came with because I thought it gave a more vintage feel to it. My husby's outfit cost more than mine with his special Wingtip Shoes costing almost as much as my dress but it was so worth it because man did he look hot in them!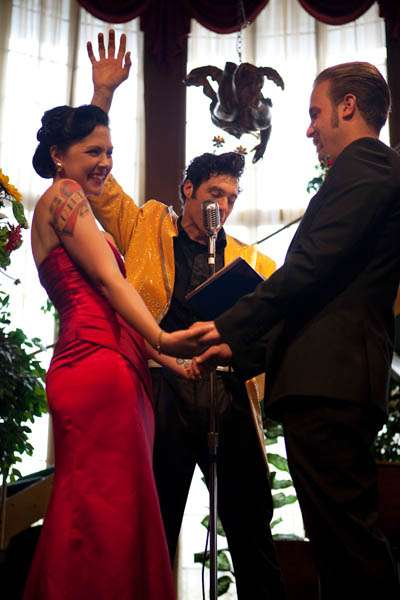 Our wedding consisted of a weekend gathering in San Luis Obispo at The Madonna Inn, which is filled with everything gold and gaudy, its such an amazing place with every room holding a different theme, I really recommend it to all for at least a one night stay!
We started the weekend off Friday night bowling with friends and family at Pismo Bowl just right down the road. We wanted our wedding to be for us to spend as much time as we could with everyone and just party, so we had an early afternoon wedding in "The Gay 90's Room" upon the stage, while making our separate entrances, my fiancee's song was "I'm Your Man" by Leonard Cohen, and mine to "You Can Never Hold Back Spring" by Tom Waits, then we had our officiant "50's Young Elvis" (no disrespect intended to older Vegas Elvis, but we just love classic Elvis)  who made his entrance by singing "I Got Stung" up the aisle as all of our guests just laughed and clapped along. It was truly a great moment seeing everyone have so much fun with him! Elvis officiated the wedding with fun and singing but also such sincerity about love and how to make it last. Our I do's went something like, "Do you promise to never step on his Blue Suede Shoes?" and "Do you promise to never leave her All Shook Up at the Heartbreak Hotel and Love her Tender?" After the ceremony Elvis handed us the infamous Vegas Elvis Glasses and sang us out to "Burning Love". We of course had to have Elvis' "Fame & Fortune" as our First Dance, hopefully by now your seeing that we're not creepy just HUGE Elvis fans.
At the reception each table centerpiece was a different record sleeve from our collection of singers that we love like Johnny Cash, Wanda Jackson, Roy Orbison, B.B King, David Bowie, Elton John and many others, then for the placement cards we had "Mr & Mrs So & So are partying at Elton John's table" and so on. It was such a cheap money saving way to do centerpieces!  I totally recommend it! To continue with the theme we had little record napkins that had "Rock & Roll" on them from Party City for next to nothing. For party favors we had our immediate family members and bridal party dedicate songs to us that reminded them of us, and the two of us dedicated songs to each other too, which we made into a CD for all to take home. Everyone came up with such great songs that it made a great compilation that we listen to all the time!
We finished off the reception and despite the sprinkles of rain outside, we all headed up to the pool & spa and partied in our bathing suits till the pool closed! Such an awesome day to finally start a new chapter with my best friend in such a fun way and to share it with all of our loved ones that came near and far for a little mini vacation! I definitely recommend all couples to just try and have as much fun with the planning as possible, and don't worry about having to stick to the norm of late afternoon weddings with dinner & dancing, do whatever your heart desires and have an all day long of festivities to enjoy it even longer, because it goes by so fast!
Thanks to Tom and of course Jessica & Ronnie for sharing their top tappin' wedding with us
Credit: Tom Fowler Photography