Like so many rock 'n' roll brides, Halloween is Jamie's favourite holiday, so when it came to marrying Mike, there was no question what their theme would be. She even bought their Halloween themed invitations 15 years prior while she was working at Michael's, because they were on sale for $20 and she loved them so much!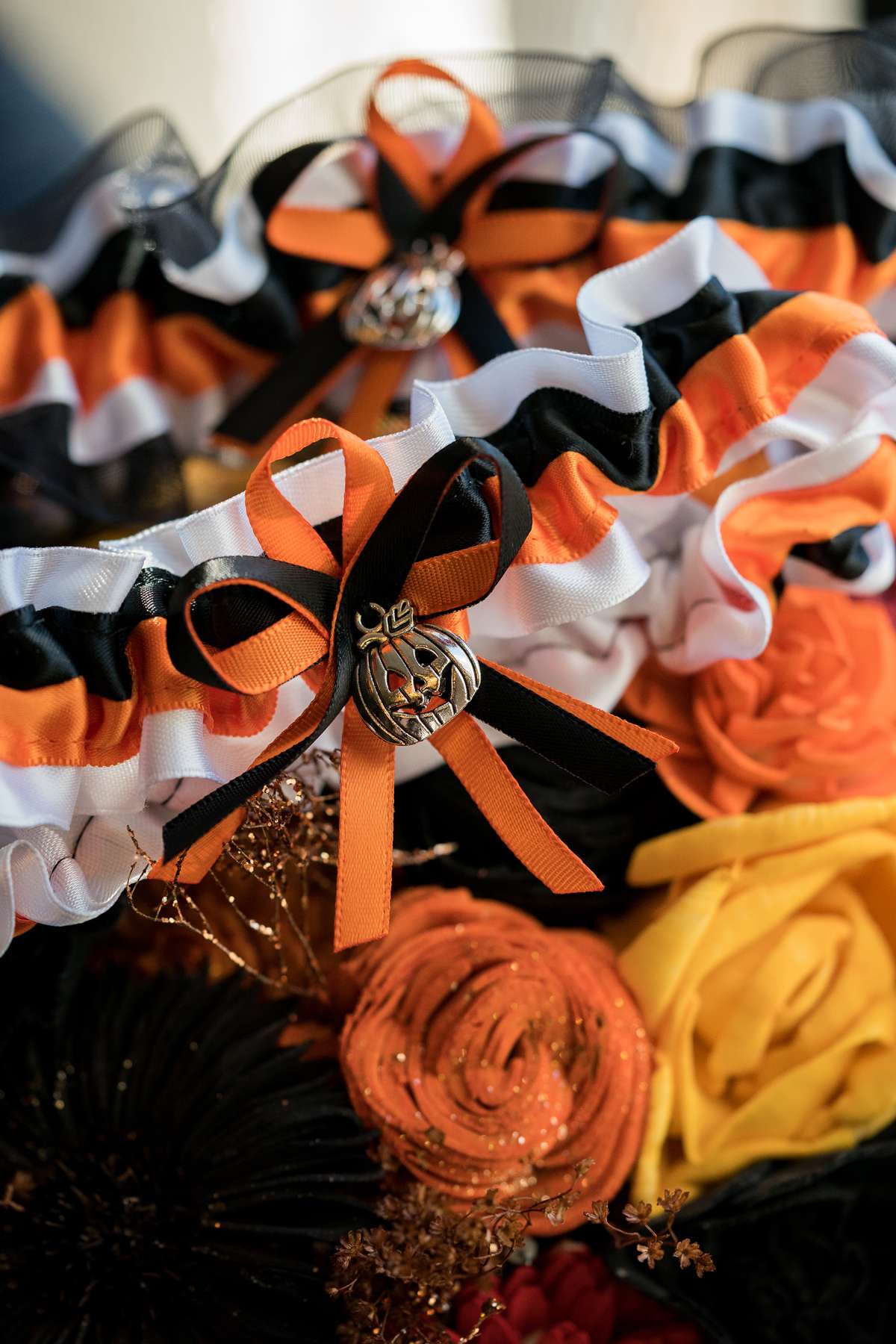 "I put my own twist on just about everything", Jamie told us. "I still wanted to have an elegant wedding, but for it to scream ME. Instead of having the bridesmaids carry bouquets I had them carry lanterns with candles and covered them in spider webs. The flower girl carried a cauldron with dry ice down the aisle, so it left a trail of smoke. We had these cool mini cauldrons filled with a deconstructed cheesecake and green apple boba on top to look like a bubbling witch's cauldron. The ringbearer carried a jack-o-lantern bucket down filled with candy to toss to the guests and instead of using a bouquet of the bouquet toss, I also made a small jack-o-lantern face on a foam pumpkin and threw that instead of my bouquet."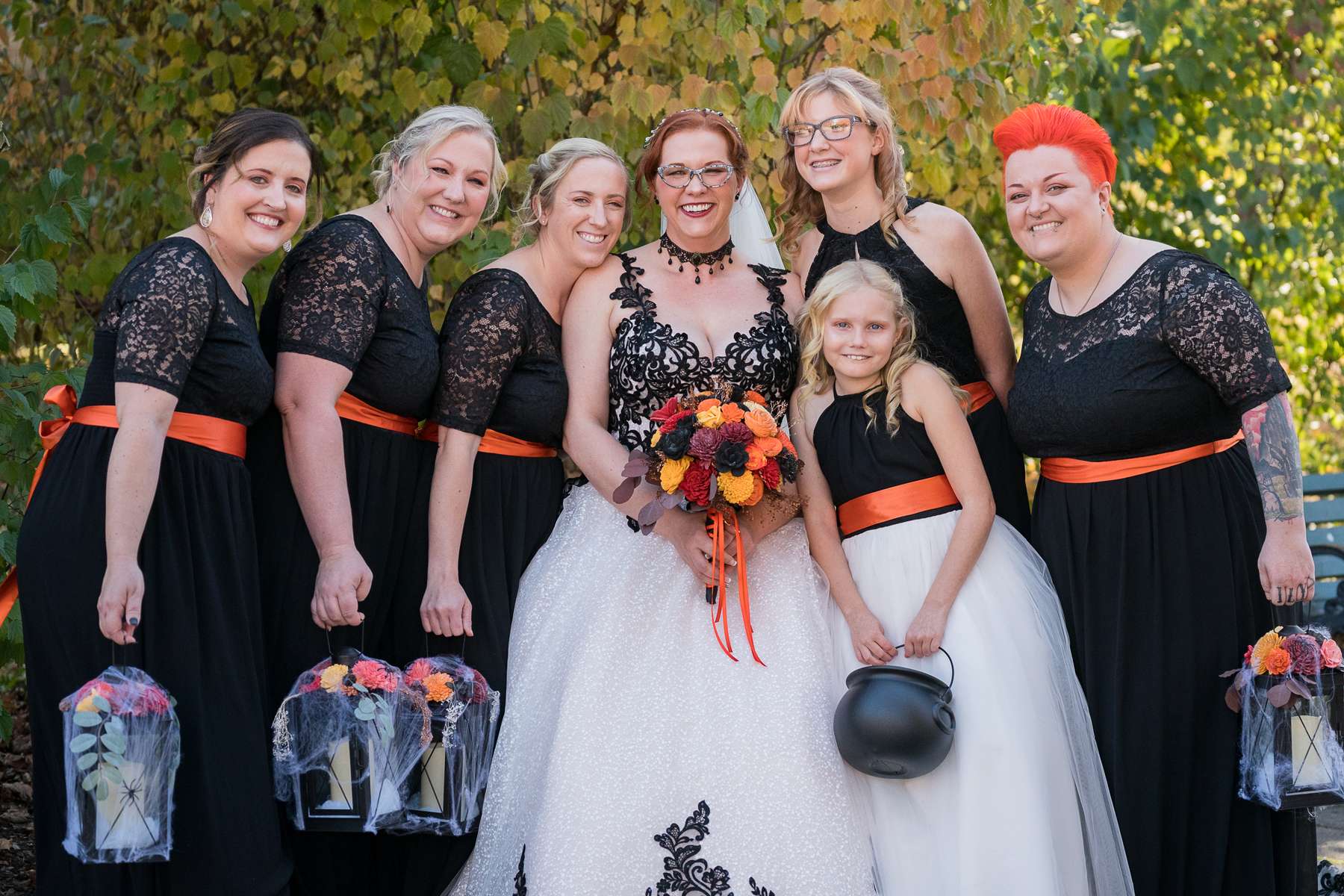 Jamie admits that turning her creative ideas into reality while maintaining an elegant atmosphere was, at times, a challenge. "I had so many ideas from years of 'planning' a wedding that I thought would never actually happen," she reflects. "I had to find a way to make sure that they came across in an elegant way not tacky since I really wanted a strong Halloween feel, but still wanted it to be a wedding and not just a Halloween party."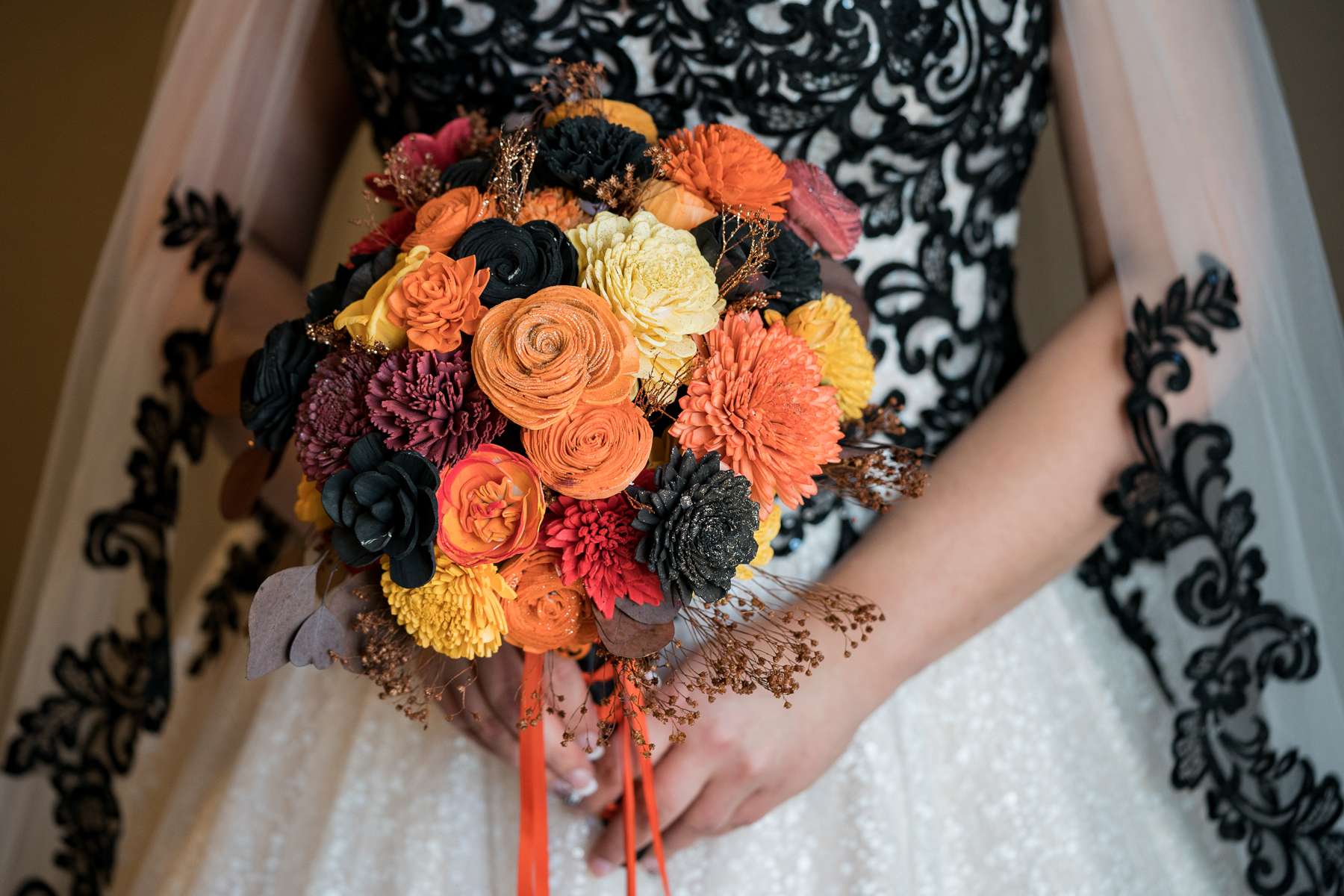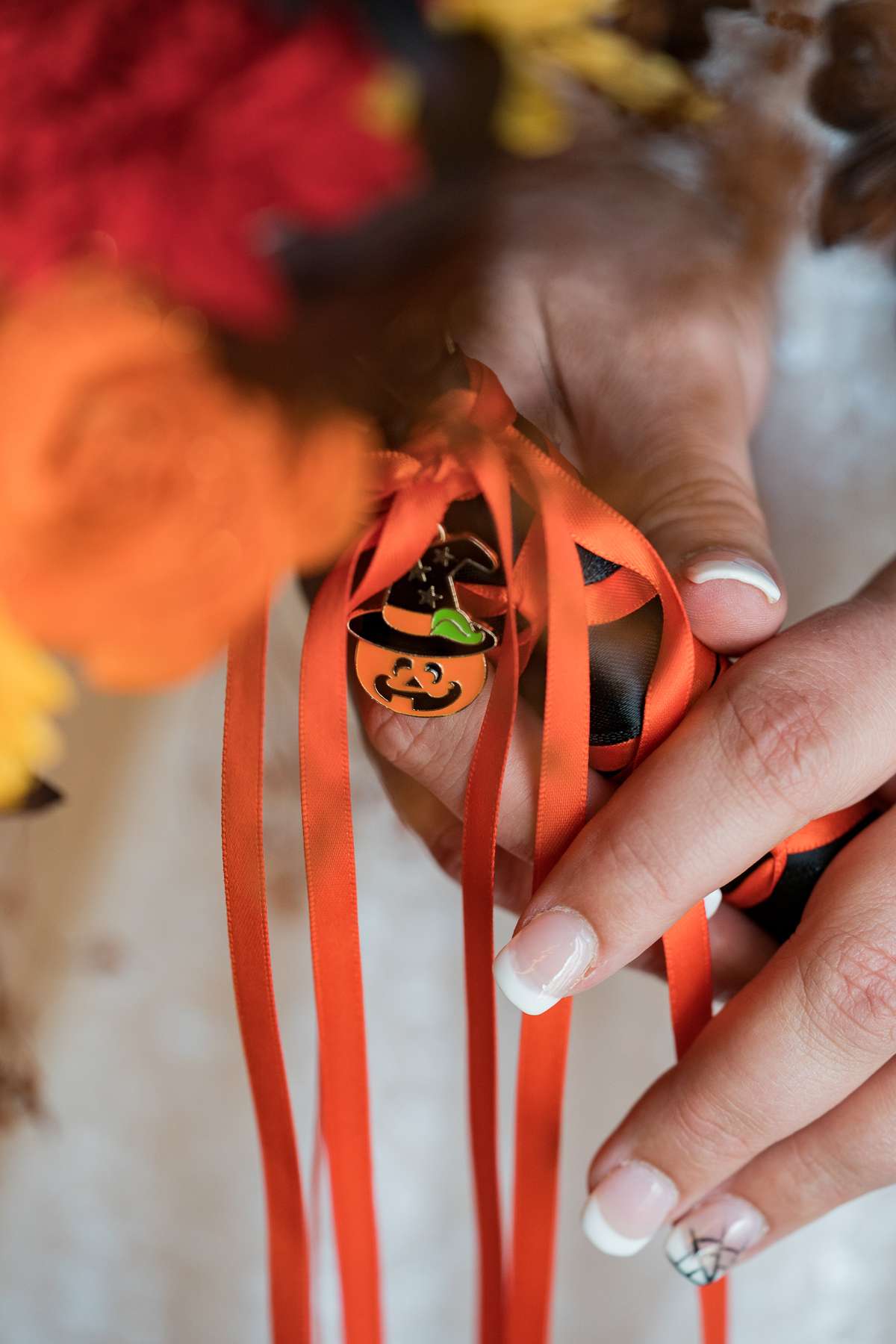 The ceremony was short but full of personal touches none-the-less. Featuring music from Danny Elfman's iconic film scores, bridesmaids walked down the aisle to Storytime from Edward Scissorhands while Jamie and her flower girl made their entrance to Ice Dance.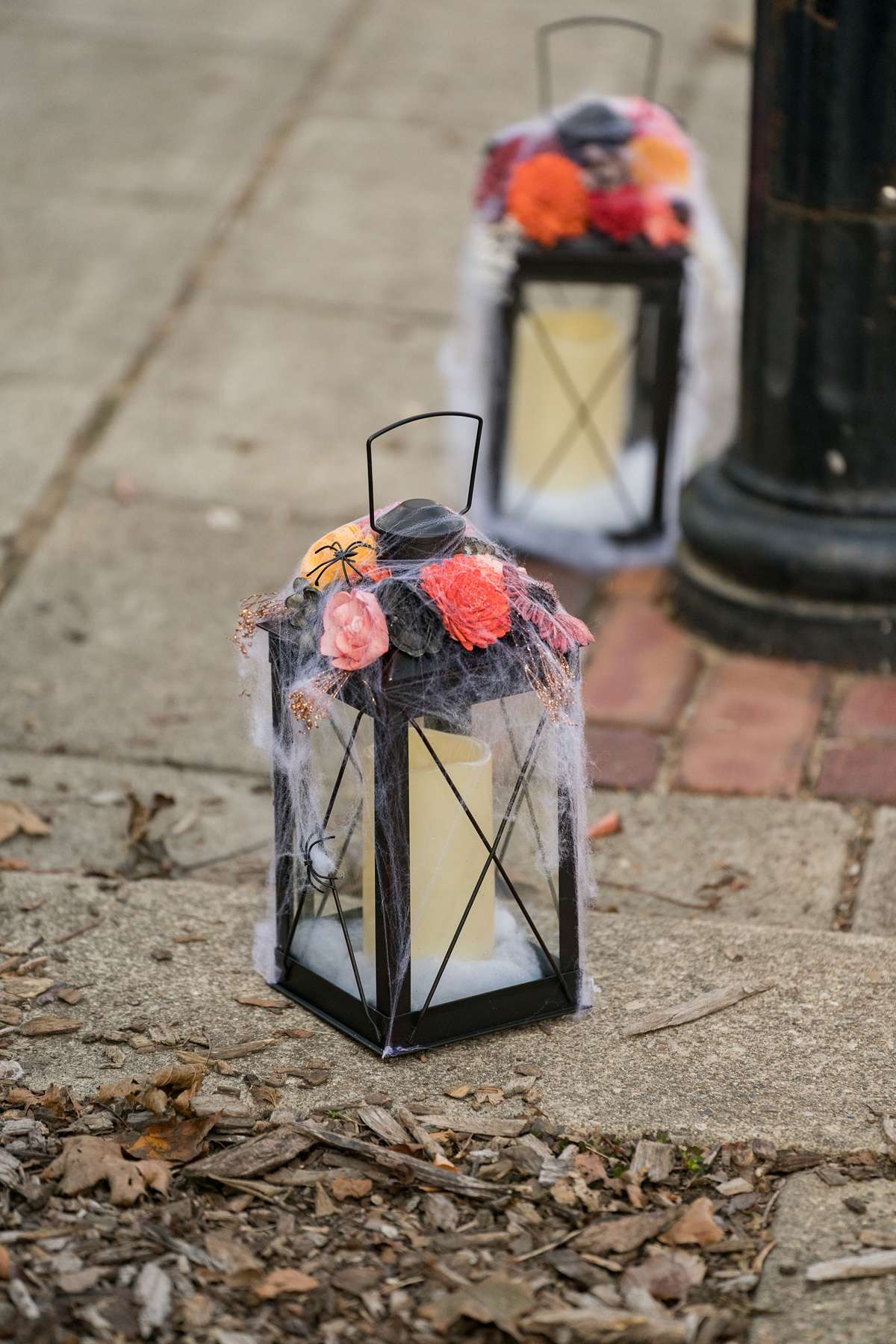 The reception took place in an art gallery, which was already decorated adorned with an eclectic charm that perfectly aligned with the couple's vision. Jamie's favourite moment was the cake cutting, because she'd been dreaming about that moment for years. She explained, "Probably eight ago, we attended a wedding were the bride told her husband that she would get so mad at him if he tried to smash cake in her face. I told Mike that night that if we were to ever get married that if he DIDN'T smash cake in my face that I would be mad, and he did not fail me! I think that is one of the most fun parts of weddings."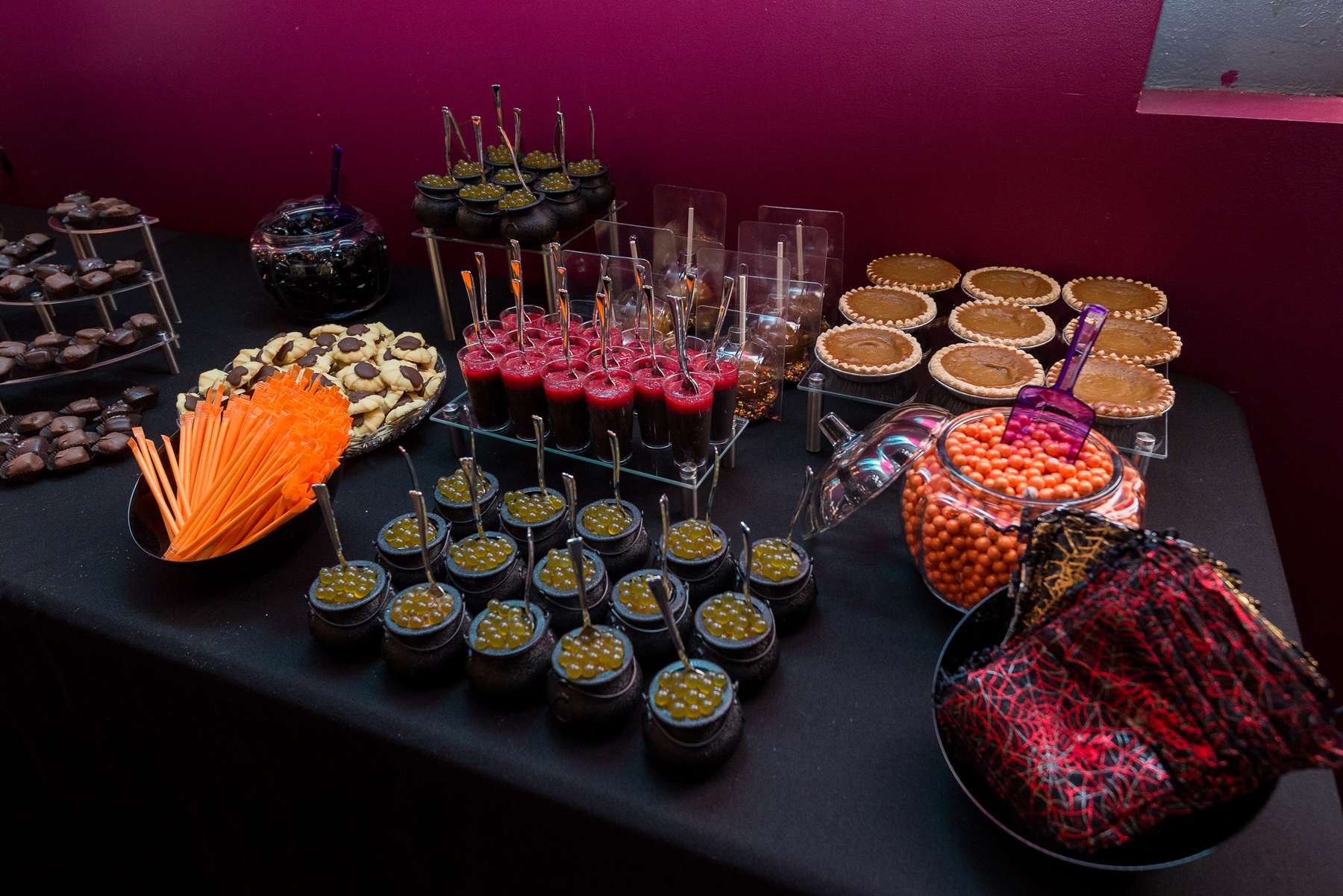 Jamie's journey in planning her wedding taught her many valuable lessons but ultimately she advises future engaged couples to stay true to themselves. "Do what YOU WANT," she said. "Do not listen to what anyone else tells you. I was very fortunate that my husband let me do want I wanted (within reason!) and that I had the support of my friends and family – not that it would have really stopped me! I knew what I wanted for my day and that was what I was going to do whether anyone liked it or not!"