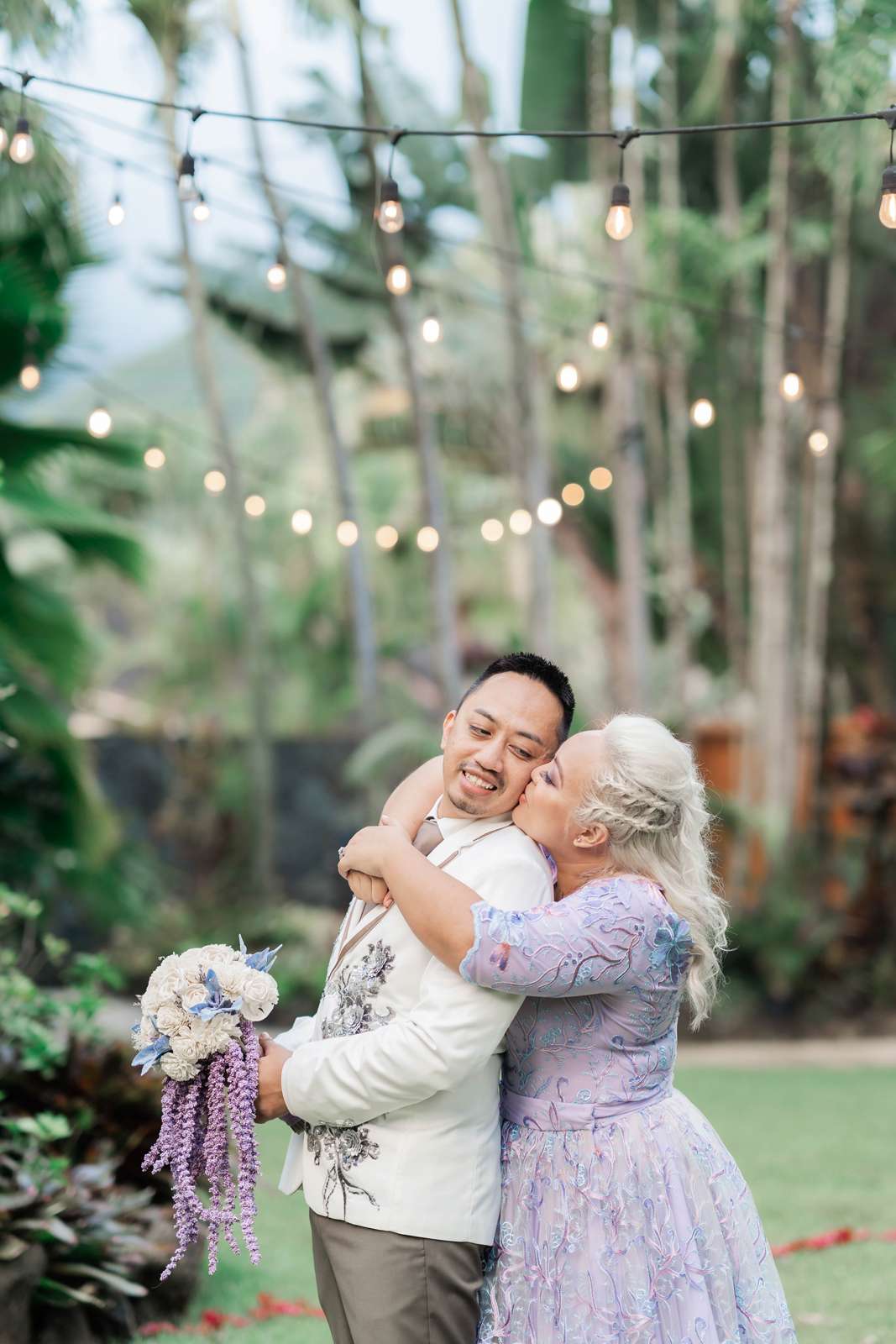 Ten and Jesse met in church, four days after the bride immigrated to Hawaii from the Philippines. For their January wedding, they wanted a day which was colourful and cost-friendly but also honoured their beliefs. They were helped immensely by their 'church family', with members performing at the wedding, paying for the cake and helping them set everything up. Their pastor also led the ceremony.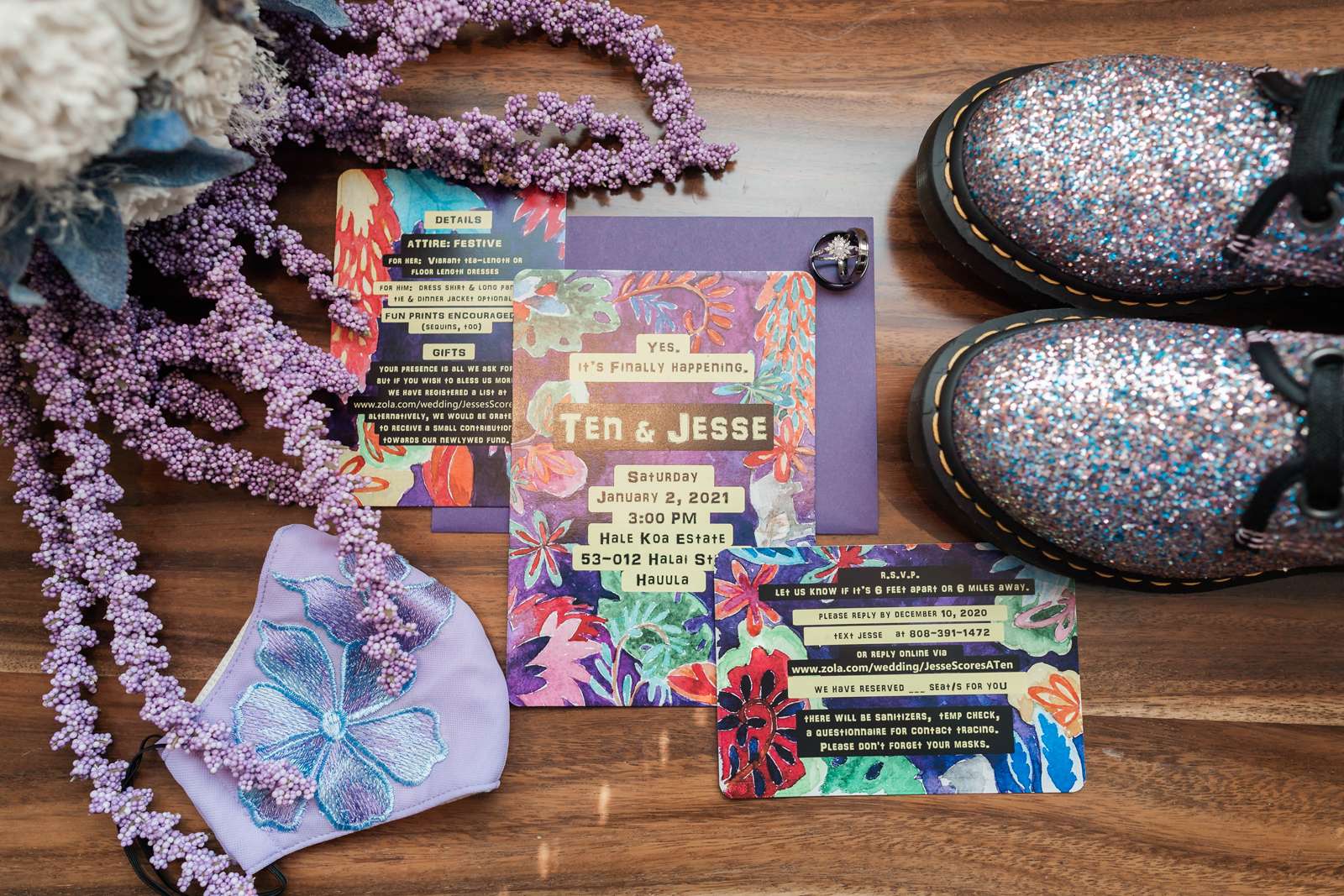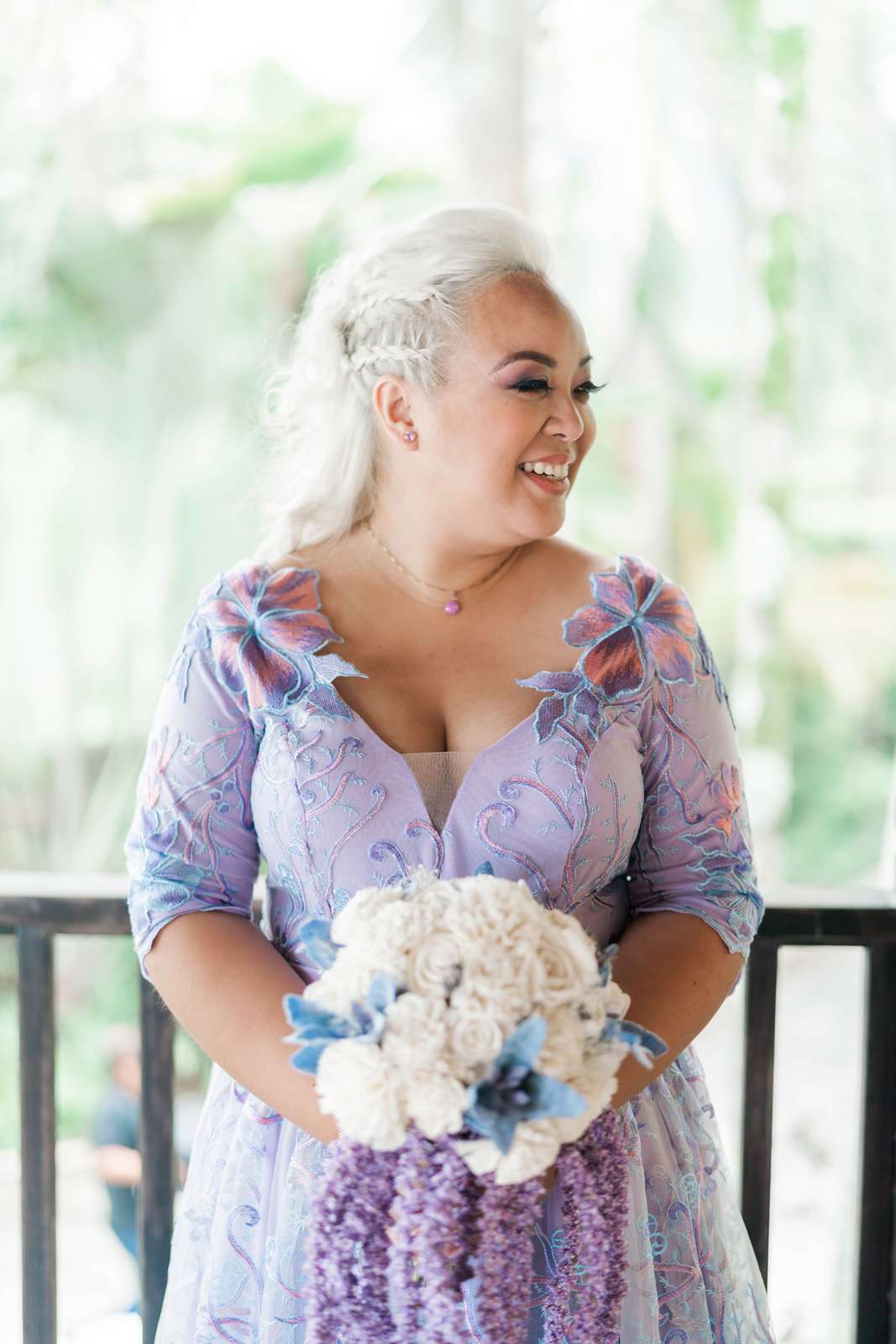 "It was very important for both of us that our special day was an expression of our everyday selves," Ten explained, "relaxed and casual with tons of laughter, but just dressed up a bit. It was fun putting different ideas together to figure out how it would work together. The result came out to be a mix and match, DIY, kitschy look, which is pretty much our daily aesthetic. We just chose what we liked and tweaked it so that it all worked together."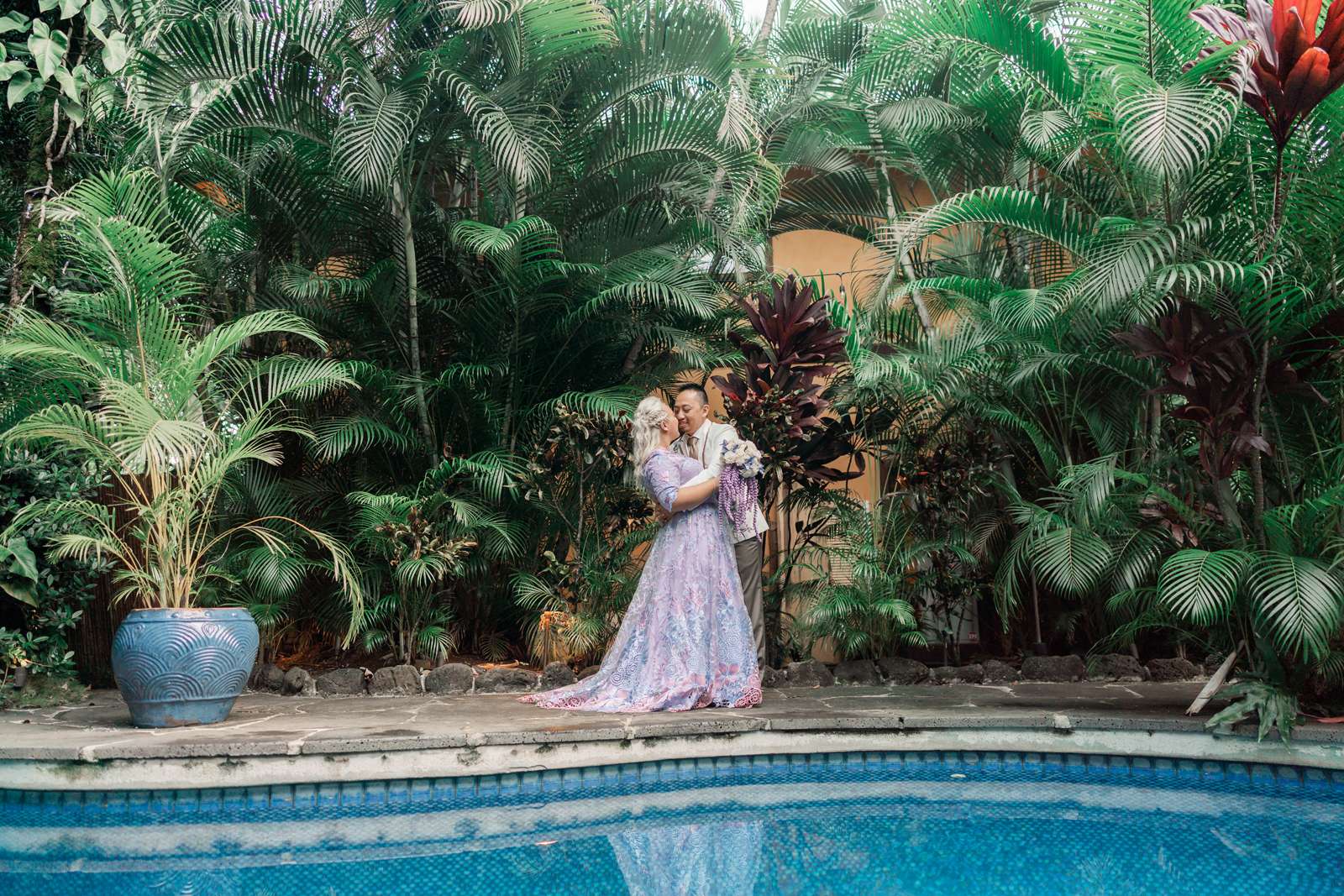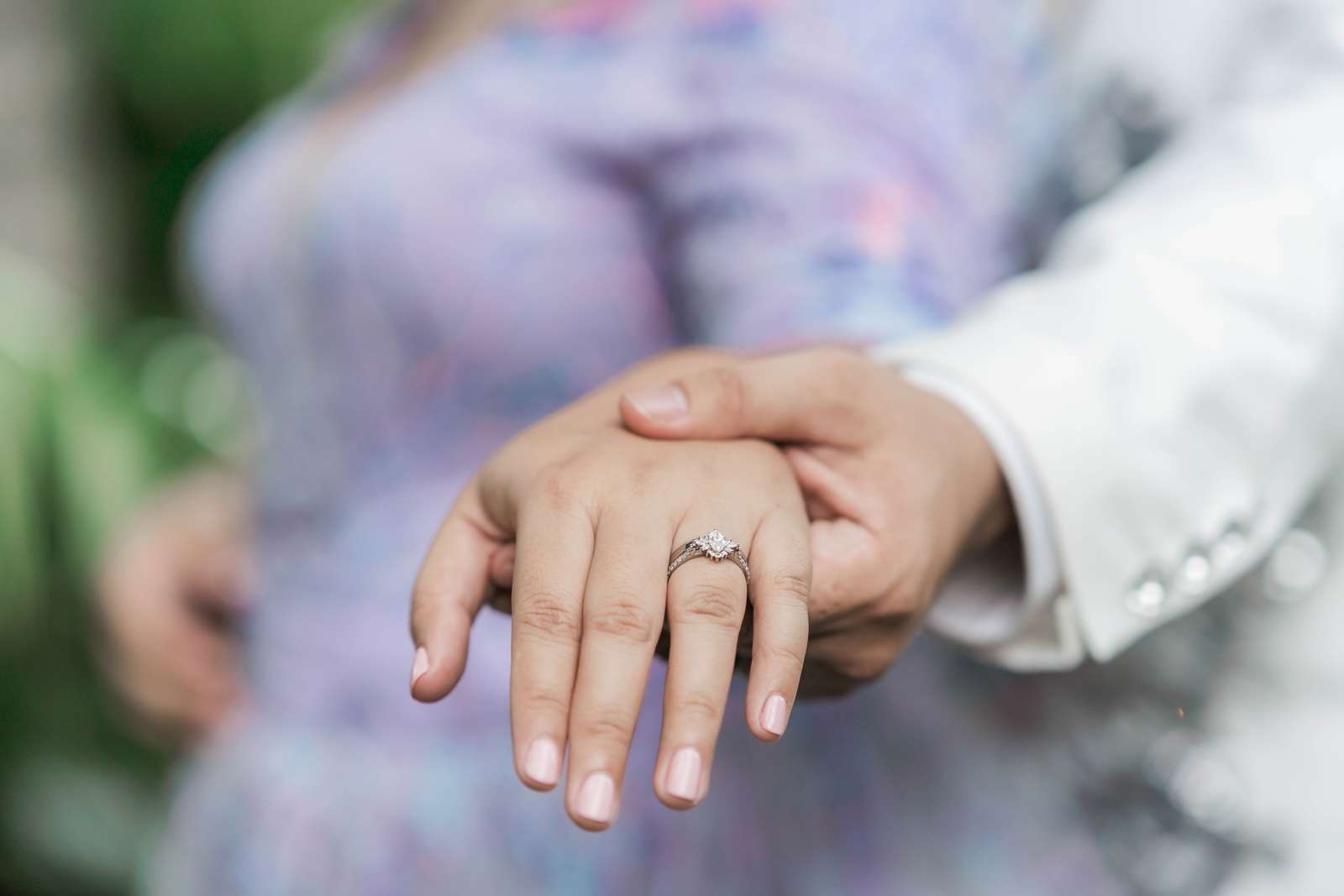 The DIY projects were plentiful, from the flowers (which were bought in bulk and put together by the wedding party and couple) to the handing parasol decorations and hand-me-down mason jars and wine bottle centrepieces. Random ornaments were bought from Goodwill and added to the tables too. The table runners were made from different off-cuts of fabric, which were reused for various things afterwards so there was no waste. All in all, the décor and all the flowers (including the bouquets) for the day came in at under $800.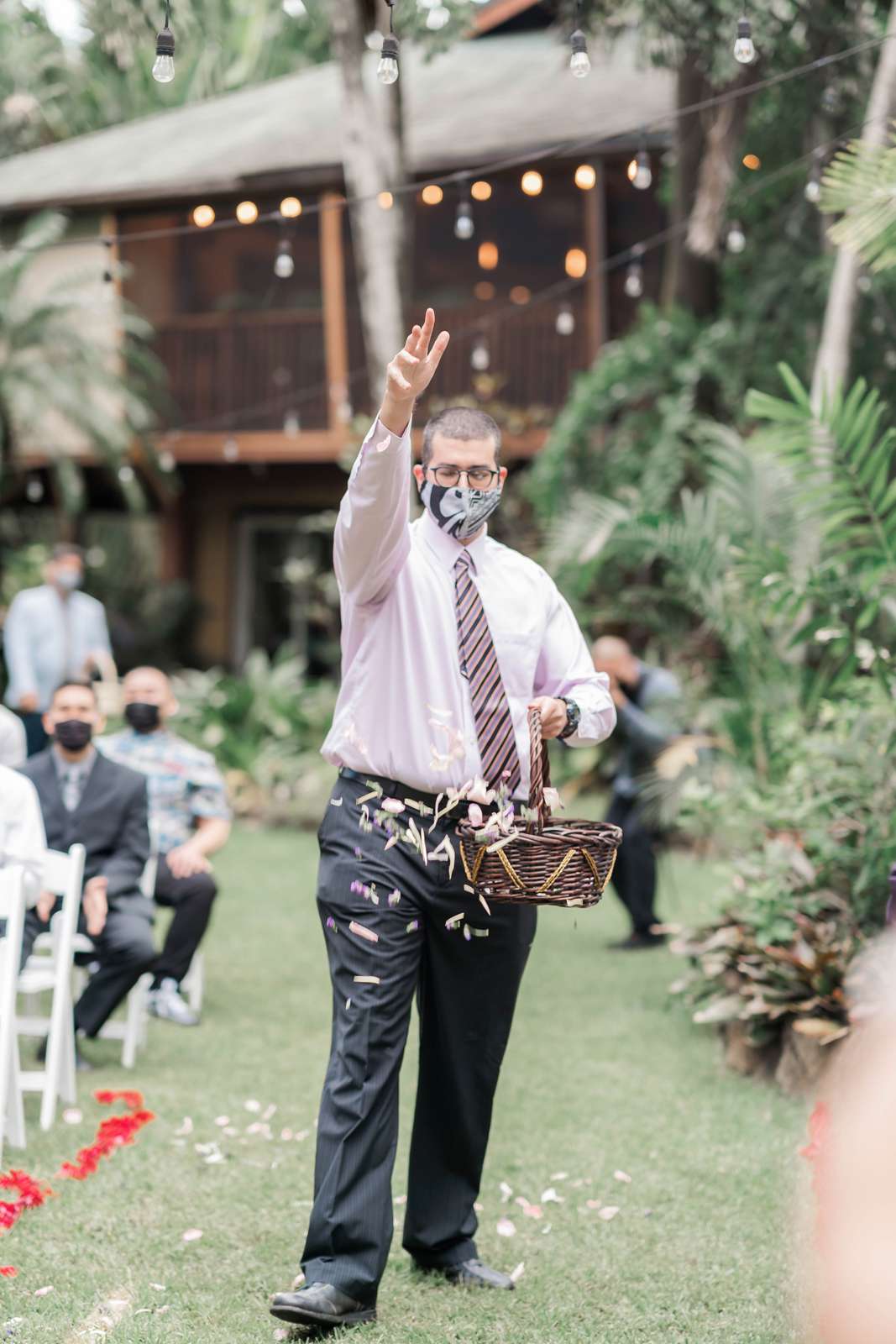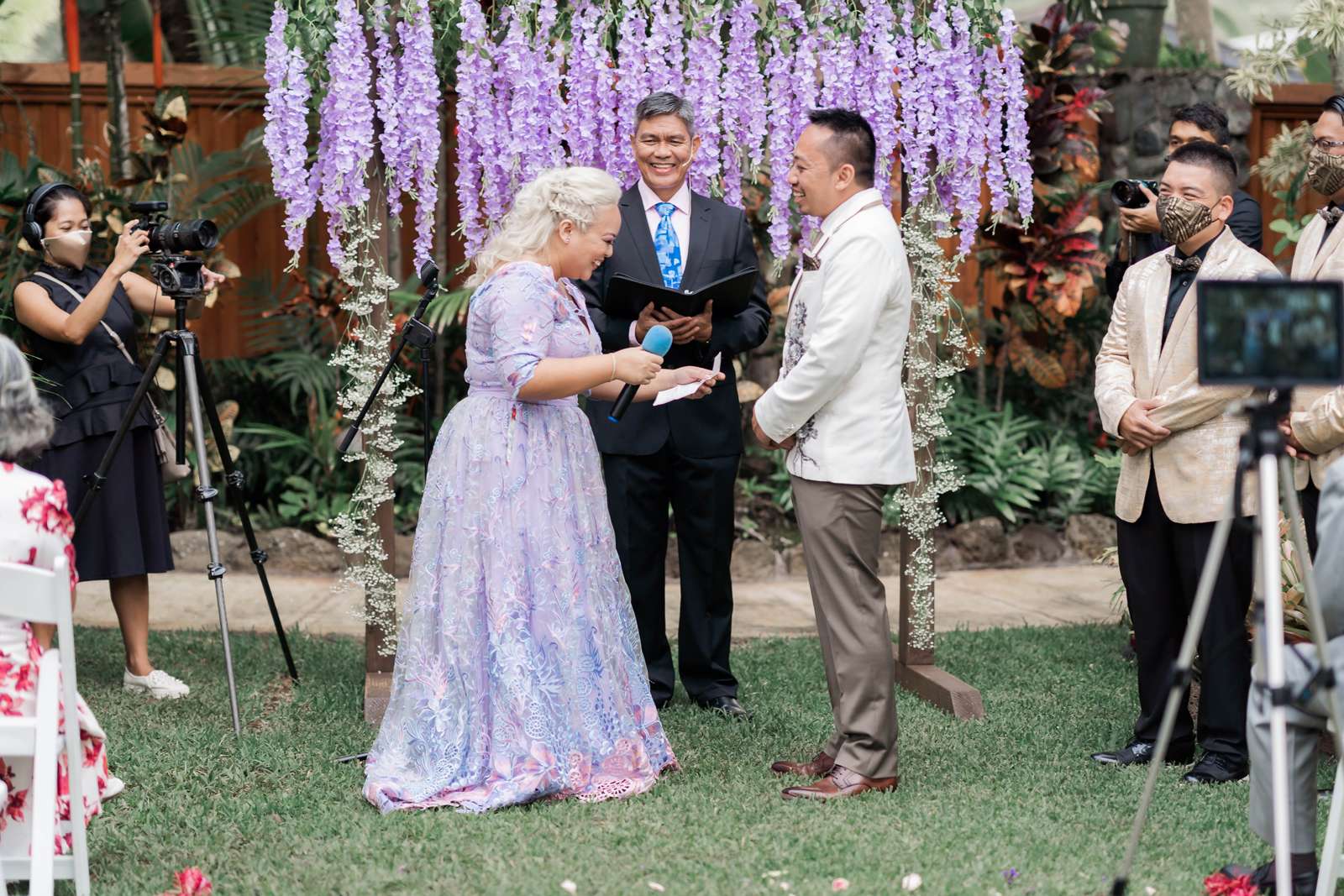 The bride was inspired by Cinderella's ball gown for her self-made lilac dress which she wore with glitter Dr Marten's, and the groom wanted to wear something unique too. Originally looking for a cape, he found his floral patterned, sequin jacket on AliExpress. Ten continues, "Jesse's jacket set the bar for the fashion and styling of the whole affair. He didn't want a traditional tux, so he started browsing for something unique online almost as soon as we got engaged. He found a dinner jacket with sequin details that he really loved. Though there were some concerns if it would look the same in real life, he decided to just get it because it was only $50, and he would have enough time to get something else if it was no good when it arrived. When it showed up a few months later it was exactly what he was looking for."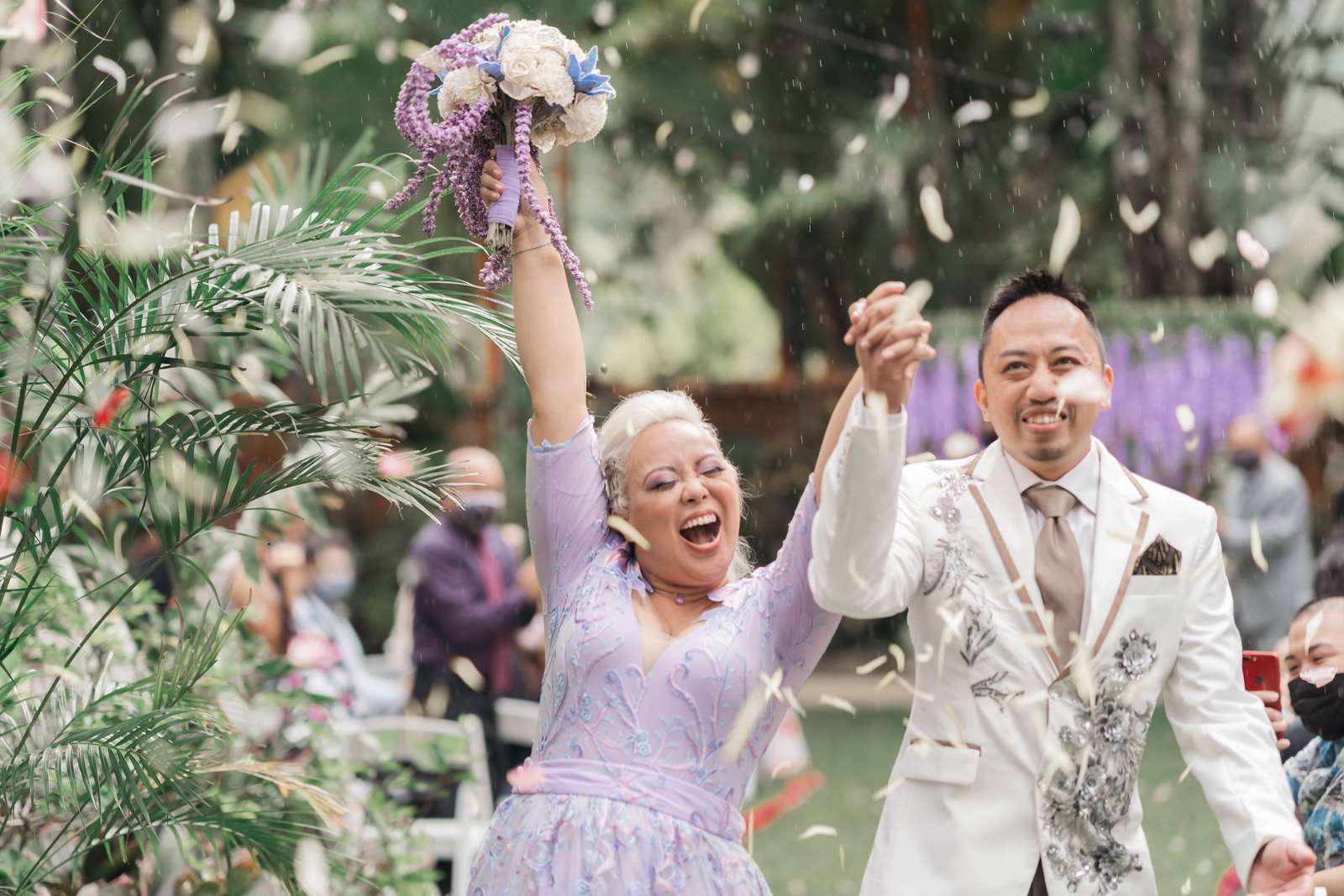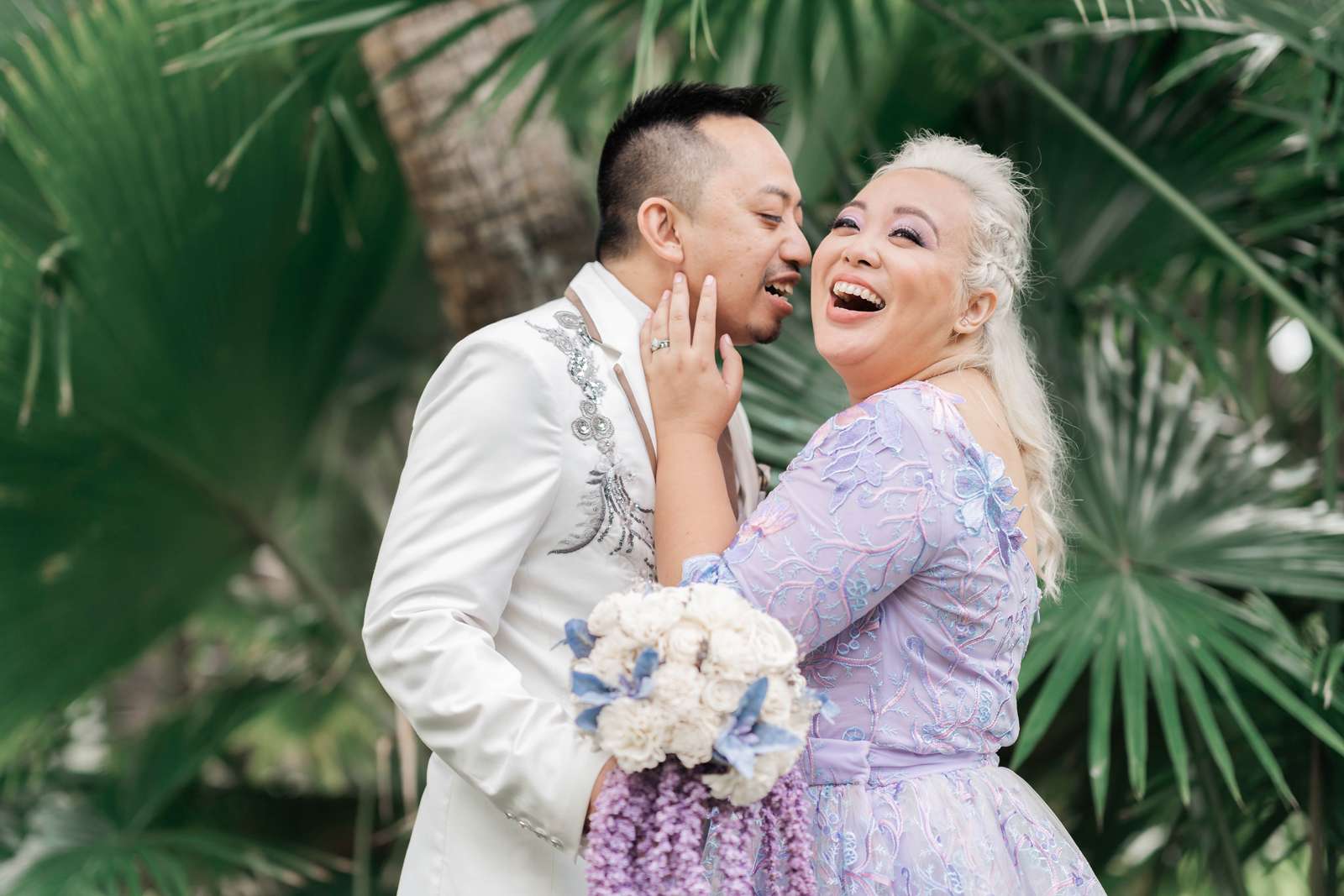 "My favourite DIY project was my dress. For as long as I remember, I've always known I wouldn't be wearing white – Cinderella's ball gown is much better than her wedding dress my opinion! When I saw the fabric on Etsy, I knew that was my fabric. I made a two-piece that consisted of a body suit and a skirt because I want to be able to wear those pieces again on different occasions. My skirt also had pockets!"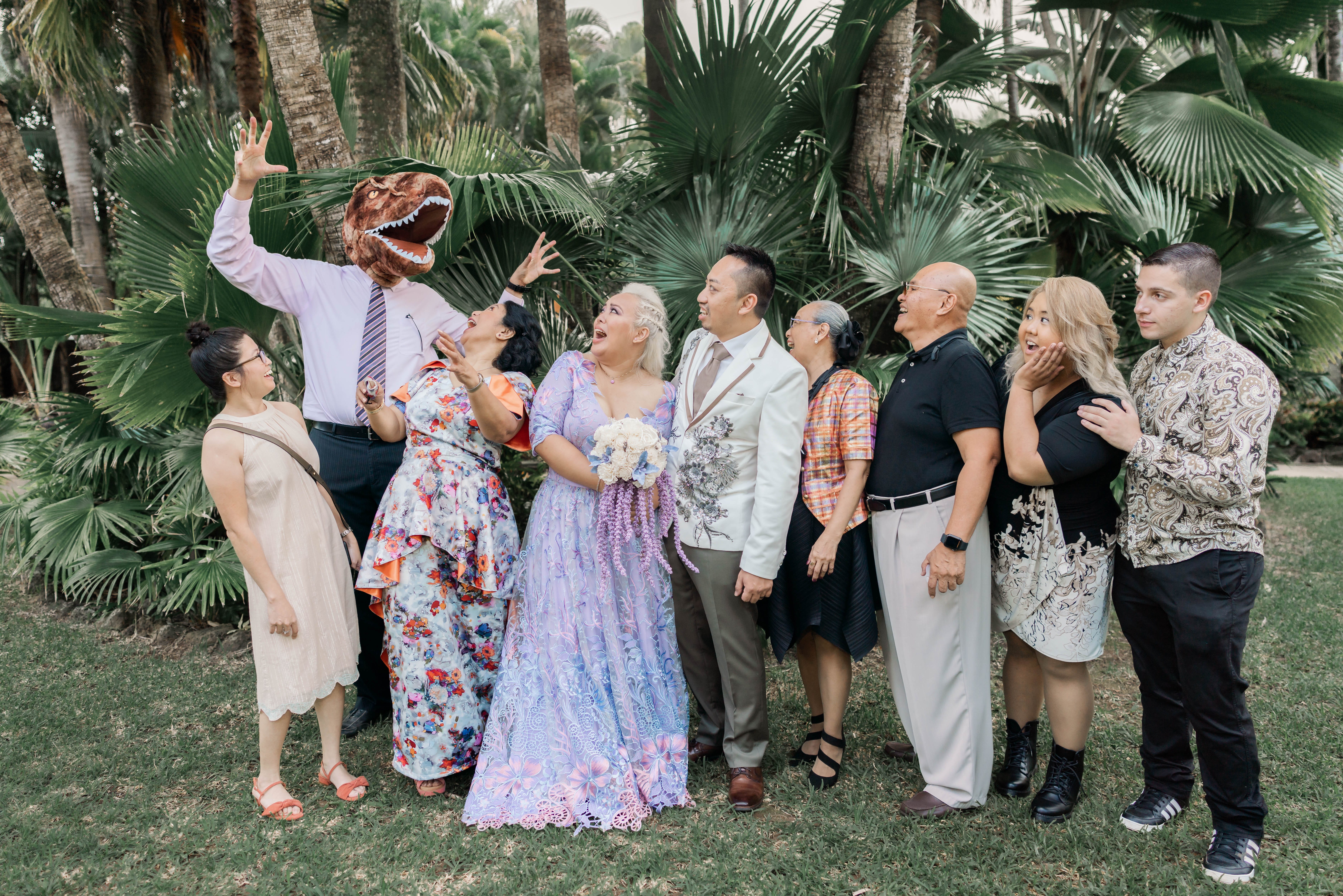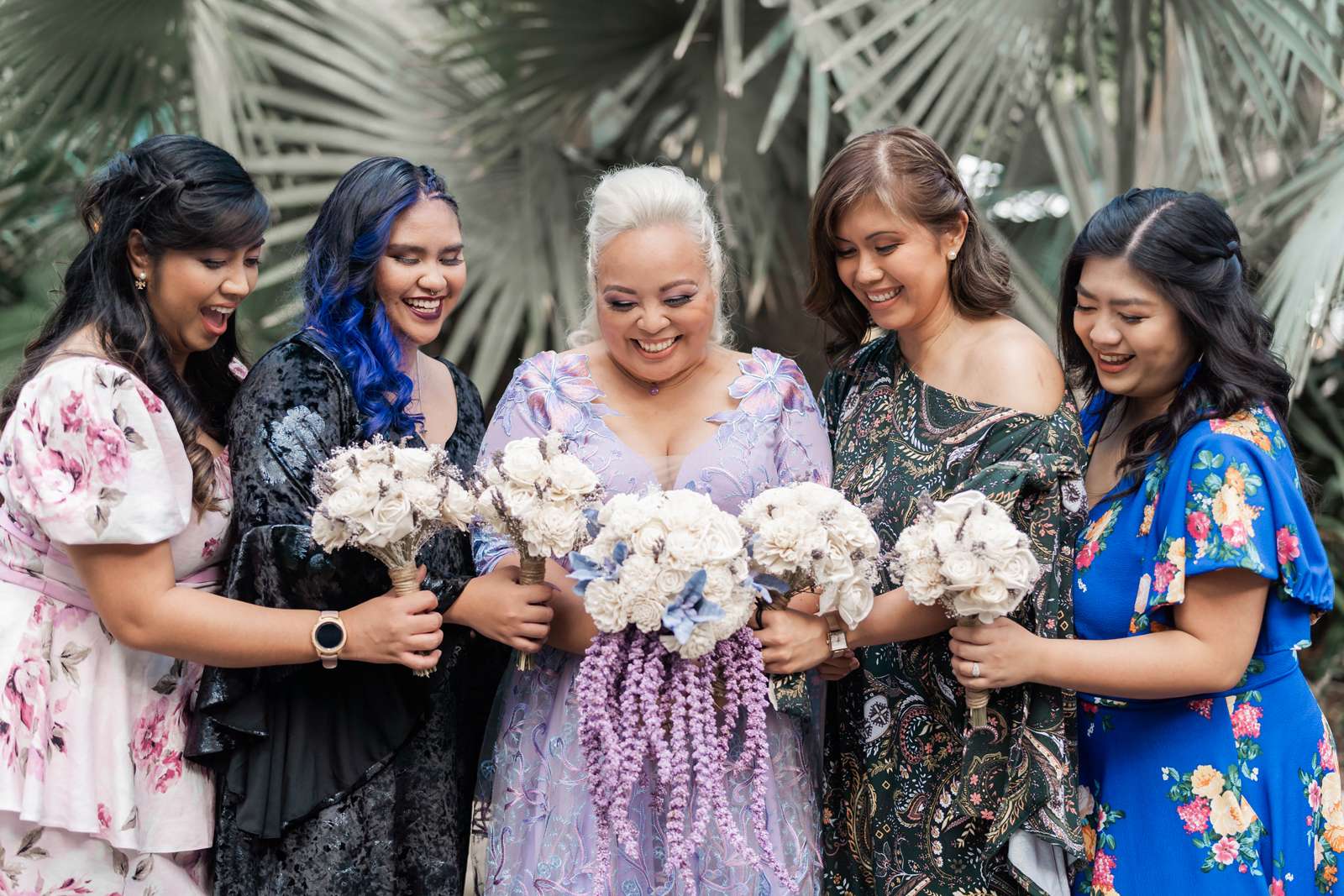 The ceremony itself was short and simple but meaningful. The wedding party and couple walked in accompanied by a selection of Disney songs – You're Welcome from Moana for the groom and groomsmen, I See the Light from Tangled for the bride and they walked out to a brass version of Into the Unknown from Frozen 2. "The ceremony was officiated by our pastor of almost ten years. There's just a warm, calming feeling of being surrounded by family, by biology or by choice. As we walked out, it started drizzling and a light shower poured as soon as we reached the end of the aisle. It really made for a great photo!"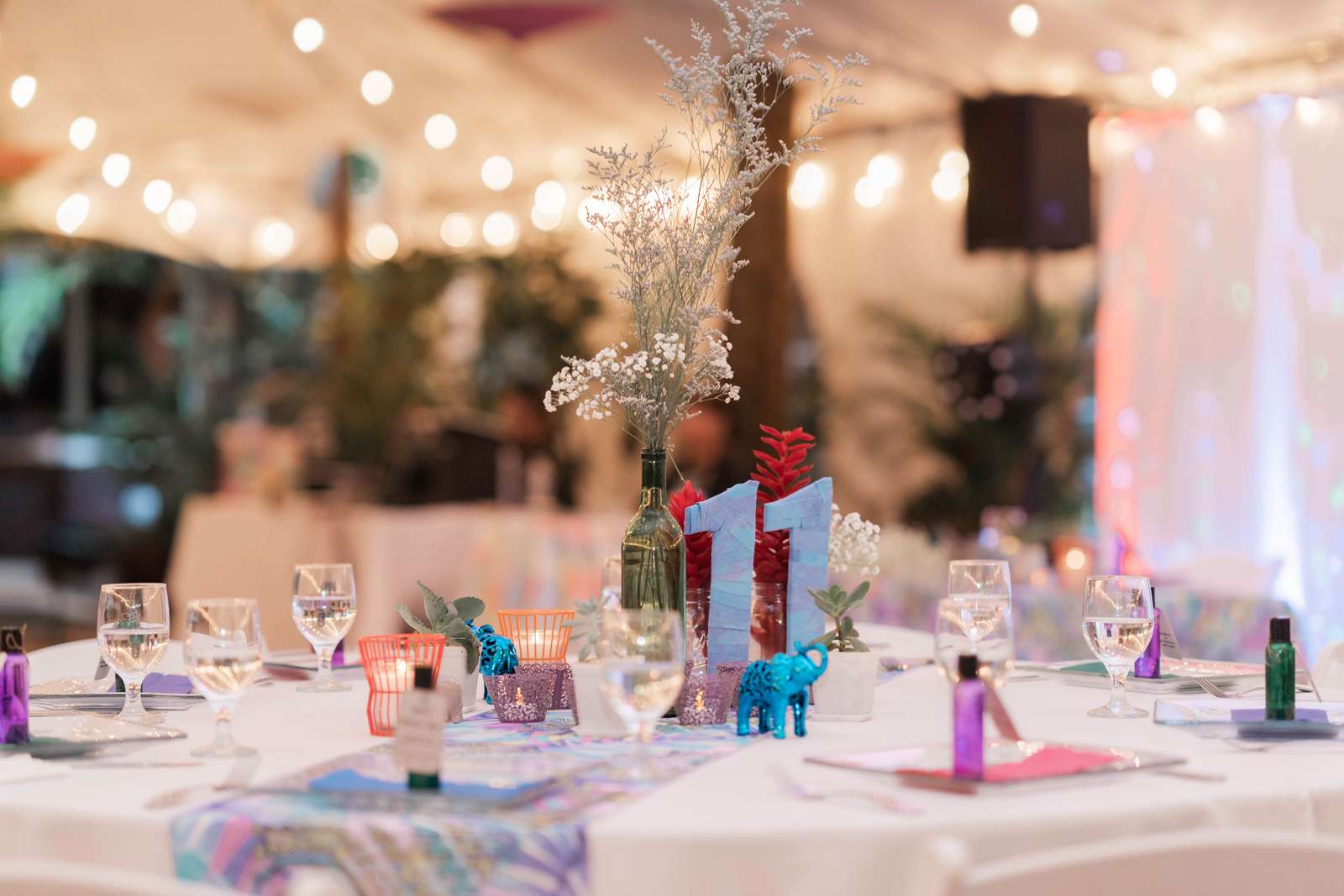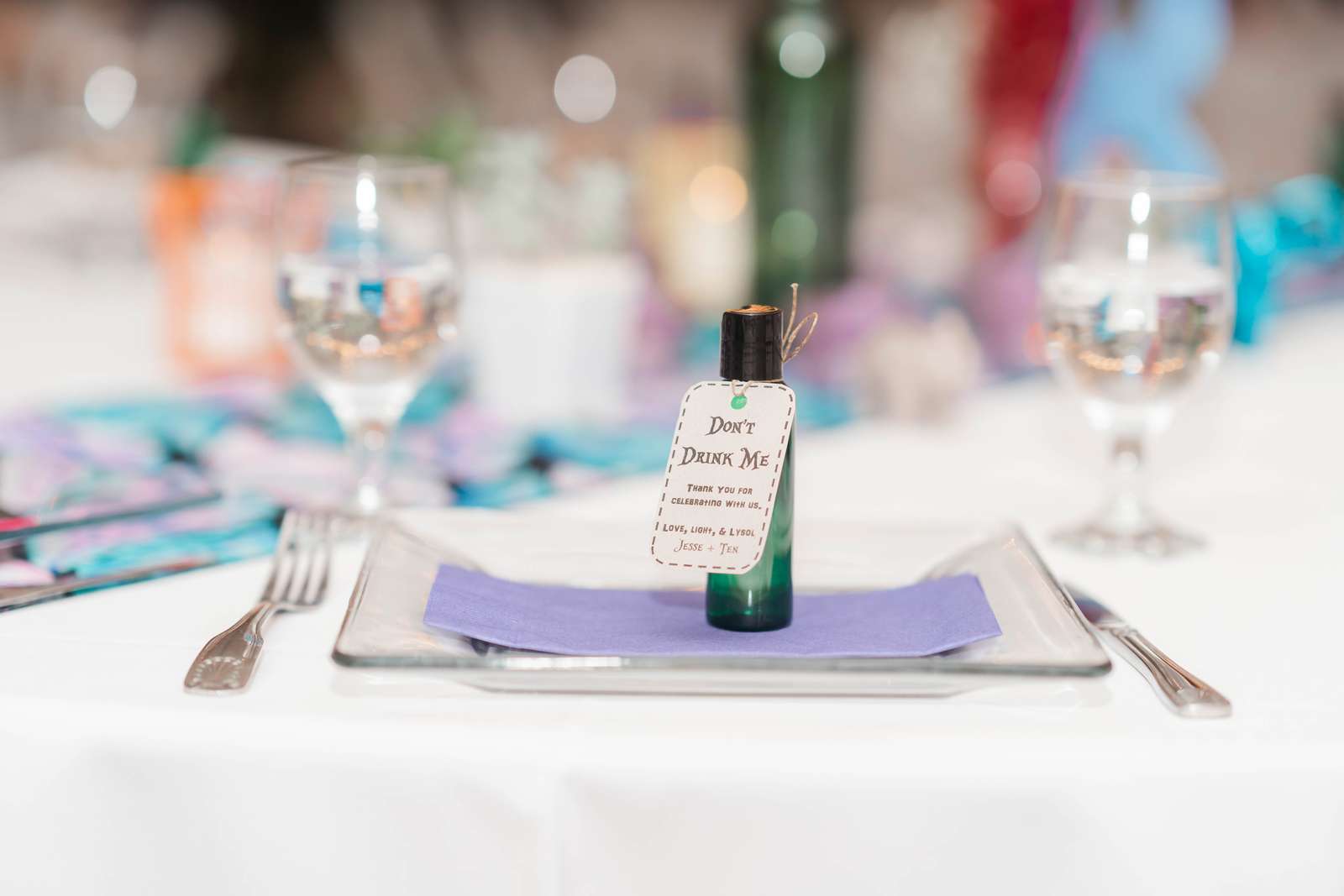 There were so many highlights of the day for this pair, but having their whole family and closest friends with the in Hawaii for the a four-day weekend was really special. "Little moments like the mums and aunts enjoying the amazing kitchen, our vendors enjoying the food we'd prepared, all the laughter and meals shared, everyone enjoying the amenities – it added to the ambiance we wanted to achieve."