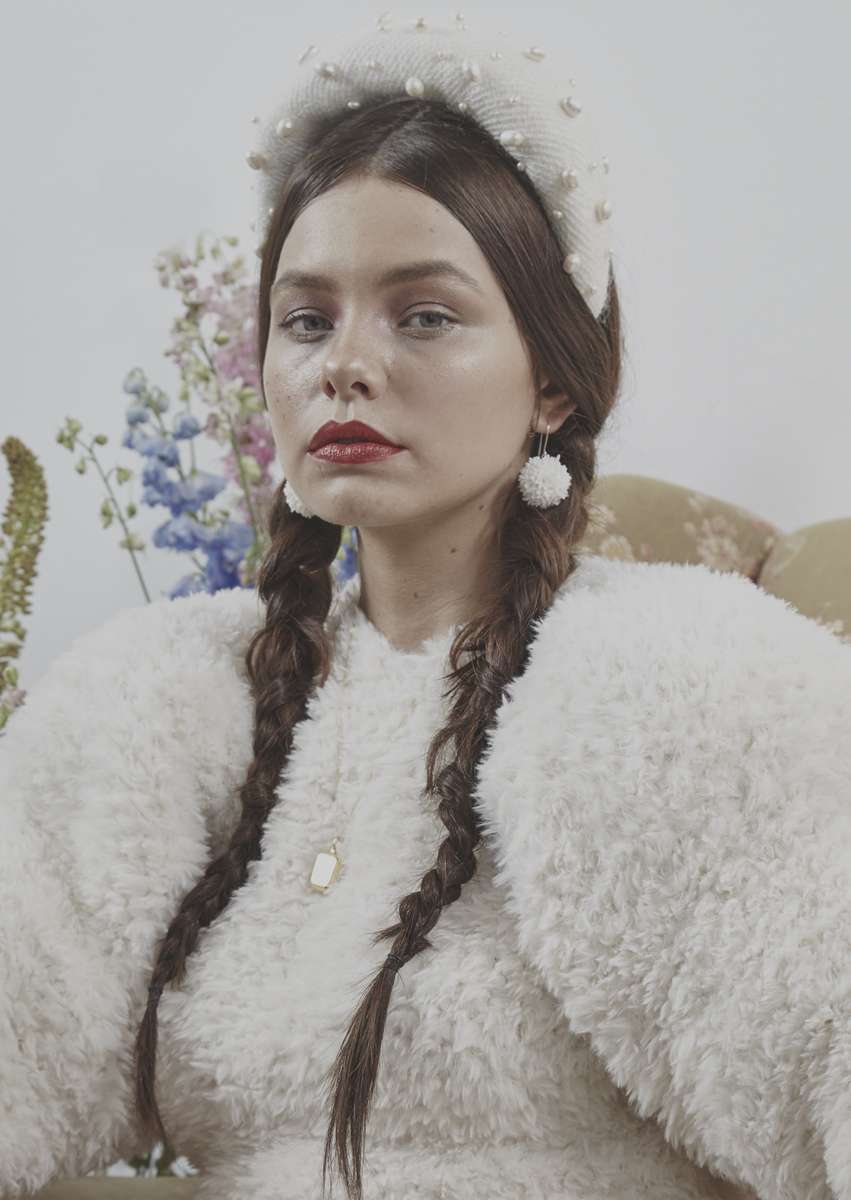 Oh hellll yes, Most Curious is BACK! The wedding show for the style savvy couples and only the coolest kids is heading to London, Norwich, and for the first time ever, Manchester (!!) in February and March and I am SO HERE for this promotional shoot.
These images blew me away! They're so very inspiring, so very unique and will give you a great preview of what's in store at the shows. Harking back to the 70s and 90s with its chintz meets English country garden vibes, it somehow still feels bang up to date and modern. I would LOVE to see a real bride rocking this floral jumpsuit (literally made from curtain material!) down the aisle.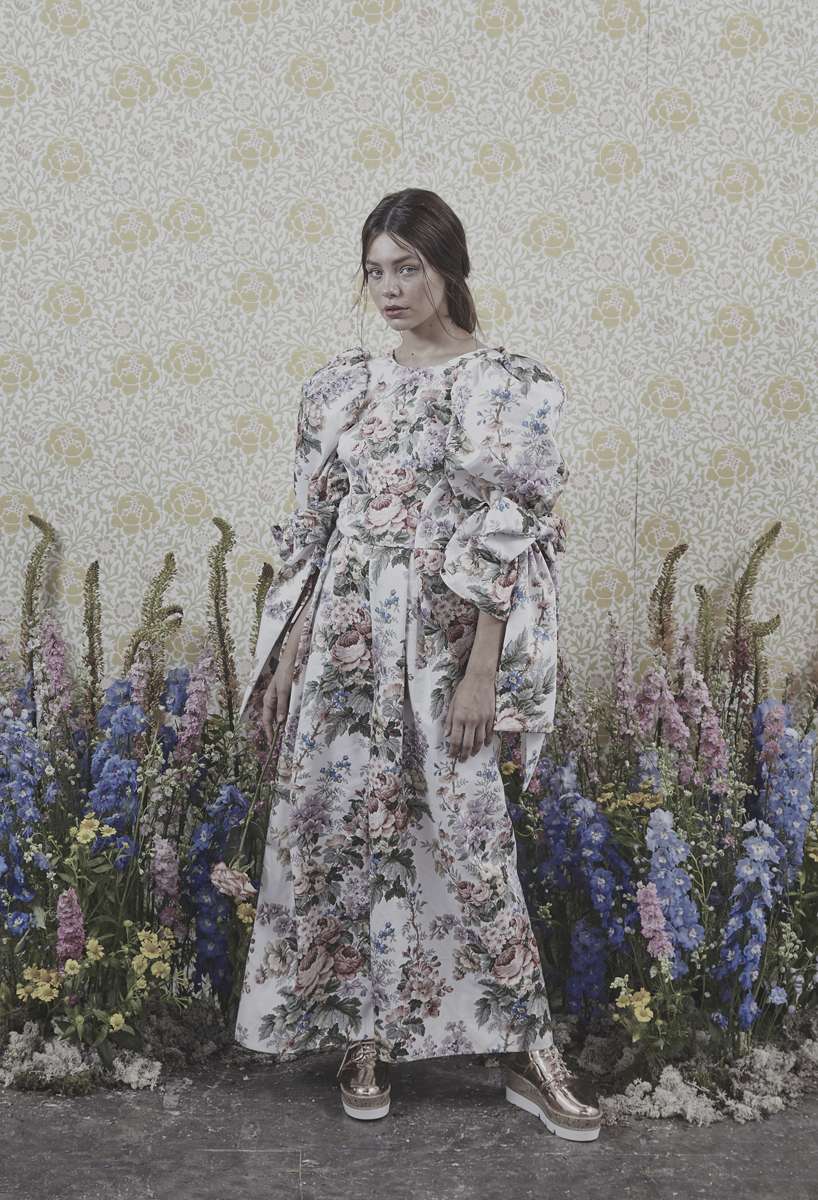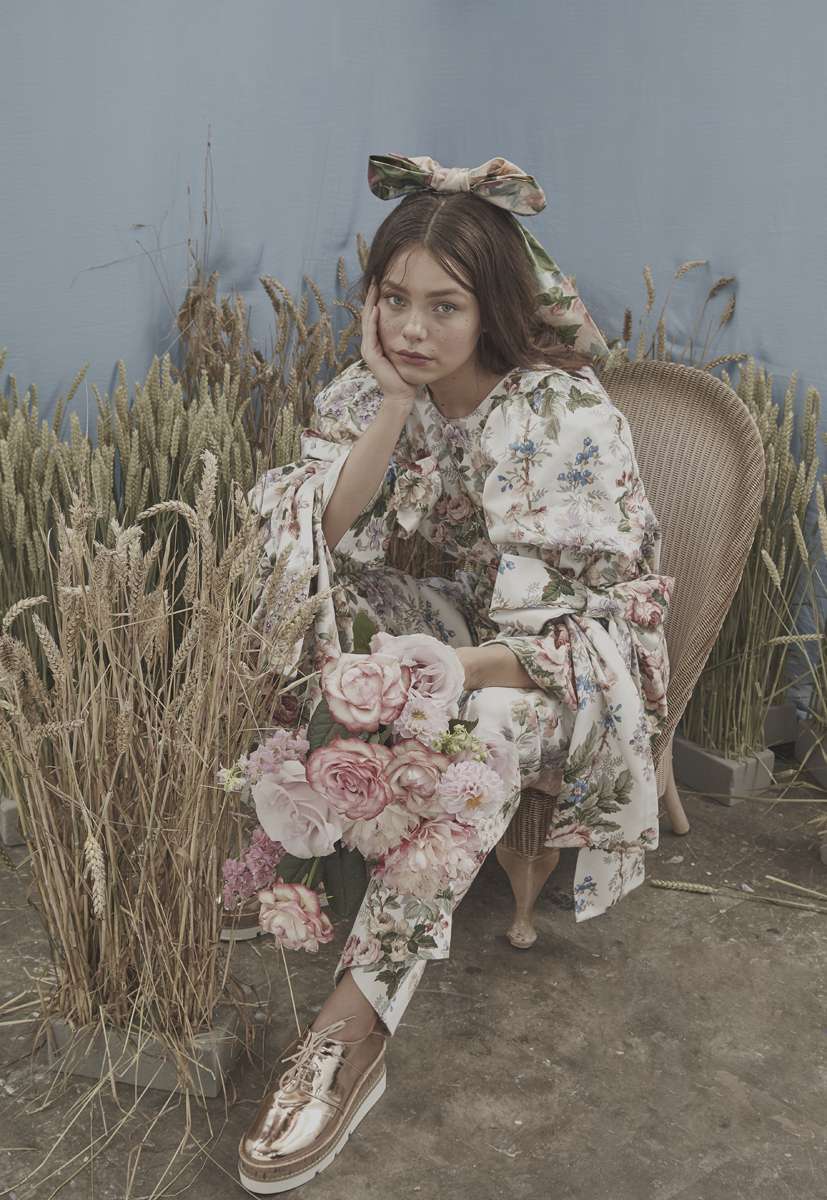 Show founder Becky, told me all about the inspiration for this one-of-a-kind wedding shoot which was put together using suppliers that will be taking part in the show. "Our themes include the mighty return of chintz, pattern clash and maximalism. We completely love the austere and minimalist vibes that have been part of recent trends and see them being around for a long time, but for us, looking forward, we feel a shift towards florals, stripes, pattern pattern and pattern, bows and frills. Think 70s and 90s Laura Ashley. So much so, we commissioned Velvet Johnstone to make this perfect, puff sleeve jumpsuit out of vintage curtain fabric!"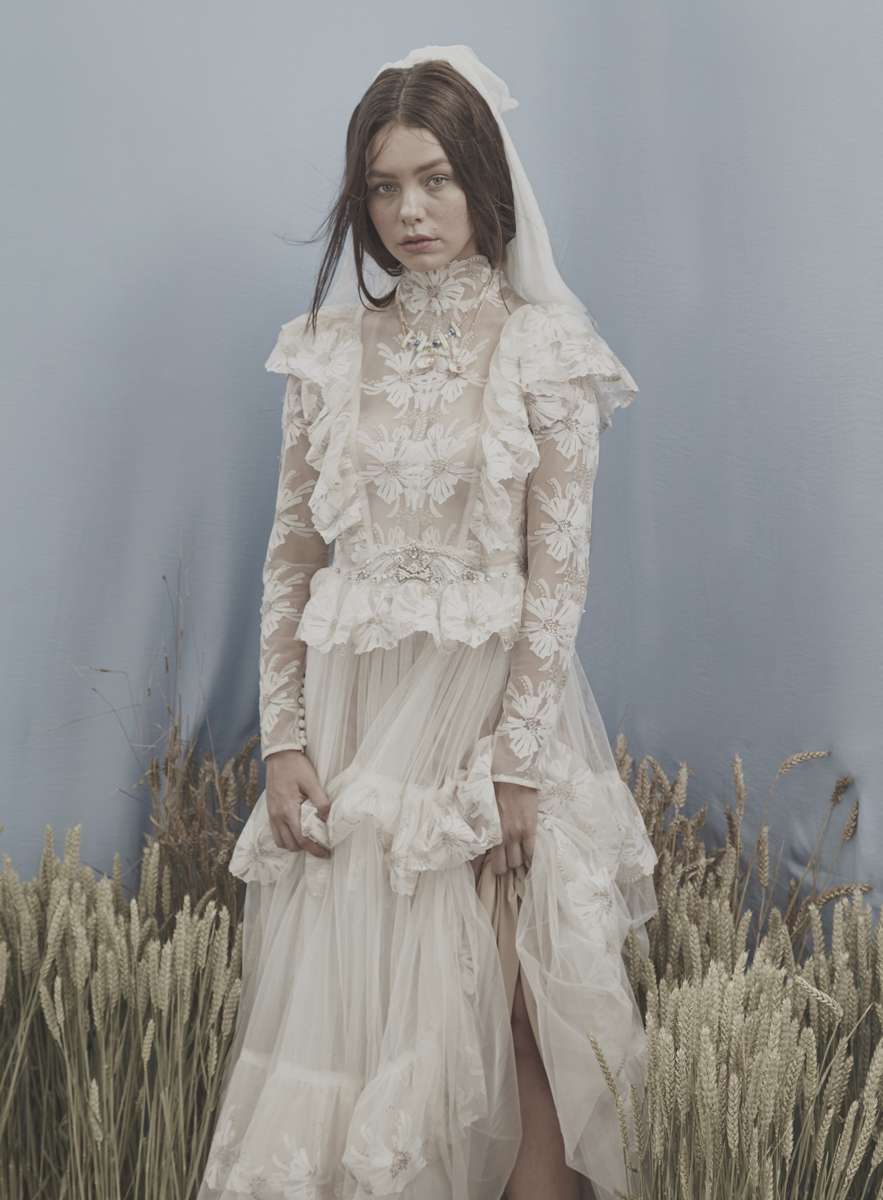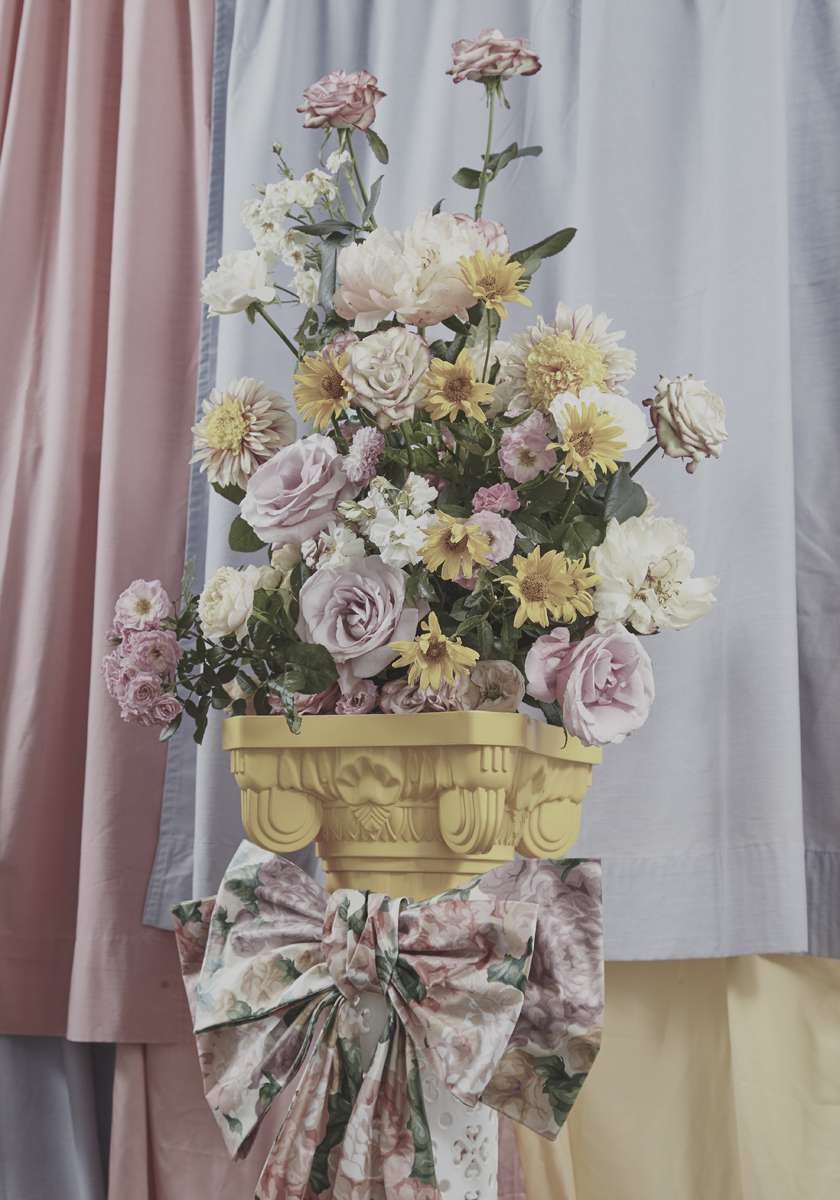 "There is also that 90s does Edwardiana vibes that Laura Ashley did so well, coming through so we called in Katya Katya's high necked gown, reminiscent of the era, festooned with ruffles and lace. A soft, short veil from AM Faulkner kept the look in 2019 and shell accessories from Wald Berlin via UK stockist Studio B."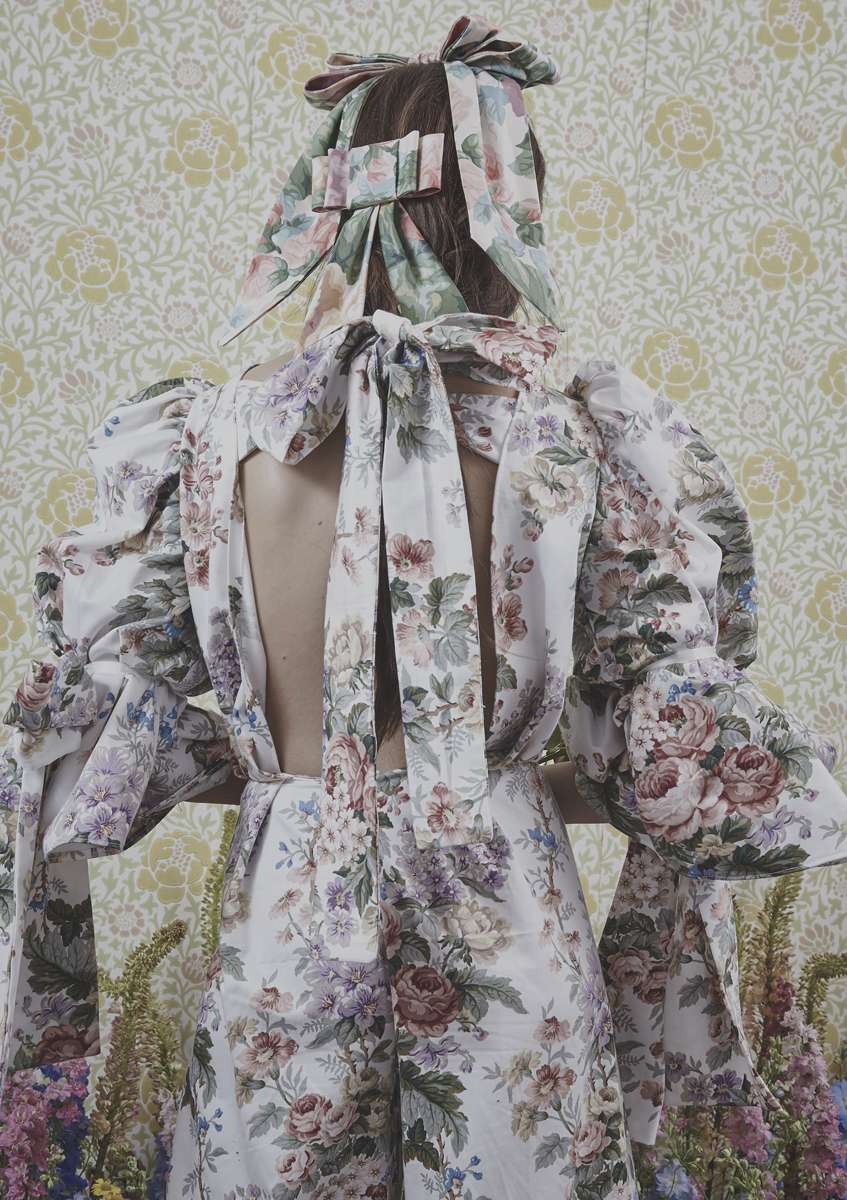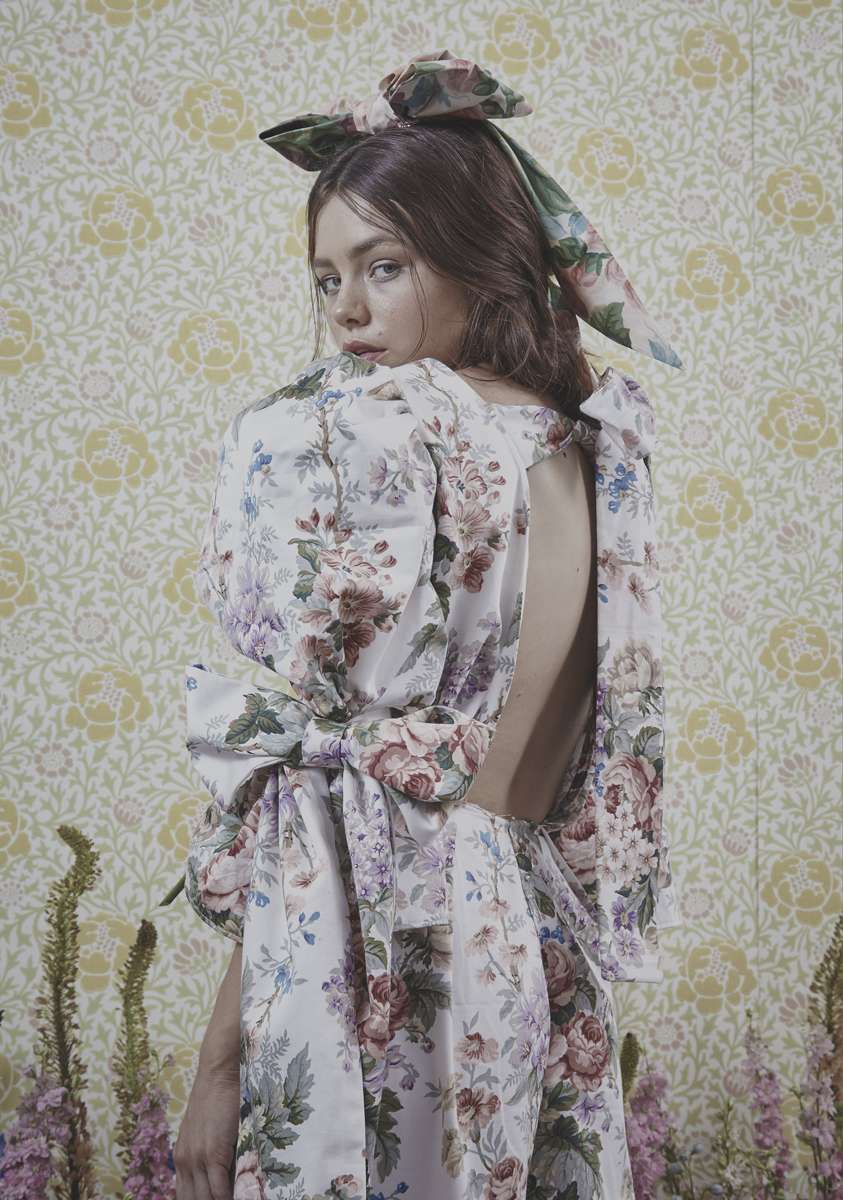 Bows were definitely a huge theme for this shoot too and I am all over the chintzy curtainy fabric which was sourced by Becky's mother-in-law and made into hair bows by Fi Graham Millinery. This creativity makes my heart so happy and a little chintz never hurt anybody! See also that Lily Vanilli cake and all these props… erm this kinda looks like my living room right now!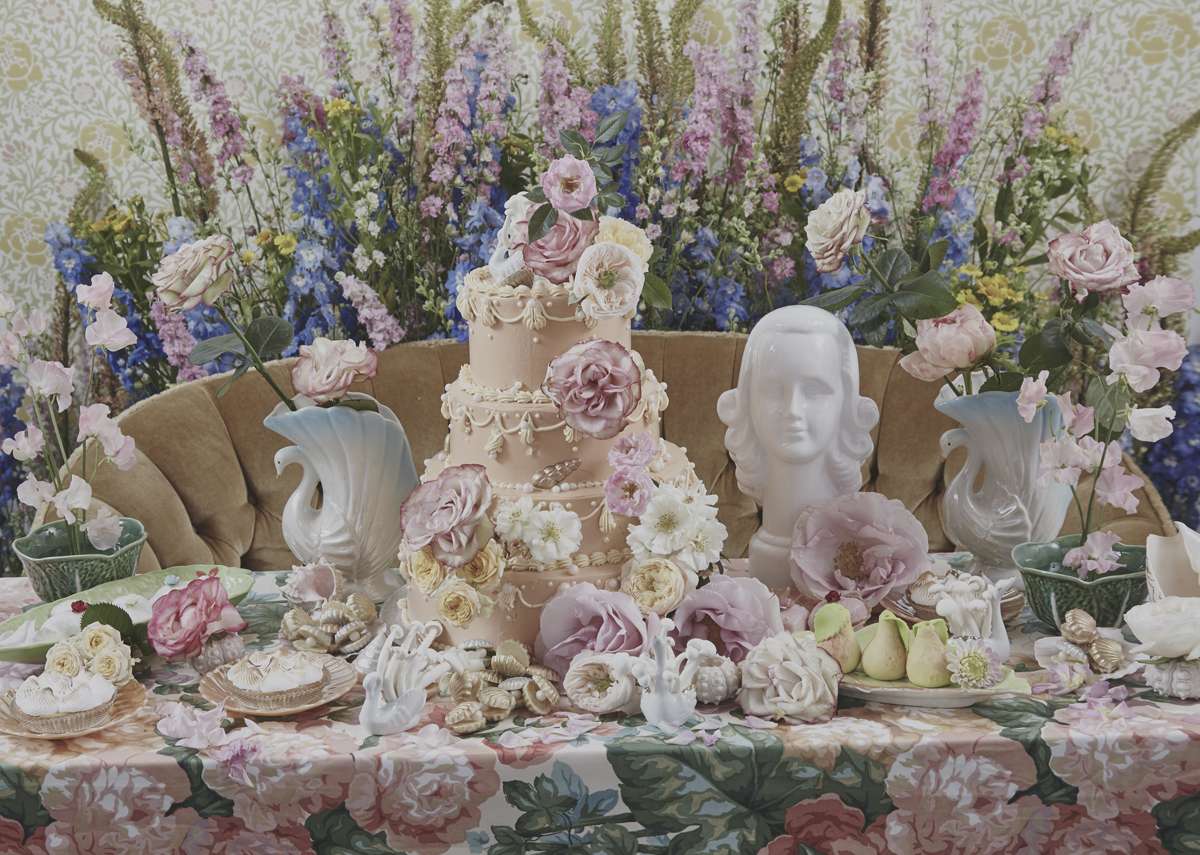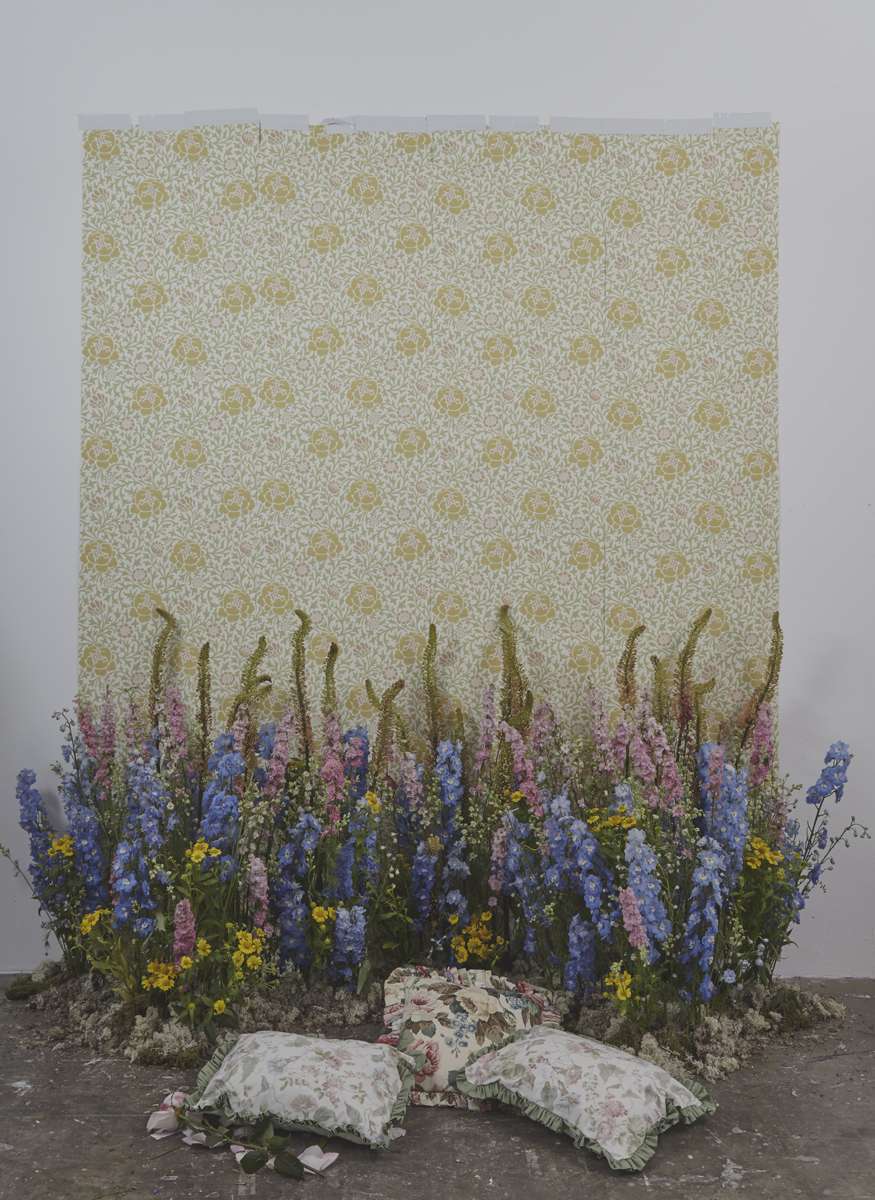 "Pearls, shells and mushrooms were also a thing!" Becky continued. "So, they pop up with the extreme maximalist table style as well as on the fuzzed headband. We used hand-blocked floral wallpaper from Little Greene to create one backdrop and I commissioned my mother-in-law to make cushions in carefully chosen chintz fabric and frills. On the day everyone was like 'I'm sure we had those cushions when I was a kid!'"
Flowers-wise, Bloaum were inspired by English garden flowers (to echo the chintz of the clothing). With natural, garden roses still attached to a bush in some cases, the result was imperfect, real, a bit bashed and almost 'past their best'… but, again, it so works!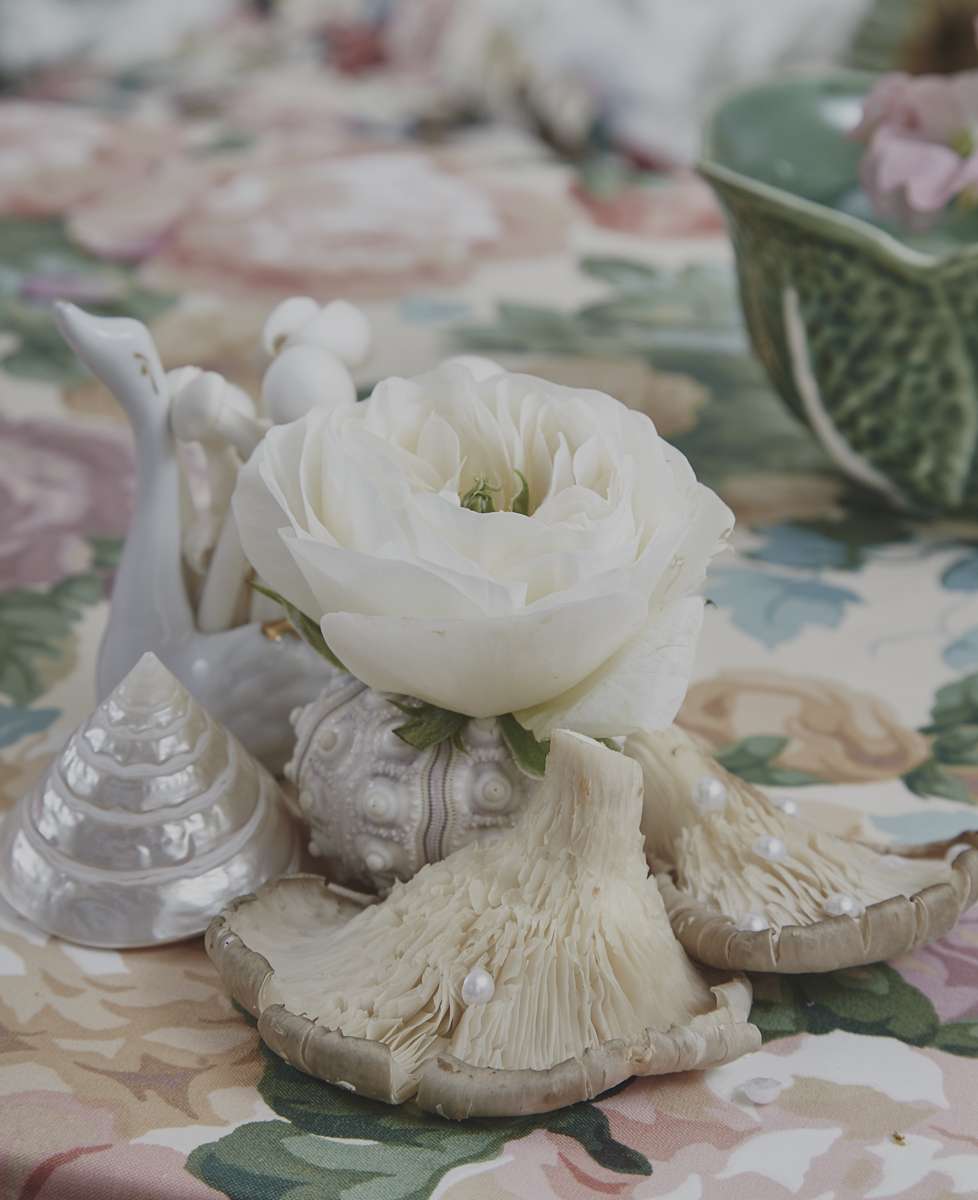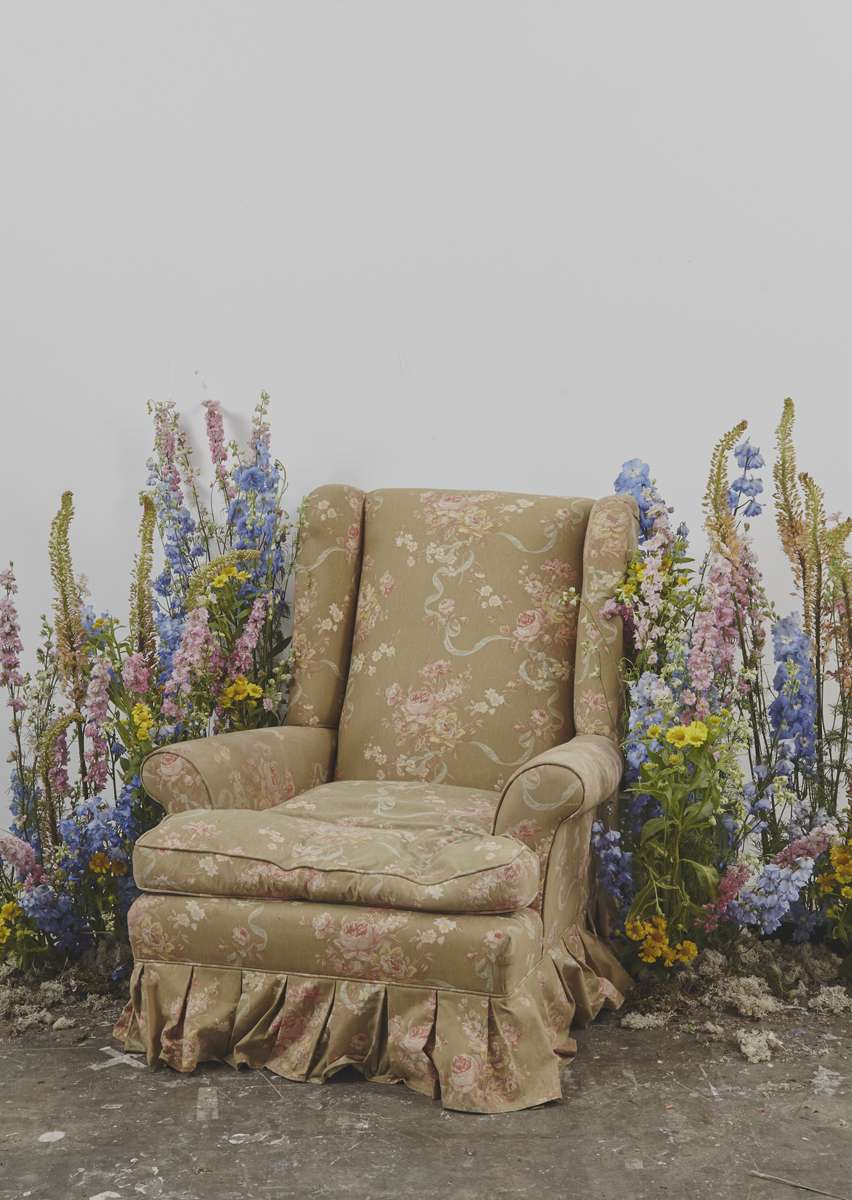 "This was a shoot day we will never forget", Becky concluded, "one that will go down on record for many reasons. The temperatures soared to 40°C and our prop mushrooms (yes, really!) steamed themselves in their packets, the gaffa tape glue melted causing carefully chosen wallpaper to slide down the wall, the sweet peas wilted and cake buttercream sweltered across tables! But as we all trundled away, dishevelled but happy, the sky broke and the rain poured down, creating rainbows in the sky. A moment that kick started the magic that fuels and follows the Most Curious shows, all involved and attend. We can't wait to see everyone in February!"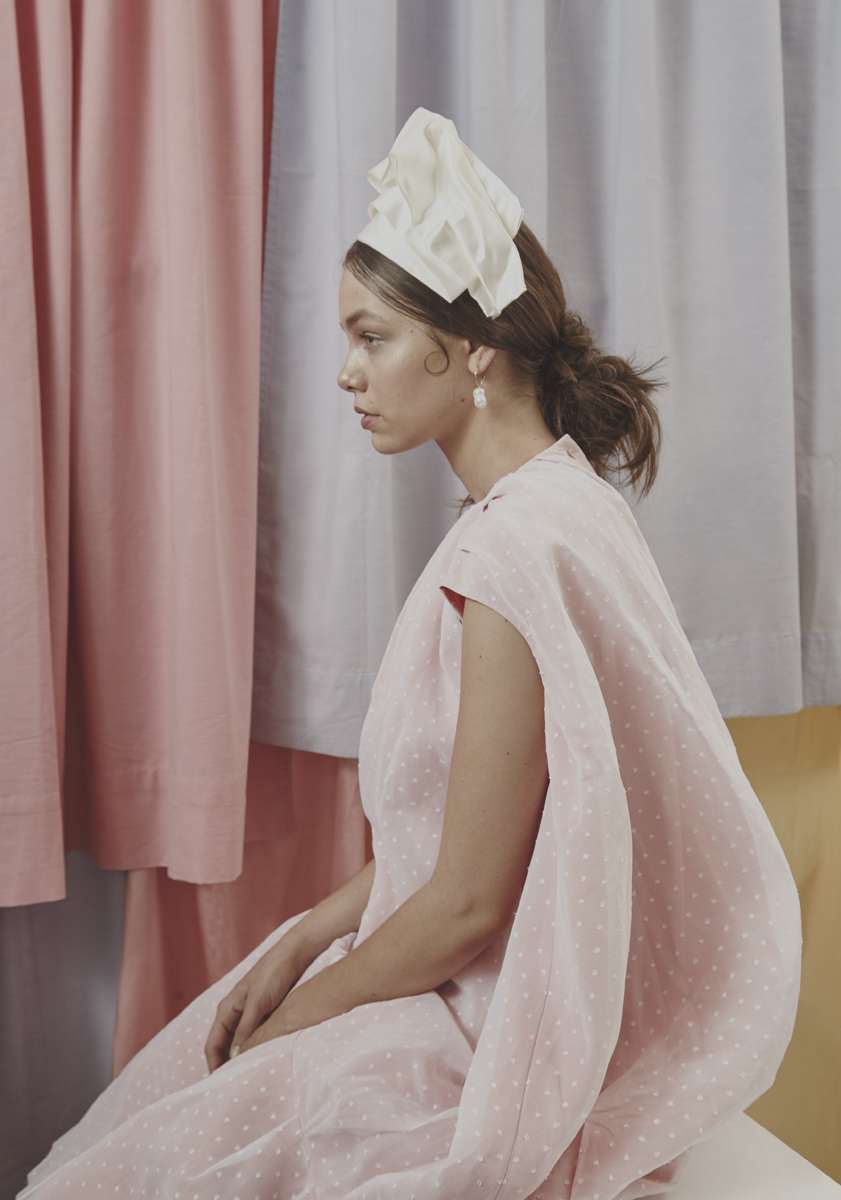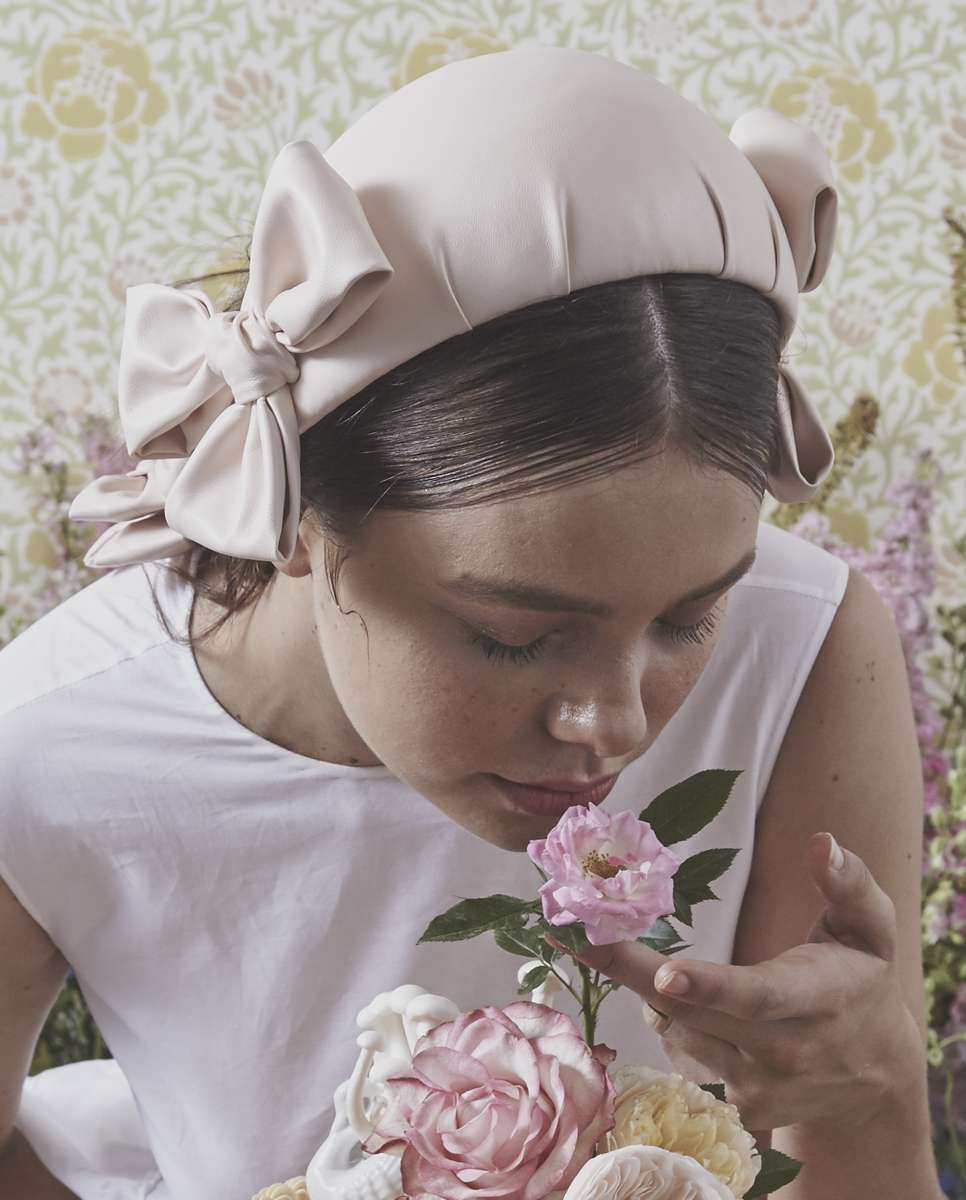 Thank you Becky and the Most Curious team for sharing this shoot exclusively with Rock n Roll Bride first (#honoured!) Tickets are available right now for the London show, taking place at the Truman Brewery on February 7th-9th. Keep your eyes on their social media for date, location and ticket availability announcements for Norwich and Manchester super soon!