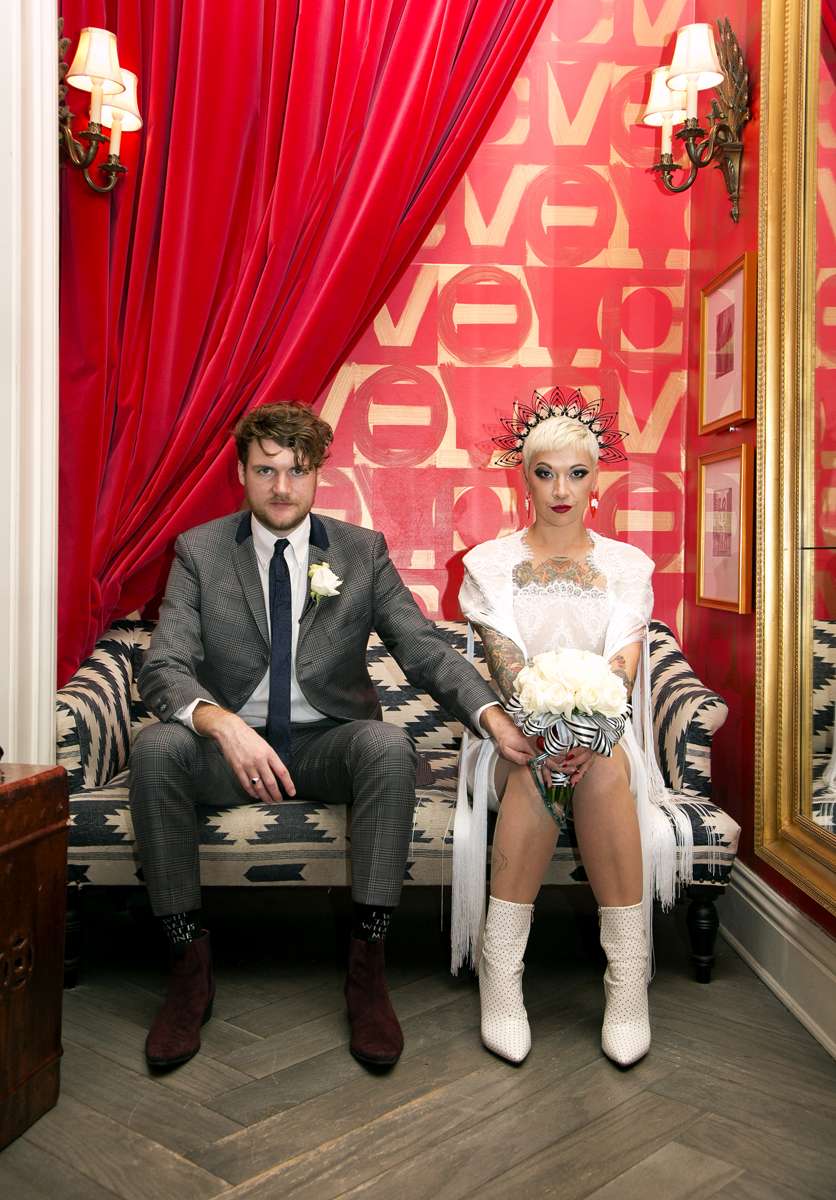 Amanda and Josh met while travelling in Cambodia three and a half years ago. They fell in love (with each other and the country) and didn't want to leave to decided to stay and run a restaurant together! They ended up staying for two years before returning to England (where Webs is from). However due to visa hold ups and budget constraints, they were married in Philadelphia where Amanda lived before they met.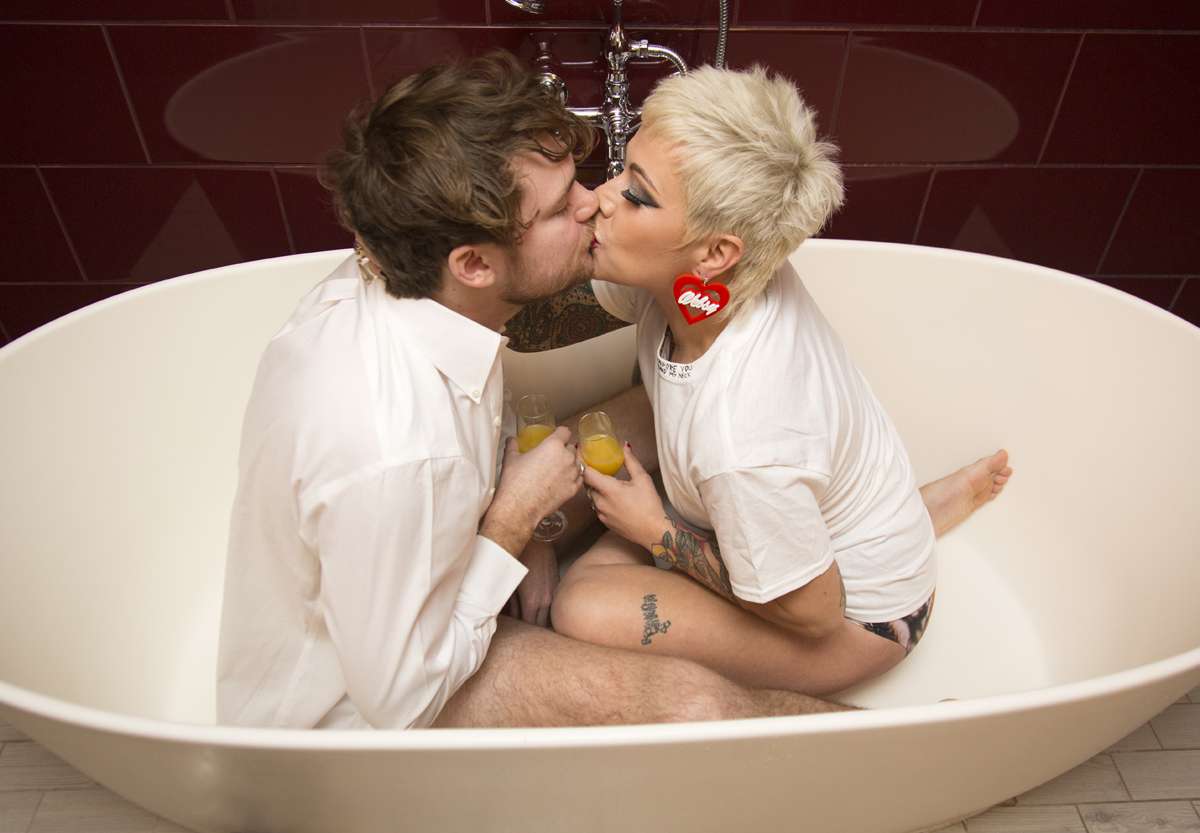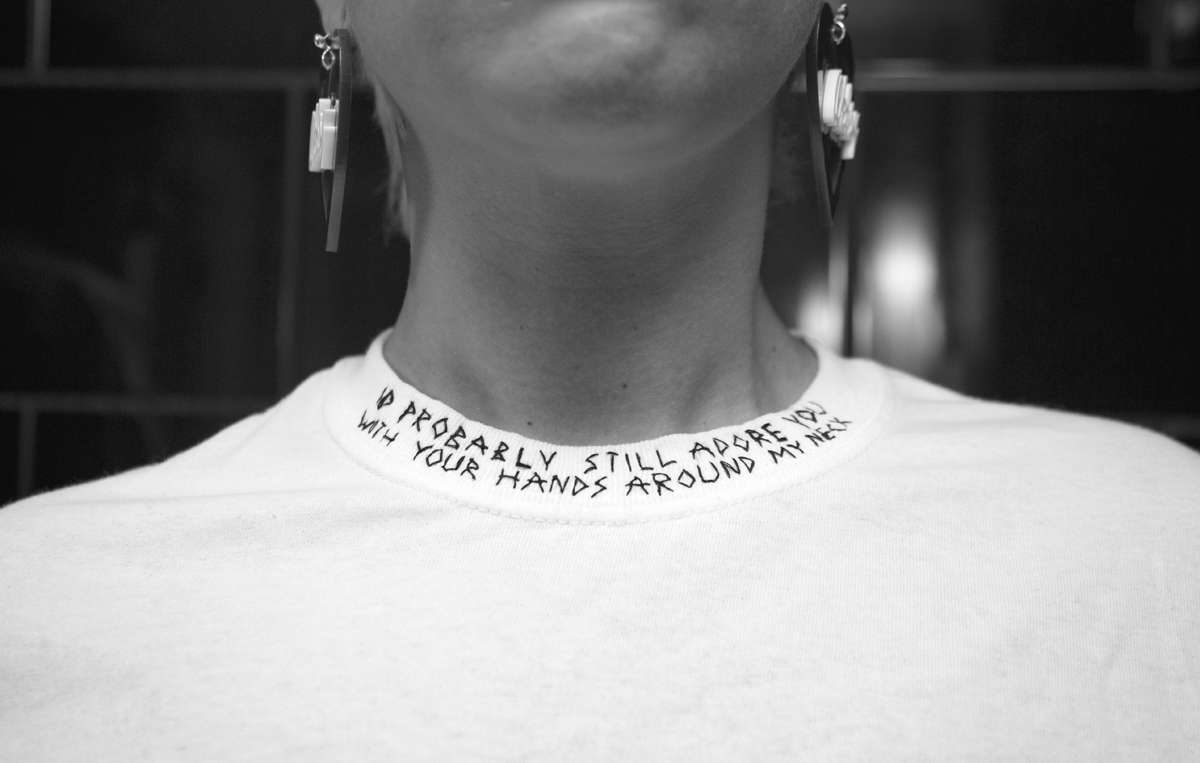 They took their $3500 savings and got hitched in the most 'them' way they could think of. That meant the 90s, Valentine's day and tattoos. Also, for Amanda in particular, her style guidance came by way of Yolandi Visser of Die Antwoord, Lady Gaga and Alabama Worley of True Romance!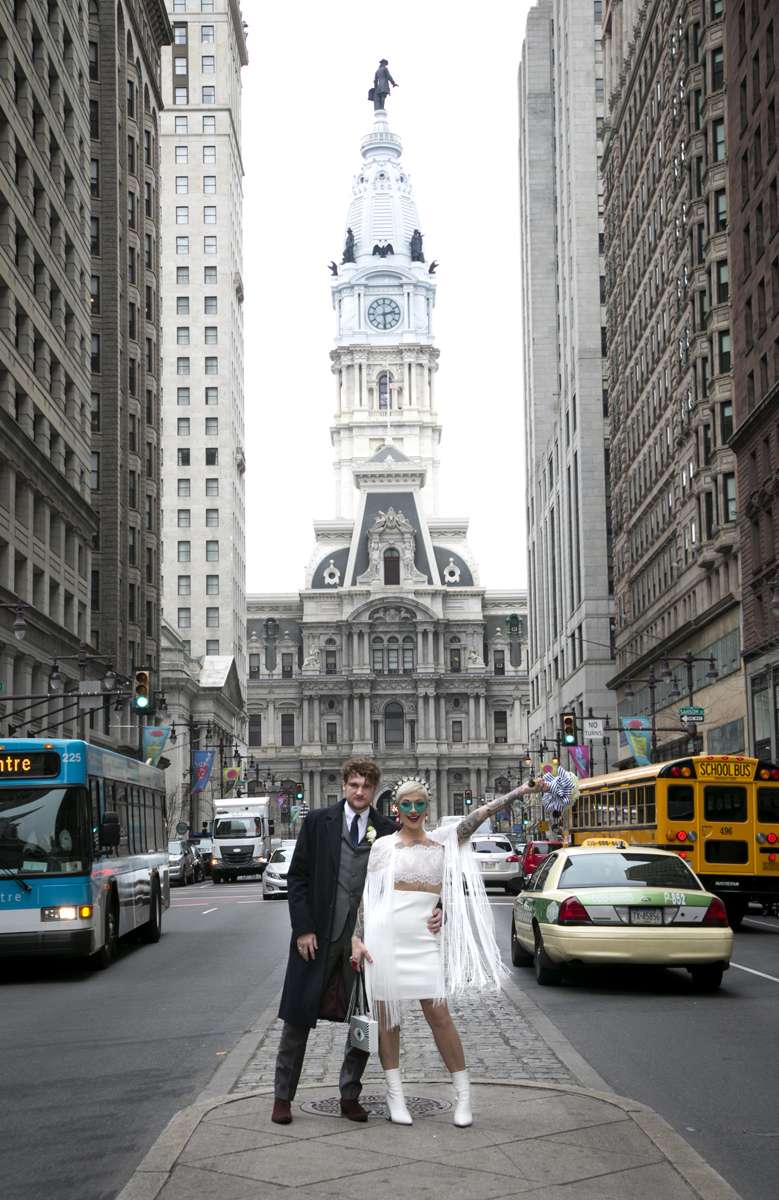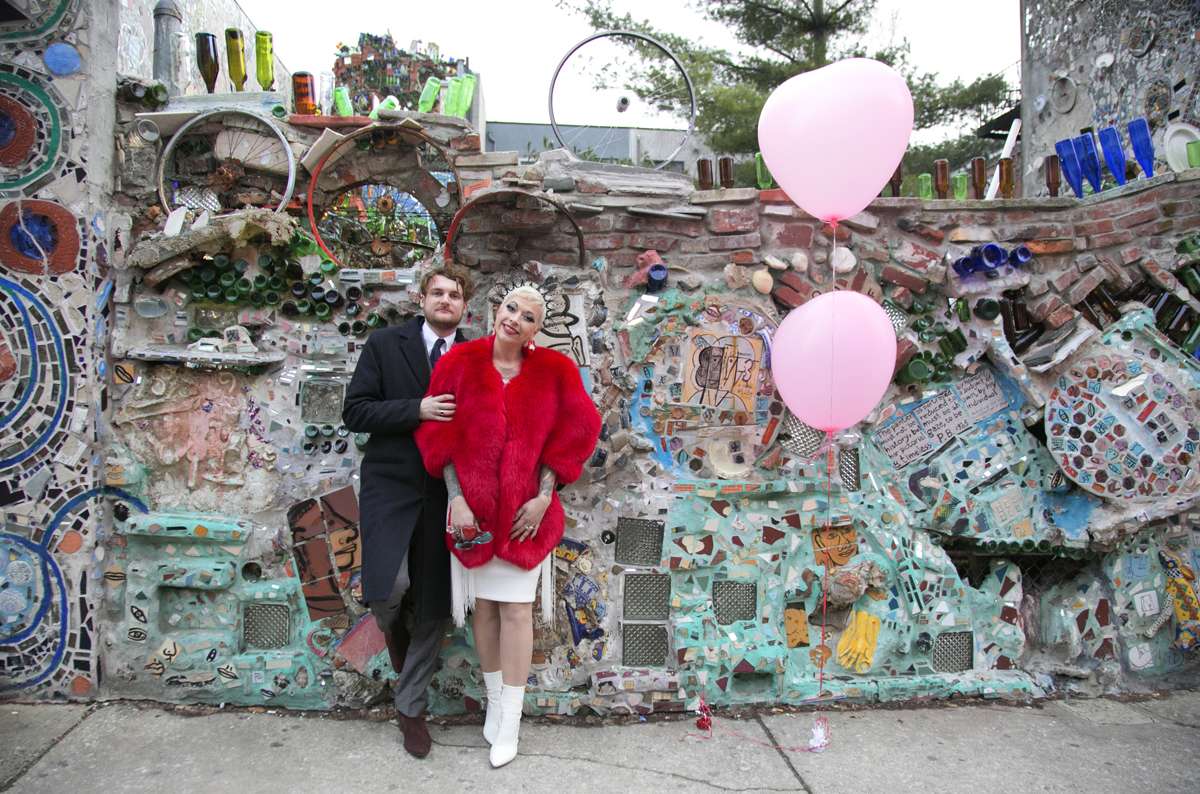 The day kicked off with them getting ready together (after some hotel suite bath pics of course!) at Hotel Monaco. They then had a self-unifying Quaker ceremony at Philadelphia City Hall. "We married each other under a self-uniting / Quaker certificate as Pennsylvania is one of the rare states that lets couples get hitched without an officiant", the bride began. "We wanted to involve all of our witnesses in signing so we purchased a custom certificate by a Philly local that had spaces for everyone to sign. We left the legal one to my parents."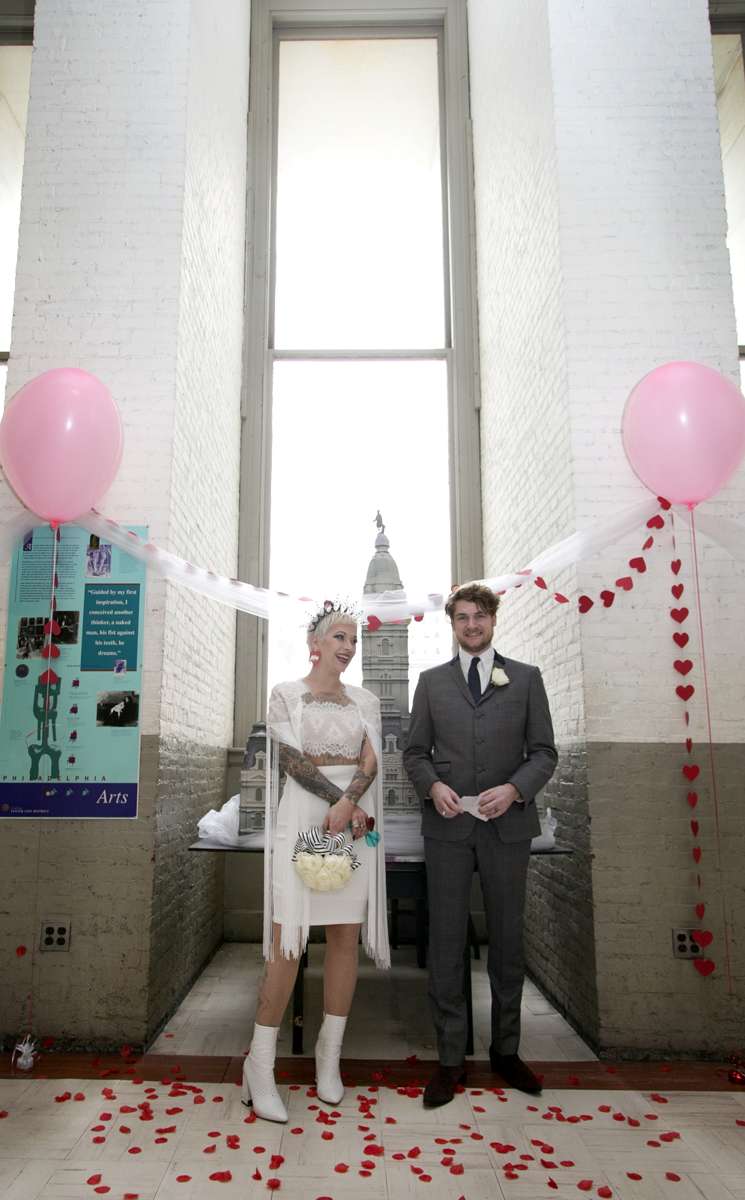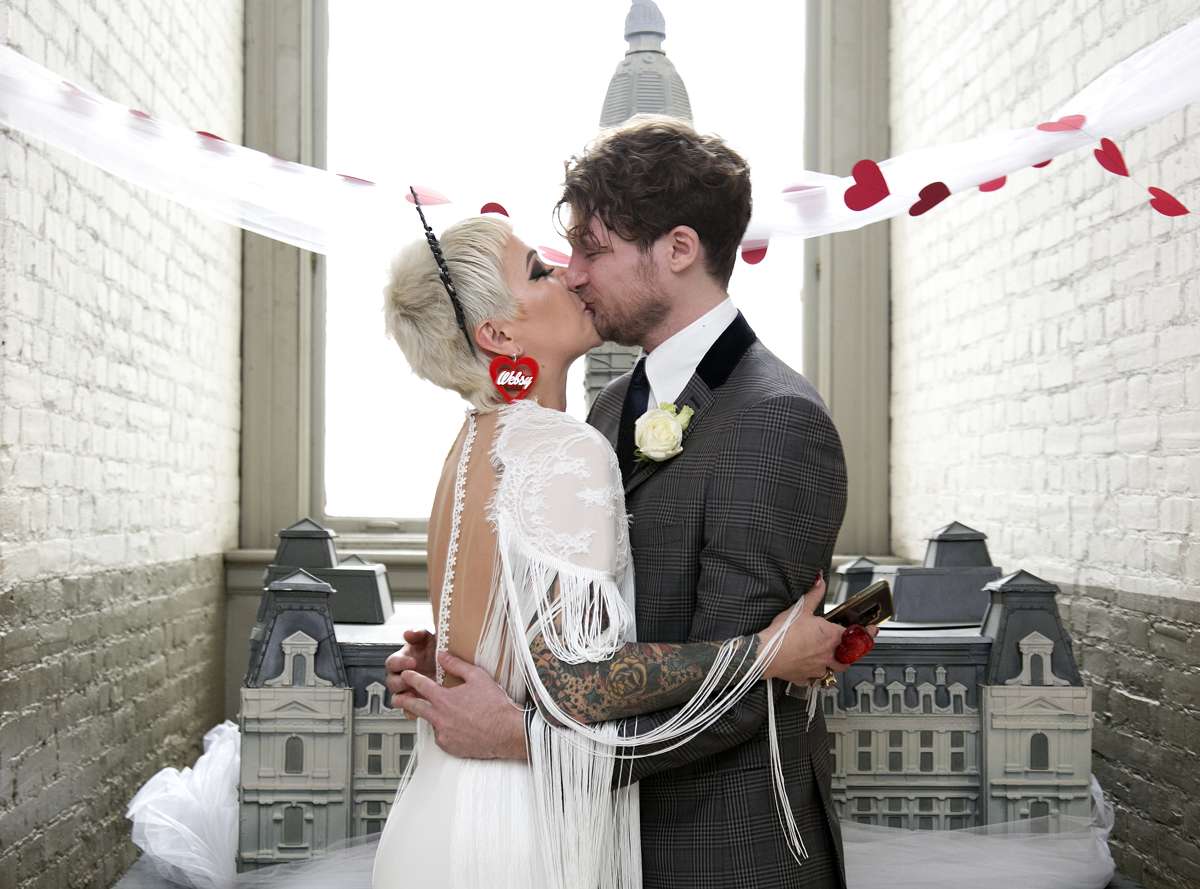 "We also didn't follow the standard wedding etiquette at all. We really wanted the entire day to not only be about us but really reflect us. So, we got ready together and walked down the aisle together, we are best friends and it wouldn't have felt right to not do it that way. Lastly it was a very 'PHILLY' influenced day from the venue and reception to music and food. I lived in Philly for all of my 20s before I left to travel and having our wedding in a city that means so much to me was a no-brainer."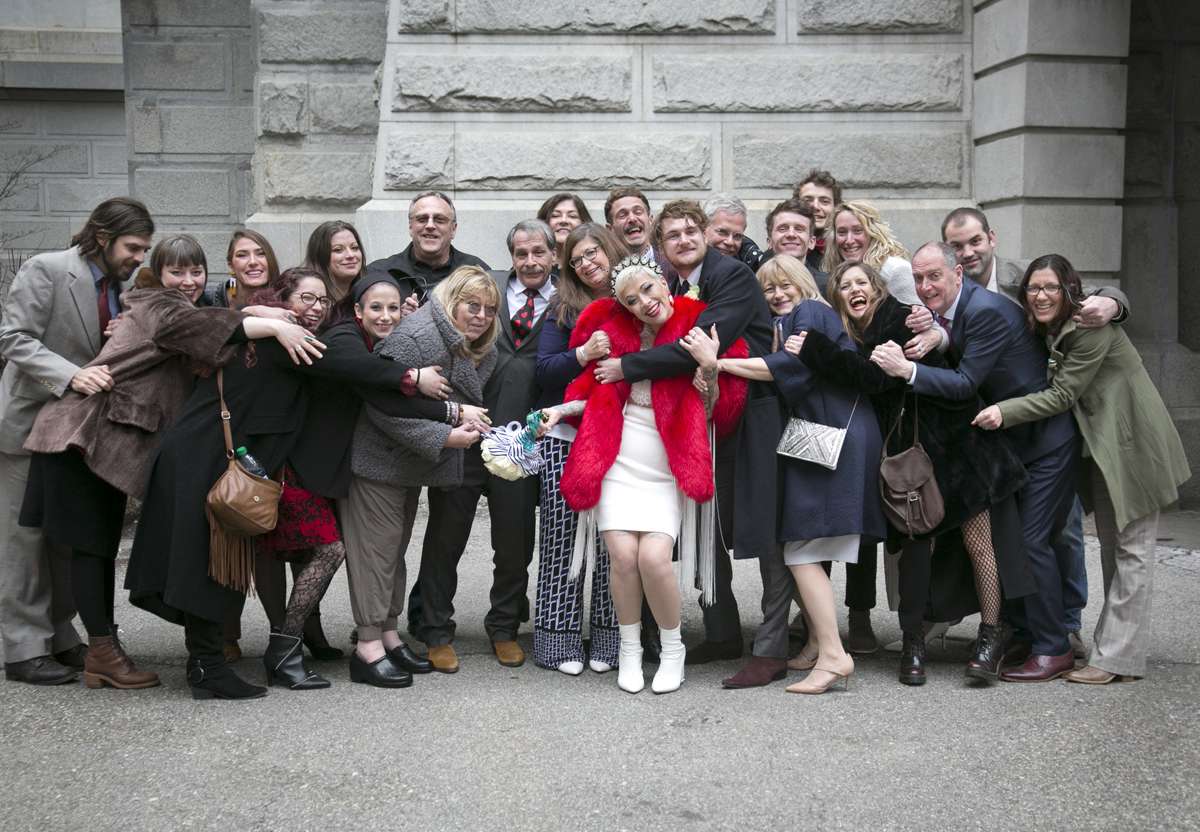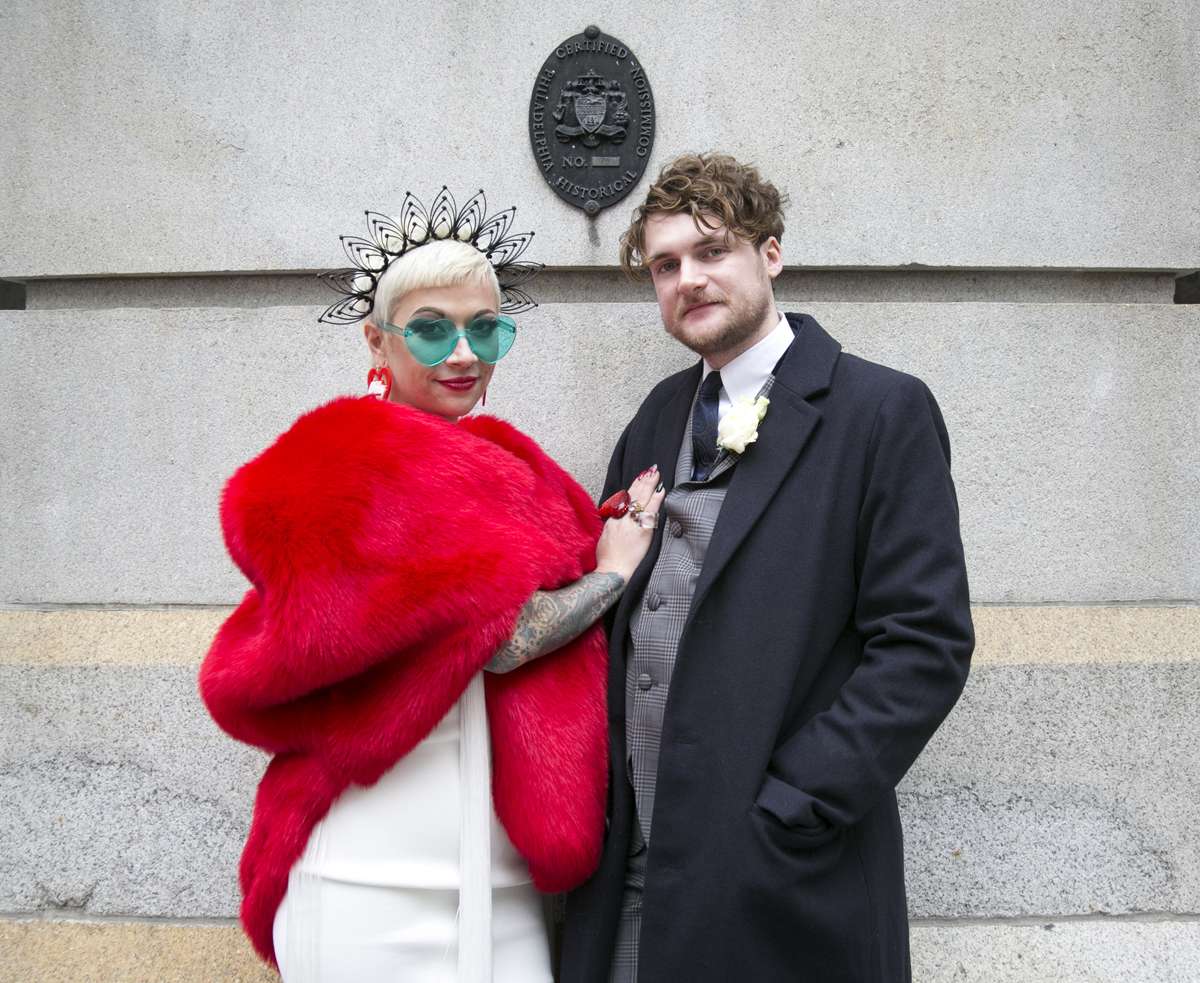 After the ceremony they had a pizza party at Tattooed Mom, one of their favourite bars. They partied into the night, rounding off the wedding celebrations when they got matching tattoos to commemorate the whole thing.
Amanda's two-piece outfit came from ASOS (her tattoo day jumpsuit was vintage) paired with white studded boots, a faux fur red jacket, a black zip tie crown from Zip Tie Jewelry and custom heart earrings from Sugar and Vice.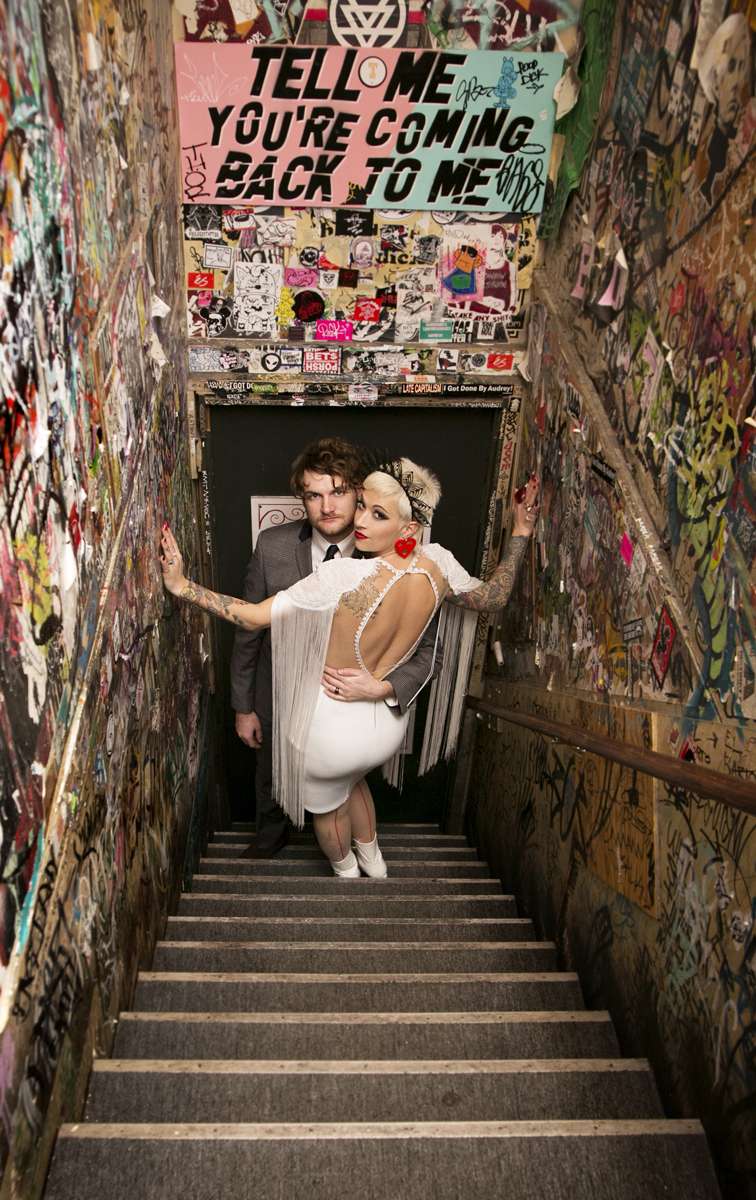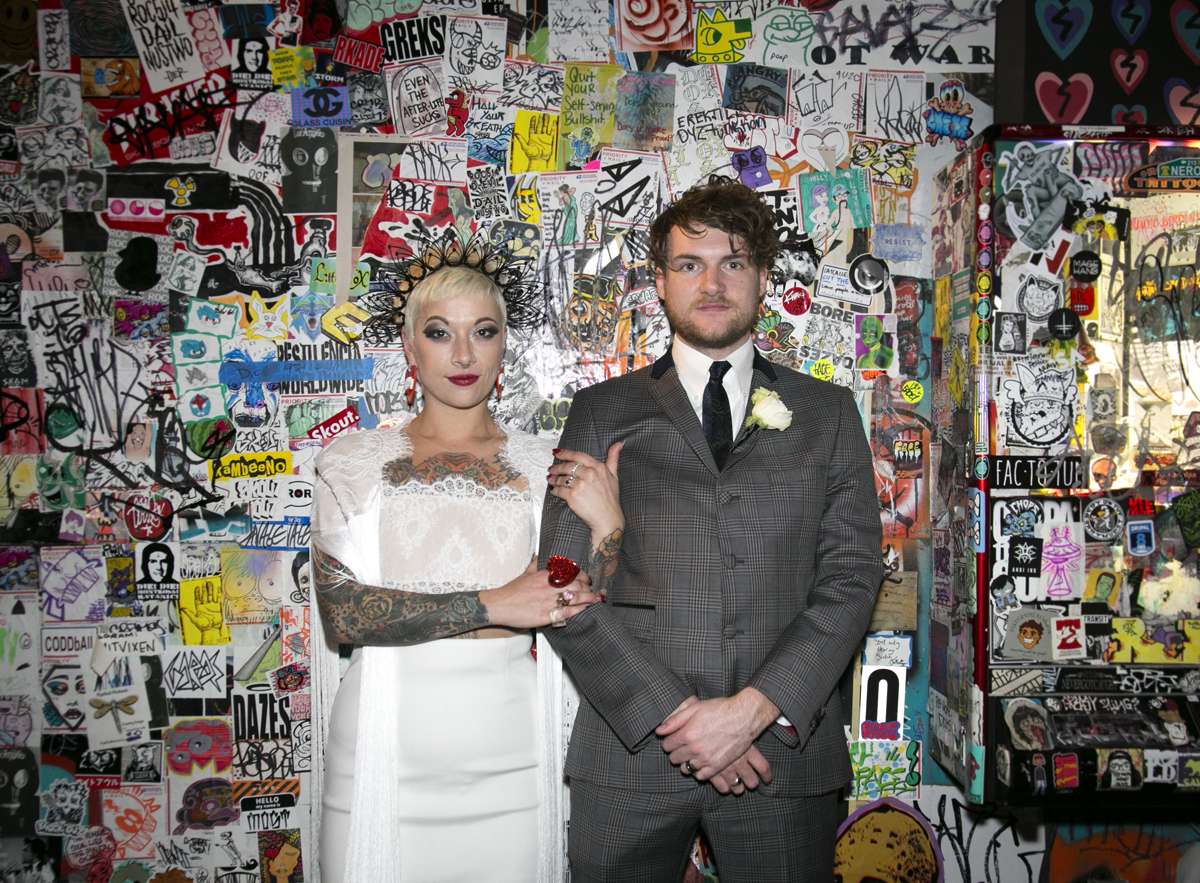 "It was an all around 'budget' wedding", she continued. "From my dress to the venues and food, lack of decorations and digital invites. The ceremony at city hall was very cheap at $200 for an hour and the reception venue was FREE. We used the backroom at the bar and ordered drink tickets and food from them that totalled less than $500 including gratuity and four HUGE pizzas from an outside pizza shop that they let me bring in for $100. Don't forget to think about local pubs and clubs for your reception rather than a full on catering and fancy venue. It saved us loads!"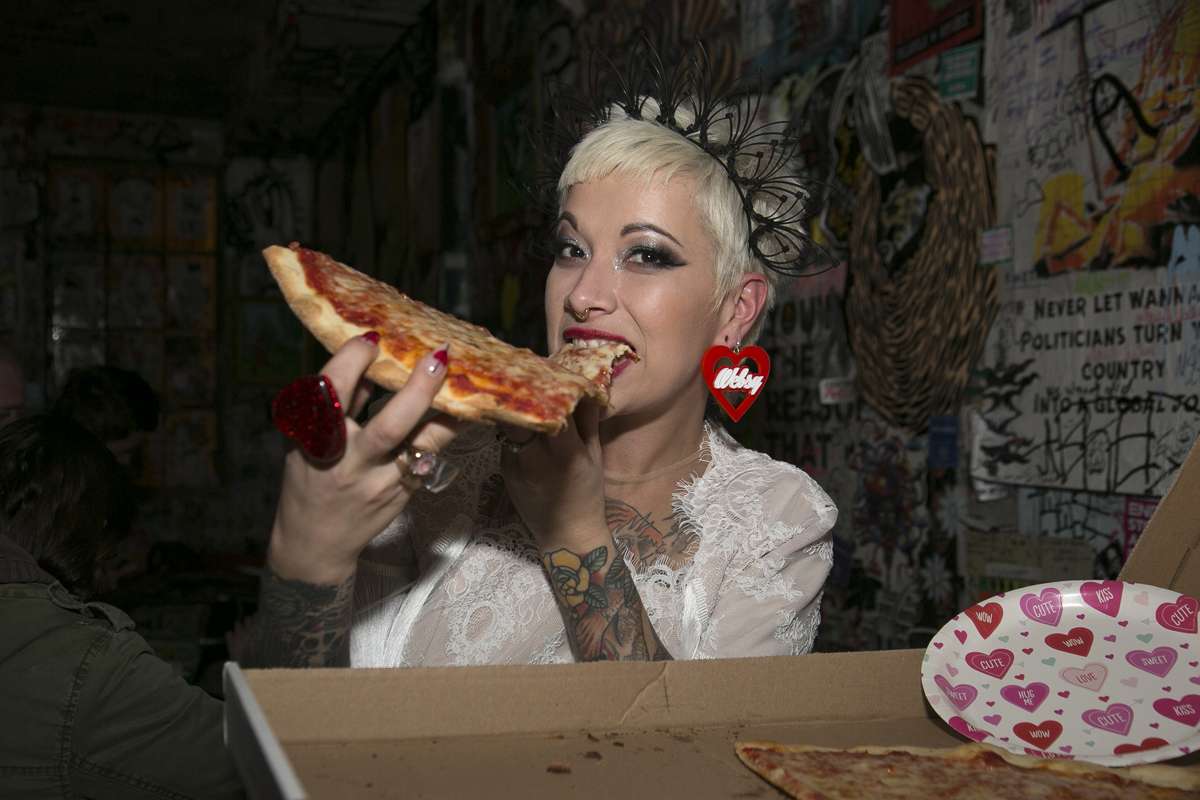 Decor-wise they kept things simple and inexpensive. Finding most things at Dollar Tree and Amazon. Instead of a fancy cake they had cookies from Whipped Bakeshop with two smaller cakes from local bakeries. Philadelphia Pretzel Co. made them heart shaped pretzels which they ate with champagne at the ceremony and not wanting a fancy sit down meal they had pizza delivered to Tattooed Mom which they served with vegan and meat cheese steaks, pierogis, tater tots, pitas and hummus, chicken fingers, mozzarella sticks and waffle fries!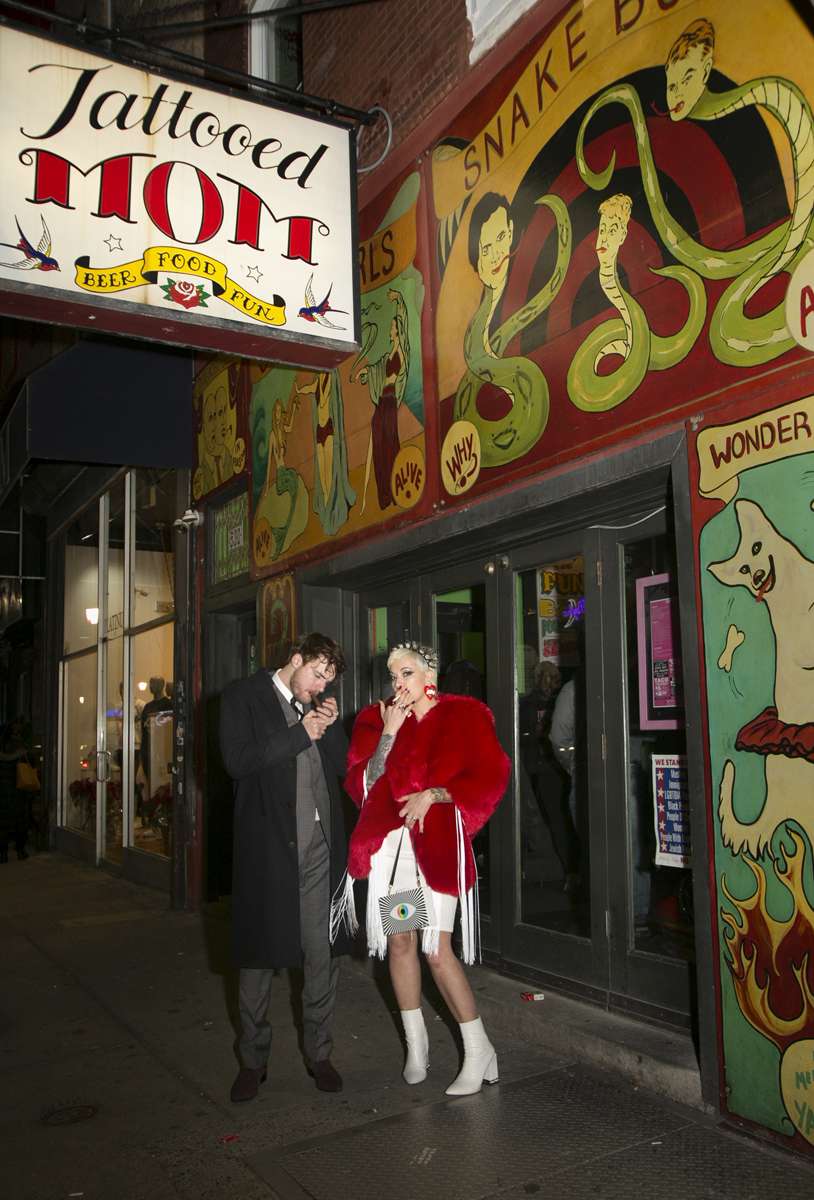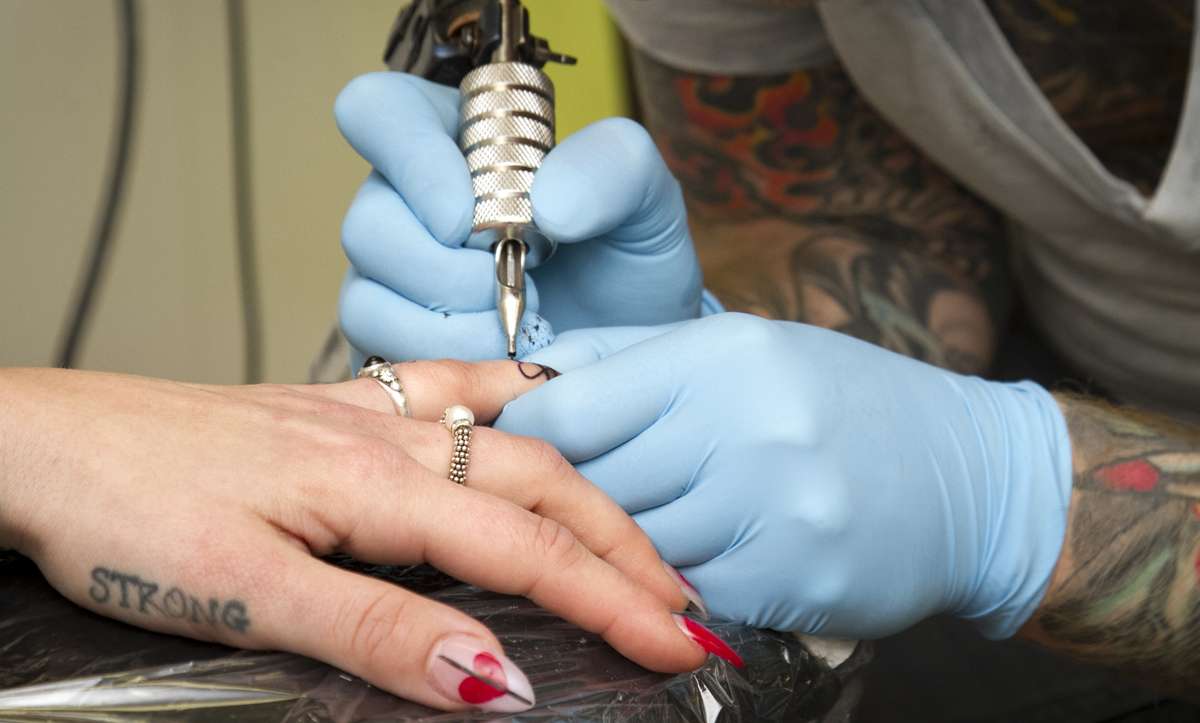 "Stay organised, have fun and don't stress about the small things", Amanda advises. "Don't try to turn your wedding into something that isn't you as it should truly be a reflection as the two of you as a whole. My initial dream wedding was in the UK at a Derbyshire barn venue that would have cost us well over £10,000 to do it right. We nixed that due to hiccups with my UK visa and because we had to save £5000 for me to get that! However, I felt so much weight lifted when the stress of that was removed and we turned to Philly for a small fun wedding that was 120% us. It really taught us that there was no need to go crazy over the top for just one day…because less is more!"