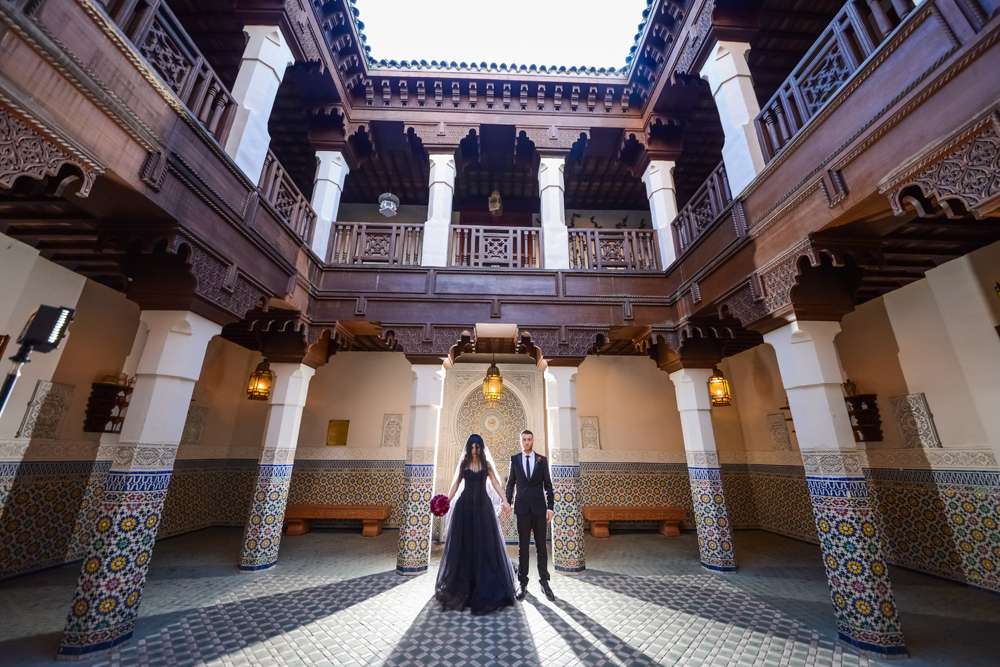 Lisa and John-Paul got married in front of a beautiful koi pond in Japan – that is, the Japanese Pavilion at Epcot, Walt Disney World! Originally from the UK but living in Sydney, they planned an elegant Halloween themed wedding, taking inspiration from the Haunted Mansion. I'm not sure it gets any better than a Halloween wedding at the Happiest Place on Earth! Who's with me!?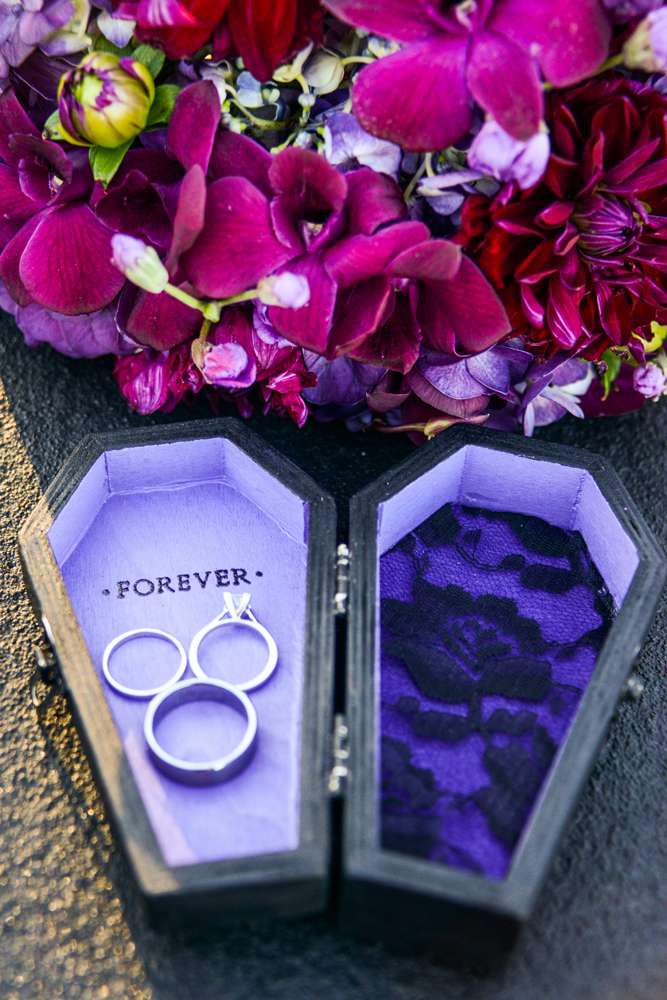 "I was keen to stay away from cheesy Halloween and so black lace was a large inspiration," Lisa explains. "Our ceremony was overlooking the koi pond in the Japan Pavilion which is really pretty. I'd loved this koi pond since my first trip to Disney when I was 14, but never expected to get married there! I'd envisaged pumpkins covered in black lace, gothic lanterns and red rose petals (it was unusually windy on the day though so a few blew away). The service by Rev Kev was lovely, and we had a sand ceremony using a Haunted Mansion shadow box created especially for us by Practically Perfect Crafts."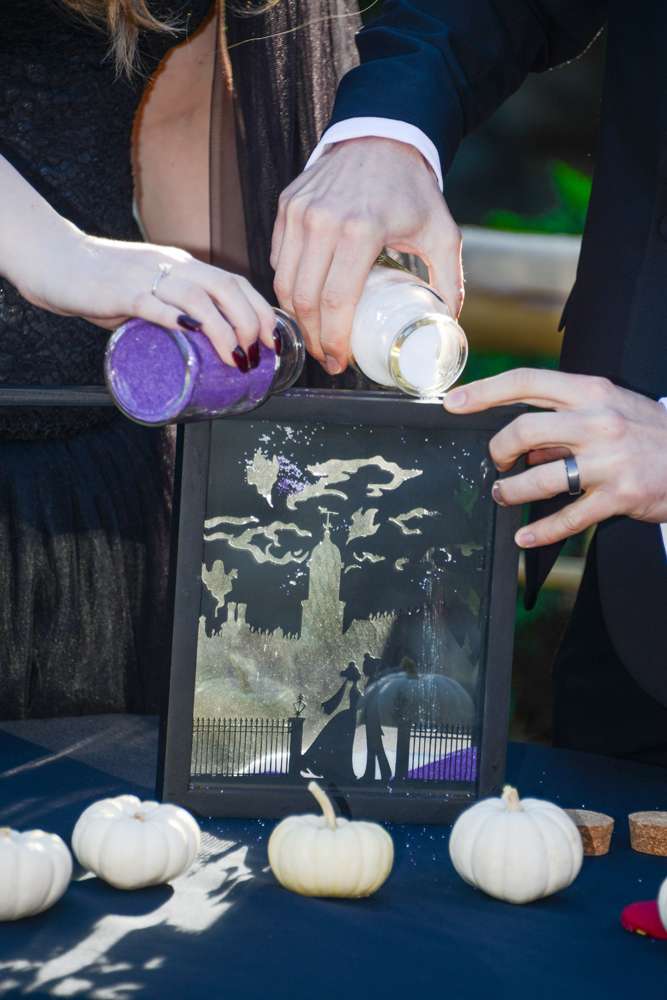 "During the ceremony we had a reading from John's mum Karen, from the Nightmare Before Christmas. I tried to give our music an alternative element. We had Moon Dance from Corpse Bride, the Edward Scissorhands' theme and I walked down the aisle to Sacrifice from The Gift episode from Buffy The Vampire Slayer!) Our guests walked into spooky music to set the scene for the day too – Nightmares (Instrumental) from Hallows' Eve In A World. John got some more traditional music as his choice – he chose the instrumental of All Of Me by John Legend to exit to, we also had music from Romeo + Juliet for our sand ceremony."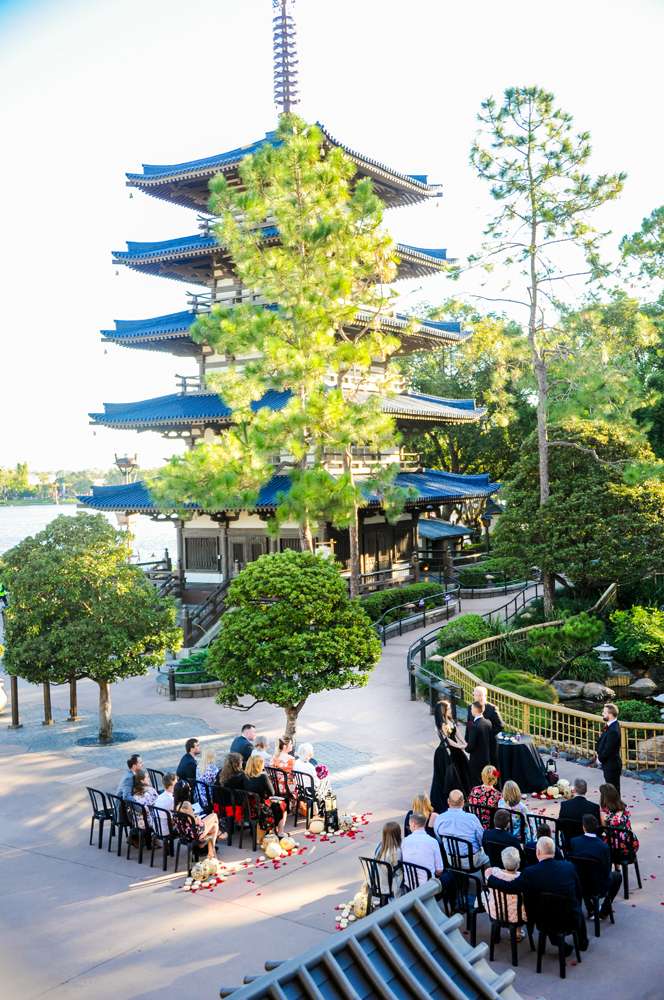 To accommodate a 9am ceremony time (as you can only get married before the parks open), Lisa's hair and make up started at 4am! They then had photos around Epcot taken before and after the ceremony, including in Japan and Morocco. "Misty, our photographer, has an amazing eye and saw photo opportunities in places I'd have never have thought of – she utilised all the doors for photos which worked really well!"
Lisa wore a black dress altered by her mum and a black veil from AN Fashion Designs on Etsy for her gothic-themed bridal look, with John-Paul also nodding to the Halloween theme with Haunted Mansion cufflinks.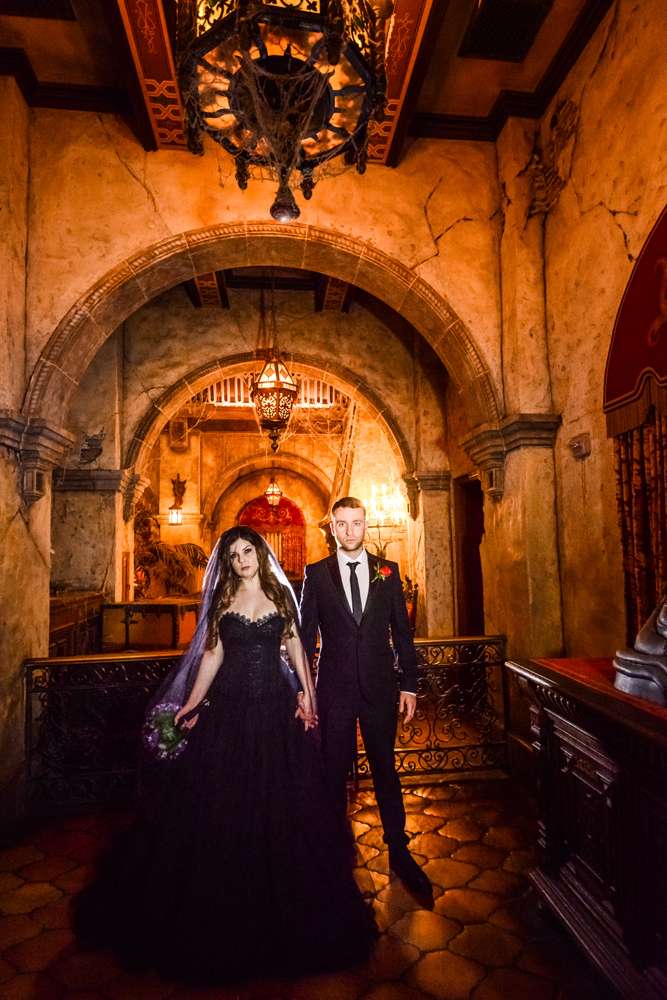 After their ceremony, they kept things informal by going for a character brunch at Chef Mickeys; then they had a break in the day before reconvening at France Pavilion for their reception. "We love Disney food and so this was one of the reasons we chose to get married there (in addition to the amazing venues, of course – how many brides can say they got married in two theme parks?!)" Set to the light of the Illuminations fireworks, they enjoyed delicious canapés amongst decorated pumpkins, black candelabras and white chocolate pumpkin favours, filled with candy corn. After the meal they moved to the Tower of Terror in Disney's Hollywood Studios, where they had a DJ play their after party! They were announced to Tiesto's Remix of Carmina Burena, and had their first dance to As The World Falls Down by David Bowie from the Labyrinth soundtrack.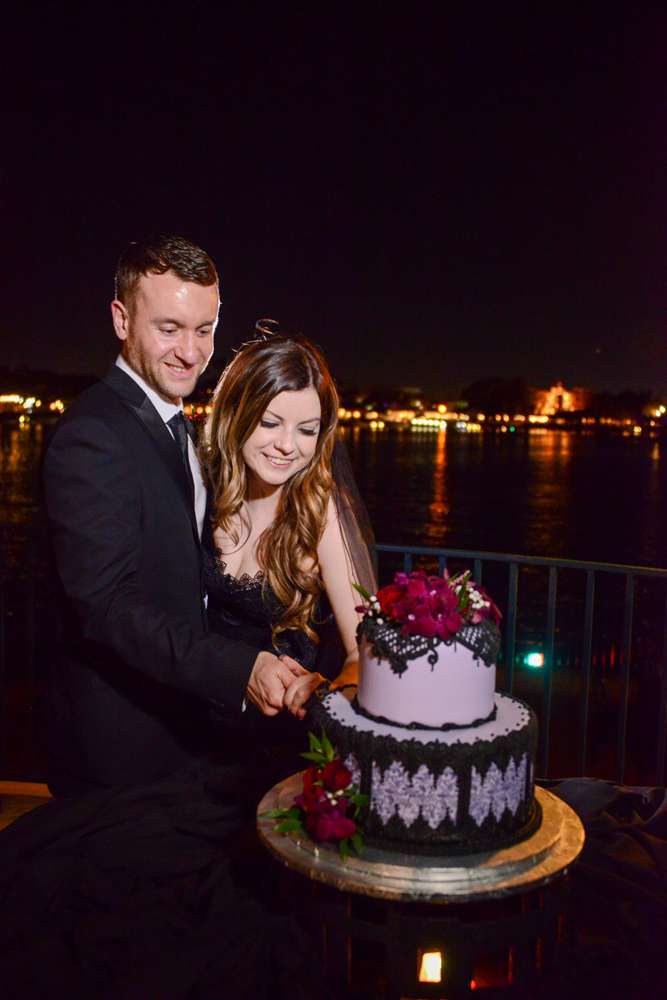 As it was a destination wedding, Lisa and John-Paul chose to have an all-inclusive bar by way of thanking their guests for travelling over (not just any bar either, but a nitro bar). Though she agrees it probably would have been cheaper to just pay for the bar, Lisa says it helped to work out exactly what they'd be paying. "As Disney isn't the cheapest, we went minimal on decor and flowers. As I wouldn't have been in the country to see their dresses etc, I also decided against having bridesmaids, which meant we saved on outfits and hair and make up."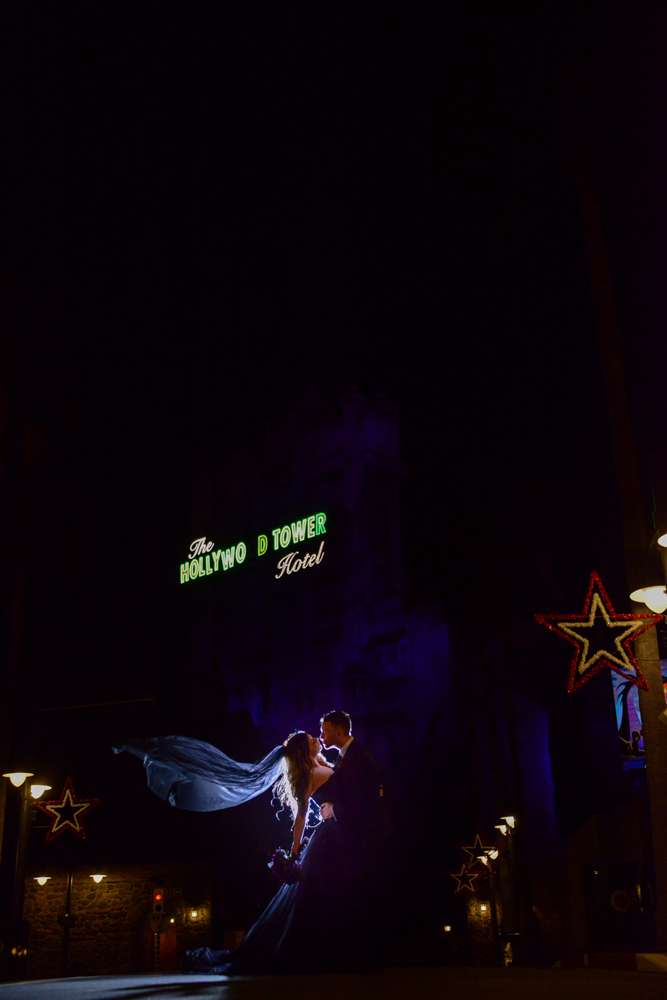 Despite the difficulties of planning a wedding from halfway across the world, and with the added stress of Lisa's dad unfortunately becoming very ill meaning he couldn't fly over, they both say they'd do it again tomorrow in a heartbeat. "Give yourself more time than you think you need to plan," they advise, "and shop for a dress early and check it fits perfectly! Make sure you take the time to enjoy your food, and don't try and and get your money's worth on the all inclusive bar you paid for and drink too many tequila shots (you will regret it!)"