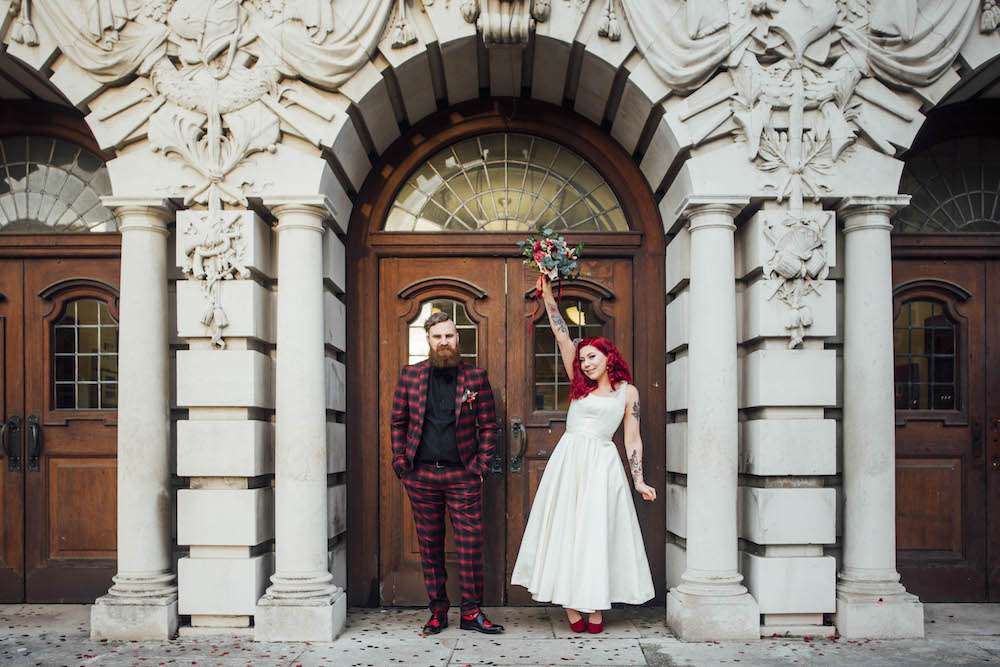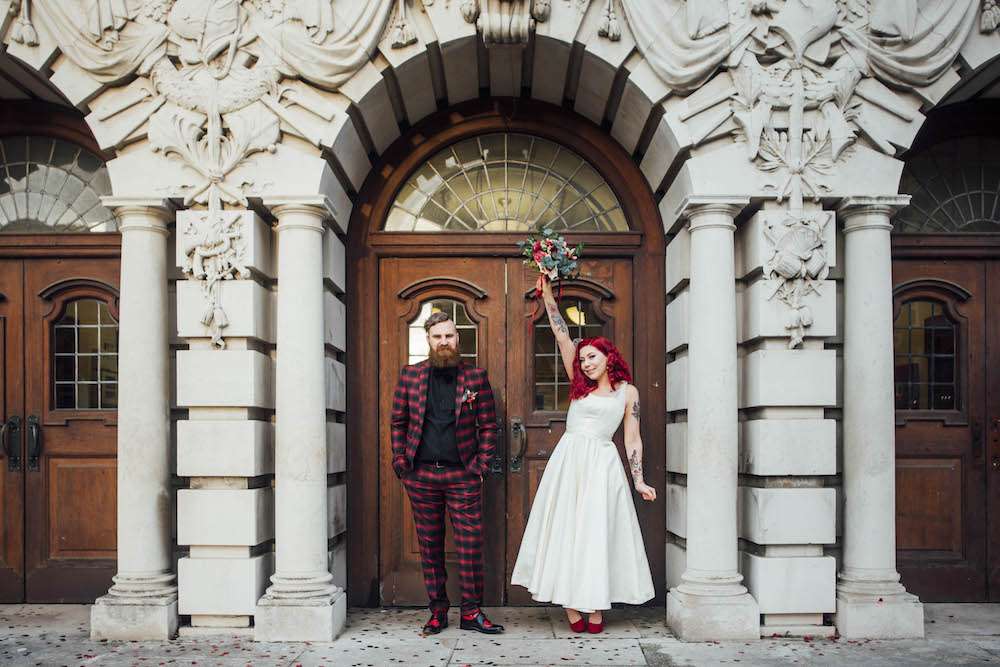 When the couple met via an Instagram account called "The bearded pantie droppers", you know it's going to be a good wedding. And you'd be right – Rose and Matt's rockabilly pub wedding day was a glorious melee of everything they loved including donuts, tattoos and Sailor Jerry. Not only that, but it was all done for £2000. TWO. THOUSAND. POUNDS!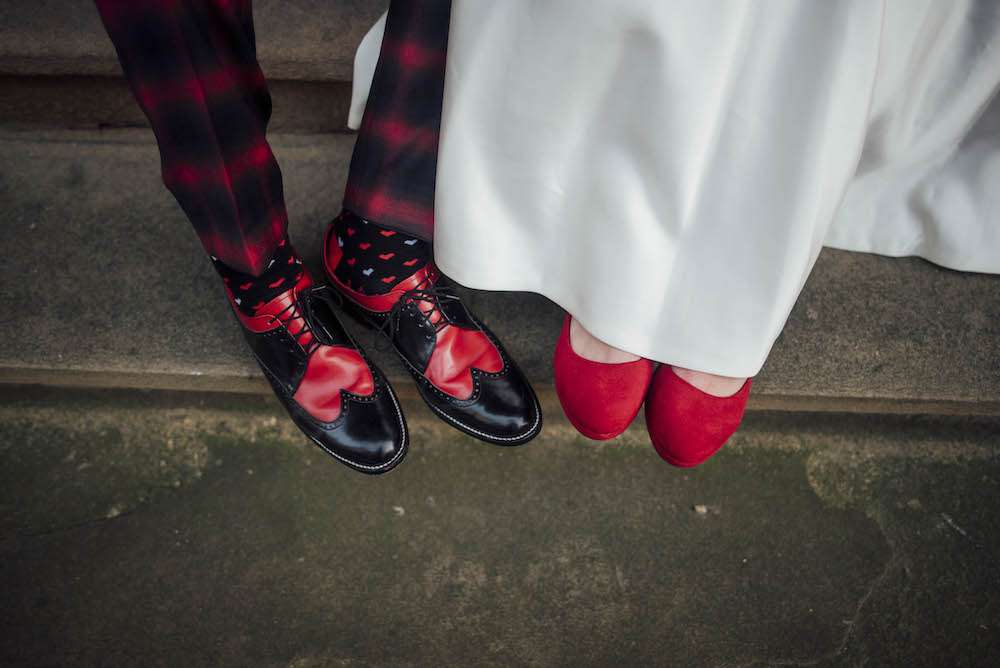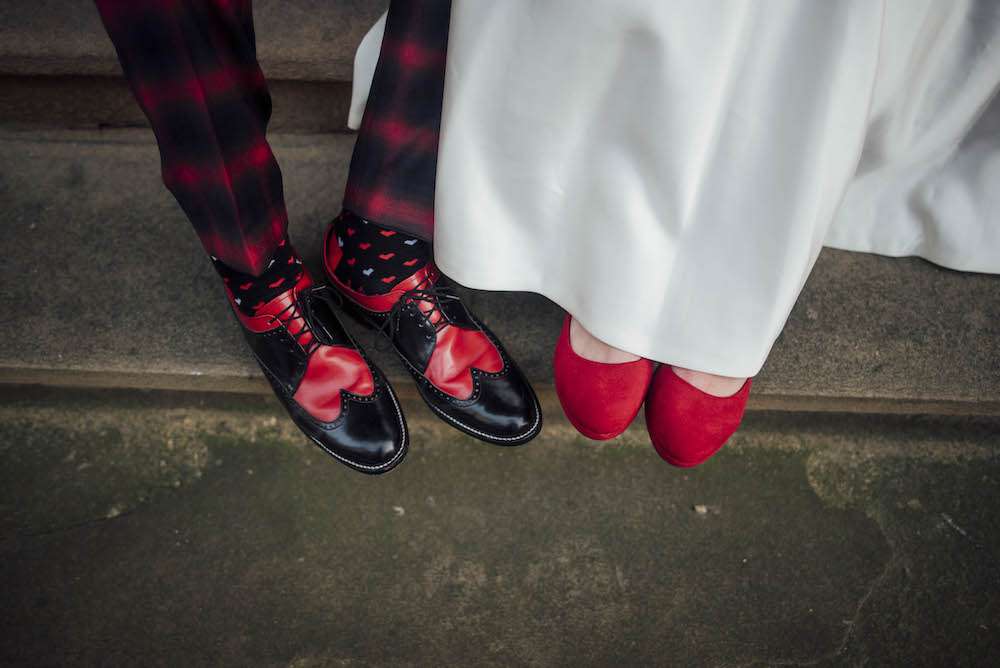 "The inspiration for our wedding was Sailor Jerry, as an artist and the rum," Rose and Matt explain, "so all of our ideas stemmed and evolved from that. Rose has a mild neon lighting obsession also, so our centrepieces were Sailor Jerry rum bottles we'd collected with an artificial rose in each, and a neon light saying 'love' leaning against them, as well as a heart-shaped circus-style light."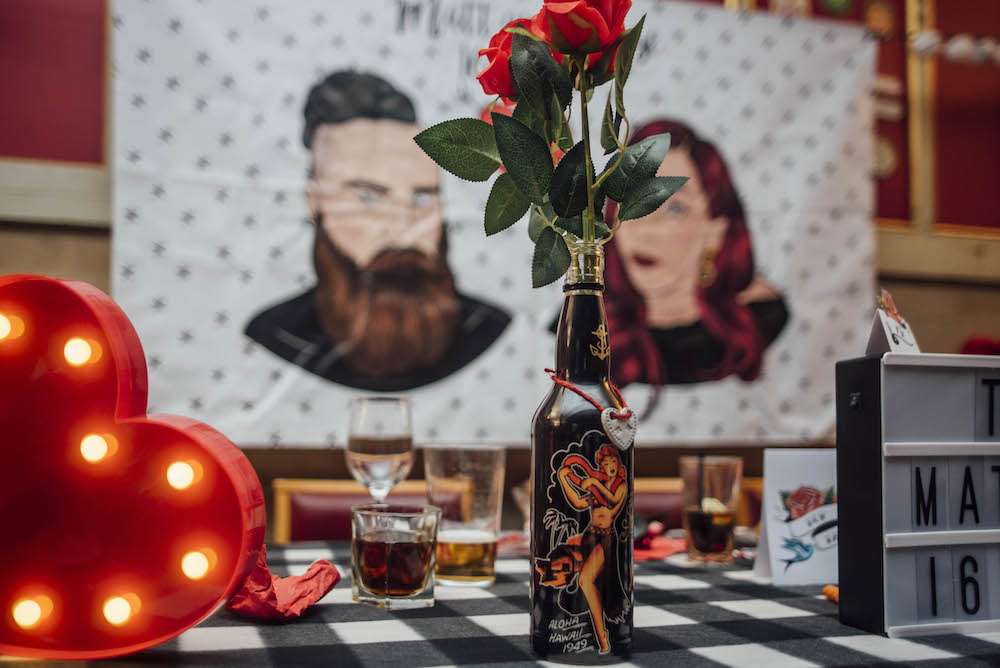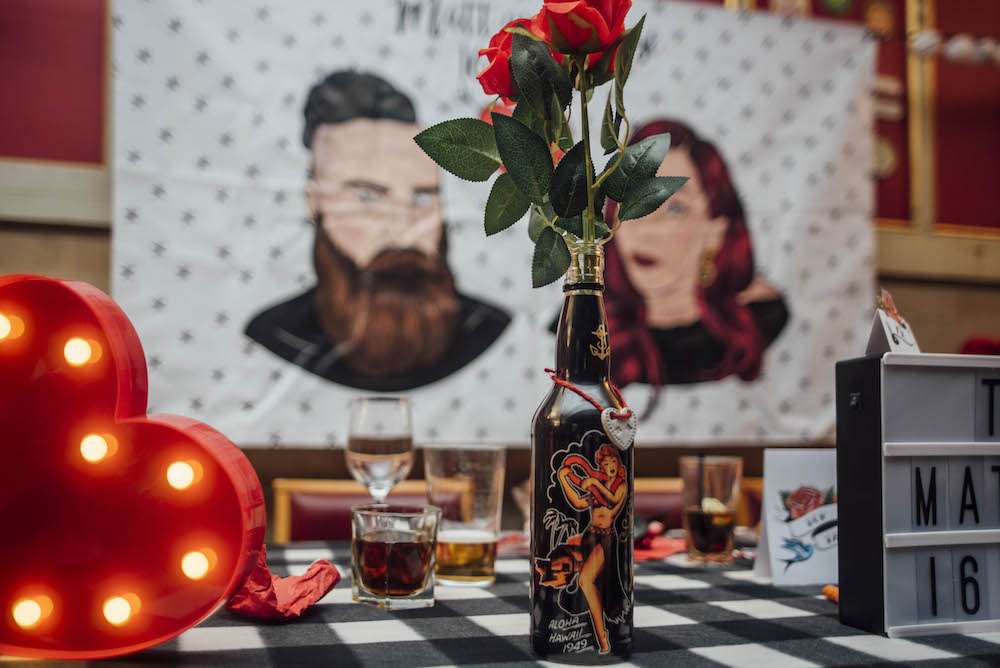 A lot of the decor was DIYed, with Rose and Matt going to their reception venue (The Woolwich Equitable pub) the night before to set everything up. "We bought 20 metres of fleeced gingham fabric from a roll for our table cloths. I'd also bought card prints as signs and stuck them onto a canvas, painted black with gold designs, which we displayed on little easels. A big banner designed by our bridesmaid was up behind us on the top table."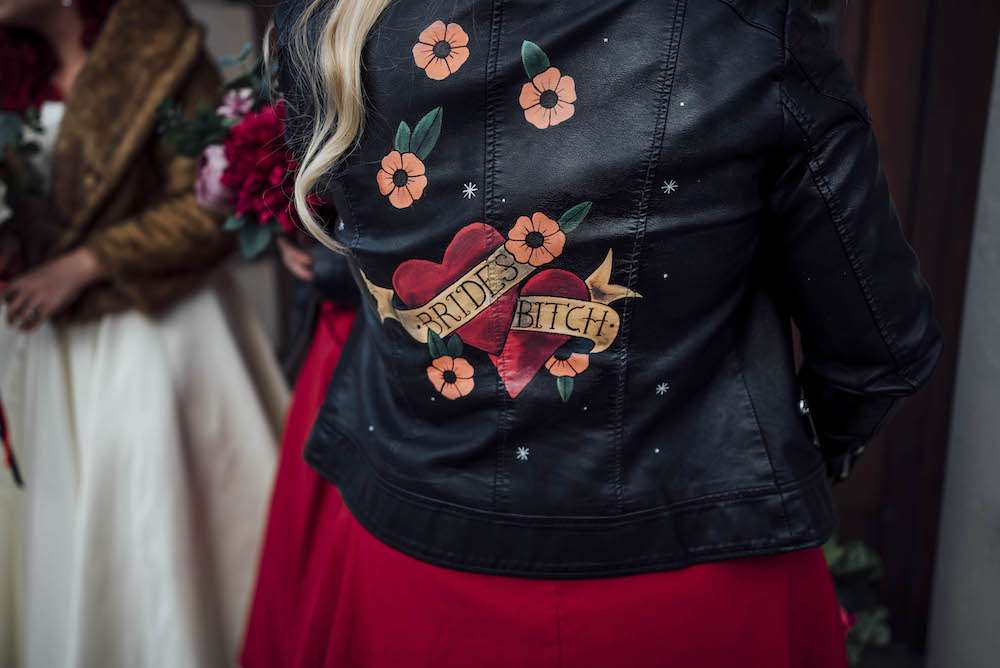 Rose's dress was also a DIY job: "I bought my dress for £70 on Facebook Marketplace, but cut off the sheer top part and sewed on my own tulle straps (which was terrifying!)." She wore it with a veil from Crown and Glory and red shoes from New Look. Rose also did her own gorgeous hair and make up, after having a trial that just didn't feel like her. Matt wore a checked red and black suit from Label Lab with vintage red and black brogues sourced on eBay. Her bridesmaids wore red Lindy Bop dresses and leather jackets that said 'bride's bitch' on them – truly inspired.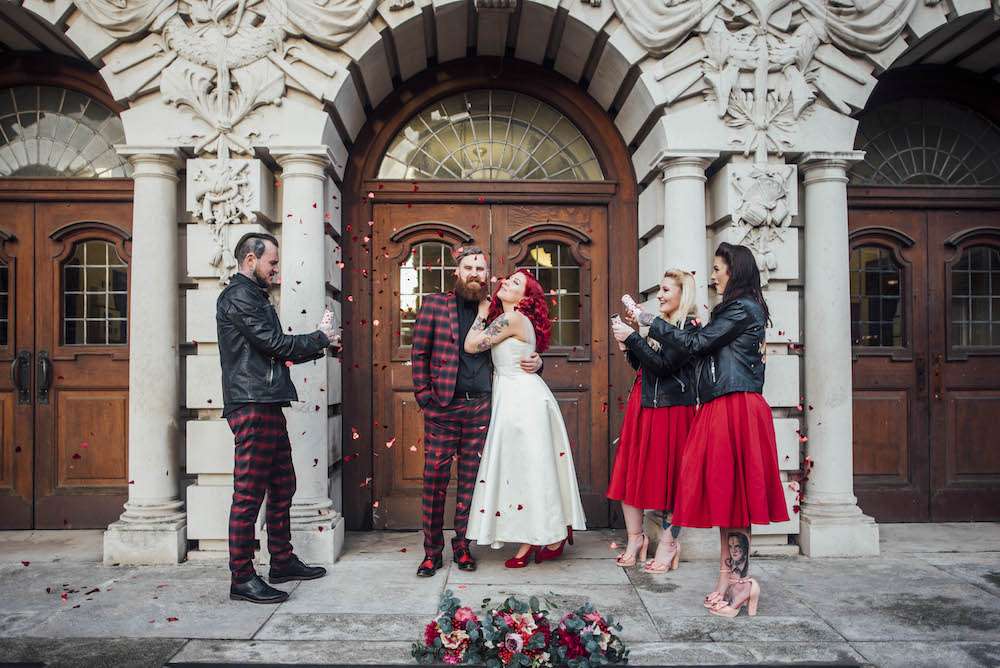 Their big day also involved a tattoo reveal, which I absolutely LOVE – Rose had a tattoo of Matt's face done on her thigh in the days before the wedding, and kept it until after the ceremony. "My favourite moment had to be the tattoo reveal," Rose says, "as his face was totally priceless. A close second was my son shouting asking where his lollies were as he walked down the aisle – lollies had been my bribe to make him go with my bridesmaid."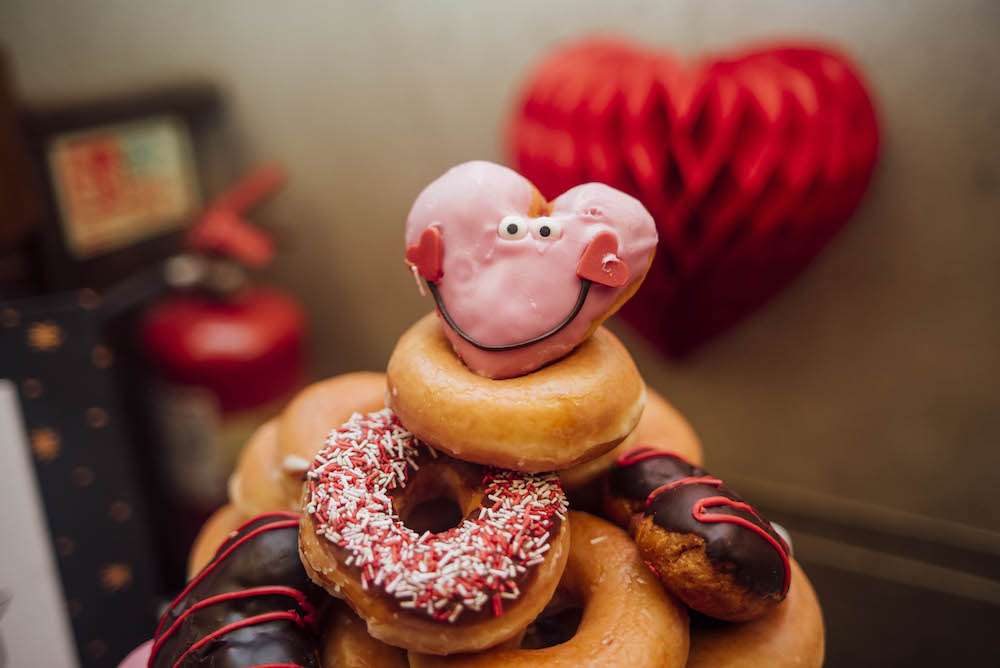 Their ceremony was held at the Woolwich Town Hall, a gorgeous space with definite Wes Anderson vibes radiating from its beautiful vaulted ceilings and pink walls. They then headed to the pub, where they ordered several food platters and fries for their guests to enjoy in an upper balcony area overlooking the rest of the pub. They had Valentine's Day Krispy Kremes for dessert, having a 'donut scoff' instead of a cake cutting, and a giant Millie's Cookie alongside sweets, chocolate and popcorn. After the food, a little speech and aforementioned donut scoff, the 40 guests went downstairs to party with the public, and danced the night away.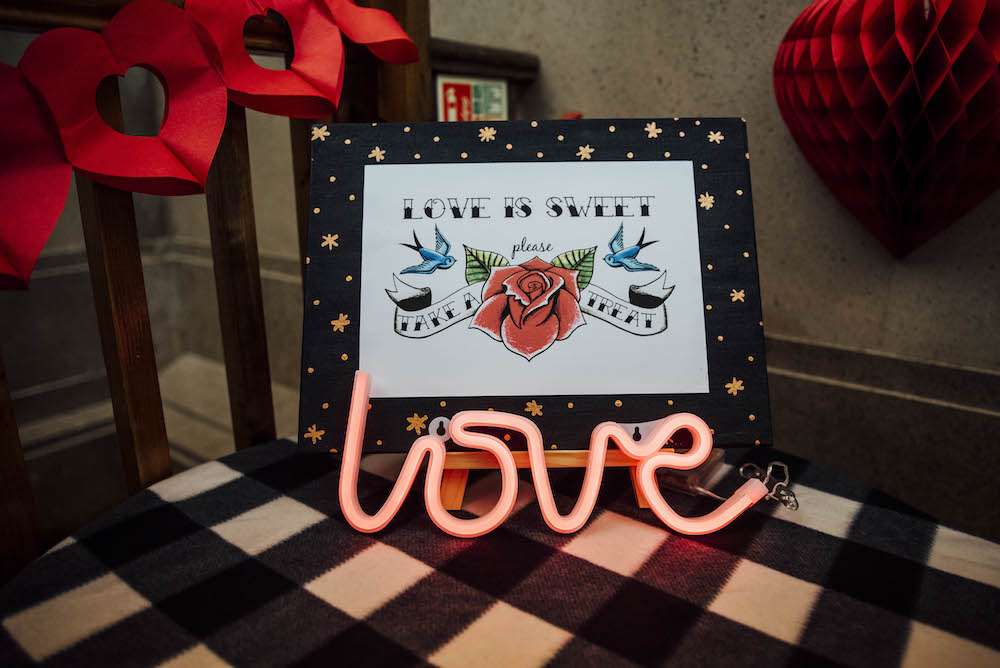 By holding their reception in a pub area, they saved mega money on the venue, getting free hire space and a free band too. "We loved the challenge of doing it on a budget – although it took a LOT of research, it paid off in the end. We felt we could budget everything else other than the good photographer, because the memories will always be so important to look back on. Lesley-Anne from Purple Pear Tree was exactly the style we wanted, too. Nothing felt like it was sacrificed."
In fact, the only thing Rose and Matt would change in retrospect was "maybe drinking more water in between wines… and saying no to shots." Sound advice, we think…