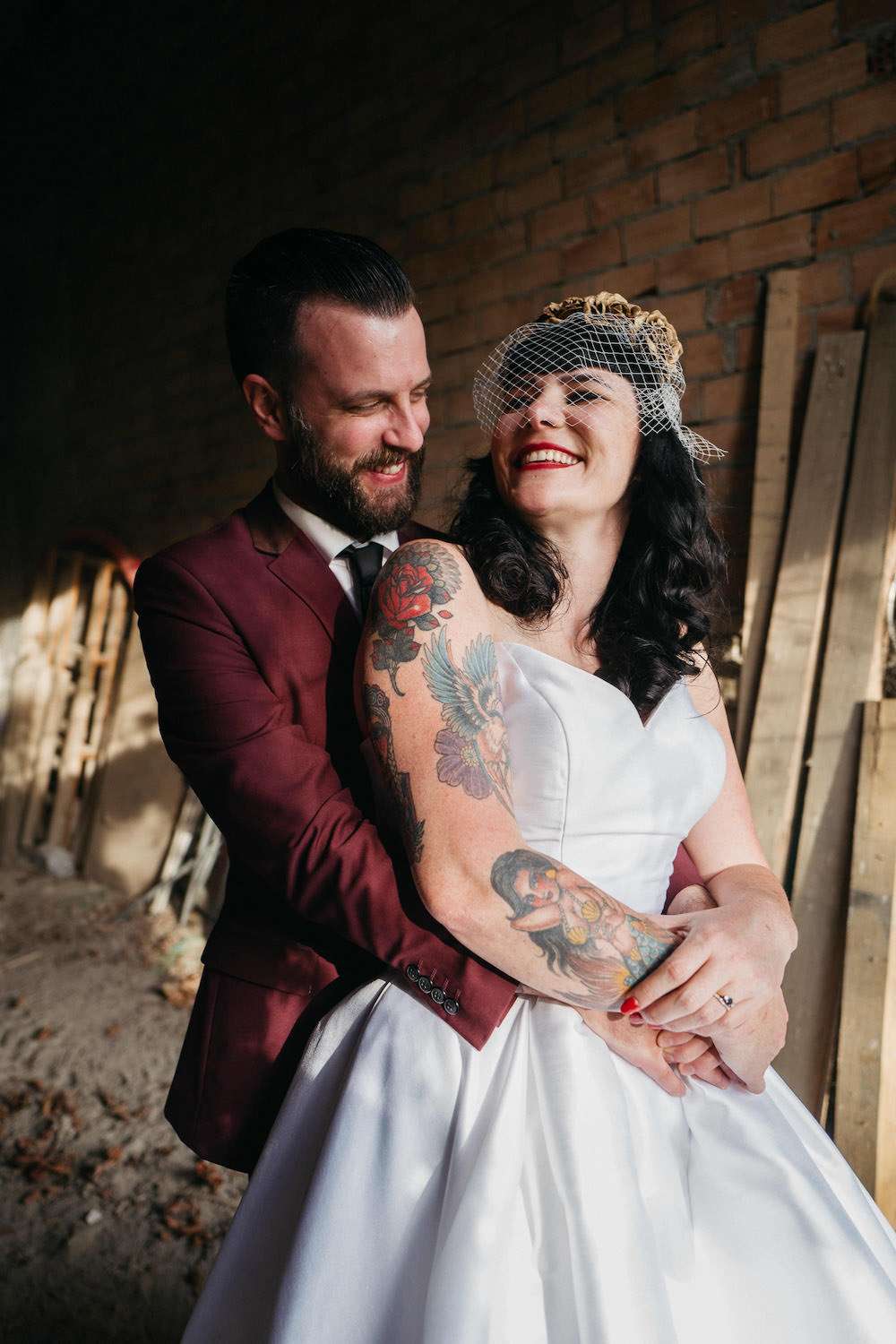 Kornelia and Gareth's gorgeous Tuscan festival wedding is proof that the enormity of wedding planning is really worth it, as they were bringing friends and family from literally all over the world (they now reside in Shanghai, China, but met in London, and Kornelia is originally from Poland via Australia!) Their week-long "Charlo-palooza" – "a day is definitely not enough time!" – was essentially a holiday for all of the people they love, and they really got involved in all the small details to make it perfect. And they looked sensational whilst doing it – Kornelia's Zac Posen-esque dress is the stuff of dreams.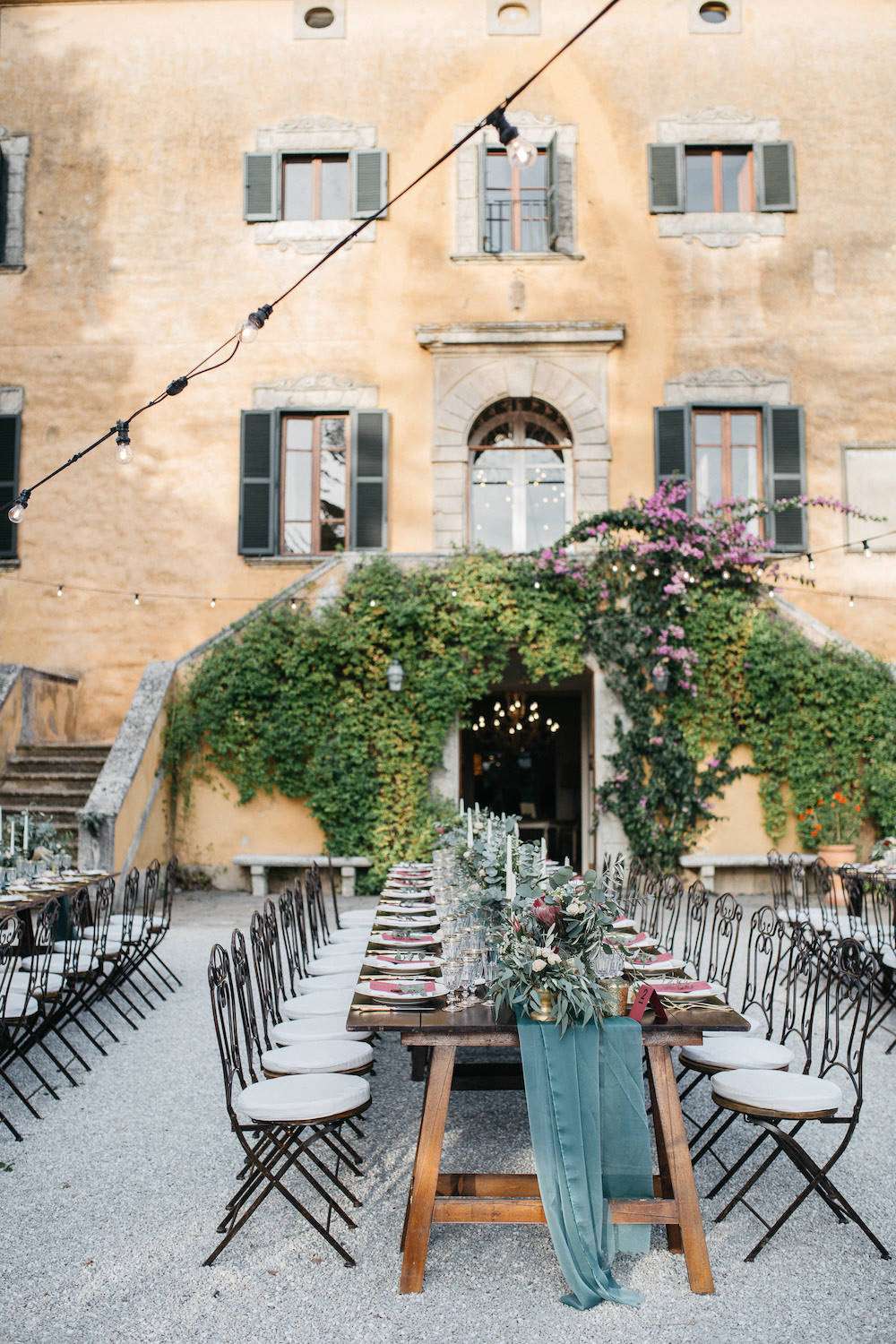 Their week-long festival wedding was held at Villa Ulignano in Tuscany. "They have thought of pretty much everything – as well as having some EPIC bedrooms, the villa had so many facilities for guests (pool, two saunas, underground cinema, table tennis, billiards and even casino games tables)," Kornelia explains. "We put on a few events during the week so people could really get to know each other, like a pizza night by the pool. We sourced some cheap gingham fabric and made basic cushion covers to put over IKEA cushions, alongside gingham picnic rugs. The day after the wedding (when everyone was feeling slightly fragile), my parents hosted a Polish night which consisted of lots of Polish food, including pierogi and of course VODKA!"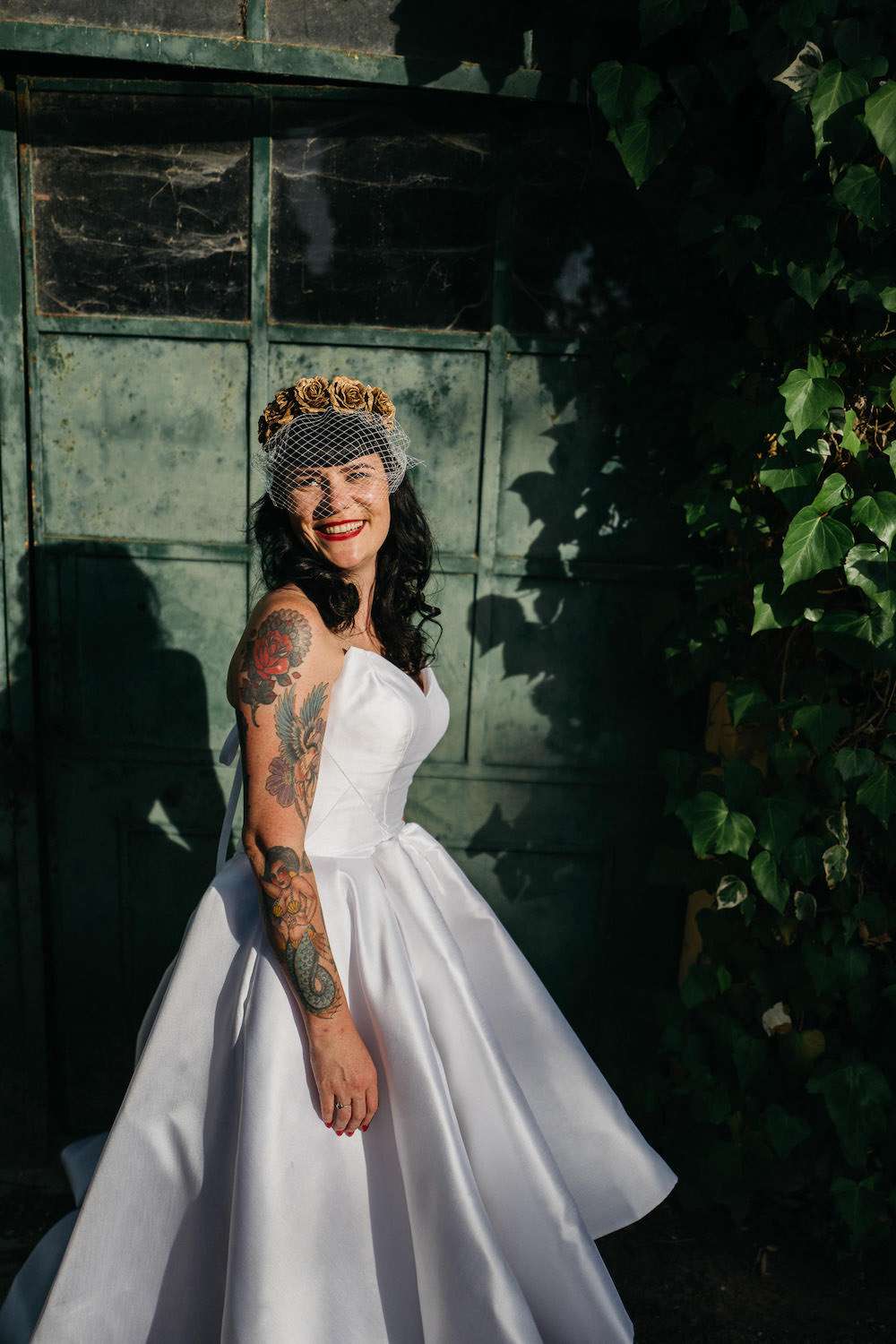 "We kept the ceremony brief because we were more interested in the party," Kornelia continues. "It was a non-religious, symbolic ceremony where we wrote out own vows – we didn't share them until that moment so it was emotional to hear what each other had written."
Kornelia's dress was made by a dressmaker local to her in Shanghai to emulate Zac Posen's style (because unfortunately the budget wouldn't allow for a £10k dress!) and also suit her body shape. It was beautifully structured with a draped high-low hem, meaning her shoes were on show – some gold sparkles from Charlotte Olympia. Her best friend Alycia spray painted her crown-like headpiece gold the night before the wedding, and also did her hair on the morning of, whilst Gareth's sister Kerris did her make up. Gareth also used a tailor in Shanghai for his berry-coloured suit, which they chose as they wanted to add some colour in amongst the green in their wedding.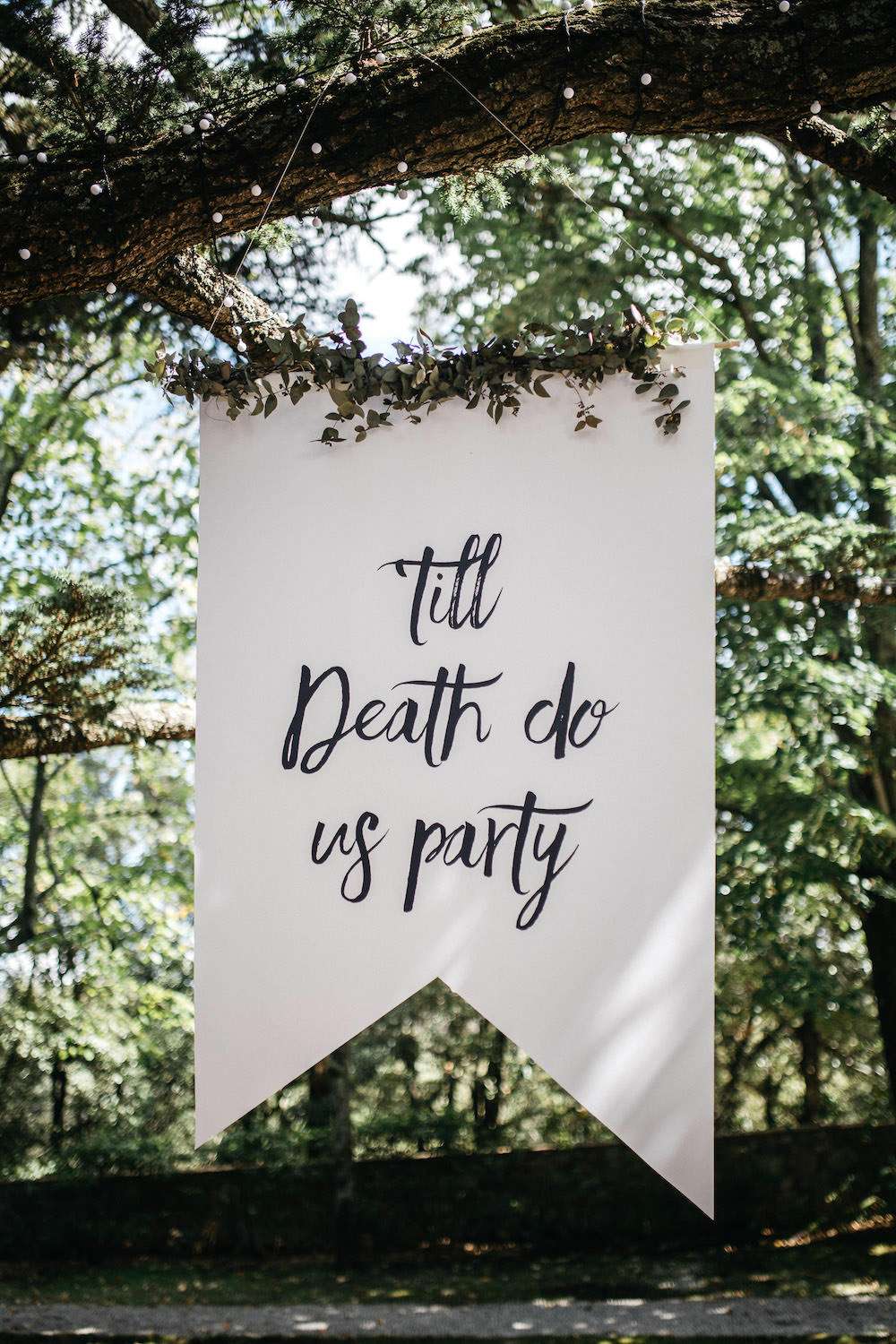 The bridesmaid dresses were also made in Shanghai with silk that Kornelia bought at a market. "Our colour theme was based on Australian eucalyptus and their pink flowers (which our friend Marls brought bags of over from Australia – thanks Marls!) so I used the bridesmaids to add the brightest pink to the wedding. Even though they looked stunning on the girls, in hindsight I should have just bought dresses off the rack, considering there was so much back and forth with the measurements and the sizing."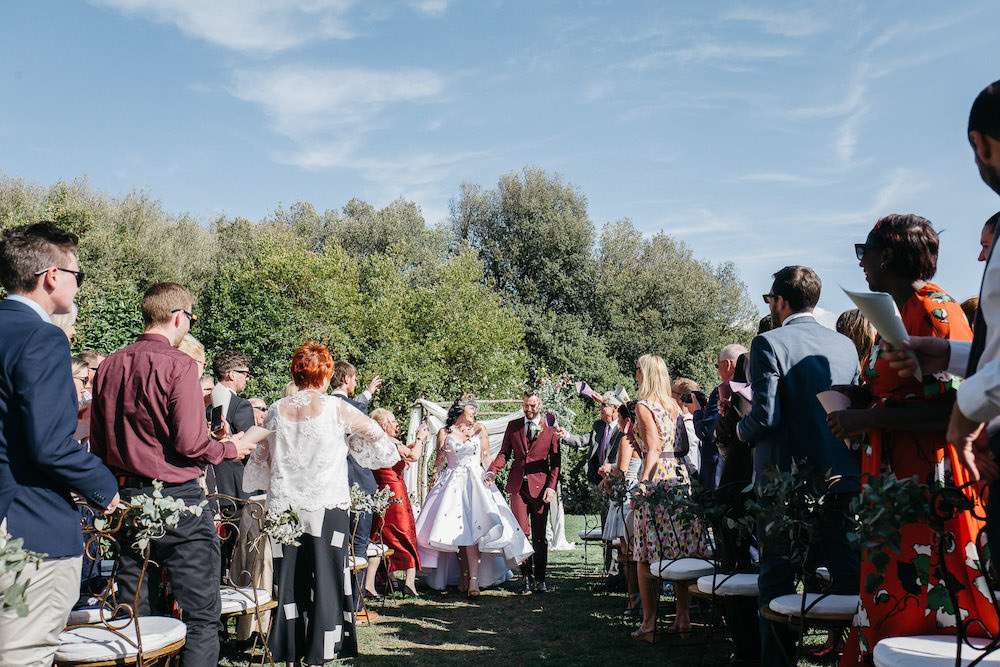 Considering the location issues, they decided to go completely digital with their invites, using Riley and Grey to communicate with people in Europe and Australia and manage RSVPs from China. As a graphic designer, Kornelia designed all the signs and table plans with their amazing simple, monochromatic look, to contrast with the lush Italian greenery and the fairy tale like lights and paper lanterns they had bought from taobao (Chinese eBay) and had draped around.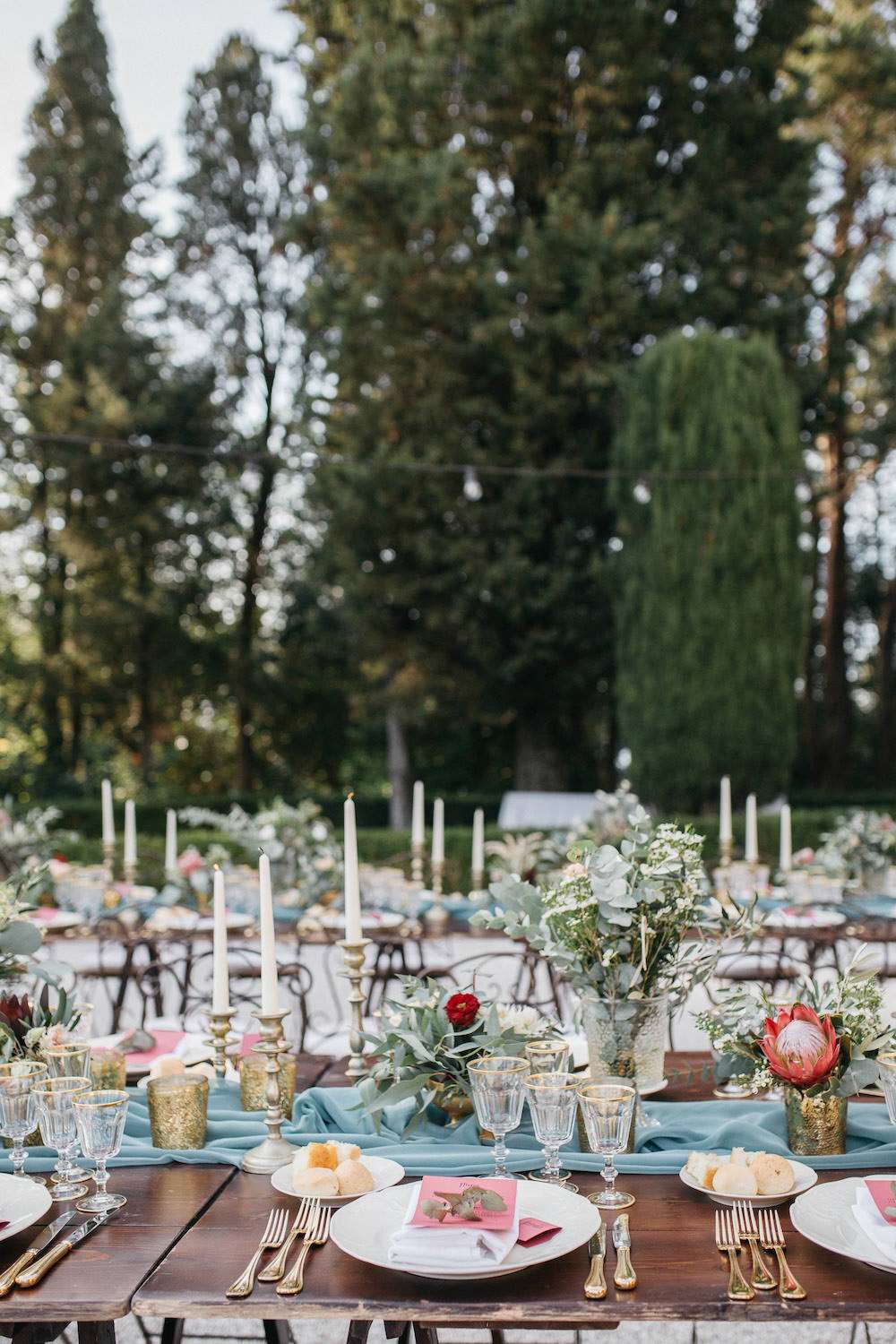 They used local Tuscan suppliers for their flowers (from Flowers Living) and the catering (Guidi Lenci). Their cake was also traditionally Italian, "We had a traditional Italian Millefoglie. It's made fresh in front of the guests using pastry wafers, cream, and fresh berries, and they put on a show of it which everyone loved! The catering was our biggest expense, but we both love food so it was a no-brainer. Our family and friends are still raving about it."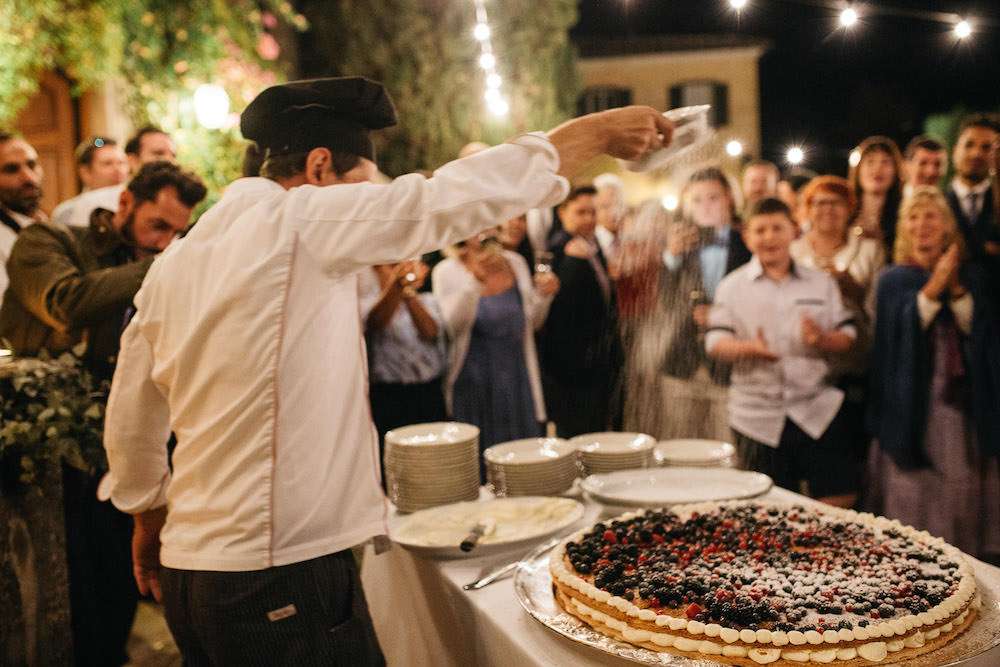 Kornelia and Gareth's day was a perfect blend of personality, friendship, and not to forget cultures…"At Polish weddings, people start tapping on glasses and shouting 'GOSZKO', and the bride and groom have to find each other and kiss. (Goszko means bitter, and you're trying to make the moment sweeter). Our Polish guests started complaining that a peck on the lips isn't good enough, so as the night progressed we started to get more elaborate. After the cake cutting with everyone watching, I lent back slightly too far and ended up falling backwards with Gareth on top of me!"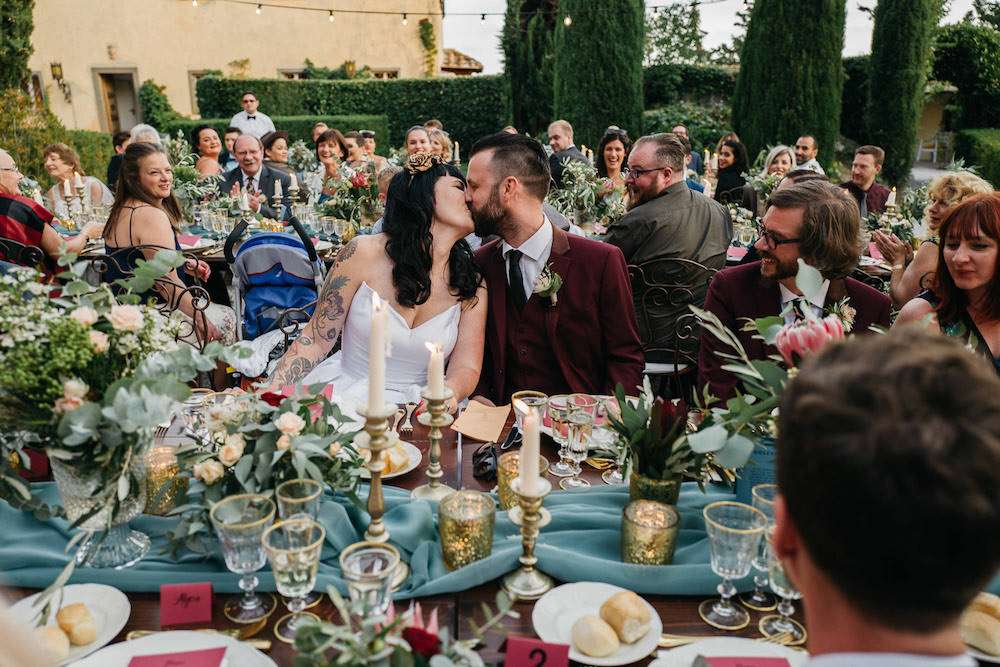 Honestly, it's my official recommendation to sit down with a cuppa – or a pierogi, a pizza and espresso, or an Anzac cookie, whatever floats your boat – and have a good scroll through the gallery from the fabulous Stefano Santucci below, because this wedding is honestly an absolute STUNNER.