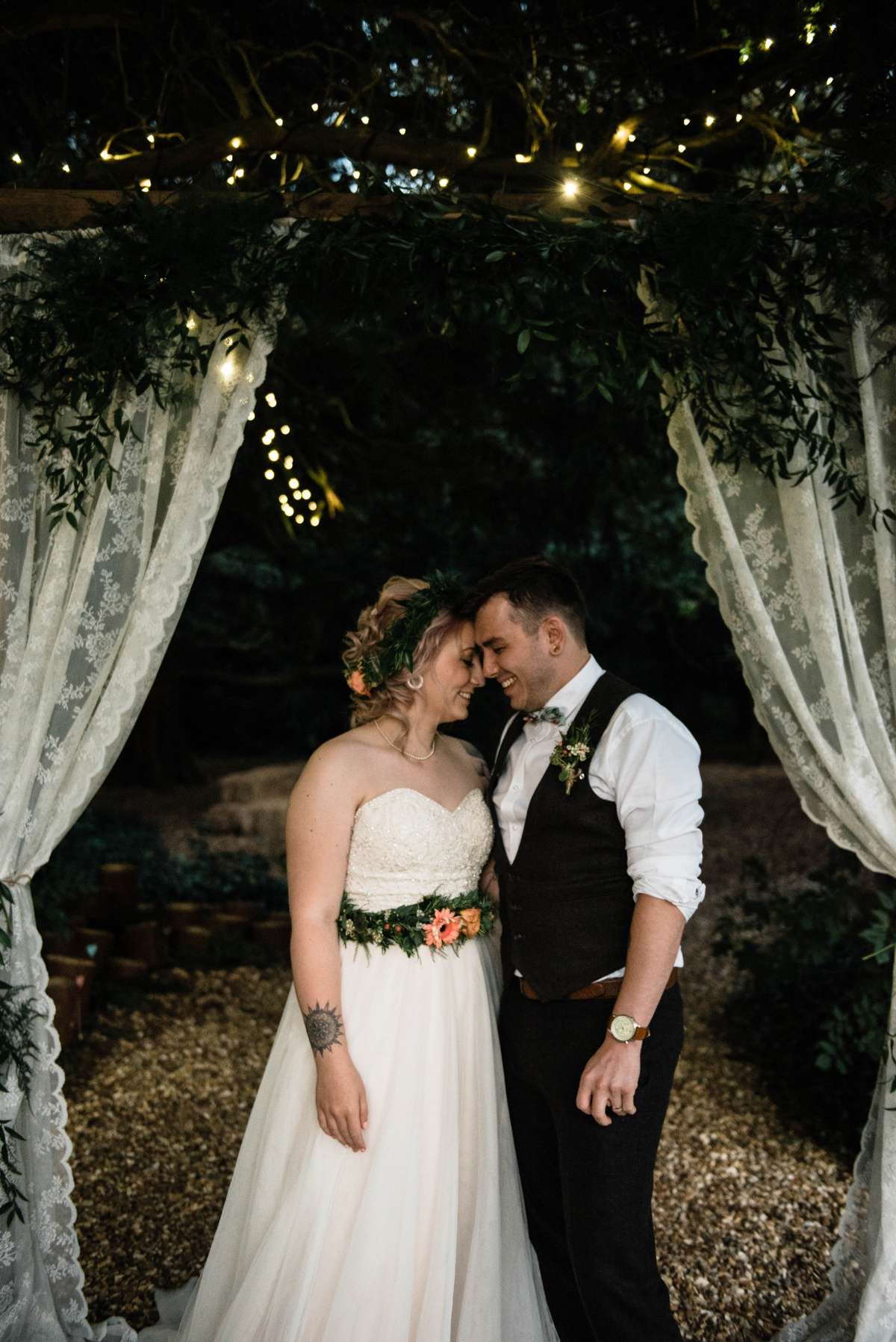 Sarah and Scott's September wedding was originally meant to be held completely outside in a beautiful hollow in the trees at Hirst Priory, amidst beautiful lighting and hay bails for everyone to sit on. However, thanks to the UK weather and its mischief, they had to rethink and bring the outdoors in for much of it, including the arch! But then check out those moody skies and try and tell me you don't love them. Do not fear the rain, people. It can never bring a good wedding day down.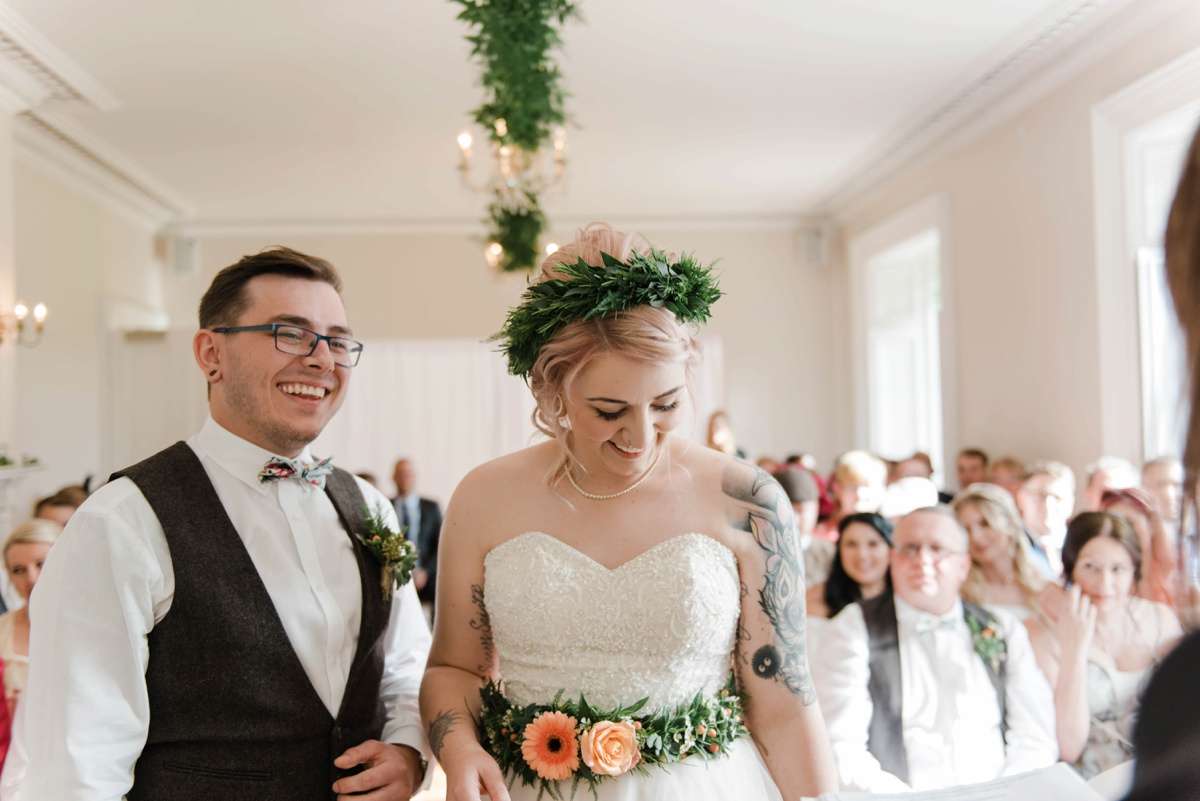 You also have to admire this couple's gung-ho attitude towards the budget. Sarah told us, "We didn't have one! We decided from the beginning that we would do everything the way we wanted to without worrying about the cost. We wanted beautiful quality and that is 100% what we got!" When we asked was there anything they really saved money on, the reply was "No haha!! The biggest expense of our day, apart from the venue and two dresses, were our flowers because I wanted (needed!!) so many, and let's face it they were so beautiful!" Yes, girl!!
Sarah, who got much of her inspiration from Pinterest, described their vibe as "Botanically rustic with a sparkly twist", and their day really was all about the florals with her flower belt, flower crown and amazing bouquets.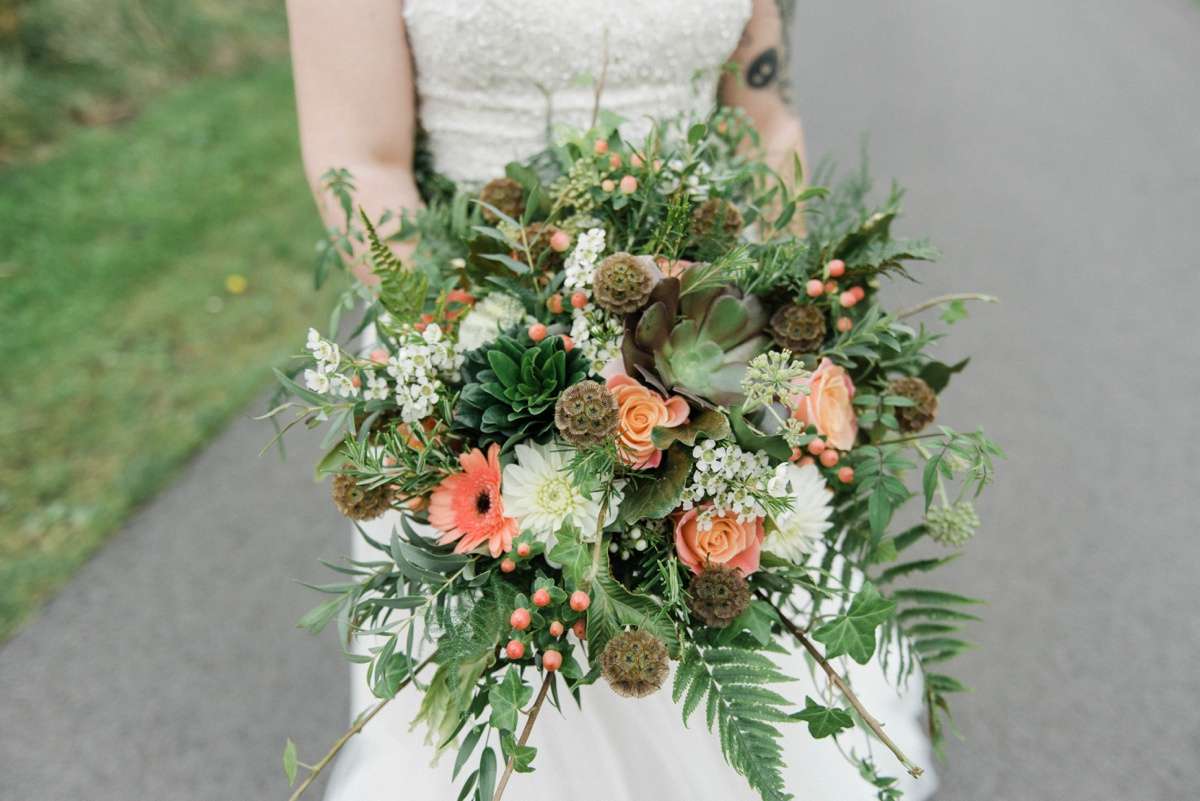 At the ceremony itself, Sarah said "I pulled the worst 'don't cry, don't cry' face walking towards my groom and my dad just laughed at me! And Scott and I read each other the poem May Our Friendship Last Forever."
When a dress is the one, it's the one, as Sarah found out. "My dress was from Elite Bridal in Castleford. I'd bought a previous one around 18 months before the wedding, then changed my mind four weeks before the big day and bought my perfect blush dress! I wound Scott up the whole engagement that I would wear a pink dress, and then I kind of did!" She wore two pairs of shoes: a heeled Care Bear pair from Iron Fist and slippers from ASOS. Her pearls were extra special as they'd belonged to her late great Auntie Grace. Sarah's gorgeous up-do was created by Hair By Kirby Blythe, while Halo By Hazel did her make-up. FYI this is the same Hazel who also runs the venue, so clearly a wedding dynamo! The whole outfit was topped off by a stunning fresh flower and greenery headpiece from florist Sarah Wyatt of Treasured Bouquets.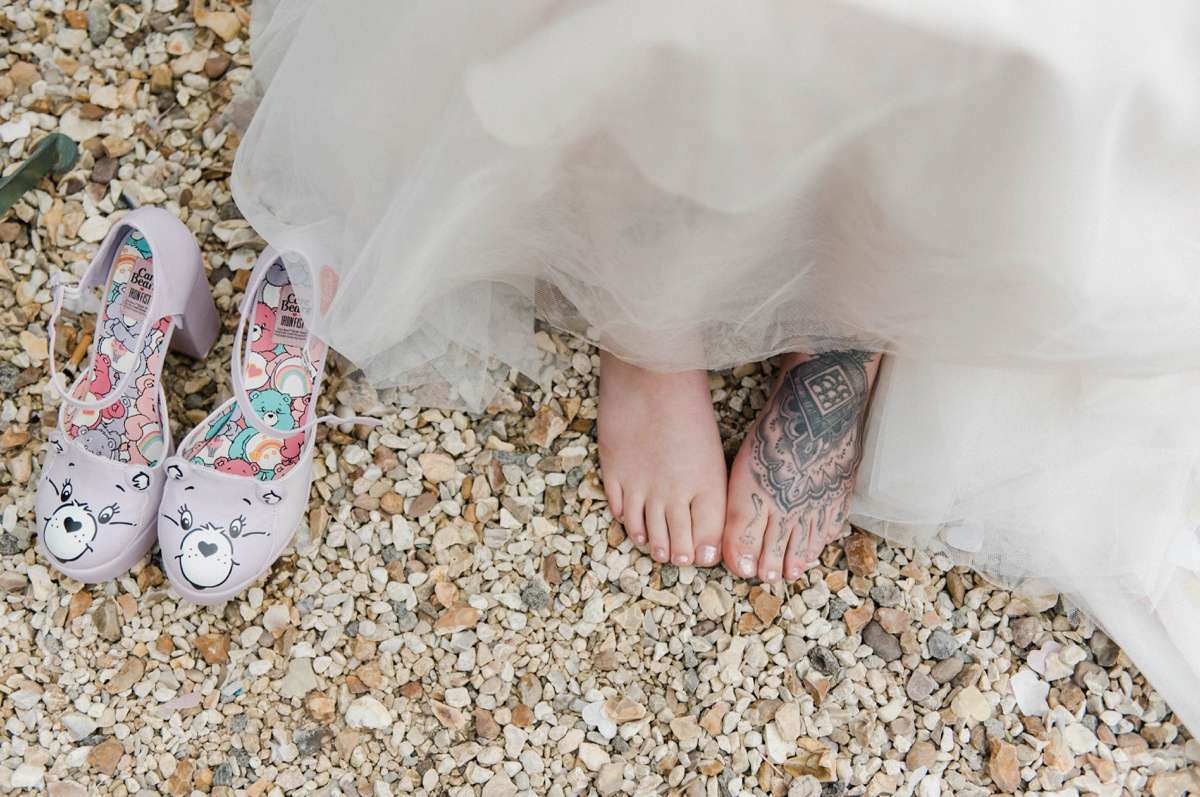 Scott's outfit was all about the high street, with his suit from ASOS and shoes from River Island. The bridesmaids wore boohoo skirts and tops with their own shoes and bags.
Sarah did just a little bit of DIY for the favours – little mason jars filled with home made chocolate fudge and a little sparkly spoon.
Food came in the form of traditional baked pizzas from Mr and Mrs Pickwicks, with the couple even hopping up into the van to whirl some dough themselves!  Sarah said they've since stalked them to their pop-up pizza nights to eat more, they were so good!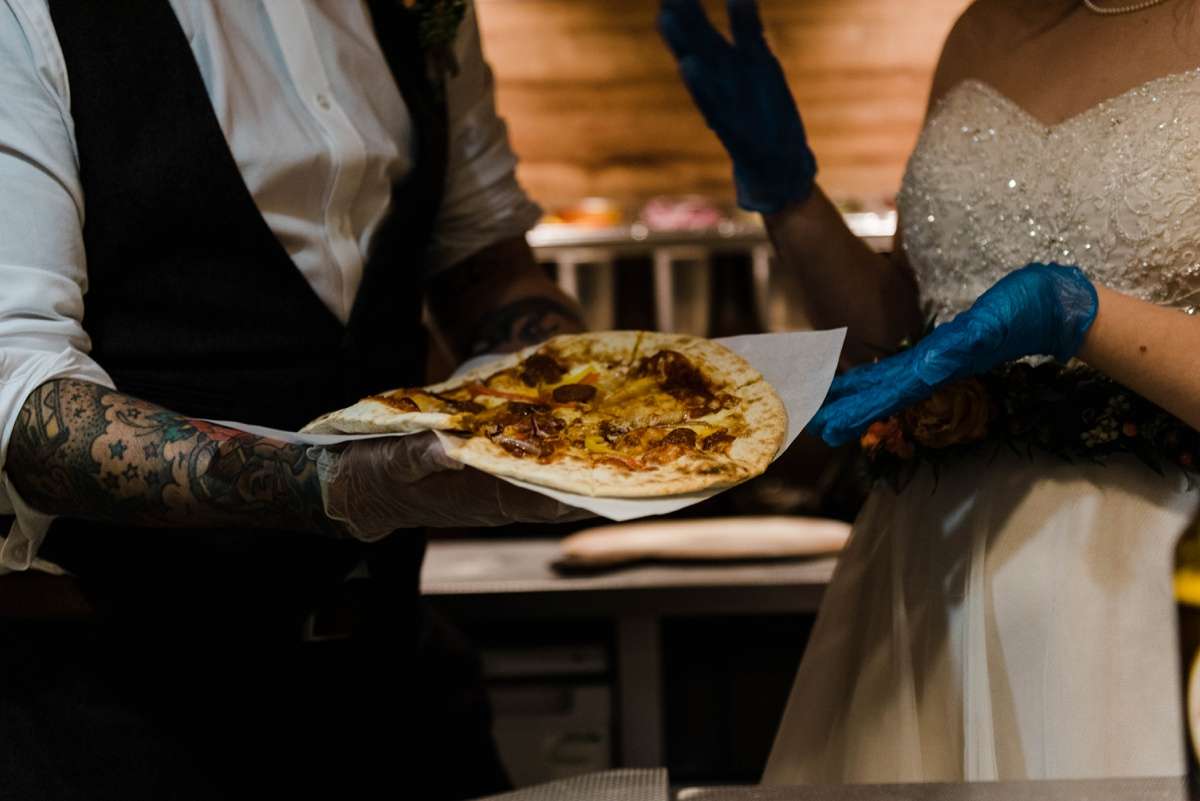 One of their fondest memories of the day was the amazing best man's speech. Sarah said, "Everyone was in tears! Especially my brother when he so lovingly reminded him that one of his mates got with his baby sister!"
They had all the musical entertainment with both a band, The Song Smith (who was not only their 'Last minute angel', getting back to them after a cancellation, but also with singer Brett singing their first dance song), and later on DJ Groove Disco filling up the dance floor.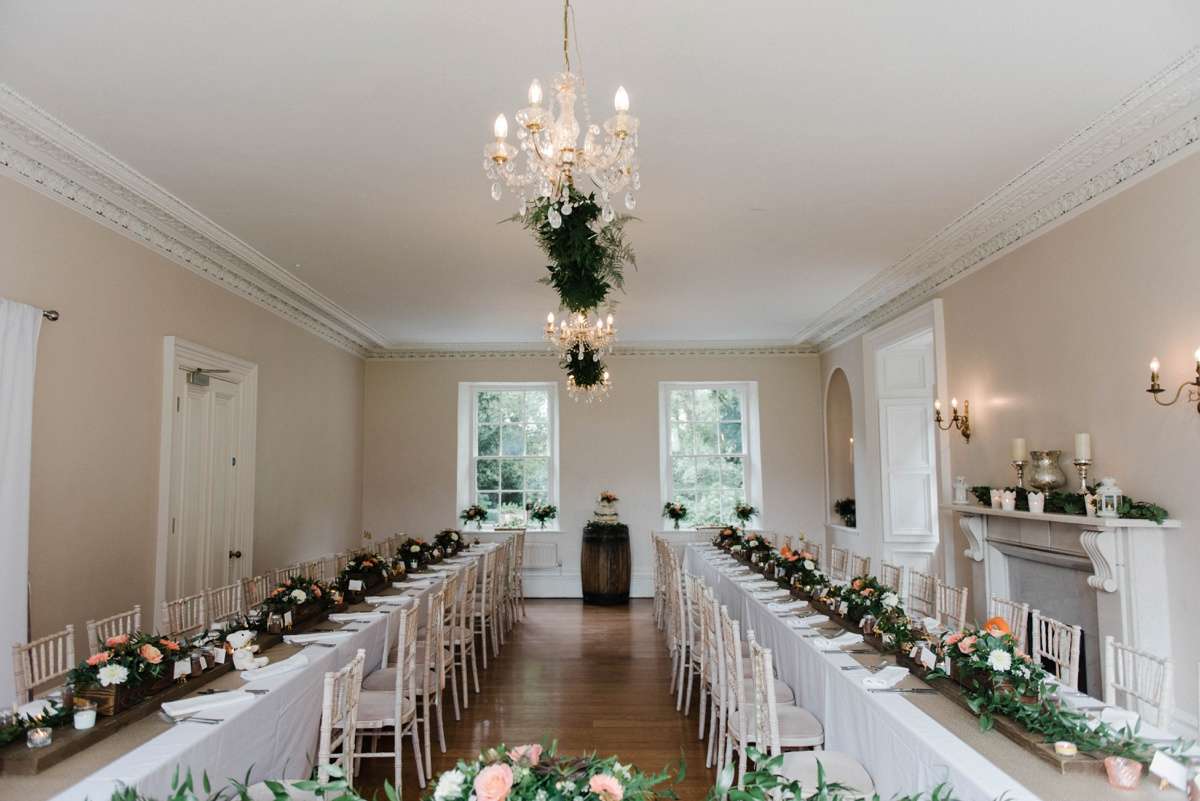 Sarah said her favourite part of the wedding was "Actually marrying my husband! I loved the whole day, it was amazing, but in the midst of the fun I actually married my soul mate!"
Regarding starting her wedding planning, Sarah said "I wish there was a list out there somewhere with everything on it! I was so worried I would forget something!"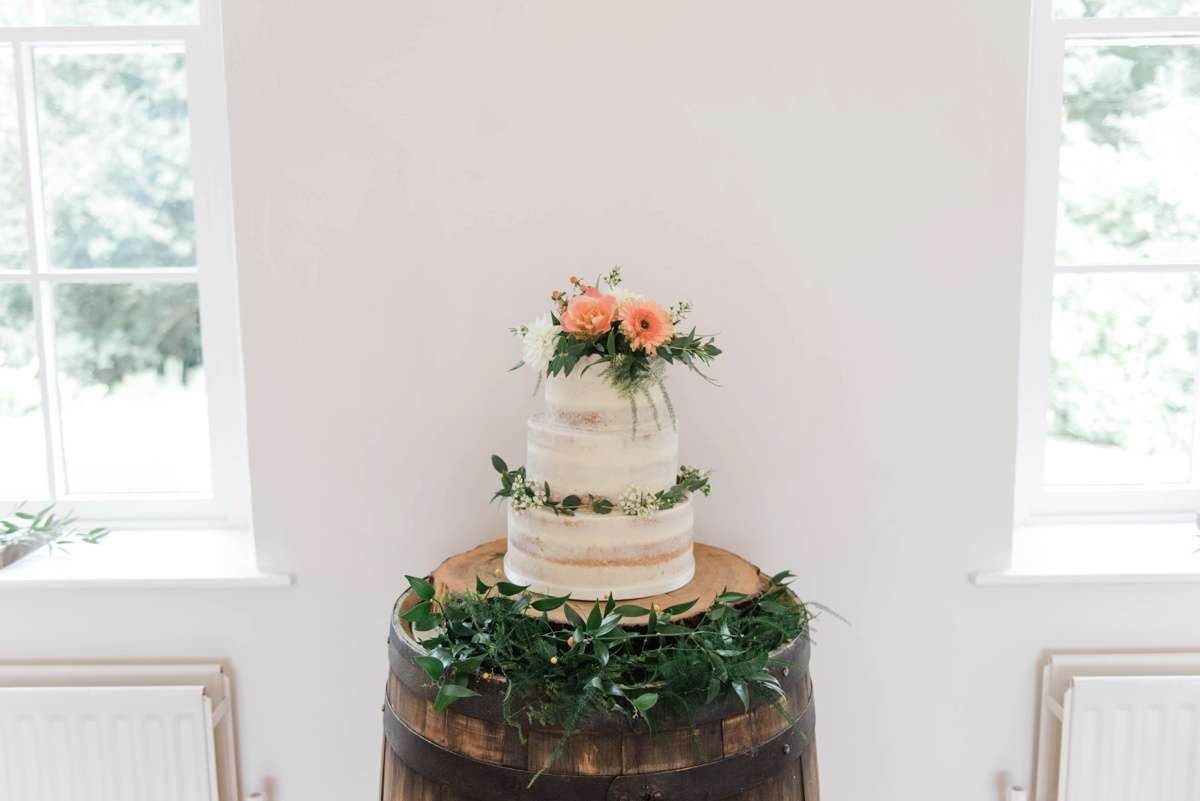 But she did love every second of planning, saying, "I think the best part was meeting with everyone involved and dreaming in the early days of how it would be! And the end result surpassed my dreams! The worst thing was people who try to dictate your day. We didn't let them! It was for me and Scott and our baby Hendrix! There's honestly not a thing we would have done differently."
Sarah's advice is to "Give yourselves time, don't rush and don't compromise. It's your day, for you as a couple/family. No one else! Do as you want and make sure it's perfectly you."