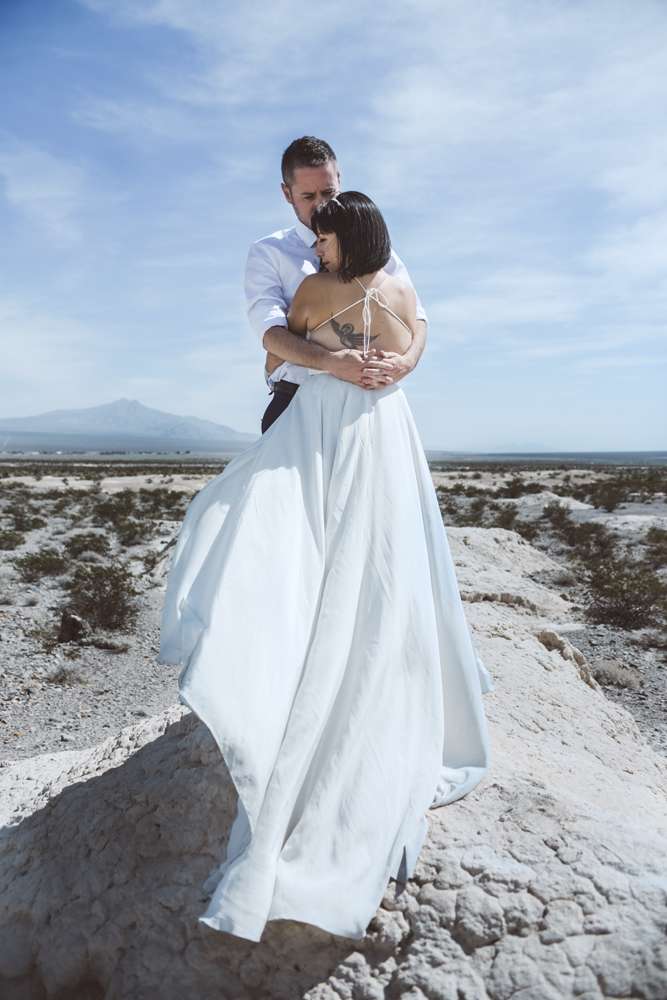 Charlotte and Ben's first attempt at planning their wedding ended up being an exercise in pleasing other people, which didn't work out as you can't ever keep everyone happy. Sadly, they decided to cancel the wedding. However, not to be defeated, they gave it a second bash, and this time jetted off to Las Vegas with their closest family. The bride said, "It was a tough call, but ultimately the right decision. And this time around, we just did whatever we wanted. No overthinking or worrying about other people's opinions. Our true inspiration was to get away from the stress of reality! Where better than Las Vegas!" Add in an Elvis officiant in a gold jacket, and I say where better indeed!?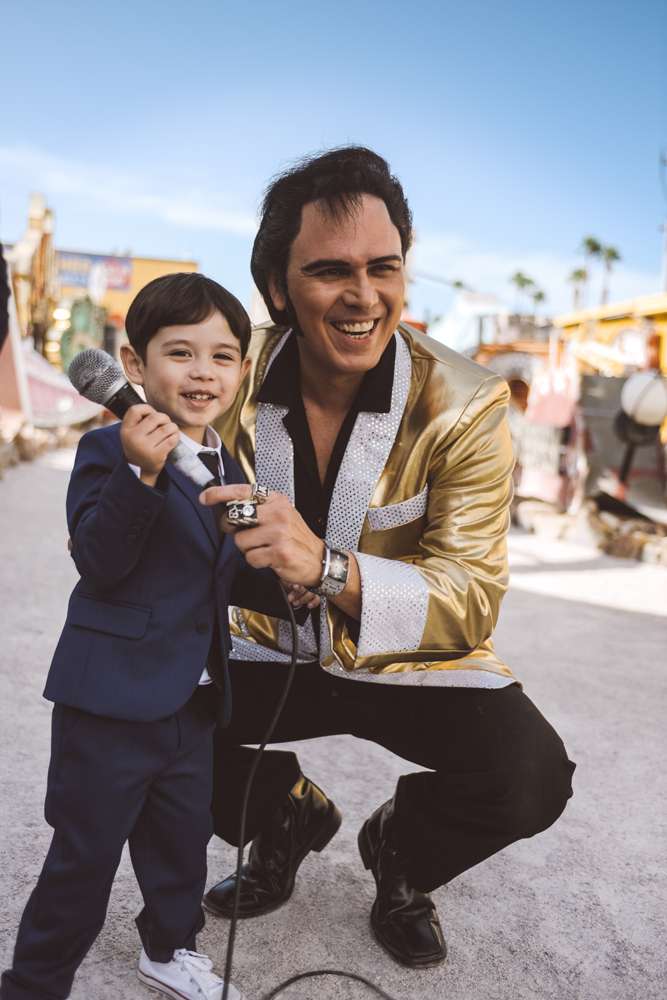 Their intimate ceremony was at the Neon Museum's Boneyard: Where Las Vegas's historical neon signs are rescued and restored. Charlotte said, "It was just a small group – my mum, her partner, our two children and us. We were given the main boneyard in the Neon Museum because the North Gallery, which is the usual wedding venue, was under renovation and the work had overrun. Worked out well, as I loved the Moulin Rouge converted 'In Love' sign. It was the perfect backdrop for our ceremony."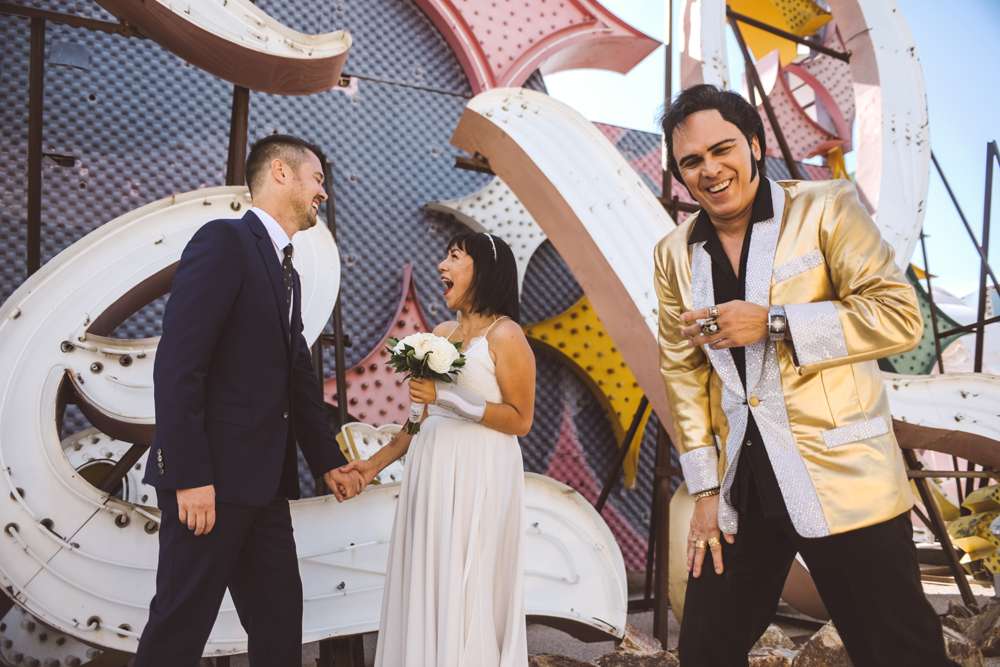 Being in Vegas, it was obviously going to be Elvis officiating! "He was brilliant!" Charlotte said. "Our son has a severe speech and language disorder, but he is already a performer in his own right. Frankie (Elvis) didn't really stand a chance once he handed the mic over to Stirling. They were grooving and jamming together through the whole ceremony. To any outsider it would have looked totally disorganised, but to us it was a beautiful sort of a chaos."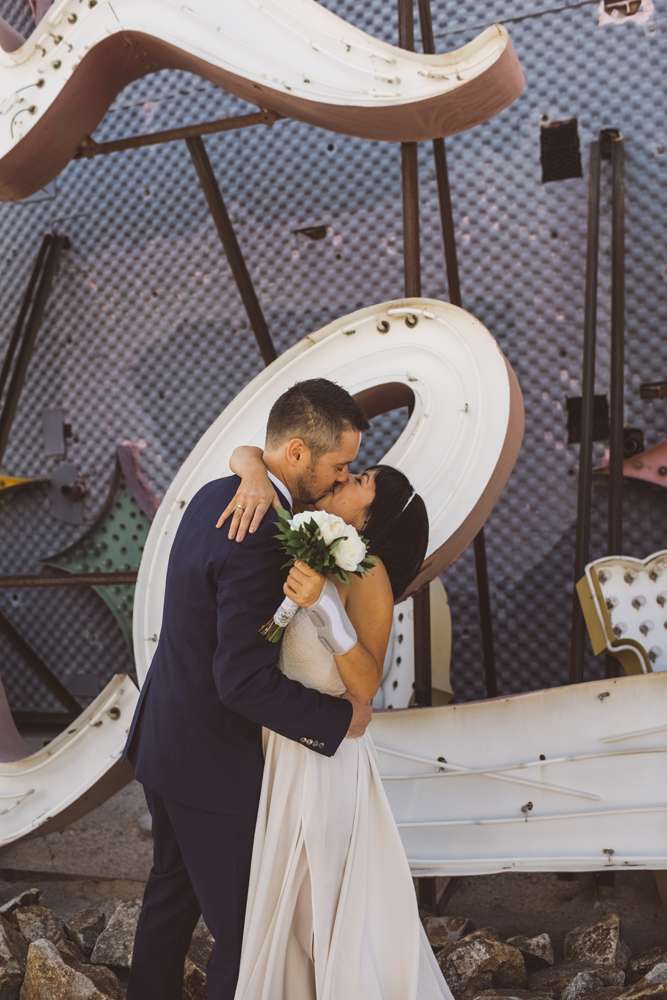 The bride brought some serious Brighton cool to Vegas, wearing the MacKenzie dress by Rue De Seine from Brighton stockist Leonie Claire, shoes from Office, headband by Luna Bea, necklace from Accessorize, and ring from Baroque. The groom also brought his 'A-game' in an Alexander McQueen suit and his ring also from Baroque. The couple's children made the cutest bridesmaid and page boy, with Eden in Angel's Face, and Stirling in Paul Smith.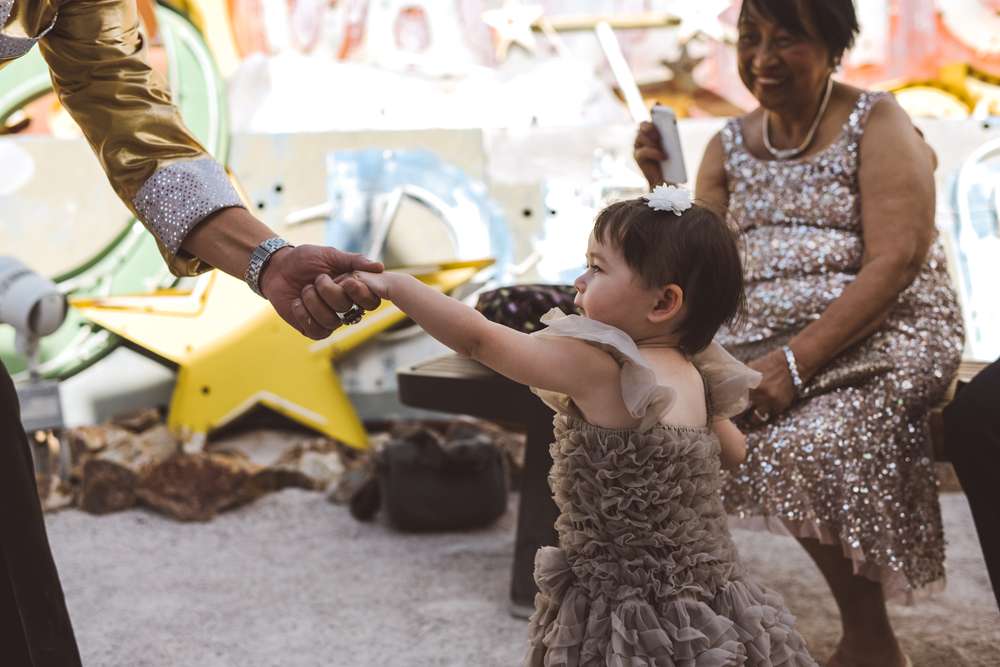 "We didn't really have a theme, more an attitude: Eclectic and 'what you love'. We just wanted everyone to feel comfortable and to have fun! It was a bit of a free-for-all. My mother is from the Philippines, so her partner showed his love by wearing a Barong Tagalog, which is the traditional dress shirt men wear to special occasions. And it was nice to have a nod to my heritage. My mother loves the twenties, so she chose a flapper influenced outfit. My daughter loves to dance, so she had a tutu style dress. My son loves music and copying his dad (who also plays bass and is a huge music lover), so they went for the mod look. And I just wanted to show I was a strong, powerful mother who hasn't lost her edge."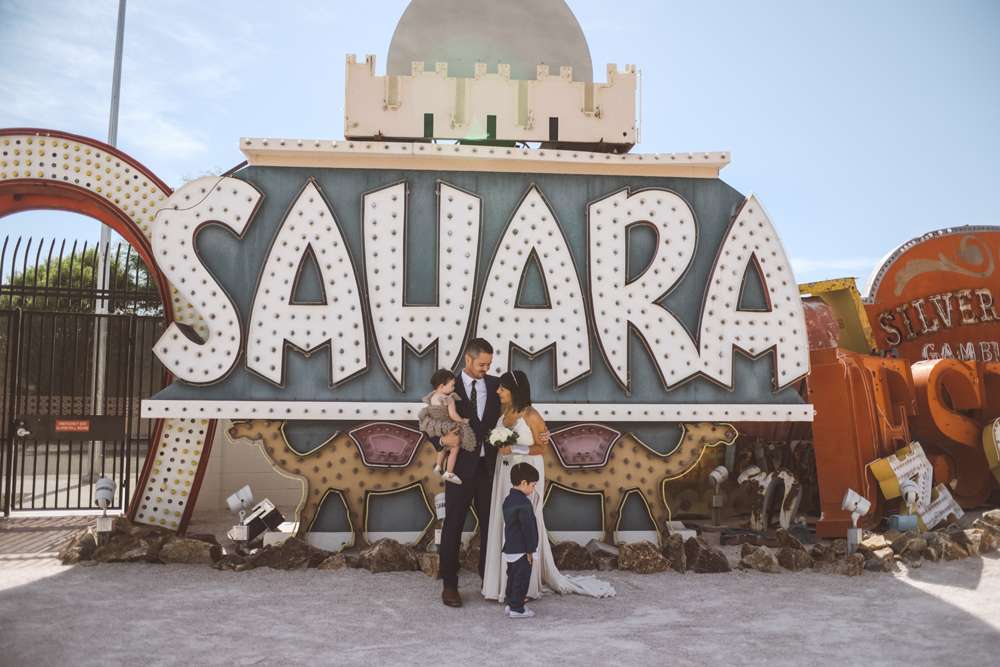 The couple saved money by getting married in September, as it meant that they could raid the summer sales beforehand. "Pretty much everything we and the kids wore was on sale, apart from the rings."
Photographer Ashley Marie Myers documented their big day. The bride said, "Our brief was that we were up for anything, and she was so much fun to be around, it felt like an old friend photographing us." There was a funny moment when that brief was more than met, the bride explained: "Ashley spotted some white hills in the desert, which she said would look cool to photograph. As Ben and I started climbing up it, I noticed the hill was more of a crumbly construction made by goodness knows what! Pretty sure it was a giant termite mound. I was praying that the ground didn't collapse under me. I don't too well with creepy crawlies at the best of times! Not your run-of-the-mill wedding photos, but hell, we were in Vegas! Anything goes, right??"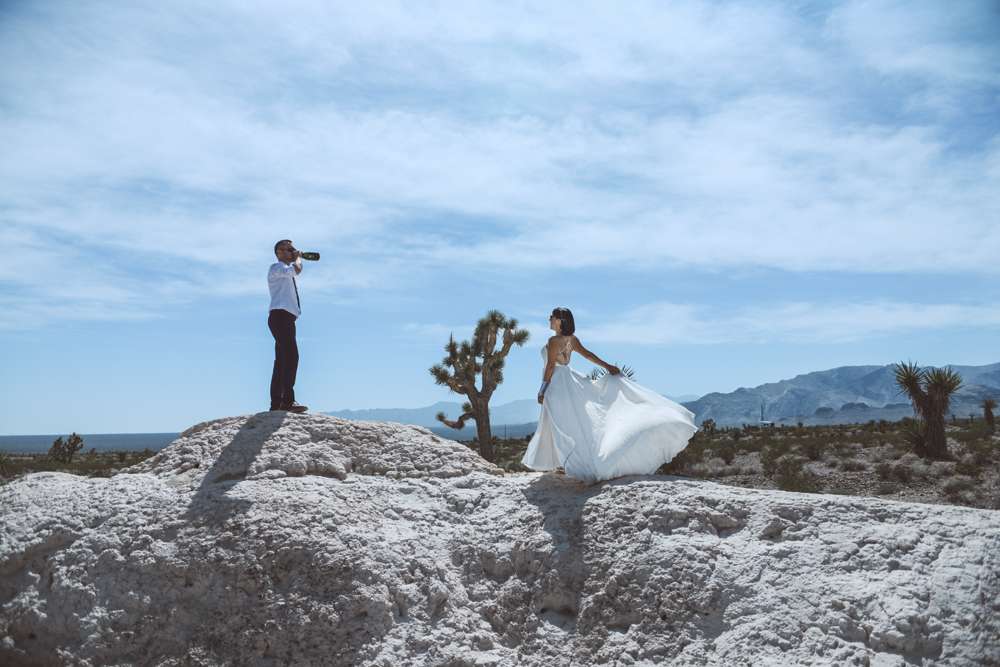 However disaster struck two weeks before they were due to fly out, with the bride breaking her wrist. "I was on my way to my final dress fitting, when I slipped and landed on my hand that was pulling the wheelie case. I must have been in shock because after I got up I called Ben to tell him I broke my wrist, but I was just going to hold it together with my other hand until my appointment was done. I didn't even make it across the road before I nearly passed out. Suffice to say I didn't make my appointment (but I did leave a garbled, delirious message on Leonie's answer machine – sorry, Leonie!). The NHS were fantastic. As soon as they heard I was getting married in Vegas, without asking, they squeezed in appointments for me to be assessed, and even booked me in to get the cast cut off a few days before flying so I could wear a splint instead. Everyone was so excited about it all, and the nurse even said my notes were more about the wedding than my break! Haha! For something that could have had a really negative impact on our plans, it made things even more special and memorable."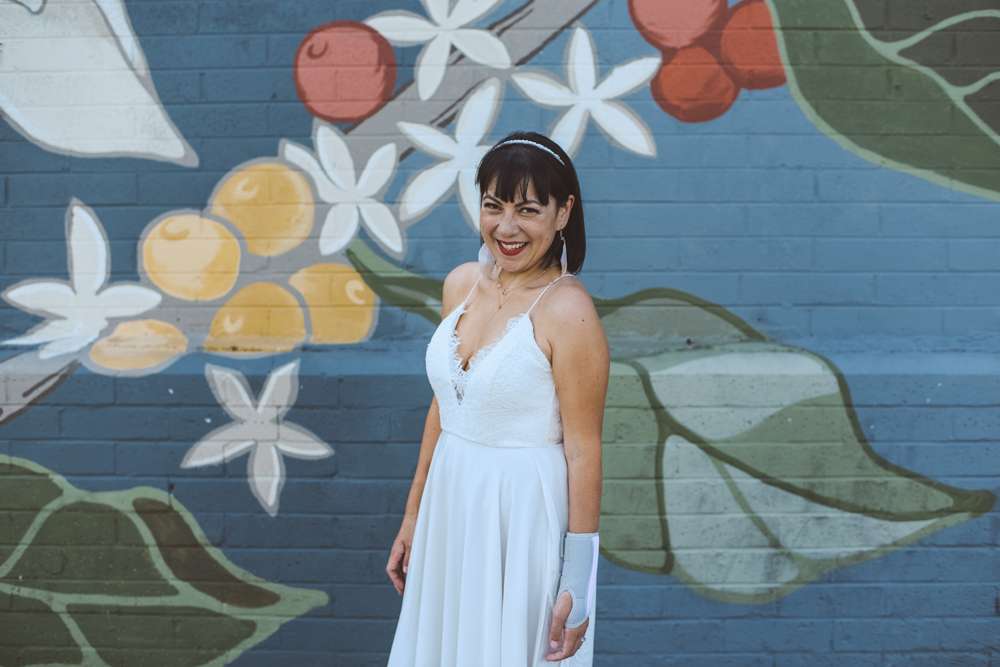 Charlotte's favourite part of the day was, "Definitely the ceremony. We've already been together for six years and had two children, so it meant so much to do something that signified us as a family. I also loved that everything was so spontaneous and free. We laughed most of the way through the ceremony. By the time we were pronounced husband and wife, we'd already kissed about five times! Oops. We're so crap at doing things by numbers so why change now?"
The one thing they wish they'd known about planning a wedding was, "Don't sweat the small things… You can't plan for every eventuality. Have one goal, and that is to say your vows to each other. Once you have that as your focus, the other details shouldn't matter so much, and you'll be able to take any problem that comes up in your stride. Most importantly, do what makes you happy!"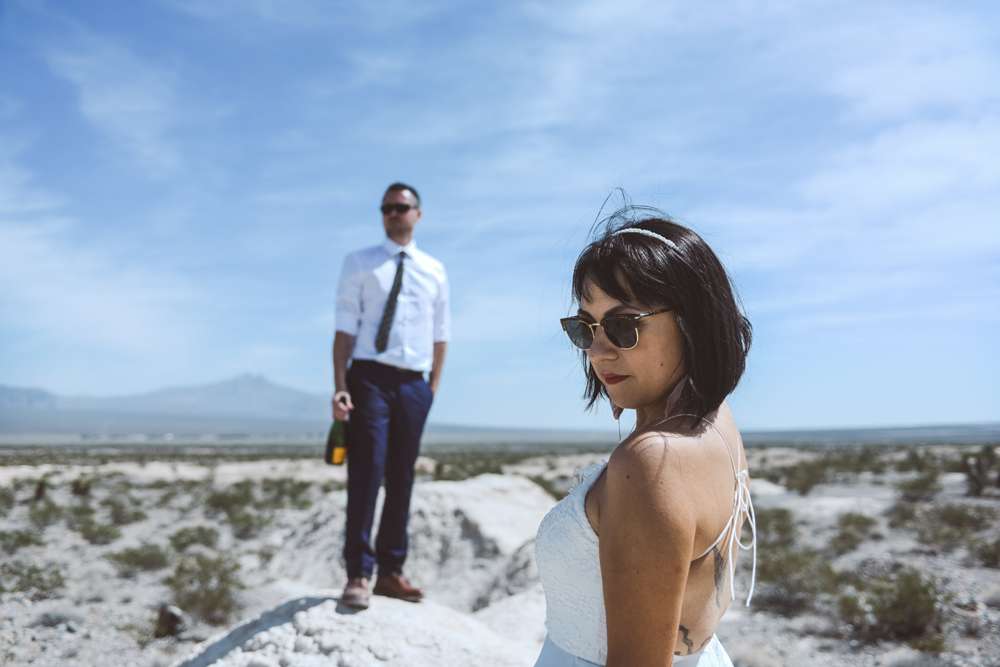 The worst thing about planning, for Charlotte, was "Getting sucked into the small details. I would obsess over things like minute accessory details and stare at the internet for ages, scrolling without blinking. I also tried to avoid looking at your standard bridal magazines, as it's so easy to fall into the princess bride trap. You end up wanting things that just don't suit your personality. Breaking my wrist turned out to be a blessing in disguise. I didn't have the time or physical ability to faff over little details anymore… I had a very visible splint on my left hand, so any idea of perfection was out the window. I had to even borrow a larger wedding ring as my fingers were so swollen. Luckily, our jewellers, Baroque, lent me an exact replica of my ring to take with us. Love those guys! It turned out that my wrist was so bad, I couldn't even turn it to place the ring on the day, so we had to quickly switch hands and do the exchange on the right hand. So in retrospect, was there anything I would have done differently? I wouldn't have broken my wrist, that's for sure!"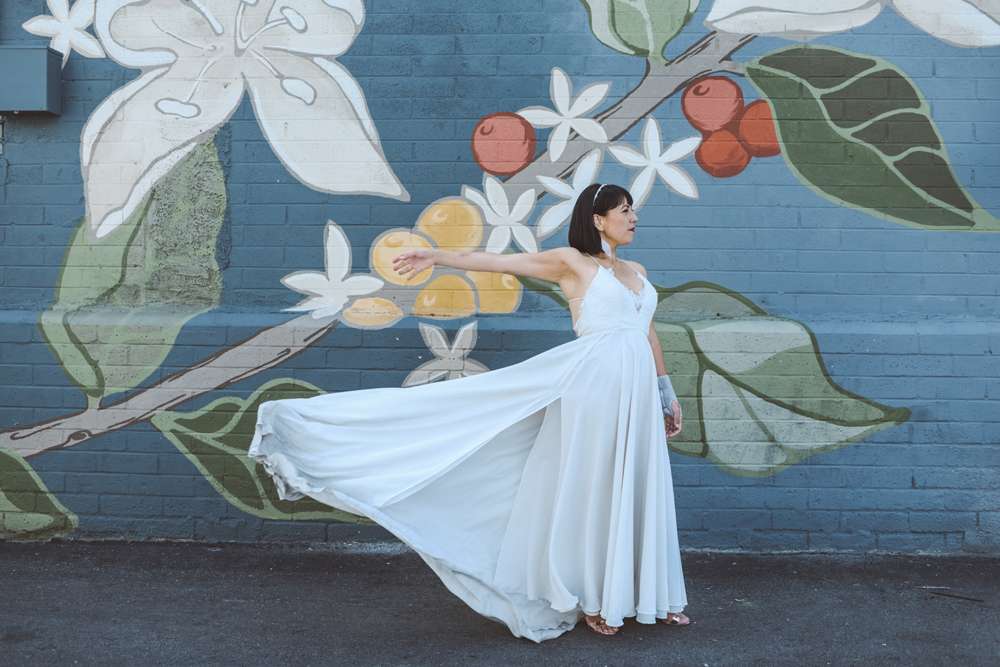 Charlotte had this advice to offer future brides and grooms: "You are getting married to share a bond between the two of you… no one else should interfere with or ruin that. I can't imagine stressing over RSVPs and 'plus ones' from people I haven't seen in the last five years. Don't get married just because you want a big party or to impress other people. You'll never please everyone, so just do what makes you happy." She added that, "If it weren't for Rock n Roll Bride, I would never have had the confidence to do what we did. It's so important to be true to yourself and not try and achieve someone else's idea of perfection. My biggest learning is that imperfection is far more beautiful and interesting in the long run."