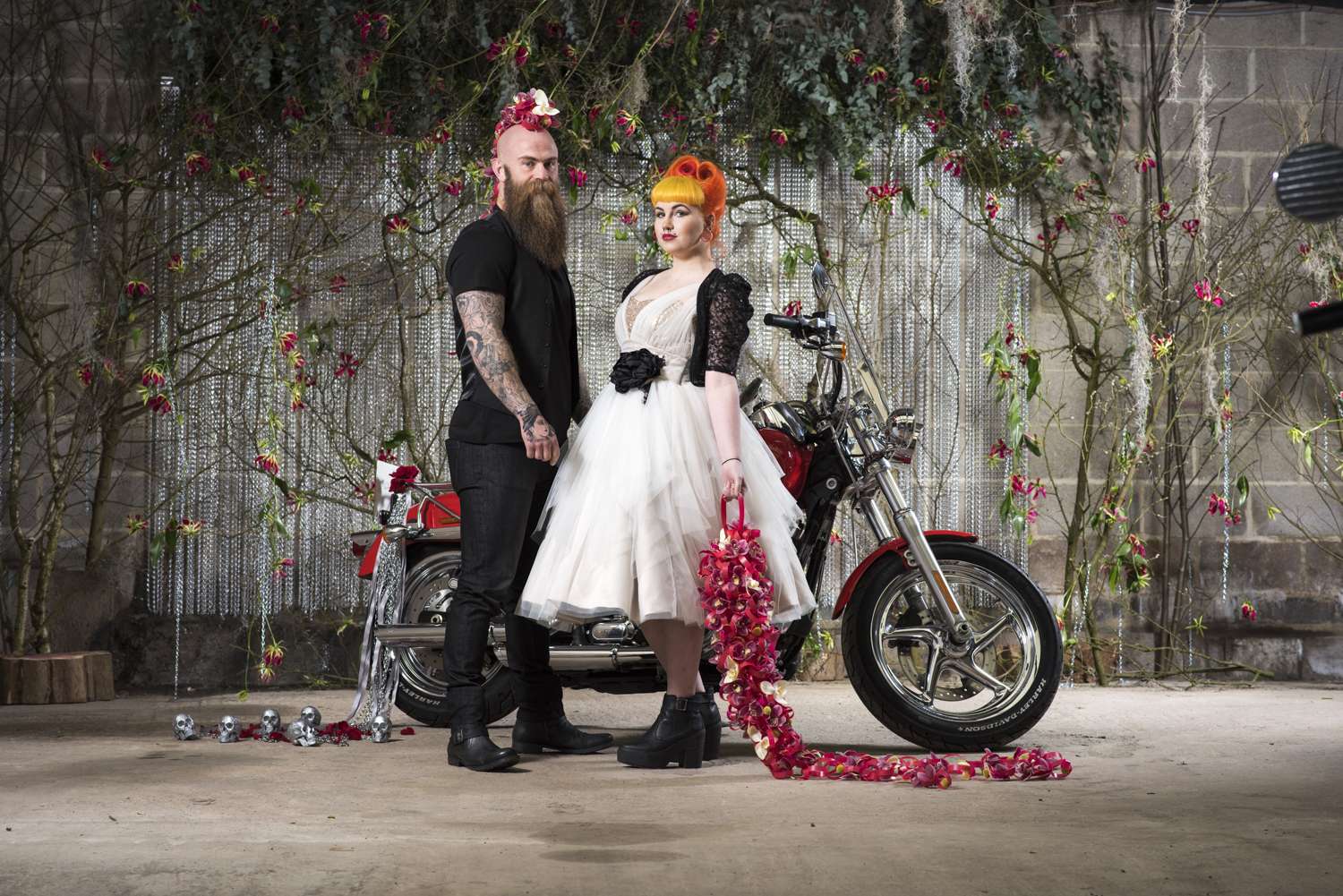 Roses, Gypsophila and Peonies are all gorgeous, but if you want to make a real statement with your wedding flowers its time to look outside of the obvious choices and inject your personality into the proceedings. Luckily, the team at Paragon Floral Design are here today to show you exactly how to do this!
"Your flowers can truly be designed about you as a couple", they explain. "Our passion is to use them in unique ways, either by the way you hold them or by creating structures. There are so many cool and unusual things you can do with flowers and today we want to show you how!"
Paragon Floral Design pulled together this biker shoot exclusively for Rock n Roll Bride to show some of their more 'out there' ideas. Over to co-founders, Kate and Lisa.
Floral Backdrops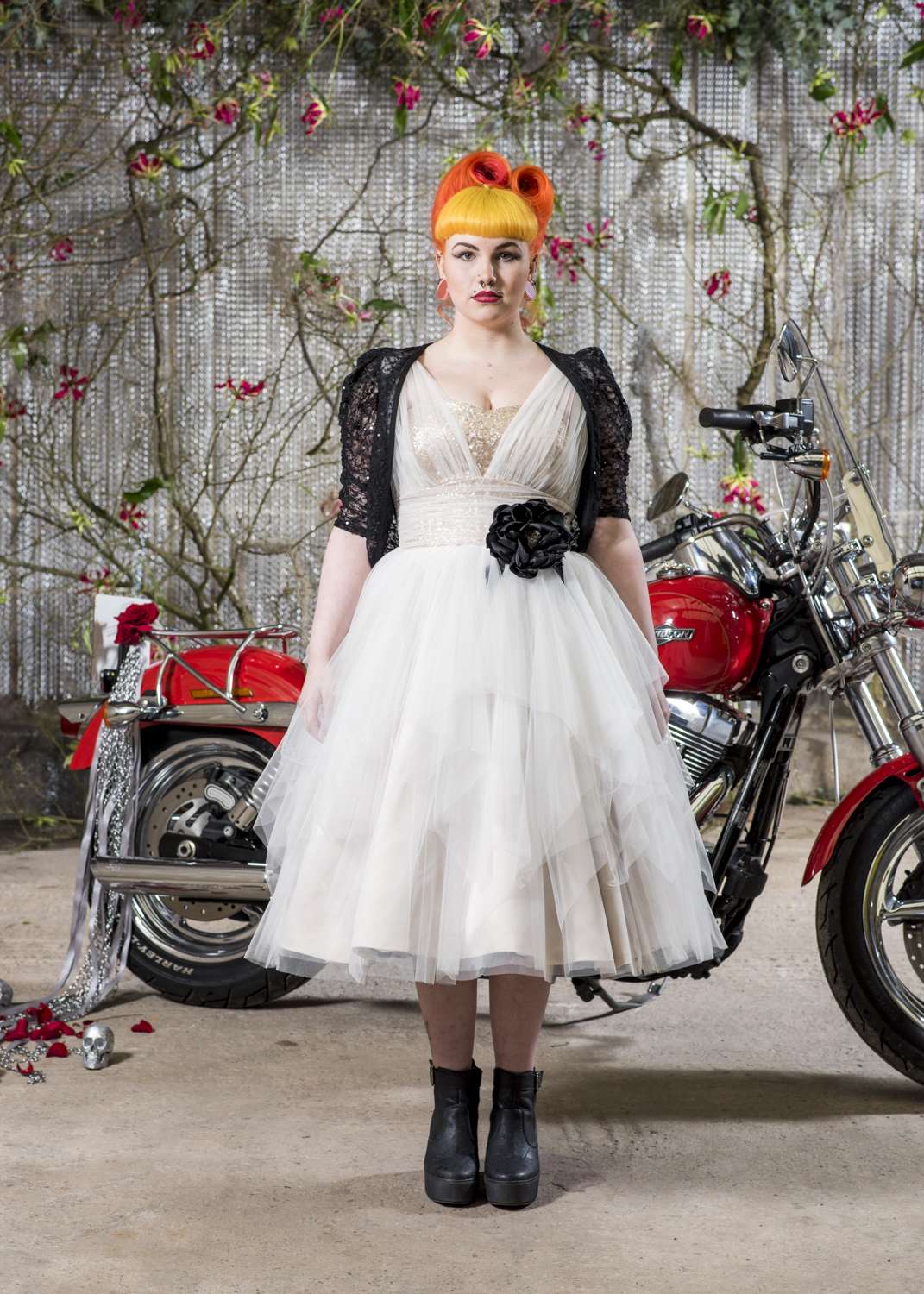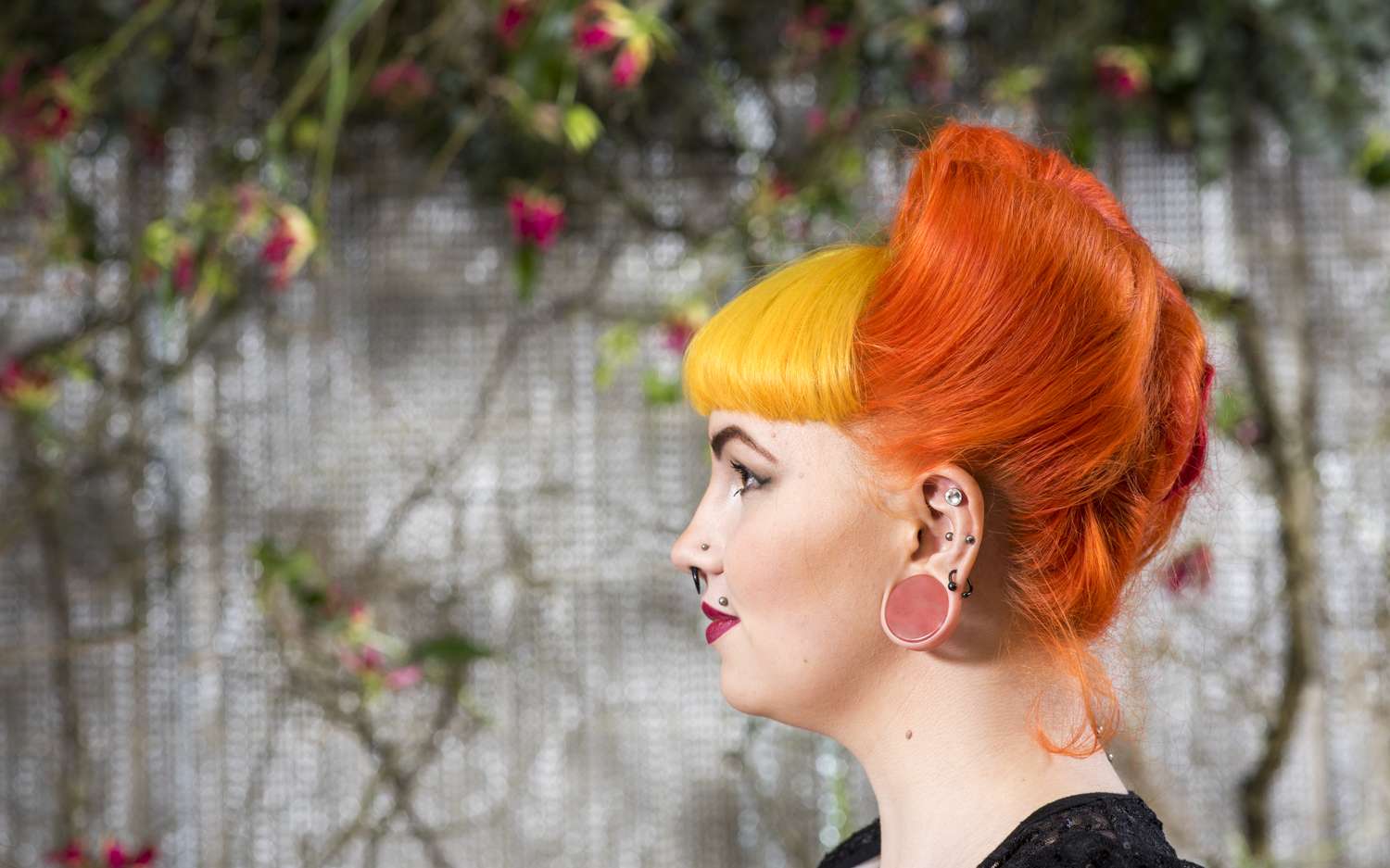 Creating backdrops is becoming very popular and many couples have them to stand in front of for their ceremony, or as photo booth backgrounds. If you want to make yours really stand out then use flowers!
We used branches and many metres of chain with fantastically pink Gloriosa, to add drama. We also used Tillandsia Moss commonly known as 'old man's beard'! We added metallic gold and copper spray to the moss to contrast with the chains.
Unique Bouquets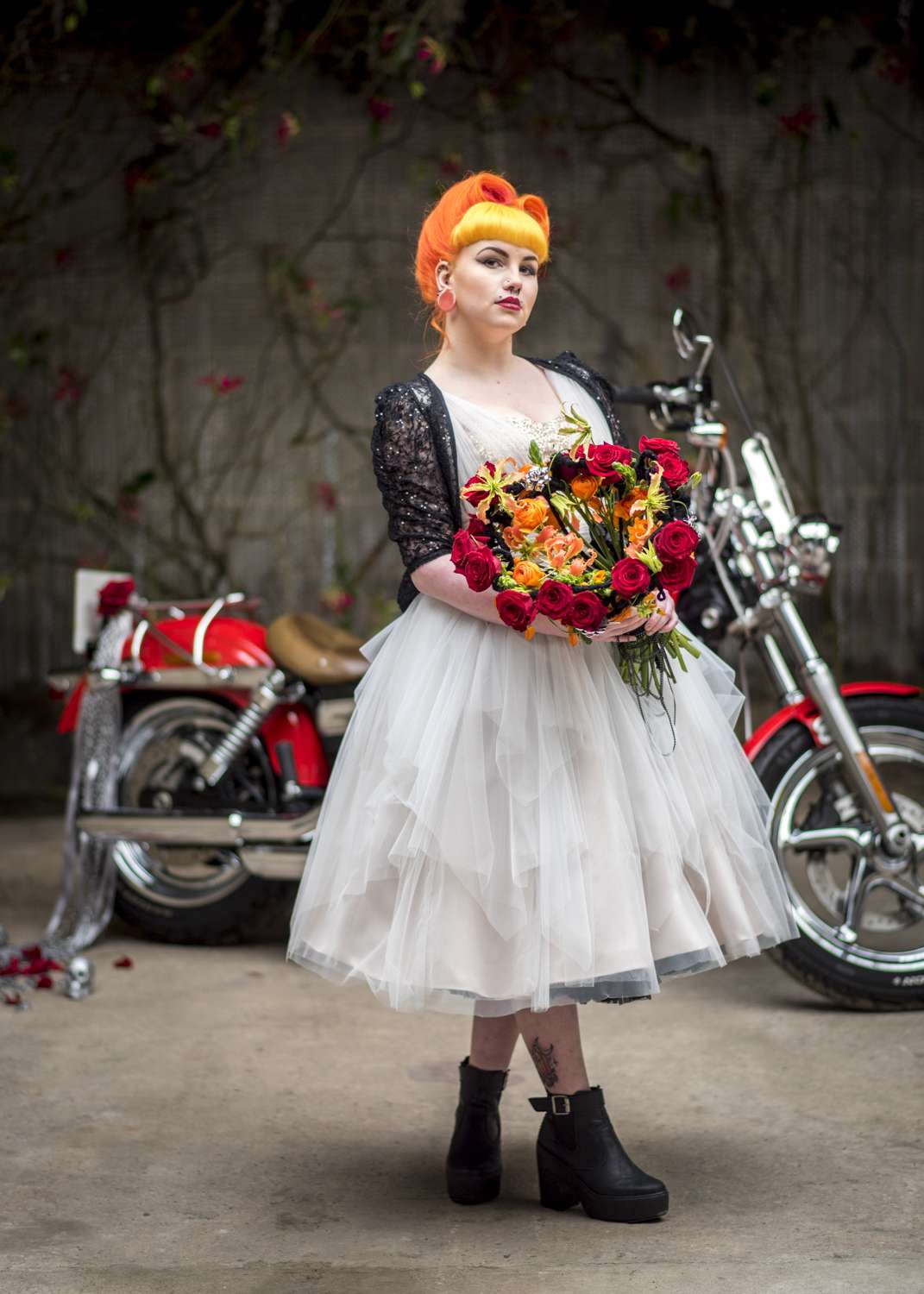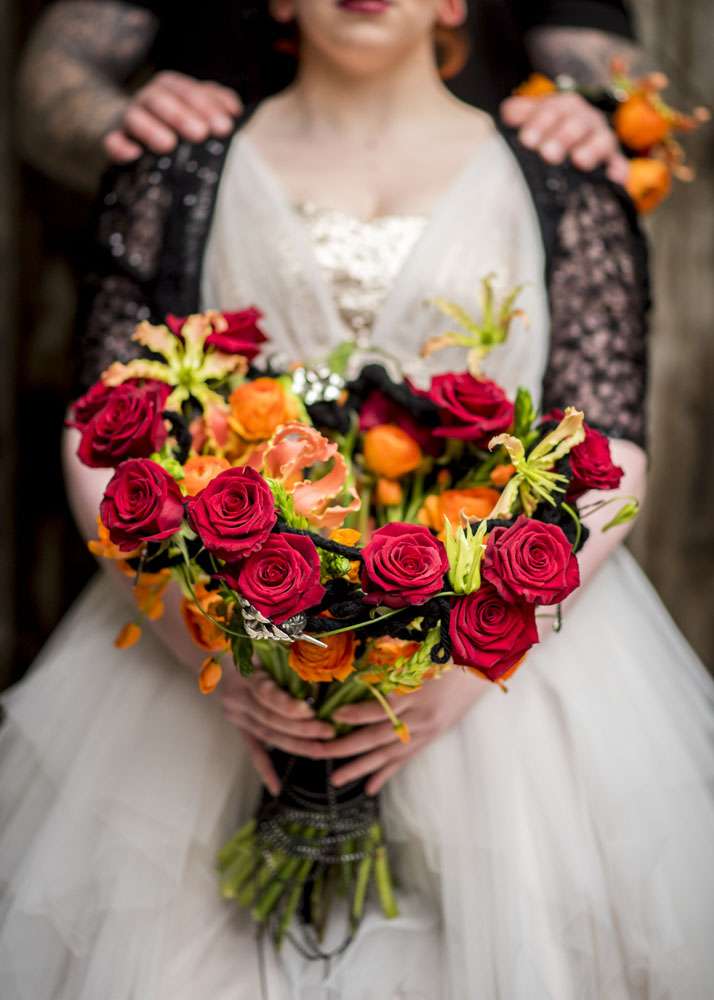 As a different take on the traditional hand-tied bouquet, how about having something open and round? Using the flowers around the edge of a frame exposes the stems and creates space, highlighting each stem. Adding in charms and black chains adds some extra detail too.
We used red Roses, Gloriosa, Ranunculus and Ornithogalums. The final result is so vibrant and would look incredible if you have coloured hair like our model!
Cuffs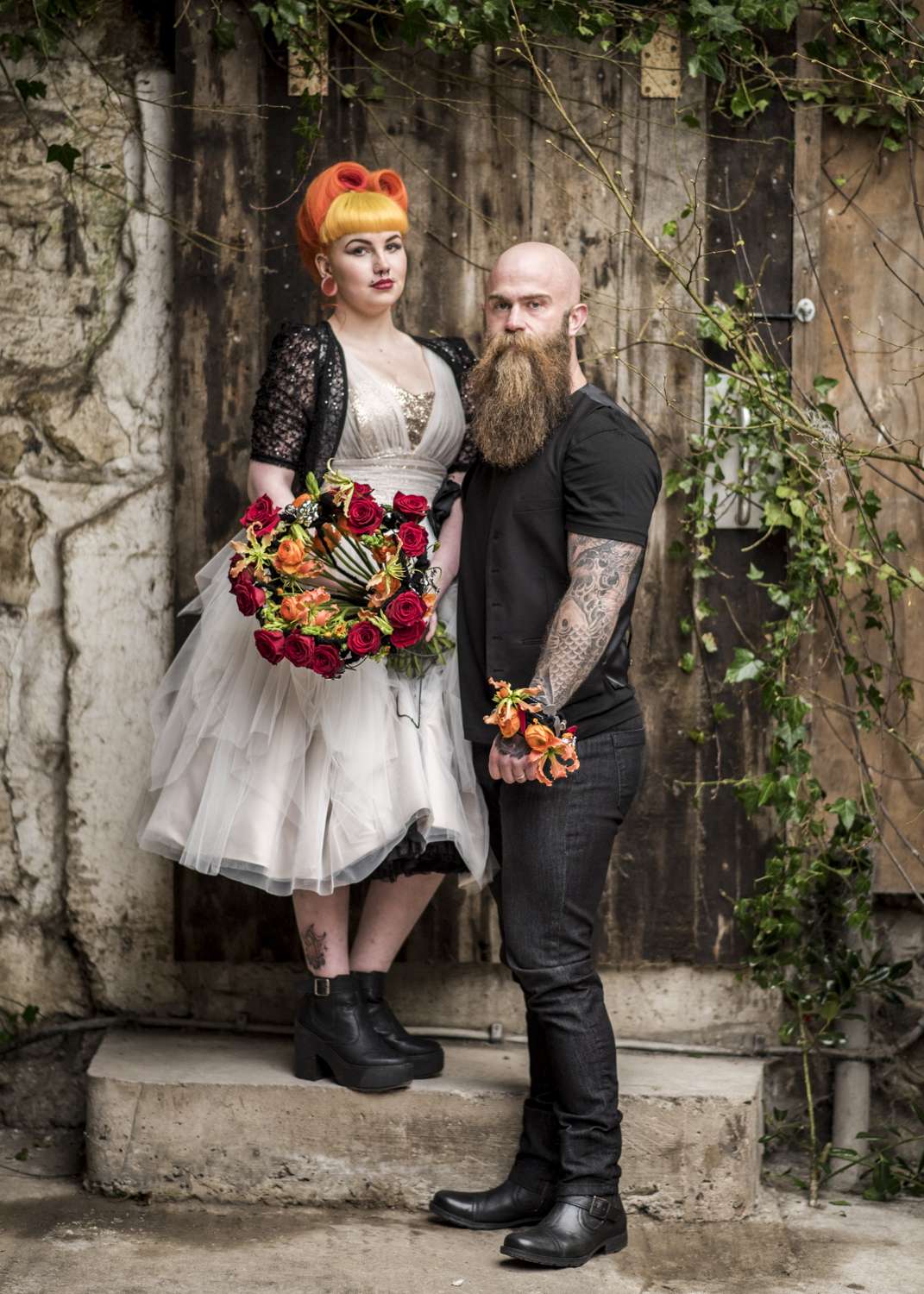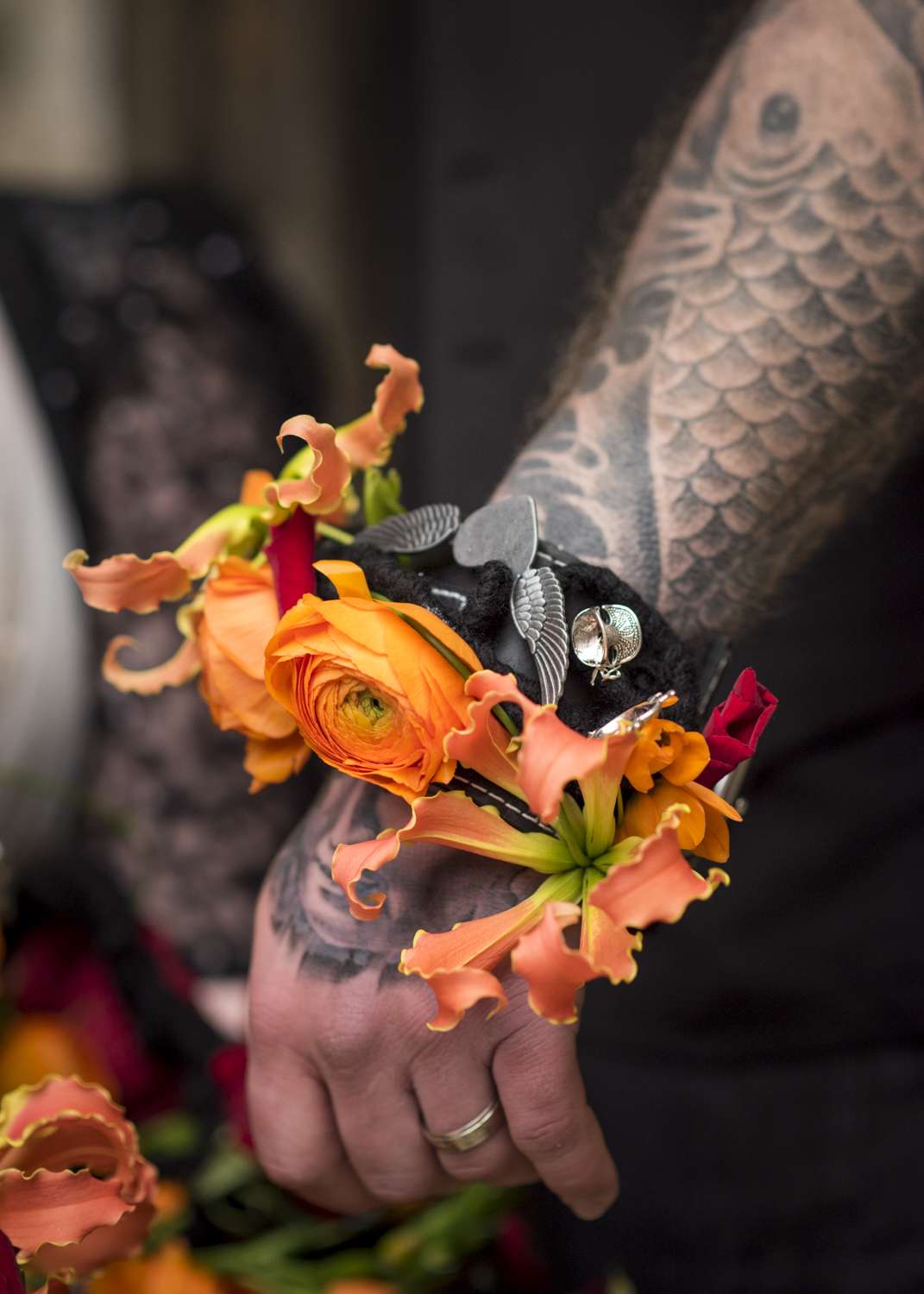 Instead of a buttonhole, how about having your man wear a floral cuff? More men are not afraid to use bracelets in everyday fashion so why not on their wedding day? We wanted to breakaway from the traditional buttonhole and with all the hugging at a wedding, a buttonhole tends to get pretty smushed up, so it's worthwhile thinking of variations that suit you.
The Jellyfish Bouquet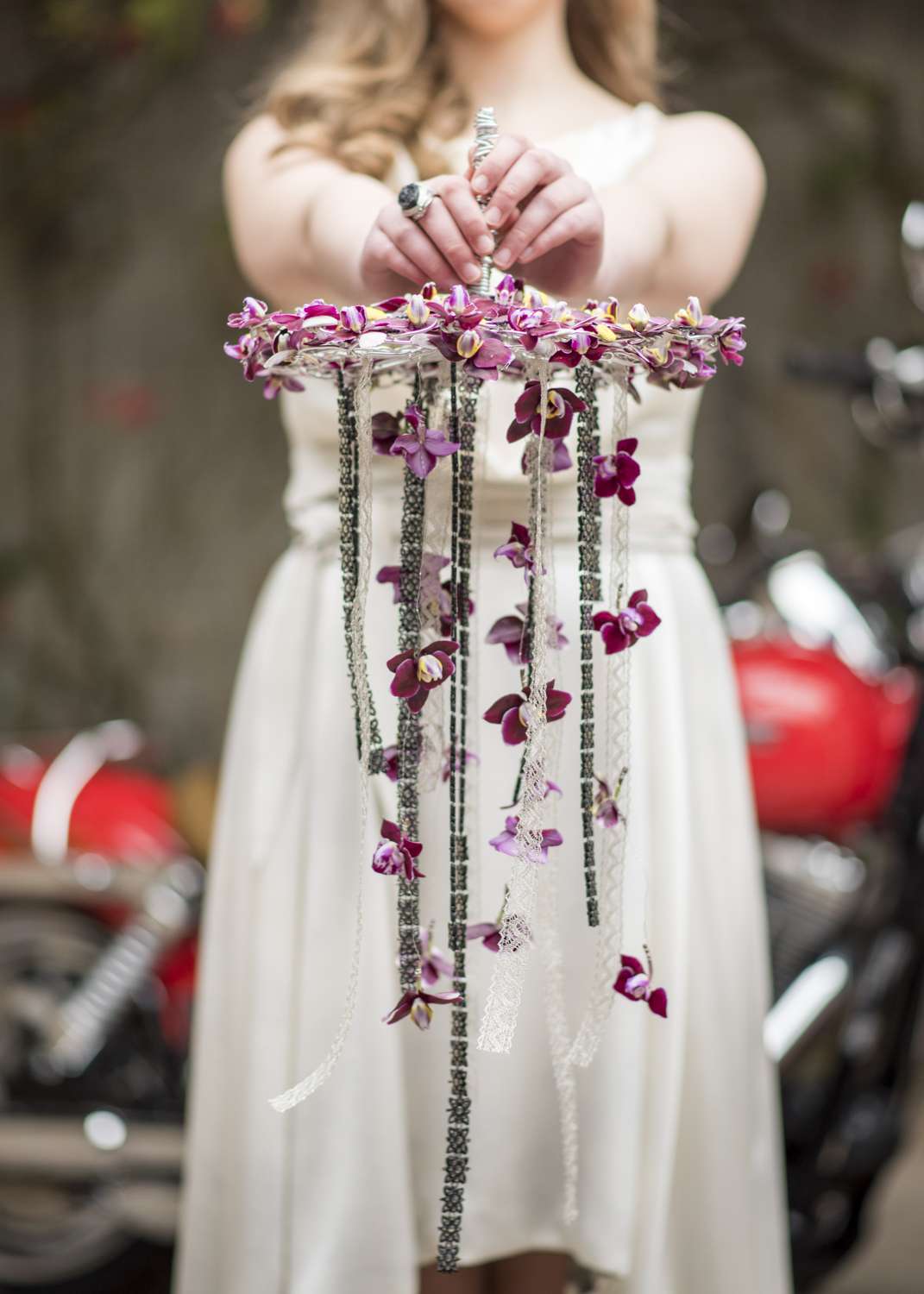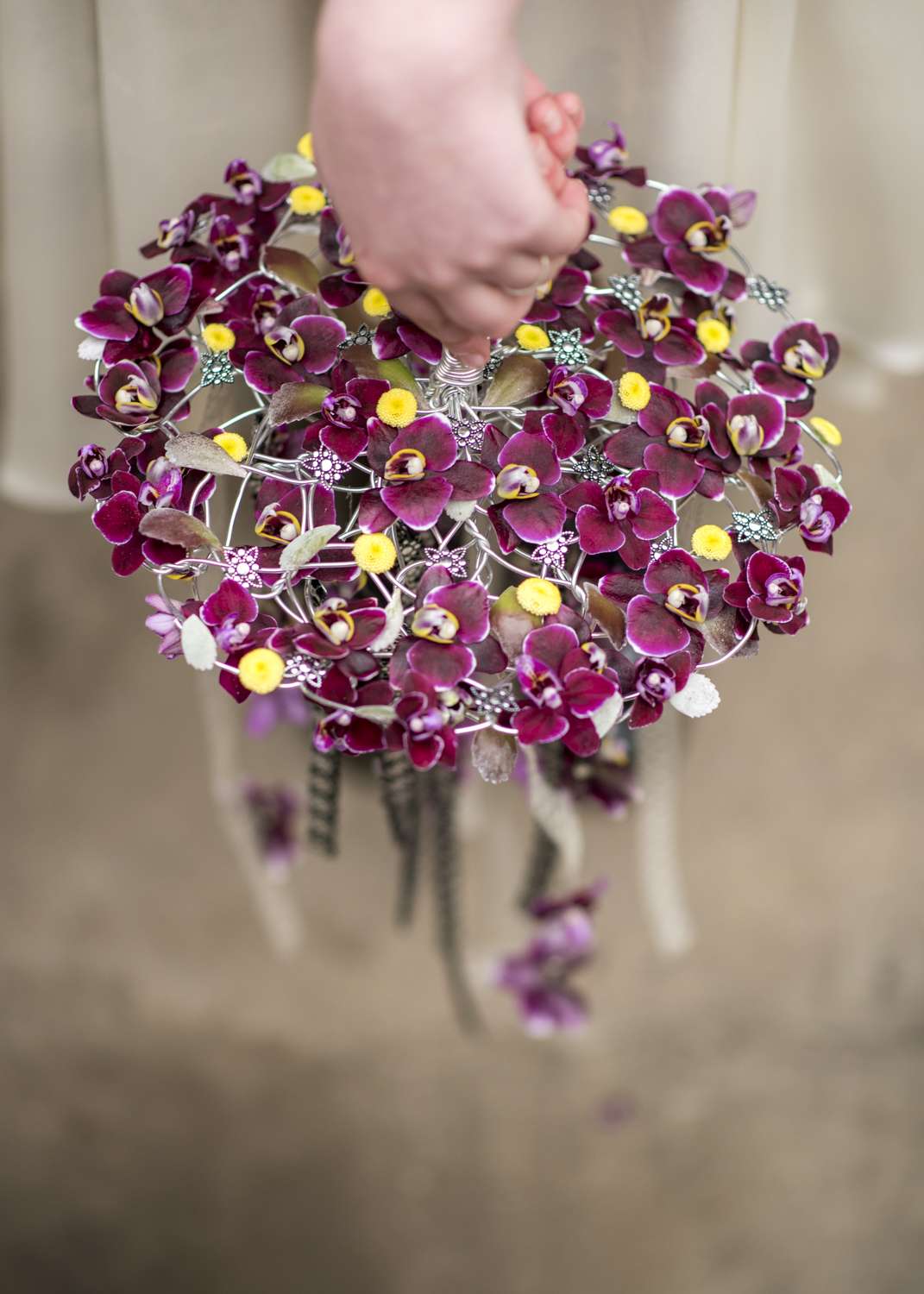 This is an adaption of the traditional long, trailing bouquet style. We made the holder from wire and lace ribbon. We covered the top in mini Phalenopsis Orchids in a deep purple with a splash of yellow. We also used Kalanchoe leaves to soften it.
The Chain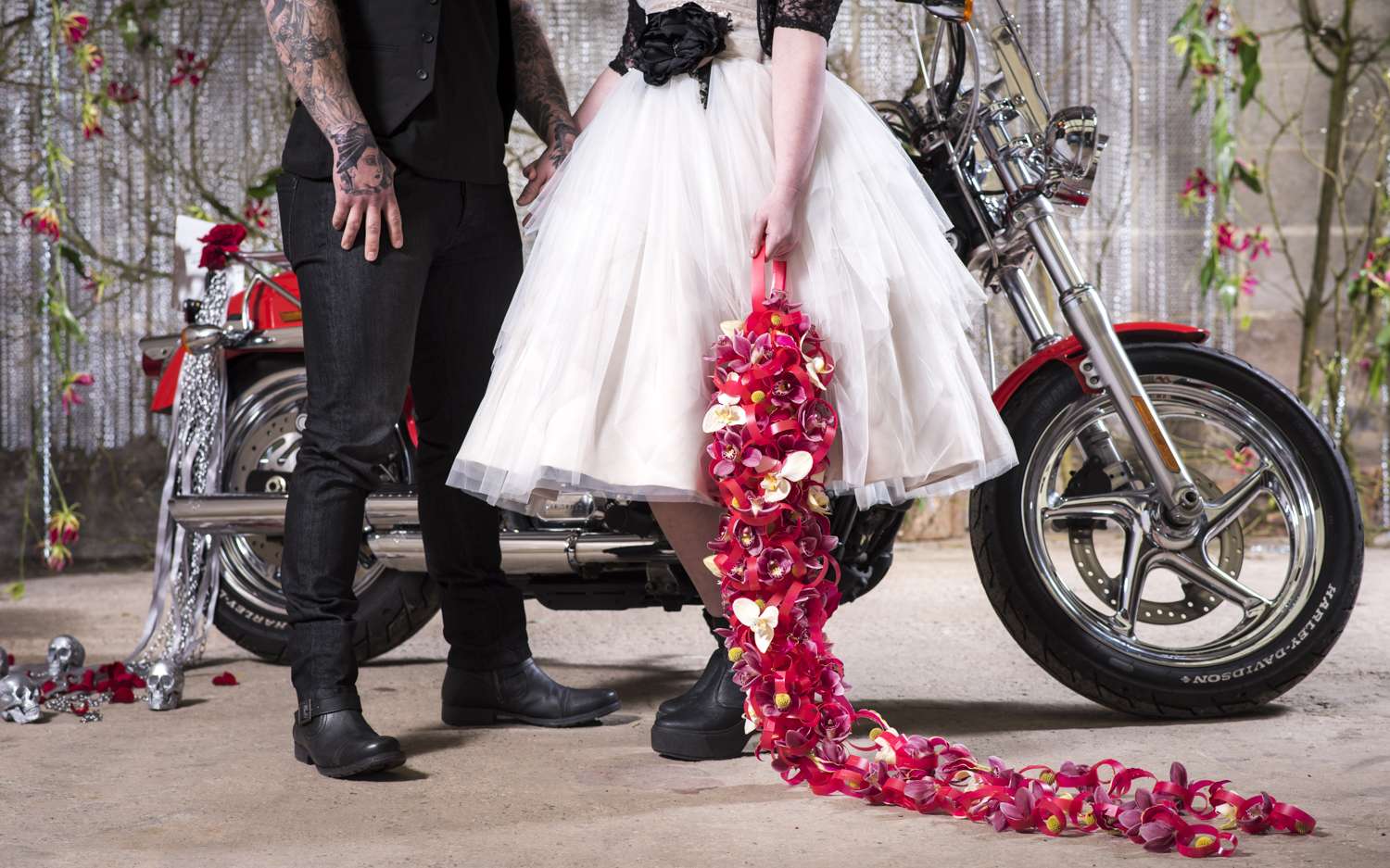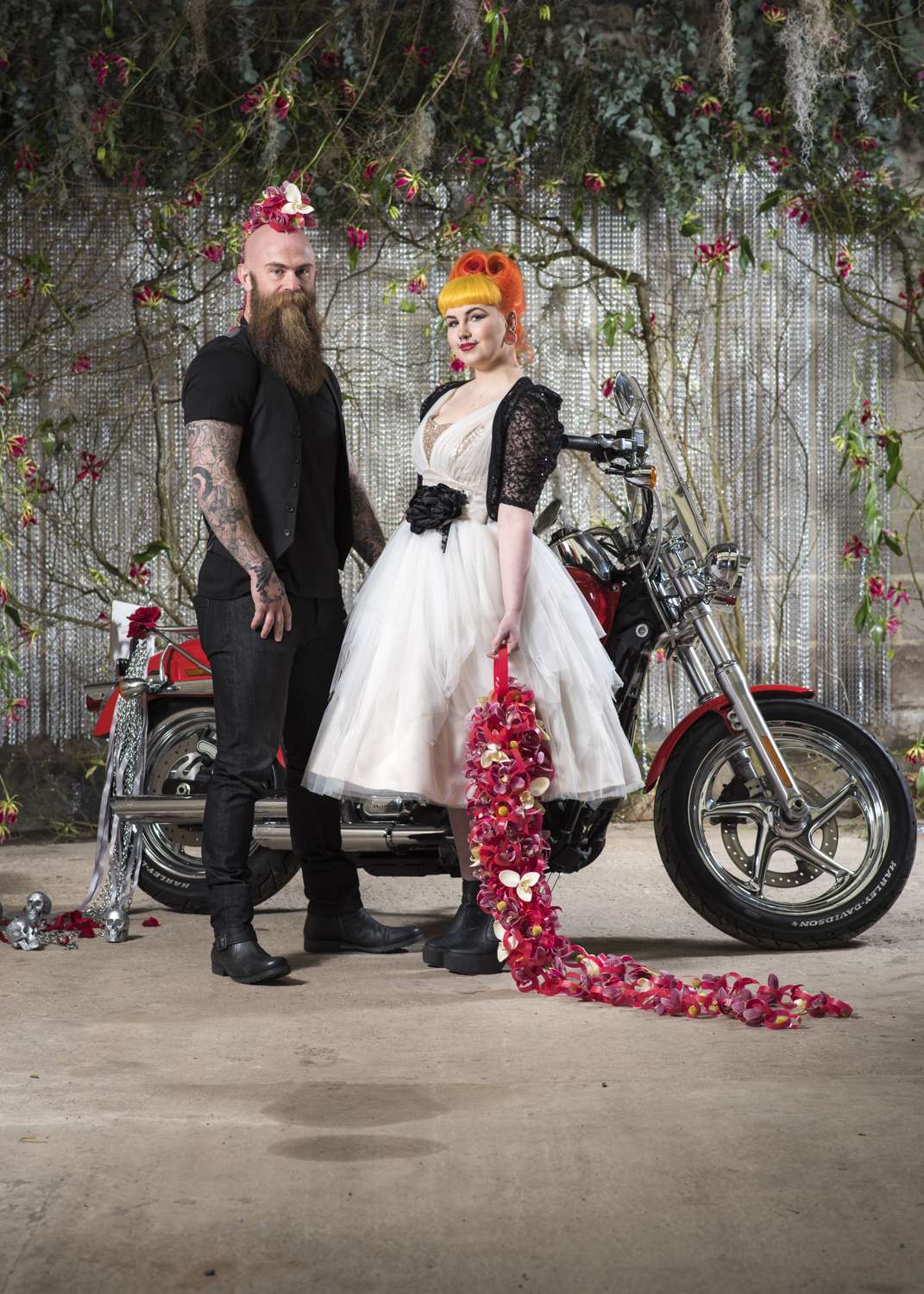 Using the theme of bikes and chains we thought a long bouquet would be a really unique twist. This bouquet is carried with a handle and falls effortlessly to the floor. Imagine walking down the aisle with this trailing behind you. It is elegant and screams attitude.
The Mohawk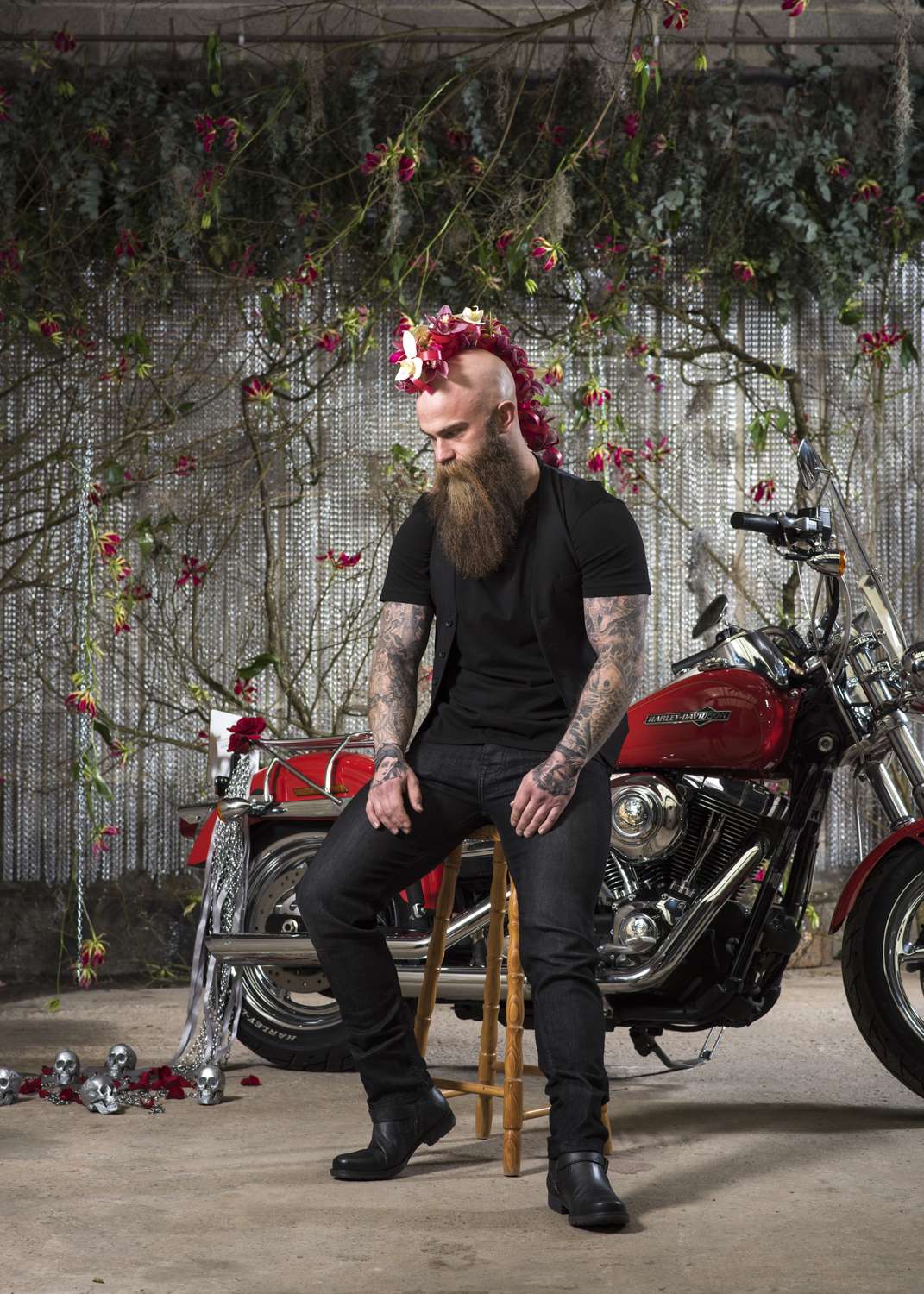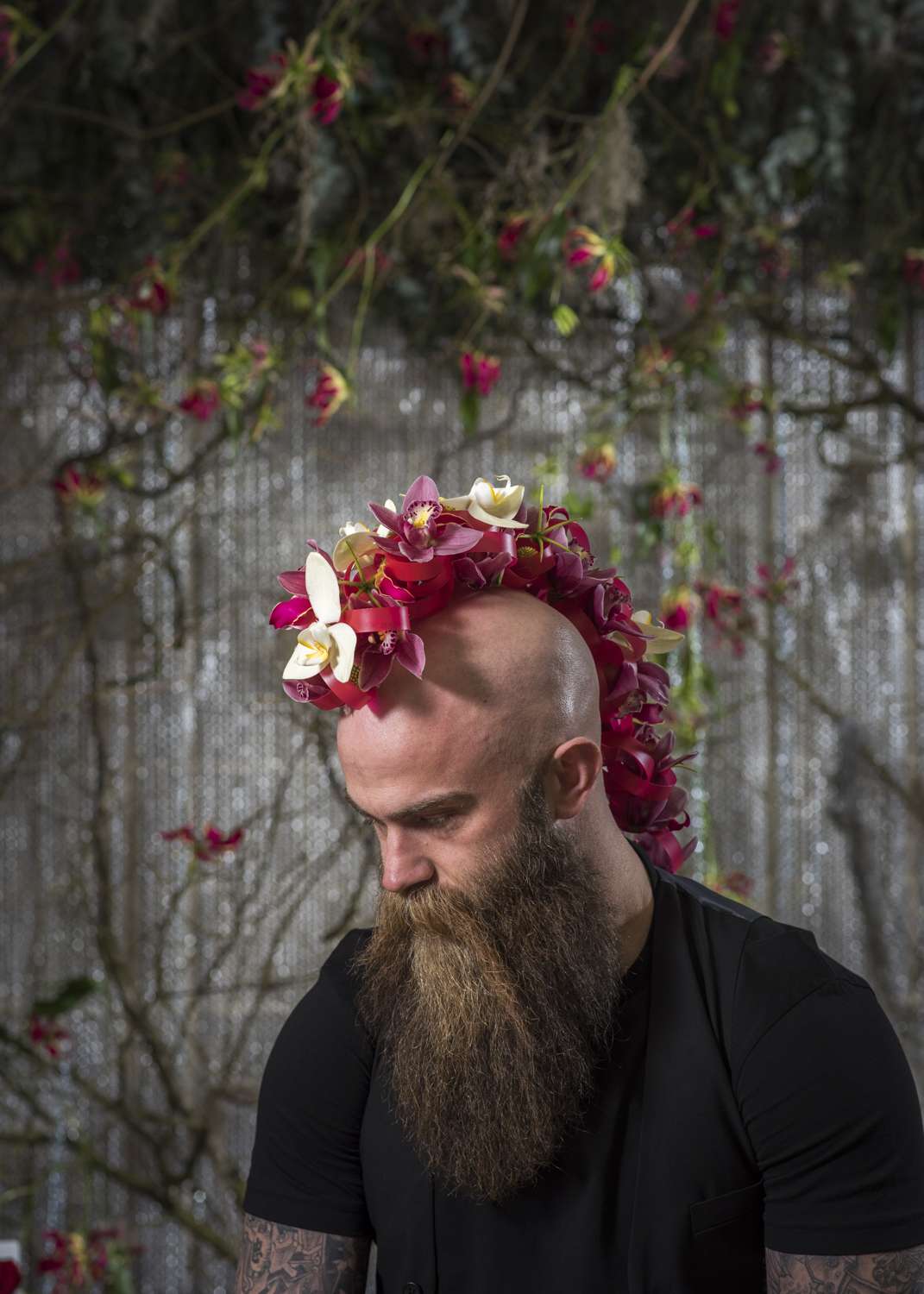 Why is it only girls that get to wear flowers in their hair? We wanted to create something both visually outstanding and bold. Luckily our model Chris has enough confidence and rugged manliness to totally pull this off!
The Red Hurricane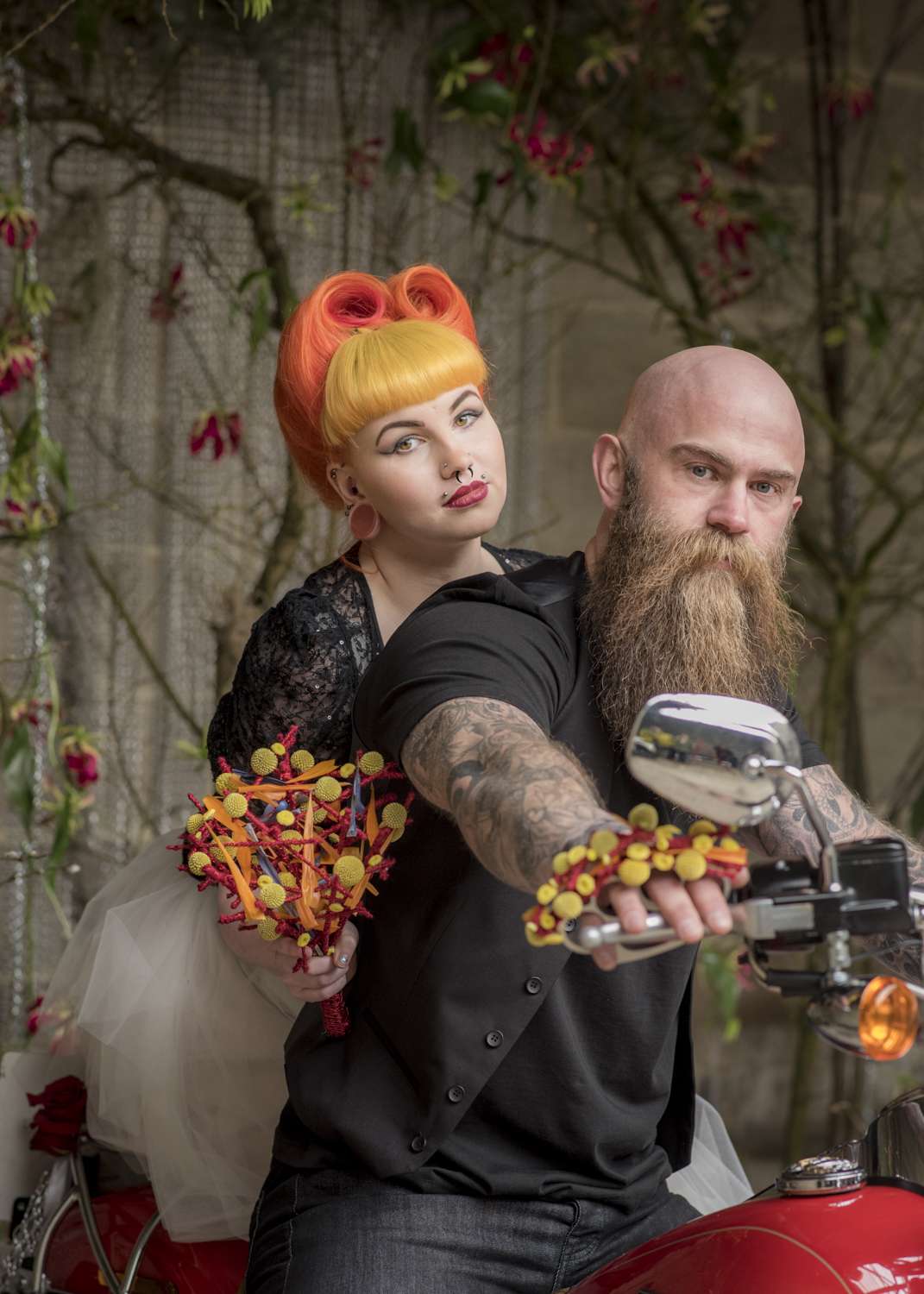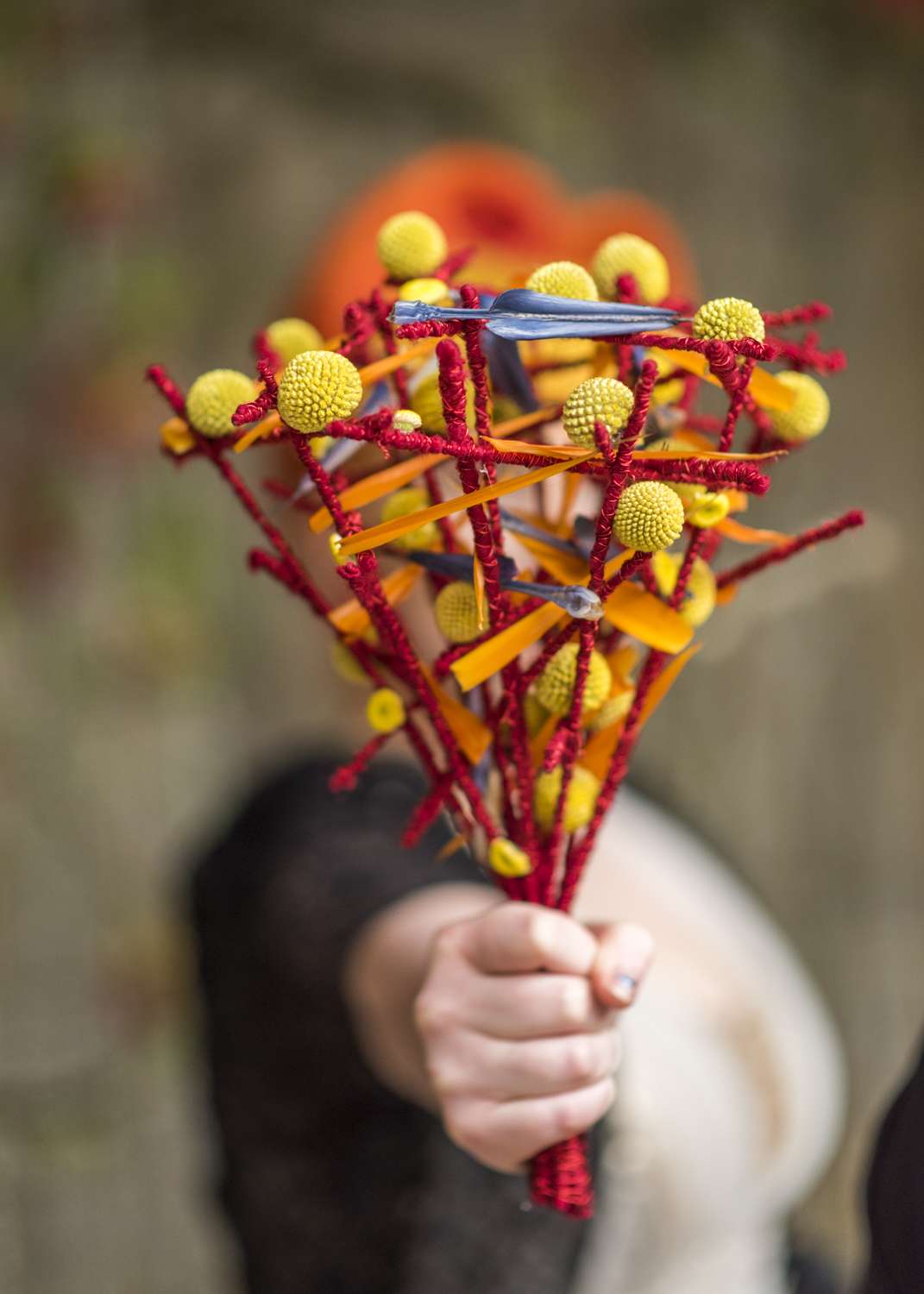 This really unique bouquet was made using plenty of space to add interest. Its something you want to get close up to and have a good look at. It's also incredibly robust! This design is quite petite and the colour makes it contrast really well.  We used Craspedia balls in yellow teamed the orange and purple flowers of a Strelitzia to really pack a punch.
The Knuckleduster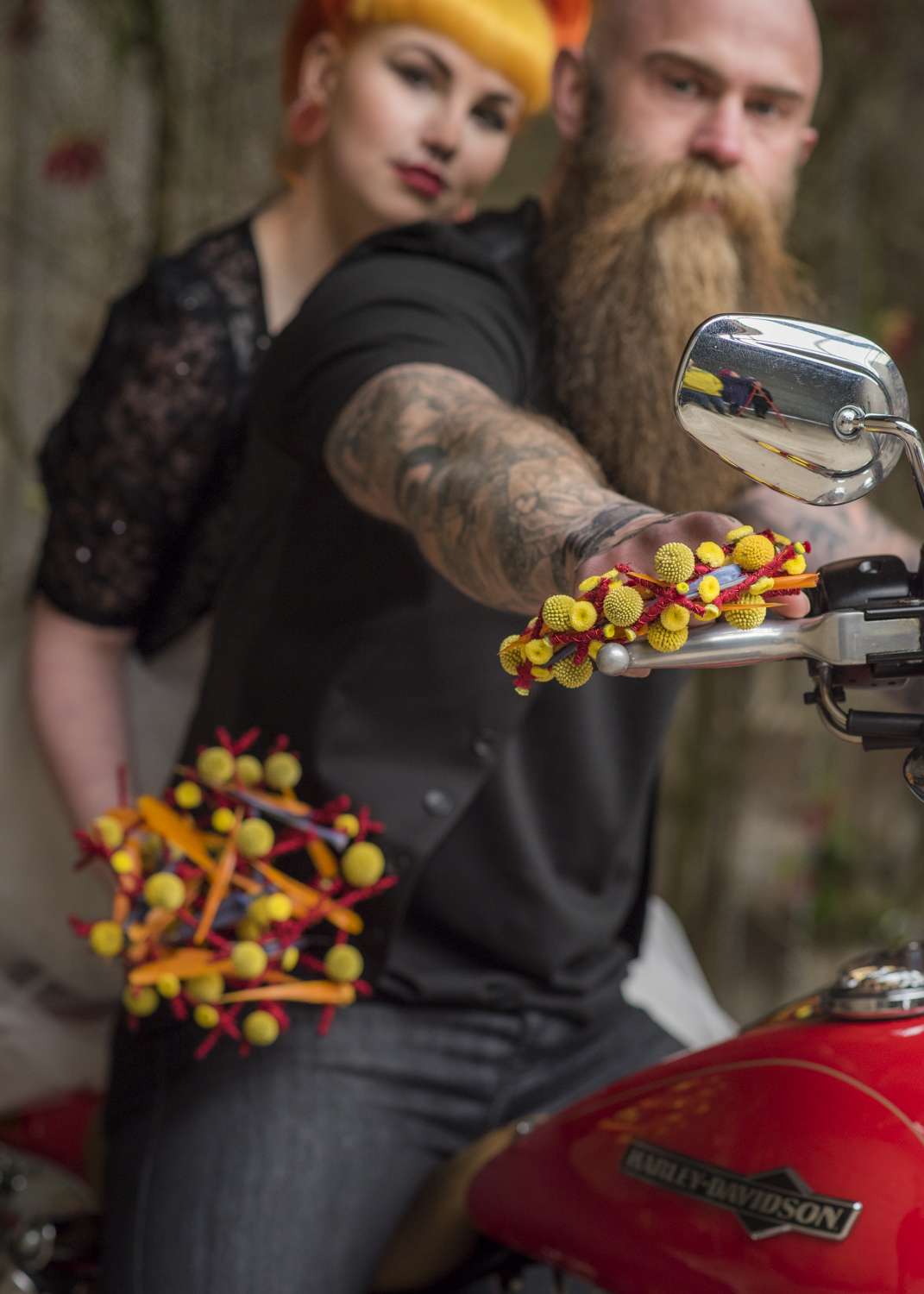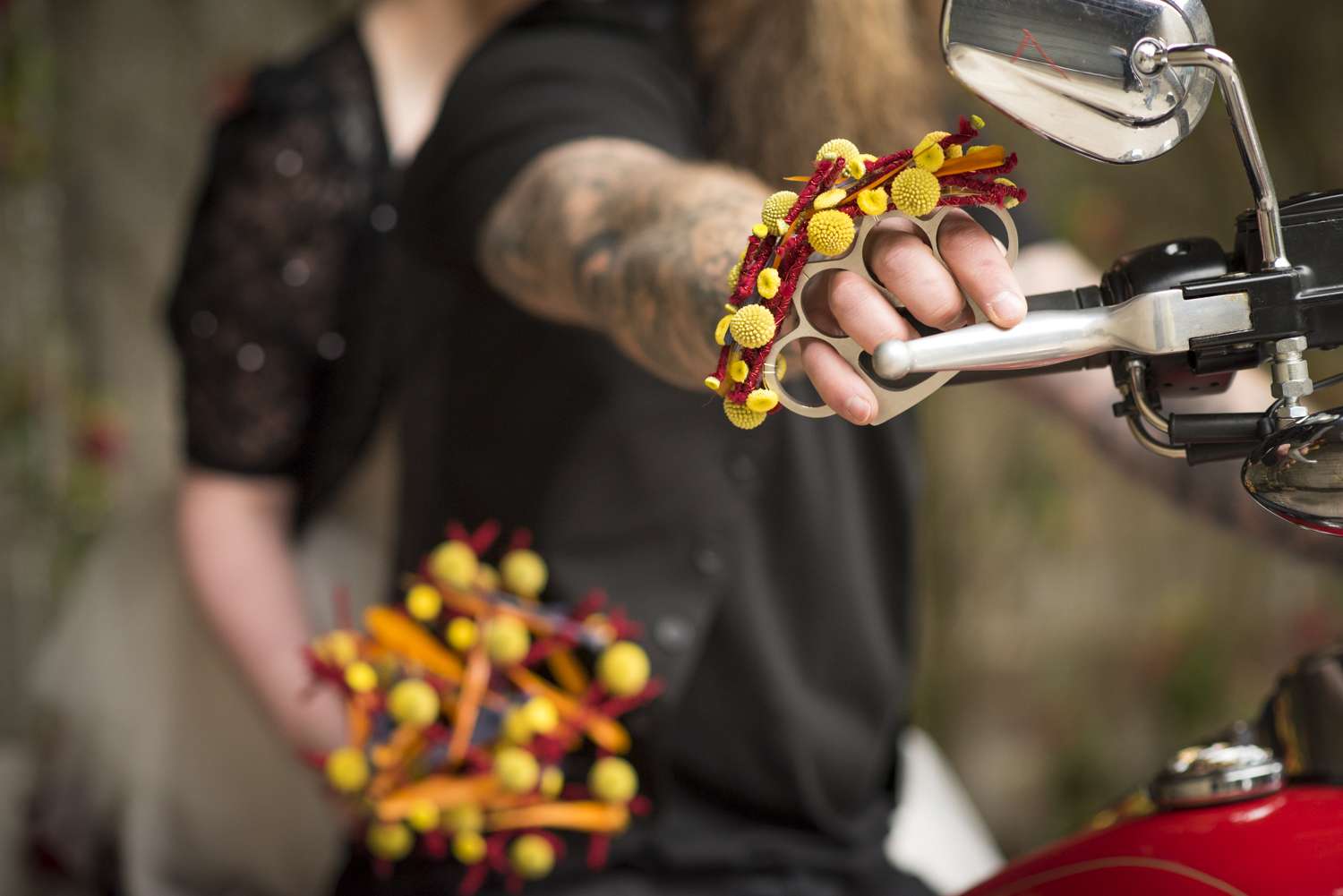 This is probably more of an art piece rather than something you'd actually wear at a wedding, but we wanted to finish with something really different!
Top Tips for Unique Flower Styling
If you want to get creative with the flowers at your wedding, here are Paragon's top floral styling tips:
Use your own personal style as a basis
There's no point picking something because its trendy or just because your florist recommended it. Deep colours and metallics are super popular right now, but if this isn't your style you shouldn't have them at your wedding! Go on Pinterest and start to gather ideas of flowers, colours and textures that really speak to you and suit your own unique style.
Name your theme
We're seeing more and more couples saying "Oh we're not having a theme, we just want our wedding to feel like us", which is great, but when chatting to your florist, or deciding on your flowers, you need to have a jumping off point other than just 'us'!
Try to think of three or four adjectives that describe you and your wedding, Things such as geeky, elegant, colourful, modern, vintage, dramatic, simple, budget-friendly, extravagant… It will be a lot easier to figure out what types of flowers will work at your wedding once you have these words in your head.
Consider your venue
It's important to take into consideration the style of your venue. Don't try to change it into something that it isn't. Flowers (and any styling actually) works best to compliment the setting. If you want a super modern, industrial vibe for your wedding and flowers for example, then it's simply not going to work if your venue is a grand manor house!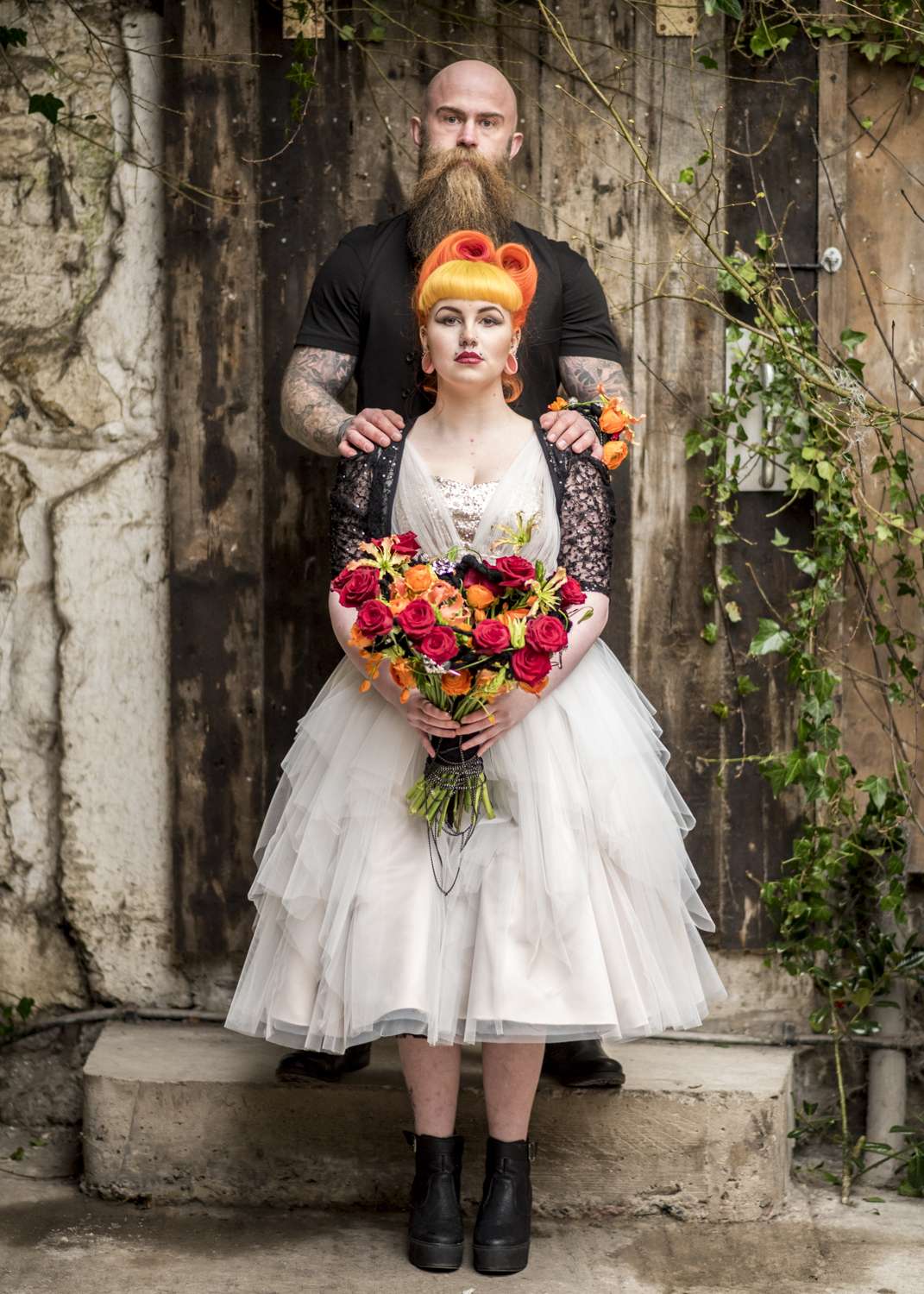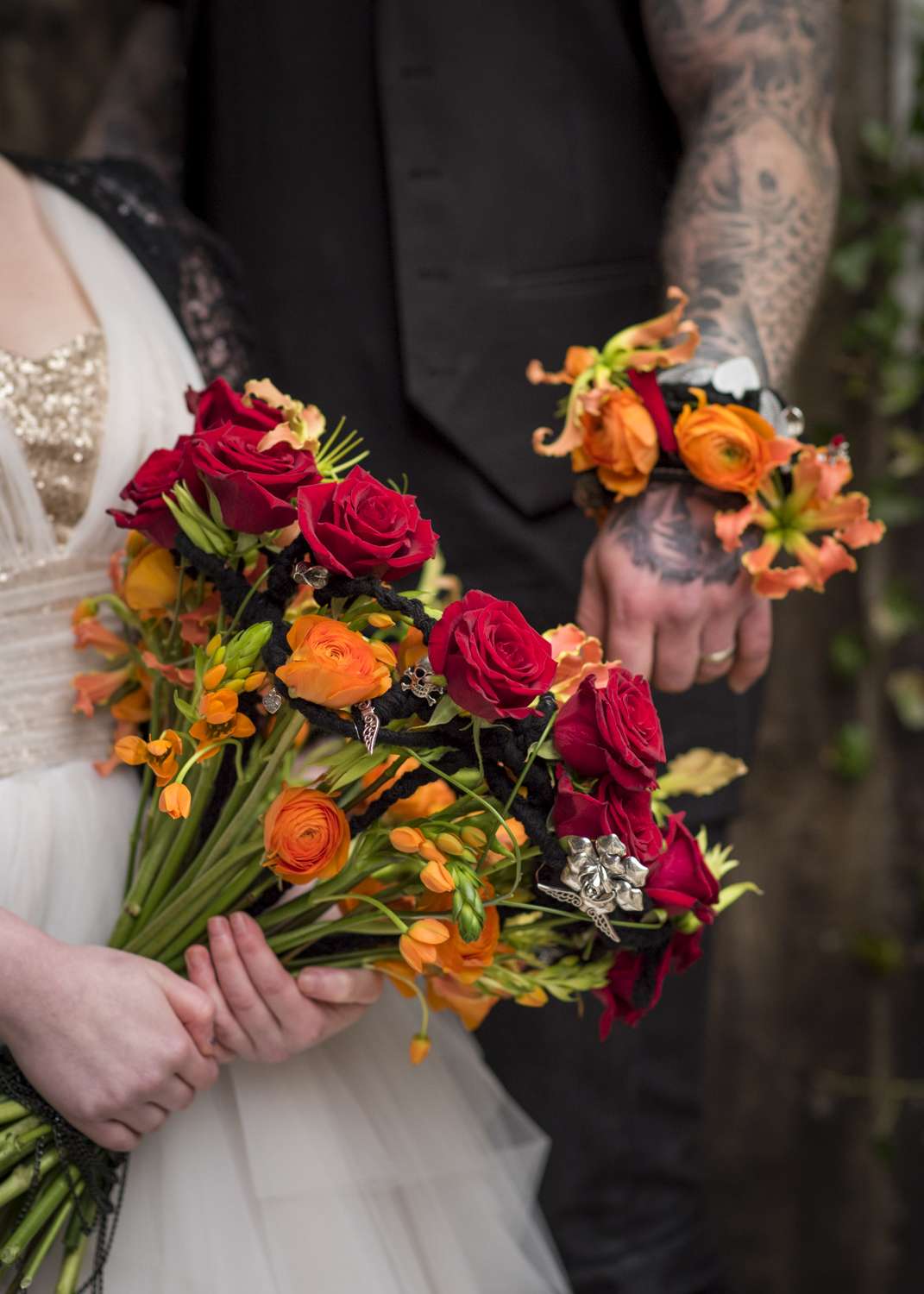 Find the right florist for you
Not all florists are the same so choose one who you feel 'gets you' and your style. Don't be afraid to be honest about your budget either. Most of us will work with you to create something beautiful, however much you have to spend. You have to be realistic though, flowers can often cost a lot more than you might initially expect, especially if you want something big and dramatic! A good florist will be able to suggest cheaper flowers or smaller arrangements to fit any budget.
Think seasonally
This isn't new advice, you've probably heard it a lot before, but flowers that are in season will be much more beautiful, and way more affordable than ones that aren't. If you have your heart set on big, booming Peonies then you have to be getting married in June-August otherwise they're going to cost you an utter fortune!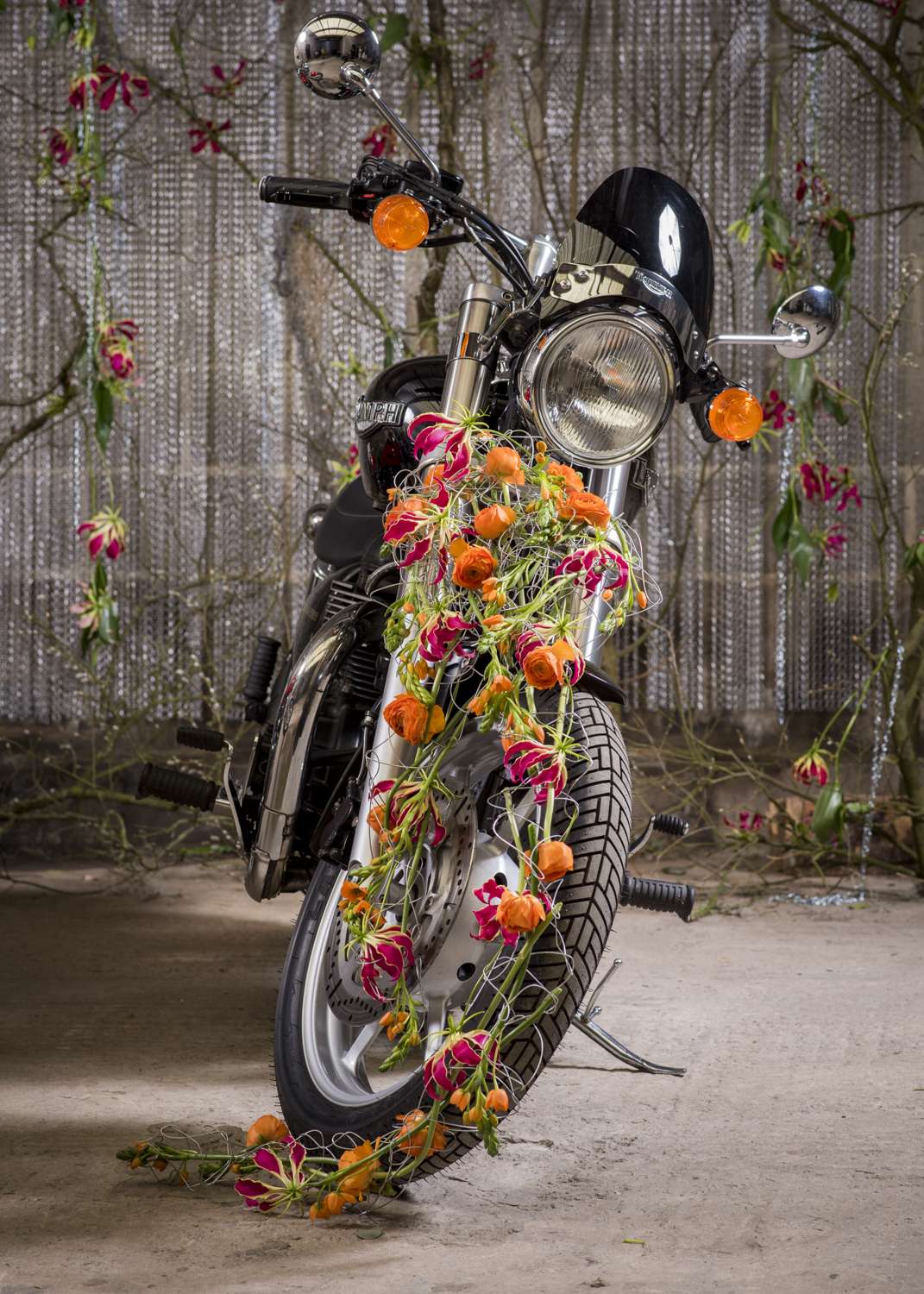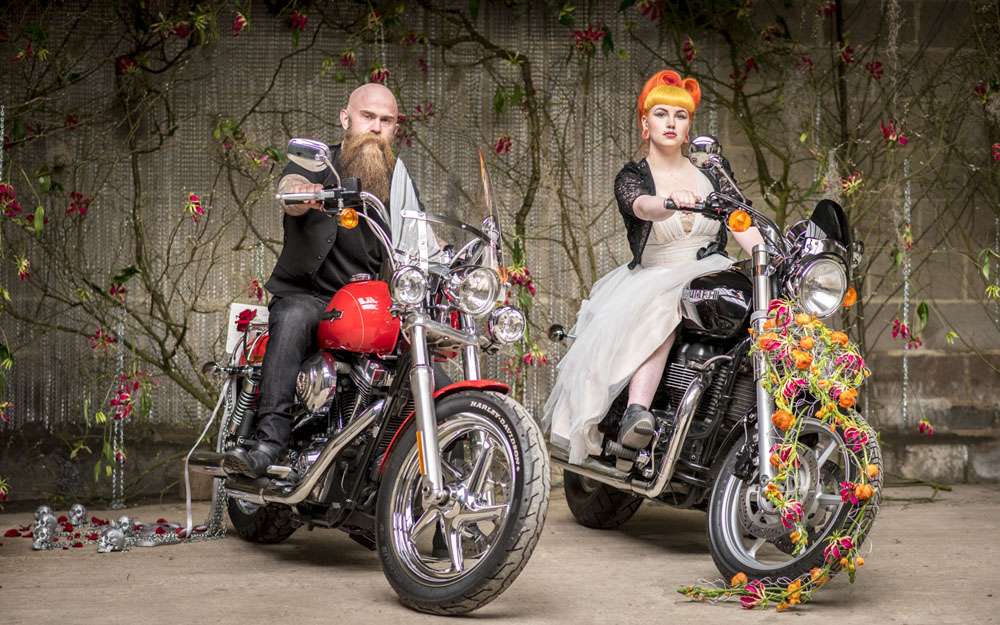 This post was made possible by Paragon Floral Design, based in Oldham. They love to work with clients face to face, but will also work over the phone and via email too. You can follow them on Twitter, Facebook and Instagram.