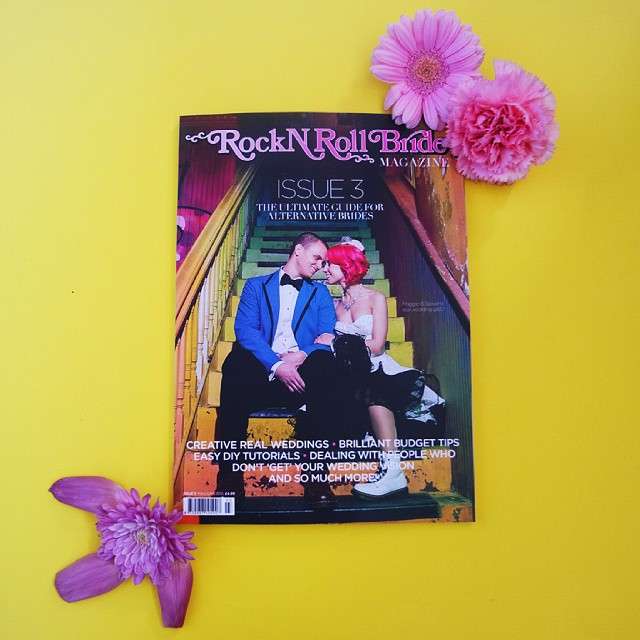 Tuesday morning was more exciting than usual, because my copies of issue 3 of the magazine arrived at my house!! Now, I don't want to toot my own horn too much but it looks EPIC, AMAZING and is totally the best issue so far. It might mostly down to the incredible rainbow cover shot by Matt Miller – just wait until you see the full wedding inside!
The magazine is on sale NEXT THURSDAY, April 30th, so be sure to put a note in your diary. It will also be available for pre-order tomorrow – YAY!  Oh and I'll post some of my favourite spreads from inside when I remind you that it's in shops next week.
Edit: You can pre-order issue 3 right now meaning it will be delivered to your door on launch day, next Thursday!!
So let's see what else has been keeping me entertained this past seven days shall we?
Weddings & Weddingy Things
♥ Crinoline, Coca-Cola and rockabilly wedding
♥ Retro sixties wedding
♥ Colourful handmade wedding
♥ Southern wedding with a gold sequin gown
♥ Hippy chic festival shoot
♥ How I surrendered to a positive bridal body image
♥ Gorgeous DIY backyard wedding
Business Bites
♥ 10 tips for people that work from home
♥ Your messy room might be the sign of a brilliant mind – haha I knew it!
♥ Should you redesign and rebrand your blog?
♥ How I balance social media and email
♥ Blogging changed my life – this is my favourite post on the whole internet this week. So much yes! I feel like so many people are ditching or falling out of love with blogging at the moment and Shauna articulates exactly why she still loves it so much way better than I ever could!
Best of the Rest
♥ DIY dip dyed ombre shoes!
♥ DIY gold leaf balloons
♥ Fitness guru Cassey Ho Photoshopped herself to prove a point about body shaming
♥ I am so freakin' excited about Pitch Perfect 2!