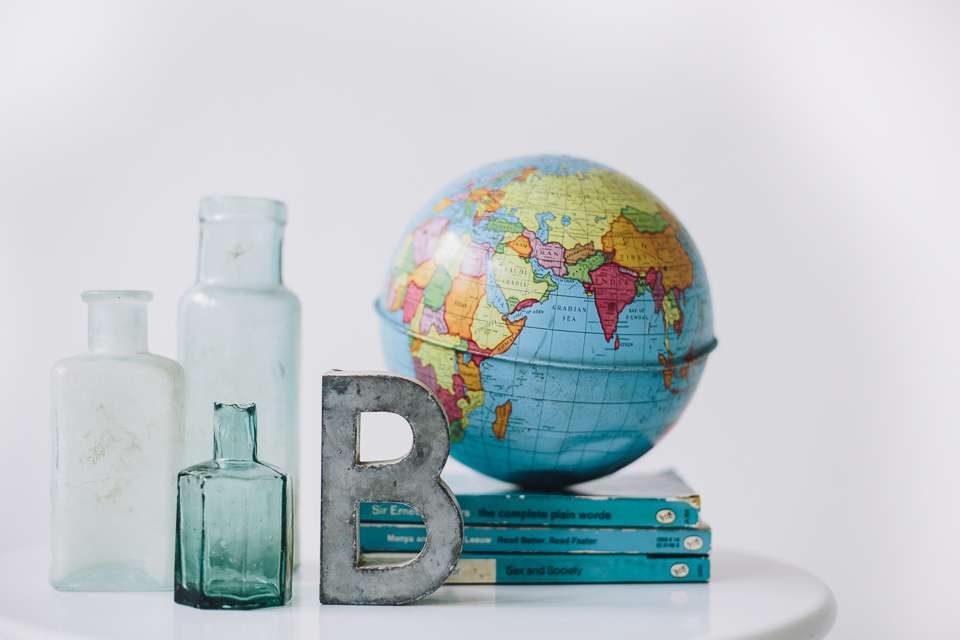 I was in New York with Gala during the summer of 2011 when we first started to talk about the possibility of doing some kind of blogging event together. I was already doing a workshop myself over here in the UK, but we started bashing about the idea of doing something much bigger.
However it wasn't until we got together with Shauna in Vegas the following February that the idea of The Blogcademy really started to solidify. It's funny, because apparently Gala and Shauna had been vaguely discussed doing something in the past too, it just needed the three headed monster (as we call ourselves!) to came together for it to actually happen!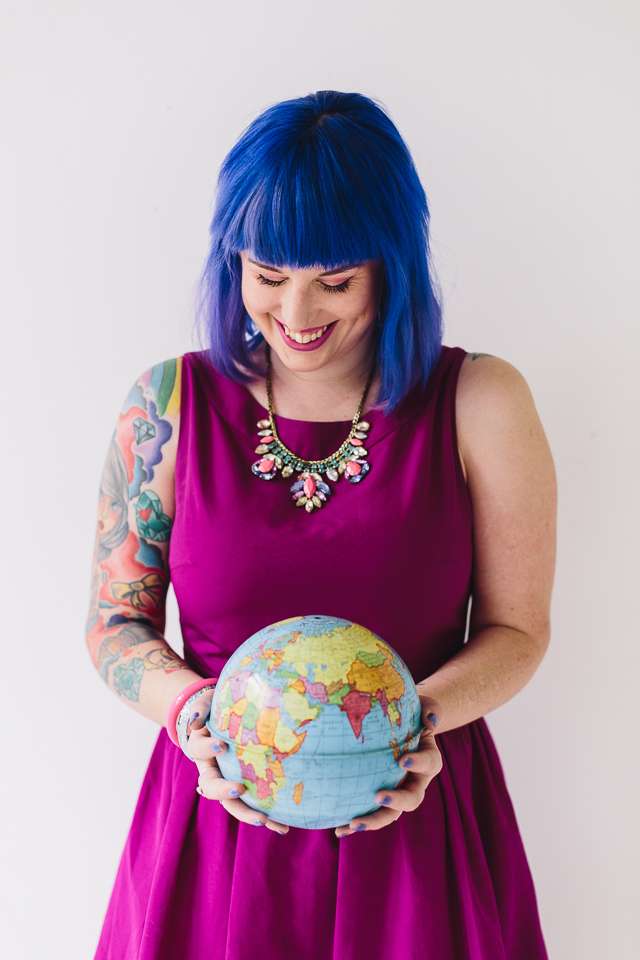 With 27 in-person classes under our sparkly belts, it's now so amazing to look back at how far we've come! November and December saw our second trip down under in as many years and the final three workshops of 2014: Sydney, Melbourne and Auckland.
Fair warning: This post is SUPER LONG but if you want to know exactly what we cover in the class, step-by-step, scroll to the end!
Sydney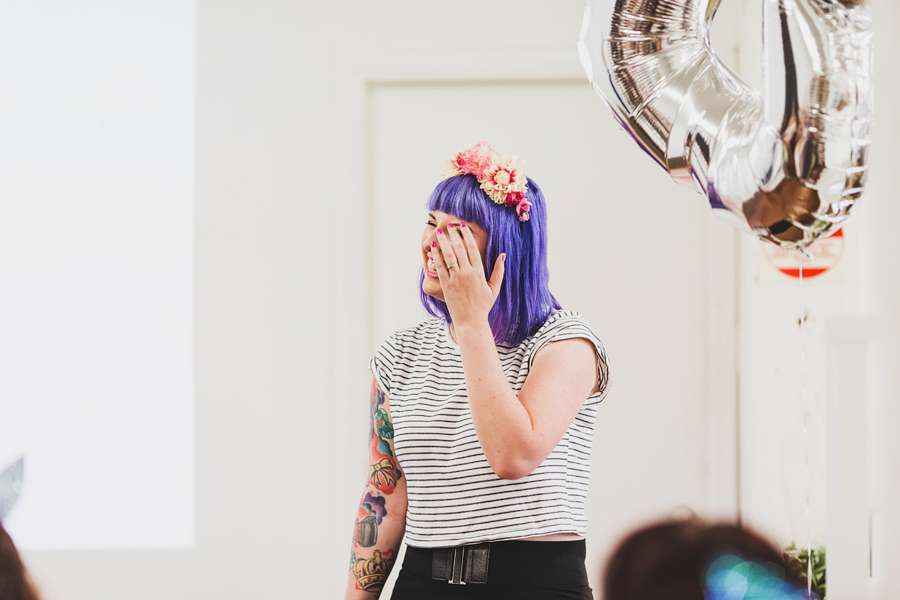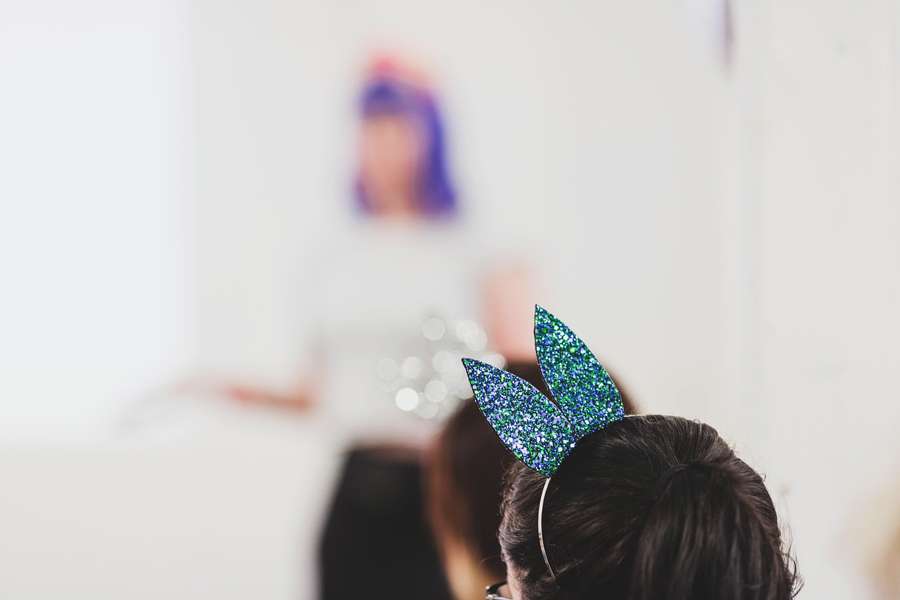 Sydney ended up being one of our biggest classes of the year! Forty amazing girls (and two guys!) joined us in the awesome Studio Soma in Surrey Hills. They were such an interesting group including multiple energy healers, a vet, and three (count 'em!) pregnant women!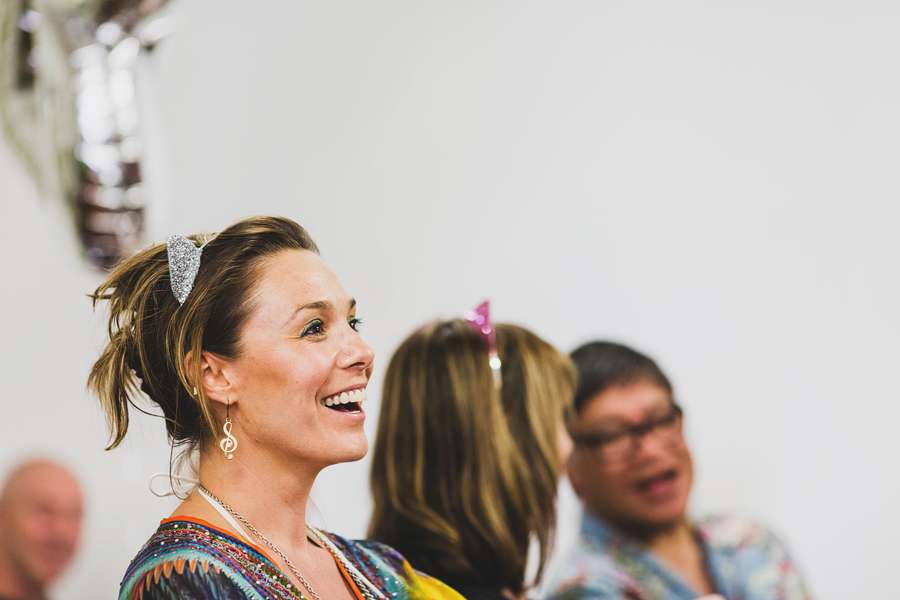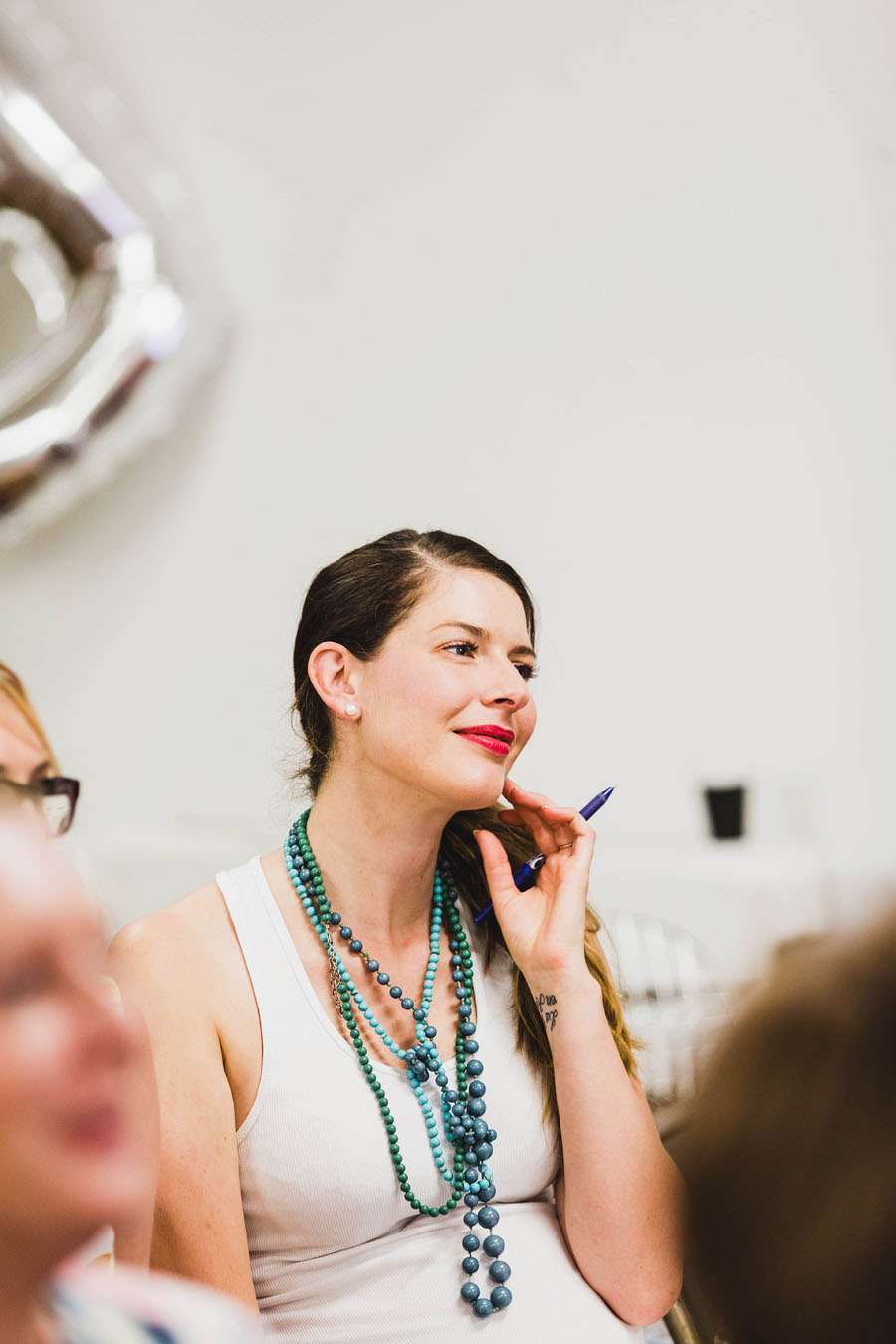 While I love to travel, it can be hard being away from home. But meeting girls like Michelle and Liza make it all worthwhile. I actually featured both their weddings (here and here) on the blog so meeting them in real life was super exciting!
Michelle was wearing one of my headpieces that I designed with Crown and Glory so we were instantly best friends!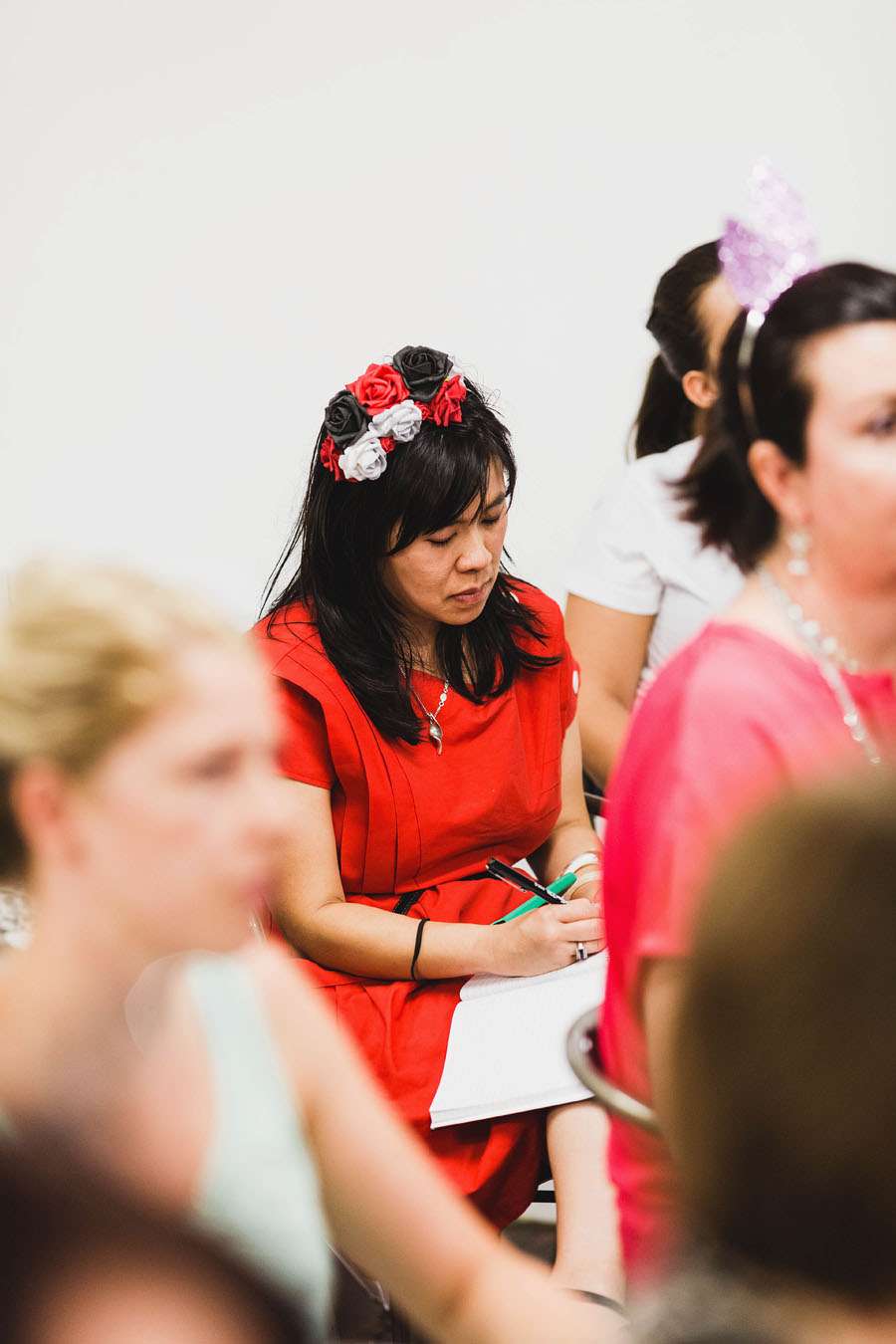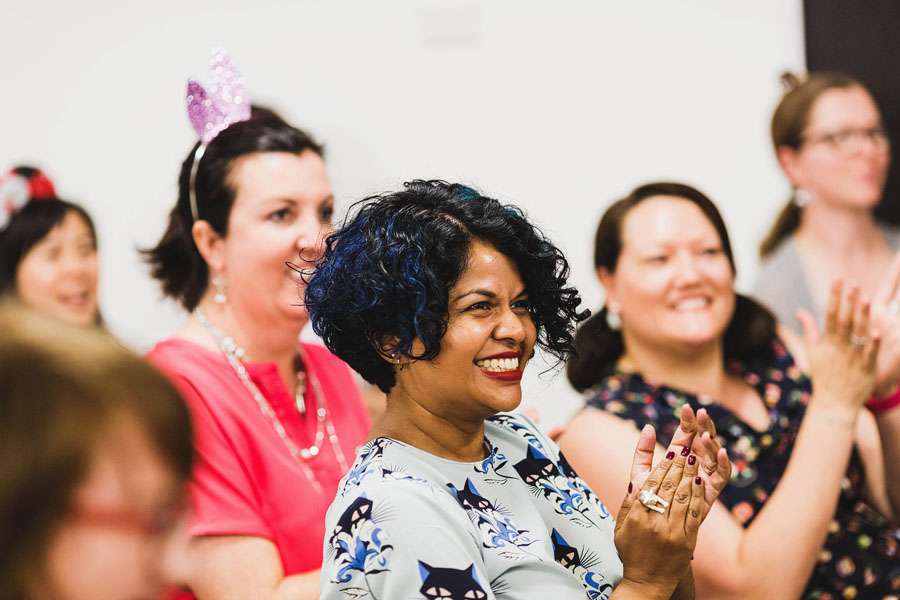 This class was very studious. Copious notes were taken, and many questions asked.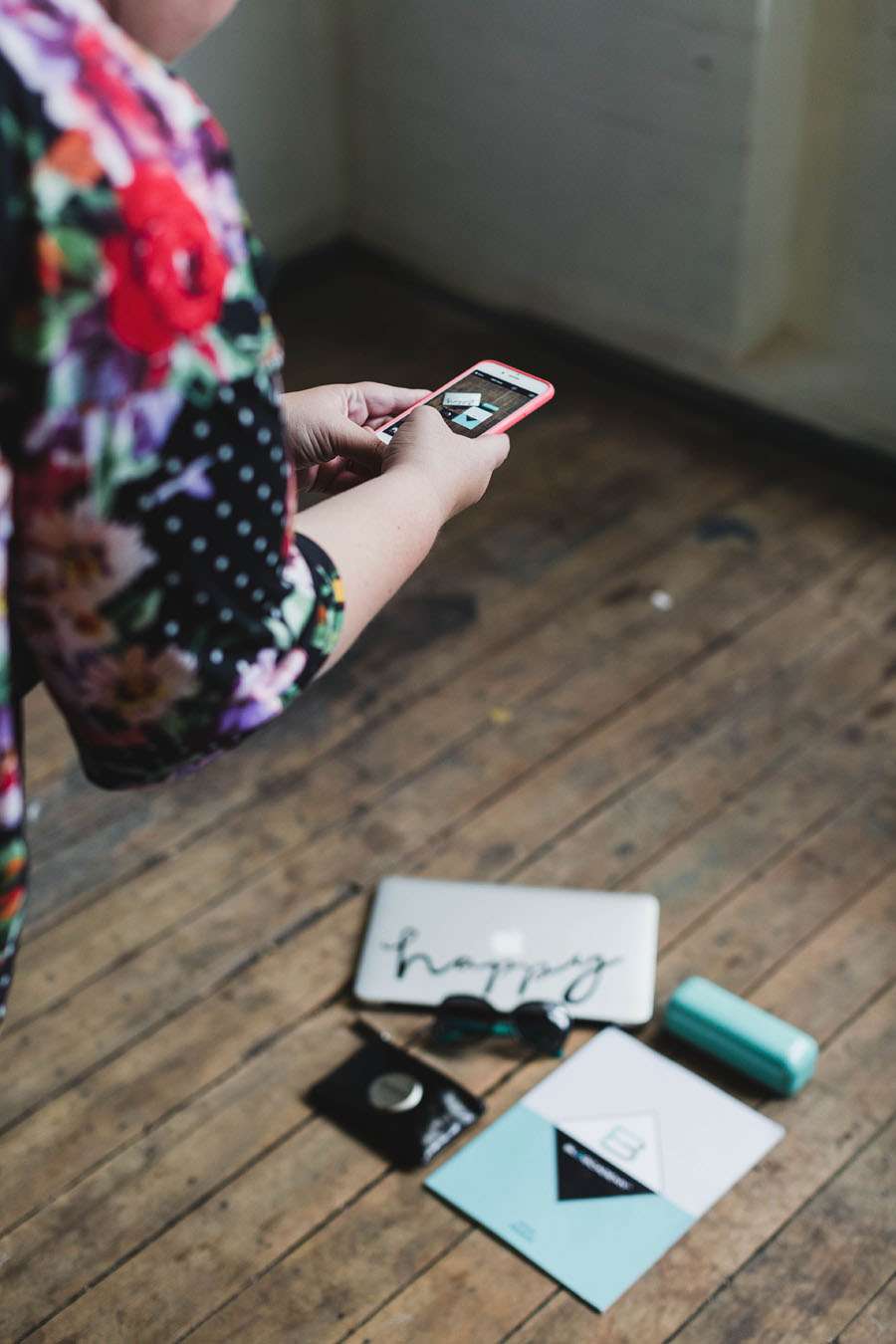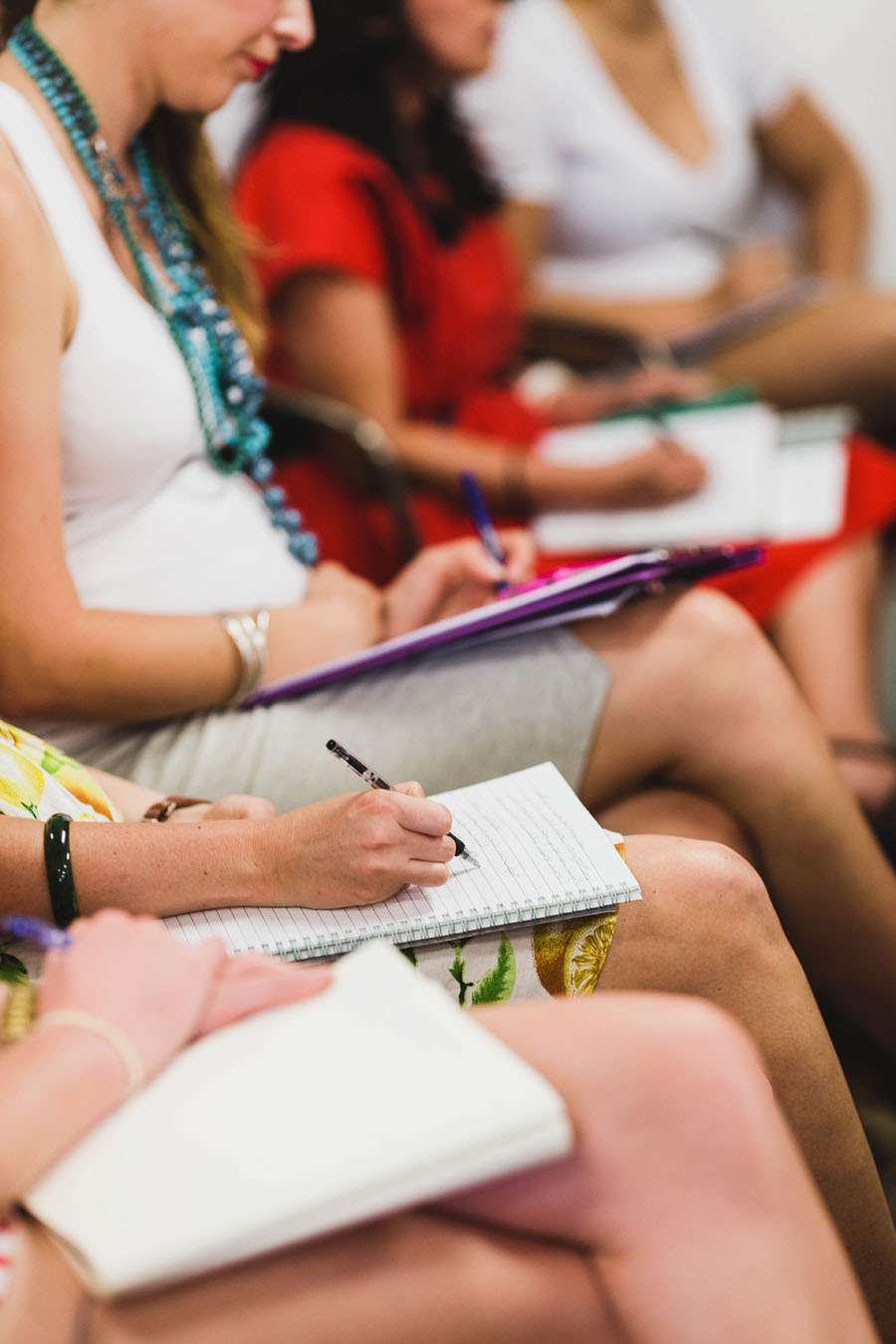 But there were in no way boring! In fact they were one of the smiliest groups we had all year. Most of them beamed from ear to ear all weekend (as did we!)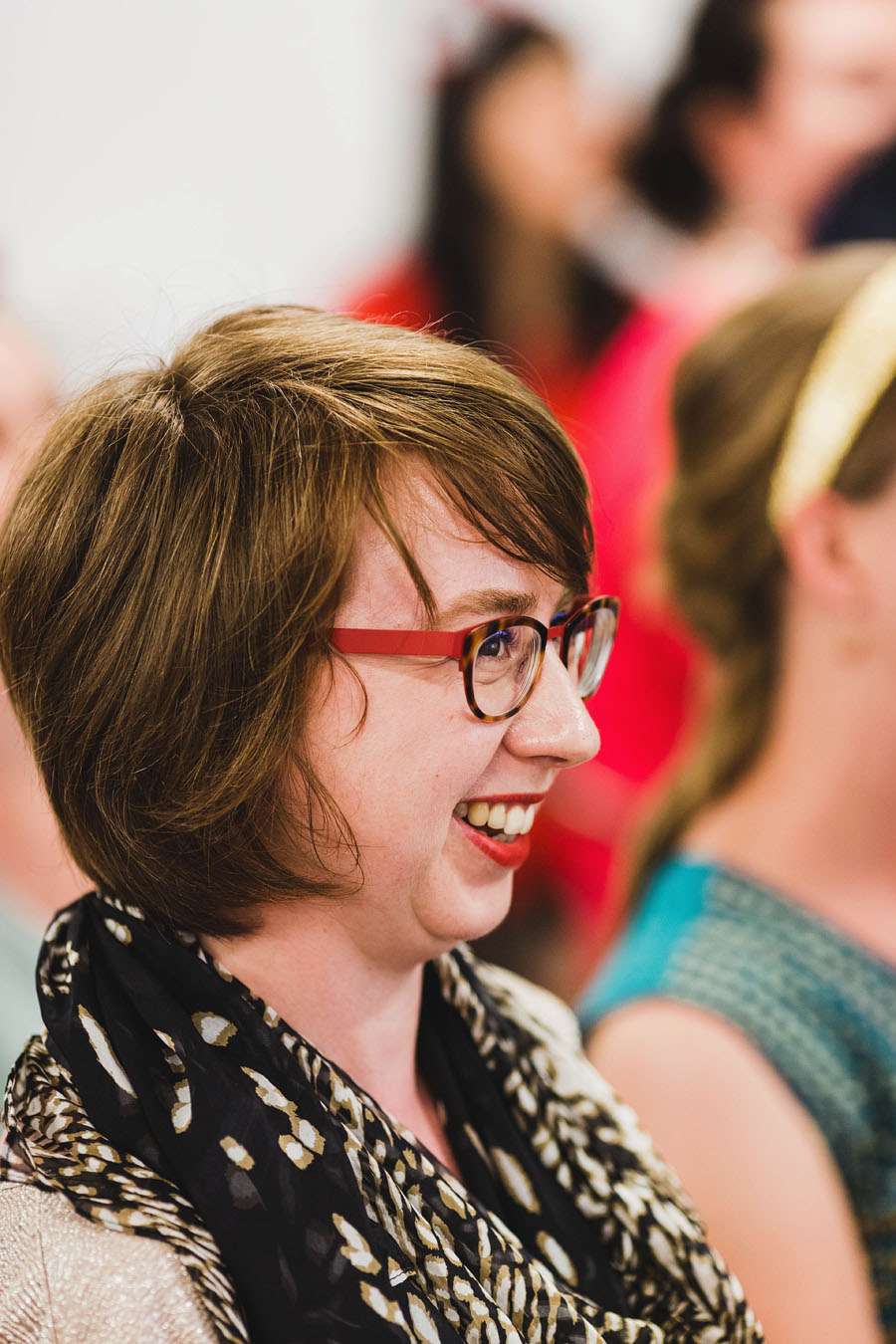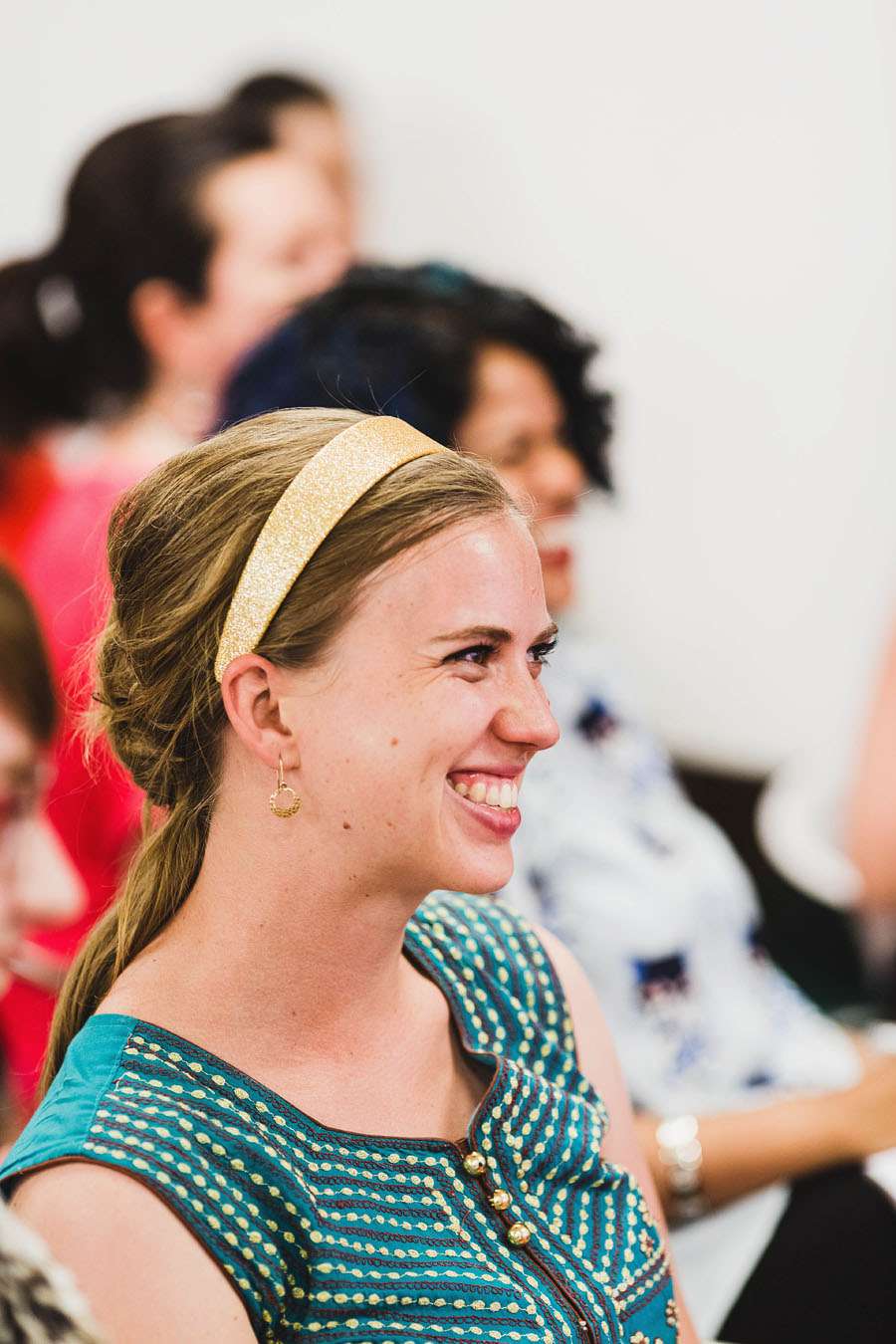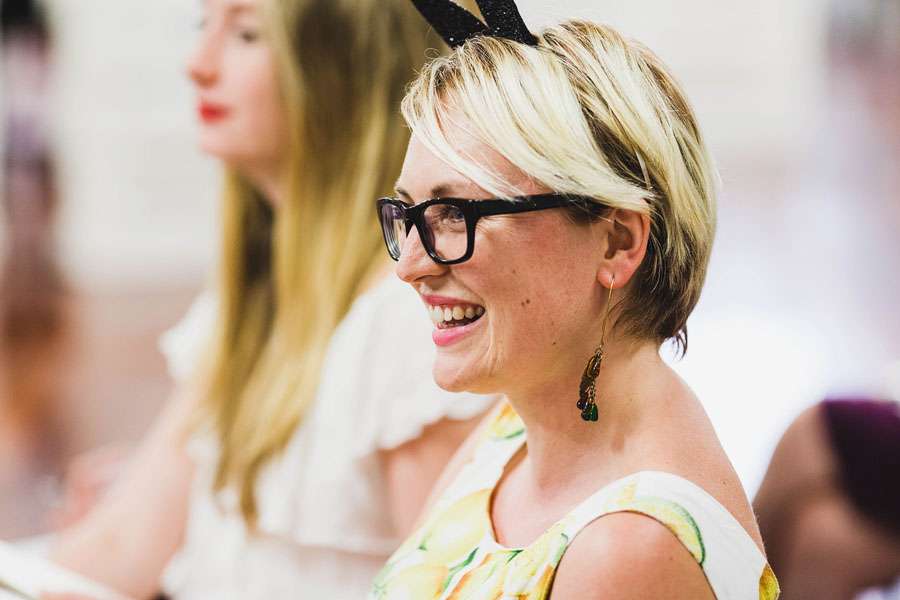 Pro tip: If you ever come to a class, SMILE at us. It makes standing in front of a big group of people and talking so much less daunting if it looks like you're enjoying it.
I mean that, or pull silly faces, either is totally acceptable!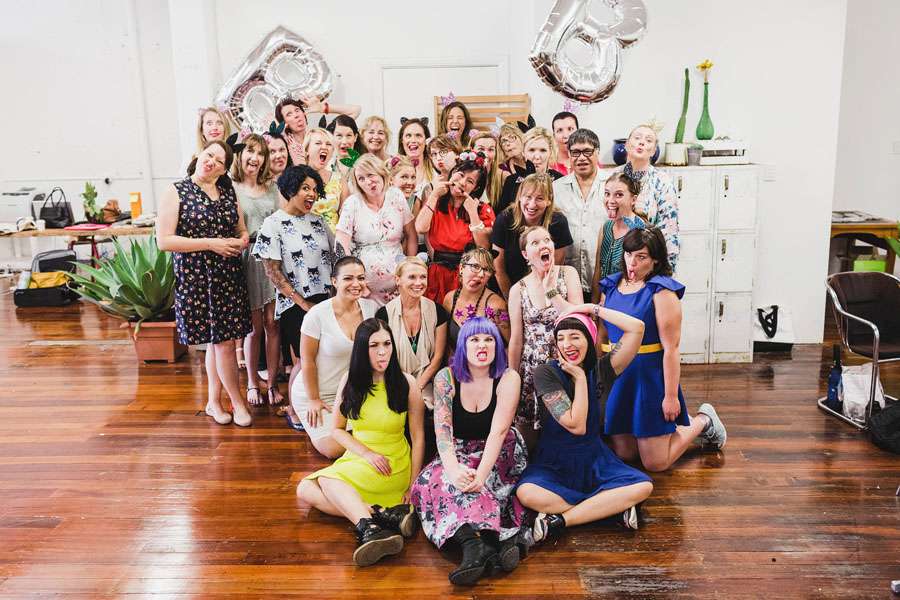 The Sydney totes were probably my favourite design of the year. Shauna based it on Brandy, the koala we all fell in love with on our trip to Australia last year!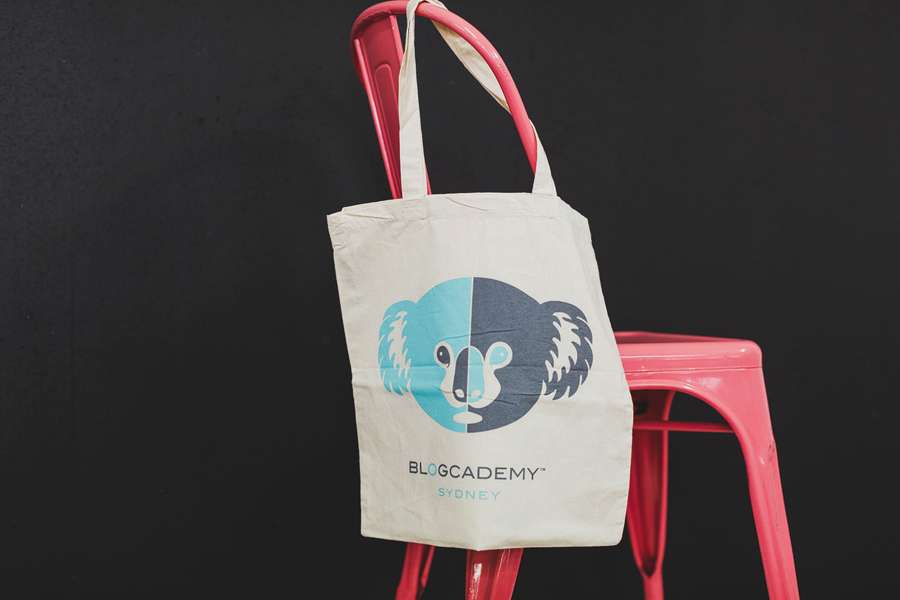 Janneke Storm was our intrepid photographer for the weekend. She really is an ARTIST. I love her work so damn much. Book her for your wedding, you will not regret it!
Melbourne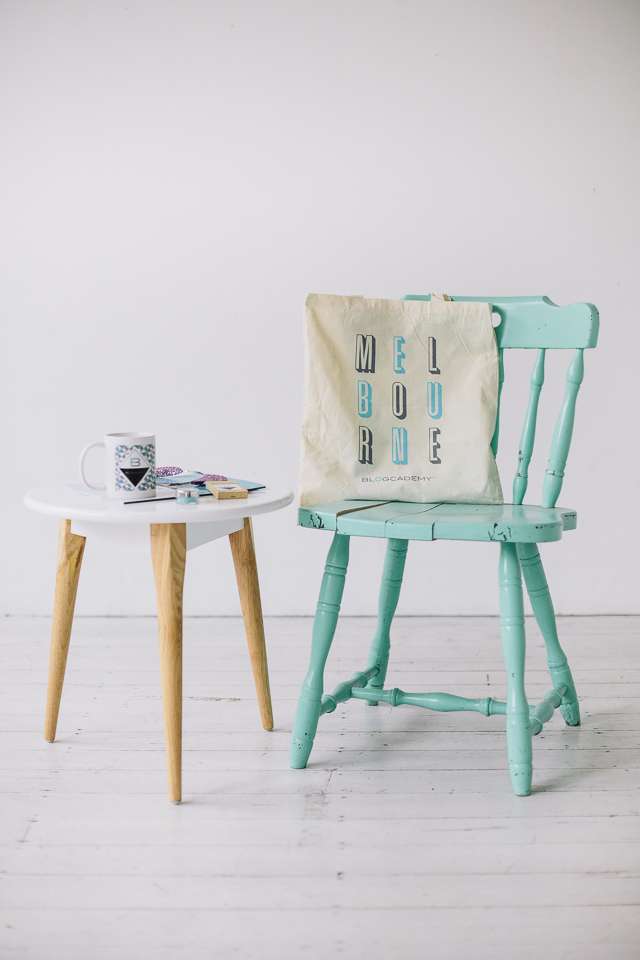 If Sydney was one of our most smiley classes of the year, Melbourne was certainly our most well presented! When we walked into The Establishment Studios on day one, the three of us literally let out audible gasps. There were wall to wall props as far as the eye could see. That's an Instagram obsessive's dream right there.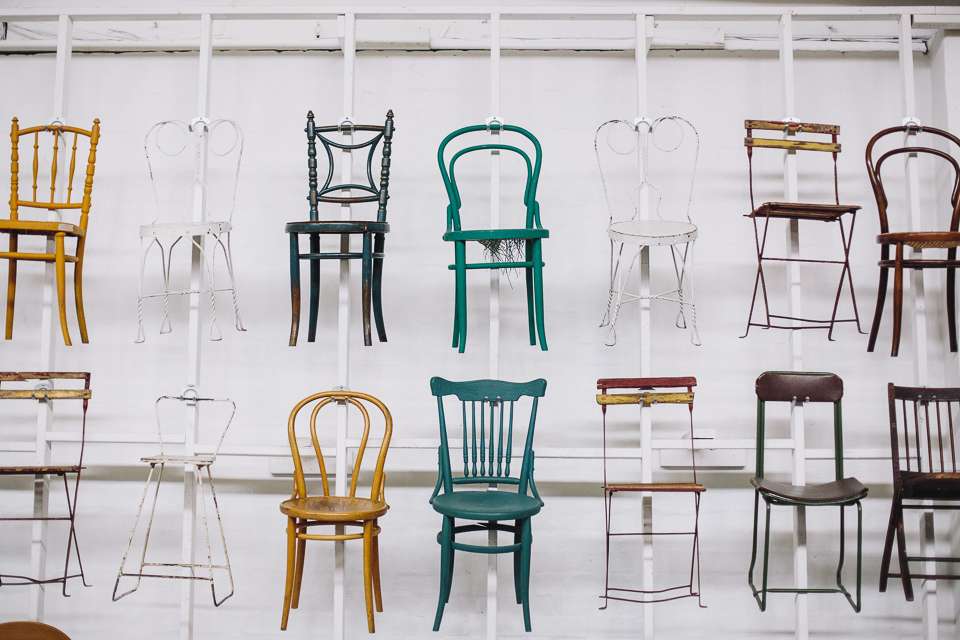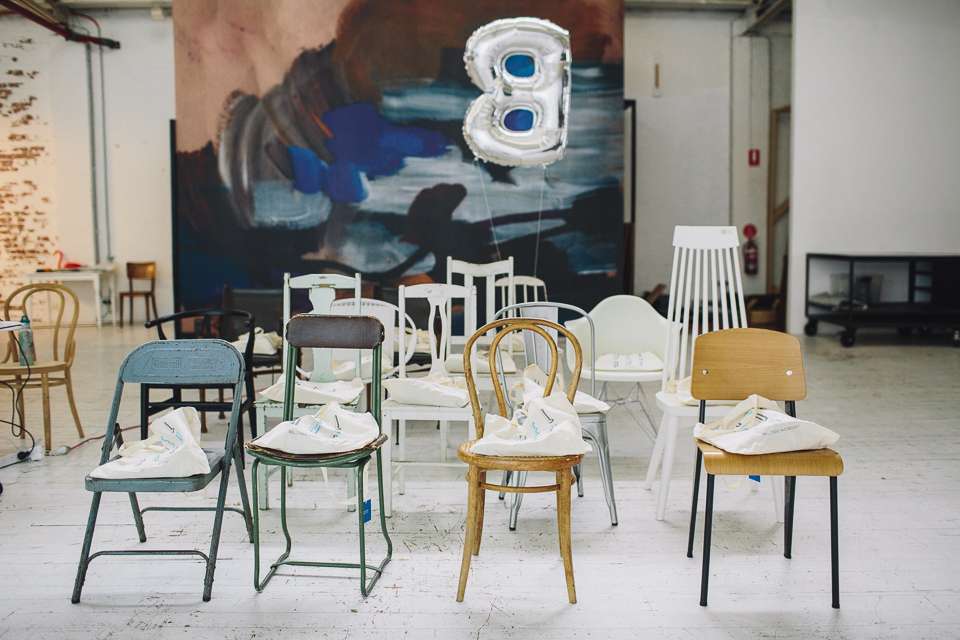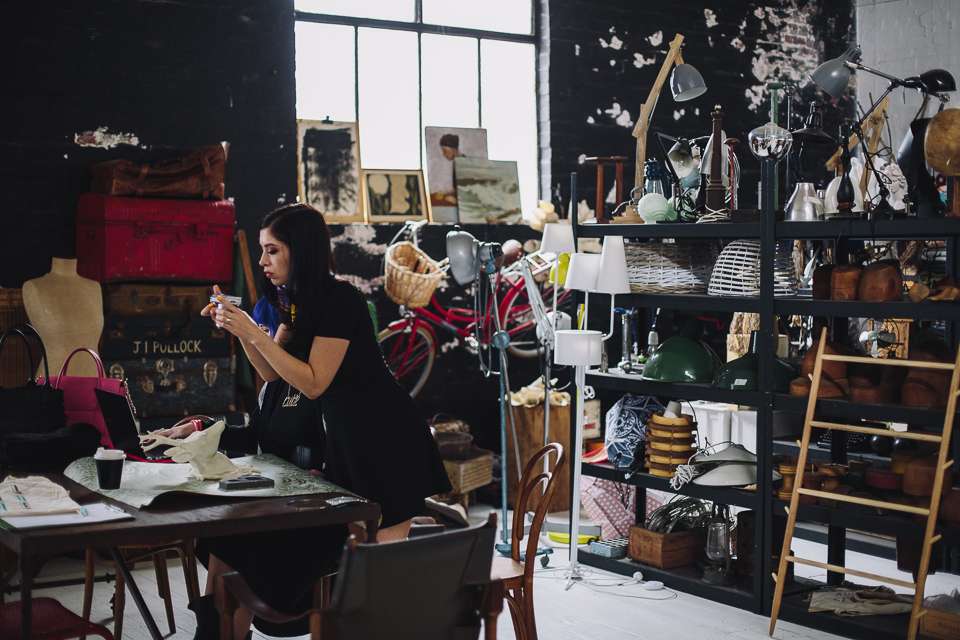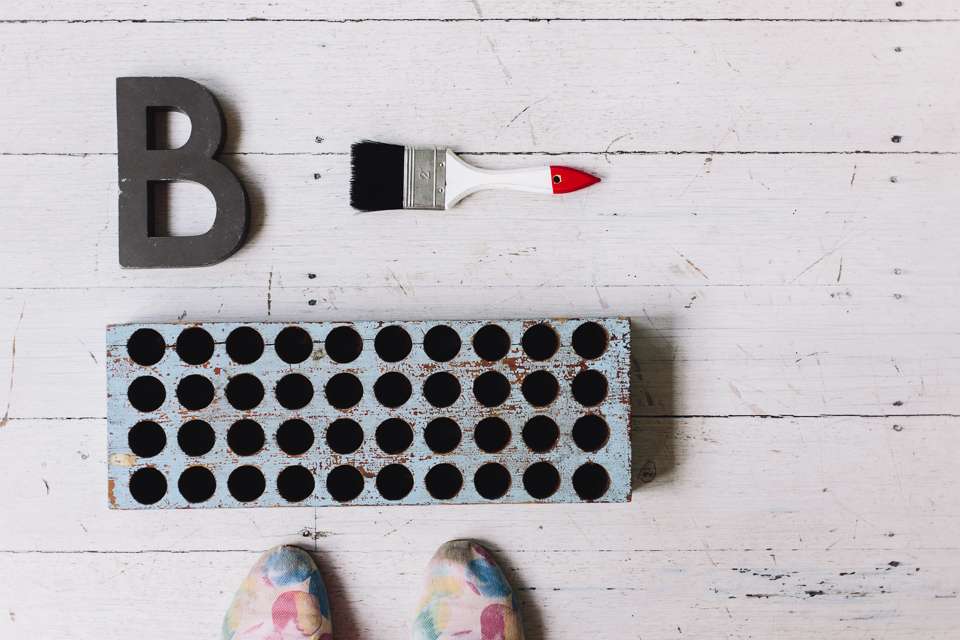 We had two photographers shooting this class and oh boy did they bring it – and then some! Kate Dyer of Urban Safari came to class last year so it was awesome to see her again, and Madeline Kate was just fantastic to work with.
Here's Kobi, Anna and Tillie selfie-ing up a storm!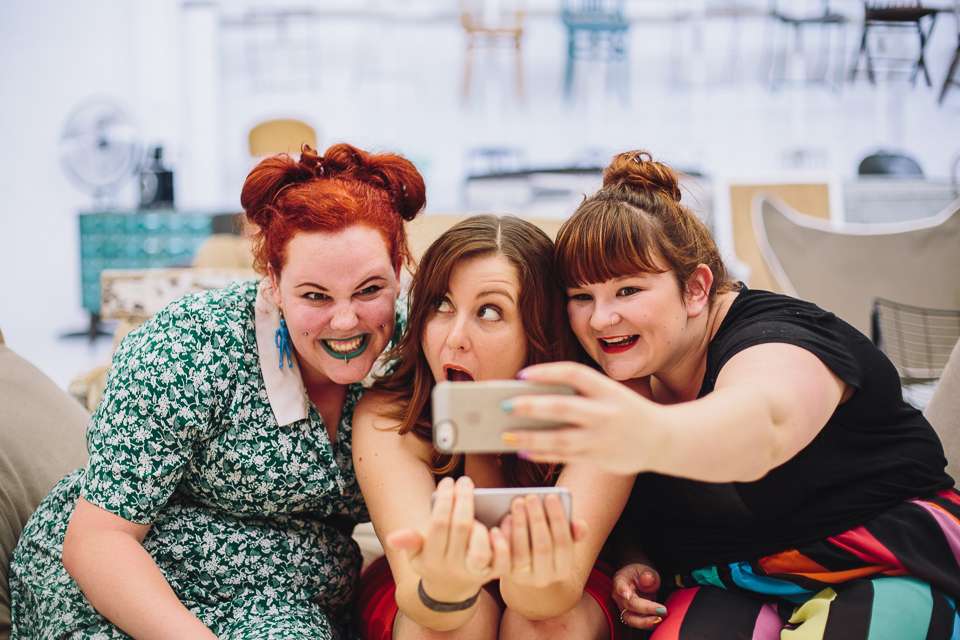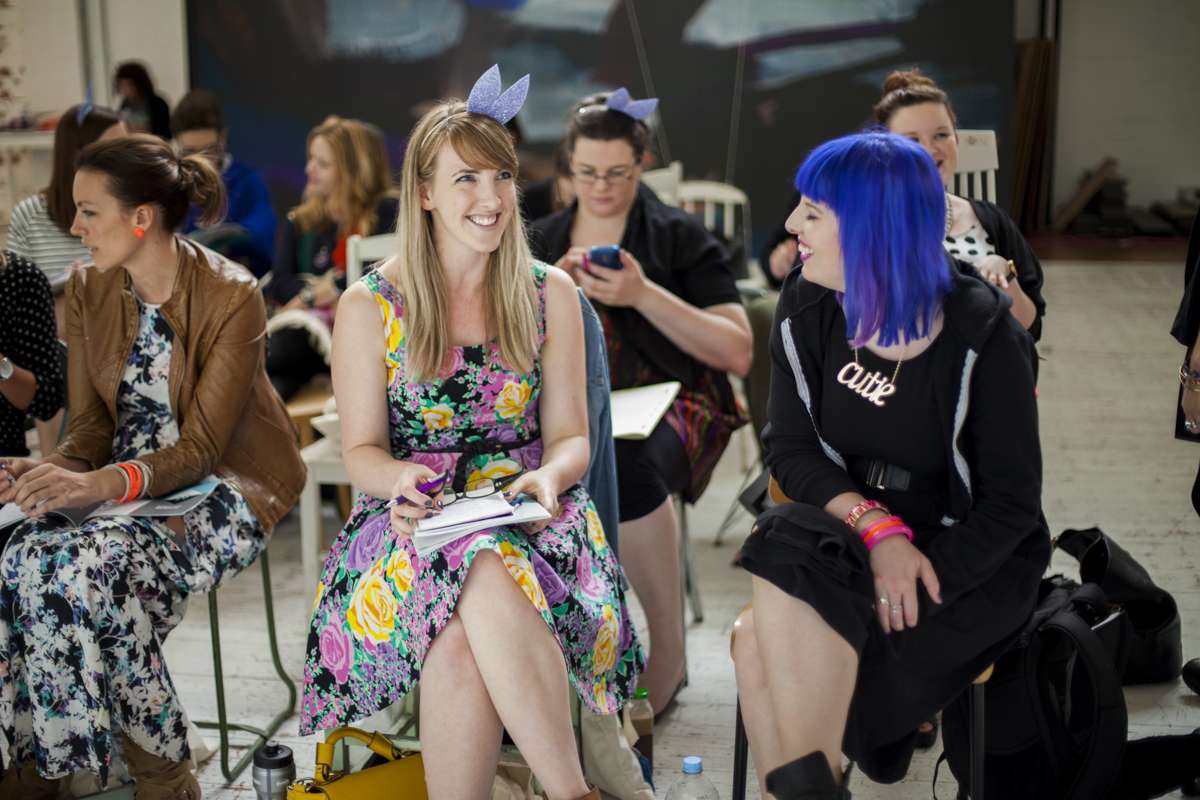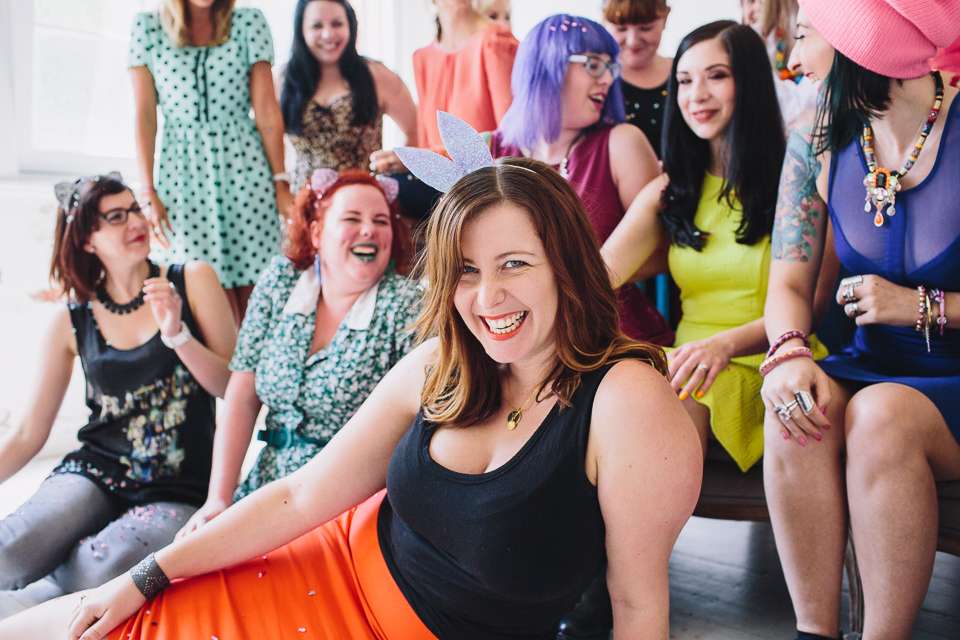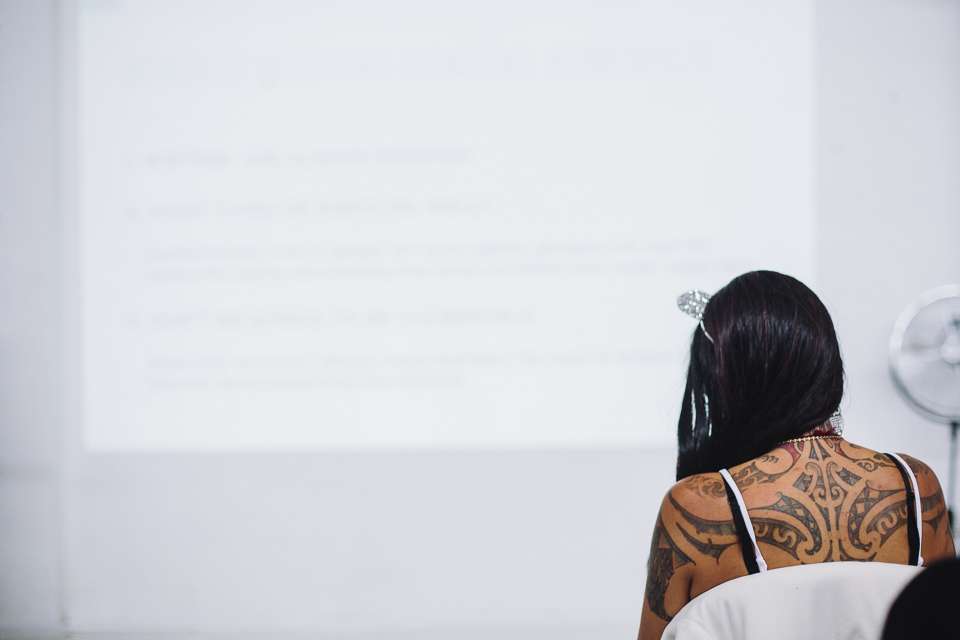 There's always time for a selfie…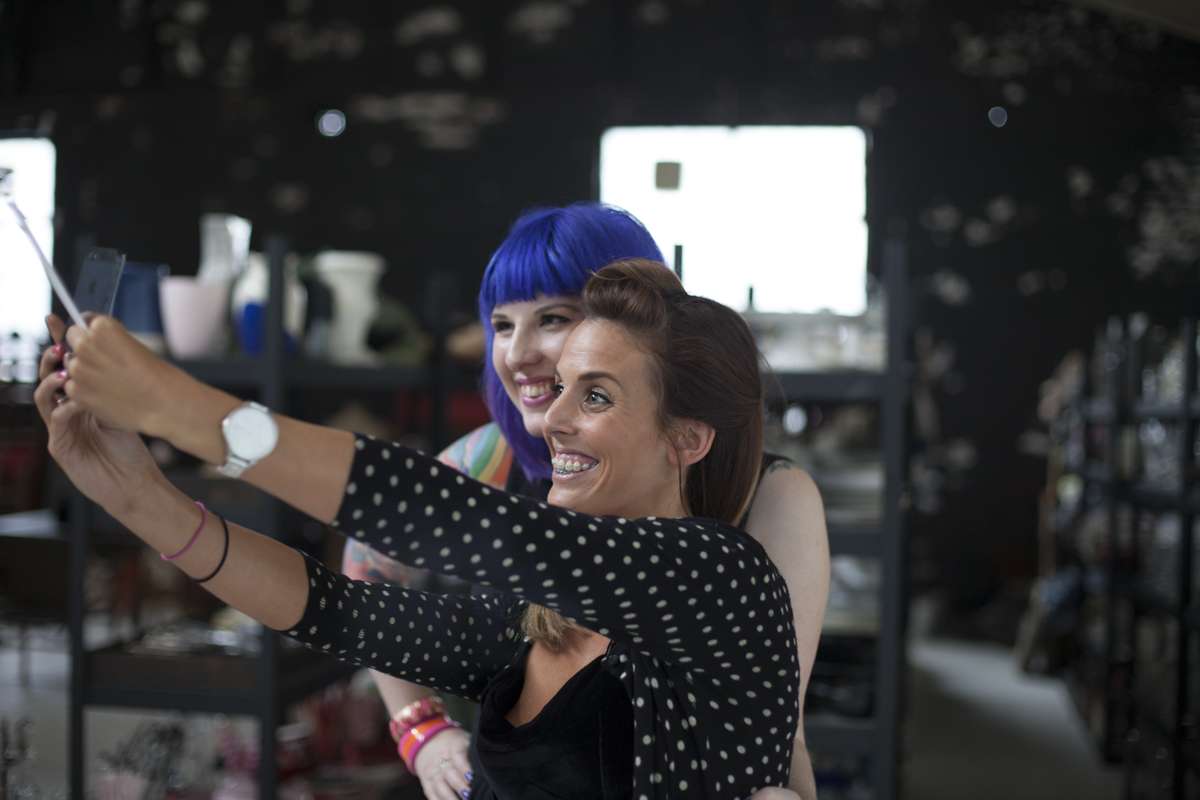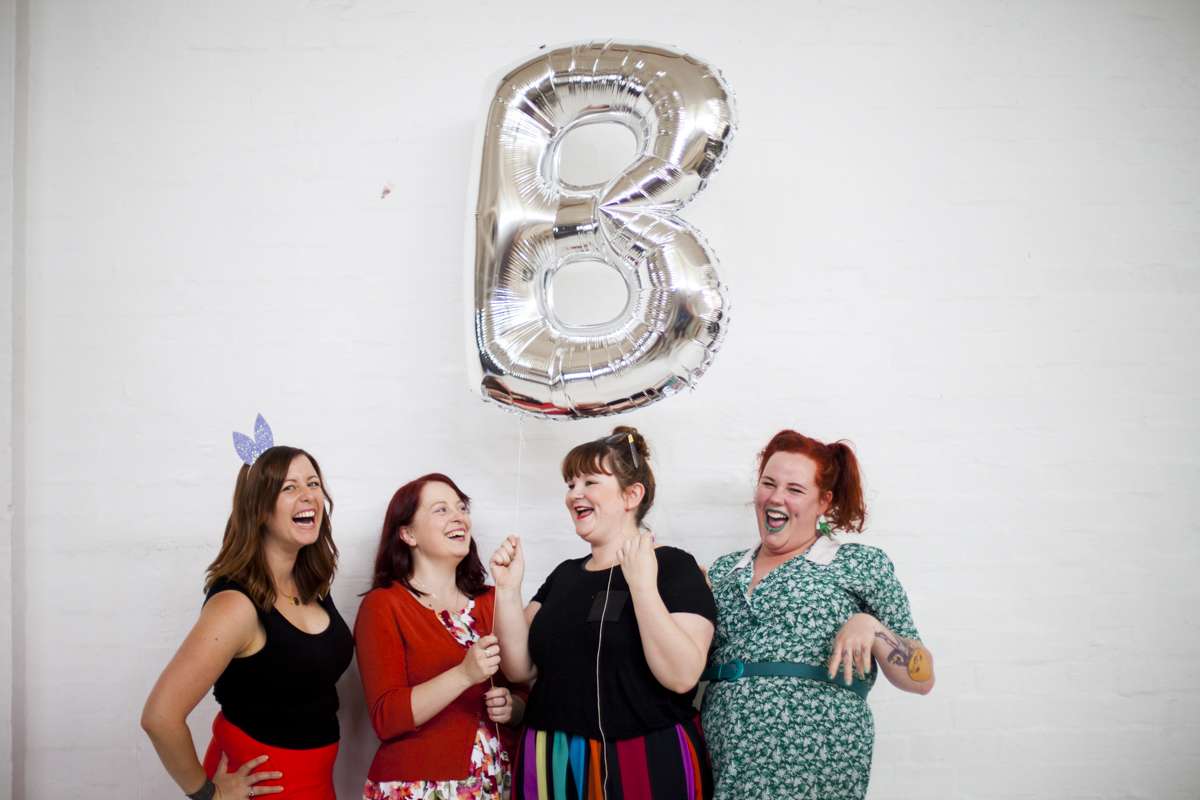 I must not have favourites, but the wedding industry peeps always get extra love from me! Stephanie was just too damn sweet and Cath needs to be my new best friend because she runs a wedding business in Port Douglas (AKA paradise. I visited last year and am desperate to go back!)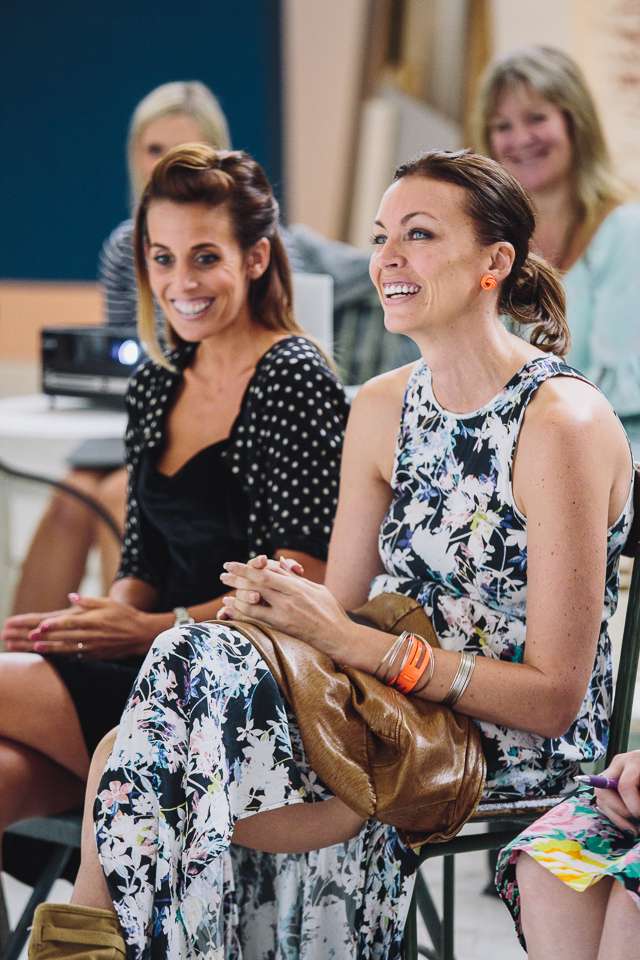 Such greeeeat style…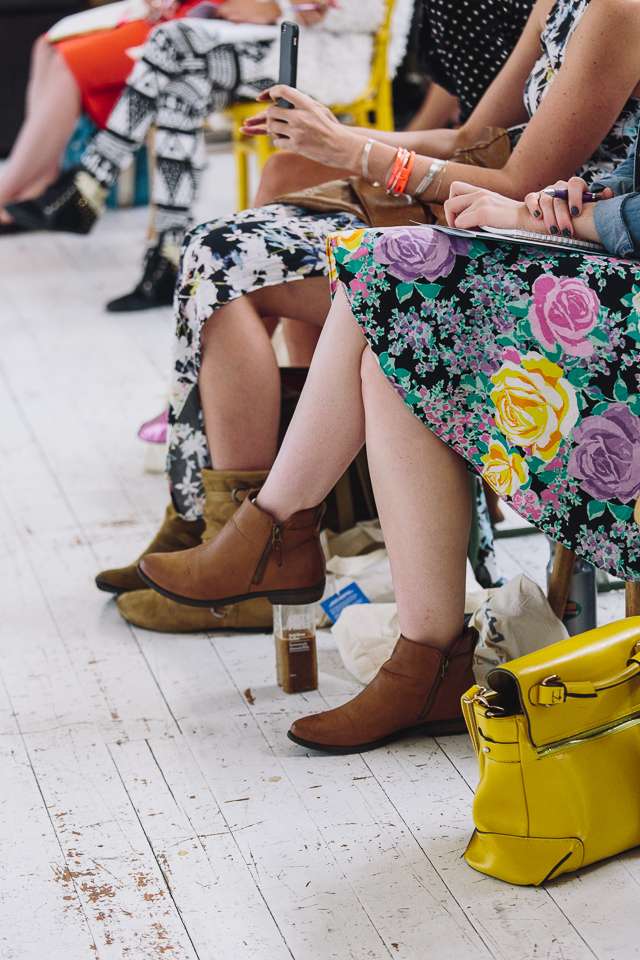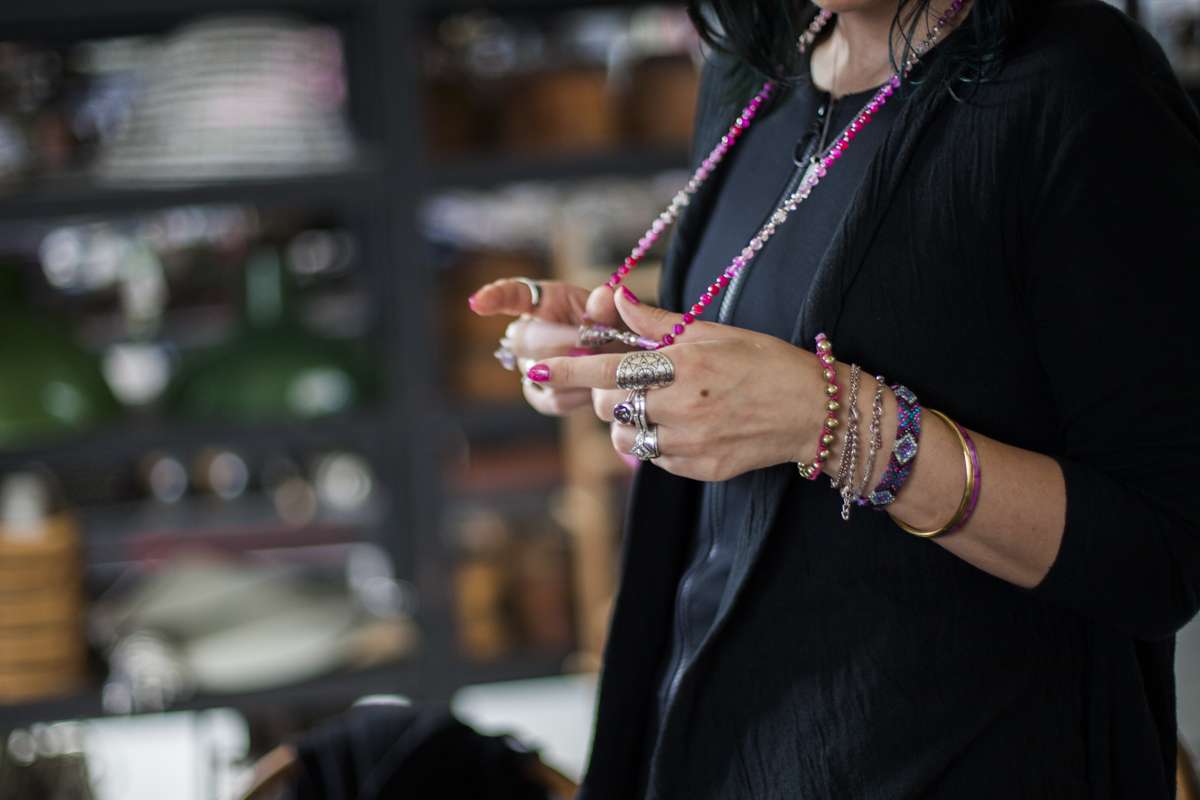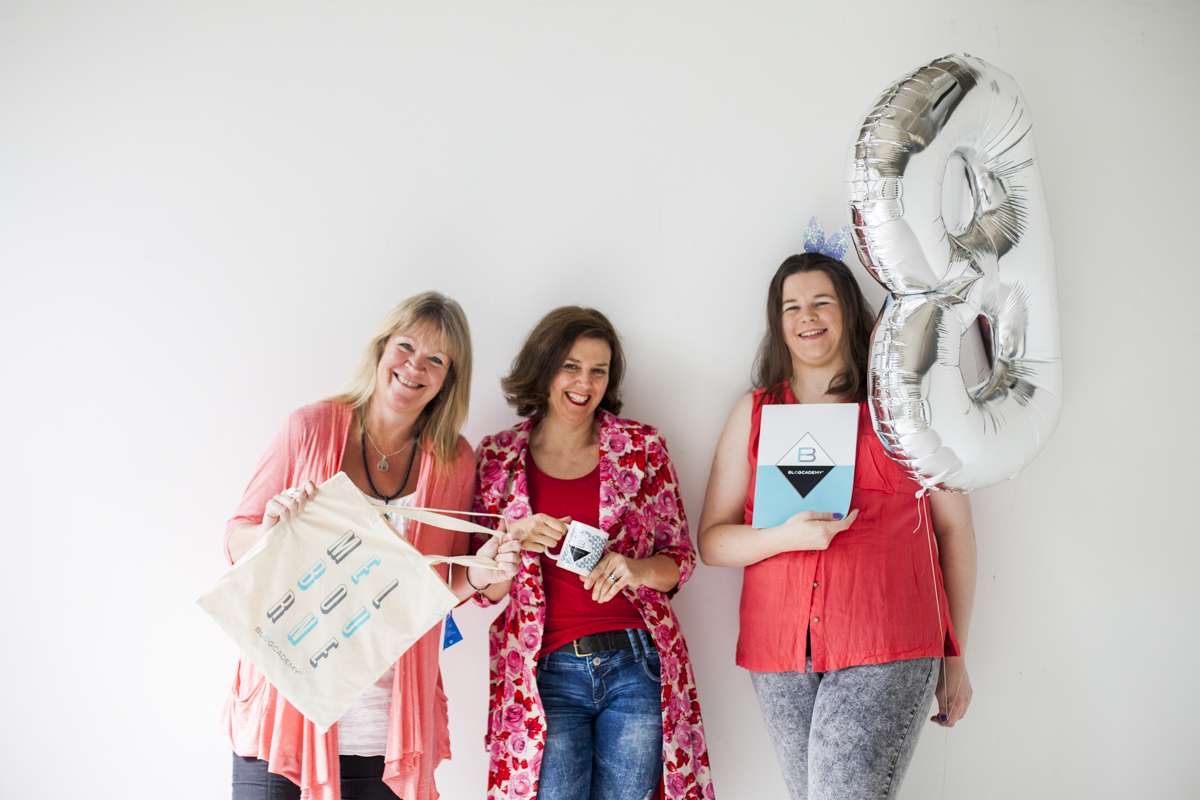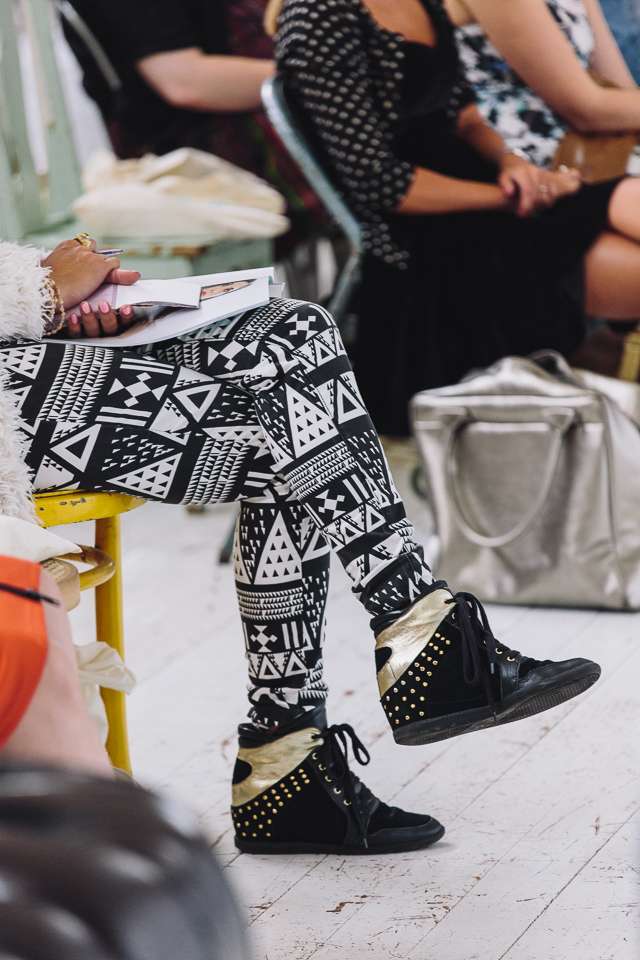 Green Press juice kept us deliciously hydrated and fed. Their juices were simply amazing, especially the pineapple and mint – damn girl it was good! Whenever we travel Gala, Shauna and I are always on the look out for a good juice joint and Green Press were one of the best we've ever tried.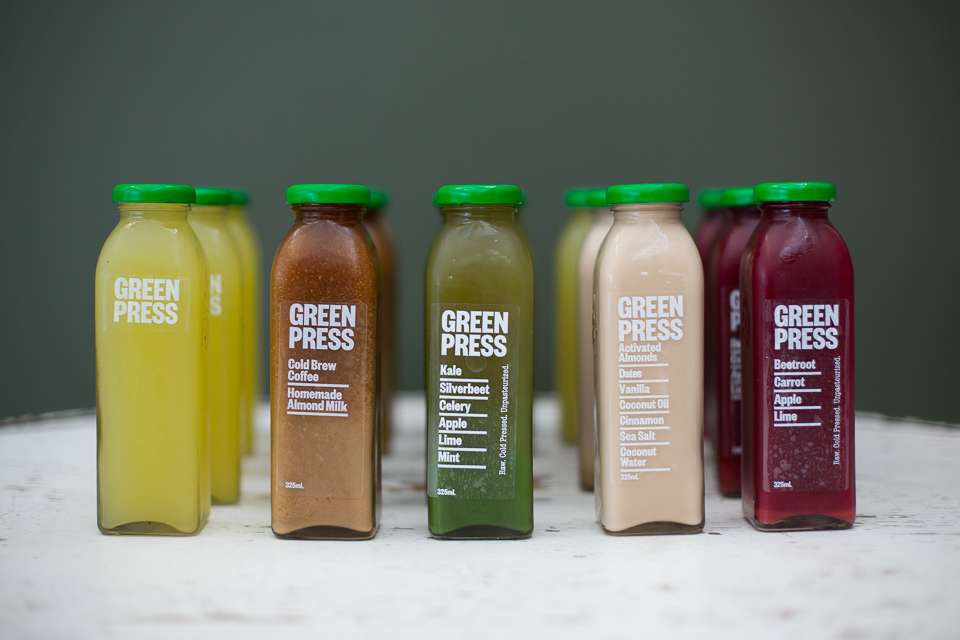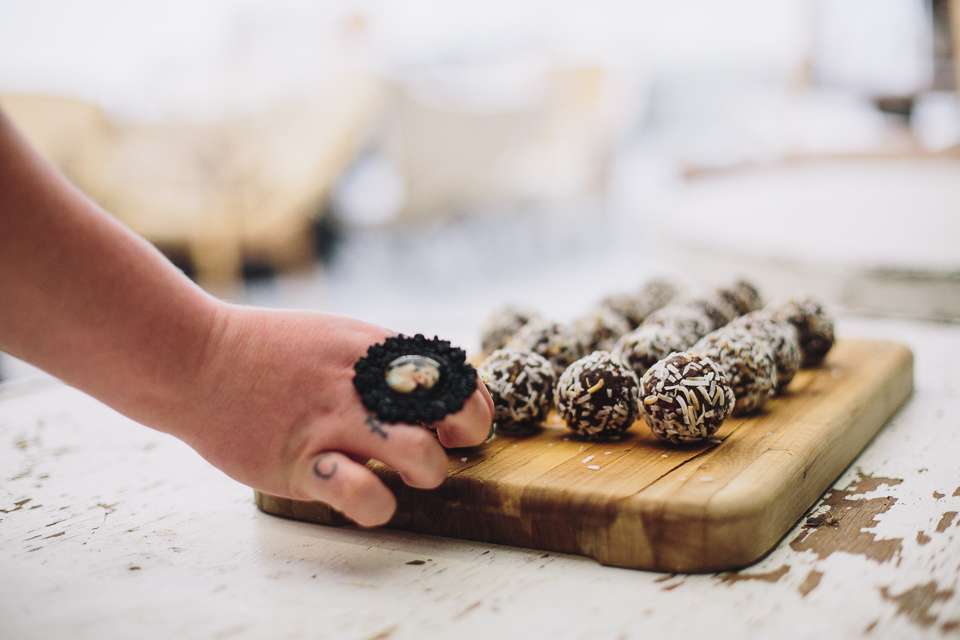 The Photobooth Guys also came along and killed it with their incredibly fun booth and Instagram printer! The latter was an amazing hit and everything tagged with our hashtag over the weekend was instantly printed out. I'm obsessed and OMG how awesome would that be at your wedding?! VERY! They have booths available for hire in Brisbane, Melbourne, Sydney and London!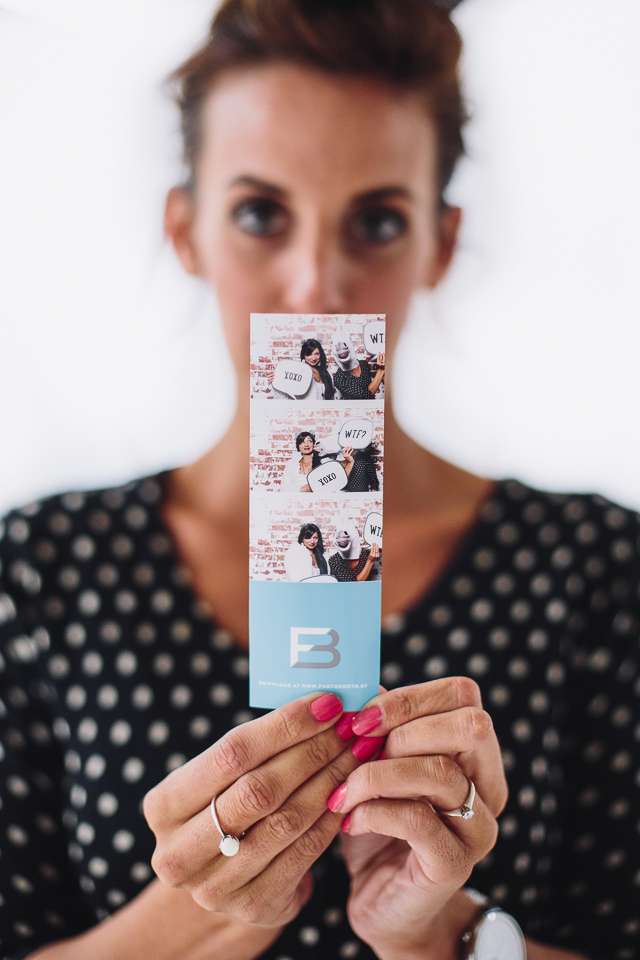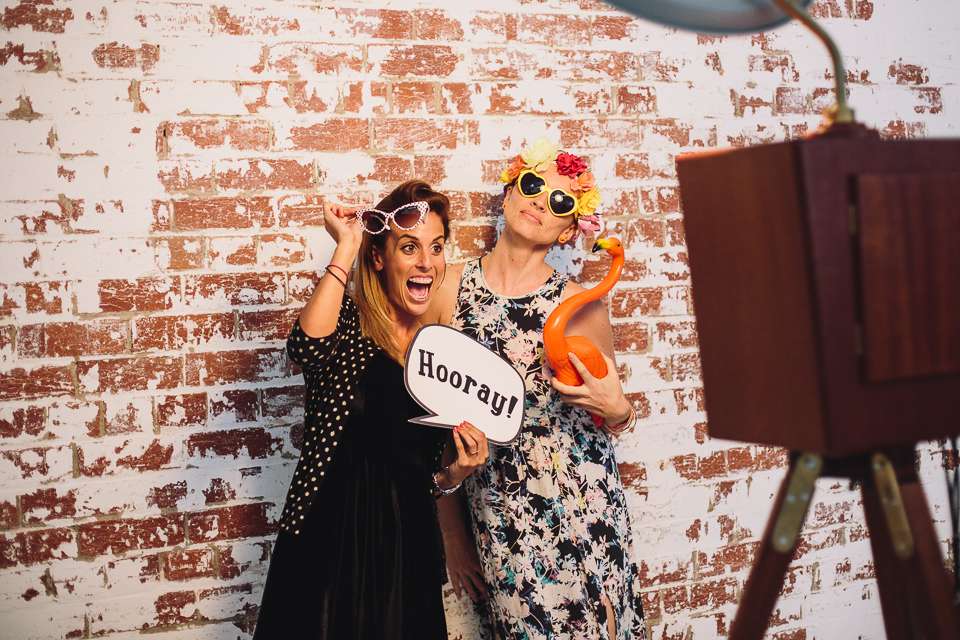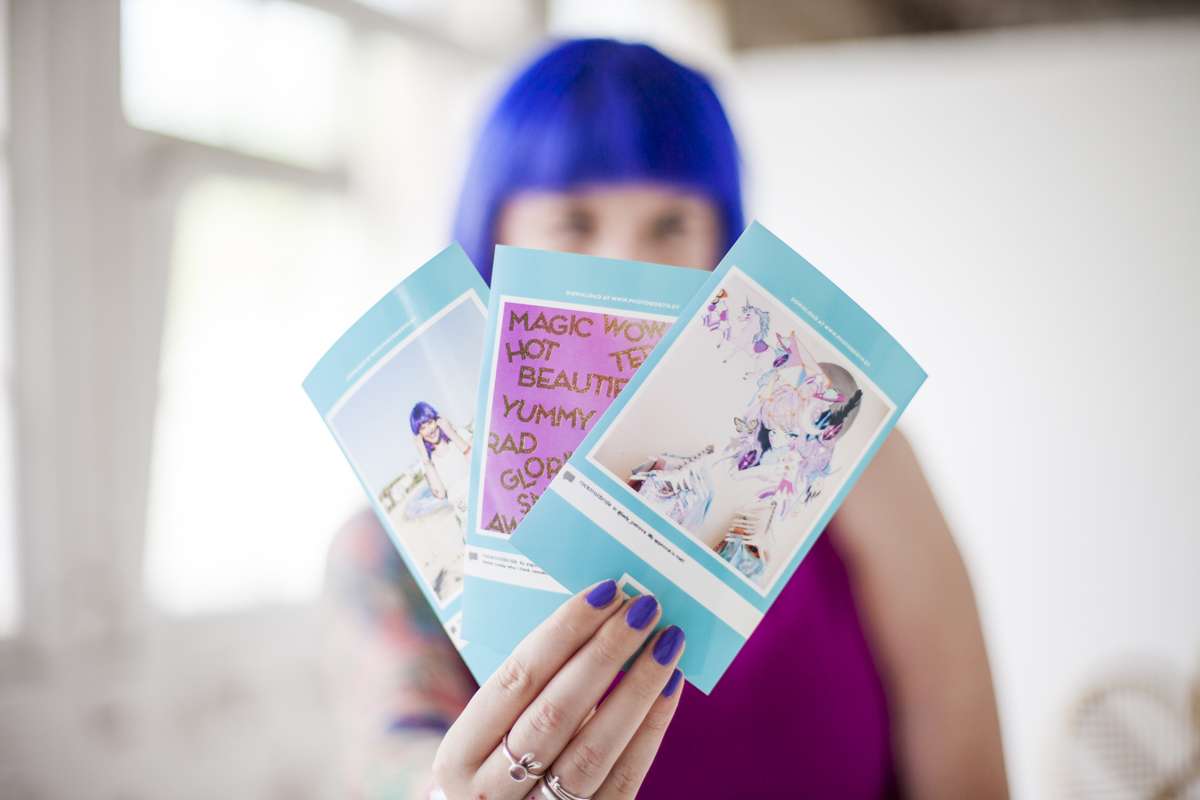 Halfway through the first day, one of my contact lenses decided to BREAK IN MY EYE AND GET STUCK. My eye was so sore all day (not to mention I couldn't see a thing!) that on the second day I decided to wear my glasses. Not that it stopped me posing up a storm in the photo booth!
Babes! Babes for days!!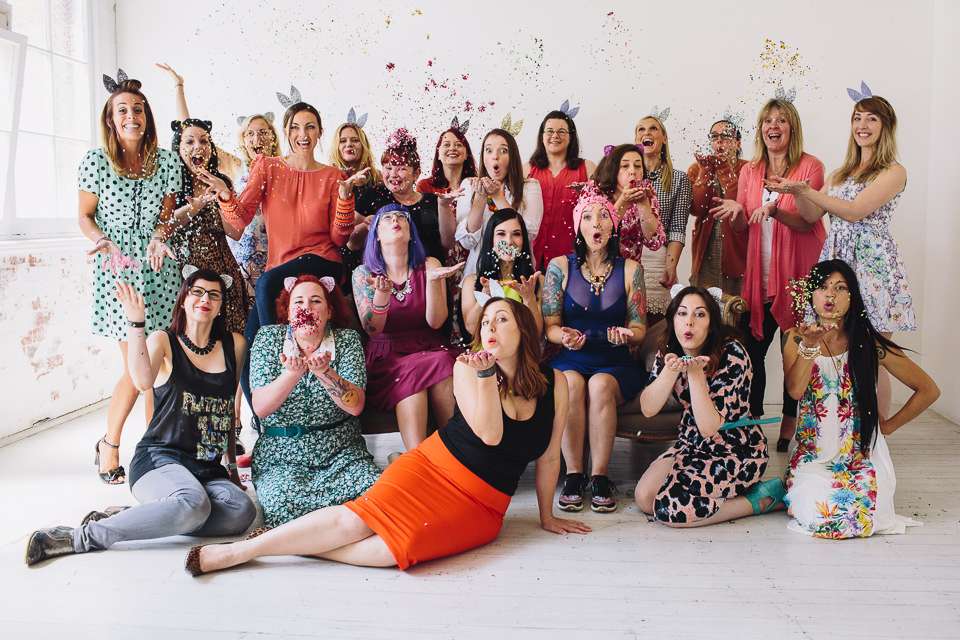 Auckland
Our final class of the year was in Auckland and talk about going out with a bang! The space, Biz Dojo Gallery, was beautifully decorated by Josie of Wink who also attended the class. She rocked it with her creative, on-brand decorations and I'm definitely going to be sharing some fun wedding décor applicable DIY tutorials from her soon!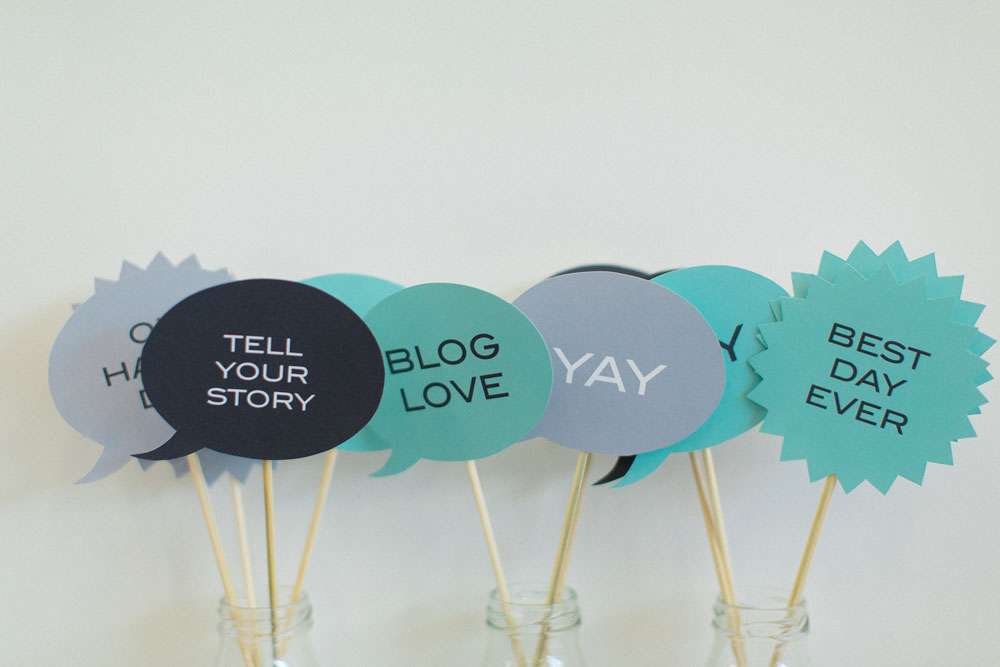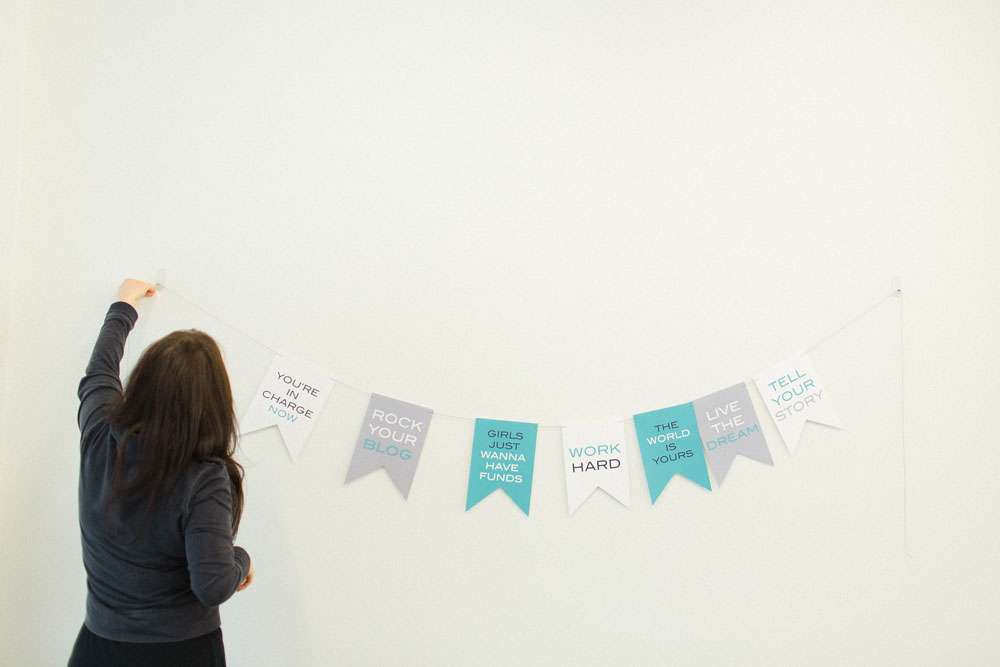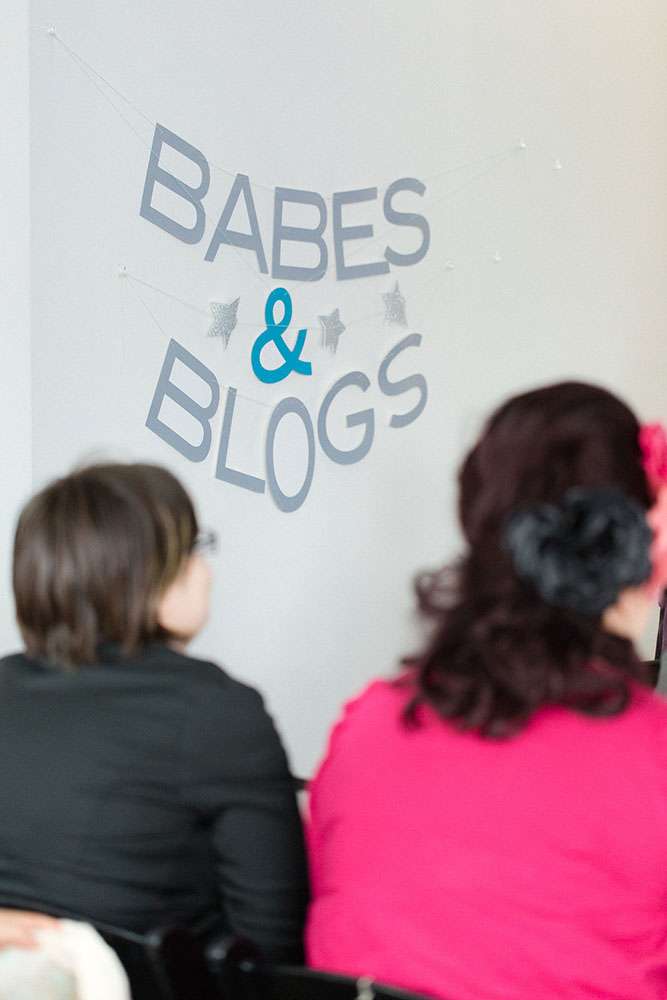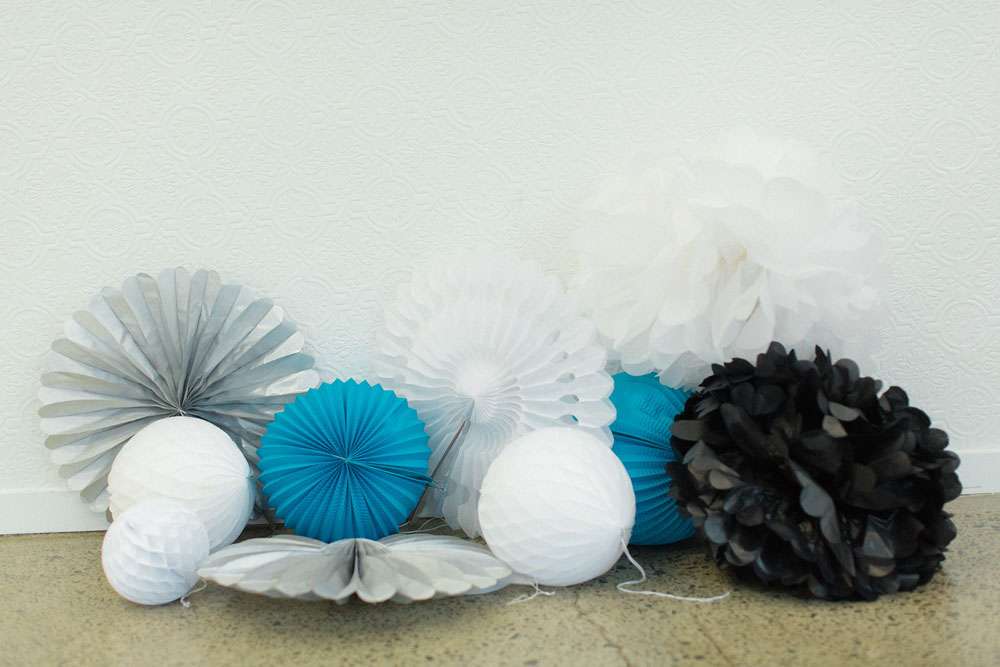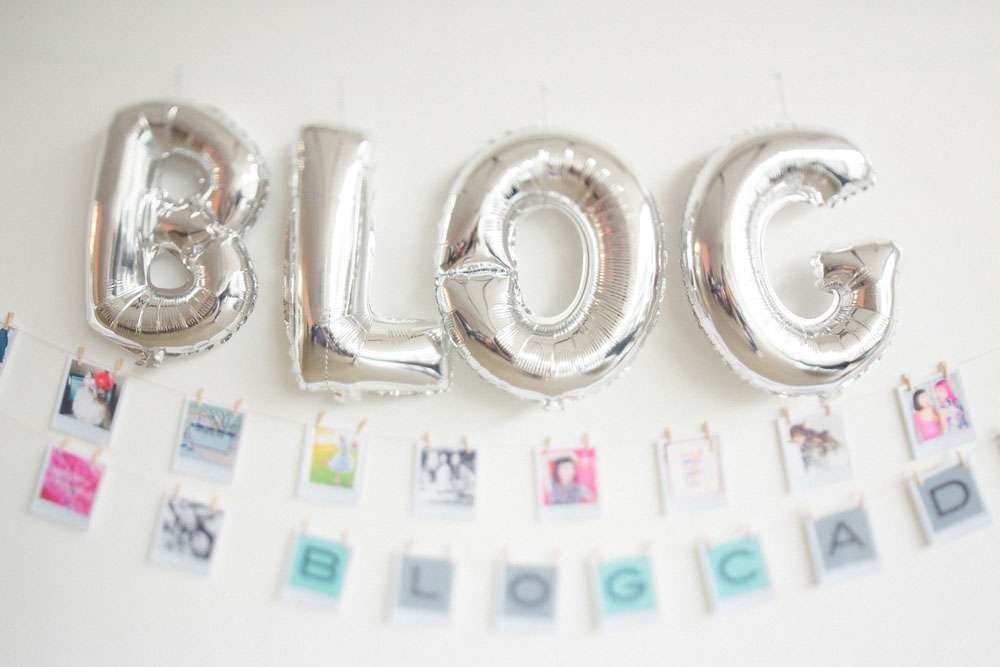 Yet again, the women (and solo man – Gala's dad also came to this class!) we met were charming, inspiring and seriously stylish.
Aww Hannah and Sophie were the best. They sat at the front both days and asked so many questions (which always makes me happy).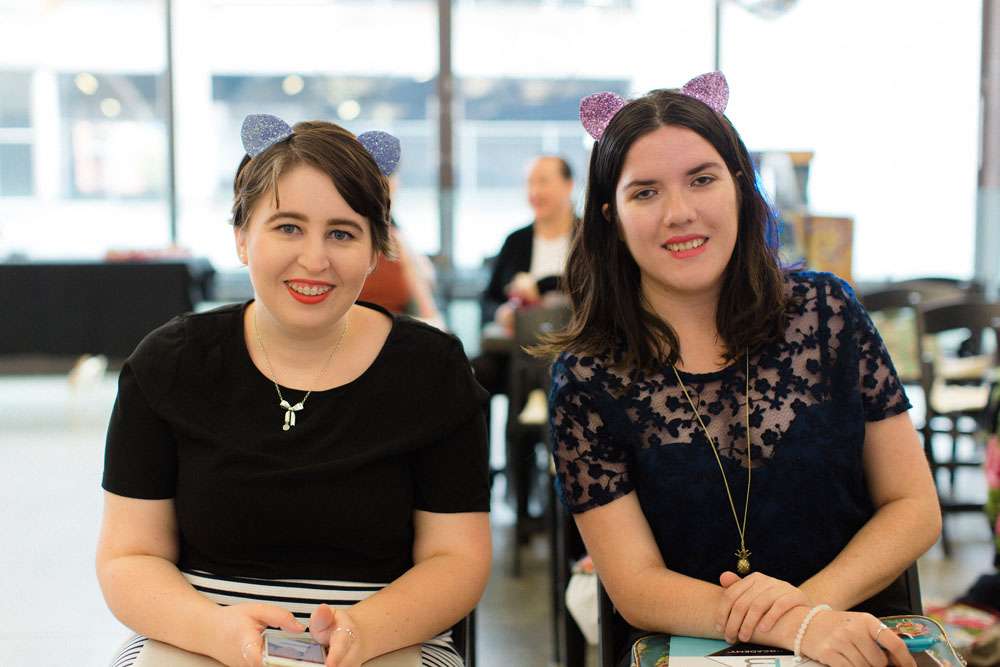 Tania booked into the class at about 10pm the night before… and then hopped on a plane to be there! Now that is some commitment! I was so glad she made the trip because she was utterly lovely.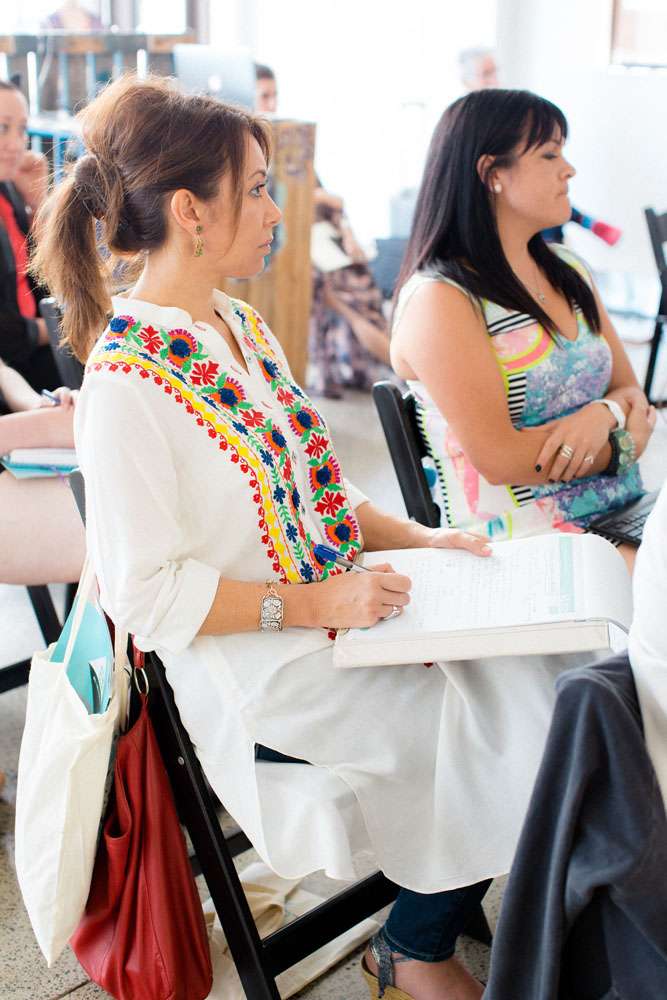 Yes that is a lobster headpiece on Amy's head!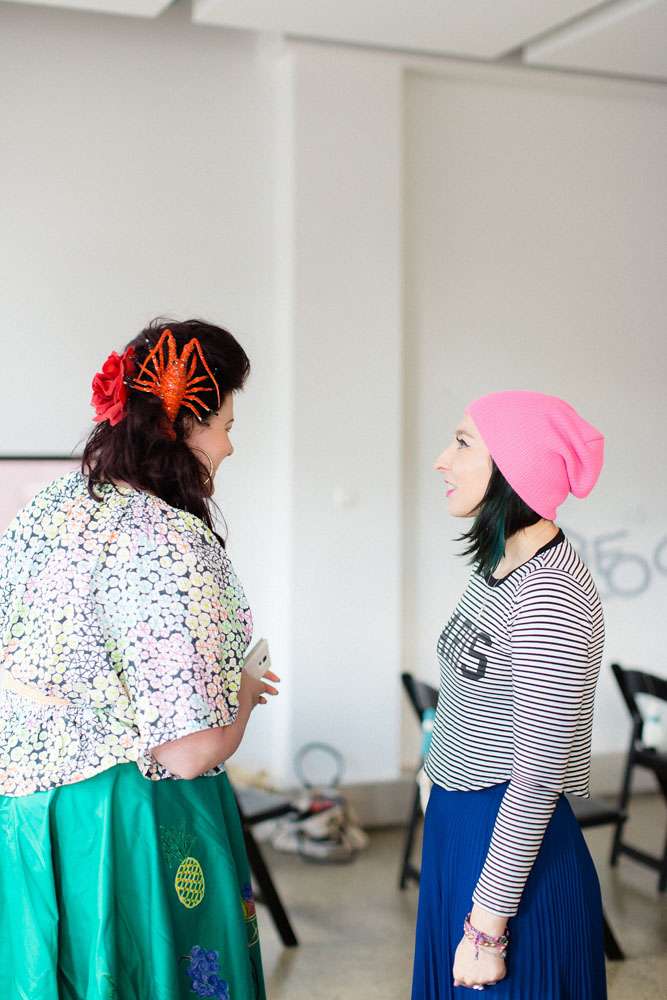 …And Teenage Mutant Ninja Turtles on Tannia's back!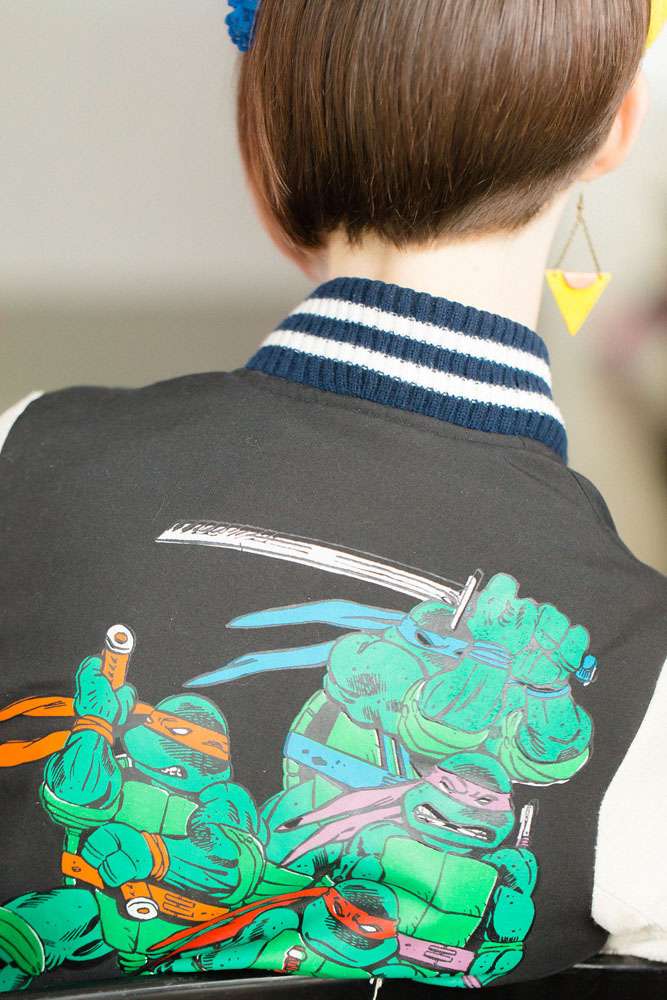 What is it with Blogcadettes and having such awesome taste in shoes?!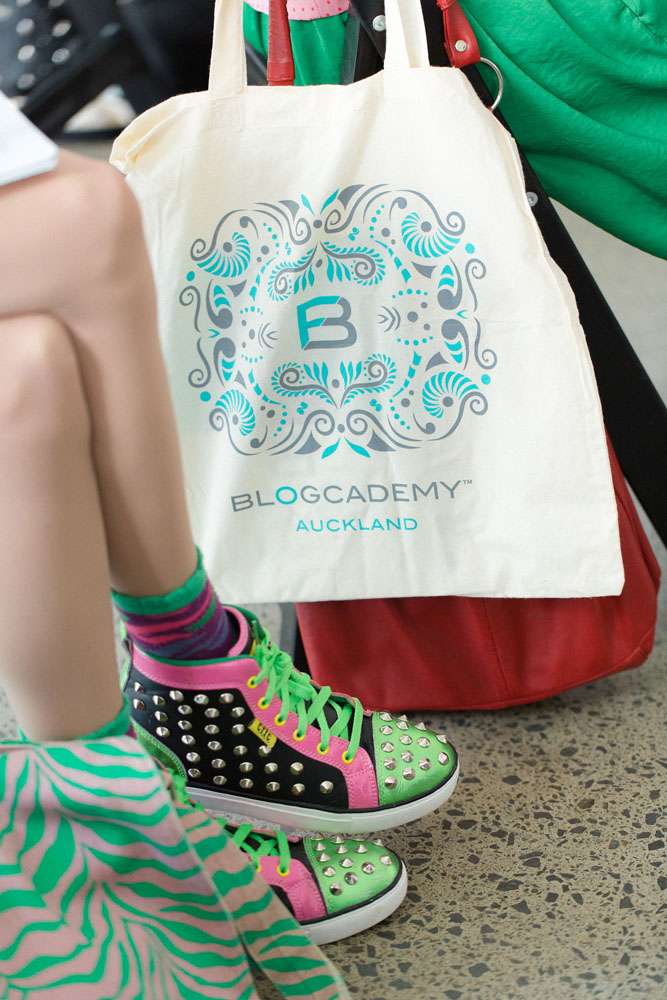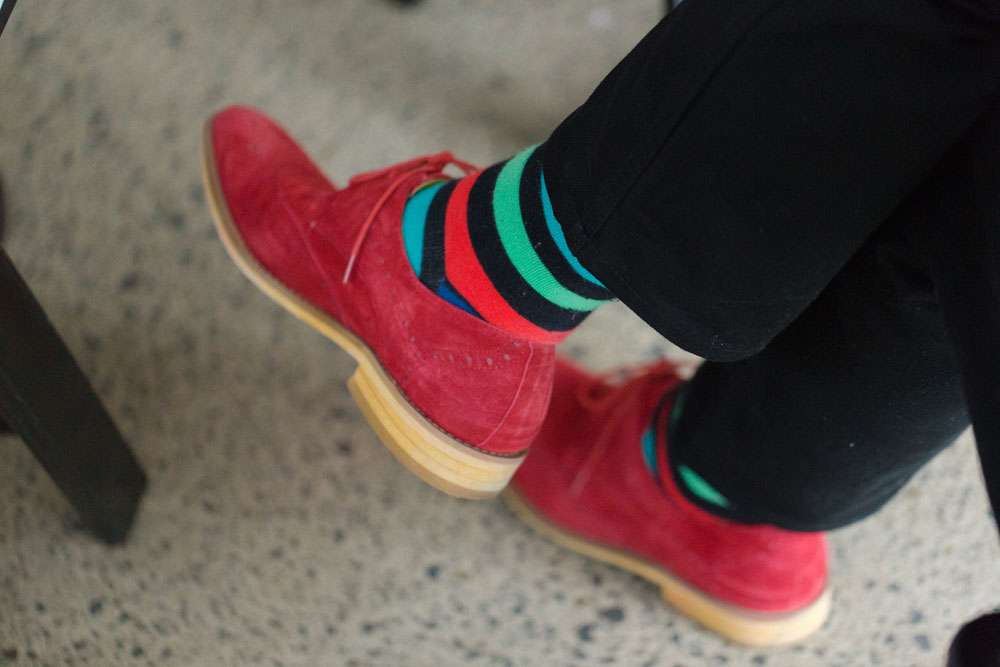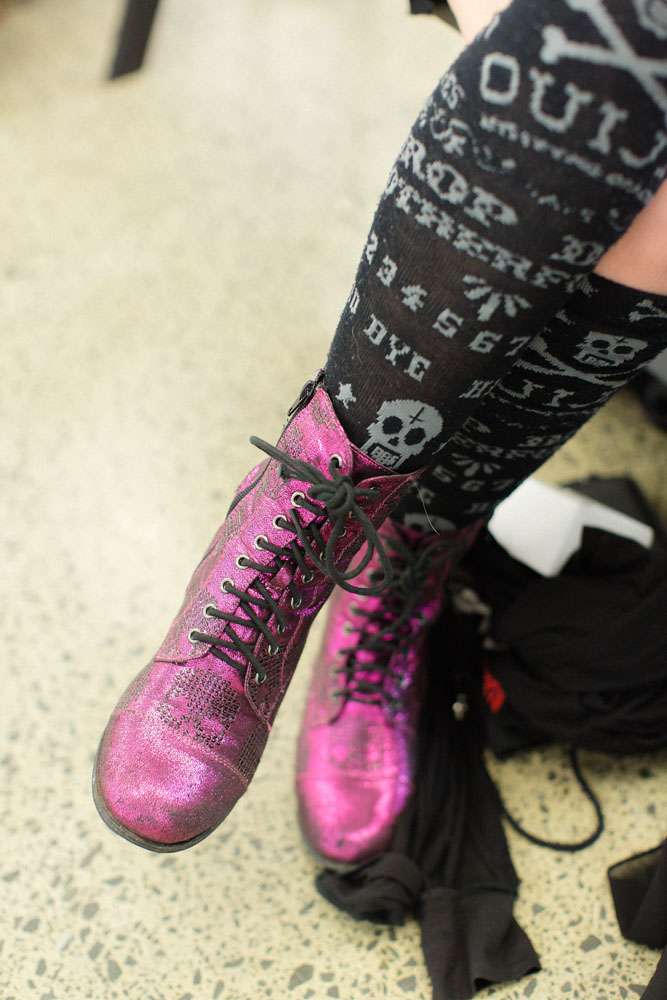 The Auckland crew were a particularly generous bunch. Brazilian born Dani made everyone cupcakes…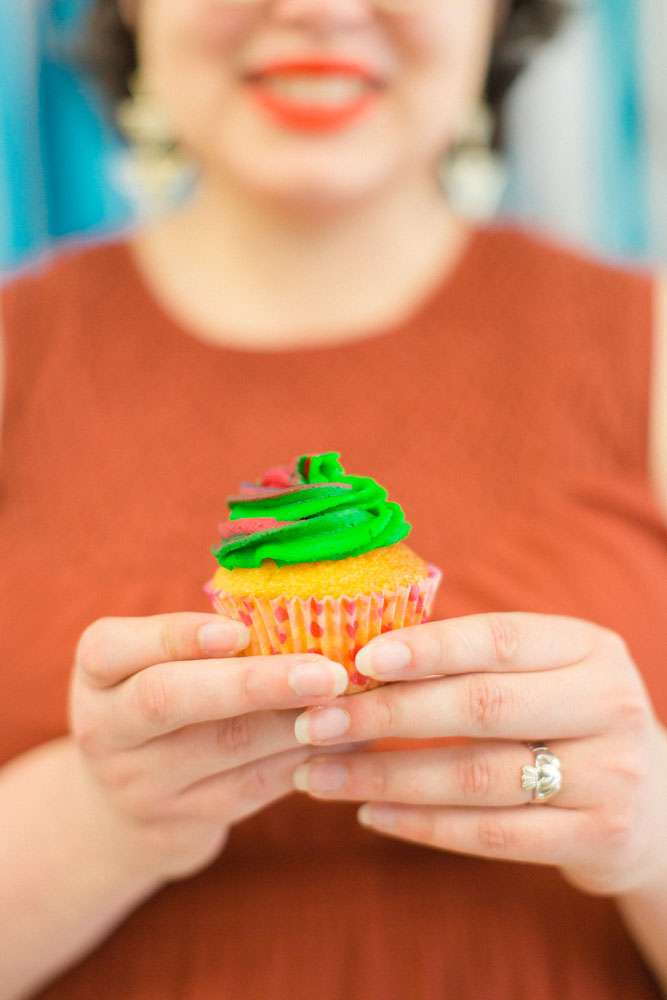 Tannia gave us also gorgeous felt flower headbands as gifts (I'm obsessed!)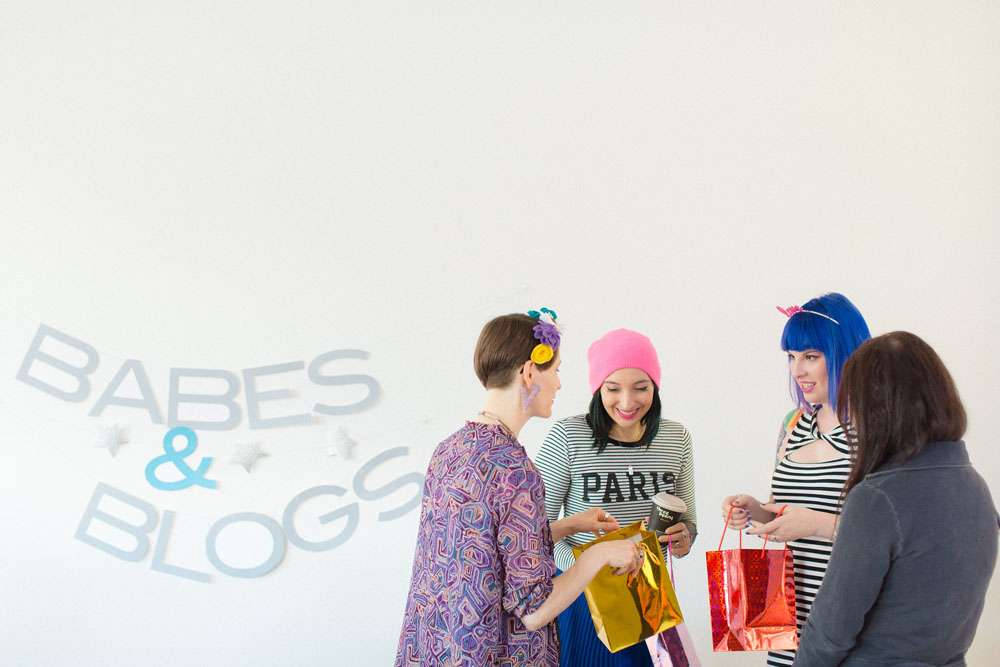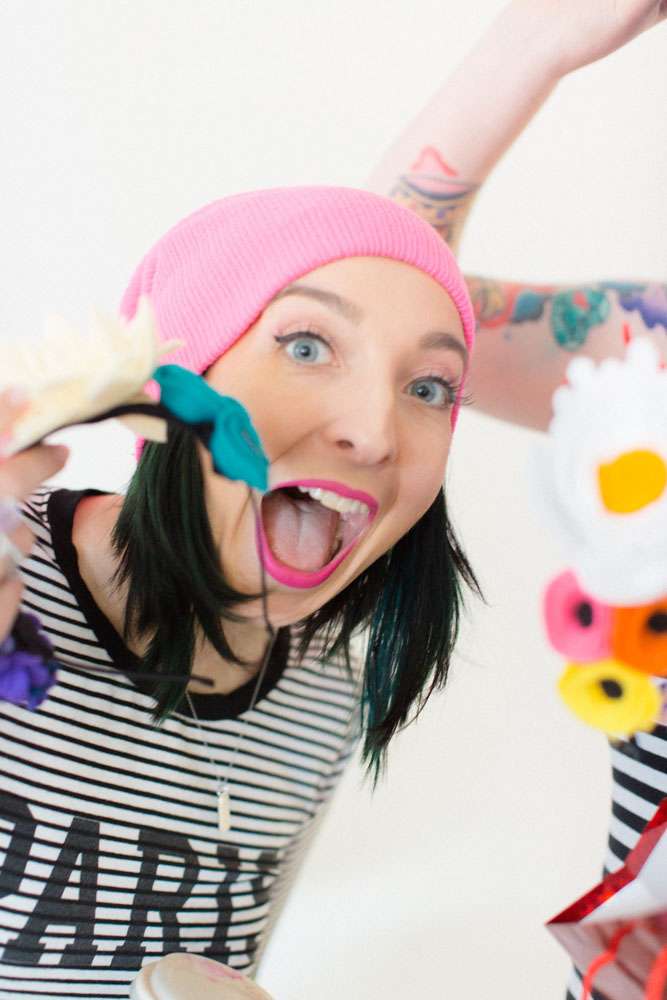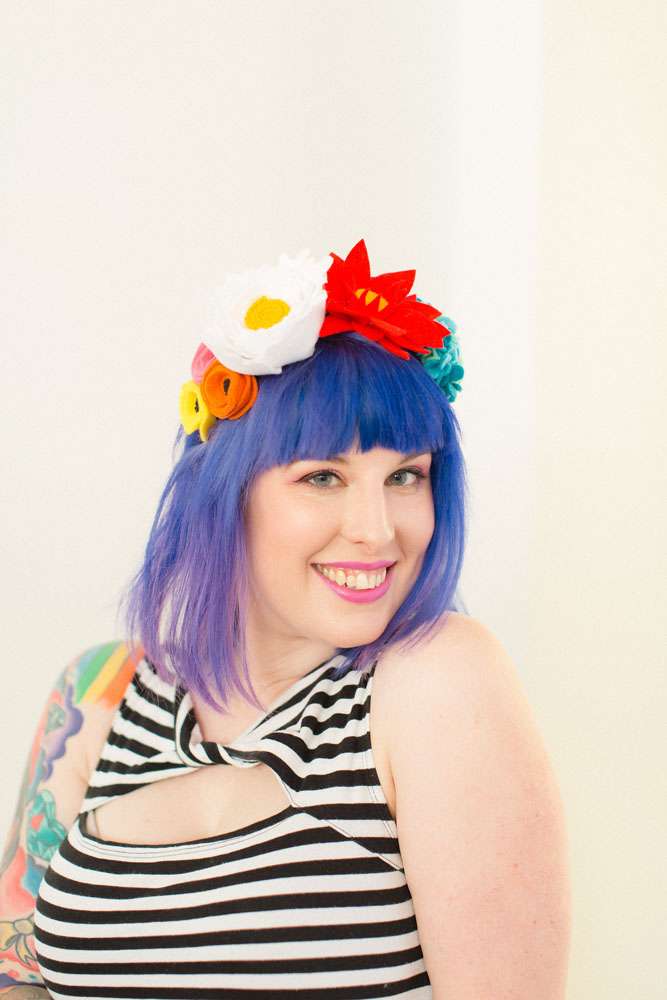 And at the end of the weekend, Kiira stood up and sang us a traditional Maui song to say thank you. It was amazing!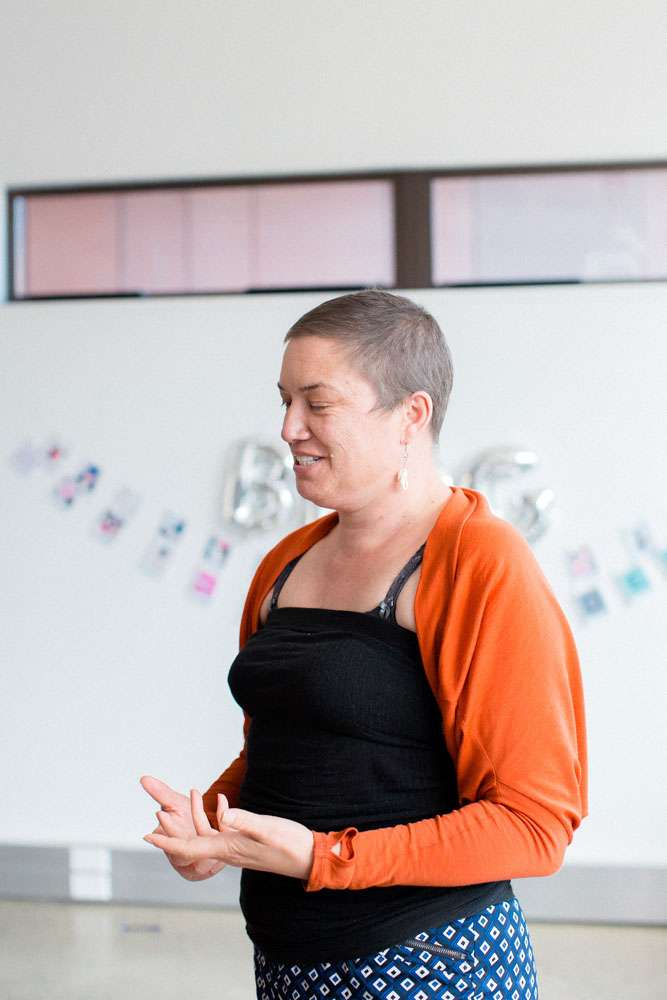 I have to say one of the most inspiring women we met ALL YEAR was in this class too. Steph may be registered blind but that hasn't stopped her becoming a best selling dark fantasy author and running multiple businesses (including one as an alternative wedding celebrant). What a woman, seriously!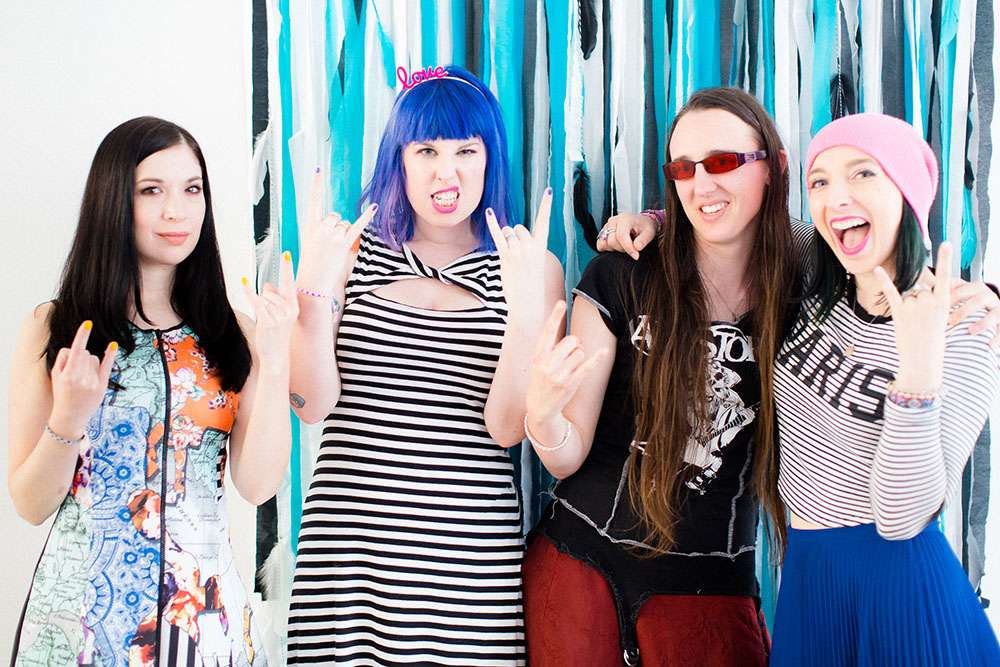 Confetti makes every group shot epic!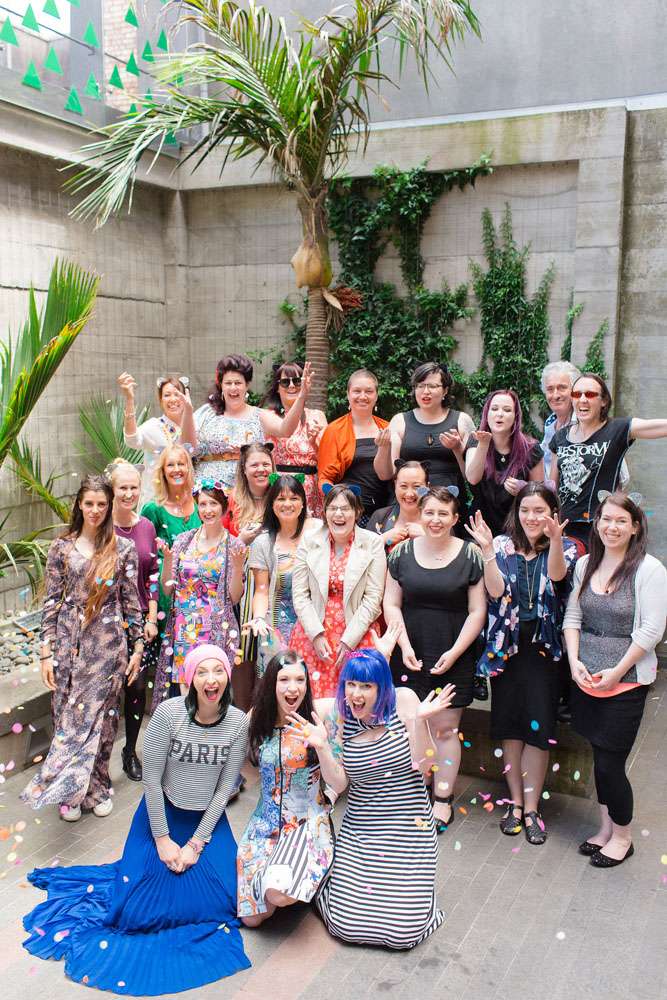 Our photographer was Steph of We are Bubblerock. Our original photographer pulled out at the last minute but it all turned out in the end because she is so amazingly talented! It was awesome to work with her!
As a side note, if you're a photographer and you'd like to come along and photograph one of our 2015 classes – and take the class for free! – we'd love to hear from you. I mean, who wouldn't want to shoot these beautiful faces!?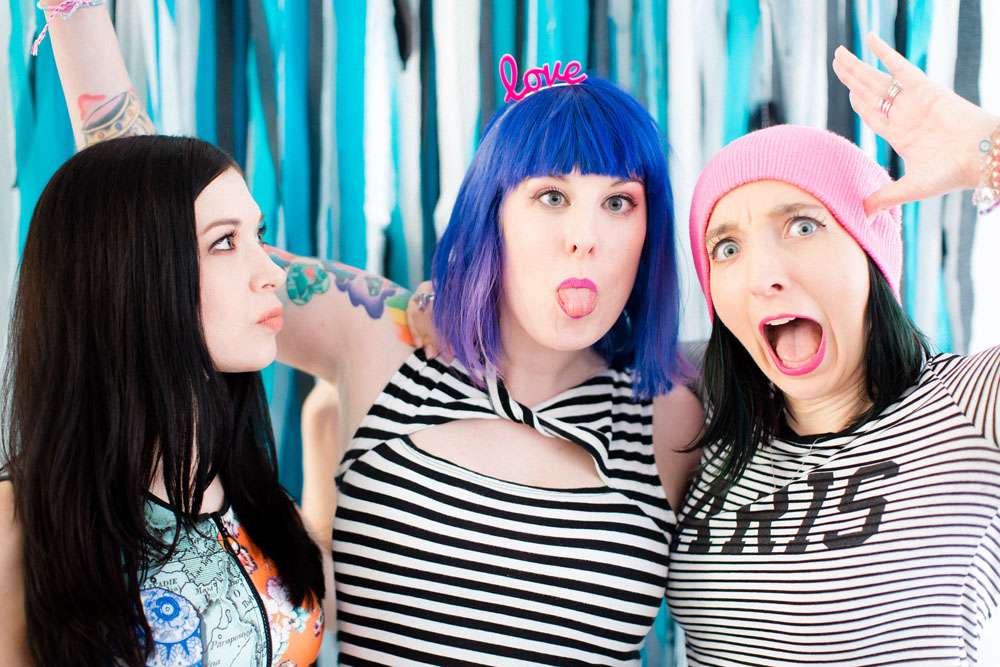 Goodies!
We are so endlessly grateful to all the sponsors that have donated their goodies to our swag bags this year. On this round of classes our attendees got greetings cards from Love Ideas Ink, confetti from Fizzy Bunting, tattoo transfers from Pepper Ink and eye shadows from Violent Maiden.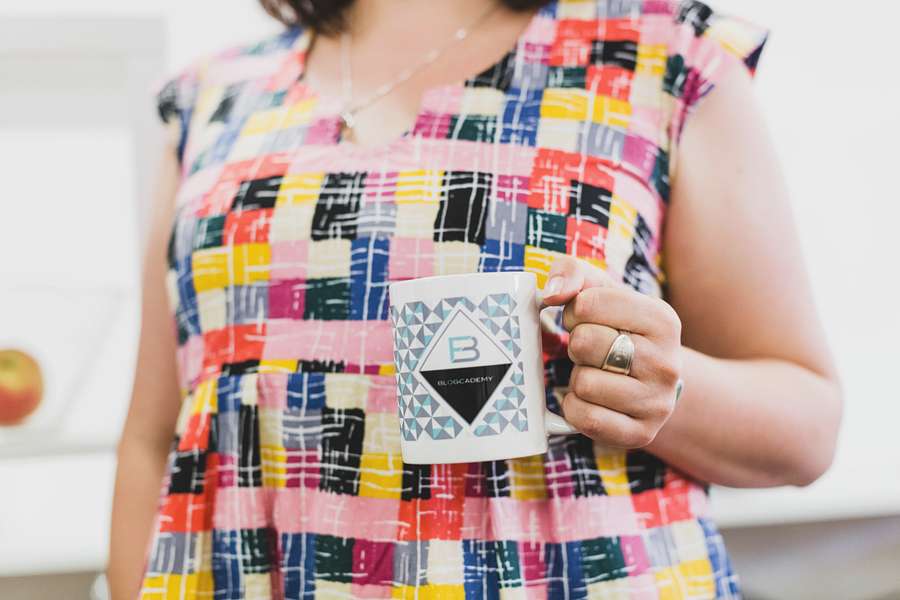 There were Blogcademy branded mugs and cute coloured pencil sets from Brand Me, and of course sparkly ears for everyone from Crown and Glory. Finally each attendee was given access to a free download of Reeta Krishna's amazing WordPress for Beginners book!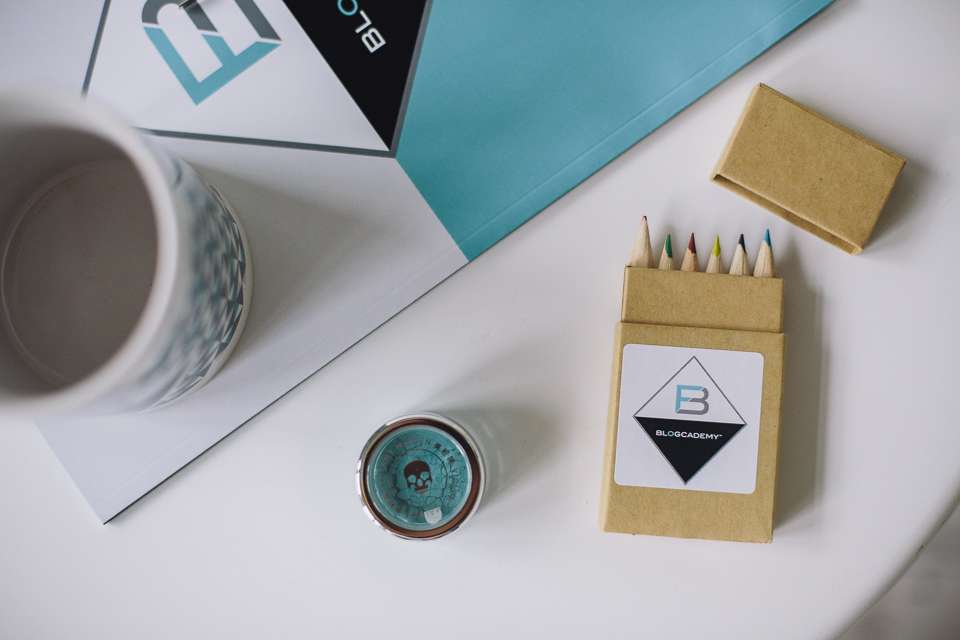 The Blogcademy World Tour 2015!
Since our first class in October 2012 we've been around the world twice but we're still doing it all over again next year!
However with the launch of our full class online on January 29th (EEEEK!) we're doing a lot less live dates so these are are the only classes for 2015. We won't be adding any more cities this year so if you want to come along and learn in person, hop on this RIGHT NOW.
LOS ANGELES
February 28 – 1, 2015
LONDON
June 13 – 14, 2015
SAN FRANCISCO
September 12 – 13, 2015
NEW YORK
September 19 – 20, 2015
MELBOURNE
December 5 – 6, 2015
SYDNEY
December 12 – 13, 2015
The Blogcademy really is the most fun you can have with your clothes on, but if you've been wondering whether the course is right for you then be sure to check out our FAQ page.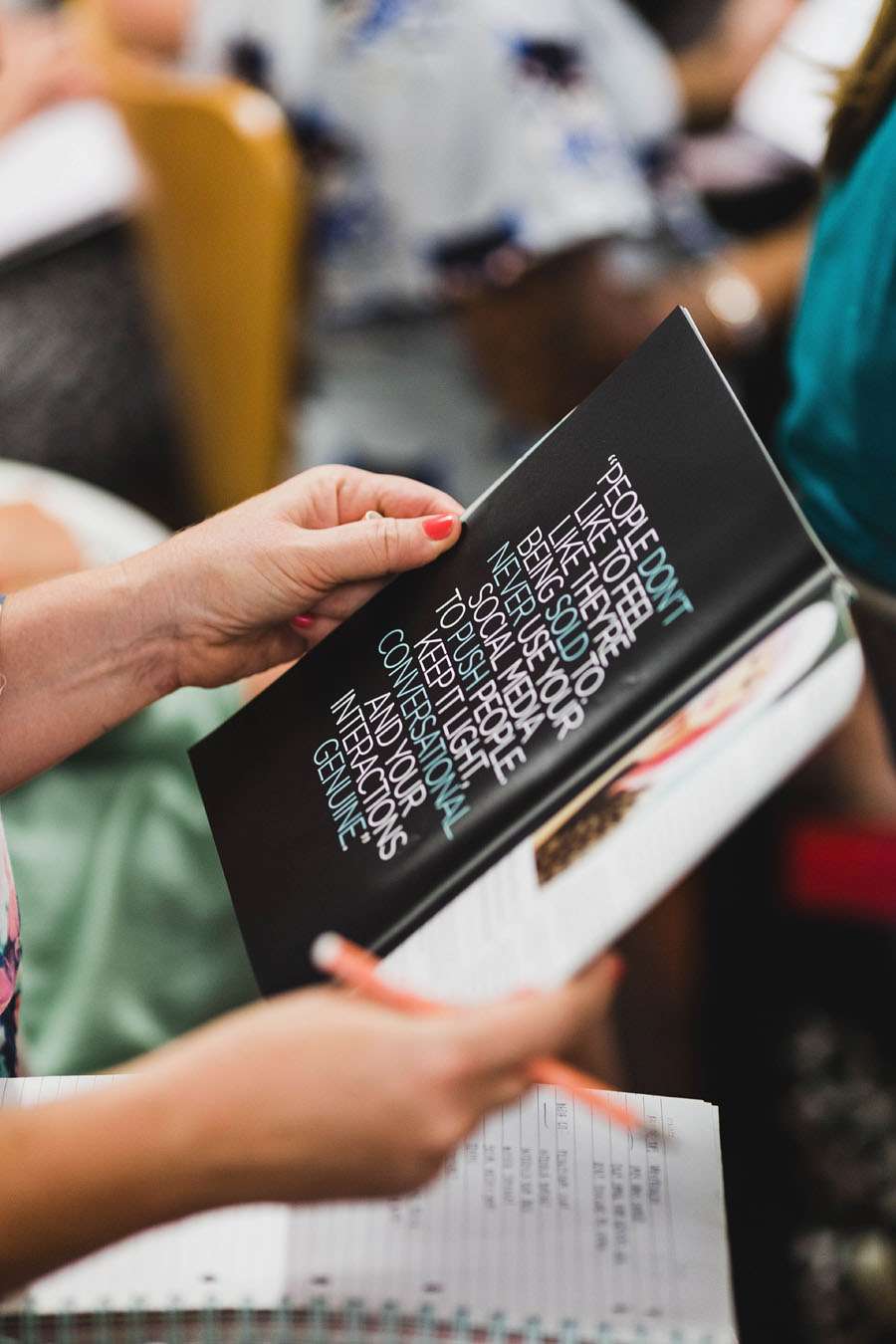 As an extra bonus, I thought I'd lay out exactly the topics we cover over the two days to help you figure out if the class is right for you.
1. Formatting basics.­
Why do blogs look the way they do? We discuss the importance of great imagery, give you some easy-to-follow layout rules, and tell you our top­ tips for optimising your search traffic.
2. Blogging business plan.
If you don't know where you're going, how will you know when you get there? We'll go through your blogging business plan in detail, covering the executive summary, vision, market and marketing, operations, team, and finances.
3. Discovering your ideal reader.
Why do you need to know who your readers are? We'll help you to define exactly who they are, which makes creating content so much easier!
4. Crafting your about page.
What should you include on this essential page? We tell you exactly what to address, discuss your story, talk about the importance of attracting and repelling, and will help inspire you to create a manifesto for your blog or business.
5. Defining your blog's purpose.
Why do you need one? We also talk about the key factors that distinguish a successful blog from those that never really get any traction. ­How can you create content to attract a particular audience? We'll share our secrets!
6. Creating killer content.
What should you be considering when you develop content for your blog? We discuss our secret formula for posts that get reach. We also talk about­ the importance of being vulnerable, our top five blog posts of all time (and why they were so successful), creating regular features, and why consistency is so important.
7. Consistency.
What does it mean to audit your blog? You're about to find out what a blog audit is, how it can help you, and a step-by-step guide to doing it yourself!
8. Social media.
It doesn't have to be a mystery (or a chore!). We'll tell you how to engage and grow your followers, as well as how to master Twitter, Instagram, and Facebook.
9. Networking.
Why is networking so important for bloggers and small business owners? We'll teach you how not to dread going to events or meeting new people, how to talk to people you don't know, ­how to be memorable (for the right reasons!), and even ­how to organise your own networking events.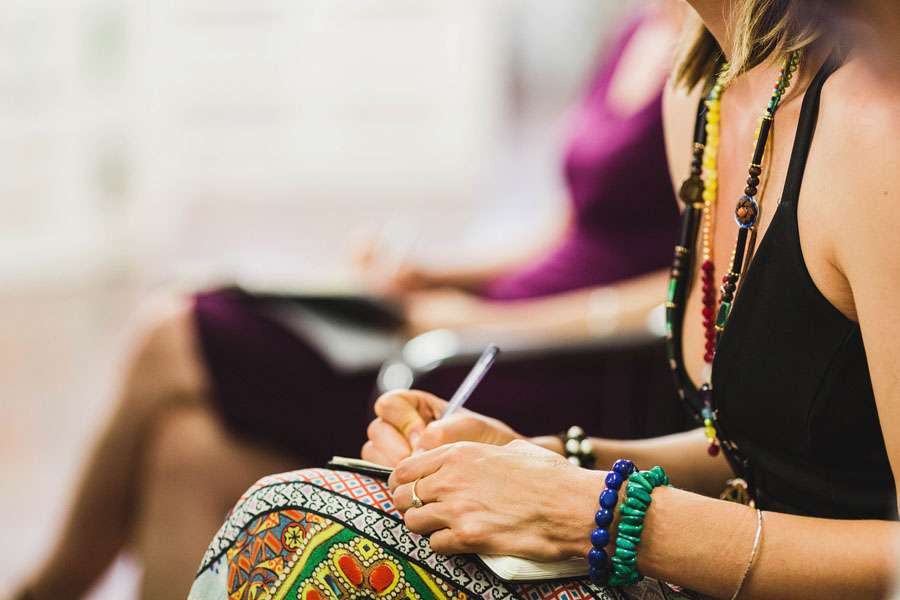 10. Branding.
What is branding, and what is marketing? What's the difference between the two, and­ why are they equally important?­ We tell you the essential steps to creating a charismatic brand, and give you our top branding resources. What's the golden rule of branding? Just you wait! ­We show you slick blog design examples, where to find a professional-looking WordPress theme, and how to find a developer or designer. Then we discuss brand colours, coming up with a name for a business or product,­ trademarks, and how to gather brand inspiration. We'll think beyond the logo with lock-ups and wordmarks, before telling you how to grow your brand, share­ our trusted sources, and tell you all about one-sheets and media kits.
11. The Blogcademy case study.
We'll tell you the full story of The Blogcademy, and how we grew it from an idea we had on one trip to Las Vegas, to a powerhouse six-figure business in less than a year!
12. Still Life 101.
Why is it important to show your life in images? We talk about product styling, how to share your life in an authentic way, and why you shouldn't take too many selfies! We also give you our best ­tips for taking beautiful, still life photos.
13. Advertising.
Is taking on advertisers right for your blog?­ We tell you the most important things you need to consider before you take the plunge! We discuss what you should charge, and the different options for hosting adverts.­ In addition to covering affiliates­, we also share Rock n Roll Bride's media kit, and give you a step-by-step guide of what to include in yours.
14. Brand collaborations.
Let's talk about money, honey! How can you turn your blog into a real money-spinner? We talk about how to work with — and get paid for featuring — companies and brands on your blog. We discuss what makes a good sponsored post, and give ­real life examples of our own sponsored posts that have been a huge hit.
15. Business documents.
What's a bid form? What do you need to include on an invoice? This is essential stuff that will help you get paid!
16. Income diversification.
Is it possible to make money from something other than advertising? The answer is, of course, YES! We show you how to sell your own services or products on your blog, discuss writing for, or getting featured in, magazines and newspapers, and talk about ­digital products: what they are, how you can create them, and why you should sell them!­ We also cover how to get a book deal, and the resources you'll need to get there!
17. Image usage.
Can you just use any old photo? Definitely not! We share our sources for finding imagery for you to use on your blog or website, as well as show you how to credit the photos you use, and how to find original photo sources so your blog is as beautiful as you are!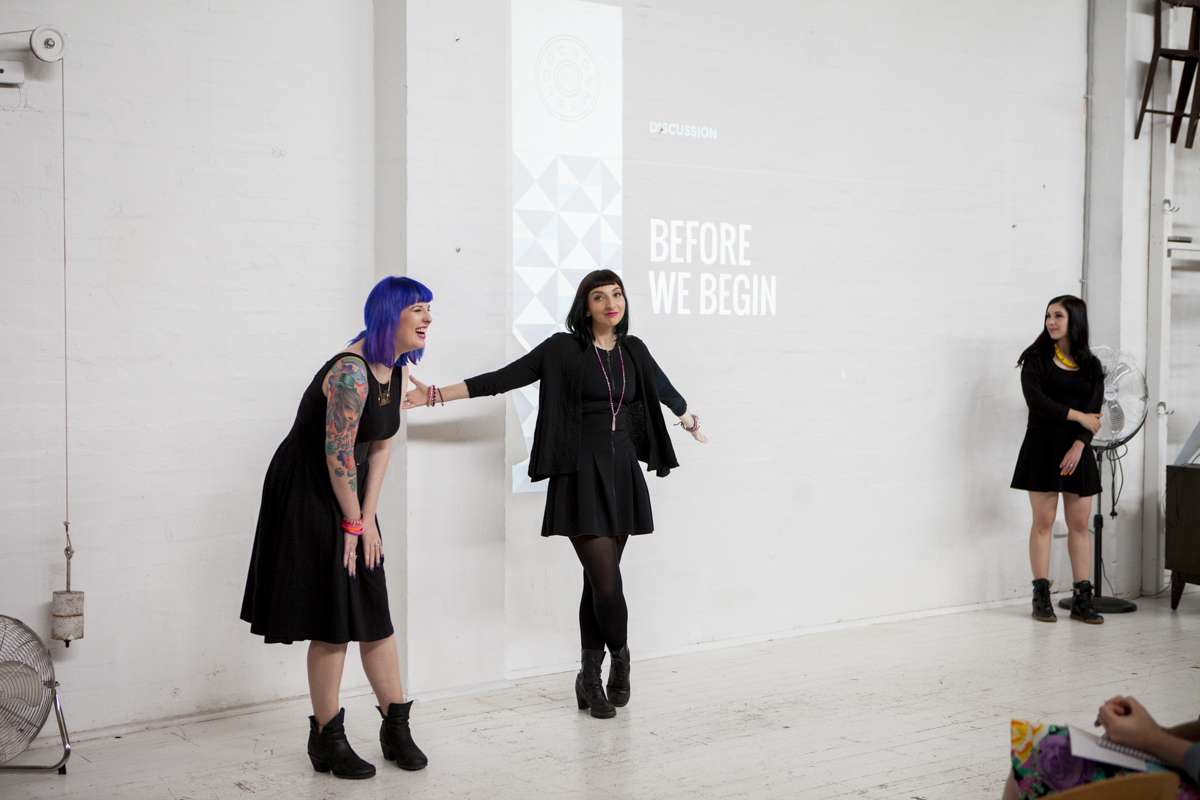 Yes it is a LOT of information, are you ready for it?! If you still have any questions after reading all that, feel free to drop us an email to headmistresses@theblogcademy.com. I can't wait to see you there!