Greetings from hangover HQ! Last night I was in Brighton on my first Christmas party of the year with the Photography Farm crew. There was a photo booth, karaoke and wine… oh so much wine. It was an utter blast but of course I'm suffering for it today. In fact all I'm really capable of is lounging on the sofa and indulging in some lovely internet procrastination – won't you join me?
Weddings & Weddingy Things
♥ Giant paper flowers!
♥ Whimsical and colourful Michigan wedding
♥ Beautiful woodland wedding
♥ Loving this bride's fabulous pink hair!
♥ Vintage hire wedding
Photography:  Naomi V Photography
♥ Playful farm wedding
♥ Incredible incredible lakeside wedding
♥ Intimate ranch wedding
♥ Rustic North Carolina wedding
♥ Donna has been reading Rock n Roll Bride for so long so I'm so excited to finally see her amazing carnival wedding. PS GOATS!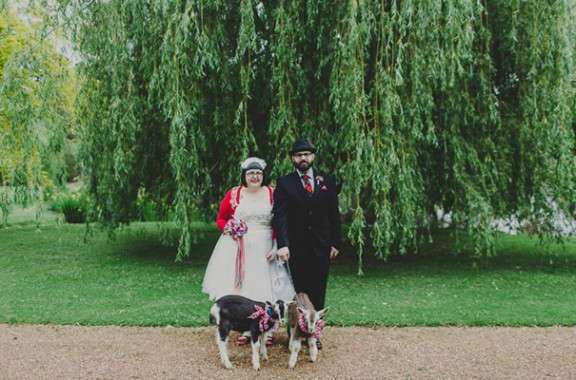 Photography: Eric Ronald
Sales & Events
♥ The Couture Company are 21 years old (!) so they're taking an amazing 21% off ALL bespoke wedding dress and headpiece orders placed before 21st December 2013. Get on that!
Best of the Rest
♥ What a day in New York would be like if life was like TV
♥ DIY white winter wreath
♥ Lazy things we've all done
♥ The post-Blogcademy blues are real you guys! Believe me, the headmistresses get them too. EVERY TIME!
♥ Watch how this leopard reacts when he finds out his prey has a newborn… (sob!)
♥ This photo of Morgan Freeman will blow your mind… because it's not a photo at all!