On a hot and humid New York day Gala, Shauna and I headed over (under?) the water to Bushwick to hang out with our friends at Rent Patina. The air was heavy and thick and the heat was stifling but we hopped on the subway with a spring in our step, excited about what they had in store for us. They were shooting their brand new lookbook and we, of course, jumped at the chance to play dress up and get involved.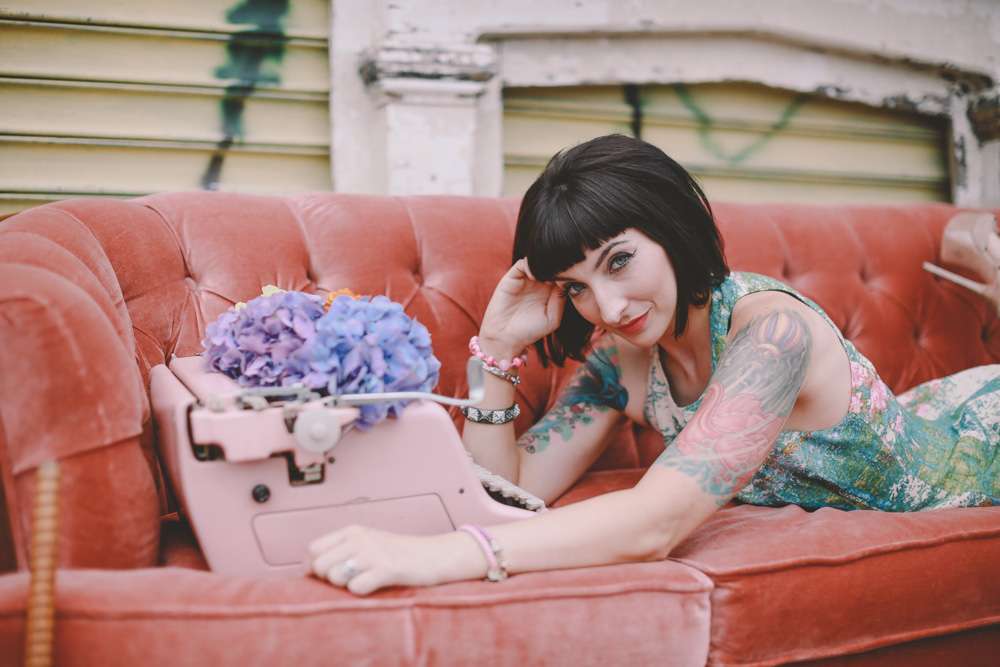 Located just a block away from the Jefferson stop, they hire out their vintage and reclaimed furniture, knick knacks and oddities for weddings and events. Their space is a beautiful white-walled loft and is totally worth a visit just to swoon over everything (if you do go, tell them I sent you!)
The sky was perfectly overcast as we started with this first set. After hair and make up from the fabulous Kristen and Regan we walked around the corner to be met by an indoor/ outdoor vignette. Is there anything more decadent than setting up a full living room on the sidewalk?! I think not. In fact if the three of us had our very own Bloft (blogger's loft!) I'm pretty sure it would be decorated a little something like this…
The coral sofa perfectly popped against the yellow graffiti backdrop and the pink typewriter and teal retro phone made for the most perfect props. Of course I went straight for the gold skull and to lounge on the mustard armchair – bliss! We drank champagne in the sun and laughed lots. Tinsel & Twine's wonderful way with flowers bought even more life to the proceedings, I loved the way they had stacks of old books all tied up with string and multi-colour blooms popping out from all array of unusual containers (like the typewriter!) It was the perfect mix of rustic charm and electric strangeness.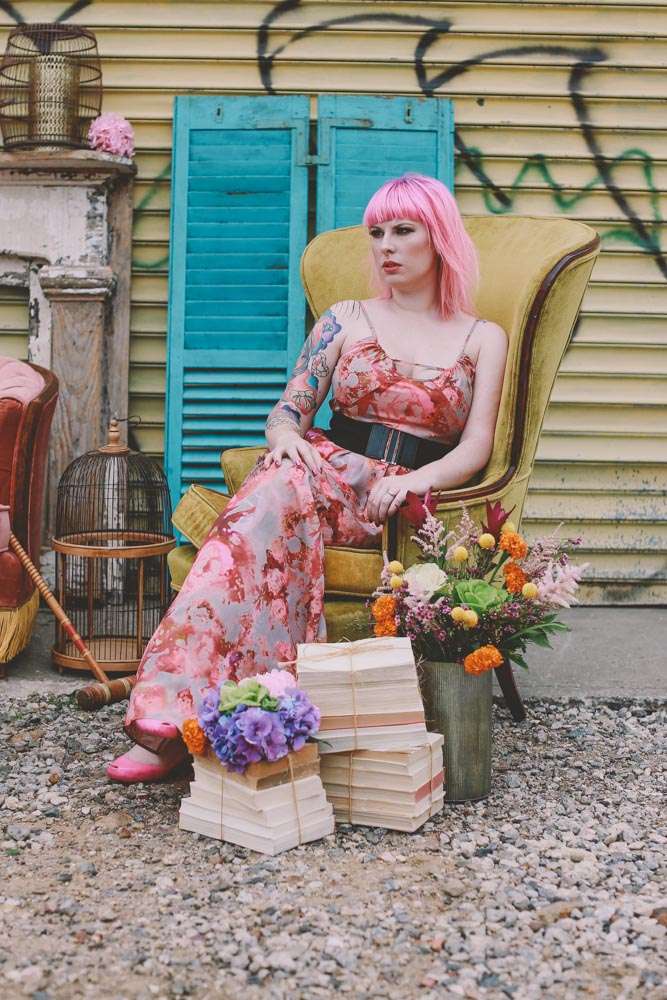 At our Los Angeles workshop someone actually asked us if we coordinate our outfits… and I can safely say with no hesitation that of course we do! It's sounds a little ridiculous and totally extravagant I know, but when you're having photos together you don't want to look at odds with each other. There's a reason why bridesmaids look best in matching or complimenting dresses after all!
I'd just bought myself this gorgeous Topshop maxi and this shoot was perfect for it's début. This particular dress has since sold out but they have loads of similar styles online right now. I may have also just treated myself to this one too! Shauna looked (oh-la-la!) so stunning in her Paper Dolls number. It's not her usual style but the bodycon shape is perfect on her and the pattern makes me think that she should definitely wear flowers more often. Gala's gorgeous dress is by Tracy Reese and looked totally babeing on her too. What stylish friends I have!
I loved this set and playing around with all the props. We looked like quite a sight to the onlooking locals though I'm sure! After we'd finished frolicking on the sofas we headed over to a chain link fence where the Patina babes had set up some of their picture frames, a side table, storage boxes and a day bed. It was like being in a weird outdoor make-shift art gallery!
It was then time for a quick change of clothes (not before Shauna had a lounge on this green sofa in the loft, honestly, what a BABE) before heading over to the next set – my favourite of the day. Think candy coloured confetti, disco balls and roller skates! I'll be blogging those at the same time next week so be sure to pop by then. I'm pretty sure you won't be disappointed.
Until next week, friends…