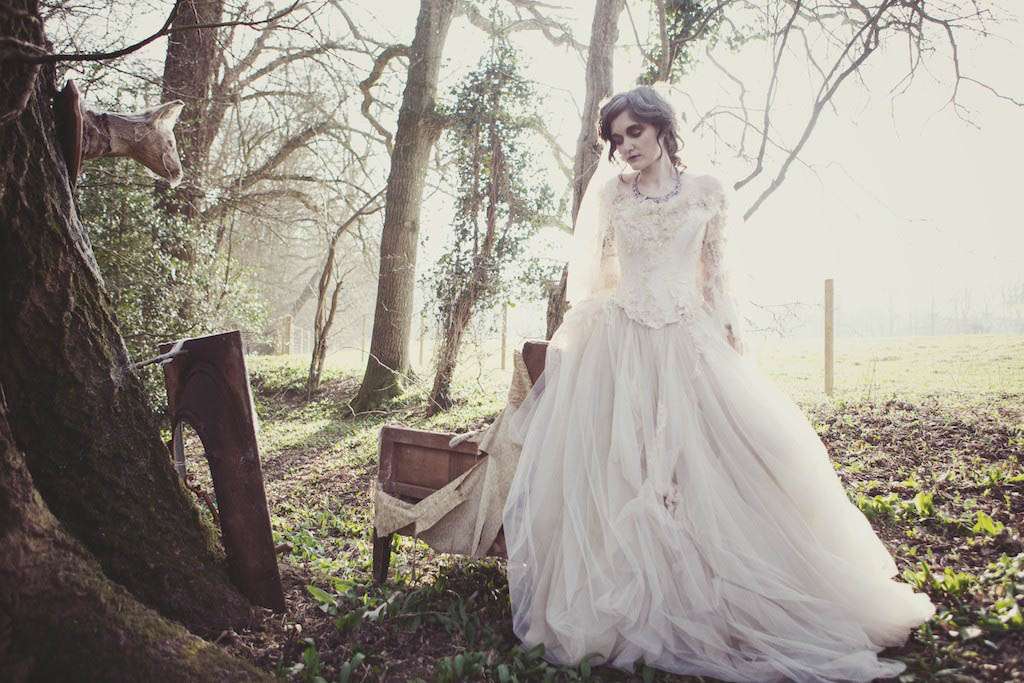 Last week saw the third Photography Farm organised and hosted by wedding photographer Lisa Devlin. I was super excited to be invited along again to talk about blogging, to help style the shoot which we asked Roo to model for.
Lisa, stylists Hannah and Jayne and myself have been planning this spooky Miss Havisham-esque shoot for a few months now so it was seriously exciting too see it all come together! Hannah and Jayne did an amazing job of creating a indoor/outdoor sets in the woods behind the farm. Roo also had a lot of input into the feel of the shoot as one of the great things about The Farm is that we try to make each theme relevant to the models. It would be a bit ridiculous plonking Roo in a vintage picnic set with cupcakes and balloons for example as that just isn't her!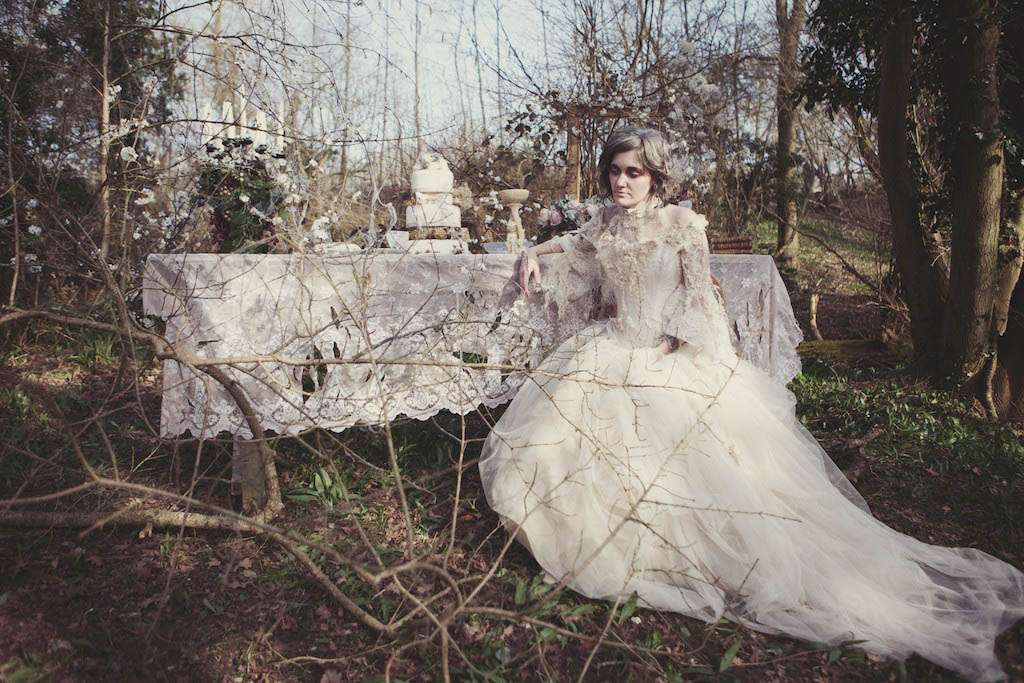 I was tasked with the fashion styling and as soon as we'd decided on the brief, I knew there was only one woman for the job of creating the perfect wedding dress – Jo (& her assistant Sally) from The Couture Company. These girls are masters of corsets and are well known for their gorgeous and huge tulle skirts. I just knew with Jo's flair for design and Sally's genius and intricate eye for detail that we'd have the perfect dress. Jo didn't flinch when I told her we wanted the dress to look 'kinda decayed and covered in, you know, fungi and stuff…' and she created this beauty for us from scratch. She added antique lace to the dress and my veil (yes from my own wedding) to complete the look. We even borrowed a crown from Elisabeth Armstrong. Isn't it amazing?!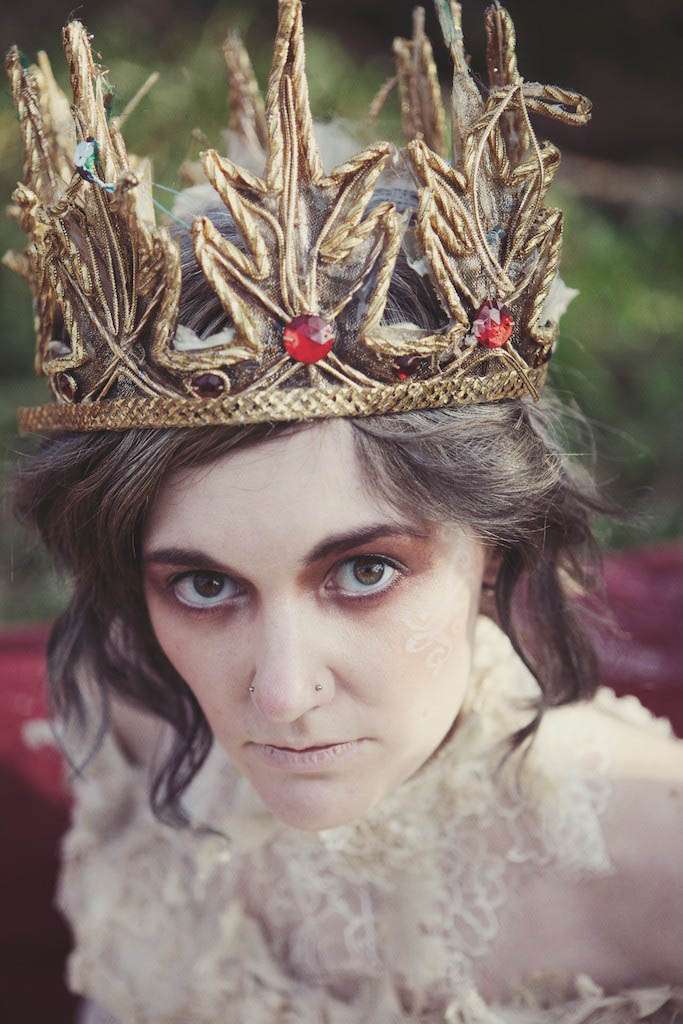 Lisa called me a few days before The Farm to ask if I'd like some diamonds to go with the outfit…erm, like she needed to ask me twice! Especially when she texted me a photo of the ridiculous (in a good way!) necklace below…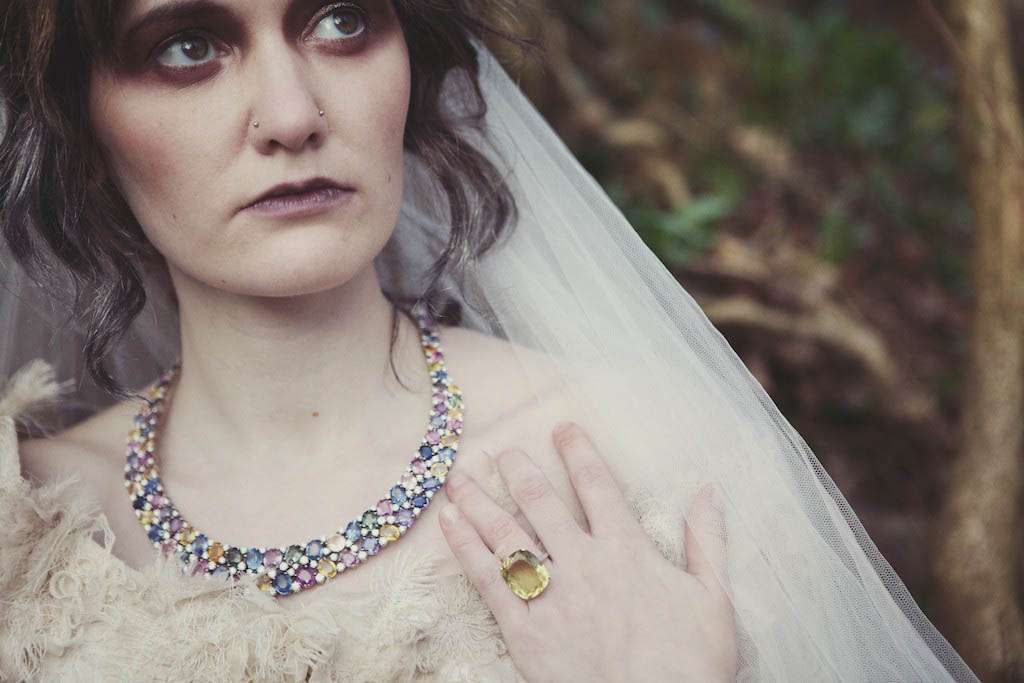 And yes those are real multi-coloured sapphires and diamonds. I dared not ask how much it was worth. We sure don't do things by half at The Farm!
"Our collective Farm plotting had begun some time ago, when the six of us decided to take to our latest addictive medium, Pinterest, and brainstorm our ideas for the shoot," Roo explains. "Lisa and Kat had already concocted the idea of a Miss Havisham (á la Great Expectations) theme, and from the word go I felt like everything everybody wanted and expected from the shoot was of a mutual understanding. We were all absolutely on the same page, and when it came to the morning of the shoot I didn't feel nervous at all. More than anything I was excited to see all our collaborative creativity come together – I was both thrilled to see some familiar faces and honoured to be working with a few new ones. The whole day didn't disappoint (aside from it being over, that is!)"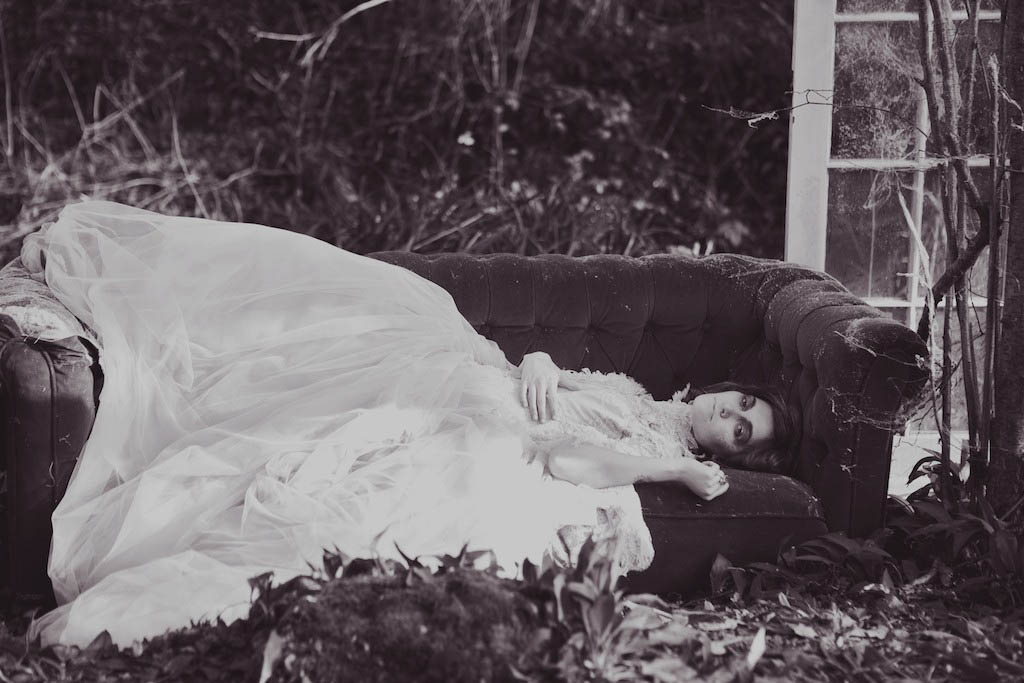 "I do wonder whether it was because I'd already experienced being professionally photographed before; I felt more at ease with hearing the trademark click-click-click-click-click every couple of seconds, I was certainly less shy at meeting all the wonderful photographers, and I was able to relax throughout the whole two-hour shoot at the full direction of everybody, because I knew I could trust them to get my "best side". After all, they were trusting me to give them my best side, too. Match that with an other-worldly dress, outrageous jewellery and stunning hair and make-up, and you're good to go. The results all speak for themselves – I don't know if anyone was nervous that day or if anybody needed a confidence boost, but I think we all earned one anyway! Pats on the back all 'round."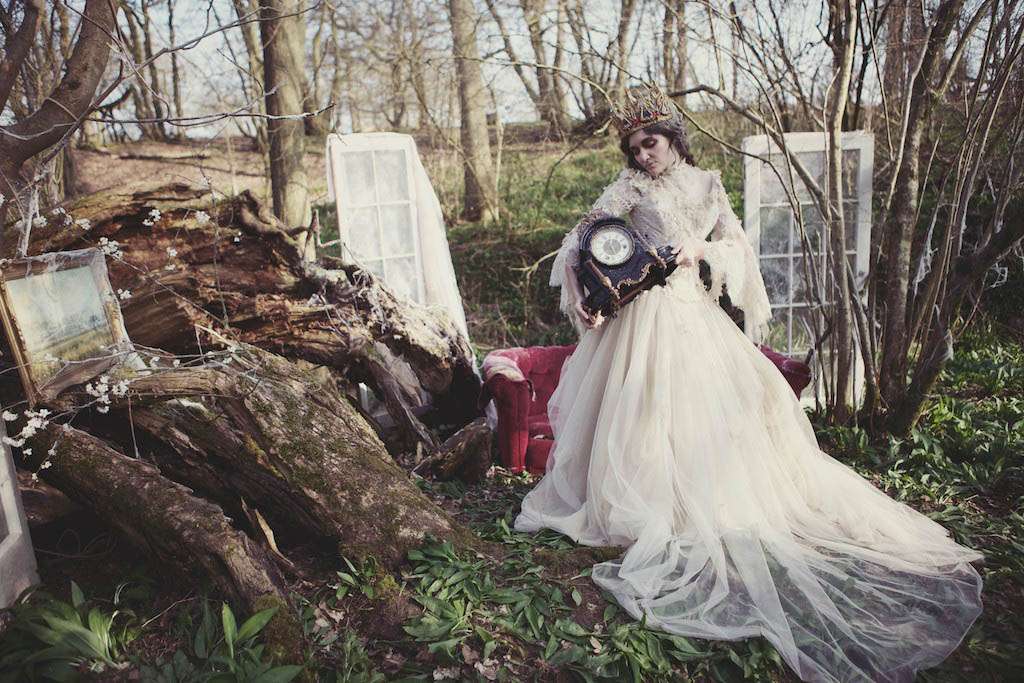 "The shoot itself was wonderful. Sitting in a nook not-so deep in the woods of the Farm, I immediately felt like we'd been transported somewhere else, somewhen else. I felt so detached from my real life and standing there alone in shot, I really thought I was alone, just like I was supposed to. It was odd – I don't want to say that I felt abandoned but I certainly felt like I was in some kind of bubble, like everything about the costume and the set and the natural surroundings all helped to pertain to this idea of Miss Havisham's life literally stopping and freezing, and becoming a snapshot. It was creepy, and ethereal, and a little sad. It was wonderful."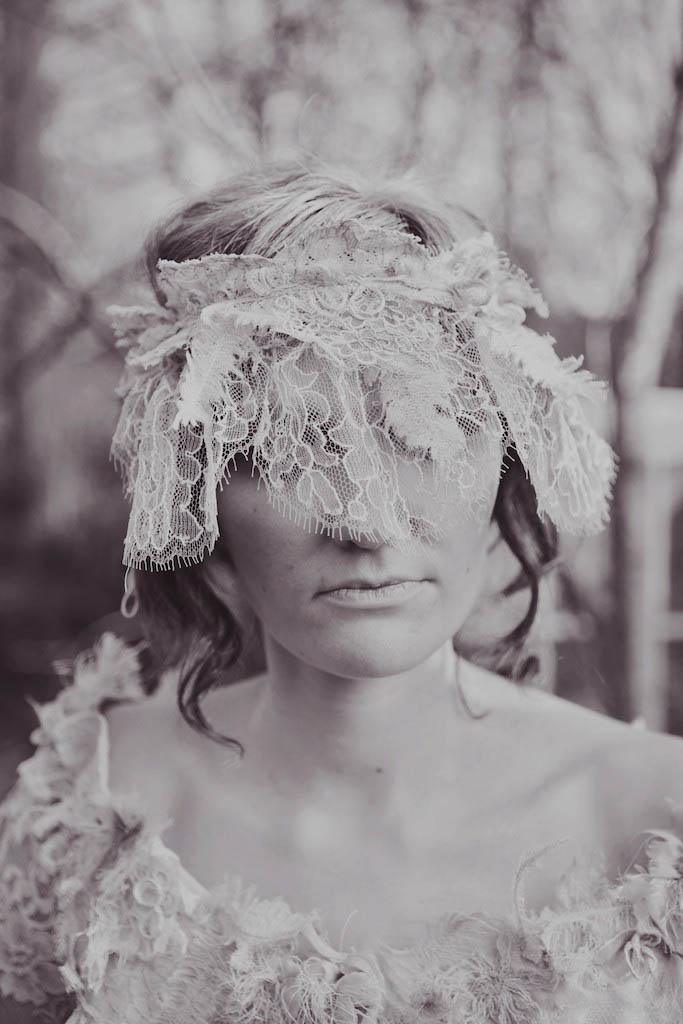 "P.S. Lisa Devlin is a marvel. There is something in her that you only ever find in very few people, let alone photographers. In a parallel universe somewhere I reckon she's probably my dream man, because she kept telling me I was nailing it and rocking it and that I looked like a stone cold fox – and you know what? I believed her. If you ever get the opportunity to work with her, hire her, or even buy her a cuppa then I highly recommend you do, because she's one of those little diamonds that I'm realising are rare in the wedding industry – and life in general."
Seriously…what a pro.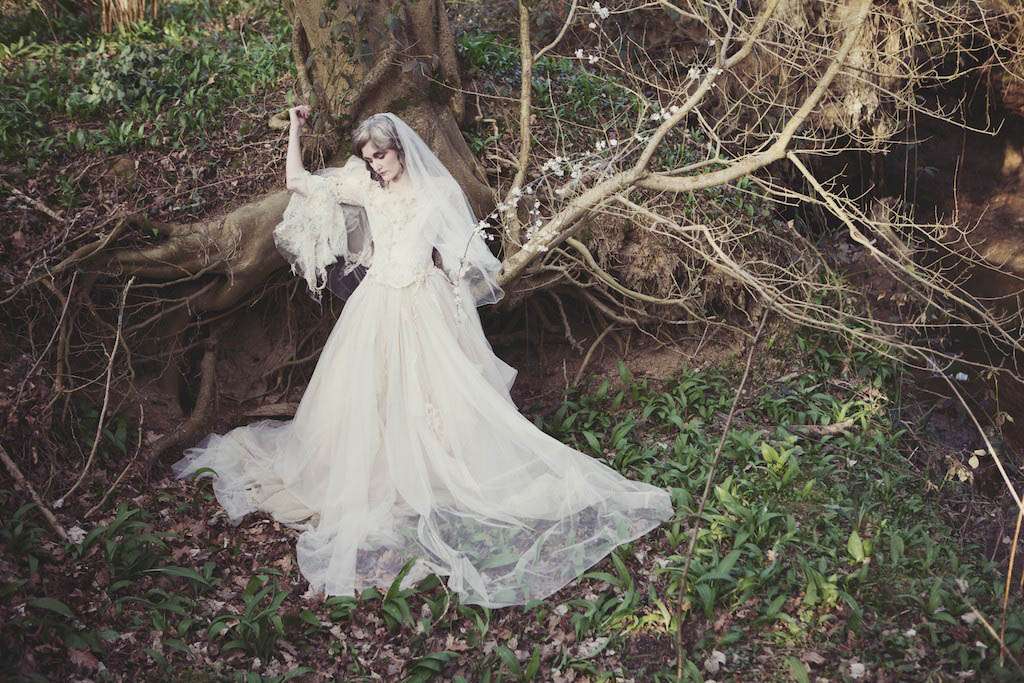 It was actually nice to not be the one modeling for once. I even got to have a play with my camera and learnt some tricks myself. I'm certainly no professional photographer but I'm pretty proud of what I managed to snap under Lisa's tuition! Roo's getting pretty good at the old posing thing too right?
Yes, I took this photo (and the last 5 in the gallery below!)
One of my favourite things about The Photography Farm is that we have a whole three (OK well 2 and a half) days together. Sometimes at photography workshops there is SO MUCH to take in in just one day, but being there for an extended time not only allows us to all really get to know each other, but it gives us all more time to take things in and ask questions. Dinner is one of my favourite times, not just because of the yummy food (!), but because we can all ask questions, learn and grow together without a daunting classroom environment!
More images and info about booking on to the next Photography Farm after the 'jump'!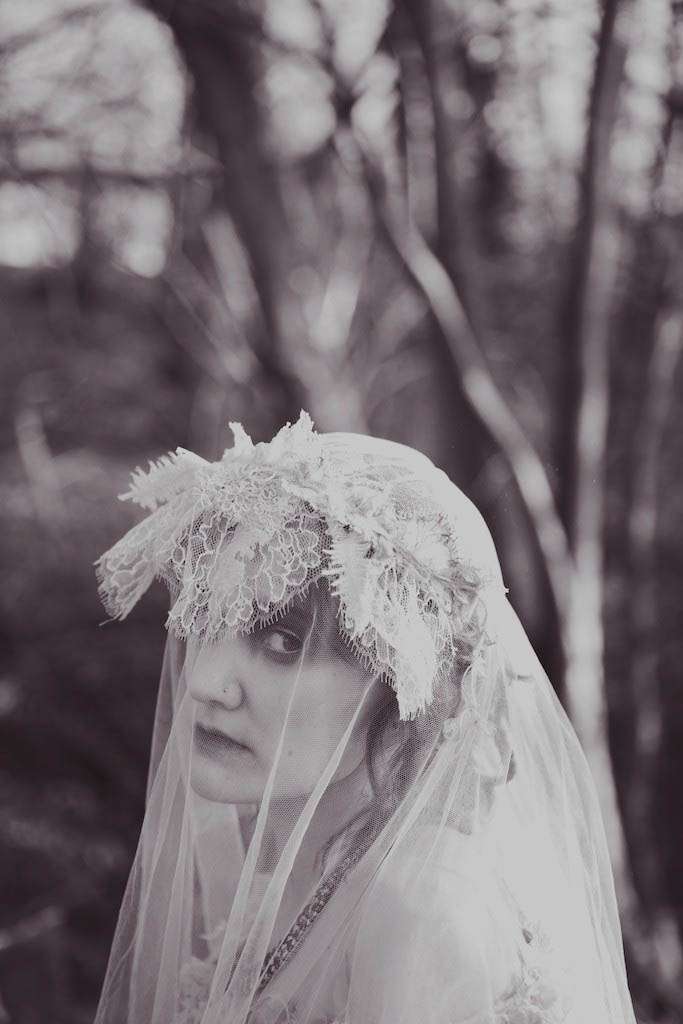 Feeling wel jel that you weren't there? Well my dears you are in luck! The next Photography Farm for wedding photographers will be taking place on 16th-18th July 2012. The 3-day event includes two styled shoots (one bridal, one engagement) business school and a talk from yours truly on improving your own blogs and submitting to wedding blogs. The price is just £950. Food and accommodation (for 2 nights) is included.
For enquiries or bookings email Lisa on lisa@devlinphotos.co.uk or call 01273231047. Click here for more info.
Supporting Cast:
Venue: The Photography Farm
Fashion Styling: Kat Williams, Rock n Roll Bride
Set Styling & Design: Hannah Best, The Tea Set and Jayne Sacco
Hair & Make Up: Elbie Van Eeden
Dress: The Couture Company
Jewellery: Eden Jewellery
Crown: Elisabeth Armstrong
Cake: Restoration Cake
Workshop Attendees (click the names to see the photos each photographer took): Lydia Stamps, Philippa James, Neil Douglas, Laura McCluskey, Assassynation, Ray McShane, Lisa Jane, Victoria Pearson