Photography Credit: Chennergy Weddings (full wedding here)
I put a shout out on my Facebook page to ask if any of you we're struggling with anything wedding planning-wise and if I could help. A couple of you mentioned wedding traditions, namely how to decide which to include and which to scrap altogether. I have a few ideas on the subject…
Remember, it's your wedding
There is a recurring theme throughout nearly all of the weddings I feature – that the couples wanted to have a wedding that was a true reflection of themselves…their likes and dislikes, their relationship, their personal style, their life influences. I believe that deciding which wedding traditions to include or ignore should also be totally dependent on you and what you value as being important to your wedding day.
Make a list, check it twice…
I'm a huge fan of the list. If ever my mind is going crazy about something I always physically write my thoughts down in a notebook. This really helps me to de-clutter my head and think things through properly without screaming "AHHHH I CAN'T COPE!"
I encourage you to give this a go if you're struggling to make wedding decisions. Try writing down the traditions you're struggling with and making a pro/con arguement for each section. Talk about it with your fiance and decide together if you want to have them in your wedding or not and why.
Some topics to get you started…
♥ Church vs civil ceremony – you'll probably know instinctively which of these you want already but thinking about the reason why might help you get in the right frame of mind to start on the others
♥ Vows – traditional church vows or write your own?
♥ Wedding rings – do you both want to wear one?
♥ Bridesmaids/Groomsmen/Maid of Honour/Best Man – what combination works for you and your set of friends?
♥ Outfits – do you want to wear white and what style of clothing to do prefer in 'real life'?
♥ Formal family/wedding party portraits – do you want them? (remember, although you might not be too fussed, they are often the most important photos to parents and grandparents!) Which combo of friends and family do you want formal shots of?
♥ The receiving line
♥ Speeches – who's doing one and when in the day will they fall?
♥ Formal cake cutting
♥ First dance – yes or no? Choreographed or just wing it?
♥ Throwing the bouquet
♥ The garter toss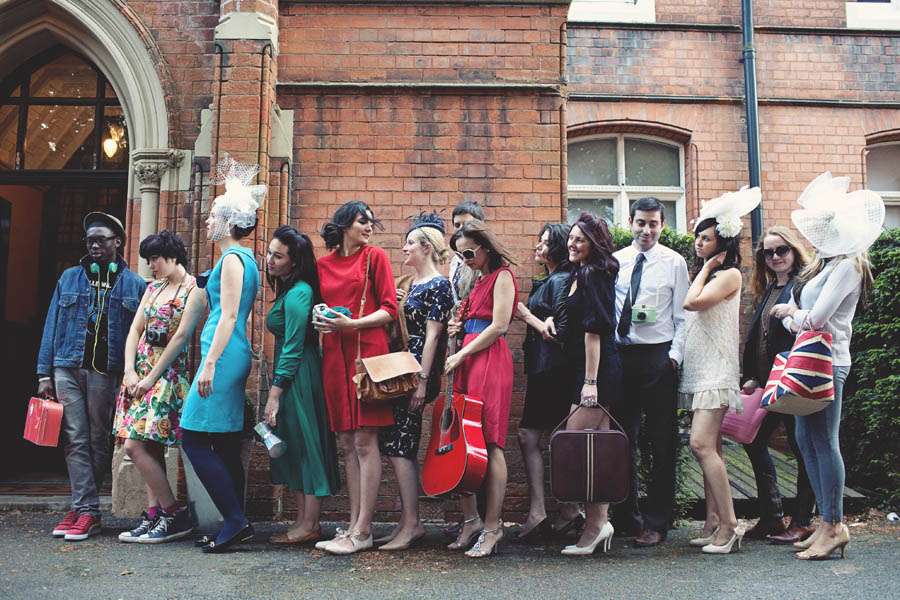 Photography Credit: Emma Case Photography
Your wedding its not a 'coolness' competition
I think for many brides and grooms (especially with the popularity of wedding blogs showing gorgeous weddings daily!) they feel like their wedding is a bit of a competition – a way to show how cool, different or 'blog-worthy' they are. Firstly, this is nonsense. Utter crap. Your wedding day does not define your relationship or your marriage…and after all this is what it's all about right?
If you like a particular wedding tradition and want to incorporate it into your day then do it! Having a receiving line or a formal cake cutting does no make you any less of a Rock n Roll Bride. We actually had both at our wedding (and we got married in a church) and I'm glad we did.
The idea of a receiving line in particular was something I was embarrassed to admit that we'd done afterwards. In actual fact Gareth & I weren't fussed about doing one or not. However my Mum said that she thought it would be a good idea as it would make sure we said hello to everyone and acknowledged that they had made an effort to come to our wedding. Especially for our older releatives, who let's be honest we could have easily ignored as while were having all the fun with our friends, the receiving line made sure we thanked them all for their love and support. Yes, it was a little forced and awkward and we don't have any photographs of it (it was hardly the most important part of our day) but it did mean we spoke to everyone…and I know the Granny's appreciated it.
Make your own traditions
It's up to you to make your own rules and traditions. If something is important to you or your family then DO IT… similarly if it's not then don't. Now go and enjoy planning your wedding your way!