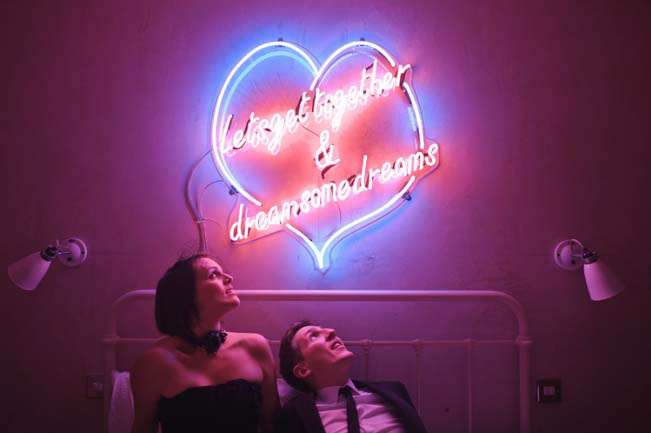 Photography Credit: Ed Peers Photography (full wedding coming up on the blog soon!)
Just a quick reminder to let you know that the Rock n Roll Bride Christmas cards are still available for purchase! Thank you to everyone who's bought some so far. I personally can't wait to give these out with my Chirstmas gifts this year!
Oh and Happy Thanksgiving to my American readers!
♥ DIY Beatles Wedding at the Smog Shoppe
♥ Ben & Anna's Glitter Glam
♥ Love this Fairytale fantasy shoot especially the crowns and multi-coloured tulle!
♥ Love these wedding day (ahem night) underwear ideas
♥ Fashion forward SF engagements
♥ The power of listening
♥ These design for 3D print coffee cups are AMAZING but I'm so bummed that my favourite design, the deer heads, is not for sale! I'd totally spend $50 on it…
♥ Creative Burlesque Inspired Seattle Wedding
Photography Credit: Catherine Abegg of CALIMA Portraits
♥ Tattybojangles' new blog makes me laugh. Sometimes we all need a good rant. Oh and I think I need this notebook no?
♥ Beautiful florals at this rustic outdoor wedding
♥ I think I need to arrange my nail varnishes like this…
♥ Lovely new party dresses from Alexandra King. I might need that first black lace dress in my life…Oh and this one from her ASOS store!
♥ I love everything about Uliana Sergienko's Fall 2011 collection – can anyone find these pieces to buy online? They are the perfect length and the patterns are incredible!
click to enlarge