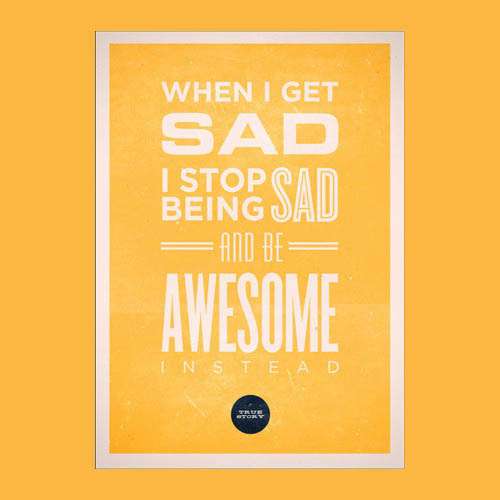 Credit: Whale & Pine via Luke's Beard
Last week I had this question on the Rock n Roll Bride facebook page from Angel. Luckily for her I happen to have some experience in this area!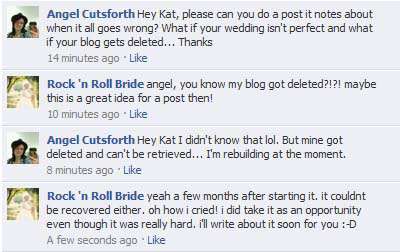 Did you know that after blogging for just over a year I somehow managed to delete my whole blog? Yeah seriously…Poof! and it was gone.
To cut a long story short, I had been secretly blogging using the free Blogger platform since just before our wedding. I used the blog to post my own wedding ideas and after the wedding to share other alternative wedding ideas and real weddings that I'd found and liked around the internet. The reason for the blog certainly wasn't to make it into a business, I'd simply fallen in love with wedding blogs during my wedding planning and started my own for fun.
Sometime around December 2008 I learnt about Google Analytics and thought "Oh cool, I can see how many people are actually reading this thing" (seriously, when I say I knew nothing about blogging I ain't exaggerating!) Well somehow in my total-incompetence-to-do-anything-remotely-technical, by attempting to install it myself I deleted my whole freaking website…and no, we still don't know how I managed to do it!
I went crying to Gareth (who by the way had no idea I was a secret blogger, what a nerd I must have looked like) and I asked him to bring it back. Which, despite being a IT genius, he said was impossible (and nope even he still doesn't know how I managed to delete it either, I think maybe it's a secret skill I have that no one else possesses…)
ANYWAY I was at a crossroads.
After I finally stopped crying, Gareth told me he was able to recover some of my past posts from Google's cache of the site, but we'd have to set up a whole new blog and re-upload everything. He also suggested I moved from Blogger to WordPress for it's superior functionality and general better-ness, and also that I purchased the .com (beforehand I was just using a free .blogspot URL).
And so the laborious task of relaunching a blog began.
Now I use the term 'relaunch' in a very loose way. There was no grand unveiling of the new site or street parade in my honour. I had no readers. I had a .com but no one knew it existed! It sounds kinda fancy in interviews when I say the blog was 'relaunched in January 2009' but in reality, I just bought a .com and started all over again.
I was totally gutted about (what seemed like) the mountainous task in front of me and yes, of course I wondered whether I should even bother. However after some soul searching and realising that this obsession for alternative weddings wasn't going anywhere, I used my colossal balls-up as an opportunity to make the blog a million percent better.
So, what changes did I make?
♥ I moved the blog to a better platform.
♥ I paid for the .com (best £20 I ever spent. As a side note, if you're able to get the .com as opposed to the .co.uk/.net/.org of your chosen website name DO IT. It's only pennies more expensive and many people are of the opinion that it gives a more professional first impression).
♥ I finally told Gareth what I was up to. Gareth is a computer/internet genius so having him know that I had a blog was obviously a good thing. He helped me make my blog so much better with his technical wizardry.
♥ I spent time thinking about how I really wanted to blog to look. I stopped just using free and default layouts and spent some time actually thinking about branding… which of course was initially terrible. Look at my first attempts at blog headers if you don't believe me. Yes, I made them all myself…Aren't I brilliant? What do you mean you can't tell?! Ha ha…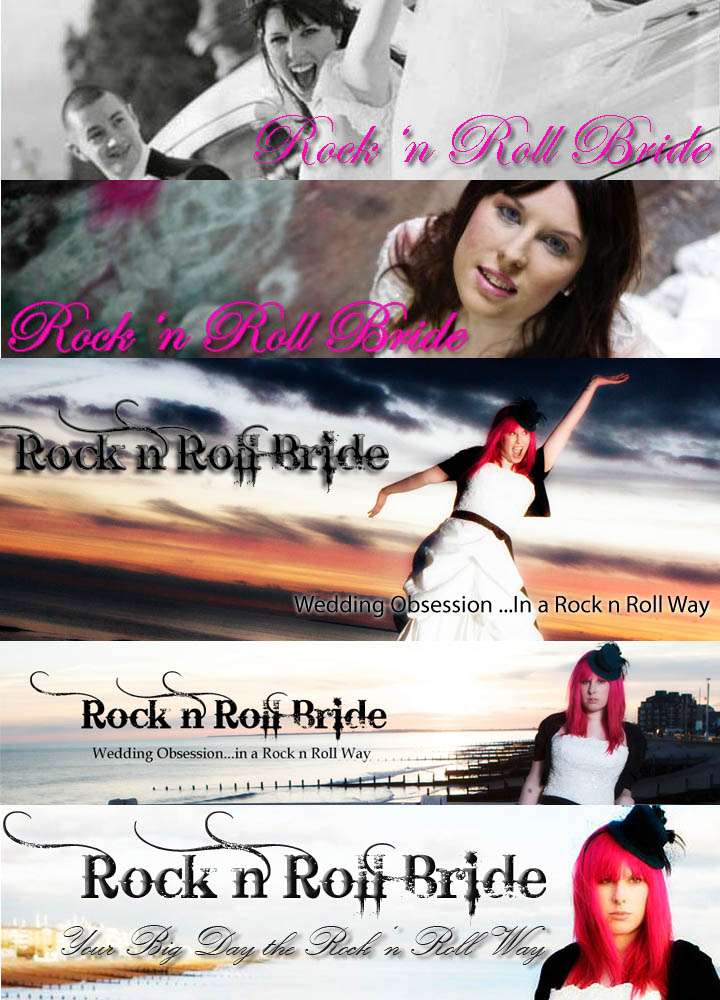 ♥ I started thinking about what I really wanted for the blog. I stopped blogging about my wedding and only sharing weddings I'd seen on other blogs. I starting thinking about what I could do to be different and started to search out unique content and real weddings that hadn't already been shared on other wedding blogs to feature.
♥ I trimmed the fat. I didn't re-post all my old articles. I decided to only re-blog the ones which I thought were worth saving. I permanently got rid of the others. No one needs to see half the crap I blogged about in 2007!
♥ I did a promotional photo shoot with my friend David McNeil to showcase on the new site. The Bognor beach shoot was my first ever shoot. I wore my own wedding dress and did my own hair and make up in the toilet of a local B&B.
♥ David & I hosted a contest to give away free wedding photography to promote both our brands. We stood outside the National Wedding Show ALL FREAKIN' WEEKEND handing out fliers to advertise it. It was boring and cold and soul destroying but we got some great entries and exposed Rock n Roll Bride to a whole new audience (remember in 2008/2009 blogging was pretty much an unknown entity to non-internet-geeks).
And you know what, after a lot of work, the new blog was bigger and better than the old one…and I wasn't crying anymore. The old readers found me again and I was able to refocus my energy into creating a much better Rock n Roll Bride – the blog I really wanted it to be. Of course nothing happened overnight, but by being forced to re-do everything it made me reevaluate my little space in the blogosphere. I'd got bogged down with my way of doing things, and although it was utterly rubbish at the time, by having to start all over again I was jolted into thinking long and hard about what I really wanted.
So what would my advice be to someone that feels everything is going wrong? Firstly, remember that everything happens for a reason. Sounds idealistic but I 100% agree with it. Use crappy situations to STOP and really evaluate what you want. Think long and hard about making positive changes to your business that maybe you've been putting off.
If I hadn't deleted the old site would Rock n Roll Bride be where it is today? Maybe…but it might have taken me much longer to get here. I would have undoubtedly stayed using the Blogger platform for much longer, I wouldn't have faced my embarrassment of telling Gareth that I was a secret blogger (seems crazy to me now!) and I wouldn't have pushed myself to rethink my whole reason for the site.
Take every knock back as an opportunity. However tough it may seem at the time, I guarantee there is one hiding there. It's just about recognising these little bumps in the road and turning things around for the better.
…And if you're interested (cringe) you can see the first blog posts that I deemed worthy of re-blogging here. See how sparse the real wedding posts are? I seriously sucked back then huh?!