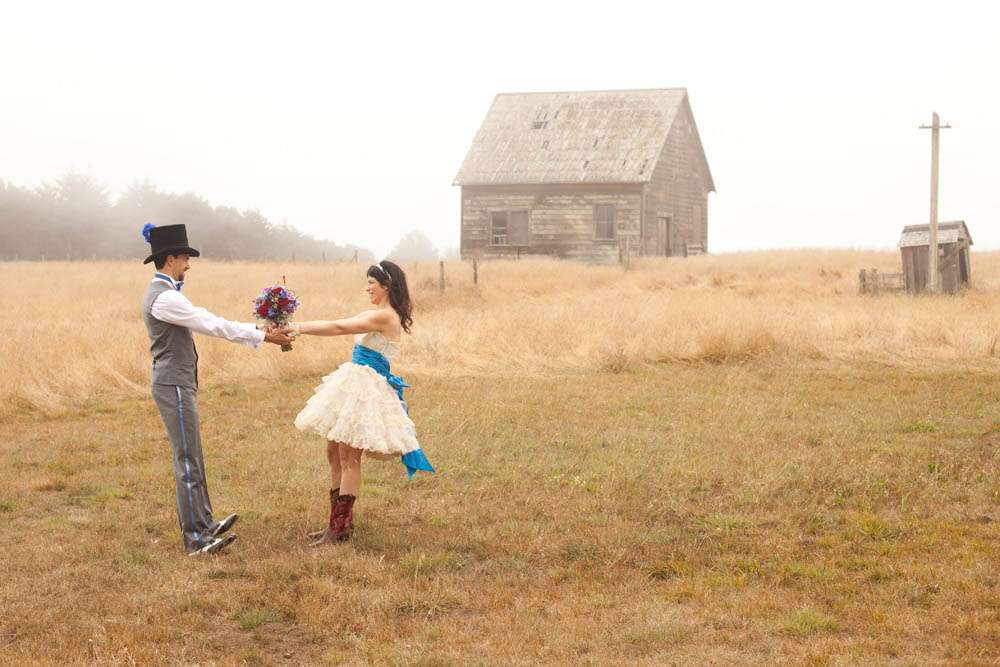 The love for Alice in Wonderland themed weddings has been around for a while so I don't often share that many of them…however an Alice theme done really well is something I just can't resist. Marisa & Noah's wedding falls into this category like a glove.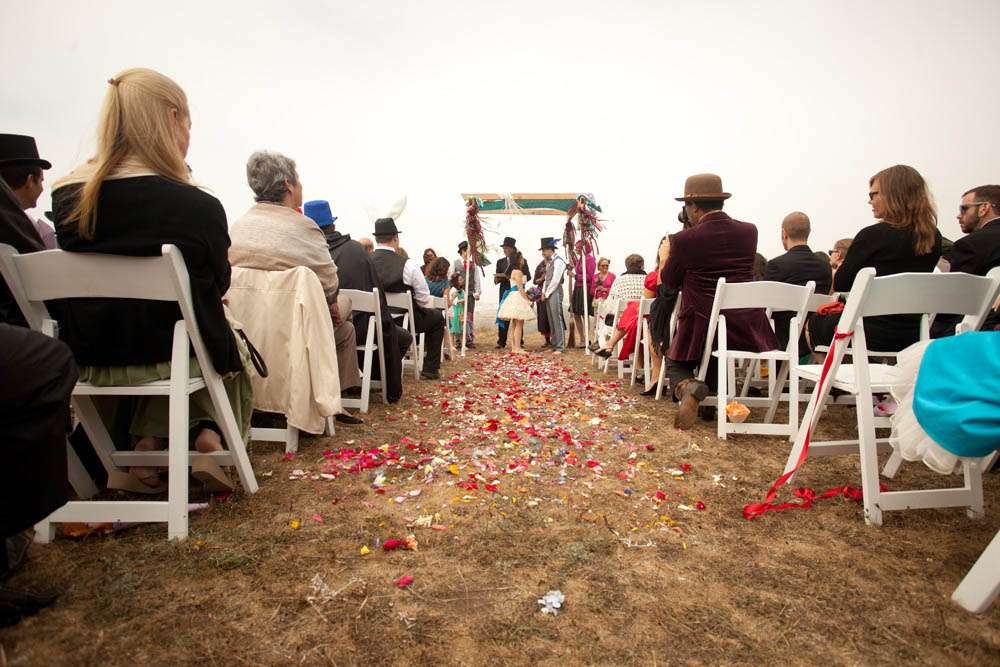 The couple were married at Mendocino Coast Overlook, with a reception at Spring Ranch, Mendocino CA. The bride, dressed as Alice, wore a Betsey Johnson dress and shoes by Manolo Blahnik and the grrom rocked out in a Mat Hatter get up including a hat by Scala Hats.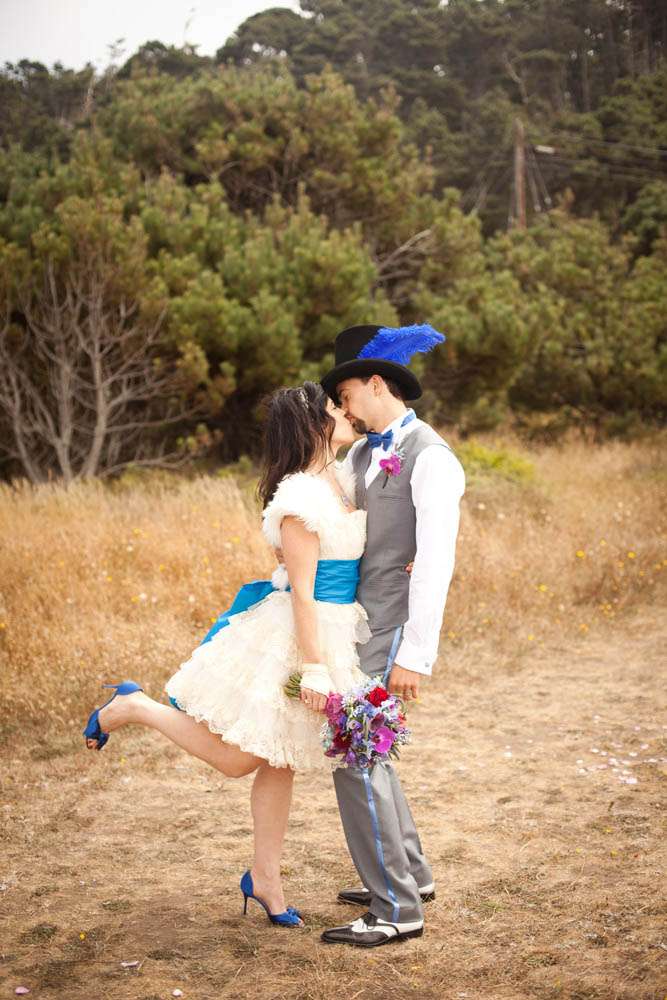 Marisa told me all about it, "Noah and I are fairly unconventional in general and we wanted to have a wedding that really showed our personalities and was truly unique, creative, whimsical, colorful, spiritual without being religious, and most importantly, fun! So, we re-thought every standard of a wedding and put our own spin on it: having Noah's dad, Joe, officiate using a copy of Alice in Wonderland instead of the Bible, different colored tablecloths, unique flower arrangements, an altar to honor our loved ones, a croquet game set up outside, etc."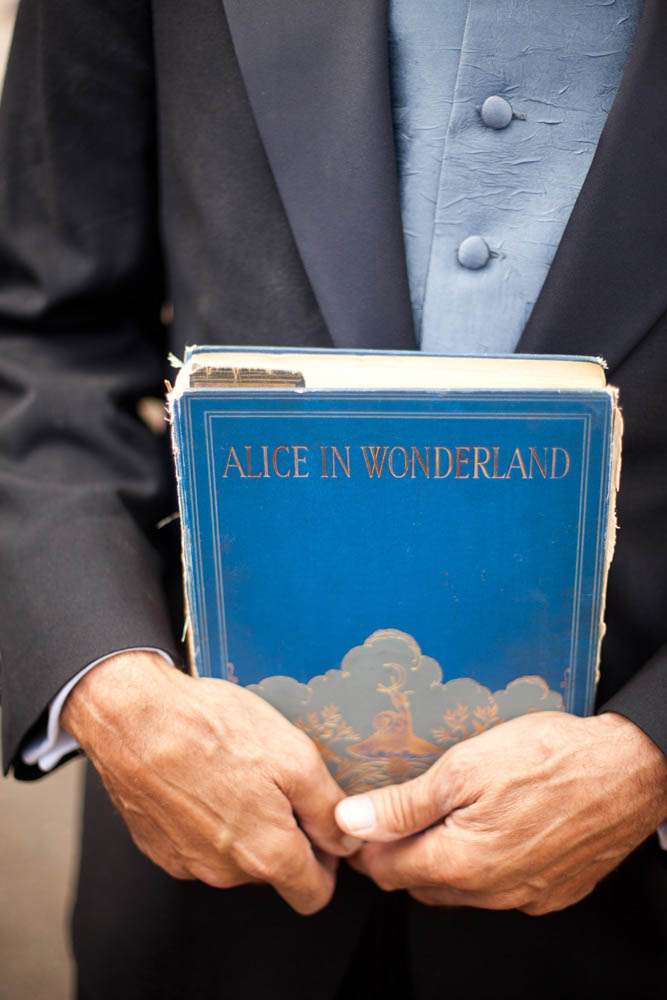 "We also featured absinthe and root beer cocktails at the bar, and a caterer, Pangea Catering, who specialize in local and sustainable food (they raise their own pigs, grow many of their own veggies, and forage for their mushrooms). Our wine was also locally sourced through a local wine company, Green Barrel Wines, which is owned by two of our good friends. They specialize in wine on tap that comes out of these beautiful barrels. Noah and I really wanted all elements of the wedding to express who we are and this piece, the food, was especially important to us since we both feel so strongly about where our food is sourced."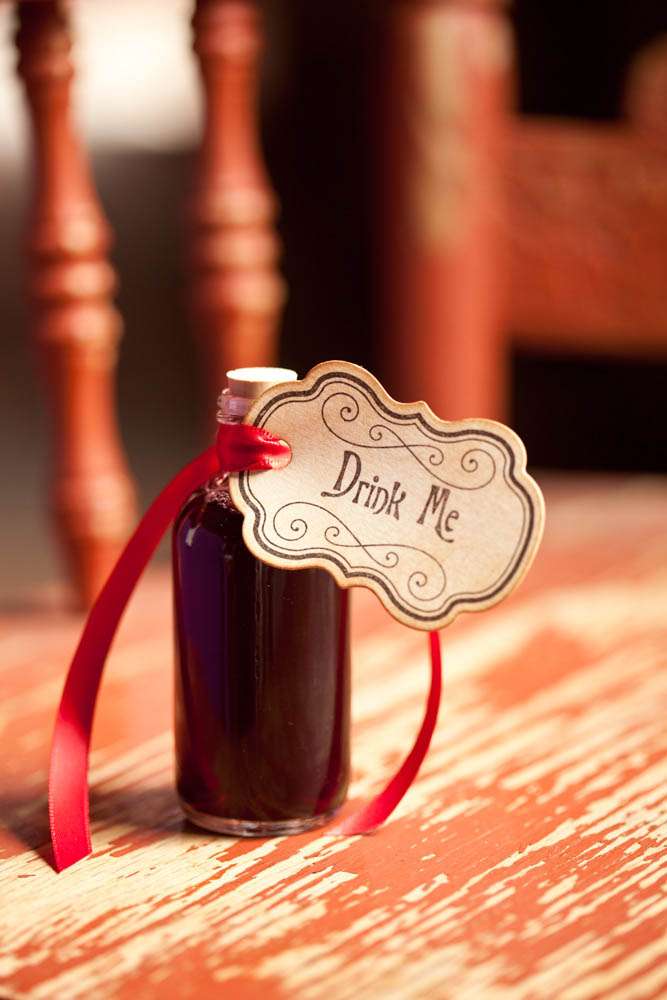 "We discussed the idea of having a Garden Party reception. Then my friend suggested Alice in Wonderland, and the idea grew when we realized that the concept would give us open and creative parameters to have a unique, whimsical, and non-conventional wedding."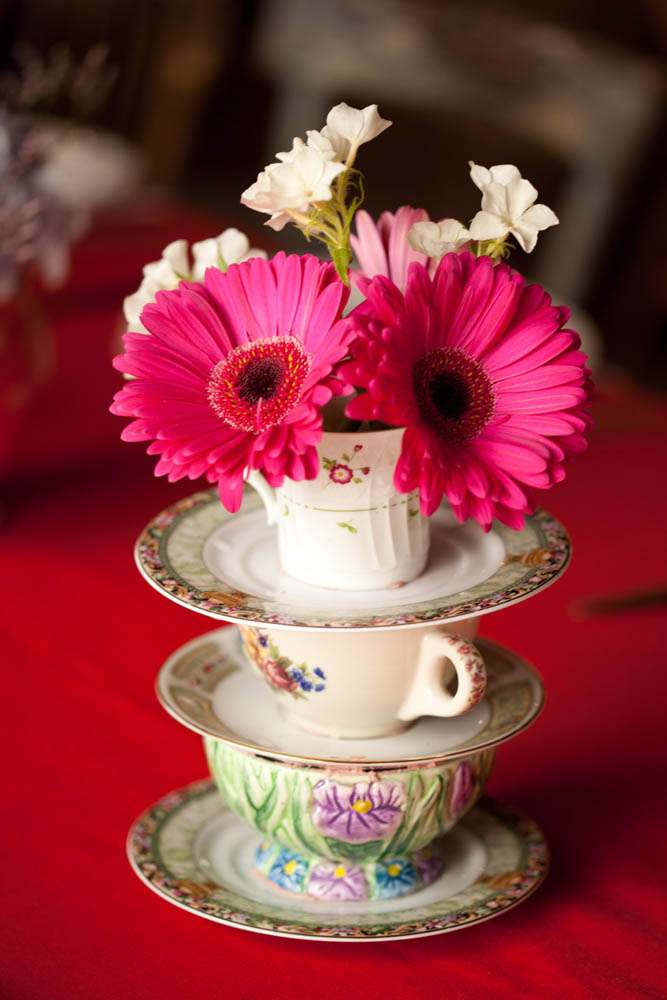 "The rustic and historical location of Spring Ranch, provided a backdrop of rustic textures, whimsy, and an assortment of knick-knacks that the owner has collected over the years. We also liked the analogy to the story of Alice in Wonderland, and saw our wedding as the beginning of a lifetime of adventures together."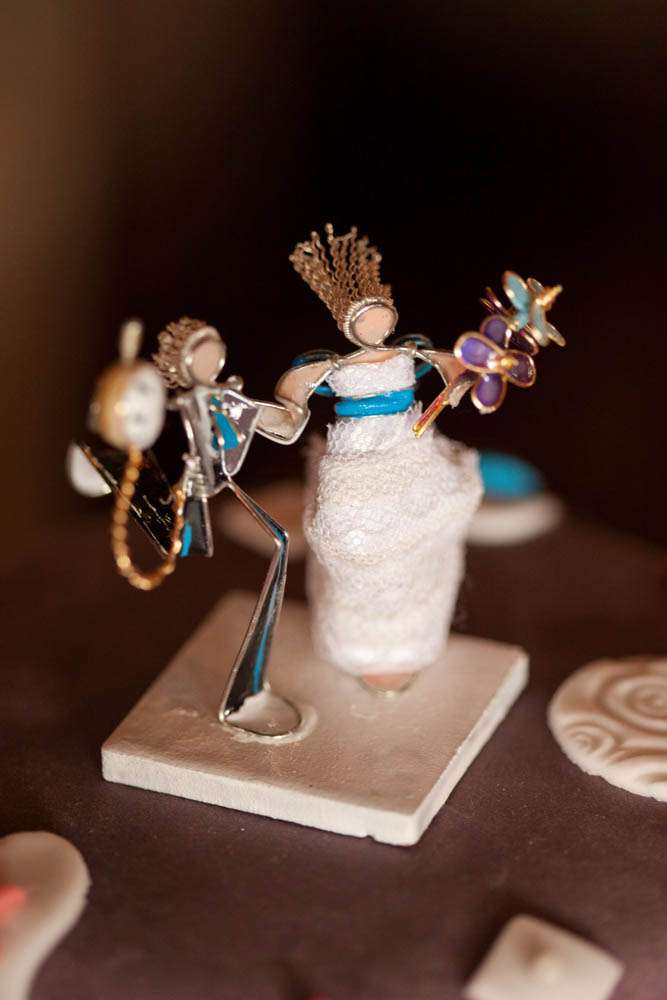 "For the reception, I started to gather teacups," Marisa continued, "but Noah's stepmother jumped in to help with zest, and took on the task collecting the majority that you see scattered throughout the reception. The florist, Rosa, loved the concept of the wedding and went above and beyond expectations in her varied and colorful floral arrangements, and worked on creatively incorporating the flowers with teacups."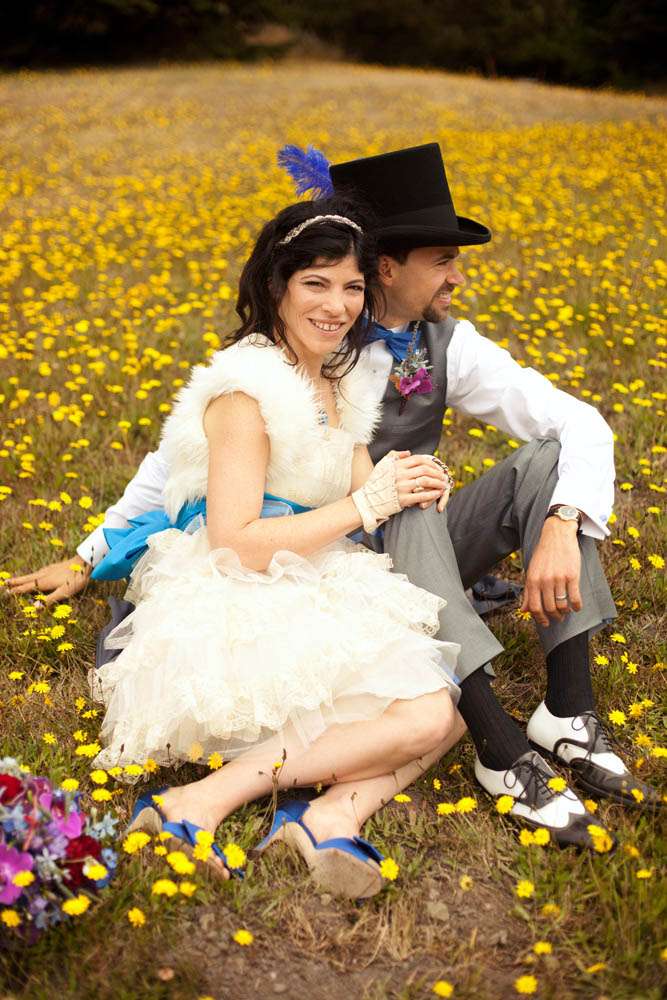 Thank you so much for sharing Marisa, Noah and photographer Sonya!
Photography Credit: Sonya Yruel
Ceremony Venue: Mendocino Coast Overlook
Reception Venue: Spring Ranch, Mendocino CA
Bride's Dress: Betsey Johnson 
Bride's Shoes: Manolo Blahnik
Groom's Hat: Scala Hats
Cake: Mendo Cakes
Flowers: Fabulous Wedding Flowers
Hair: Mantras
Make Up: Mendocino Beauty
Catering: Pangea Catering 
Coordinator: Mendocino Weddings and Events
Rentals: Fort Bragg Rent-All 
Stationery: Green Quince 
DJ: Jenny Shu, DJ shOOey
Wine: Green Barrel Wines