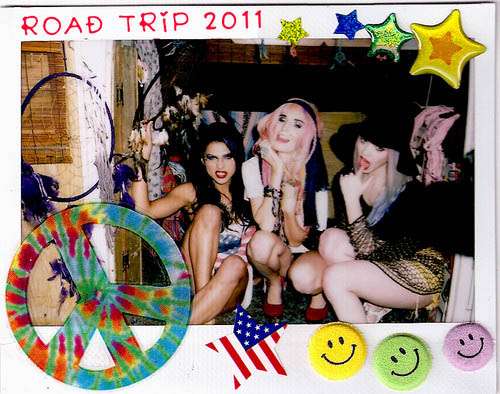 Credit: Via Audrey Kitching Couture – to promote her latest 'Born to Rock' range from her Tokyolux brand. I bought this adorable rainbow kitty tee and rainbow flower garland this week. Wooooo hurry up Mr Postman!
This week has been a relatively chilled one for me which has been all kinds of awesome…sometimes there's nothing better than spending time with your husband, playing with your kitties, listening/dancing like a loon to the new Lady Gaga album (J'adore!)…oh and doing a bit of blogging. Although, in all honestly I needed a slightly less manic week after last weekend. Lucy and Debs came to visit me in Reading (hence the ' Ding nickname). Oh carnage doesn't even cover it…
Thanks for the memories girls, and as Lucy so perfectly put on her blog post yesterday,
"Lastly I would just like to comment that although the wedding industry can show it's fakery at times, you can also meet people that become some of the best friends you ever had."
I bloody love you both and I don't think I've ever laughed so much. EVER. Or been so hungover for that matter… And for the record 6am is not an acceptable time to crawl home, no matter how Rock n Roll you think you are….Ouchy.
♥  ♥  ♥
On my internet travels this week I have mostly been devouring…
♥ Courtney & Drew's Rustic Wonderfulness
♥ Part 1, The Wedding Rehearsal (outfits) Part 2, Pretty Faces & Part 3, including a blue haired bridesmaid (sister) and flowergirl! – I am soooo excited about Elise & Jeremy's wedding reports. More more more!
♥ If you go down to your local construction site today, you're in for a big surprise…
♥ First Same-Sex wedding to be featured in US Bride's Magazine. YES!!
♥ Mischievous Explorer Inspiration
♥ Marilyn & Sean's Sweet Wedding
♥ Country Style Flowers Inspiration
♥ Amazeballs DIY Bohemian Rainbow Wedding
Photography Credit: Three Nails Photography
♥ Rock n Roll Elopement – complete with pink wig!
♥ Prettiest skull ring ever … and the prettiest skull bracelet ever – thanks for the link Charley (or maybe not …I now need these in my life!)
♥ Sign of The Times – Hanging Word Decoration
♥ Top 20 Ultimate Ways to Use a Disposable Camera
♥ Blind women get married too
♥ Beautiful wedding dresses made from old clothes, fabrics and curtains
♥ Woodland Whimsy
♥ Simple Sweet Minnie Mouse Balloon & Bird Cage Veil Bridal Shoot
♥ Anna & Jeremy's Cute n Crafty Wedding
♥ Kate Moss in wedding dresses
♥ Wrap It Up Pretty – Texas
♥ Lucy Ledger's blog is quickly becoming an OBSESSION for me. Her latest post, "'I'm soooo effing busy… brushing my cat: How to avoid being a loser in your fledgling months" made me laugh out loud (and spit out my coffee in the process.) The girl speaks so much truth. It's refreshingly honest and I utterly love her for it.
♥ Take two minutes out and be blown away (turn it up!) ♥
The Aurora from TSO Photography on Vimeo.
♥ Remember Amanda & Tyson's totally awesome wedding? (with that green dress?) Well I just got sent the video. AMAZING!! ♥
Amanda + Tyson Wedding from Mai+Bri on Vimeo.
Videography Credit: MaiBri