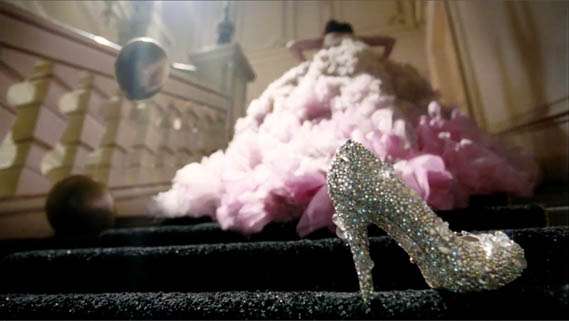 Photography Credit: via Creative Review

DIY is a great way to get creative, stamp your personality on your day and save some money. Reader Terri writes,
"I fell in love with the shoes from the GHD Cinderella advert that were covered in rhinestones! I thought they are perfect for my bridesmaids. I managed to find Benjamin Adams ones for around £275 and Perditas would customise your own for around £150. However I am having 11 bridesmaids so both options were way out my budget! I found some shoes in the Barratts sale for £15 each and snapped up 11 pairs! I brought 20,ooo crystals for approx £65 and some gemtac/E600 glue and got stuck in! And they have turned out amazing, I couldn't be happier! If you set your heart on something that is out of your price range then have a go at a DIY version!"
Terri, TheBrideFairy

I can not claim this tip as my own, it's an idea that is bashed around by pretty much ALL my favourite industry friends and so I think you need to know it too! I am a huge advocate that branding is one of the most important things to any business. Invest time and money into getting this right. Implementing the right branding, and one that is a true reflection of you and the type of client you want to attract, will make your business a hundred times more successful. A corporate, standard website will give the impression that your business is corporate and standard. Who you you want to be? Don't be afraid to portray yourself in this way. Do you want to be corporate and standard or creative and stand out?
When thinking about how to brand yourself, you must must must watch this incredible video from my home-girl Jasmine Star. I seriously can't recommend this enough for anyone in any line of business. She pretty much says everything I'd want to but don't have the time to.
You can see all episodes of Post-it Notes here
Dd you have any top wedding or business tips that you'd like to share with the readers of Rock n Roll Bride? If so jot them down and email them to kat@rocknrollbride.com