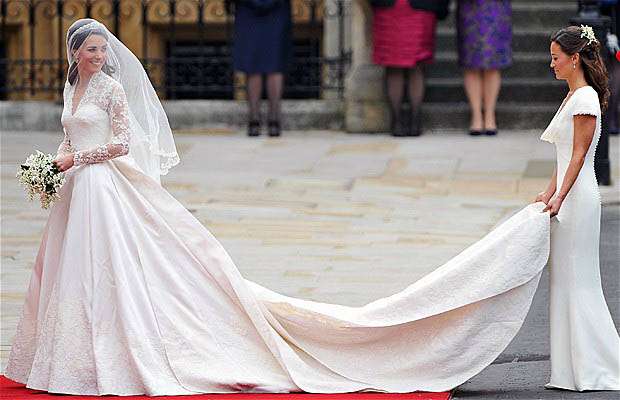 Image via The Telegraph
The world let out a collective 'GASP' as Pippa Middleton stepped out of her car and walked towards Westminster Abbey last Friday. "Shock…horror! The bridesmaid is wearing white!" I imagined a million old ladies whispering.
I personally loved the look – fresh, clean and more than anything, wearing the same colour (and designer) as the bride made them look like a team – a unit…Team Middleton if you will! As you can well imagine, I was not one of those completely shocked, and this 'revelation' wasn't actually a huge surprise. We've seen bridesmaids in white on this blog before (waaaay back in January 2009 in fact!) and did you know it's actually quite the royal tradition to have bridesmaids wearing white – even Diana's maids wore the same colour as she did.
However, since Kate & Pippa appear to have started somewhat of a new trend (and believe me, 2012 will be the year of bridesmaids in white) I wanted to help you along your way if you were considering this option for your girls (and you should…I think it looks fab.) So, here we have my top 10 white bridesmaids dresses…and bonus – most of them are high street buys. Yey to the spring colour palate doing the rounds of the British high street right now.
What are your thoughts on bridesmaid's in the same colour as the bride?
Asos, £150 (1)
♥ Mine & Yours Dress
French Connection, £135 (2)
♥ Boadiccea Maxi Dress
Coast, £220 (3)
♥ Alice Dress
Monsoon, £85 (4)
♥ Scalloped Lace Dress
AriaDress, $869 (5)
♥ Halterneck Pencil Dress & Bolero
Vivien of Holloway, £99 (6)
♥ Christelle dress by Jones and Jones
Topshop,  £65 (7)
♥ For Esmé Dress
BHLDN, $ 530 (8)
♥ Snow Melt
Shabby Apple, $94 (9)
♥ Decorative Frills, One Shoulder Corset Dress
H&M, £34.99 (10)